If you are looking to give your house an aesthetic uplift, you might want to consider adding an eye-catching element to your house, like a mirror barn door.
Barn doors would be a great choice for it.
Some people might associate barn doors with a farmhouse style, but they can be a modern visual statement for your house.
Not only are they great at saving space, but they are also chic-looking. Barn doors are more interesting than regular doors, and they add a bit of fun to the house.
Whether it is the door of your room, a separation between the living area, or your room closet door, a mirrored barn door will serve as a door and a floor-length mirror.
You won't have to invest in a separate mirror. 
1. Mirror Barn Door in Dark Walnut Finish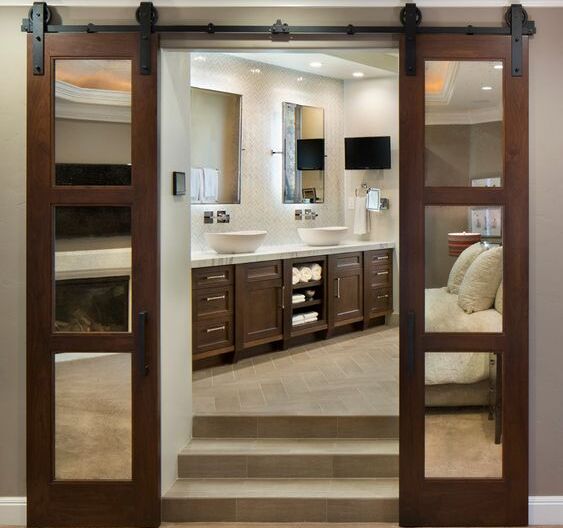 If you are looking for a classic and sleek look, you can go for a mirror barn door, with a dark walnut finish. This design is simple and effective.
Two sliding doors with mirrors are divided into three rectangles on each side. The handles are modern and minimalist, in tandem with the look of the barn door.
This is a good choice for the personal washroom in the master bedroom. A modern chic take on the traditional barn door, this will uplift the modern design of your room.
The mirrors will also reflect the space of your room and make it feel more spacious and open. If you have wooden furniture in your room with a walnut finish, this mirror barn door will bring the entire look of the room together.
Similar Post: 15 Stylish Sliding Barn Door Options to Transform Your Bathroom
2. White Mirror Barn Door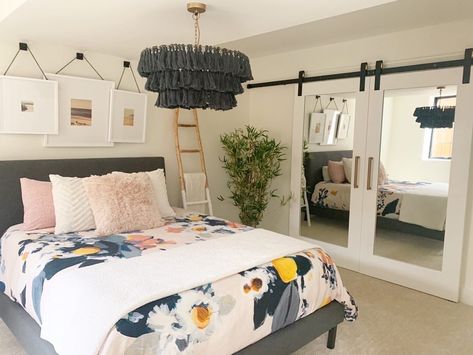 A white mirror barn door will go well in a beige or white pastel bedroom. We all need a floor-length mirror in the bedroom, but why invest in it separately when your closet door can double as a floor-length mirror?
Adding a mirror closet barn door is a smart and space-saving solution. The classic white with a black metal sliding roller.
Metallic handles in a muted gold shade will go well with the white of the closet. Two sliding doors with full-length mirrors will give it a clean and crisp look.
The mirror will reflect natural light and keep your room well-lighted.
Tip; When it comes to floor-length mirrors, you must keep them clean; oily hand marks on the mirror will destroy the entire look of the room.
3. Mirror Barn Door in White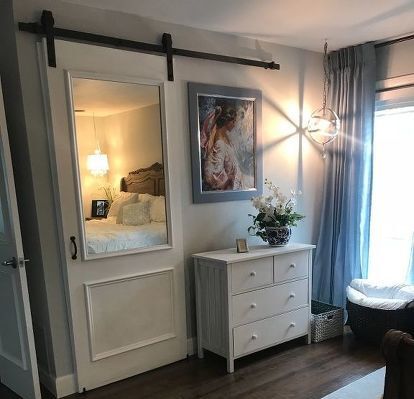 If you don't want a floor-length mirror, you can just have the upper half of the door surface mirrored. This is why it will function more like a dressing table mirror.
This sliding barn door is a good fit for your bedroom. If you have a nice cabinet table in white or other furniture in classic white, the barn door will complement all those well.
It would be better if the other furniture is also in the same shade of white, or at least not very drastically different in the shade.
A white barn door looks good if your room is painted in pastel colors; white, beige, or cream are great choices. However, at times pastel greens also work well with white furniture.
Keep a lamp on the other side, the warm lighting will get reflected off the mirror, and the room will have a cozy ambiance.
4. Light Wood Mirror Barn Door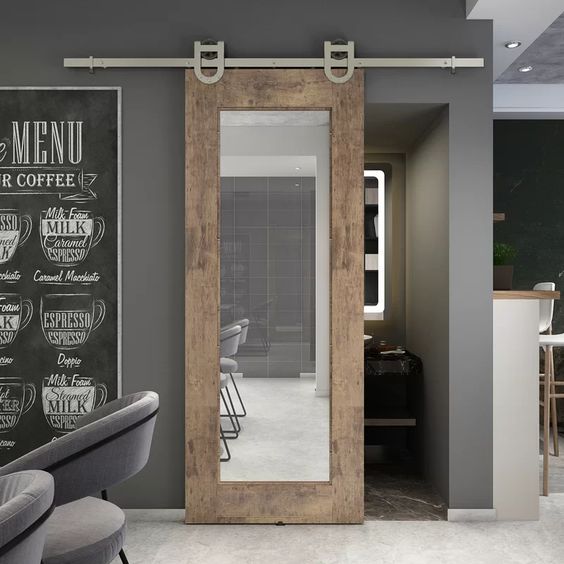 A light Wood Mirror Barn Door is a good choice for a washroom door or as a closet door.
A full-length mirror bound on all sides by the wood looks neat and is a great choice if you are going for a modern minimalist aesthetic. The light wood color goes well with whites, greys, and beiges.
Any other pieces of furniture in the same wood color tone will complement the barn door and tie the aesthetic of the room together.
Also Read: Bathroom Mirror with Shelf: 11 Unique Designs and Tips to Consider
5. Black Mirror Barn Door with Mutin Bars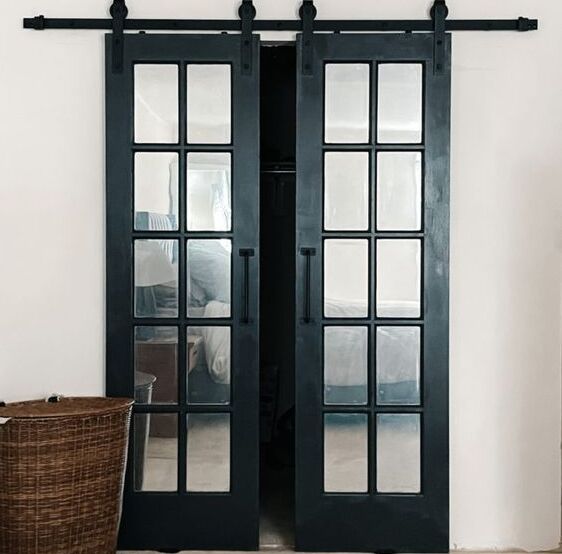 Barn doors will be the highlight of any house; a black mirror barn door is as chic as it is modern. With white or cream walls, a black mirror barn door will exude elegance.
Keep the handles and the barn door tracker all the same color; a classic black.
If you want, you can choose a matte black finish for your barn door. The Mutin bars on the two sliding doors give it the appearance of a French window.
This door is an excellent choice for a closet door or even a door to a utility closet.
It will certainly turn all eyes; people would want to get a second look. This look is modern and not gaudy, a perfect fit for your room.
6. Single Mirror Barn Door in White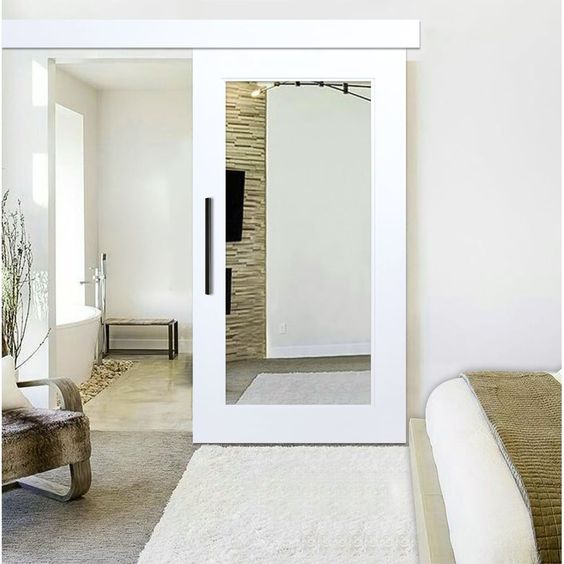 If you are someone who loves the color white for the interiors, you are not alone. White is a popular choice; the color keeps the room full of light and opens up a cramped space.
Not to forget, white looks clean and graceful. A single sliding white mirror barn door will look just right in your white room.
The floor-length mirror will reflect natural light in the morning and the soft lamp light in the evening. This barn door can be used for your washroom or your closet. The door handle is black, which gives a crisp contrast.
Opt for an elongated handle; it will complement the length of the door well.
Tip; Do not place your television in a place where it is fully reflected in the mirror; it can be very distracting.
7. Wooden Mirror Barn Door with Soft Light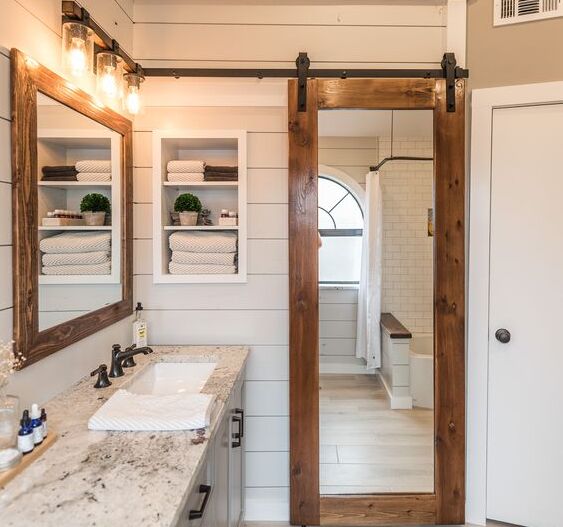 Barn doors are an especially great choice for your washrooms. You need a mirror in the washroom; Mirror barn doors provide that, not to forget they look great.
A light washroom will go well with an Early American wood stain. The metal barn door tracker can be extended along the adjacent wall, and you can add some warm lights to it.
If possible, make the barn door face the window so it reflects enough natural light. The structure of an old mirror bar door can also be used just as a floor-length mirror.
8. Hand Carved Mirror Barn Door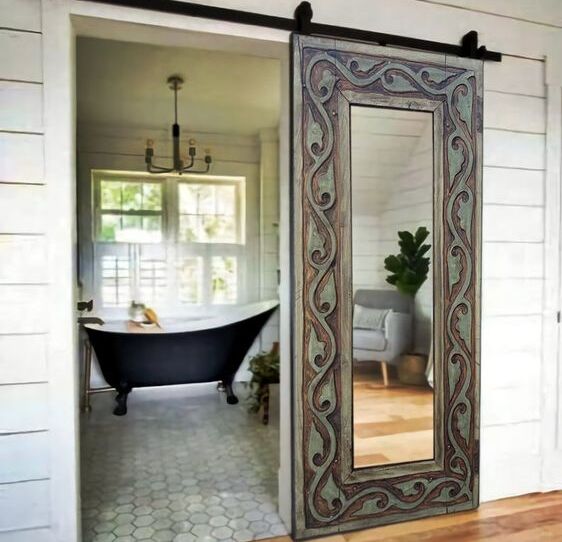 As I have said before, barn doors are a statement piece of furniture.  If you want to get away from the minimalist aesthetic and want to experiment a little, you can go for a hand-carved mirror barn door.
For a very patterned room or more ornate furniture, we would suggest a hand-carved barn door.
If, however, your room is relatively simple, or you have shiplap on the walls, then this barn door will give your room a cool boho vibe.
House plants will also complement the look of the room. Keep the Barn door tracker a simple black. The carved wood can have a distressed look; it would go well with the bohemian vibe.
Related: 22 Closet Door Ideas for a Refreshing Look
9. Hand Carved and Painted Mirror Barn Door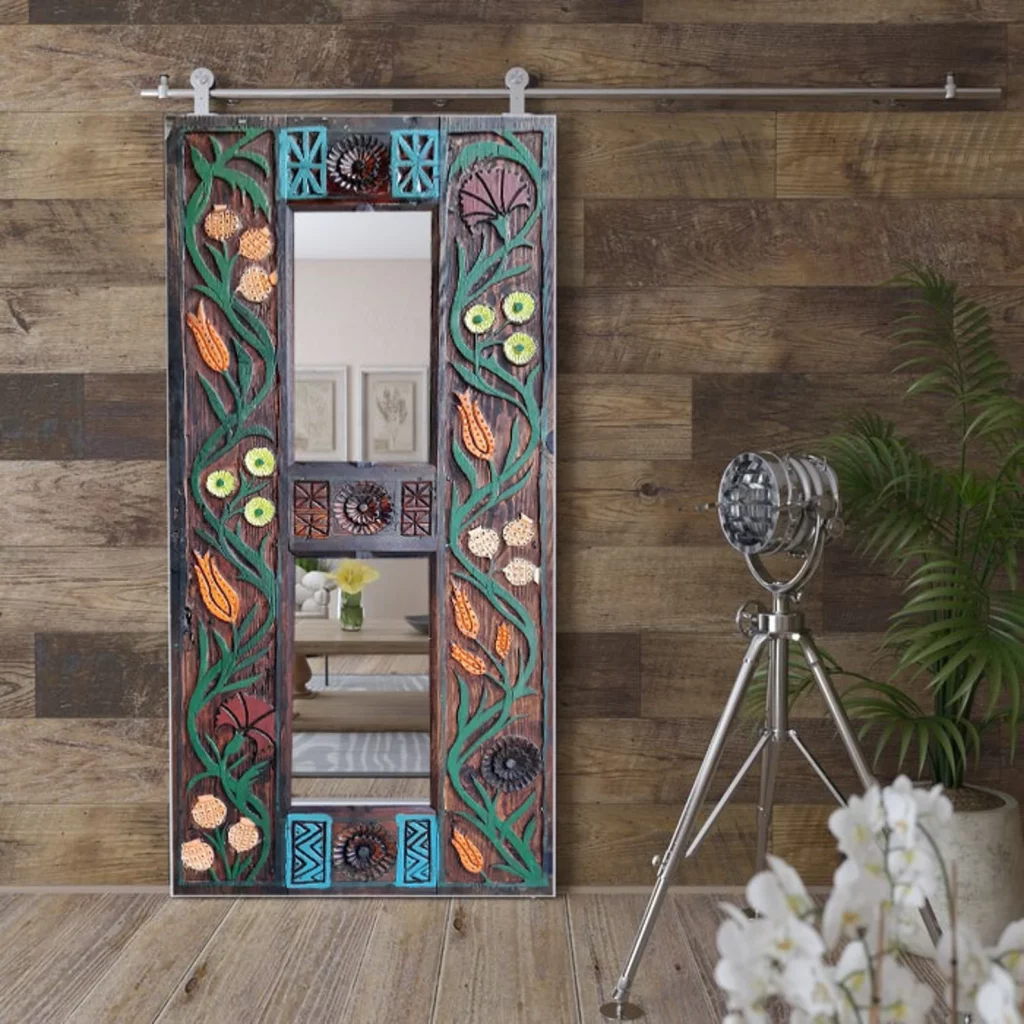 If you want your minimalist room to have some pizzazz, look no further than a carved and painted mirror barn door. The mirror can is divided by carved wood into two rectangles.
What you will have are two small mirrors rather than a full-length one. The wood carving is the highlight of this barn door. Since the wood is carved and painted, keep the tracking rod a simple white or black.
You can also hand paint the carvings yourself; it will give the barn door a personal touch. Remember, you cannot place this mirror barn door beside a gaudy or highly patterned wallpaper.
This barn door will look well only against a solid color wall, a shiplap, or a wooden wall. There should ideally only be one flamboyant element in your room.
10. White Mirror Barn Door with French Embossing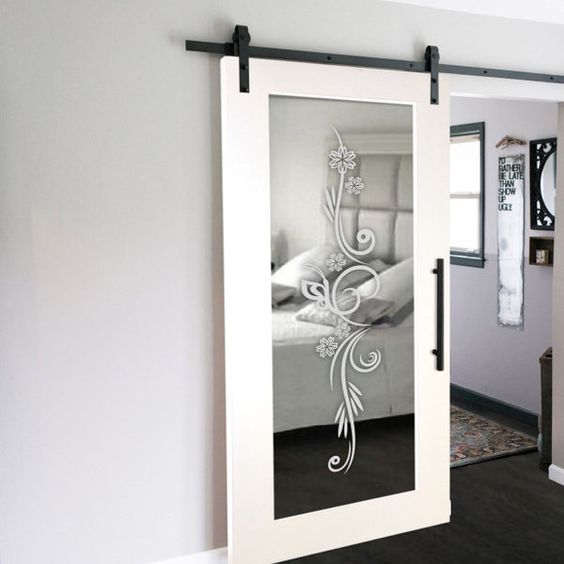 If you want to stick to a classic white minimalist mirror barn door but still want something extra to it, you should consider one with a mirror that has French embossing. After all, not everyone is into ornate wood carving.
Again with a classic white barn door, opt for an elongated black handle to complement its form. The tracking rod must also remain black.
This white barn door will go with the modern look of the room. Dark flooring will go well with this white barn door. Go for a simple etching on the mirror, or personalize the etching to make it more meaningful to you.
11. Minimalist Full-Length Mirror Barn Door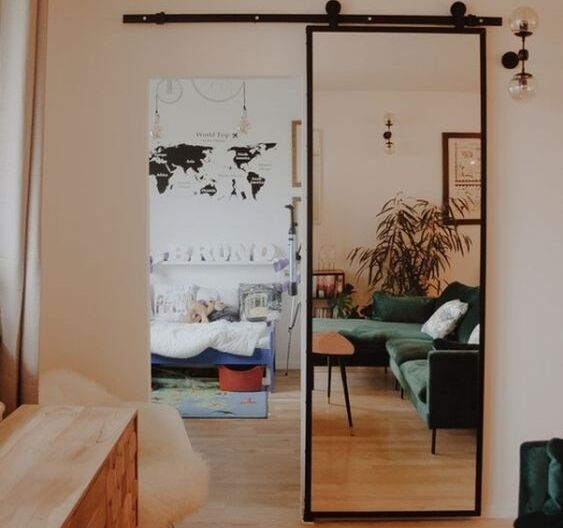 If you don't like wide wooden borders on the barn door and your priority is having a full-length mirror, then go for a black-rimmed full-length mirror barn door.
Since this barn door has a big mirror, make sure the placement of the mirror is towards a light source and an area of your room where you want to be reflected.
The mirror is bound by a thin black metal frame. This barn door will look good in a modern minimalist room.
Light wooden flooring compliments the black frame of the mirror barn door well. Avoid black flooring, or the mirror frame and the floor will blend into each other.
Keep the mirror clean. We would recommend against any etchings on the mirror. Don't stick stickers or postcards on it. Keep it neat.
Conclusion
If you have decided to go for a barn door, there are enough ideas and designs that you can explore, as you can see from the above article.
Barn doors can be installed to give a classic farmhouse look to a minimalist, clean, modern one. You can choose one with carved wood, or metal frame, or a classic white.
They are sturdy pieces of furniture and can be the highlight of your room when chosen well. Old barn door structures can be repurposed as sliding mirrors for your washroom.
Give your room or your closet door an interesting makeover by installing a barn door. Just remember, barn doors will leave a bit of space; they don't seal properly, so choose the place of installation wisely.
Check This Next: Top 15 Round Bathroom Mirrors To Elevate The Look
Other Articles