Have you gotten your Christmas decoration ball rolling? As we enter the last month of the year, everybody has started buckling up for the Christmas decorations.You may be looking for small front porch Christmas decorations.
We often get confused when choosing from numerous available ideas for small front porch Christmas decorations. So if you are also hunting for the best idea for decorating a small porch, stay with us and keep on reading to get inspired. 
The porch is a focal point in the house, and it needs to look attractive, especially at the festival. We will elaborate on how to embellish your small porch to leave your guests in awe.
We have compiled a list of 12 outdoor Christmas decoration themes that you can apply to a small porch- they look magnificent!
Similar Post: 15+ Coastal Christmas Decor Ideas Inspired by The Sea and Shore
1. Wreaths and Garlands
This is a classic decorative item and is most loved. However, modern designs with bells and lights also get people's attention. This refreshing decor is one of the jolliest ways to welcome guests on Christmas.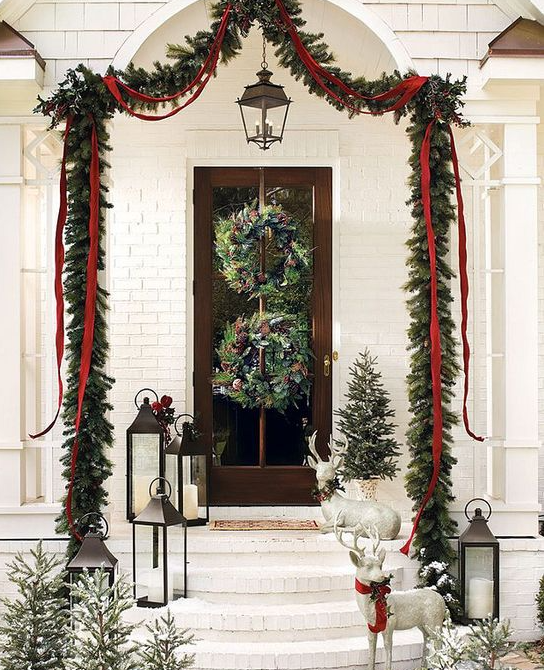 Some folks love to stay classic and go with the traditional leafy wreath decor. If you, too, want your porch decoration to look traditional, spruce up the front porch with a wreath and garlands. This kind of theme creates a cozy vibe.
Add small elements that stand out in the effort, such as a wooden reindeer and a few lanterns. This type of combination certainly catches the sight of bypassers. How can it not attract your guests?
The focus is still on the wreath, but these additions add charm to the porch.
2. Beautify with Plants
When the coldest weather is around the corner, we tend to forget about the plants to use as decor items.
There is a great deal of seasonally appropriate decor elements that can be used to light up your porch in December.
Also Read: 12 Stunning Black Front Doors to Make a Bold First Impression
Find fancy planters in the market but make sure you choose from plants and flowers that can survive in colder seasons, such as red berries or seed pods.
What else? Blend them with other ornaments and ribbons, or maybe just put a jar or basket filled with winter-friendly plants to attract your guests. This way, the decor won't look bare.
But, keep in mind to invest in items that can survive extreme temperatures; otherwise, it could be a waste of time.
3. Vintage Items as Decor
Go with vintage-themed items for the retro vibe. Numerous items like old-fashioned signboards and antique jars will add character to the theme you want to create.
Not only buying new (antique) stuff is a great idea, but also you can add what is lying in your basement. Things that have been rusted or not in use can be used as a pot if you want to make it look a little greenish.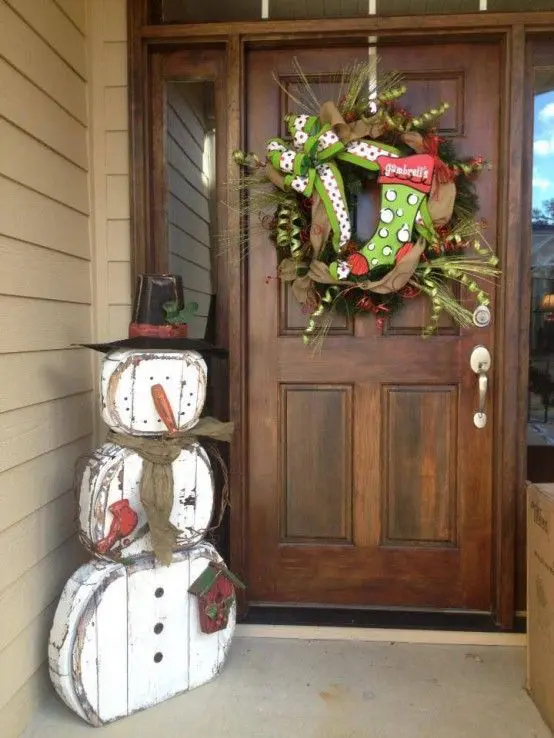 Put a live plant in a rusted churn and decorate it with other ornaments and vintage collectibles. A vintage snowman welcome sign will add a curb appeal.
Outdoor travel signs are also ideal for porch decor because they make it easy for a homeowner to express their love for travel. You can prefer decorating the small porch your way, even on Christmas.
4. Gift-Wrapped Boxes
A gift catches everyone's interest. We often become interested in what is inside the present we receive. The same goes with this decor- it creates a sense of curiosity.
Put empty cardboard boxes into the work. Wrap some boxes with Kraft paper, add burlap ribbon, and tie them all with a bow.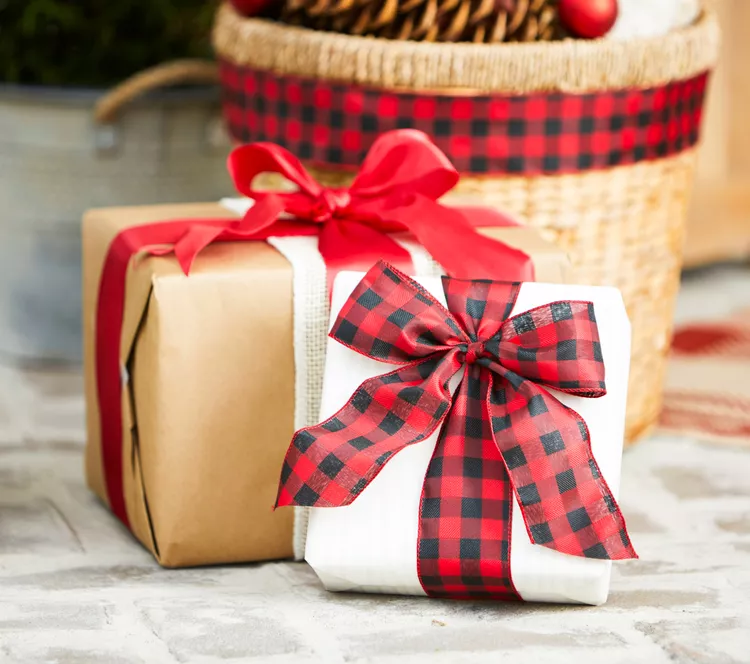 You can also add polka dots to make it more appealing. Or wrap them in bright and cheerful color paper or one with a buffalo plaid pattern. On the other hand, if you feel lazy about doing it all by yourself, then purchase those with lighting options from a store or online.
5. Hanging Snowflakes
If you want to give your porch a holiday accent, then go for this decor. Snowflake decors shine with the holiday spirit. Winter always brings a feeling that the holidays are approaching, and there could be a flurry of snowflakes at any time.
The temperature will drop, but it can not stop you from enjoying the outdoors.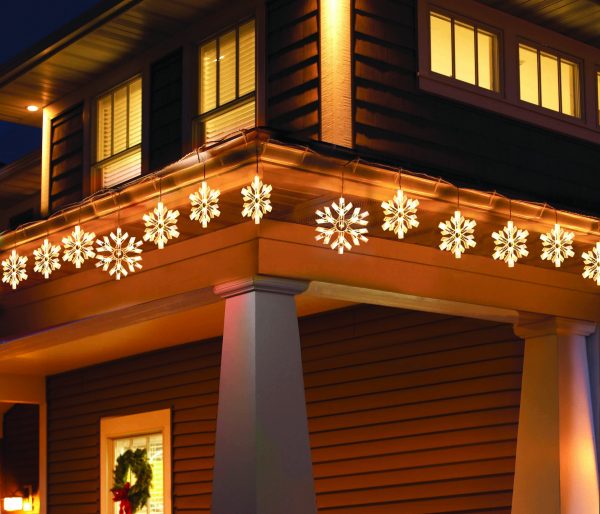 You can make snowflakes from cardboard or just purchase them from the stores. Some of these designs with inbuilt LEDs are also sufficient to brighten your porch.
You can also hang wintery ornaments and pendants with soft-coloured LEDs. This kind of blend looks so beautiful at night and will make your porch look cute.
See More: 10 Sparse Christmas Trees to Buy this Holiday Season
6. Decorative Doormats
Even a tiny element can create a tremendous difference, especially when choosing from plenty of small front porch Christmas decorations. Pick a matching patterned rug to put under the small-sized mat.
This little effort is a great way to blend decoration items! A cute little doormat with signs and welcoming signs looks adorable.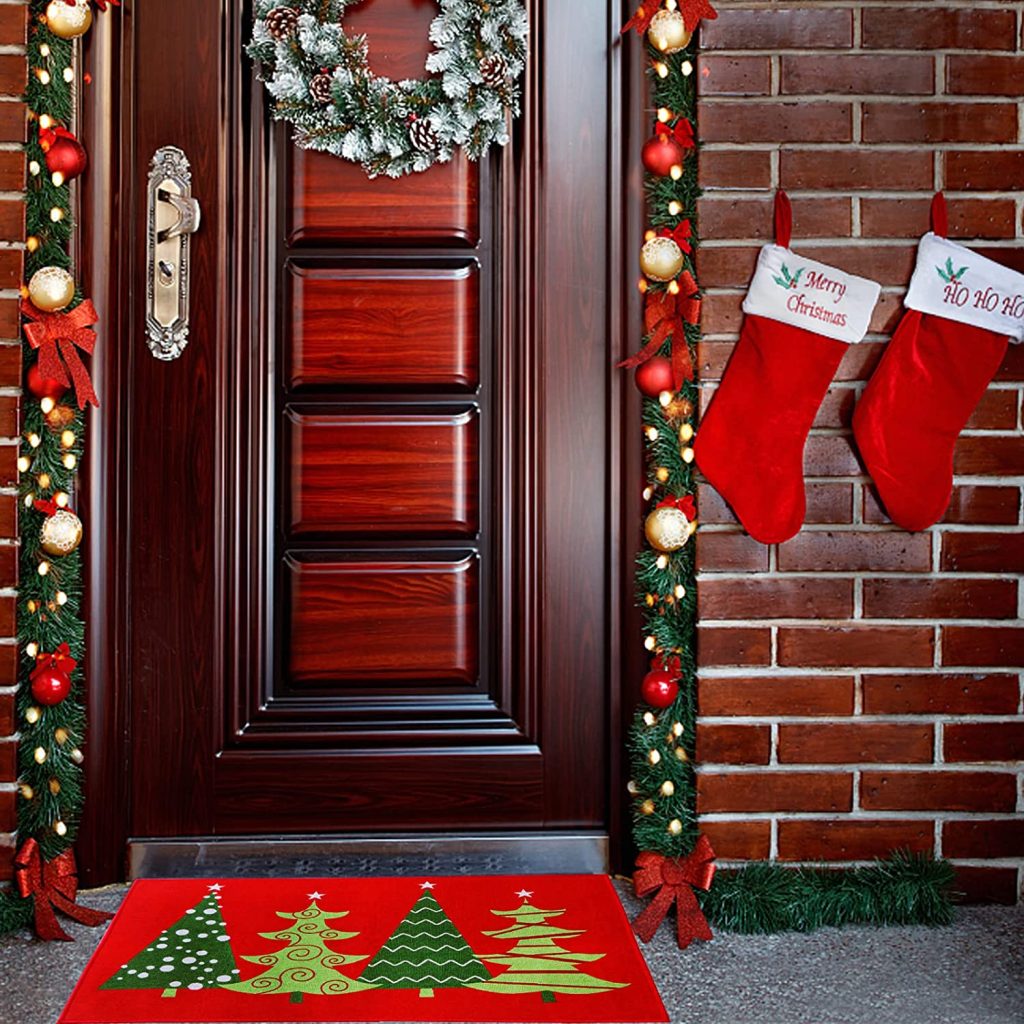 Isn't it a heart-warming outdoor Christmas decoration idea for A cute little front porch? Your guests will find it welcoming when the first thing they find is a friendly sign sitting on the floor while they enter the house for Christmas celebrations!
All in all, it will make an excellent welcoming board, along with its dirt-cleaning abilities. This Christmas, keep your floor clean and welcome guests with gorgeous mats!
7. Wooden Decor Items
You don't need to be stressed if you are unsure about how you can decorate your porch with wooden decor items. A wooden bowl is a blessing for Christmas decorations.
A wooden bowl, pot, or planter helps the flowers to pop even better. It makes the decorated area look more spacious than it is. This type of decor item works best for a tiny porch.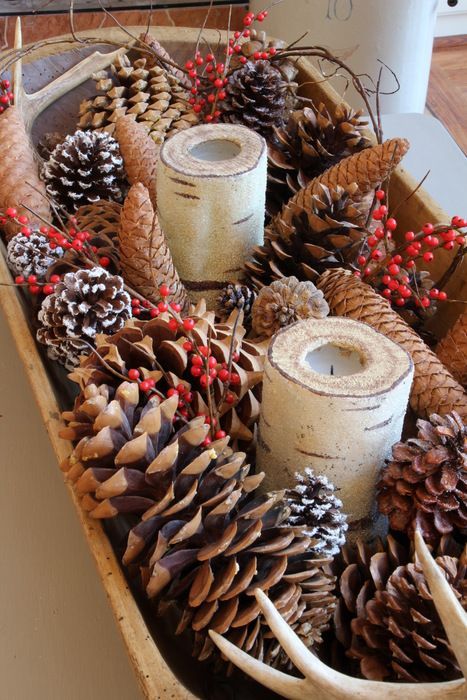 Choose a natural brownish-coloured bowl display that will merge nicely with other lighter-coloured decorative items. Nothing could beat a wooden decoration than a beige wood bowl with greeny plants and red flowers planted together.
Use it as a centerpiece with nicely stacked flowers. You can also add artificial LED candles for a cozy vibe if they are waterproof!
8. Shiny String Lights
Add a little festive sparkle in every corner of the tiny porch with exterior decor items. String lights and LED lights have a bit of a nostalgic feel. Exterior decor items like String lights are easy to incorporate into Christmas garlands or porch stair banisters.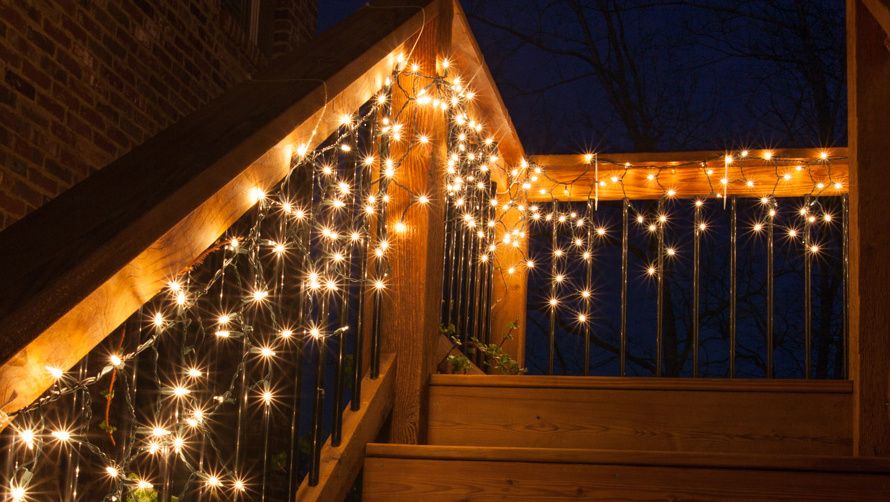 Decorate the outer path with bright, colorful lights. Don't worry about doing a bit much when decorating a cute little porch with string lights. No matter what you want to add to your DIY project.
Put them in a Jar or string them on a stack of Hay bales. Light strings stuck on circular copper coils strings would make a chic decoration masterpiece. Spruce up string lights with burlap ribbons to add a rustic touch. 
9. Outdoor Christmas Tree
Twinkle some Christmas cheer on your small porch front with an outdoor Christmas tree.
It is a lovely choice, but make sure you invest in an outdoor artificial Christmas tree that can survive heavy gusts of wind or moisture damage. A Christmas tree decorated with LEDs or string lights looks stunning at night.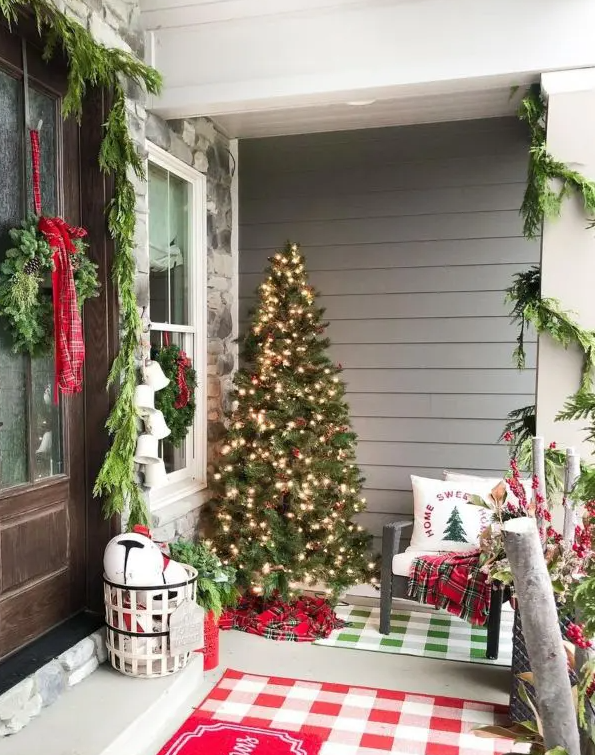 Related: 17 Best Outdoor Fall Decor Ideas to Welcome the Season!
Take care of the distance- what if you put the tree far away from the door and even the extension couldn't reach it? Also, use shatterproof decorative decor items for outdoor decorations.
Trees are available in different hues for decorating the small porches. A Christmas tree with bright string lights is a classic, timeless decoration.
10. Branch-Inspired Lights
The branch chandelier is a decor item inspired by the forest. This odd-looking decor option can evoke nature in your space. Its strange finish brings you close to Mother Earth.
You'd love it if you are a rustic decor lover. You can purchase a branchy decoration item that comes with attachable columns for LEDs.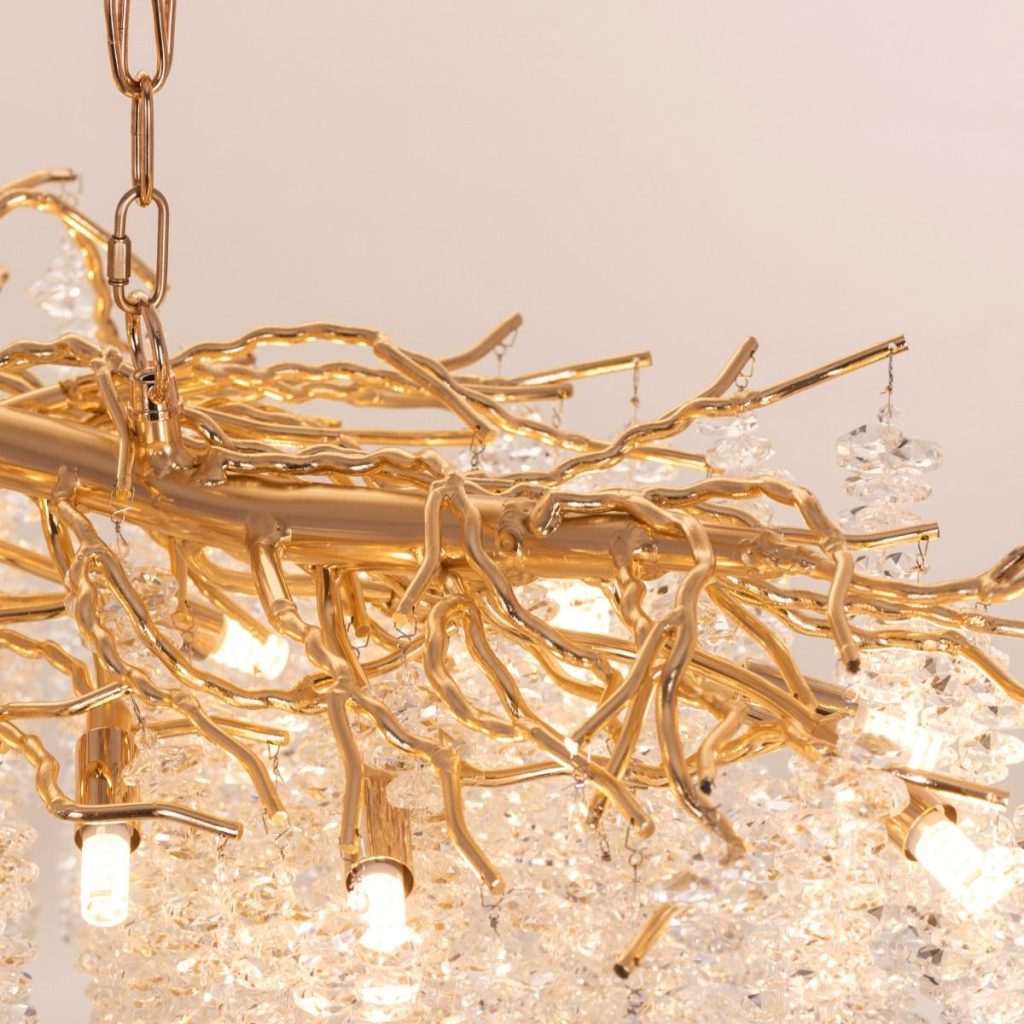 Chandeliers were used to hold candles in the past; however, these days, they are available in different designs. Go with unusual patterns to have a sense of awe. Such patterns add a welcoming warmth to the front door when decorated with ambient lights.
They can also be decorated with other items, such as crystals and LEDs.
11. Ornamental Lanterns
If LEDs or regular string lights aren't cutting it for you, then choosing a quirky lantern is a good idea. You can use these versatile items for many purposes, from lighting up your porch to adding some decorative glow to your front door.
Plenty of designs are available online, from vintage-looking lanterns to tiny cute lanterns with space to add candles and those with captivating snow globe scenes and music-playing abilities.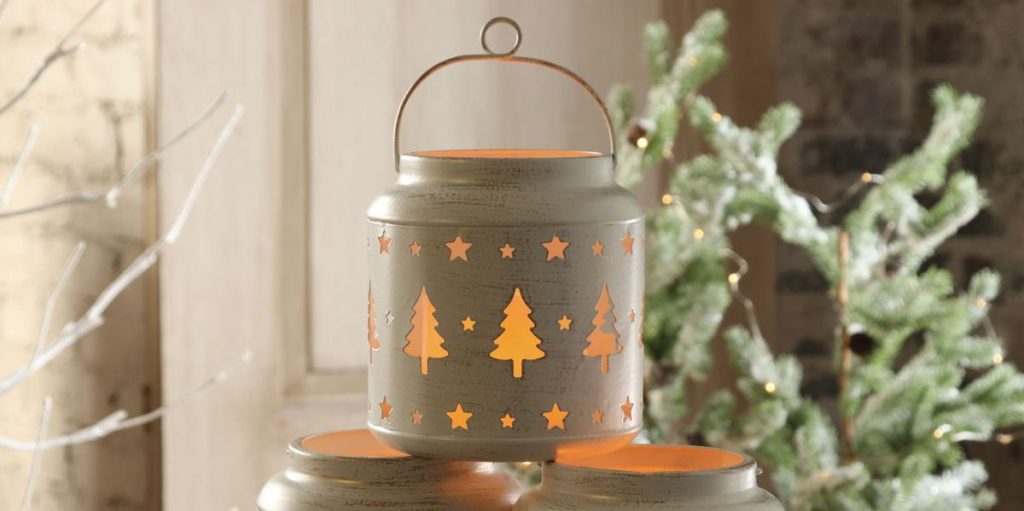 You can stack them one over another or just put them together in a line. You can also put a single adorable tea light lantern with Christmas-themed cutouts to create a Christmas vibe. Mini fireplace lanterns can also spruce up a porch entry.
12. Hanging Chairs
This one is quirky! You can modify the swings in front of your small porch into hanging chairs. Put some cushions and ta-da! Christmas decoration is completed. This scene looks cozy and sophisticated. Lazy guests can directly greet, sit there, and chill.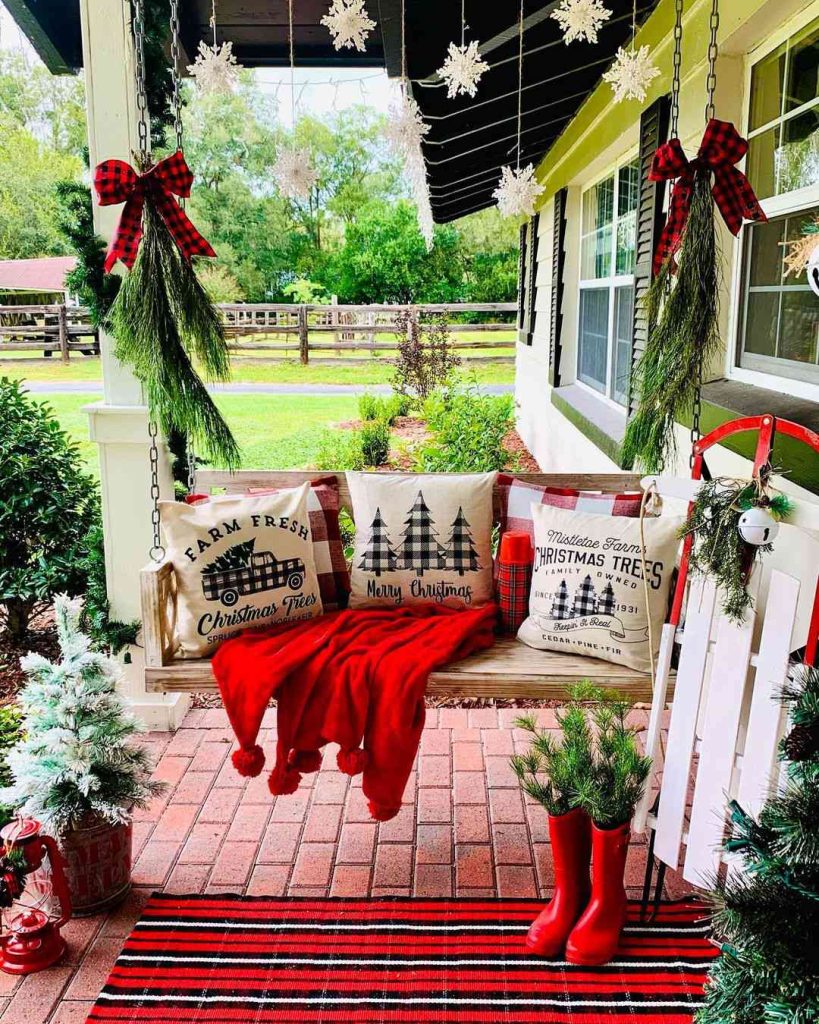 Swinging chairs are available anywhere from stores to online. They come in different colors and designs. Don't worry if you don't have a hook to hang it; they are also designed with stands.
Materials such as aluminum can bear the weight of a gym goer and a lazy person who has recently put up some weight. You can also add a soft-toned rug under the chair to keep you safe from slipping, and it will also mellow down the porch.
Conclusion
We discussed some charming small front porch Christmas decorations that may make you curious about taking your decor game to the next level. You can blend two or three ideas if you are satisfied.
For example, mix hanging chairs with snowflake decor or rustic decor items with glowing lanterns. It's your call, no matter how you want to do it. The point is to start!
It's exciting to buy decorative items and then use them to make your place more lively and welcoming for your guests. Which would be your pick? Will you go with one particular theme, or will you blend a few to get chuffed to bits? We are curious about which one you chose.
We hope you get the best decor idea to make your porch more Christmas-ready.
Check This Next: 21 Stylish And Simple Dining Room Table Decorating Ideas
Other Articles