17 Best Outdoor Fall Decor Ideas to Welcome the Season!
The fall is here! Are you yet to confirm the outdoor fall decor? We understand your excitement for the fall and also empathize with your confusion. Stepping into a new season canbring many changes in...
The fall is here!
Are you yet to confirm the outdoor fall decor?
We understand your excitement for the fall and also empathize with your confusion. Stepping into a new season canbring many changes in your life and surroundings. The decor is all about welcoming this change with joy and grace. Fall brings along various festivals, and thus you may look forward to different decor ideas.
This article shares 17 unique ideas for outdoor decoration during the fall. Read ahead to explore how to enrich your front porch and entryway for fall.
Ideas for Outdoor Fall Decor to Beautify Your Entryway
1. Grace Your Entrance with Resin Pumpkins!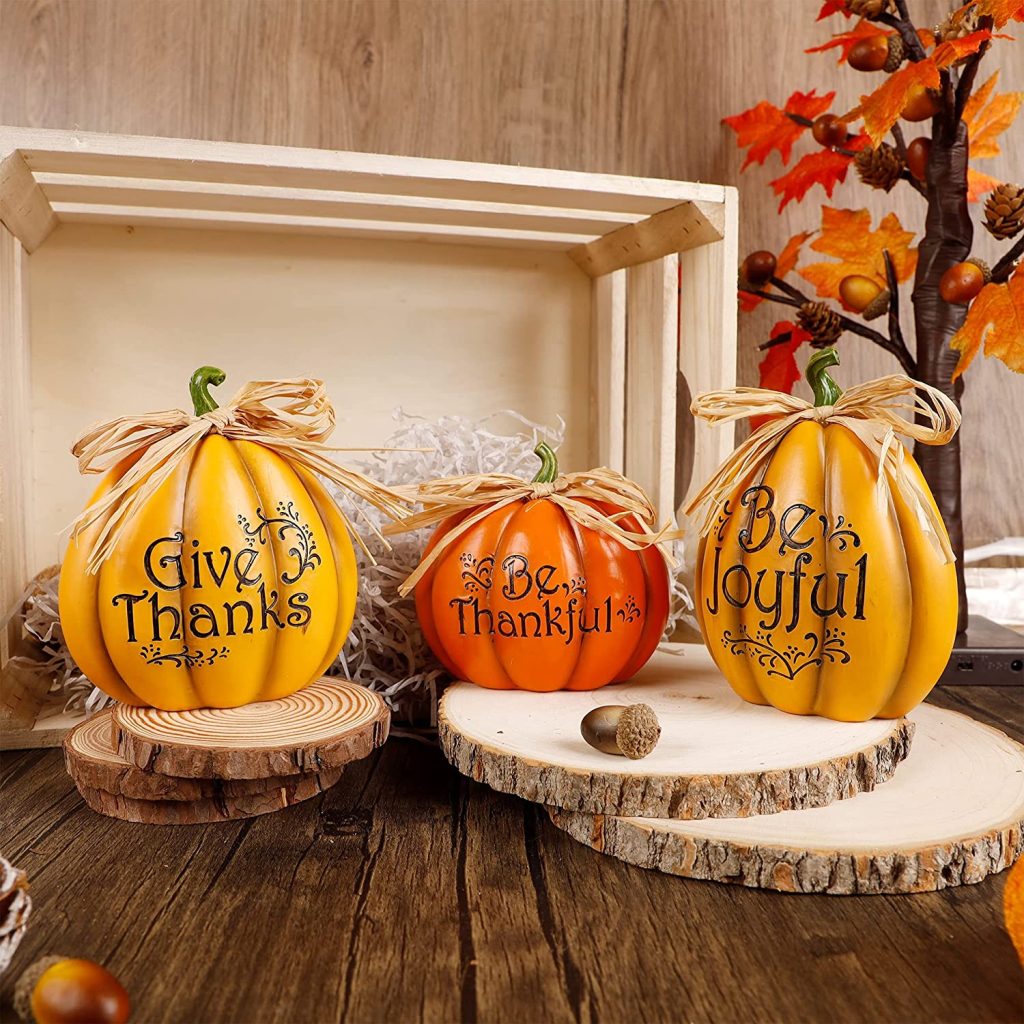 Fall is about letting go of the unwanted and welcoming the pleasantness and new beginnings in life. Create a positive vibe on your front porch with colored pumpkins. Vibrant hues of yellow and orange pumpkins will give your guests a joyful energy as they enter your home. Combine these pumpkins with a wooden background, maybe around a tree, and enhance your outdoor fall decor. Give your entrance a final touch with natural pinecones and enjoy the charming rustic look.
2. Brighten up Your Front Porch with Turkey Tea Light Candles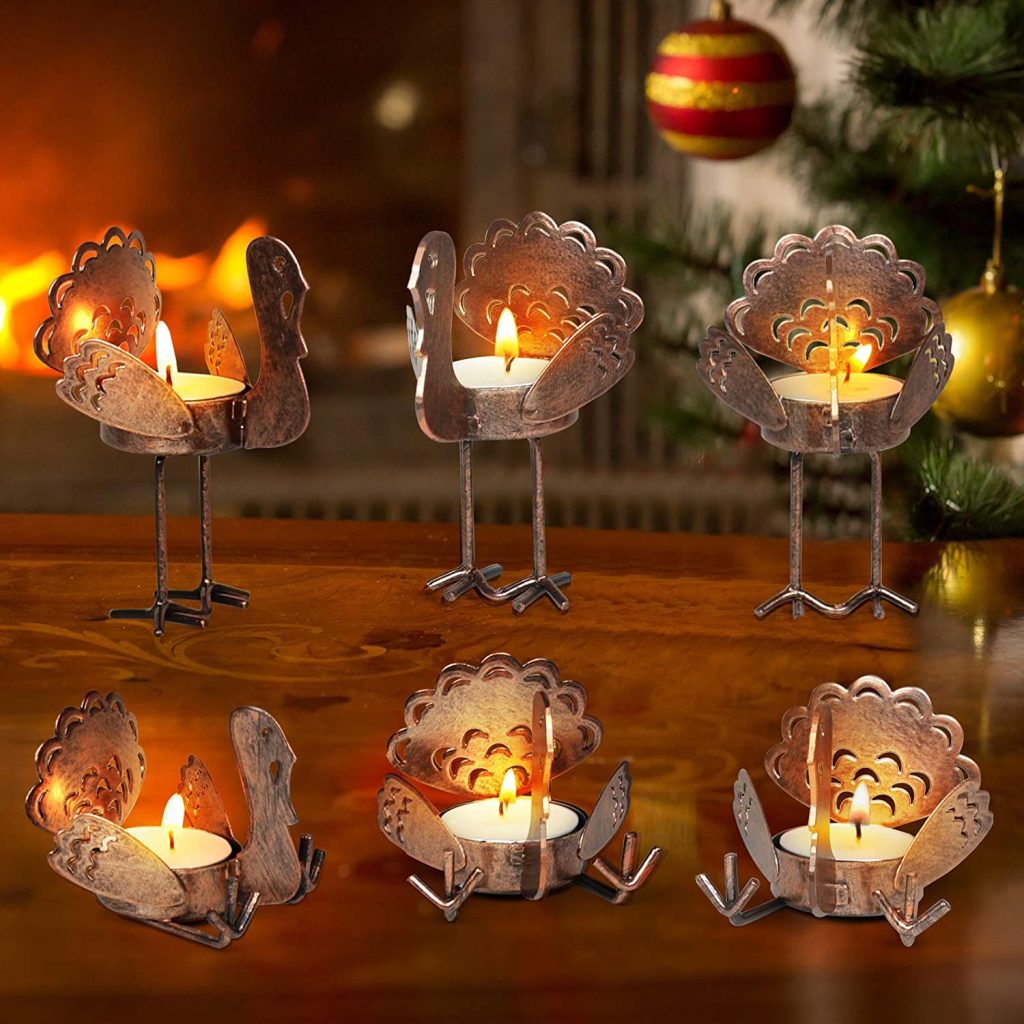 Make your lane shine bright at night with mesmerizing and creative lights. The turkey tea light candles radiate exuberance on your pathway during the night. Illuminate the beauty of your front porch by hanging a Plum blossom lantern with string lights. This is the perfect setup for a fall party happening in the evening. It provides a warm atmosphere and creates a welcoming ambiance for all the guests. The unbelievably adorable tea and string lights will give your entrance a classic and cozy look on darker fall nights.
3. Decorate the Door with Maple Leaf Fall Garland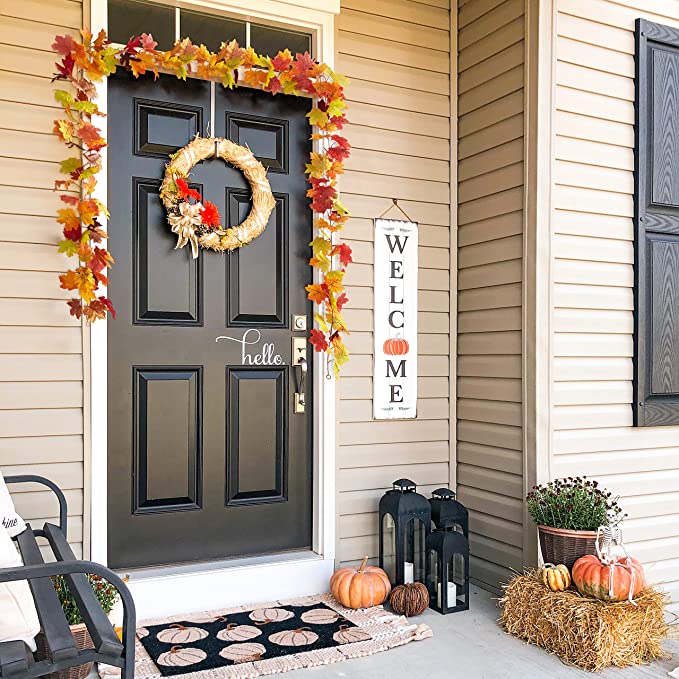 Make the fall season obvious from your front porch and entryway to the visitors and guests. Garnish the welcome door with a maple leaf fall garland for a proper autumn-themed decoration. A natural hay bale on the corner with some pumpkins will complete the whole look. Don't forget to hang a wreath on your door made with colorful flowers or leaves. Add a little rustic look with natural hay in the outdoor fall decor to complete the look.
4. Sometimes Less Is More for Your Lawn Patio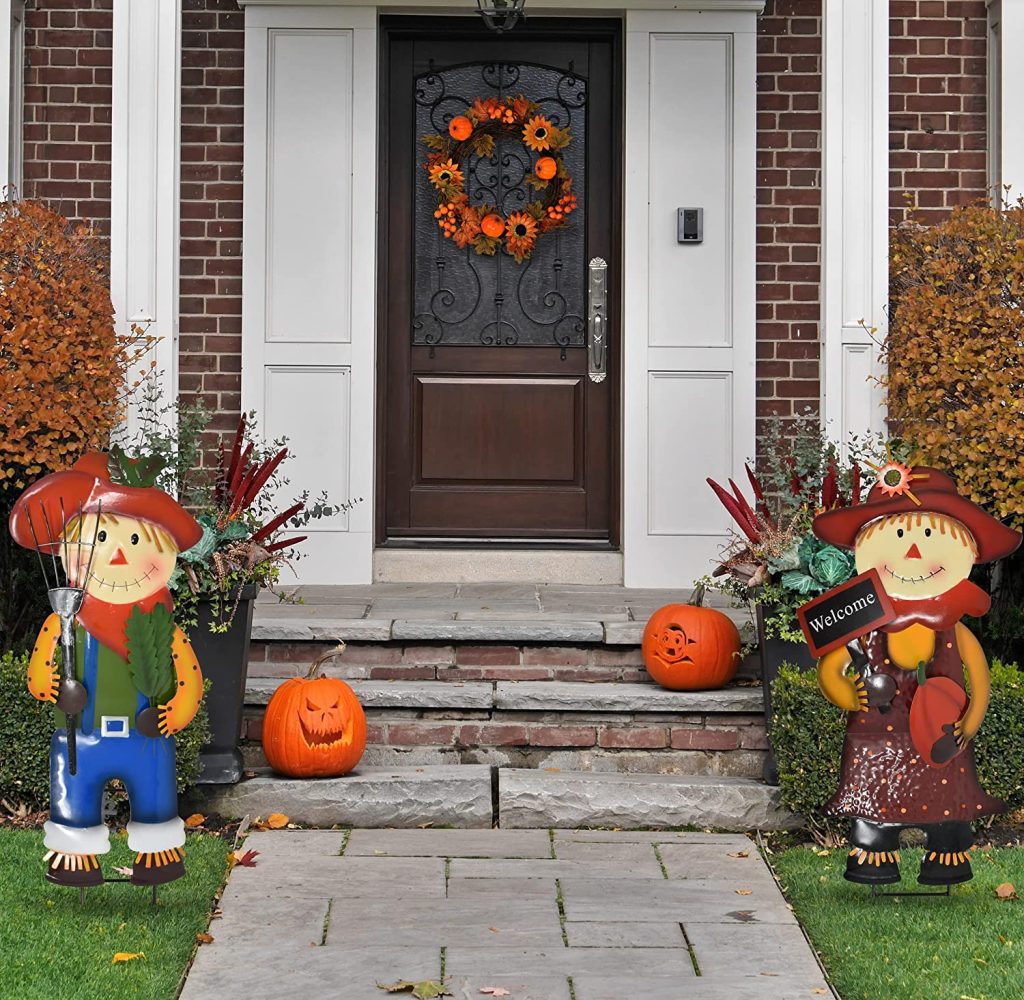 Wondering what you can do with the lawn patio? Scarecrow yard stakes can be a great way to welcome the holidays in this season. Displaying them in the front yard will not only make the kids go "wow" but also grab the attention of adults. This fun addition will give minimal decor to the lawn and leave some extra space for outdoor dinner/lunch arrangements. Some pumpkins here and there are always adorable when it's an autumn-fall celebration around Halloween. This outdoor fall decor is easily implementable and creates a unique pathway to the entrance.
5. Lighted Fall Trees Will Make Your Home Shine in The Dark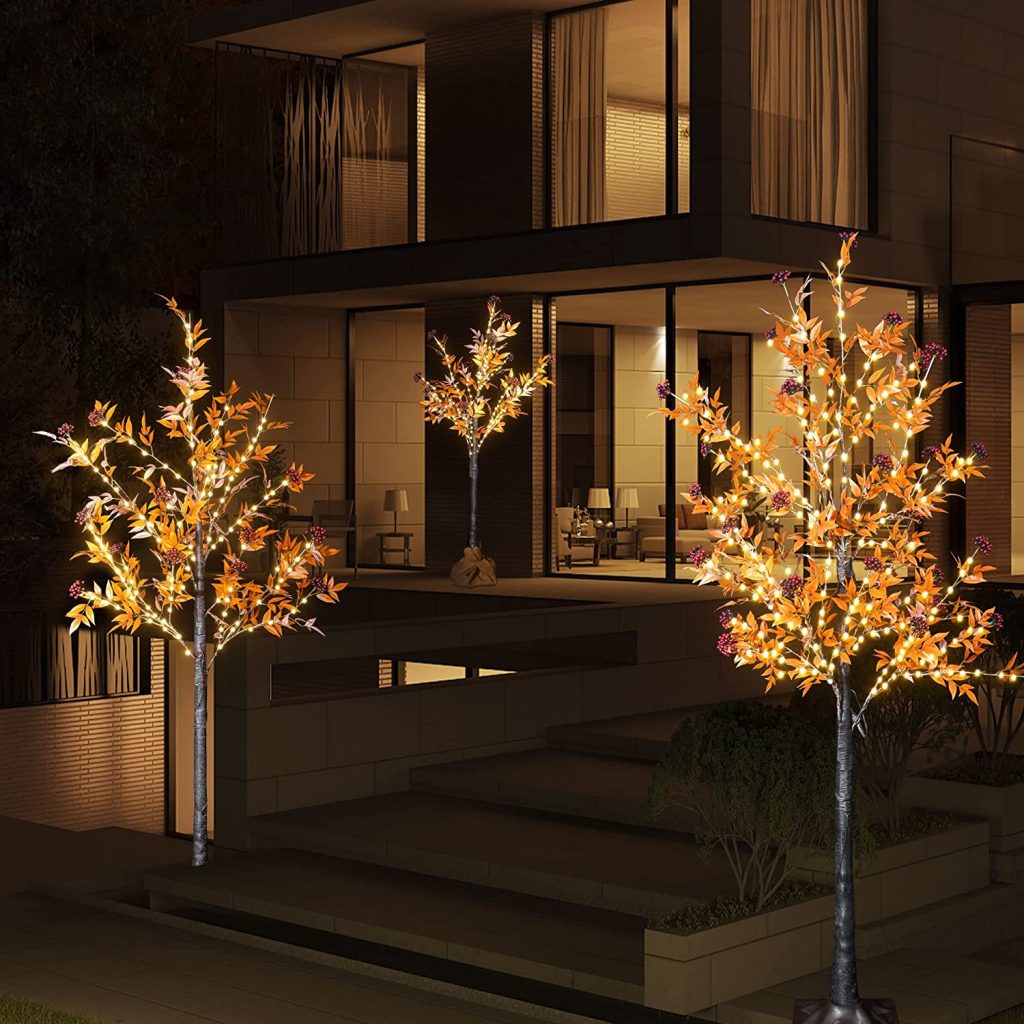 Give your outdoor fall decor an elegant look with bright fall trees infused with LED light. Choose a graceful and refined look for your decor this fall. As the nights grow cooler during the fall, this warm decor will radiate warmth in the ambiance. Invite a romantic and tender feeling with the warm white light during a gathering or an intimate time with your dear one. The presence of lights creates an eye-catching outdoors with a perfect festive vibe.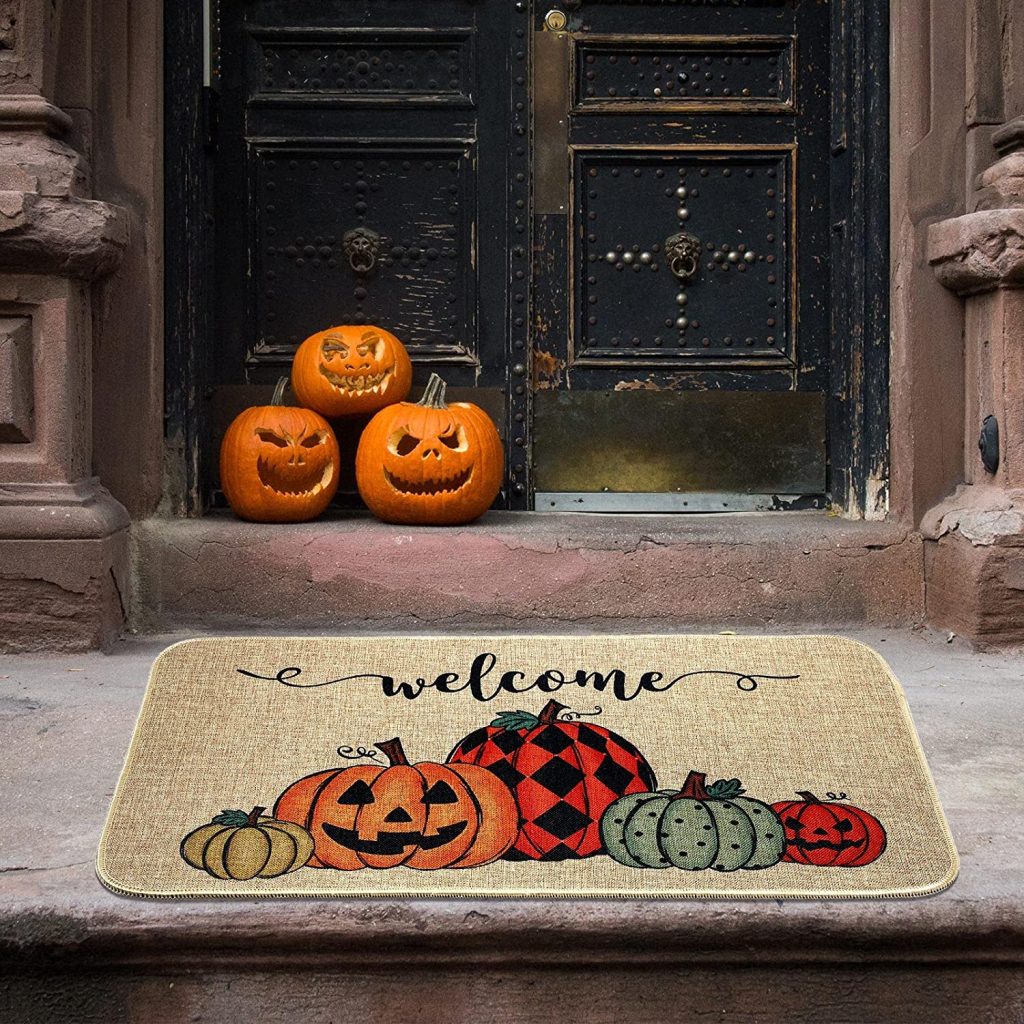 Placing a festive welcome rug can be a delightful addition to the outdoor fall decor. It is a great way to let the world know you are ready for the fall and coming celebrations. It can be a rug with a festive wish or a simple picture of pumpkin and maple leaves. Celebrate the onset of autumn and your excitement for Halloween, and welcome Thanksgiving by placing adorable and fun rugs at your doorstep.
7. Nothing but Pumpkin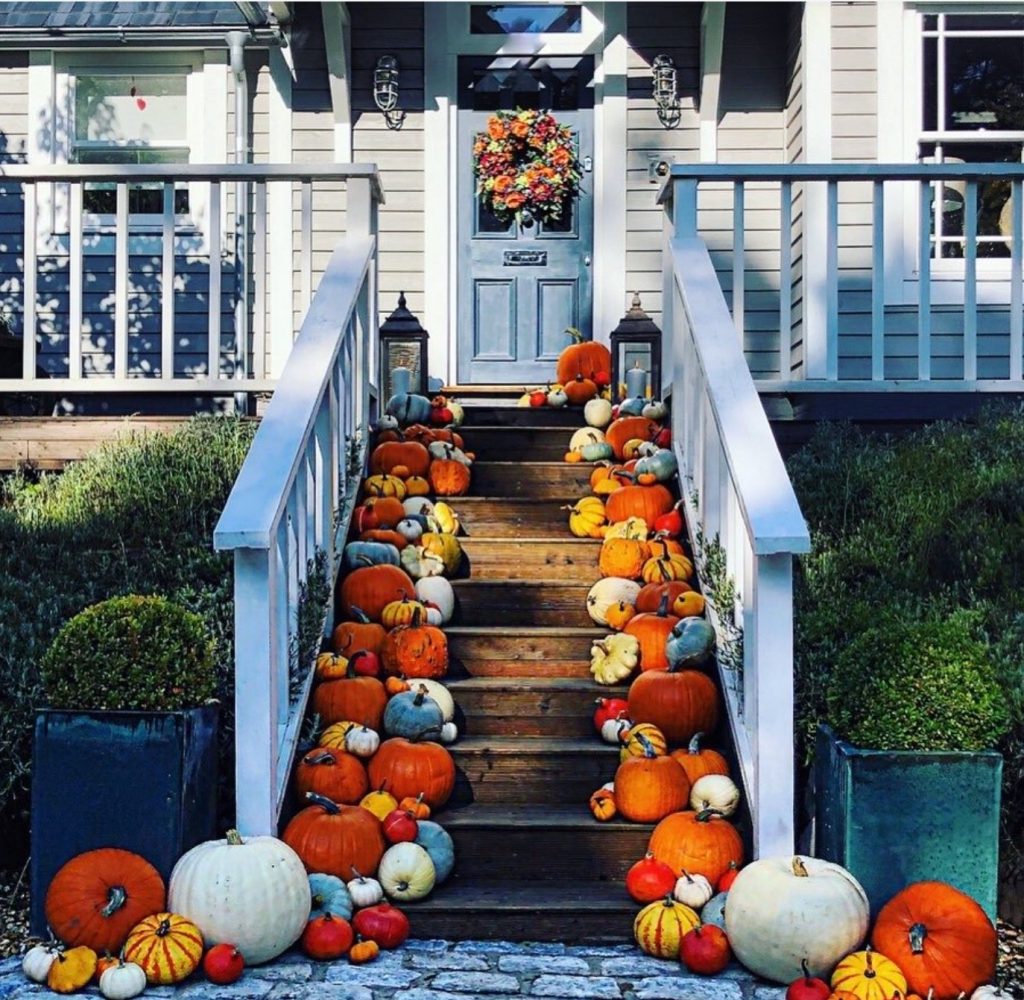 This outdoor fall decor will be a dream come true for all pumpkin fans. Pumpkins are considered a way to ward away negative energy from the house. That's why we see tons of pumpkins outside the houses on Halloween. If you are a believer or a huge pumpkin fan, bring home a collection of pumpkins to adorn the entryway. You can either choose to buy real or artificial pumpkins for decoration. Different sizes and colors of pumpkin in your entrance will give your home a unique positive look.
8. Autumn Harvest Wreath on The Front Door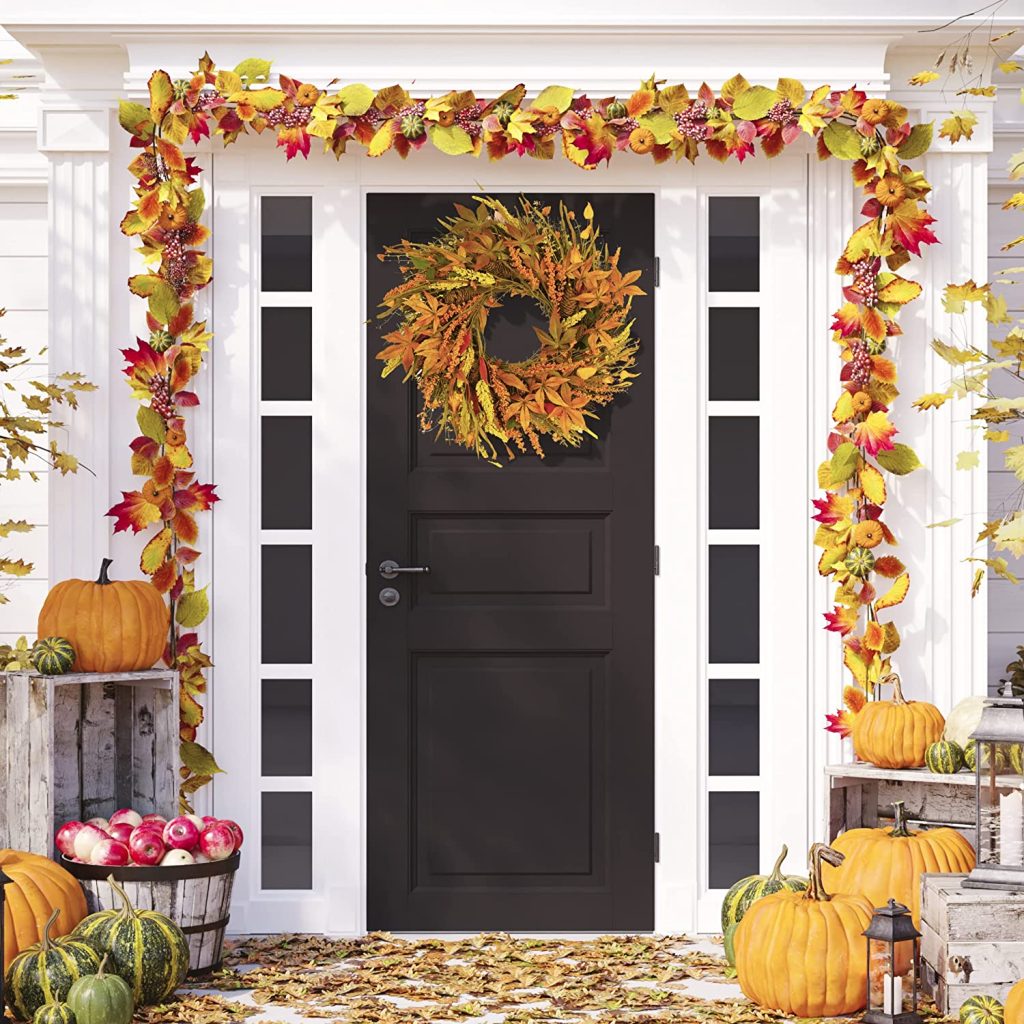 Autumn is a time that reminds us about the importance of change in life. The cycle of leaves turning from green to brown and falling off is a graceful way to remember the circle of life. Wreath is a beautiful outdoor fall decor item that exhibits this circle of life. Placed at the entrance in the middle of the door, it consists of grapevine, fresh leaves, flowers, maple leaves, or pinecones. If you are creative enough, making your wreath by collecting the dried leaves and flowers from the surrounding can be a bonding group activity with your family or friends.
9. Hand-Painted Fall Sign to Welcome Guests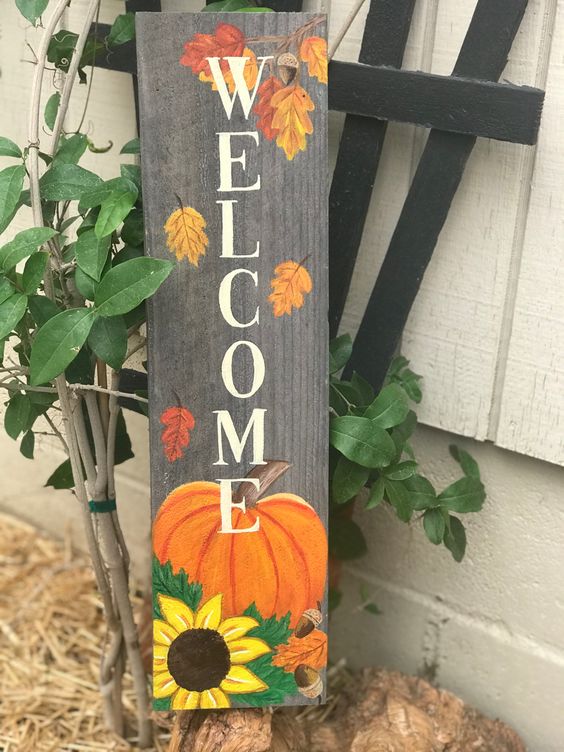 Having spare time to work extensively on your outdoor fall decor is a blessing. All such blessed individuals can find creative ways to add their artistic skills by doing DIYs to enhance the beauty of the front porch and entryway. Putting up hand-painted signs is one such way to bring that joyful vibe. Make a painting or write a message on a wood painting panel and let it be a part of your entryway decor.
10. Spooky Decor for The Fall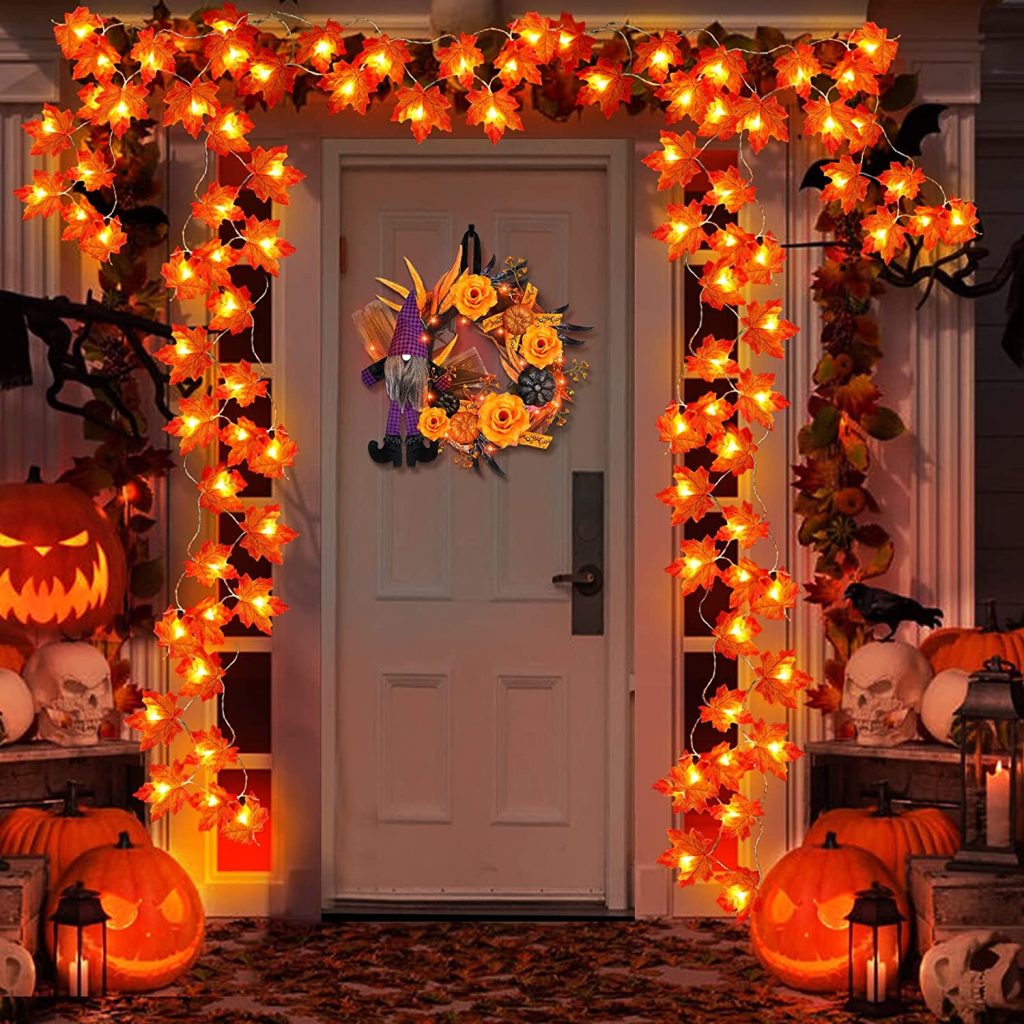 With the fall season comes the Halloween celebrations. It calls for spooky outdoor decor that gives a scary and adventurous vibe. A mysterious theme needs accessories like crows; maple leaves lights, pumpkin lights, spider webs, and other similar things. Bringing them together will make your front porch and entryway a ghostly pathway. No intention to scare people, but only this kind of decor will do justice to the Halloween celebrations.
11. A Fall-Based Rustic Outdoor Setting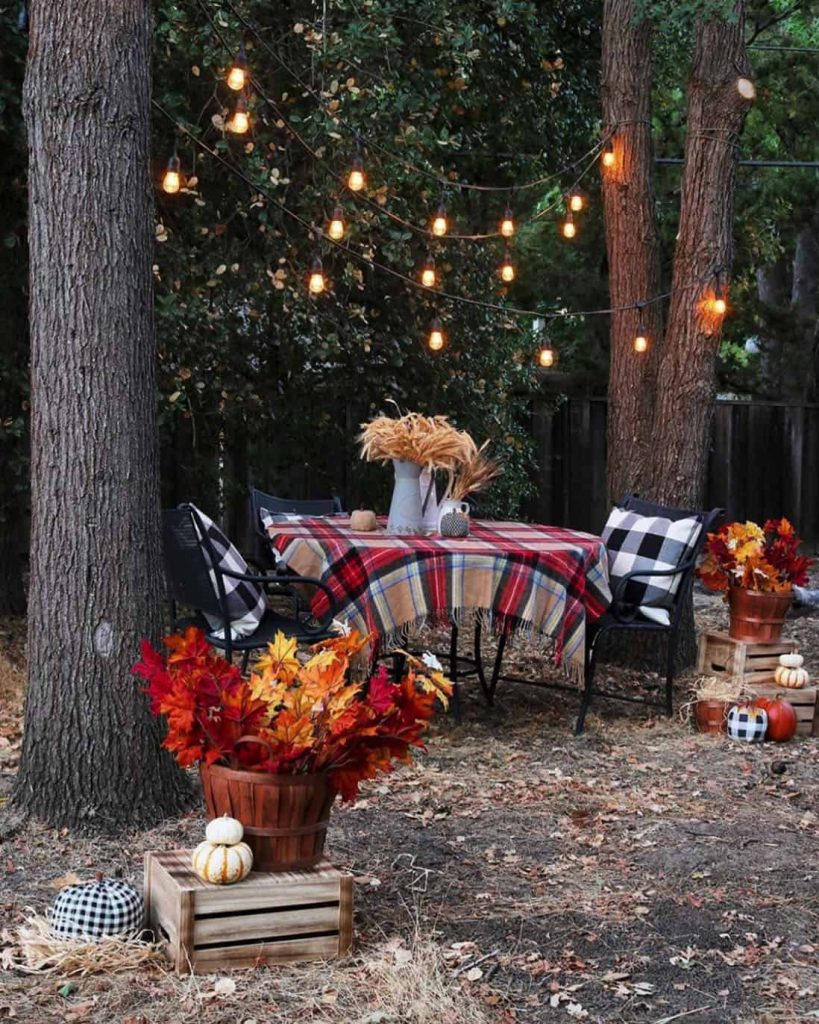 Have some extra space in your backyard or in the front lawn? This fall-based rustic outdoor setting will give you many wonderful lunch and dinner memories. The fabric & white pumpkins add beauty, whereas the white & brown dried grass decor brings along the message of the fall season. Throw some hanging lights and make it a quiet place to have a family gathering or a dinner date with your loved one.
12. Go All Natural with Lots of Plants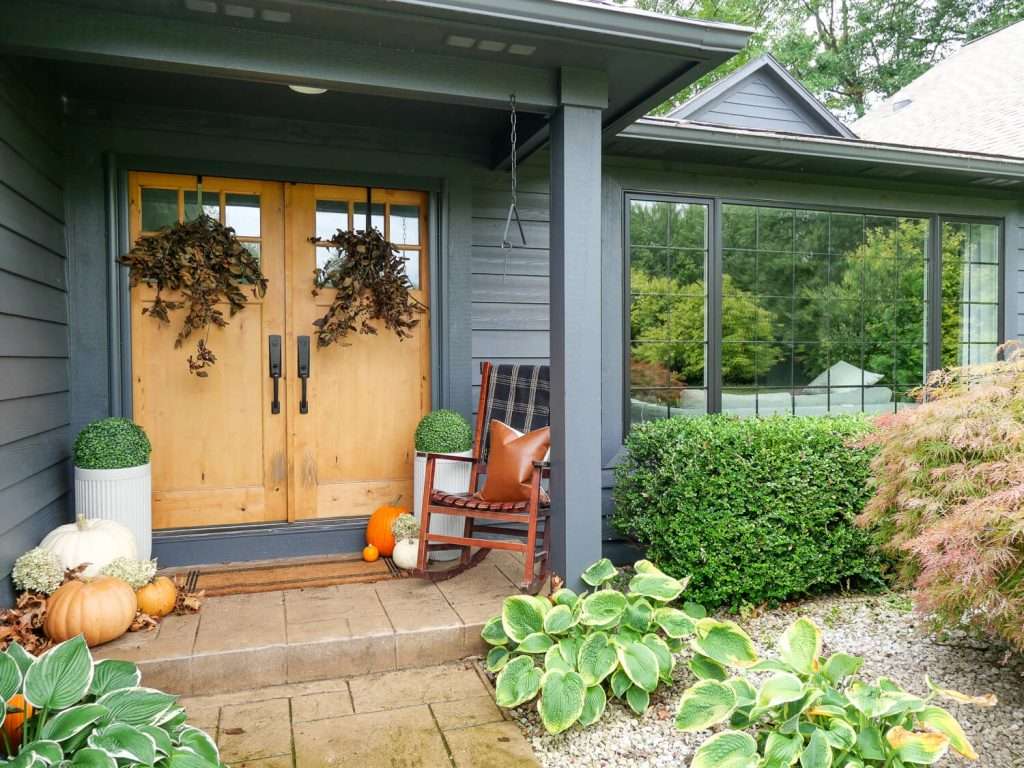 Not a fan of artificial decor accessories? Well, this can be the best fit for you! All natural decor for this fall season with various colorful and green plants accompanied by a few pumpkins. Add unique holders like a rustic vase and glass vase to bring a unique look to your entryway. The best thing about all-natural decor using plants is that you can have it for 365 days. All you need to do is make a few modifications to match the seasons and new themes. Using multiple plants and flowers is a sustainable outdoor fall decor idea.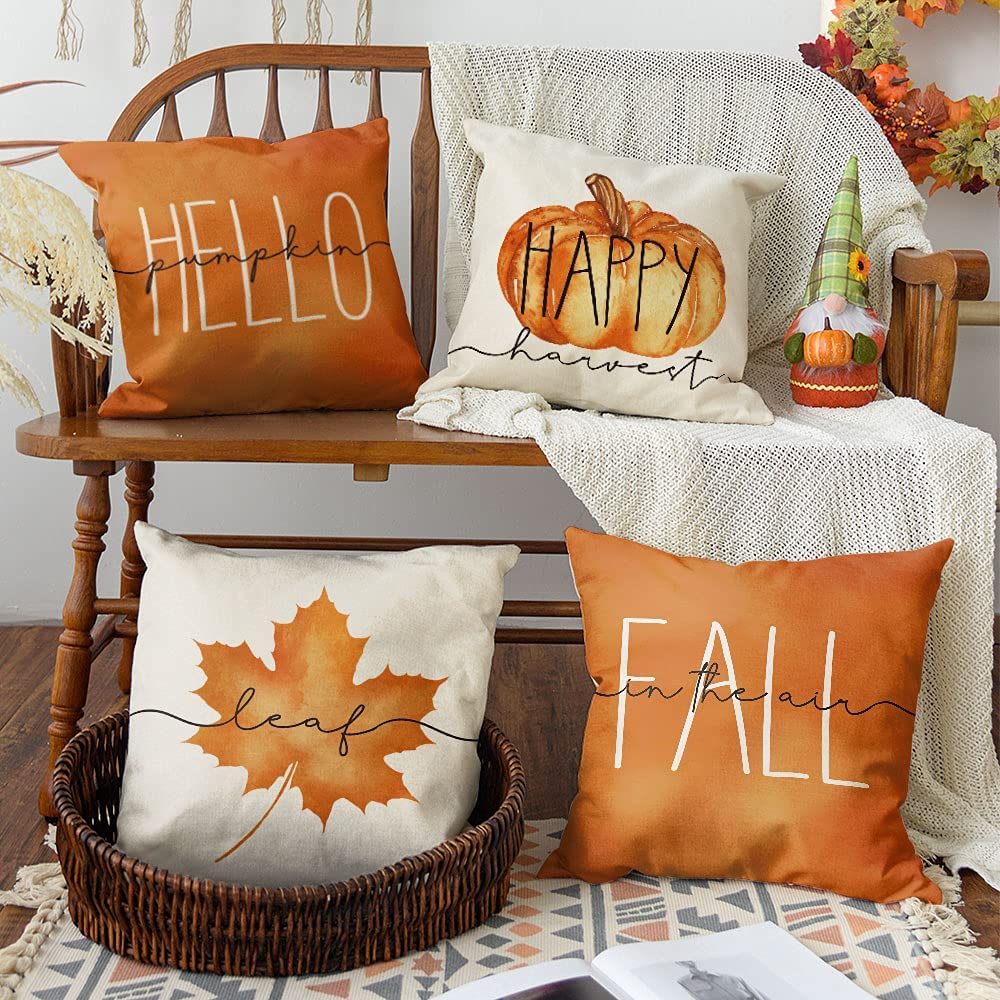 Do you have an outdoor bench, a couch on the lawn patio, or near the entrance? Using these festive pillow covers brings the space alive. Pillows with messages or pictures of fall, Thanksgiving, and Halloween can be a great way to add autumn essence to your outdoor decor. Scan the walls and background to explore and select the best matching festive pillow covers for your outdoor decoration.
14. Natural Grapevine to Welcome the Fall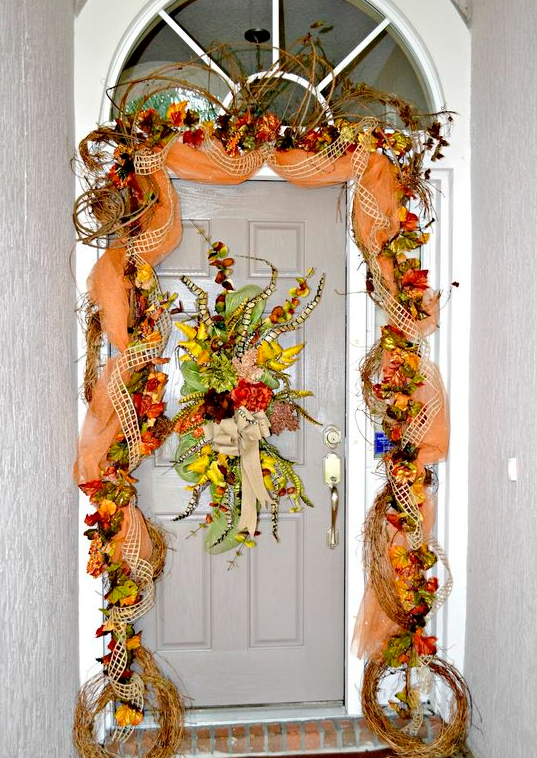 Autumn brings along a rustic view to our surroundings. Bring home dried grapevine if you want your entrance to resemble nature's look. Mix the brown color of the dried grapevine with other leaves and flowers to form a beautiful wreath. It can also be decorated as a garland on the door border, creating a welcoming gate.
15. Curate a Space for a Cozy Fall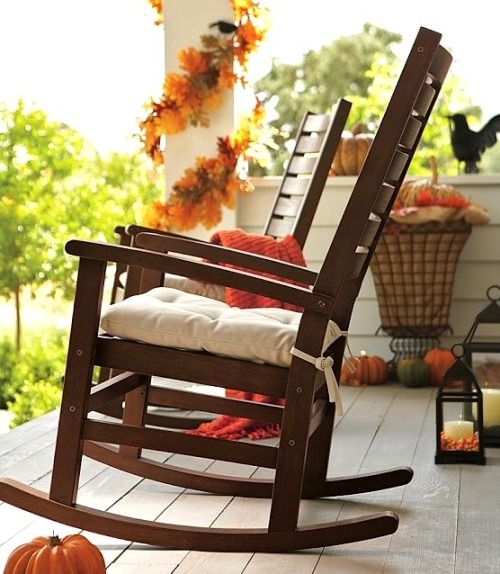 This decor is for those who find autumn a time for self-reflection. This theme creates a cozy space to be with nature and to connect with the self. A wooden Chair surrounded by a few pumpkins and plants near the entrance can be a great start. Add a soft cushion and a comfy throw blanket to get the warmth on chilly nights.
16. Go with a Pastel Shade This Fall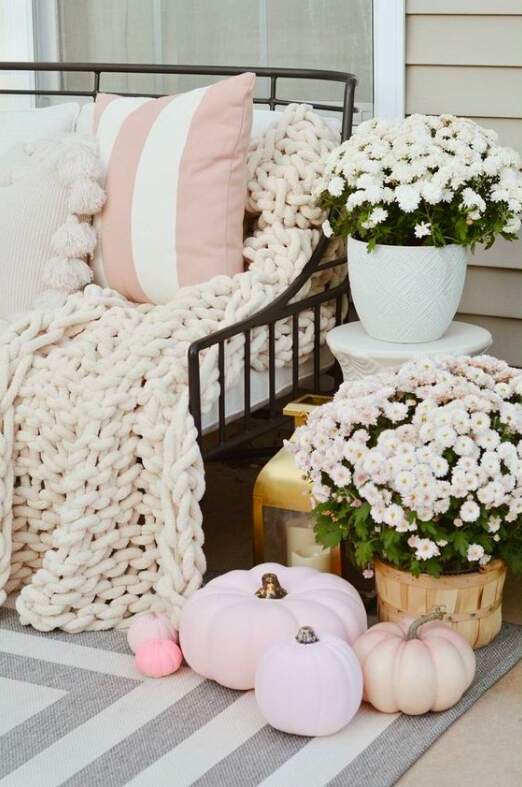 Fill your decoration for fall with soft and light colors! Yes, you guessed it right! Pastel shade outdoor fall decor can give you the most unique look in town. To begin with, you can border your entryway with pink pumpkins, blue pumpkins, and other pastel shades available. Welcome your guests with a pastel-colored wreath on the doorway and accompany it with a similar rug below. You will be shocked to see how soothing it feels to be around pastel shades during the autumn.
17. Share Your Heart Through a Chalk-Board Decor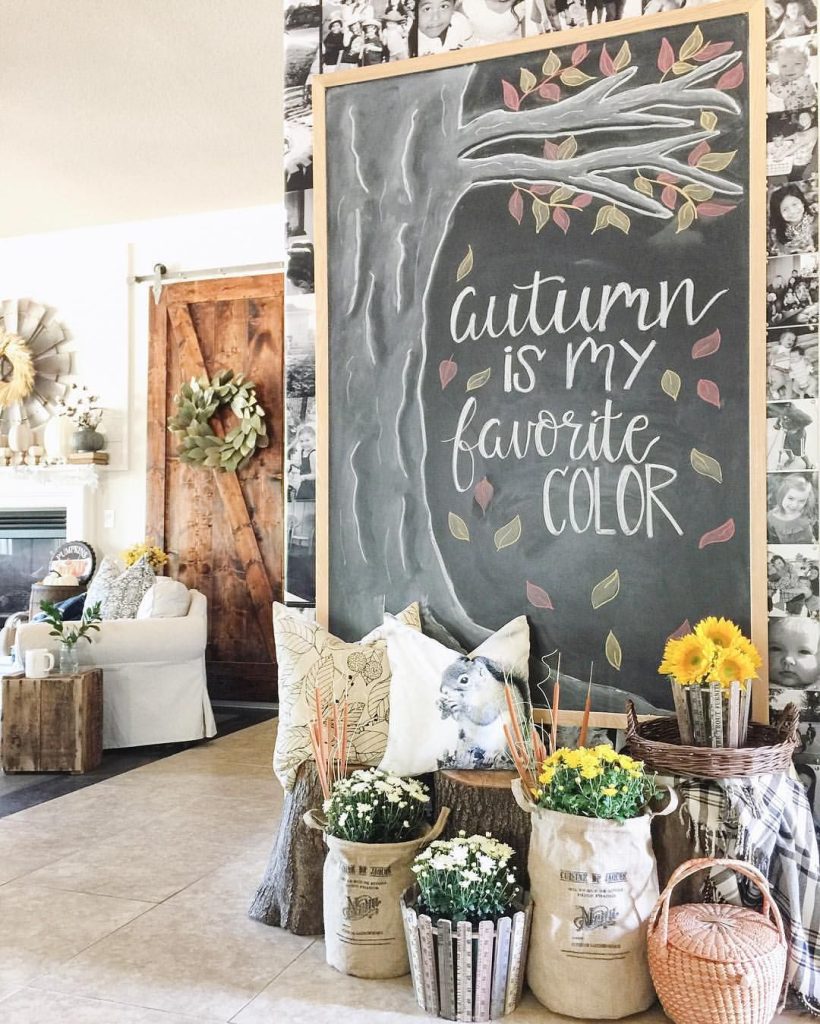 Do you also have new messages and other creative thoughts every day? This festive season, let there be no limitation to that creativity. With a chalkboard, you can easily begin a new day with a new message and paintings on this board. The best space to place the board is on the entry path or new on the main door. Let the world know what your heart has to share.
Welcome the Fall with An Aesthetic, Rustic, or Classic Outdoor Decor!
With every idea comes a different theme of outdoor decoration. You can modify the decor ideas based on the location of your space, color background, and availability of resources. The intention here is to celebrate the onset of autumn and accompanying festivities. Experience the excitement, joy, and happiness as you do the outdoor fall decor.
Don't just make it another task to tick off from the to-do list! Slow down and enjoy the process of adorning your space.
Frequently Asked Questions
When Should You Decorate Outdoors for Fall?
The best time to decorate outdoors for fall is in September or October. The weather starts changing during these months. Avoid hanging it too early before these months to sync your decor with the season.
How to Easily Decorate for Fall?
To easily decorate for fall, make DIYs through online videos. You can make your floral garlands, decorative candles, pumpkins, and paintings to adorn your space indoors and outdoors.
Other Articles