Isn't it beautiful when the natural light falls into your house without any interruptions from winds or insects and makes your home look even more beautiful and luxurious? Well if your are also planning one for yourself then the wide range of small sunroom ideas will certainly help you.
The best part is that you can style it in many ways, but it can be pretty challenging because there are multiple factors that you need to keep in mind.
From colors to the place to design, everything must go hand in hand to ensure it looks just the way you imagined it, and for that, we have got you covered.
Here are 15 pro tips for decorating your sunroom.
1. Keep It Casual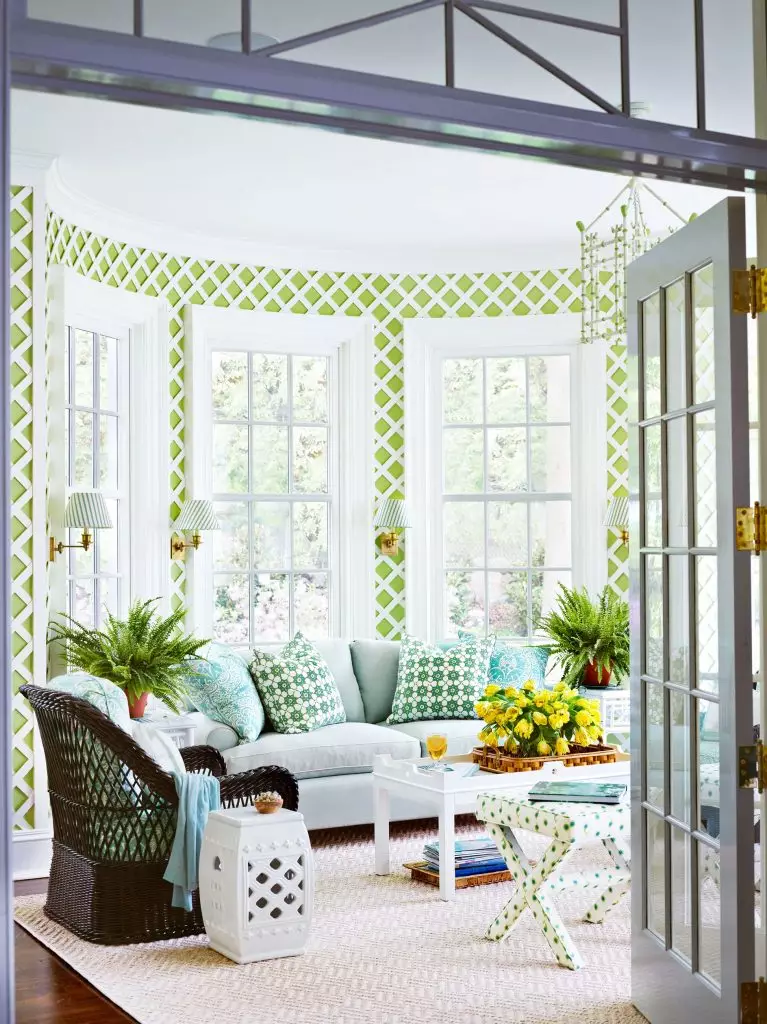 Design your sunroom more from the interior than the exterior.
Keep the outside of your sunroom more casual and, at the same time, eye-pleasing while you can design your interior beautifully by giving it a touch of lampshades, plants, paintings, small yet colorful pillows, and light curtains. All these designs would make your sunroom beautiful. 
Keeping it casual while still having a minimalistic and sleek look will certainly be perfect for executing one of the many small sunroom ideas for your space.
Similar Post: 20 Cozy Window Bench with Storage Ideas to Add Charm to Your Room
2. Read It out There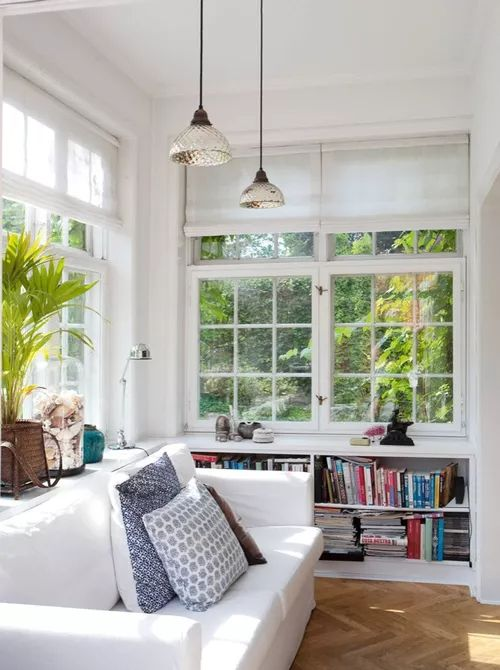 Love reading books? Make it an even more amazing experience by reading it in a naturally lit sunroom. Reading books in such a well-lit and fresh environment gives the readers a more open-minded and a better perspective of the book.
You can add a mini library and give it an aesthetic and uniform look. You can design it to go with your sunroom decor, like painting your book shelve with a light color and adding the books magazines, or newsletters aesthetically.
Look at how minimalistically the mini library has been added. It gives a cleaner look to the entire sunroom and a good sitting area to read books comfortably or on the table. A plant is aesthetic and gives a cozy sunroom vibe.
3. Home Jungle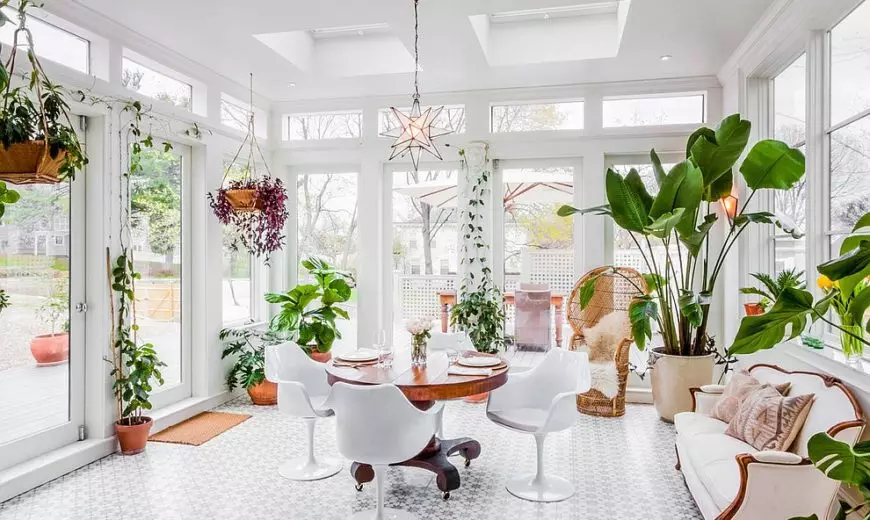 Want the feel of nature in your sunroom? You can always build a jungle inside and it is one of the finest small sunroom ideas. Fill your sunroom with multiple plants in a beautiful manner, and on top of that, you can also add grass or grass-like flooring.
You can also try hanging the garden as well. You can hang it on a side wall or a part of your ceiling, whichever looks good. 
Filling the sunroom with plants creates a fresh, refreshing, and beautiful environment. Look how minimalistic the design is, fully white, including the floors. 
4. Playhouse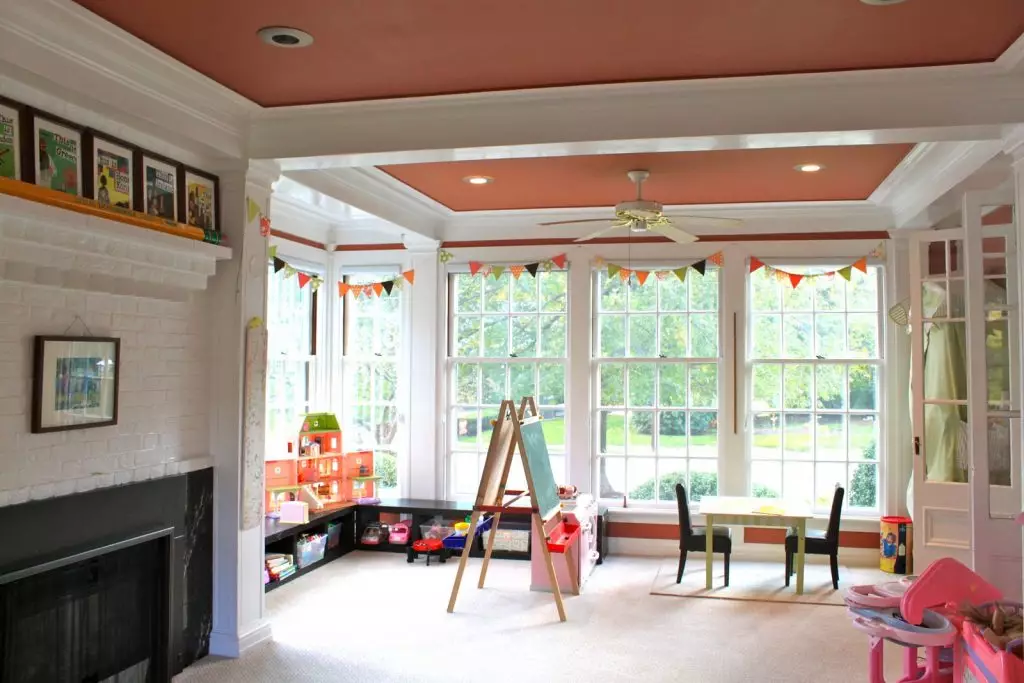 A sunny play area in your small sunroom ideas for you and your kids sounds like a time spent well and fun. You can decorate your space with the best small sunroom ideas, like an open play area where only the sunlight enters the party.
It looks for freshness, a brighter environment, and a fun space. You can add indoor sports like board games or carrom or a mini basketball net or a small goal, depending on how big your sunroom is.
You can have a good snooker table, a small table with board games attached, and many other indoor sports. Apart from that, you can have a good sunroom play space and indoor games. 
5. Minibar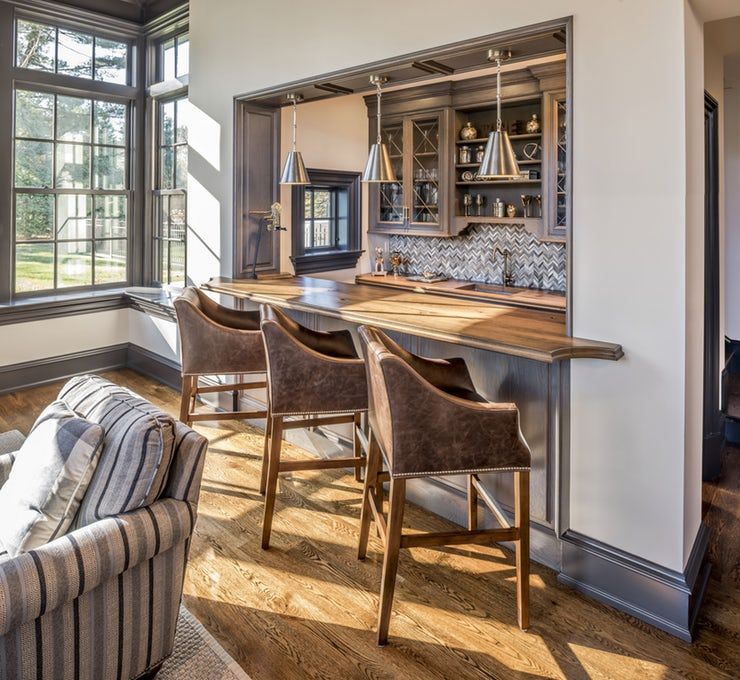 A small gathering in your beautiful sunroom with drinks surely gives an amazing vibe, right? You can place a mini drink bar in your sunroom and entertain guests.
Considering multiple designs like a shelf in the wall where you can store your wine glasses and drinks or a little table to make and serve your drinks. You can also go for a cart that would store your drinks and glasses.
Sounds cool, right? Along with that, you can add a mini refrigerator. However, it's not a necessity, but it is still a cool addition. 
There is a simple minibar in the sunroom with a high-raised table, chairs, drinks aligned to the wall space, and a small table to make and serve drinks. Also, the lights on top of the table give a very modern vibe. 
6. Start Your Morning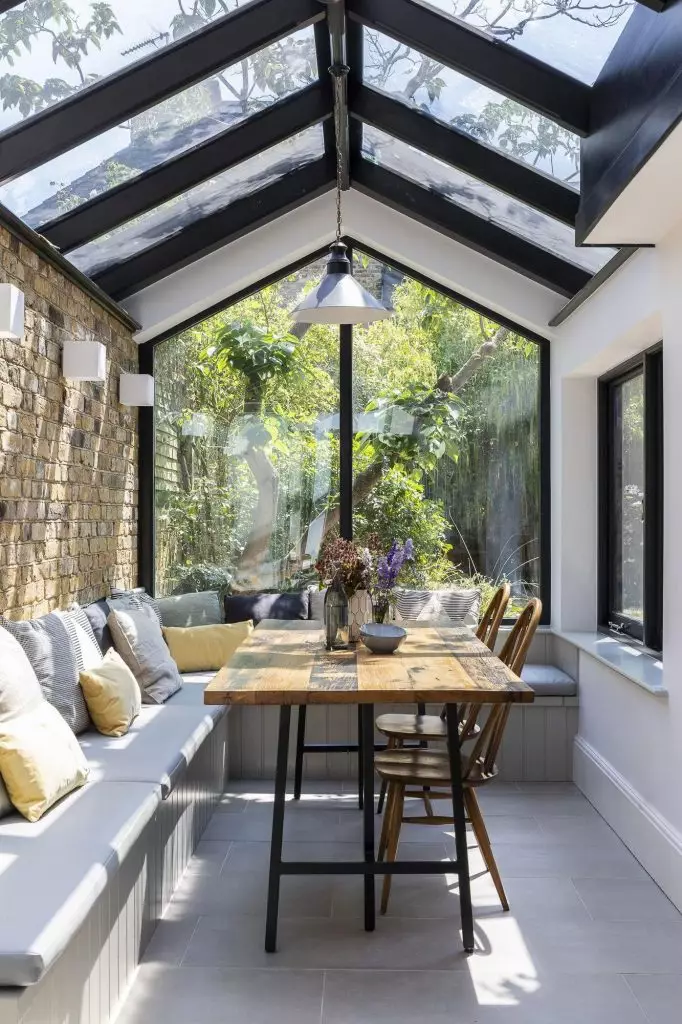 Enjoy your breakfast in your beautiful sunroom, with the morning sunlight coming right in your sunroom, making it a bright and beautiful morning.
A good morning starts with a good breakfast, and eating it in a beautiful place makes the mood happy. You can add either a small dining space or a table and sofa that goes nicely with the look of the place.
You can even add a curtain for privacy, and a light-colored curtain would surely create a good look. A good morning breakfast is really important, and having it in the sunroom adds to it. 
7. For the Guests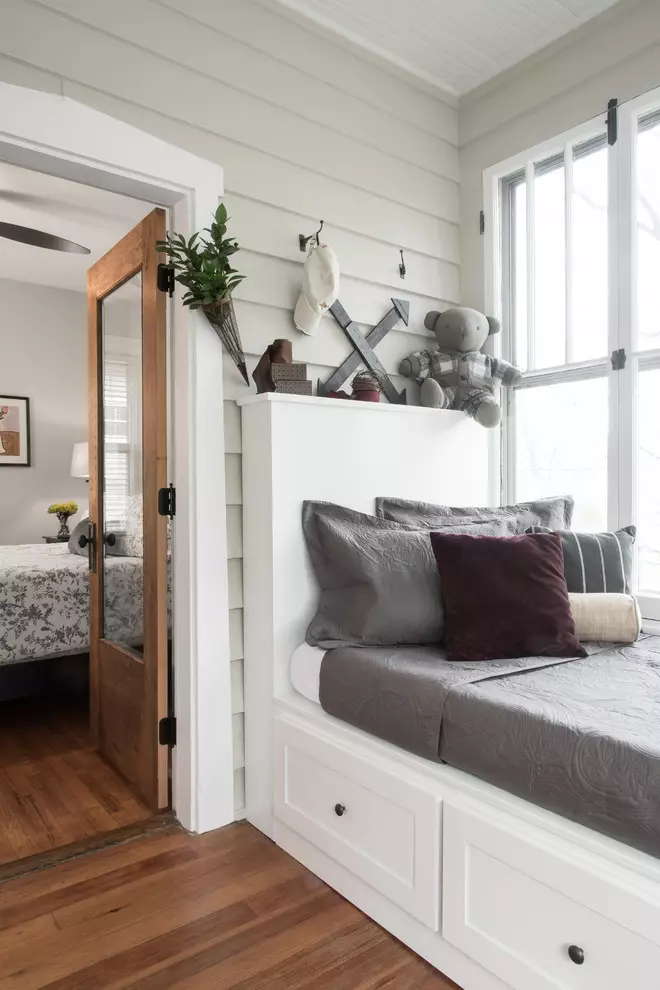 You can always convert a medium-space sunroom into a guest space sunroom and make it a beautiful and cozy space for your guests. They can stay and always have bright light during the day, while a good night's sleep under the stars makes the view phenomenal.
However, add a curtain for privacy. Adding a lampshade and a plant can freshen the environment along with some marble as a decor, giving the room an aesthetic, beautiful, and modern look. You can also add a little closet to help with the clothes and other equipment. 
A good space and a beautiful view outside the room definitely factor in a good sleep. The minimalistic and sleek design gives an amazing look to the room. 
Related: 11 Creative Ideas to Decorate Your Bedroom Like a Pro
8. Garden in The House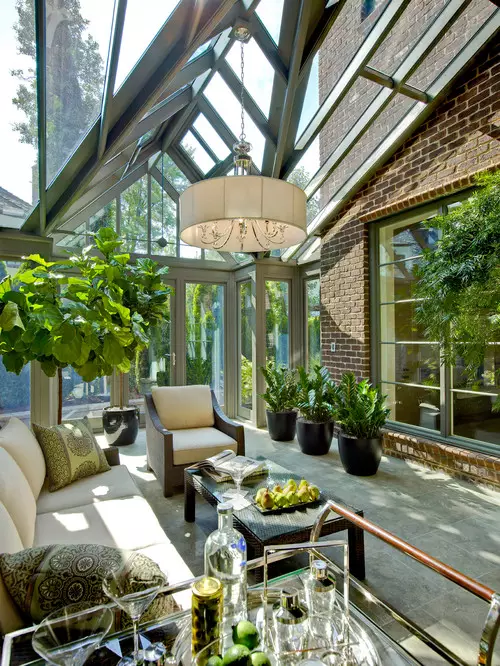 You can turn your sunroom into a beautiful mini garden inside your house through such kinds of small sunroom ideas. Adding a grass mat as a texture on your flooring and fill a side with plants.
Go for open-top shelves where you can put your plants, which would give a cleaner look, or put them on a line-over-line basis. You can also try a hanging garden too.
The plants would continue getting sunlight during the day while you can always water them. You can put your plants in designer pots to give them a beautiful look or in a ceramic pot to add to your decor. 
The inside garden looks so good in the sunroom. You can choose to put it any way you like and give an amazing look to the place. 
9. Make Your Office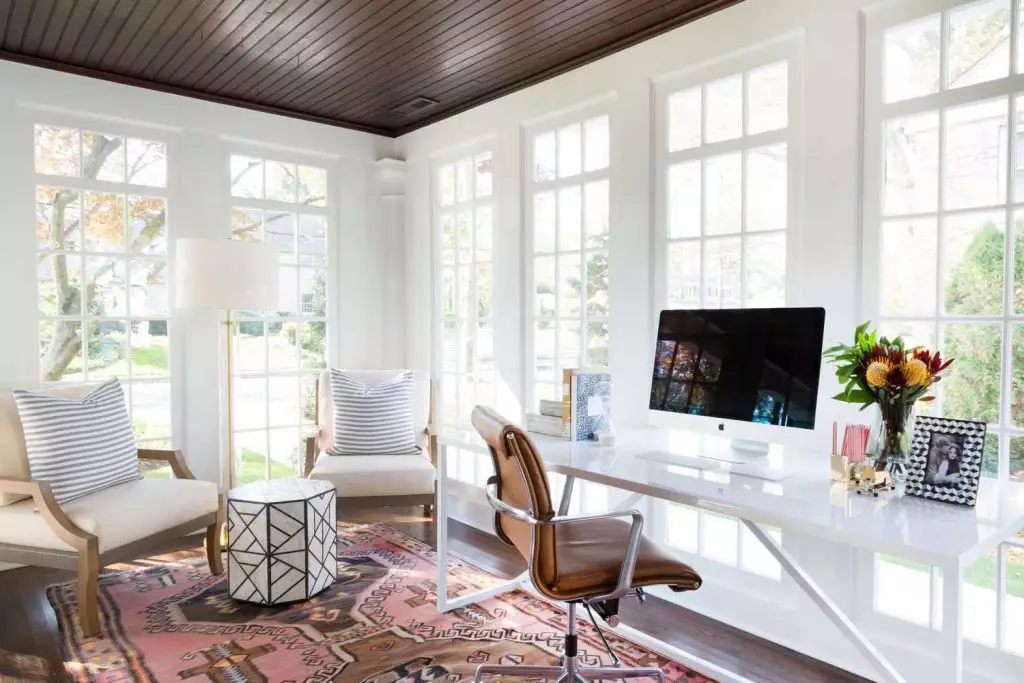 Working from home and it's just the same environment and no excitement, it's time to change your office. Small sunroom ideas associated with office sounds perfect, doesn't it? You can convert your sunroom into an office and work in a fresh environment with beautiful skies and sunlight coming toward you.
A sunroom gives a fresh environment for you to work in and also helps in productivity since you are more free and open-minded and can understand things from a different perspective. A fresh, new, beautiful environment also helps in developing new ideas.
It will definitely positively impact your performance and make you stress-free. It is a great place when you do work from home. A good environment, a refreshing look, and better productivity. 
10. Fireplace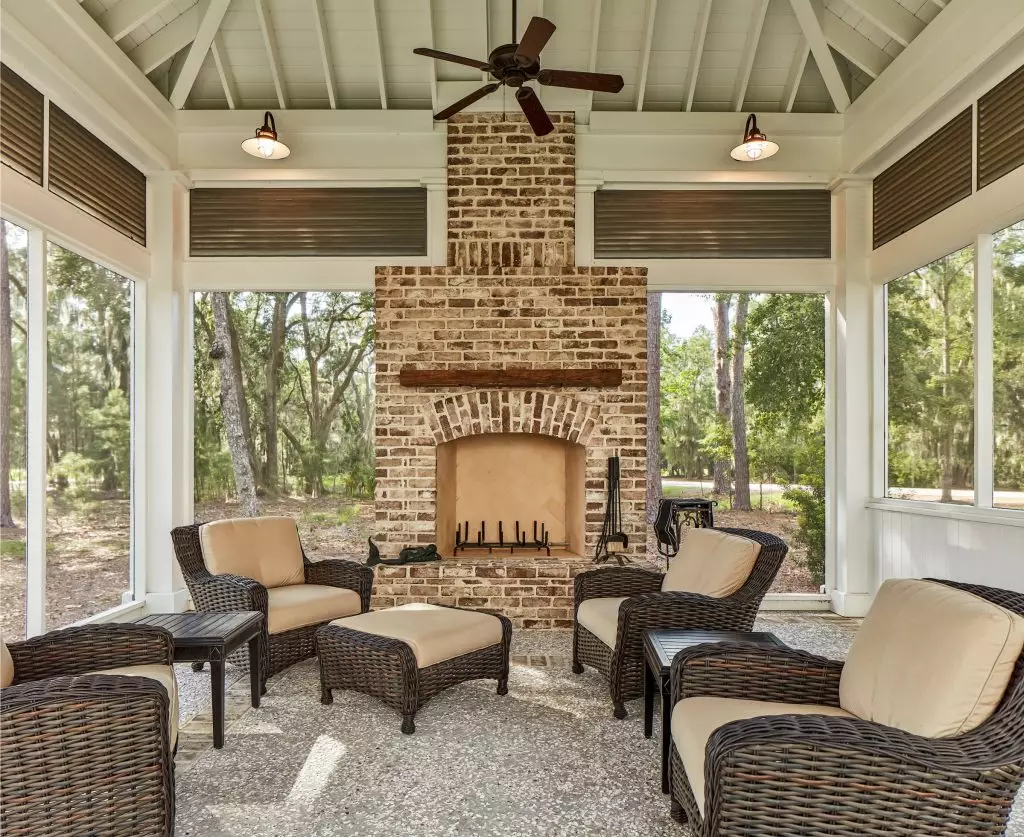 Try imagining this, Cold weather, beautiful night sky, cozy sitting, drink in your hand or a book, whatever you like, and a fireplace sounds amazing, right? Also, add minimal lighting; can you feel the vibes?
Well, that's what you can do with your sunroom. You can add a fireplace to your sunroom with an attractive design, a wooden design maybe to give it a catchy look.
Arranging a place to sit around the fireplace. You can incorporate multiple design ideas from this list, like adding a minibar or a mini library, and add on to the minimalist yet attractive and cool design. 
Look at how beautiful this fireplace in the sunroom looks with a good sitting area. A good place to get to gather with your family and friends and have a good discussion. 
11. Swing Inside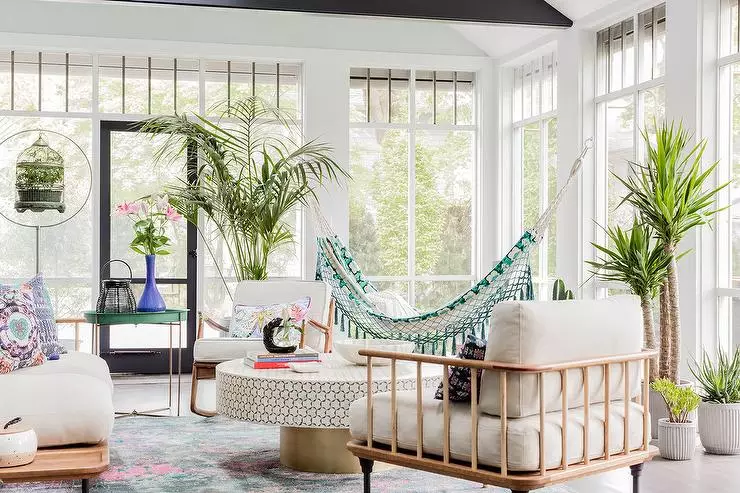 You can add a swing set or hammock inside your sunroom and relax under the sunlight on a sunny day. Add a swing set on the side of the room beside the balcony and have a view of yourself while you relax and swing.
Apart from that there is the option of having a lounge chair and relaxing while you look up at the night sky and stars and enjoy a mesmerizing view. There is no better way to relax than being under the sky full of stars. 
A swing beside the window gives a good view along with a good sitting space. You can relax, have a discussion, and enjoy a self-curated, fun place. 
12. Living Room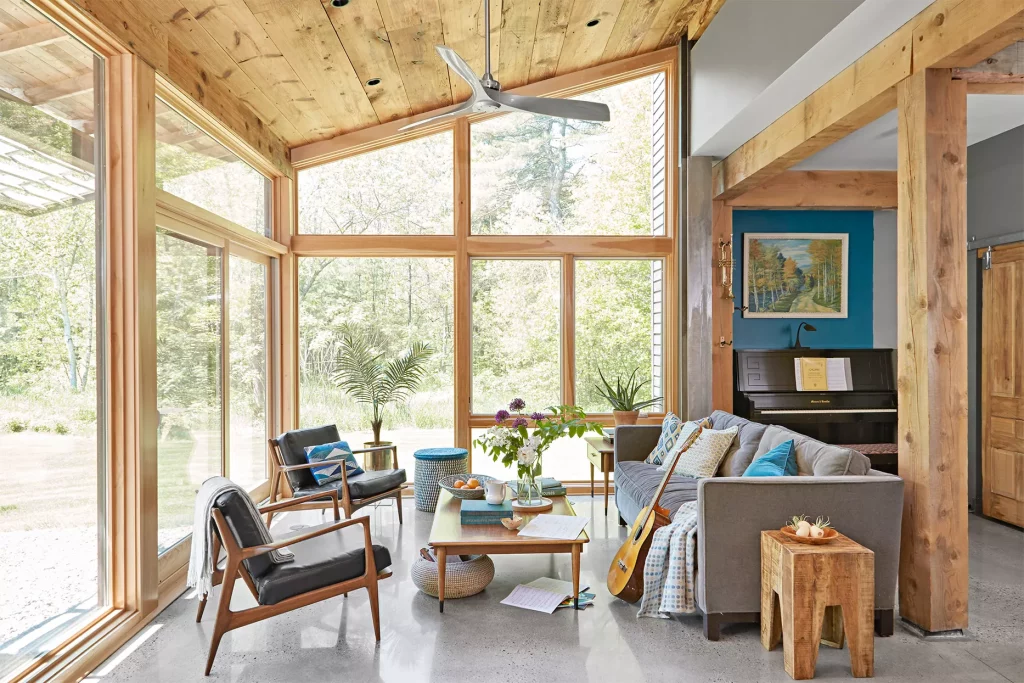 You can convert your sunroom into your living space. With natural lights coming in, it makes a beautiful place in the house, with huge windows and a comfortable sitting area.
There is always an option to spend a lot of time with your family and guests here since it leaves no space between outside and inside.
You can add a light-colored sofa and neutral-colored chairs and tables for your living space. It will go well with the other house designs and give your living room a minimalistic and beautiful look. 
A proper living room in your sunroom with all the necessities can still pull such a sleek look. It's a good get-together.
13. Modern Design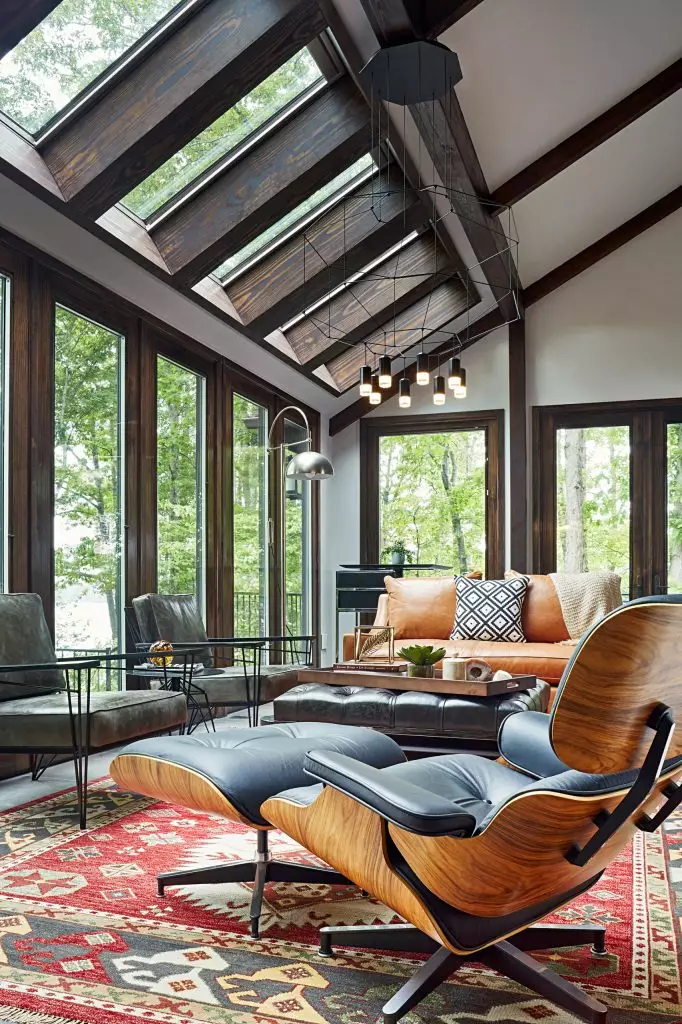 Give your sunroom a modern design. Introduce modern decor inspired by the other colors and designs of your house. Go for a sleek furniture design, and make sure it looks minimal and modern, like a wooden table, painted metal, etc.
You can go with a darker color, preferably a rich black color since it gives a modern look. You can also use pop-out colors, like a subtle hint of cream color or gray.
On top of that, use ceramic pots for your plants as they give a clean look and are modern, too. Go for white ceramic pots, as they can be fitted in any design. You can also add a hanging light in the middle while you can add small lights on the side. 
Looks like a modern design for the sunroom. Punchy and dark colors, sleek furnishing, and good lighting make a beautiful sunroom. 
14. Be Bold in Design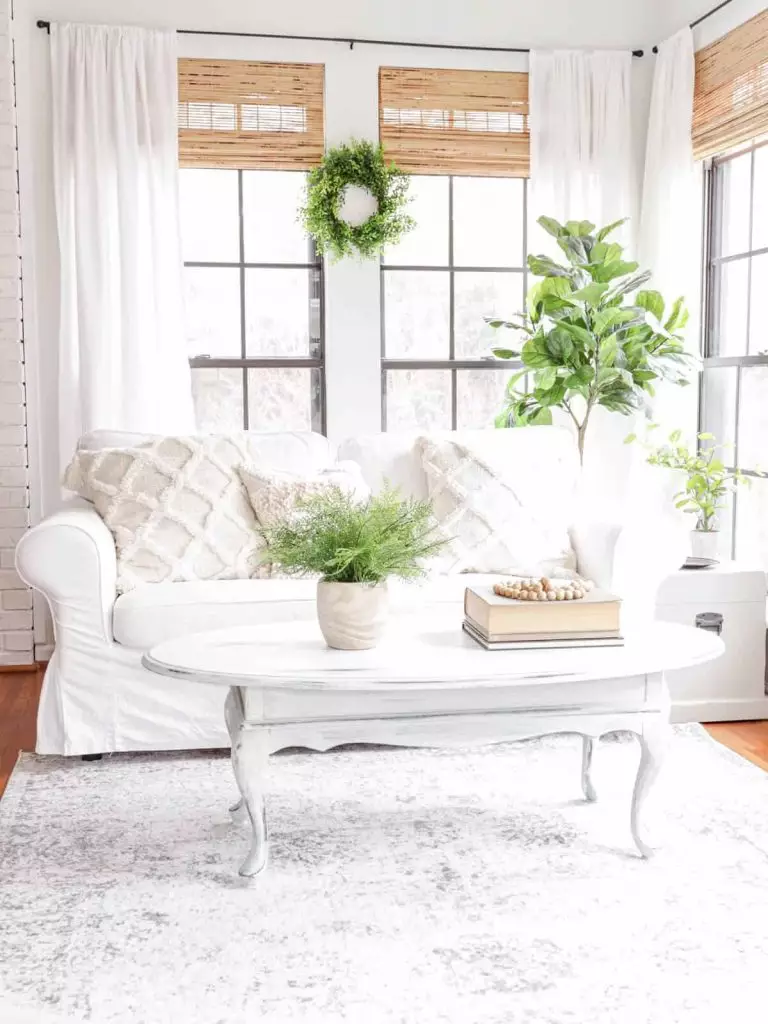 Make your sunroom design bold. Choose bold decorations for your sunroom. A bright sunroom, along with excellent color mixtures, showcases a very beautiful and bold sunroom.
With light-colored sofas or sitting areas along with tables in the center and chairs, it gives a good texture. You can also put a plant in the center of the table.
A ceramic white color pot would be a go-to choice. You can also choose to put a statue on the side of the room to add to the aesthetics of the room. A bold design for the sunroom, a minimalistic and sleek design giving a beautiful and bold look for the sunroom. 
15. Entertainment Under the Stars
You can turn your sunroom into your very own entertainment room at night by adding all the necessities like a big screen, home theater, sitting area, minimalistic lighting, lamps, etc.
With stars on the top view and a movie in the front, it would be a perfect movie experience for you and your family or friends.
You can add more decore by adding a minibar or a small table where drinks and food can be served. It can become a proper get-together place with your loved ones. 
With curtains around and enough space to sit, you can enjoy quality time with your family or friends. The color combination is light and lively and gives a cozy sunroom space for your entertainment. 
Check This Next: 21 Stunning Dining Room Designs for Your Home!
Conclusion
These were a few ideas on how you can design the sunroom. The sunroom is a really beautiful place to have in your house. With the direct sunlight and a view of the sky, it not only gives an amazing view but also adds serenity to the entire house, making it feel more beautiful and luxurious.
You can enjoy all seasons from your sunroom. Decorating it properly can help you utilize this perfect place in your house. It can be any place: your bedroom, your playing space, your entertainment room, your office, your living space, etc.
Get good sunroom furniture for your space. Experience this beautiful place of your house with your loved ones. Decorate it with our sunroom ideas for you. 
Other Articles