Planning to revamp your home? Then, adding shelves may help. A perfect aesthetic that can glam up your home in no time, which comes with the best wall shelf ideas that give more than just storage solutions.
They are stylish and versatile and can make the perfect addition to your living room. From minimalistic to the modem, there are several wall shelf ideas that you can pick depending on your personal taste and style.
Regardless of whether you want to declutter your home or reorganize your space, these shelves will give you the perfect feel for your new home.
Since there are multiple options available at your disposal, we understand how overwhelming it can be to pick the best one.
That's why we have got you a nice list of 21 wall shelf ideas that will not just inspire you but revamp your home like never before. From wine crate shelves to wood wall shelving, we know exactly what you need.
Unique Wall Shelving Ideas to Upgrade Your Style 
Explore 21 unconventional wall shelf ideas to enhance the beauty of your home. That, too, is at an economical price and with an easy installation method. These ideas help you to transform your living space and make maximum use of it while increasing the ornamentation of the house.
1. Floating Corner Wall Shelf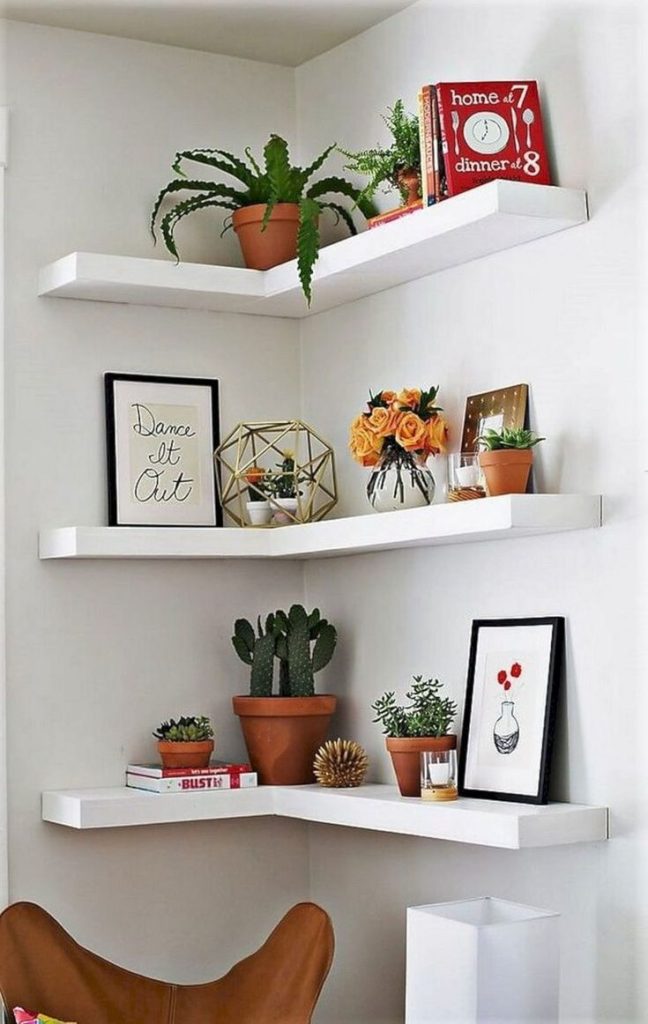 If you have some extra storage space in your house, then consider installing some new floating shelves in the house. Such shelves are excellent if you want to display a few decor items or even store books alongside other items.
Floating corner wall shelf designs create a unique storage solution as they allow you to make the most of every inch of the available space.
Similar Post: Bathroom Mirror with Shelf: 11 Unique Designs and Tips to Consider
2. Rustic Wood Wall Shelf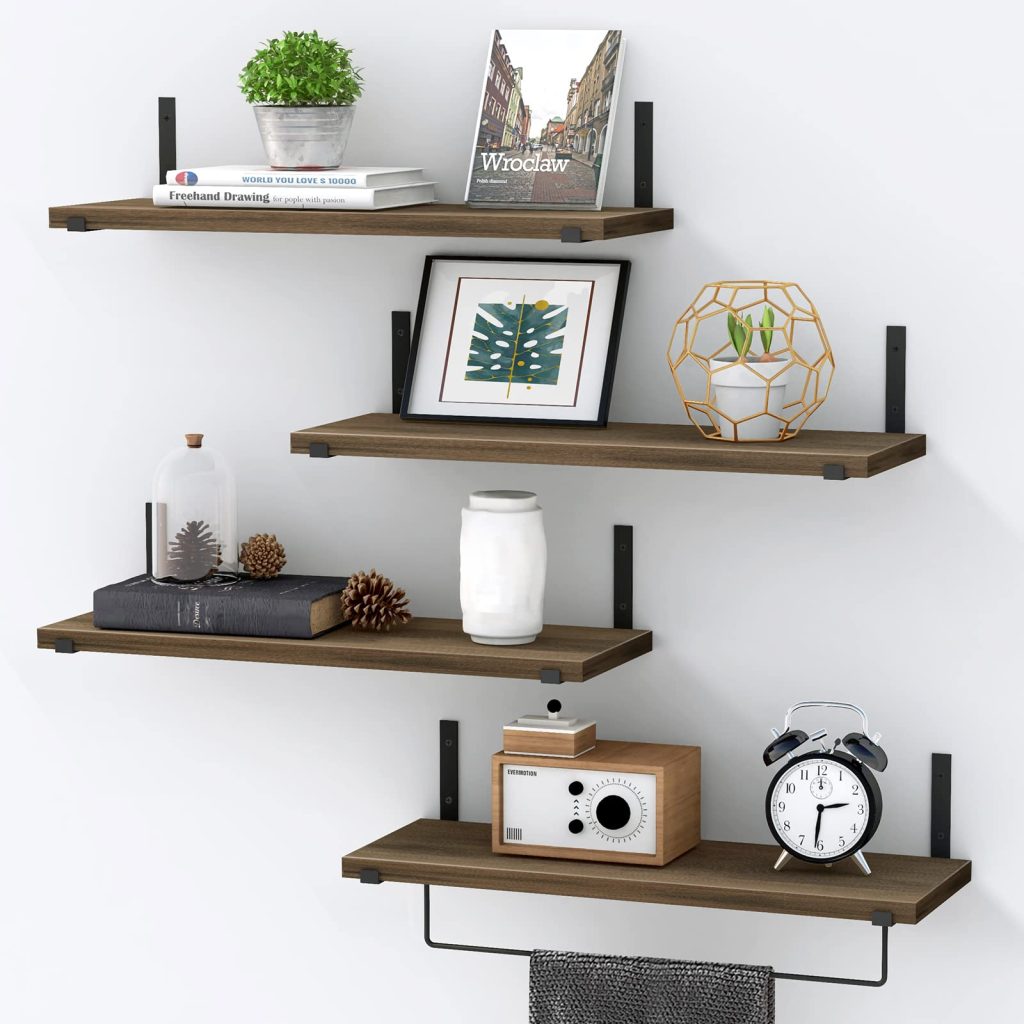 These shelves are cozy and perfect as they add a warm touch to your house. They can also be used to display books, photos, or other items. The best part is that they can customize it in order to suit your style of decor.
These shelves are usually made from reclaimed wood, which gives them a historical or farmhouse look, depending on what you decide.
3. Geometric Wall Shelf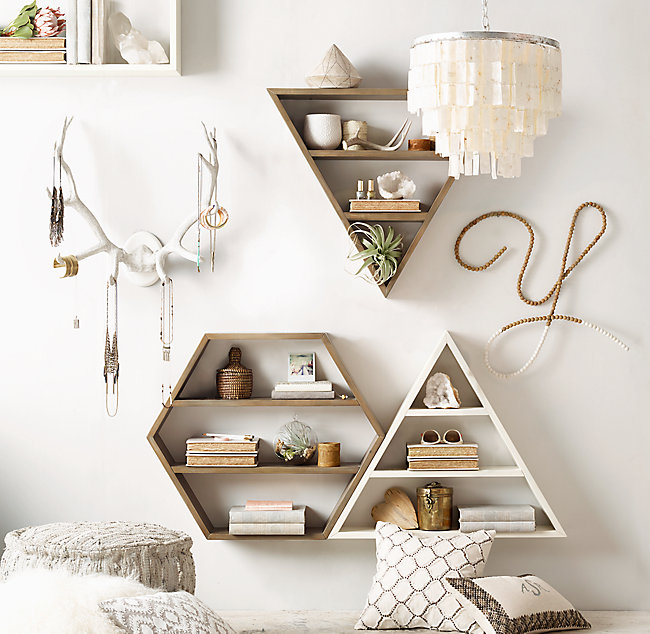 If you want to add a more modern look to your house, you need geometric shelves. They also come in a whole range of sizes and shapes and can be used to display books, plants, and small items.
They provide a modern and minimalistic look to your room. The shelves' white and neutral colors create a minimalist look, while bright colors add personality to your room.
4. Ladder Wall Shelf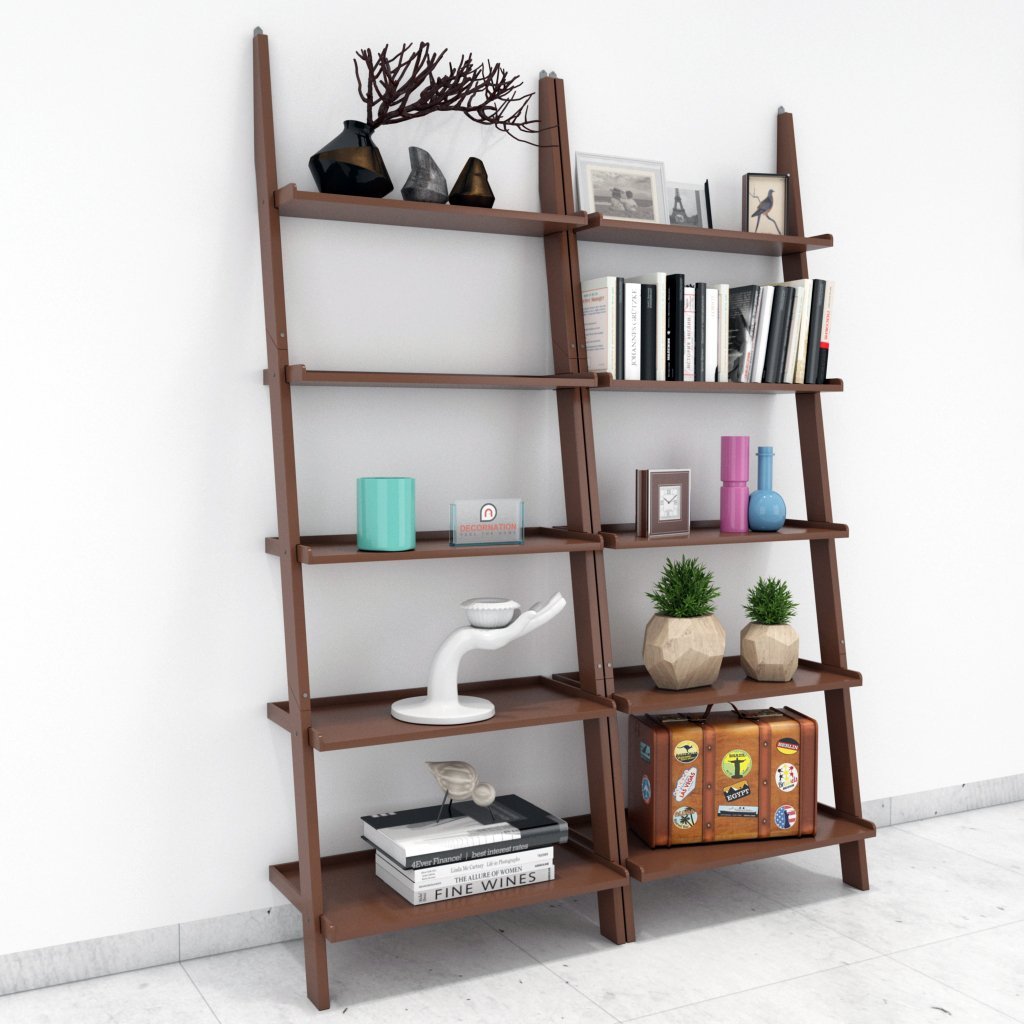 These shelves are versatile, stylish, and perfect if you want a combination of decor and storage. They also resemble ladders with wide shelves, like narrow and bottom towards the top.
This creates an eye-catching look. Ladder shelves also have a whole range of materials like bamboo, metal, etc. This will pick the right style and complement the decor too.
5. Cube Wall Shelf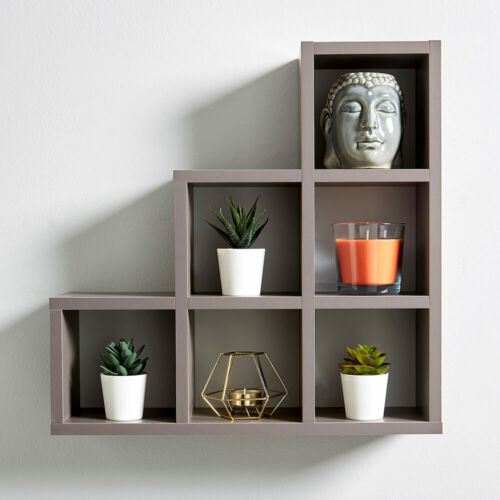 If you are looking for something practical and versatile, you need cube shelves. They come with a whole range of settings in your house.
They also feature a nice cube-shaped look with many compartments, which makes them ideal for storing and organizing items. You can also use many minerals like plastic, metal, wood, etc. They also provide flexibility in terms of usage and placement.
6. Industrial Pipe Wall Shelf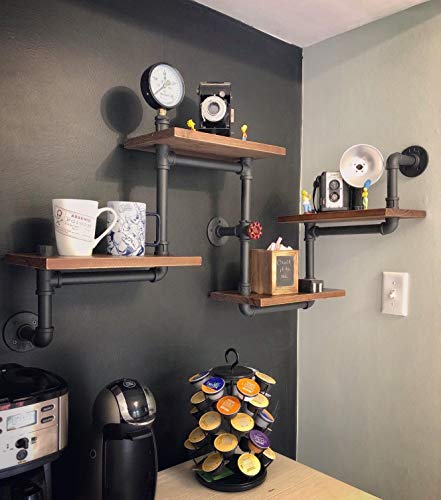 These pipes are unique and trendy and are a great option if you want to add storage to your apartment. You can use them to display plants, books, and other items of decoration, which add a rustic touch to your apartment.
And the best part about having these industrial pipe shelves is that they are very durable. They are sturdy, easy to maintain, and can take care of heavy items like electronics and books.
7. Circular Wall Shelf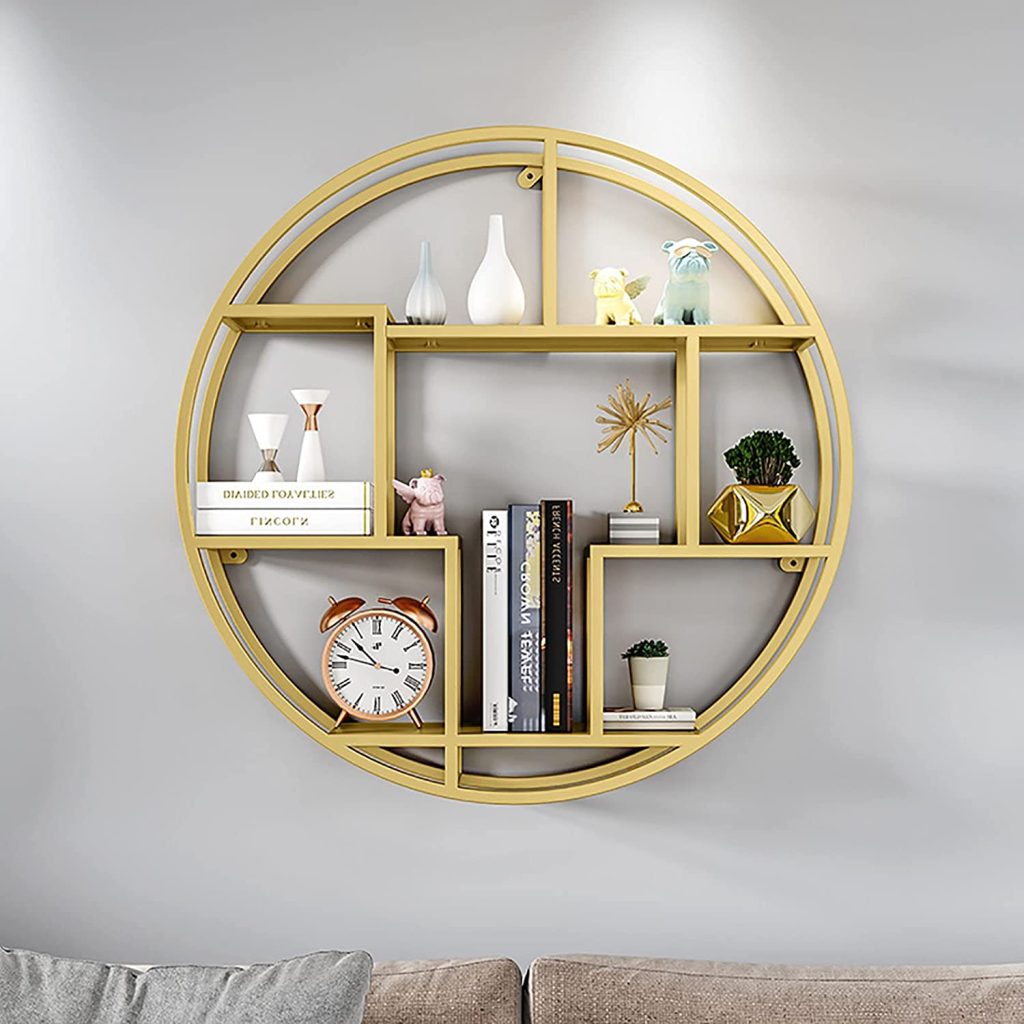 Circular shelves are a unique option for displaying small items in your home. They can be used to display photos, plants, or other small decor items and add a modern touch to any room.
They are available in distinctive sizes. If you are a lover of celestial objects and want to decorate your room with such an idea then You can decorate your wall with a circular moon crescent Shape.
8. Tree Branch Wall Shelf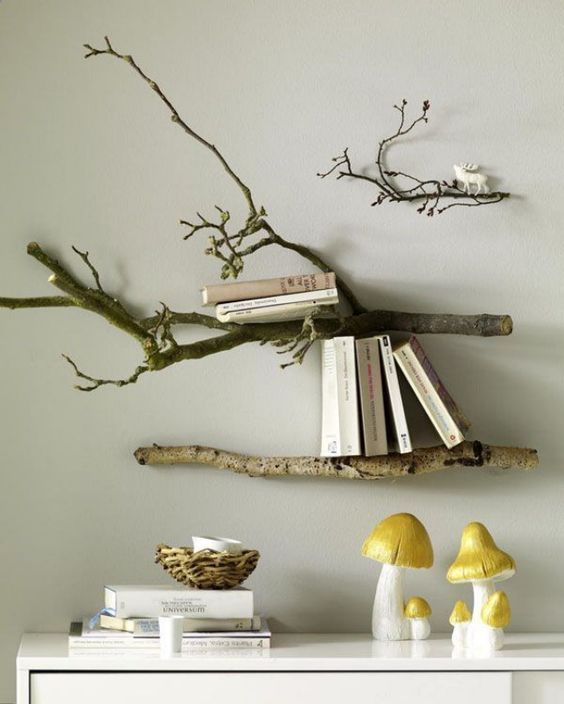 Made from real branches of trees, tree branch shelves help create a natural look that adds character and warmth to your home.
They also come with a very organic texture and shape, which creates a lovely contrast to the smooth and clean lines of the furniture. If you are looking for something unique, you should consider this.
Also Read: Top 20 Long Floating Shelves To Enhance Your Home Decor
9. Minimalist Wall Shelf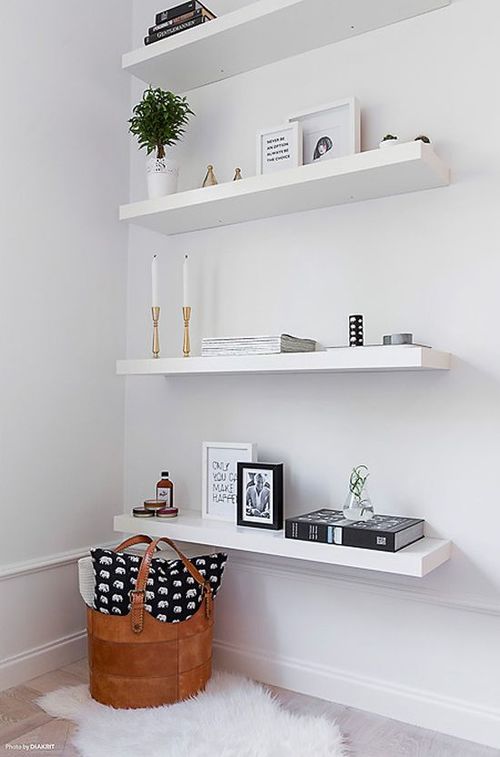 If you want some extra storage in your house, then you need minimalist wall shelves. They can be used to display plants and books alongside other decor items.
Minimalistic shelves are good as they add modern touches to your home. This wall design is recommended for those who want to showcase minimum decor items in the room.
10. Built-in Wall Shelf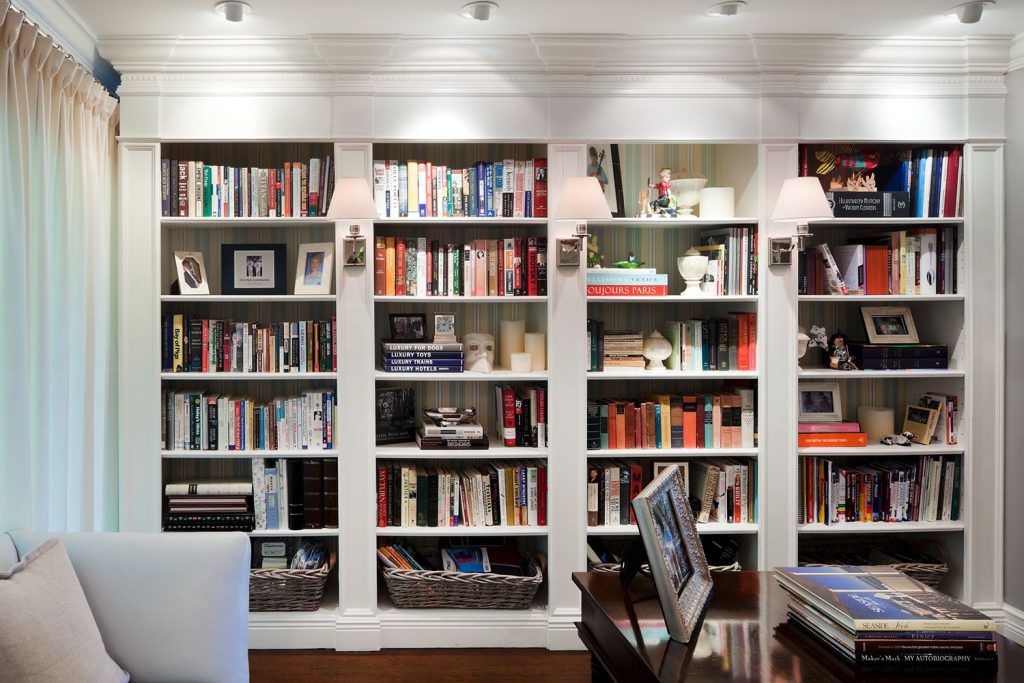 If you are someone who is looking for a simple yet elegant-looking wall shelf design, then this is the best option for you. You can create support out of the industrial pipe for the wooden plank.
These shelves are strong enough to hold heavy things. This will add classic decor to your space while providing enough storage space for books, plants, and any decorative items.
11. Garden Wall Shelf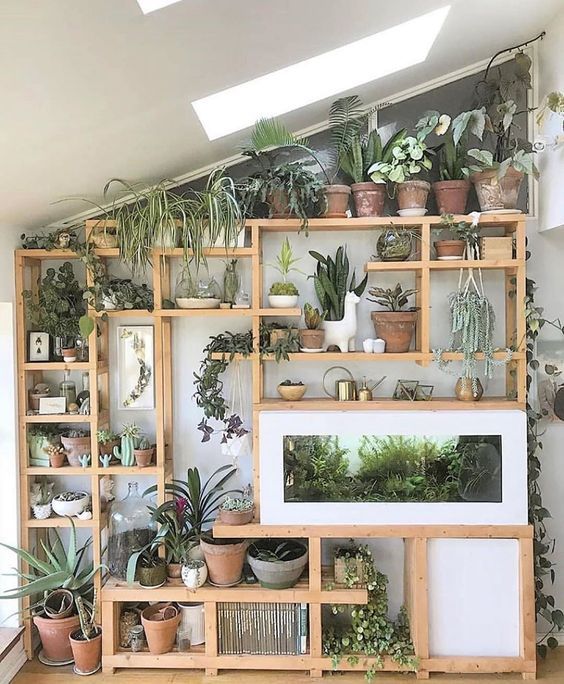 Looking for a solution to the storage of your plants? With the help of this option, you can not only store them properly but also showcase your love for them to the world.
There are versatile garden racks available at economical prices in both online and offline markets. There are several unique garden wall shelf designs available. A few design ideas are given below.
12. Honeycomb Wall Shelf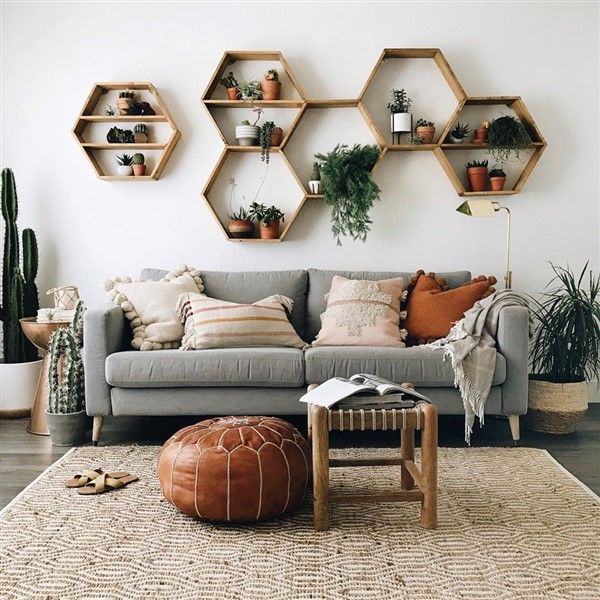 These shelves add a modern and unique touch to your house and can be used to display small decor items. This is perfect if you want to organize your house with small items.
This shelf design is made out of different materials according to your home decor. The shelves' white and neutral colors create a minimalist look, while bright colors add personality to your room.
13. Create a Wall Shelf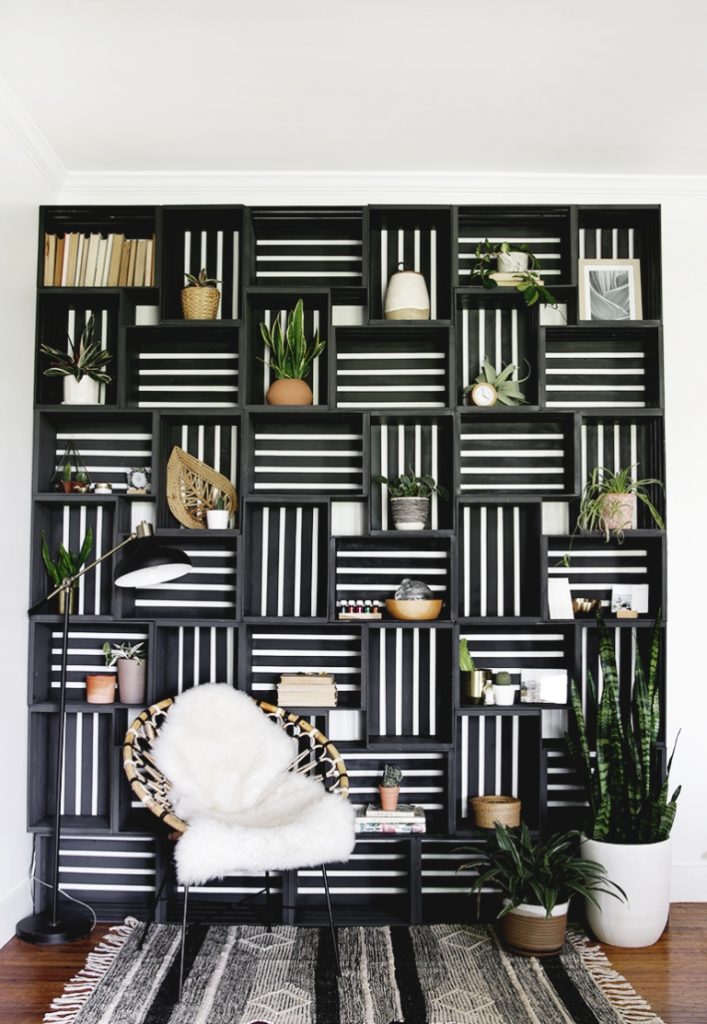 Love wine crates? Well, guess what? You can use them for wall shelving as well. They are perfect for storing records and books alongside other small items in your house.
If you have old crates in your storage and you are wondering how to use them, then we have the best solution for you. You can create any modern or vintage design of your choice for these crates.
14. Vintage Wall Shelf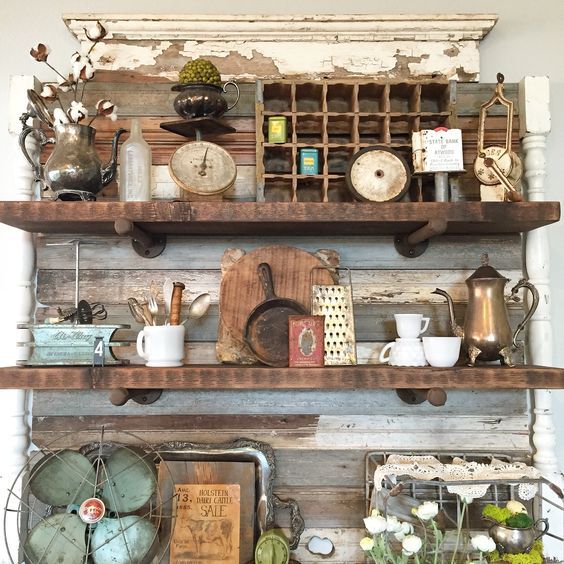 The vintage wall shelf design gives old-world and classic charms to the room. There are several varieties of vintage and antique wall shelf designs available in local stores and online platforms like Amazon, eBay, etc., in wide ranges.
You can select a suitable ornament to decorate the room. You can use this unique wall shelf design to showcase your antique or vintage pieces.
Related: 20 Best White Floating Shelves Design Ideas for Your Home
15. Pallet Wall Shelf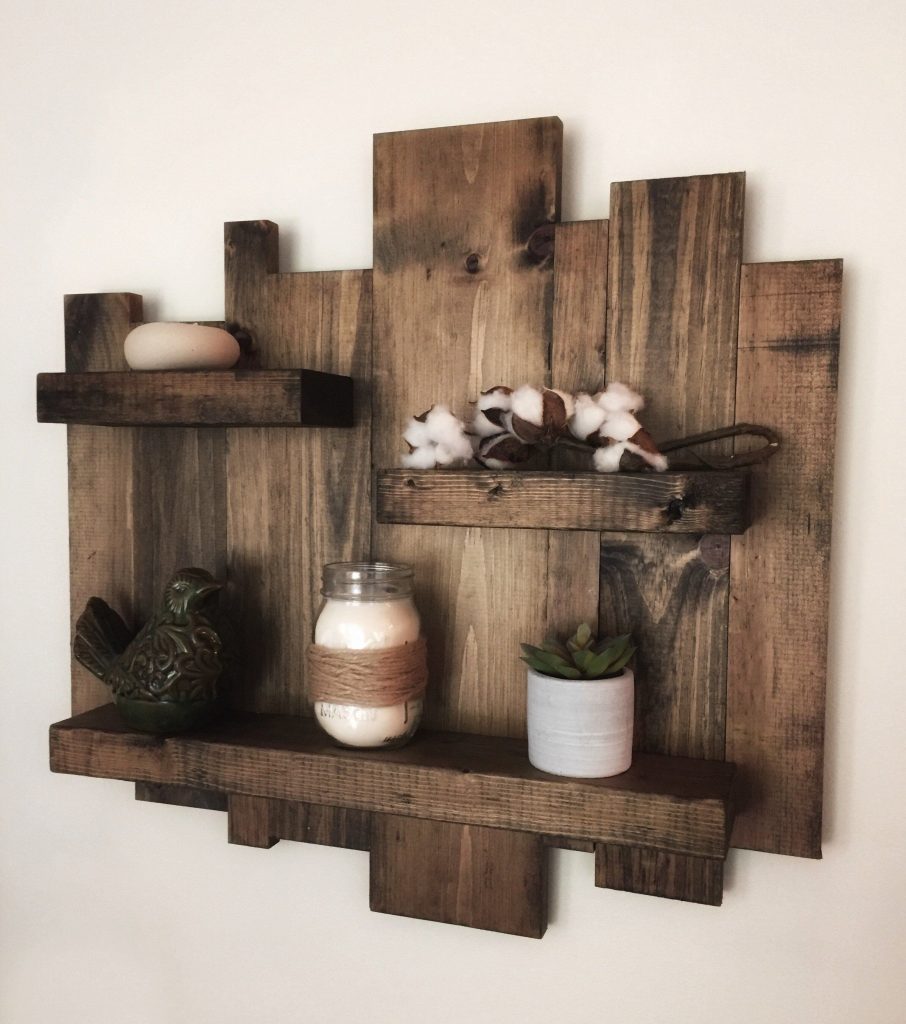 Pallet shelves are excellent if you want to add storage to your apartment in a smart, stylish, and unique way. You can use them to store records, books, or even smaller items if a rustic look is what you have in mind.
You can create your own pallet wall shelf with the help of the online video tutorials available. They are easy to DIY. There are various types of pallet wall shelves available on the market.
16. Rope Suspended Wall Shelf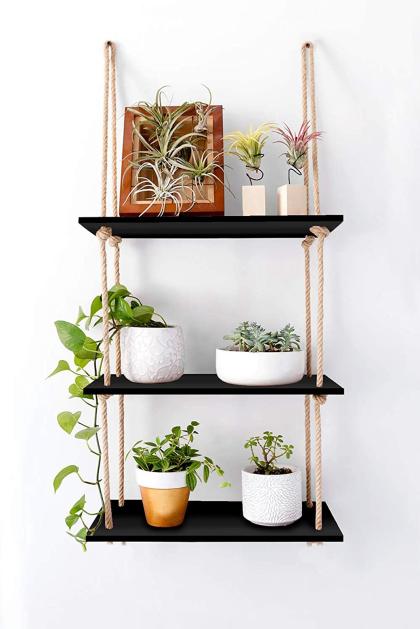 If you want something that is trendy and unique, you can consider using a rope-suspended shelf. They are versatile and stylish and are perfect if you want to display small plants or decor items.
These are also a good choice for those who like nautical or bohemian styles. Moreover, the can be customized or even fitted into any space and are perfect if you want to add some texture to your room using plain walls.
17. Antique Mirror Wall Shelf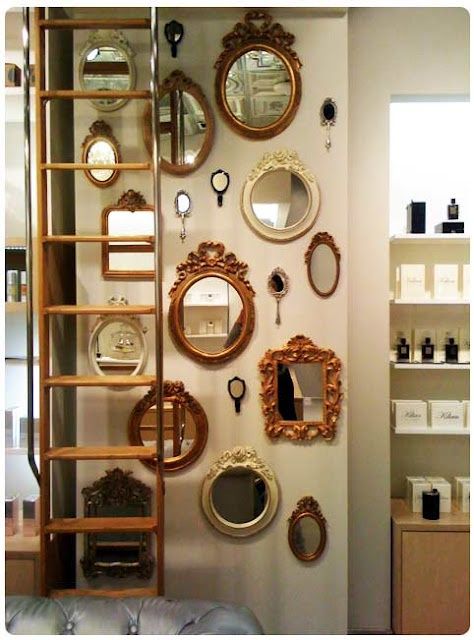 Love antique looks? Try mirror shelves. They are vintage and elegant and can brighten up any room. Such shelves can be used to display small items of decoration or cosmetics.
They also add antique finishes that give it a more timeless appeal. You can use this to hang them on a wall or add more convenience to your home.
18. Tetris Wall Shelves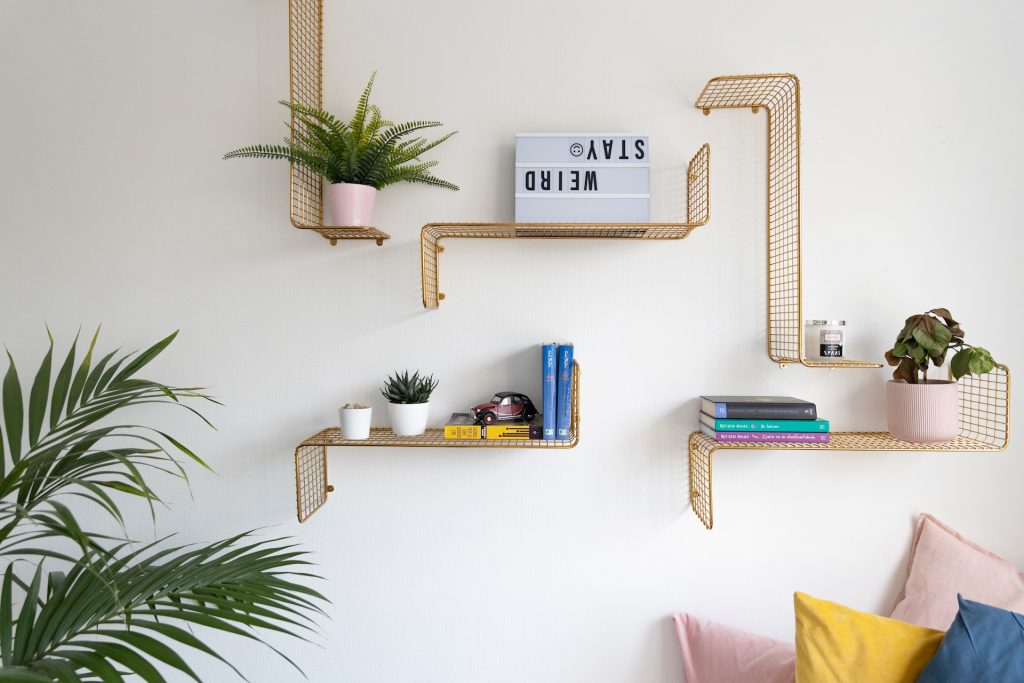 Want something more playful and fun? It would be best if you had tetris shelves. They come in a variety of shapes and sizes and are perfect for decoration.
These days, they come in modular designs, which lets you arrange the shelves more creatively. Since they are functional, they add some whimsy touch to your home.
19. Upcycled Pipe Wall Shelf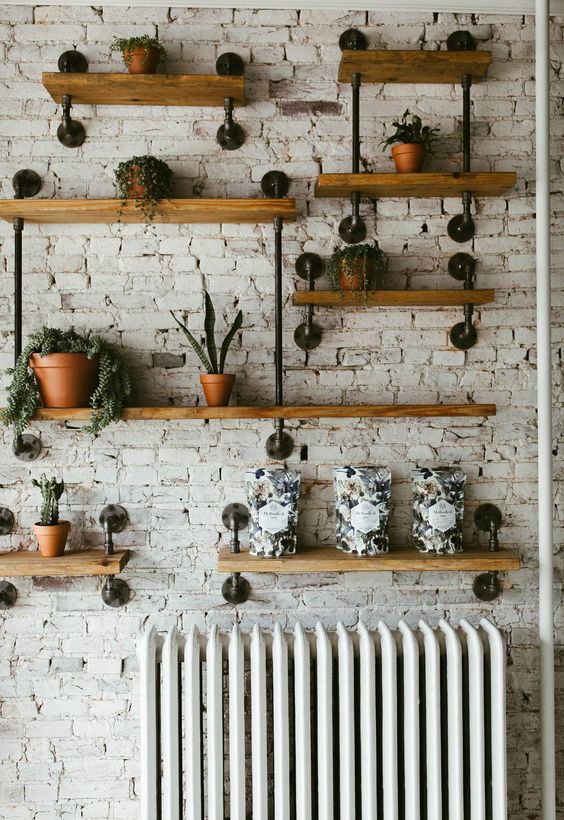 If you are looking for something eco-friendly and rustic, you need some upcycled pipe shelves to add to your storage. They are usually made of recycled material and can be customized to fit your decor style.
Apart from that they can also be used to store records and books alongside small items. And overall, the best part is that they use raw materials, give a natural look, and create a very vintage charm that will complement your style of decor.
20. Floating Wall Shelf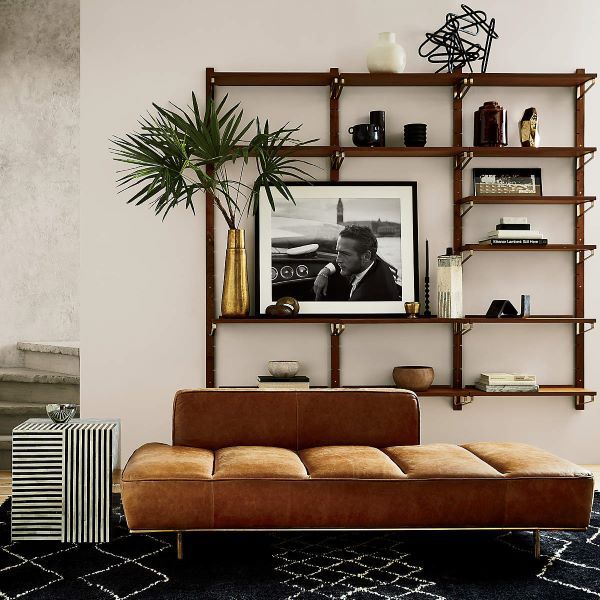 Once you have a floating wall shelf, everyone will think you are a magician. Why? Because the floating wall shelf makes your books look like they are mysteriously floating into the air.
That is the magic of it. The books can be easily mounted using a secure screw, and it can help you stack up at least 5-10 books. You can also group them and simultaneously get a modern and urban look at them.
21. Shadow Box Wall Shelf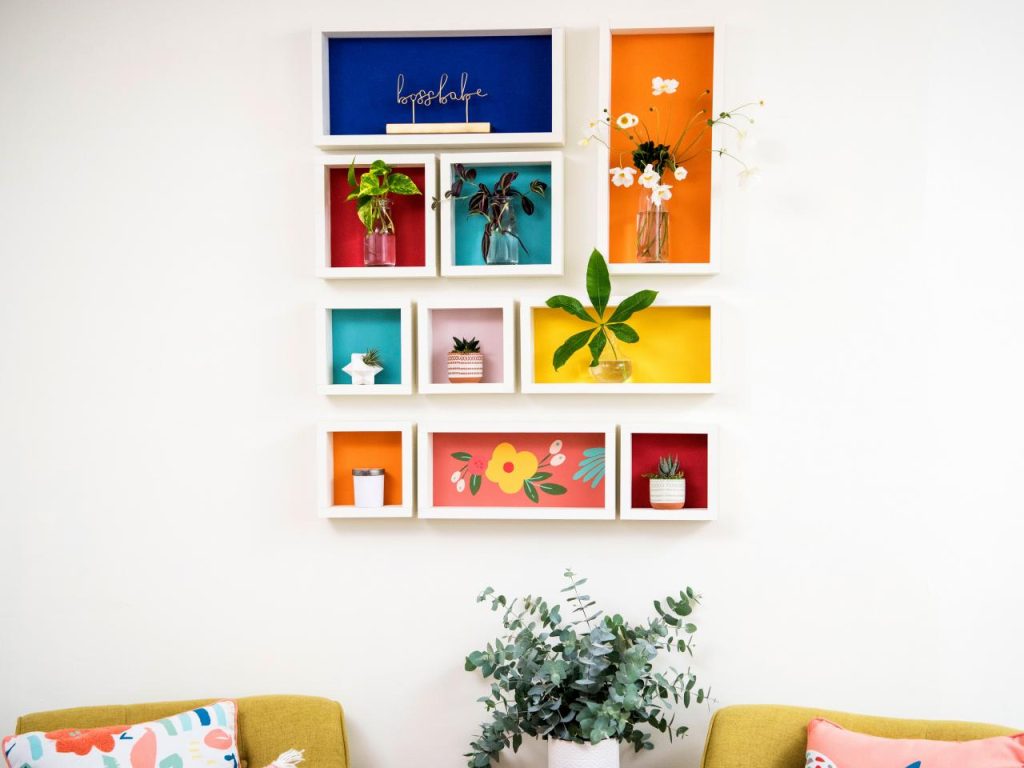 And finally, we come to shadow box shelves that are very different from the usual traditional shelves you see. They are flat and featureless and have this box-like structure that helps encase all items inside.
They also create a nice visual effect as they appear to float mid-air and can also be customized in many ways, depending on the size, shape, number of shelves, the finishing of the frame, etc.
Check This Next: 15 Black Floating Shelves to Enhance the Look of Your Walls
Conclusion
Overall, wall shelves give you a decorative and functional solution for your home.
So make sure to add these 21 unique wall shelf ideas to your list of inspirations. You can make a mood board out of it and see which one is best.
Regardless of whether you want to transform your walls into a showcase, you can use eclectic designs that give you options. The options are versatile enough, so you don't have to worry about convenience.
Depending on the look and feel of the house, you can use these creative wall-shelf ideas and add a touch of charm and character to your home.
Loved our post on unique wall shelf ideas? Then, drop a comment below.
Other Articles