Floating Shelves make for very versatile design elements in your home decor. Whether it's to spruce up an unused wall or add functionality to an existing space, floating shelves provide ample potential for an efficient solution.
While floating shelves come in different shapes and hues, white floating shelves are the go-to when you want a solution that is aesthetically pleasing and minimalist.
These shelves help maximize the space of the room by using the space on the walls rather than taking up floor space and making the room cluttered. The best part of using these is that you can easily DIY them on a budget.
There are multiple ways to use these white floating shelves, and here are some of the ways you can use them in your home decor.
How to Use White Floating Shelves In Your Room Design
1. Dress up Those Empty Walls
While most of us choose a minimalist aesthetic in our home design, sometimes it can lend itself too stark and in need of some personalization.
Have an empty wall staring back at you? Add a floating shelf to display some of your special items and keepsakes to instantly add warmth to the space.
2. Statement Wall
While bringing in a lot of furniture and using accent pieces to create a stunning statement is all good, you can achieve similar results on a budget by adding a series of floating shelves to create a bold statement.
Similar Post: Top 20 Long Floating Shelves To Enhance Your Home Decor
3. Book Display Units
Using floating shelves for a book display is one of the easiest and most popular ways to add an accent to your room.  
White Floating Shelves for Every Room
Whether you own the space or it's a rental, floating shelves make an ideal space-saving solution while being cost-efficient at the same time.
They are also very versatile and can be used in multiple ways. Let's look at some of how white floating shelves can be used per the room.
Living Room Design with White Floating Shelves
Your living room is a reflection of your personality, and how do you effectively showcase that without making the room messy and cluttered?
Adding floating wall shelves can create an effective space for display right from those artifacts and cute knick knacks to your extensive book collection.
You can also choose to add a little green to the space by effectively using some indoor plants on these shelves.
Looking for a statement wall, using white floating shelves with clean lines can bring focus to the display.
Or even a gallery wall which you can add to showcase your collection and swap them at regular intervals to keep the freshness intact.
1. White Floating Shelves as a Statement wall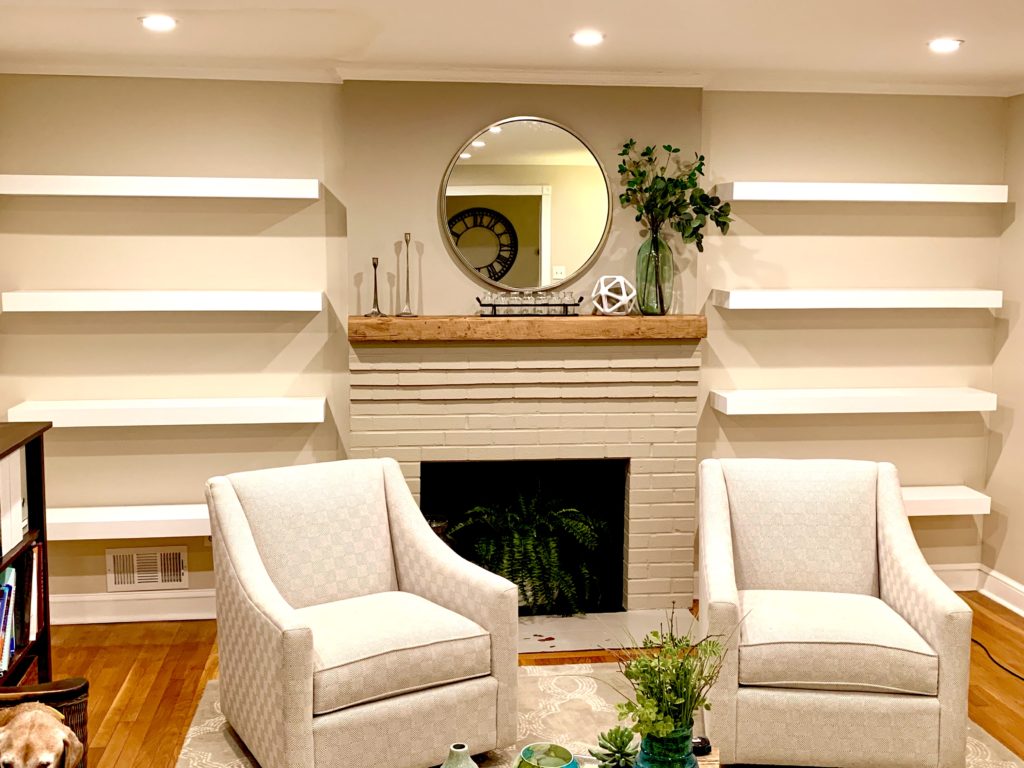 The clever use of white floating shelves in this living room goes to show how a simple shelf can add to the statement of the decor. These shelves have been intentionally kept empty for a clutter-free, minimalist look.
2. White Floating Shelves as a Part of The TV Unit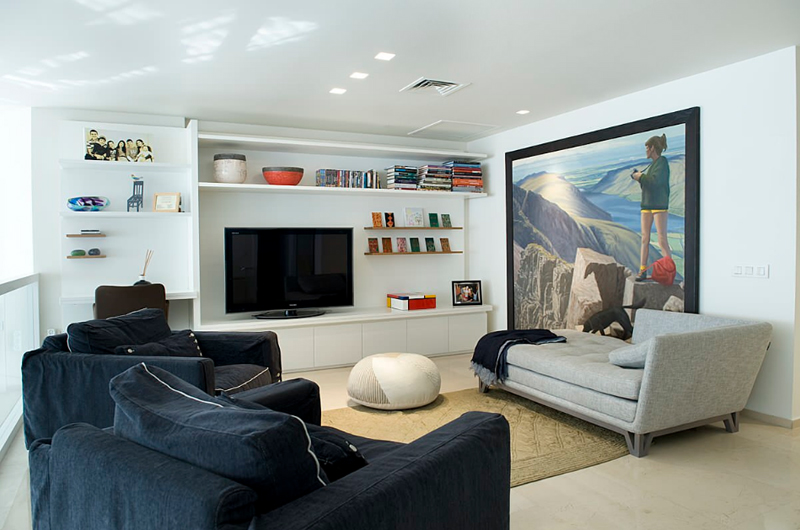 These floating shelves, combined with the TV unit, make for barely there storage but look great with their clean lines. The effective use of artifacts adds to the beauty of this living room.
3. Creating a Contrast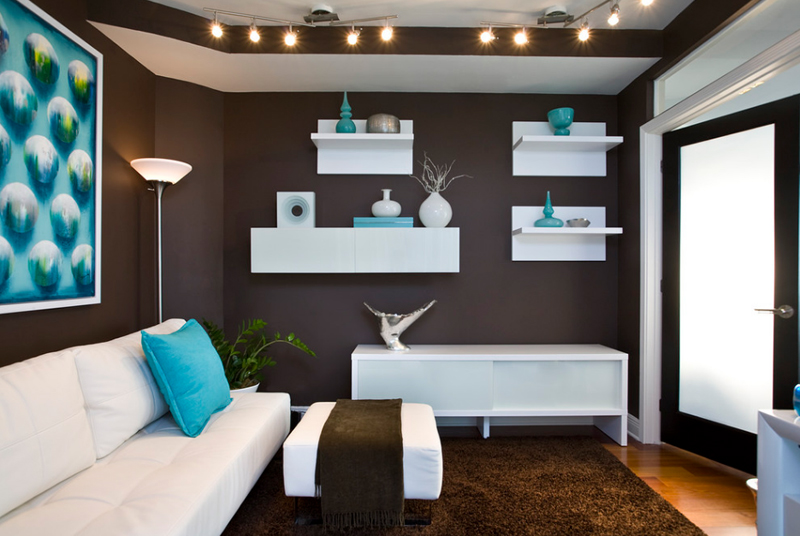 These floating shelves are boxier, but they work well with the contrasting walls and pops of color from the decor. Great for someone who is looking to add fun to their home decor while also keeping it fresh.
4. Old-World Charm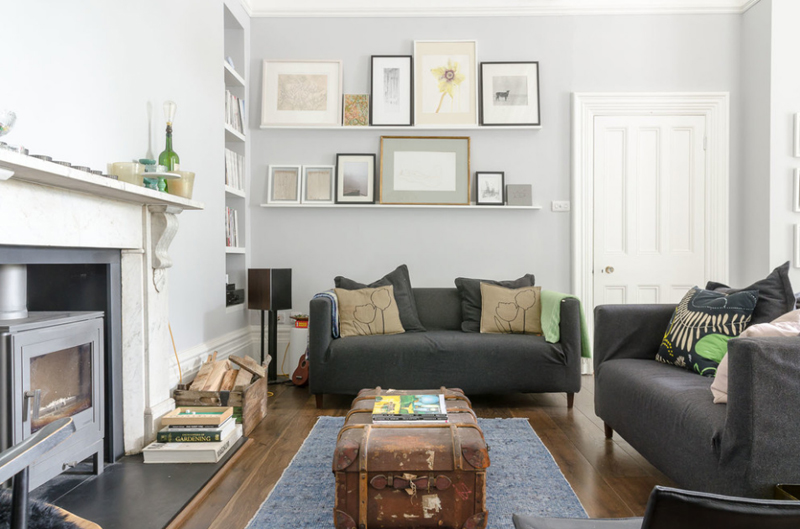 The charm of the old world is in this home decor with rustic elements and sharp accents.
The white floating shelves have been cleverly used for the display of a motley set of frames, and the side book unit all blends to give a timelessly chic look to this modern living room.
Dining Room Design with White Floating Shelves
A dining room is one space in the house that needs a lot of storage space. There are multiple knick-knacks, and it's ideal to have floating shelves that can double up as storage space.
5. Contemporary Style Dining Room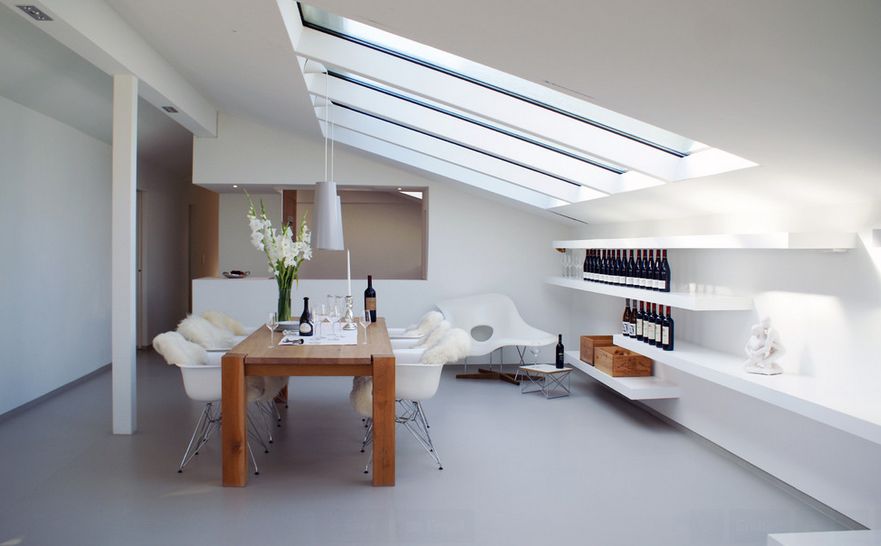 The white shelving unit in this dining room provides the much-needed storage space without making the space look small.
It helps open up the space, and the slanted roof brings in the much-needed light to make this space look bigger and roomy.
6. Contrasting Shelving Unit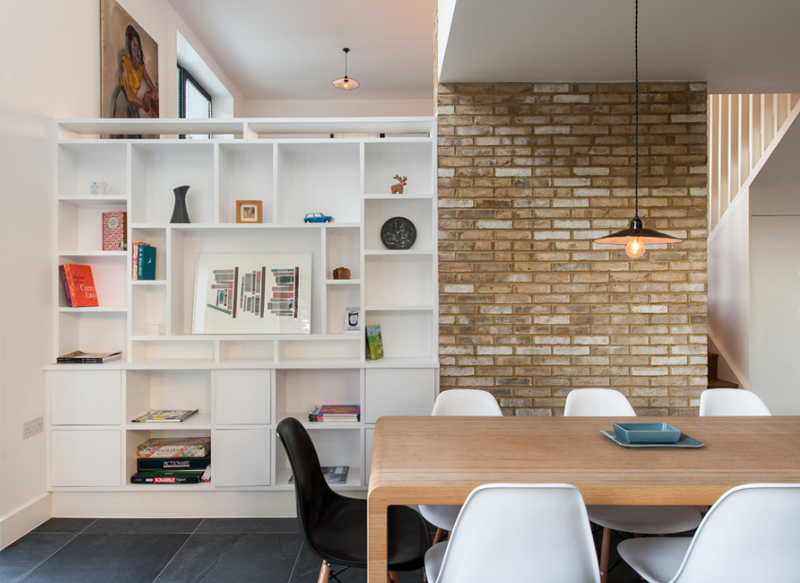 Beautiful contrasts have been created in this dining space with the exposed brick wall and the white shelves with differing widths.
Artfully placed pieces of display and the birch table make for a stunning modern design.
Also Read: 5 Simple Steps for Creating Stylish DIY Floating Shelves
7. Full-Length Display Unit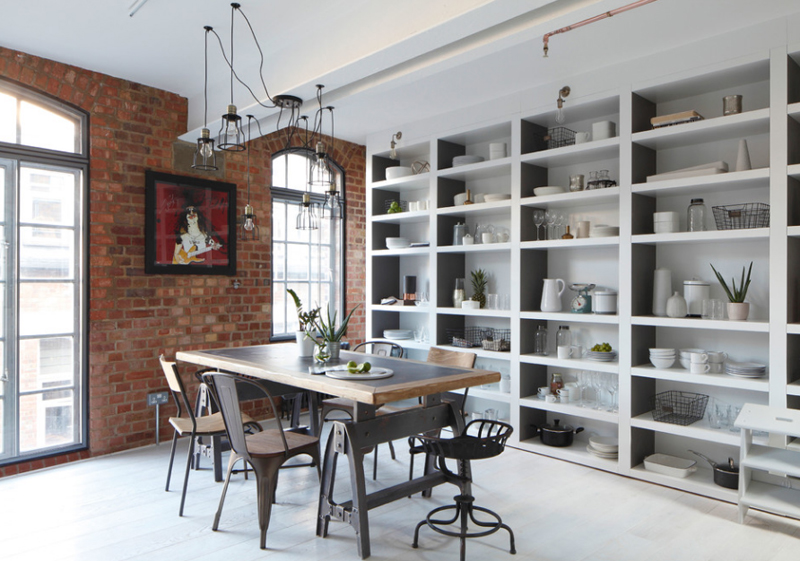 A dining space that embodies the spirit of displaying all crockery and dining elements.
The entire wall-to-wall white floating shelves have been used for displaying the beautiful crockery with pops of green and red with the brick wall.
8. Multi-Use Shelving Units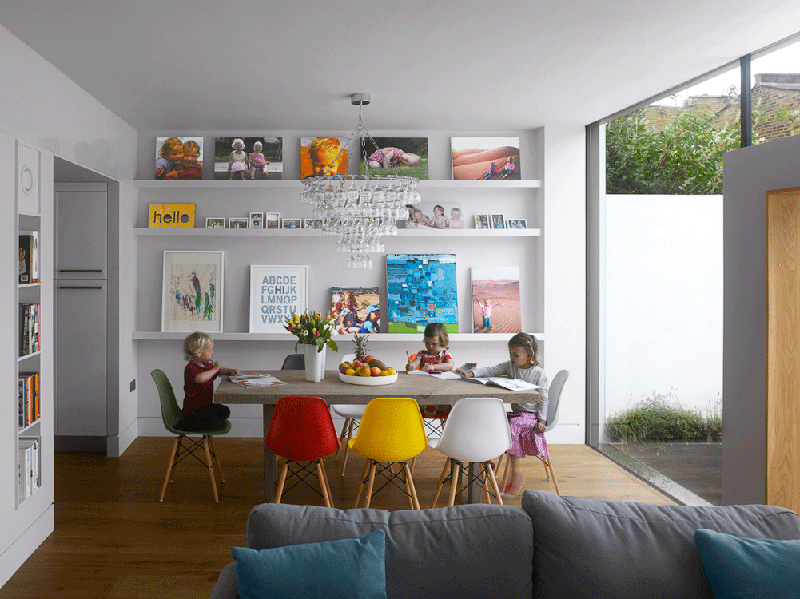 We love how this space captures the essence of public spaces in the house being multi-use.
The dining space here doubles up as a kid's work area, and the white floating shelves have been interestingly used for display frames and colorful accents. The white bookshelf in the corner doubles up as a reading nook.
9. Book Units in The Dining Space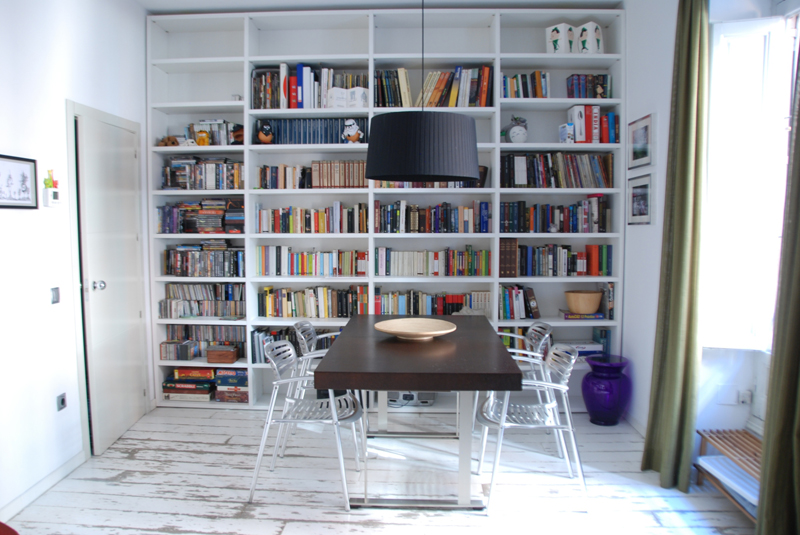 Books and food are a dream come true for a book lover. Having a wall-to-wall book shelving unit in white makes for an interesting choice in this rustic dining space.
The reading nook along the bay window makes for a book lover's delight.
10. Architectural Delight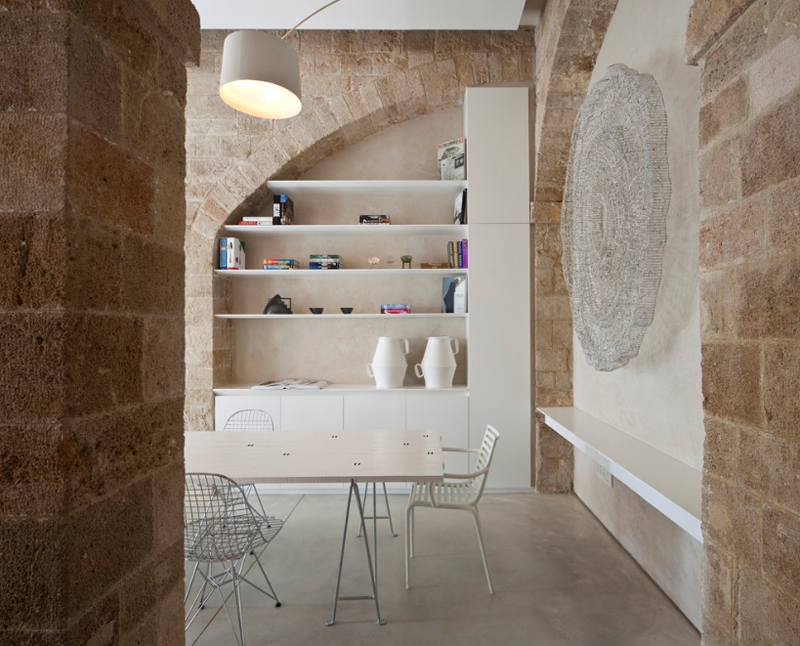 An architectural delight, this dining room incorporates all the exposed elements while also cleverly using the architectural intricacies of the design.
The white floating shelves, along with the natural brick columns, make this a connoisseur's delight.
Kitchen Design with White Floating Shelves
11. Modern, Airy Kitchen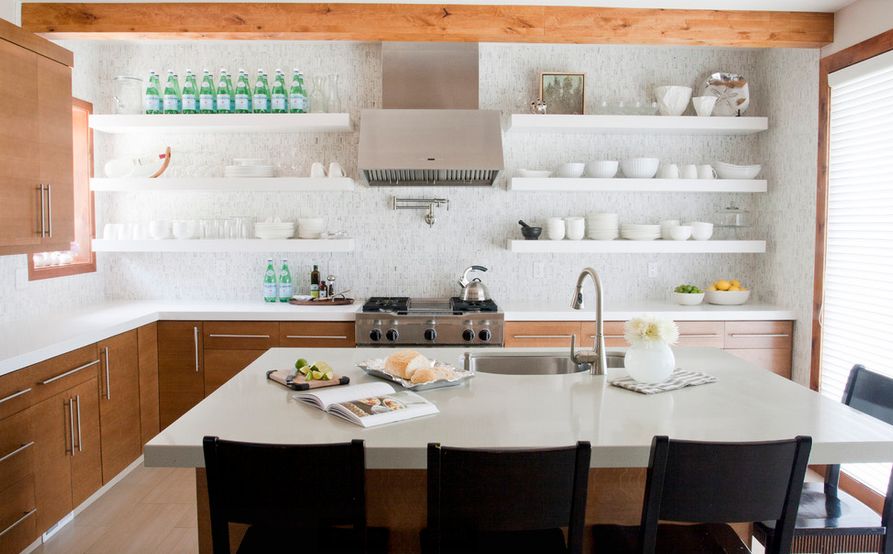 White tends to add to the space of any room, making it look larger and roomier. The white shelves in this kitchen help make this kitchen space look airier while also providing space for storage.
Clean lines and neutral colors help make this kitchen look pleasing and welcoming.
12. Practical Kitchen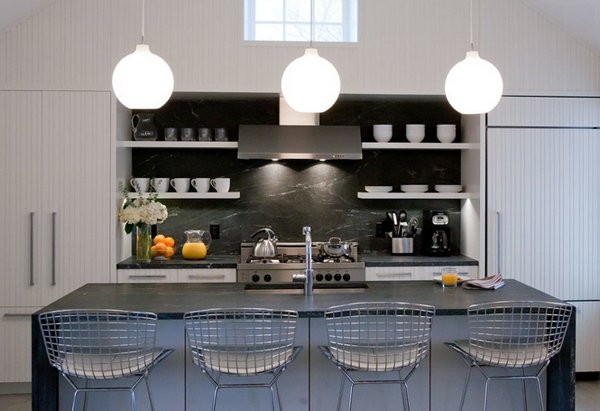 This kitchen with open shelves is all about practicality. The white floating shelves make for excellent storage of essentials at hand reach. It adds a contemporary, modern look to the kitchen decor.
13. Classic White Kitchen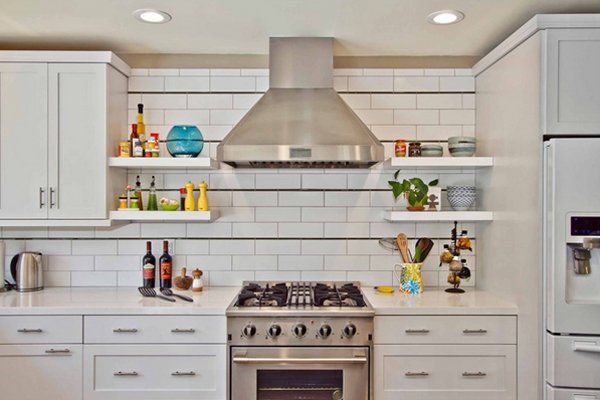 The white tile backsplash with darker accents and the vintage-looking cooking range add a post-modern rustic charm to this kitchen. Colorful display elements keep it both fun and functional at the same time.
Bedroom Design with White Floating Shelves
Shelves can be used in multiple ways in the bedroom, right from storage solutions to more functional uses like mini desks or a vanity. Knowing where to place them can make all the difference.
Take a look at some of the ideas below to know how you can use white floating shelves in your bedroom.
See More: 15 Black Floating Shelves to Enhance the Look of Your Walls
14. Contemporary Bedroom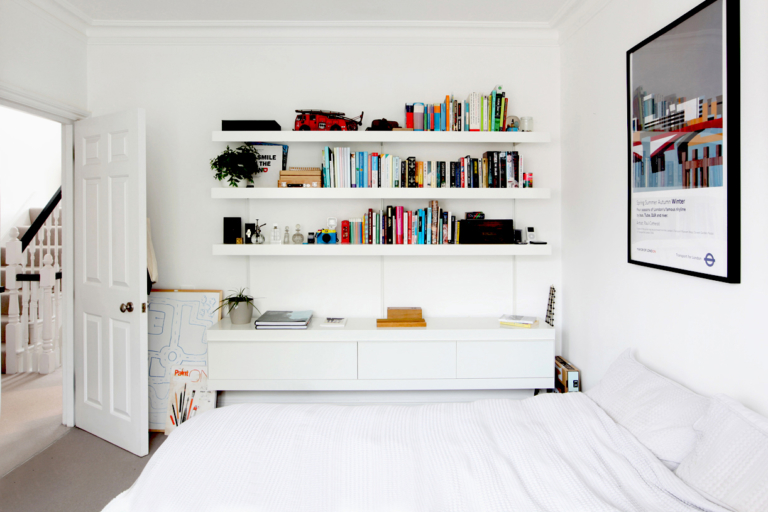 A modern, clean, minimalist decor is the highlight of this room. The white floating shelves add much-needed storage to add color to the space, which is otherwise pristine and neutral.
15. Shelf Above the Head of The Bed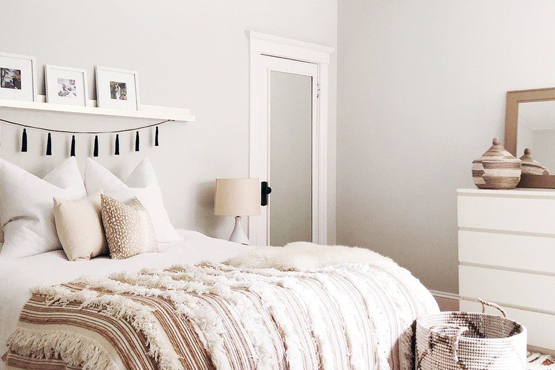 The space above the bed naturally becomes the focal point of the bedroom. This space can be used effectively by adding a white floating shelf to display your keepsakes.
This is a purely decorative space and can be used for display frames, plants, books, and other knick knacks.
16. Kids' Bedroom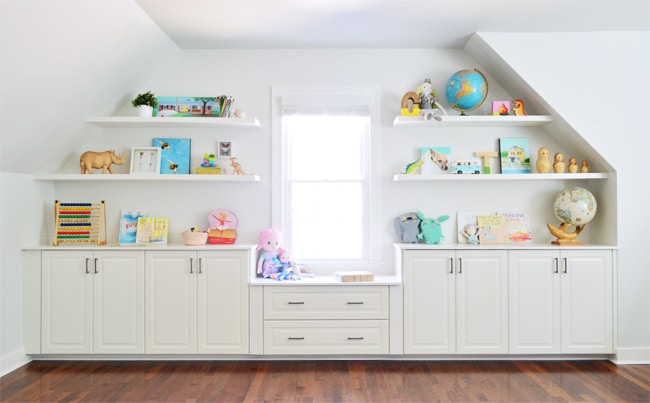 Kids' bedrooms/ playrooms need ample storage, right from displaying their toys to books to display frames.
Adding floating shelves makes room off the floor, which helps children have enough space to move around and play and not make it cluttered.
The white floating shelves create an interesting nook here for display and storage of all playtime essentials for the baby and a cute little bay window in white for curling up with a book.
Home Office Design with White Floating Shelves
With many of us moving to work remotely, separating our personal and professional lives is a dire necessity.
Many are choosing to make a home office which will give them the much-needed space to take care of work in a professional setup.
If you are planning a home office setup, you need to think about storage.
No matter how meticulous you are, the paperwork and the other office stuff keep adding, and before long, you will be at a loss with a lack of space.
Read on to find out how you can use white floating shelves, which will not only add to the aesthetics of the space but also make it functionally perfect.
17. Modern, Minimalist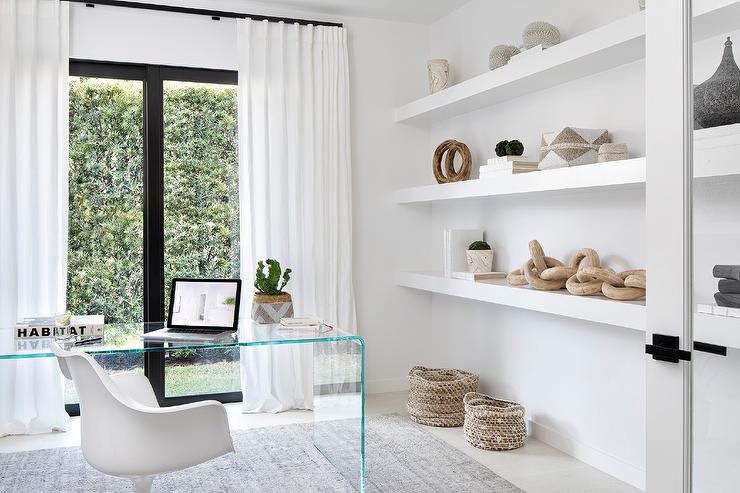 A haven to work in, this modern home office features full-length white floating shelves with an aesthetic display.
Overlooking the green, this office would be a dream for anyone to work from all day.
18. Home Office with a Quirk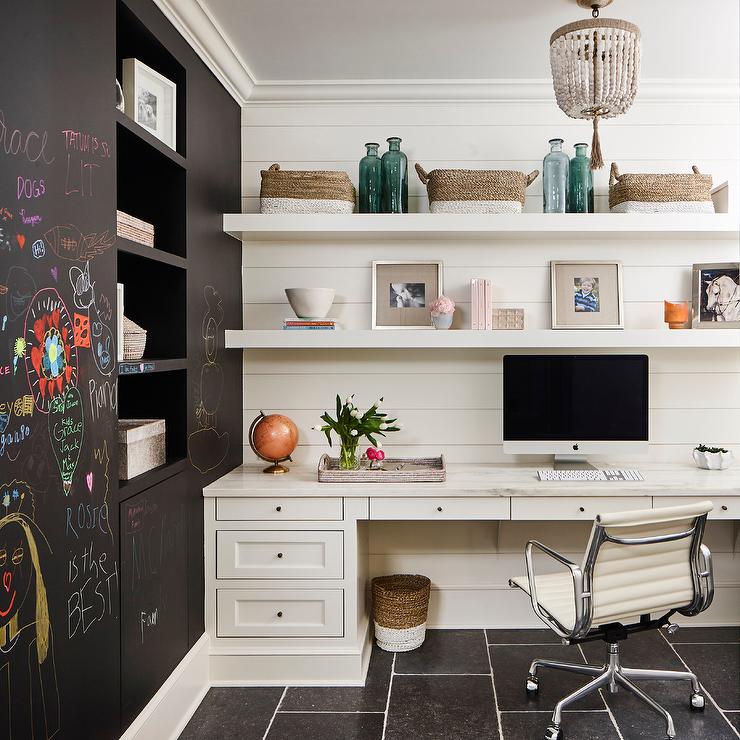 The white monochrome home office features a set of white furniture with black walls and accents.
There is a full-length chalkboard wall for all your tasks and white floating shelves for displays and also for some essential storage.
Related: 20 Beautiful Book Storage Ideas for Any Room
19. Small Home Office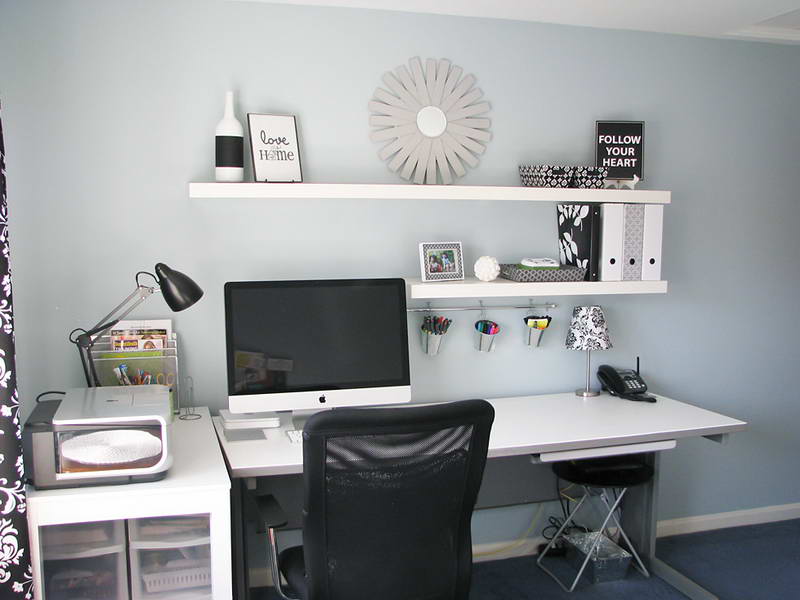 Running short on space and still want a dedicated home office? This is a perfect setup just for you.
You can clear out a corner and add a desk and some floating shelves, and voila, you have your home office.
This is an office on the wall, not taking much room but adding so much value in a small space.
Bathroom Design with White Floating Shelves
Bathrooms are often overlooked as part of home decor. But bathrooms need ample storage space.
Adding chunky cabinets might not be a viable option for storage, and hence floating shelves can be a lifesaver when it comes to bathroom storage.
You can use them for both storages and also for aesthetics by adding some green.
20. Bathroom Storage Shelves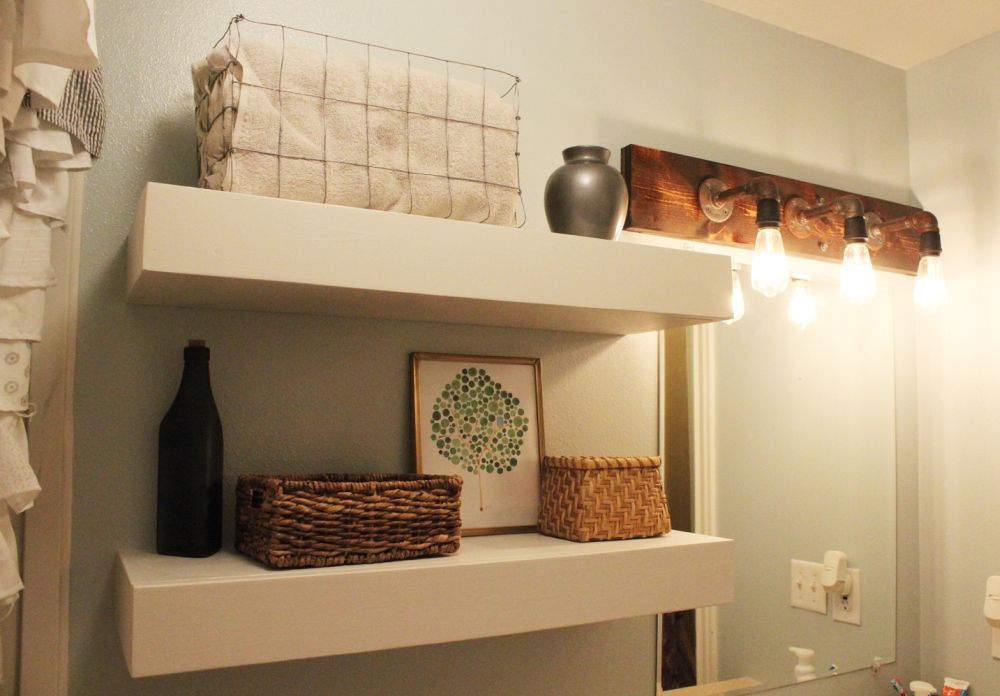 Small bathrooms can use all the space they can get without making it look cluttered. Adding these white shelves gives both spaces and makes for efficient storage.
You can also add some displays to personalize the space.
Check This Next: What Makes Floating Beds Unique + 11 Design Ideas
Summing It Up
Whether it's a space you are remodeling or renting, there is something for everyone when it comes to adding a floating shelf.
Floating shelves allow you to add extra space to your room storage without the hassle of adding chunky furniture.
These sleek options can elevate the look of your space and add to both decorative elements and functional requirements. 
Floating Shelves are also an easy DIY option that you can easily customize and give your unique spin.
Whether you are going for a solo shelf or a set of shelves, there are a plethora of options to choose from, ranging from industrial chic to boho chic to modern minimalism.
So, which one of these white floating shelves are you adding to your room decor?
Other Articles