Are you looking for interior decor pieces that are minimal and functional? A wall with black floating shelves can make a statement and add some style and functionality to any space. These shelves are a perfect fit for books, frames, figurines, succulents, artificial plants, and more. If you wish to give any space or walls a stylish look, black floating shelves are an ideal pick.
The placement possibilities of these shelves are endless. You can use them anywhere, right from your fireplace to above the kitchen cabinets or above the sink in your bathroom.
Why Choose Floating Shelves?
Floating shelves are an elegant and efficient option to help you create more storage space. These shelves can be attached to the walls to hold various items. Here are some benefits of installing floating shelves.
Make the Room Appear Bigger: Floating shelves create an illusion of a wider space. You can install a few shelves higher up on any wall of the room to create this illusion. You can decorate them with your favorite pieces or use them to hold your essentials. By using the wall space, you can also free up floor space to create a spacious room.
Similar Post: Top 20 Long Floating Shelves To Enhance Your Home Decor
Save Some Space: One of the major reasons to install floating shelves is to save a great amount of space. Especially in small homes, every square footage of space is important. Floating shelves can be your ideal pick if you feel you are running out of space to store things. Instead of storing items in your cabinets or drawers, you can store them on floating shelves.
It Can Be Customized as Per Your Needs: Another important benefit of installing floating shelves is that they can be customized as per your specific needs and requirements. These shelves are available in various sizes, colors, and textures. You can opt for thin glass or wood shelves, which are almost invisible to the eye. 
Floating Shelves Are Easy on Your Pocket: Floating shelves can be bought and installed at a very low price. While we don't suggest opting for low-quality and cheap materials, a good-quality, correctly installed floating shelf doesn't cost much. It is a very affordable option compared to other storage options like drawers, cabinets, etc.
Floating Shelves Can Be Installed Quickly: Floating shelves can be installed within a couple of minutes. Floating shelves seem to hover without any support. This is one of the best parts about floating shelves. This is achieved by positioning a screw hole above the studs and attaching rods and brackets directly to the wall. A few DIY guides suggest using wall anchors in case you cannot hit the stud directly.
Floating Shelves Can Be Extremely Sturdy: You can install floating shelves in ways that can make them extremely sturdy. If the shelves go deep inside the wall and are secured with multiple brackets, they become extremely sturdy. Some are so sturdy that they can even support multiple individuals using the shelves as a seating arrangement.
Black Floating Shelves to Enhance the Look of Your Walls
Discover the best black floating shelf ideas below to create new surfaces and display your precious pieces.
1. Create a Gallery Wall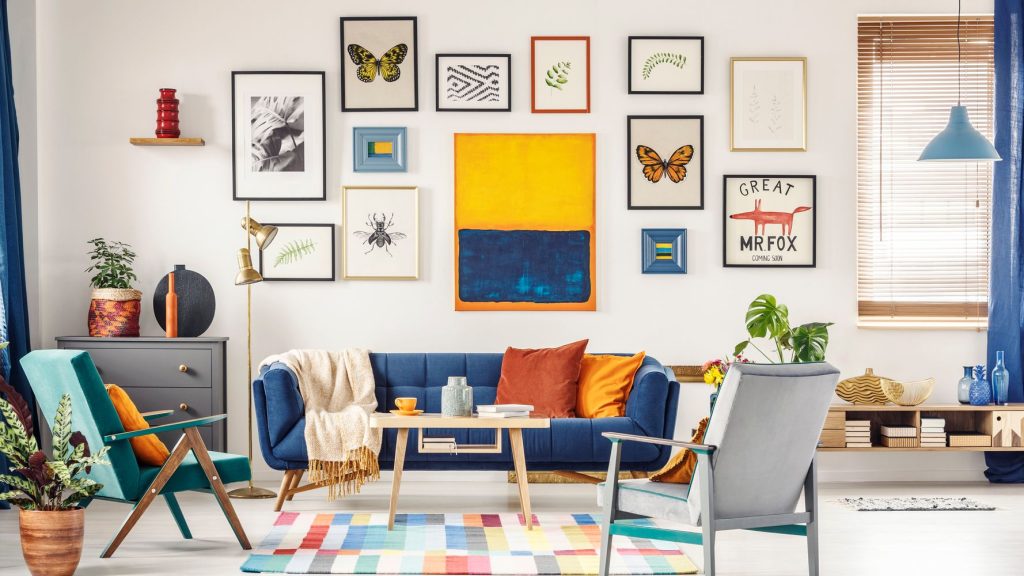 Instead of hanging up some artwork, create a wall with greater depth by adding black floating shelves in a pattern that aligns with your white walls.
The floating shelves are also a statement piece, and you can fill them with books and decor to amp up the space. You can create this wall behind your couch or beside the couch and make the space look stylish and functional. You can also show off your favorite plants in this space.
2. Spruce Up a Nook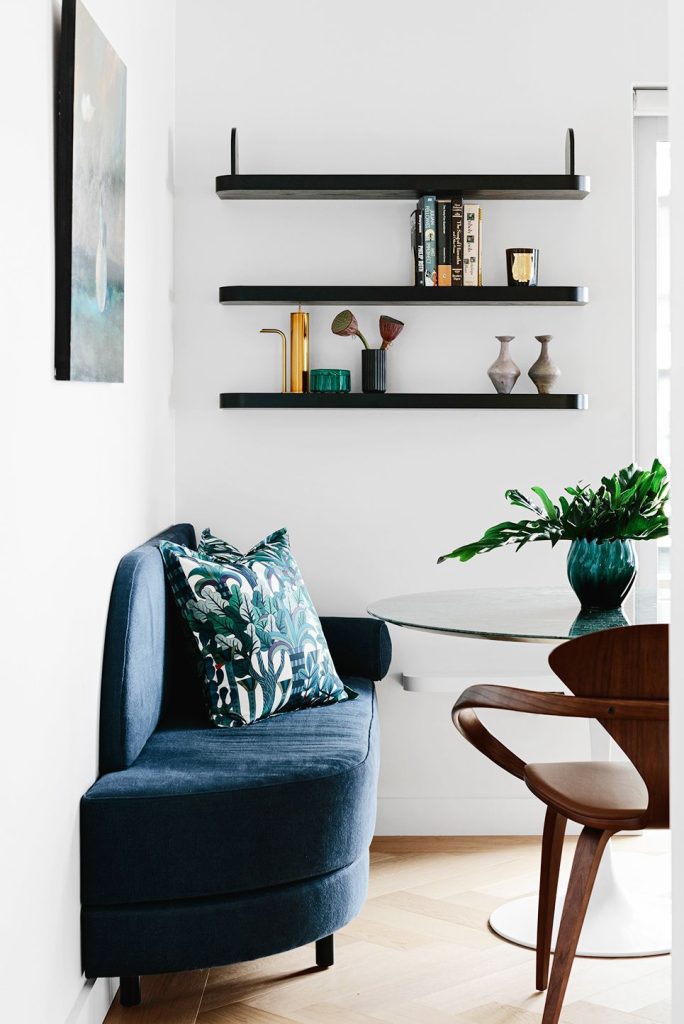 In compact spaces, where you cannot squeeze a lot of stuff, add a built-in bench or accent chairs and a small table. You can add black statement floating shelves and display some decor to revamp your space.
The best thing is that floating shelves occupy no square footage and add functionality to your space. They will never let any nook or corner of your house go to waste!
3. Black Floating Shelves in a Living Room with Lights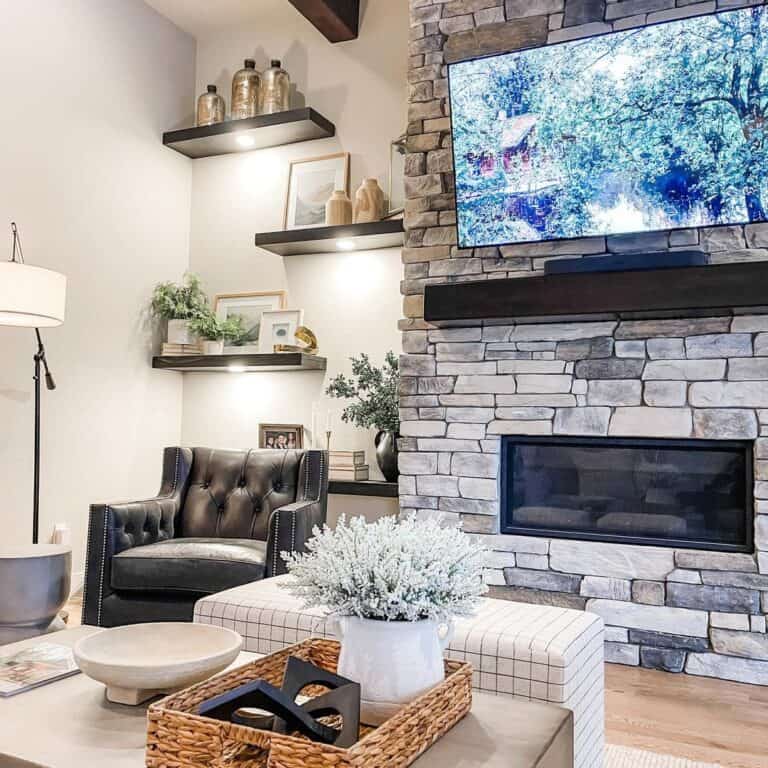 You can add black floating shelves over an accent chair or a leather couch in your living room. The shelves can be fitted next to a stone fireplace or a wooden television unit.
The lights fitted on the shelves will illuminate the surrounding area and add some drama to this space. You can accessorize the shelves with some real plants or antique showpieces.
4. Black Floating Shelves In The Dining Room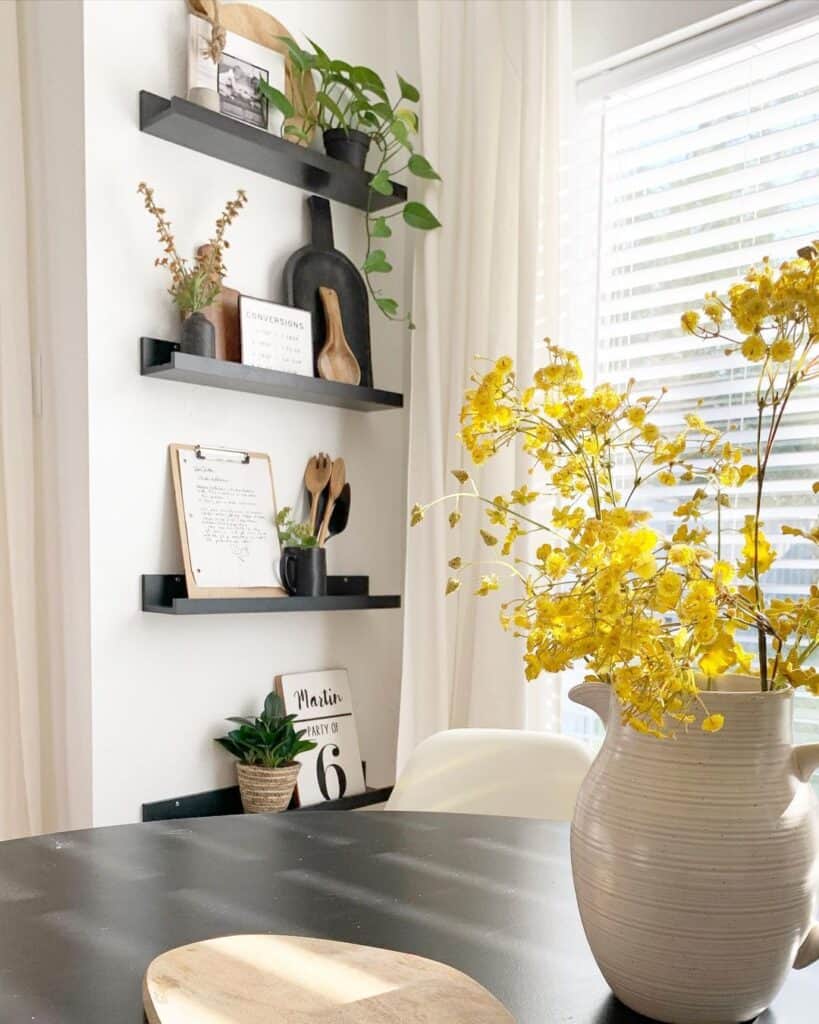 Black floating shelves can be fitted on a wall next to the windows dressed in white curtains. You can adorn these shelves with black, tan, or white decor.
The wooden dining table decorated with a matte beige vase further enhances the entire look of the living room. You can also add plants to give a refreshing look.
Also Read: 5 Simple Steps for Creating Stylish DIY Floating Shelves
5. Black Metal and Stained Wood Floating Shelf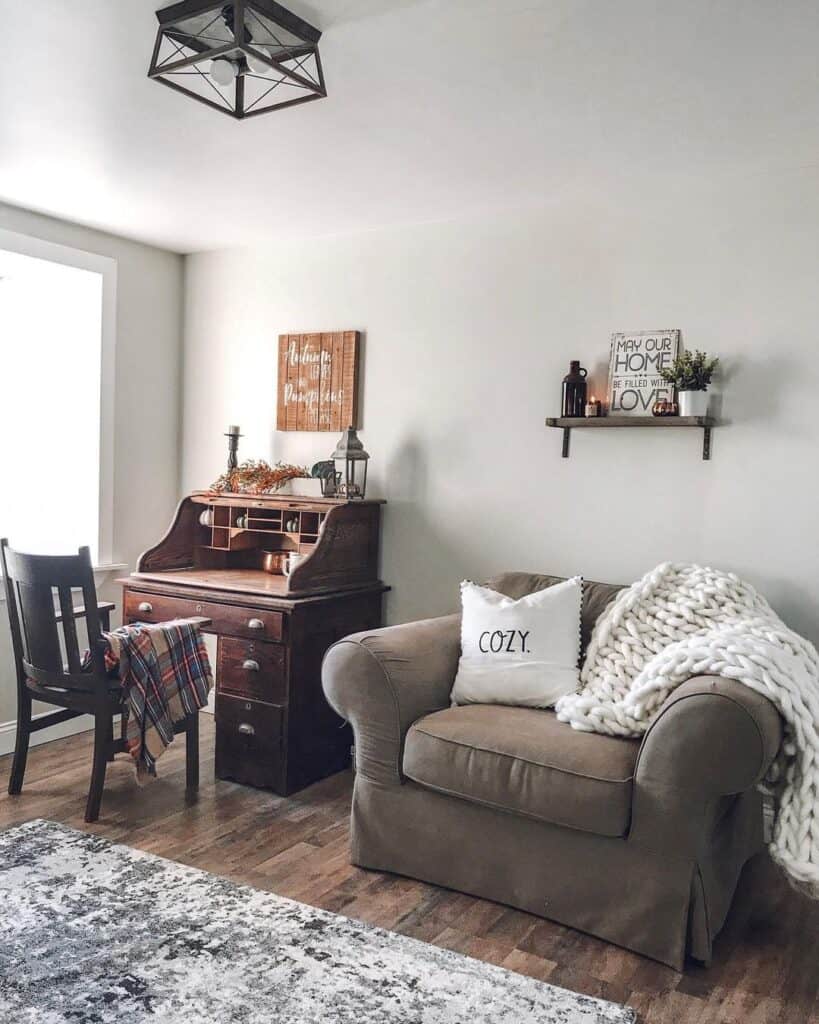 You can add a stained wood and black metal shelf right above your couch or chair in the living room.
For instance, in this living room, there is a wooden desk and a black spindle chair beside an armchair and a black floating shelf right above it. This gives a minimalistic and cozy feel to the space.
6. Ditch the China Cabinet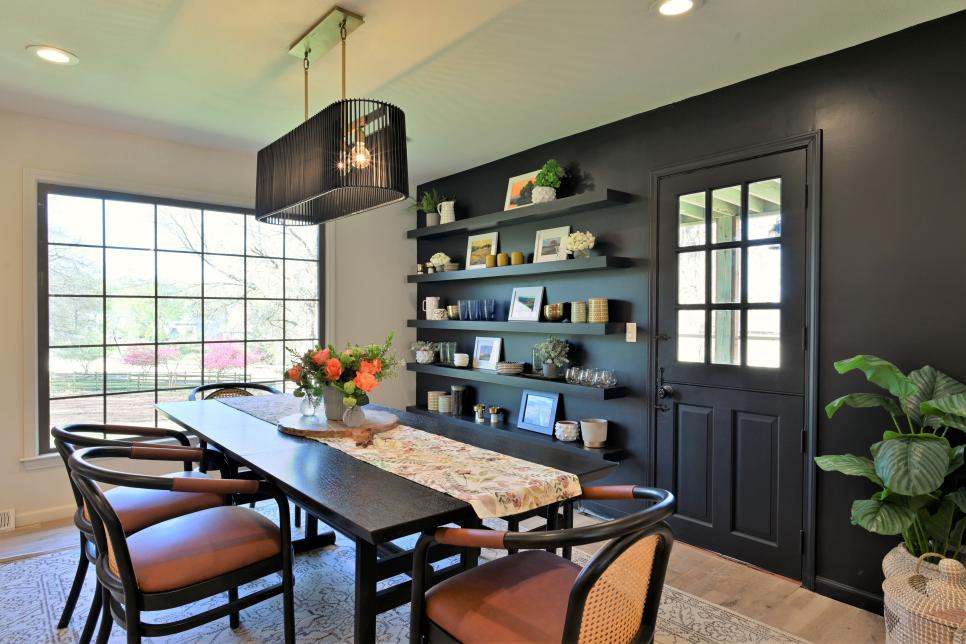 If you do not wish to store your dinnerware in a cabinet, you can simply install black floating shelves from the floor to the ceiling and fill them with beautiful occasion serve ware, vases, green plants, or photo frames.
In contemporary homes, black shelves serve as secret tools to create sleek dining area displays. They can also make the area appear bigger and occupy less space as compared to a traditional China cabinet.
7. Set the Mood in Your Bathroom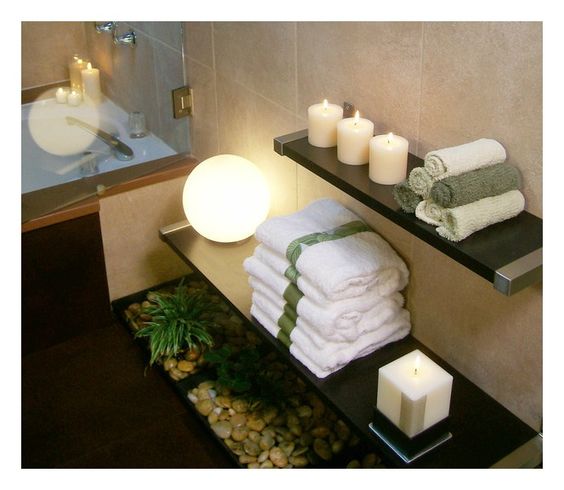 You can add low black floating shelves in your bathroom near the bathtub or the shower area. These shelves can be used to display towels or candles to add to the bathroom's aesthetics.
For example, in this bathroom, black floating shelves are installed above a small rock garden. These shelves are adorned with three candles and white towels, which makes the space look elegant and classy. The elements create a spa-like feel inside the bathroom.
8. Create a Functional Entry Space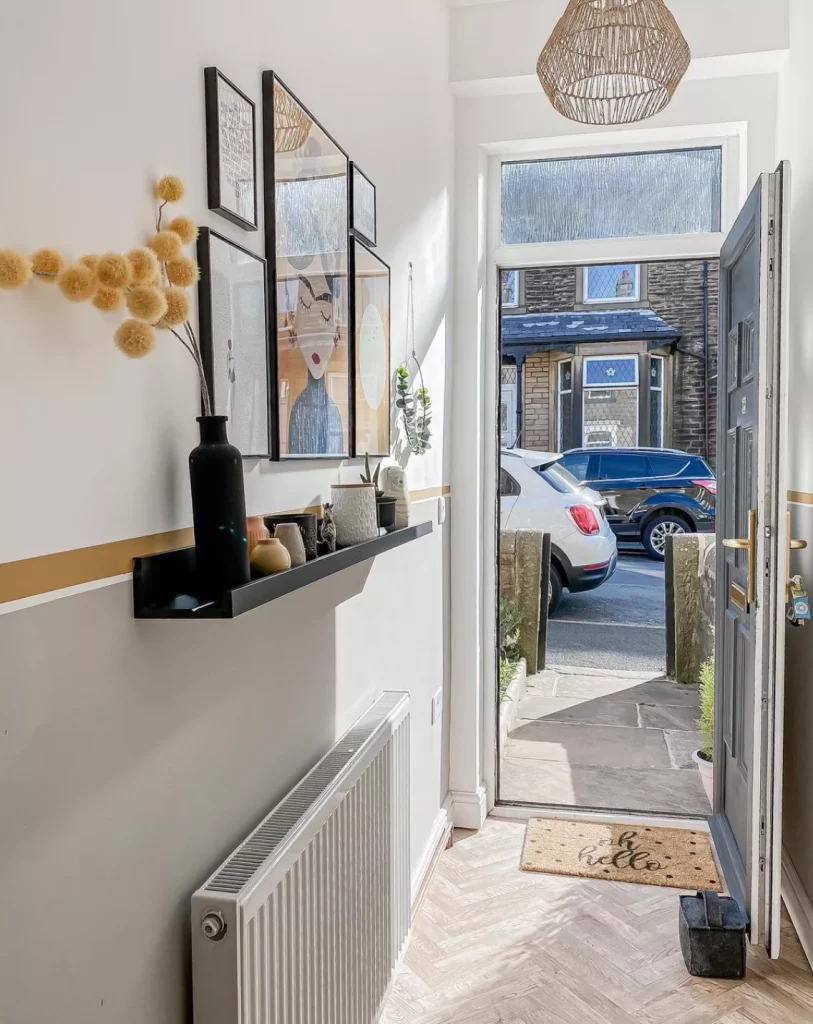 Usually, the Entry Space serves as a space to keep your keys, hats, sunglasses, and other stuff that you might need on the go. It is sometimes difficult to find space for these things in small homes.
In a narrow entryway, black floating shelves can be your savior. You can add small décor items on these shelves. They will give visitors an idea of the homeowner's style and taste as they walk through while entering your home.
9. Upgrade the Work Space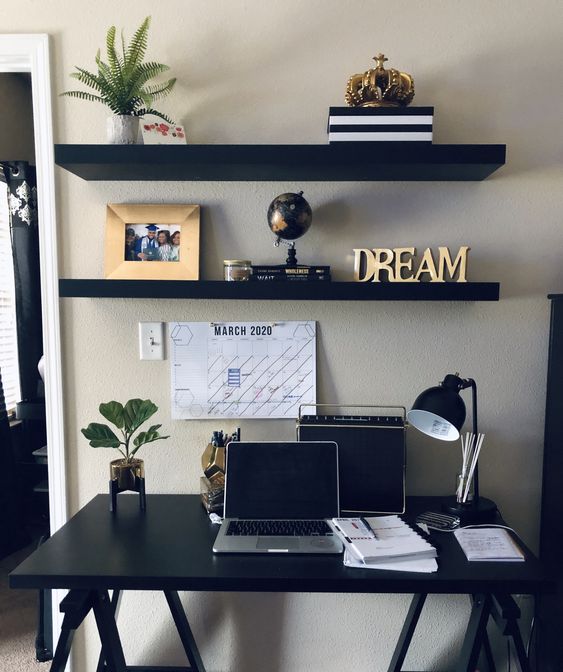 If there is a shortage of space on your desk, you can add floating shelves right above it and adorn them with photo frames and planters.
You can opt for a black desk and matching floating shelves and create a white contrast wall. This will highlight the workspace and make it look playful. 
10. Blend the Shelves in With the Walls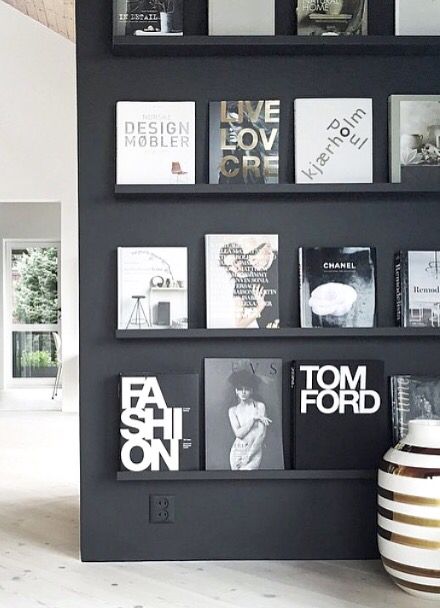 You can add black floating shelves to a black wall in your home. This will camouflage the shelves and make them appear as built-in shelves. Wall and shelves with a matte black finish give a bold and sleek look to any space.
This is the perfect idea for people who do not want the floating shelves to look like a separate part of their home.
11. Add a Dash of Contrast to Your Bedroom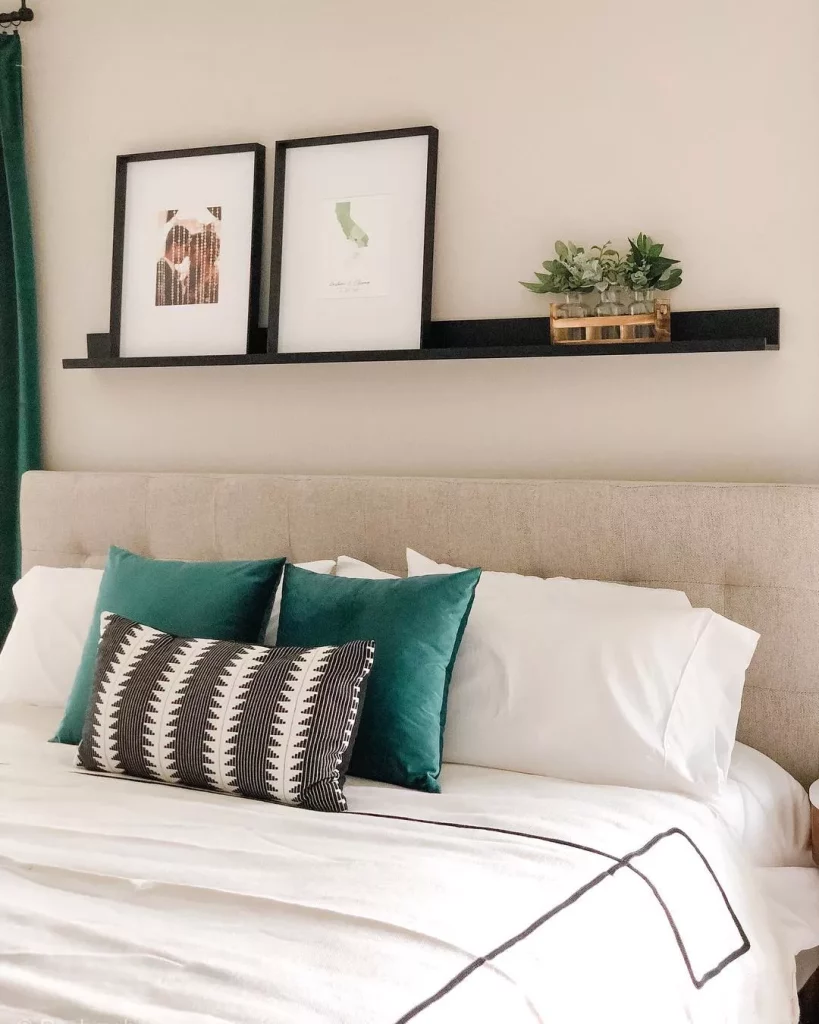 If you would like to go for a minimalistic look in an all-white bedroom, add a contrast black floating shelf right above the bed with minimal decor.
For instance, in this bedroom, black photo frames and black lines on the duvet bring out the right amount of elegance and glamour. A few vibrant colors can come out in throw pillows and curtains.
Related: 20 Best White Floating Shelves Design Ideas for Your Home
12. Add Functionality to Your Laundry Room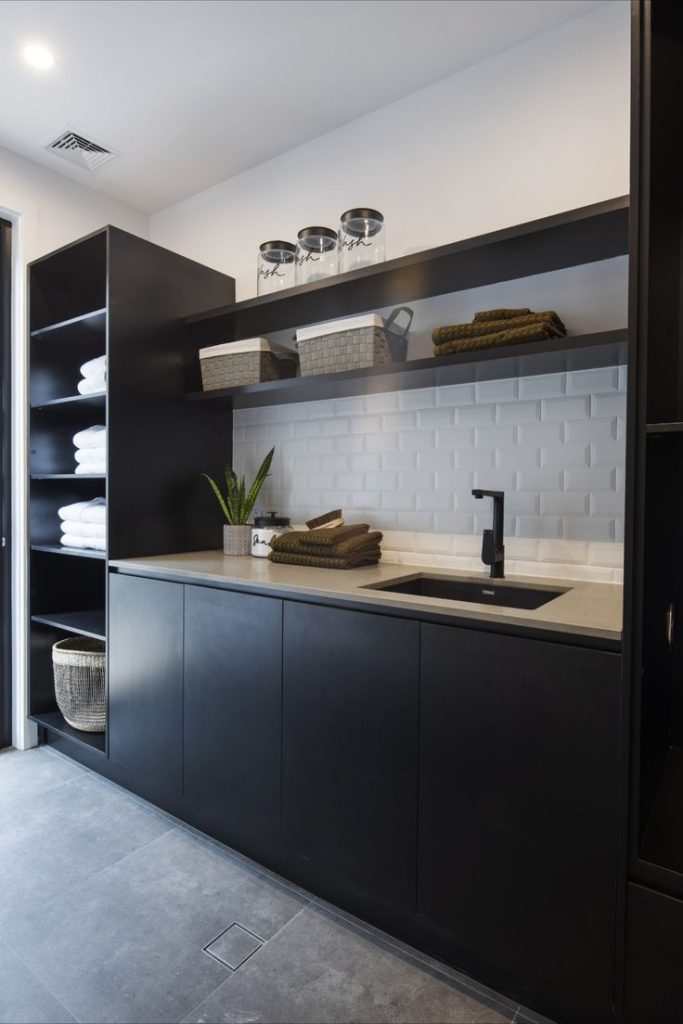 Laundry rooms are all about storage space. You can install black floating shelves in an all-white laundry room to open the space.
You can use the shelves to store essentials or decorate them in your way to enhance the look of your laundry room. These shelves will make your laundry rooms attractive and stylish.
13. Create Smart Seating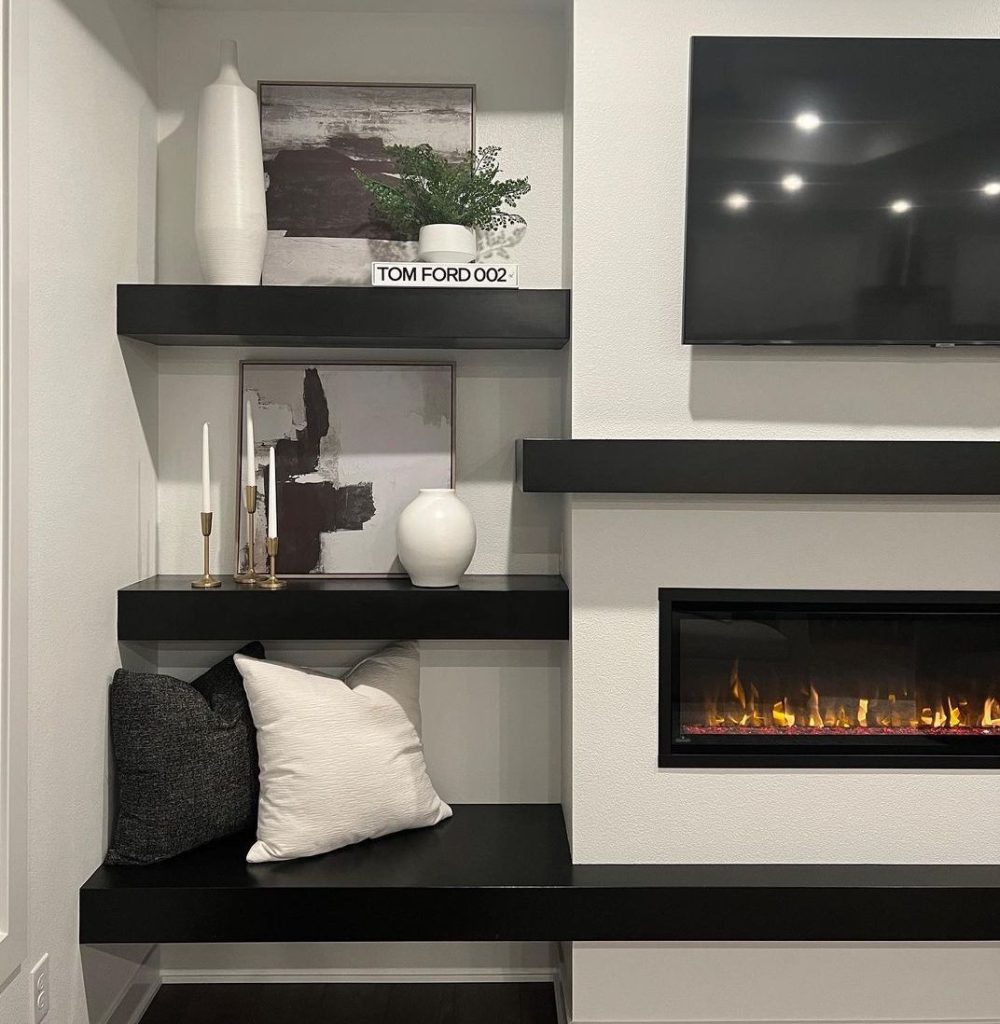 Have you ever thought of using a floating shelf as a seating space? As shown in the picture above, you can extend a black floating shelf at seat level to create a smart seating area.
Adding a few cushions creates a cozy bench ideal for curling up and reading a book.
14. Kitchen With Black Floating Shelves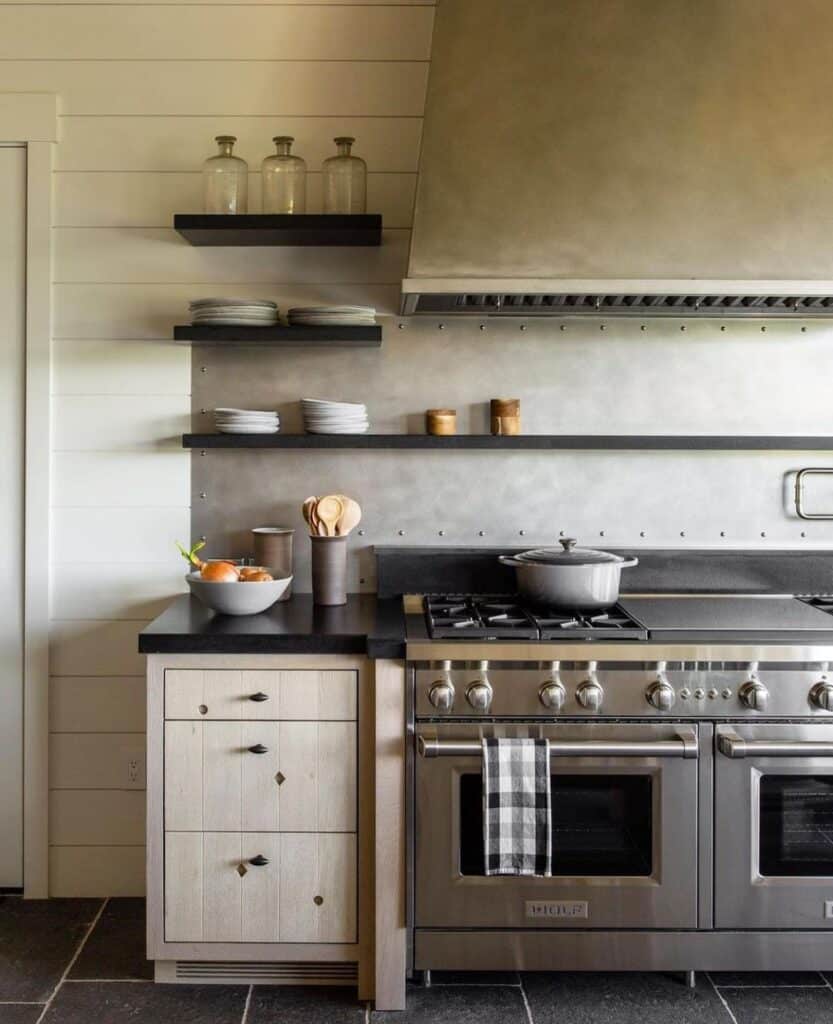 The kitchen is a space that requires maximum storage. Add black floating shelves above the gas range or cabinets if you wish to amp up your storage space.
You can fill these shelves with plates, containers, or any other kitchen essentials to add to the functionality of the space. These shelves also add to the elegance and make the space look chic and modern.
In the space displayed above, light wood cabinets and a black countertop go well with the black floating shelves.
15. Black Floating Shelves with Black Stencilled Wall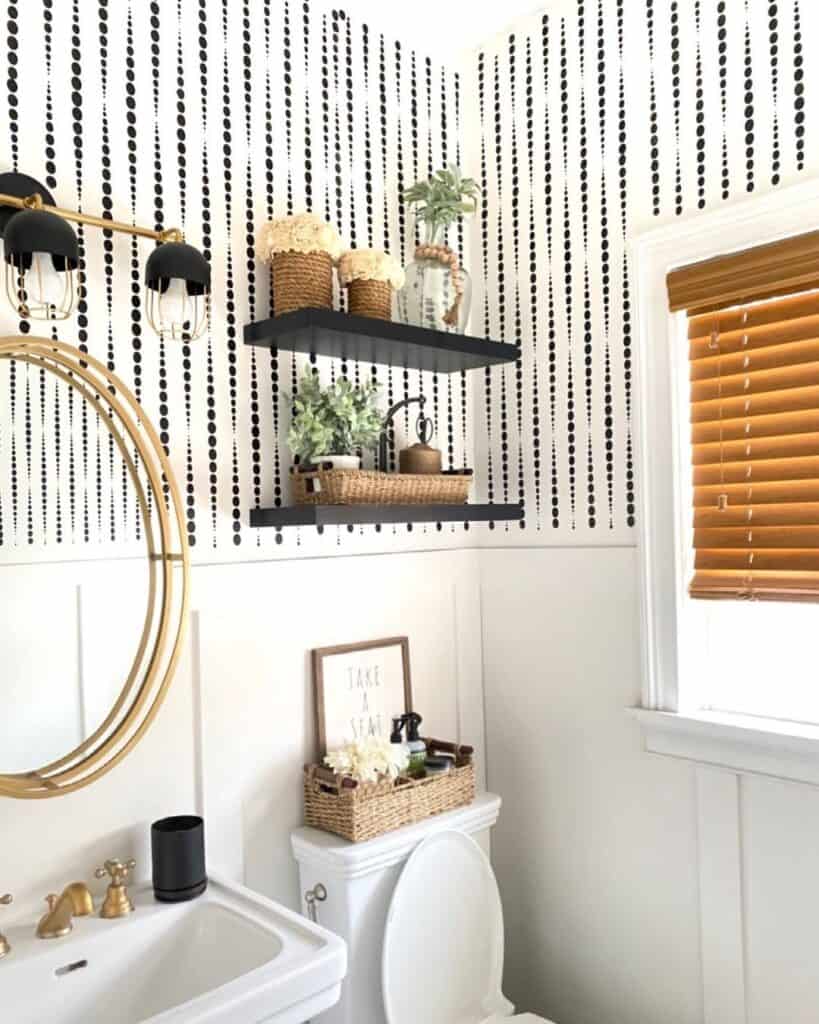 Black statement floating shelves can be added to a white wall above the commode. The lower half of the wall is plain in this photo, while the upper half is given a black stencil effect.
Black floating shelves complement this look and make the bathroom look functional and chic. You can add gold touches like a gold mirror frame and a gold faucet to enhance this look further.
Conclusion
Black floating shelves can be installed almost anywhere in your house, effectively increasing your storage space.
They can be installed and used in multiple ways while increasing the style quotient of any space. They are very affordable and durable, come in various colors and textures, and can even be customized as per your requirements.
So, use them to enhance the look of any space.
Check This Next: 21 Unique Wall Shelf Ideas to Upgrade Your Home Decor
Frequently Asked Questions
Are Floating Shelves Still in Style?
Floating shelves have been in style for decades. Even century-old homes have open shelving in their bathrooms, kitchens, and living rooms for added functionality and ease. Floating shelves come in different styles and can be used for different purposes.
Can Floating Shelves Hold a Lot of Weight?
A floating shelf can take about 40-50 pounds of weight for each wall stud attached to the floating shelf bracket. For example, a 2′ shelf bracket attached to two wall studs can hold about 100 pounds of weight.
What Color Can Floating Shelves Be?
Floating shelves come in a variety of colors and textures. You can choose any color from black gloss, mustard, yellow, aqua, tungsten-matte, and mustard. You can select a color depending on your preferences and the one that goes well with the design of your house.
Is It Cheap to Make Floating Shelves?
A floating shelf would merely cost $3 – $5. You need a few supplies like paint, brushes, screw, and stain. They look very elegant and classy and are very affordable.
Is Plywood Good for Floating Shelves?
Plywood is a very strong material to build floating shelves. It would make a nice and smooth shelf. These shelves are pretty easy to make and look spectacular.
What Material is Best for Floating Shelves?
Floating shelves made out of MDF/plywood last the longest. Plywood coated with a high-quality veneer would make it look like any other wood and easy to paint. These shelves won't twist, crack, or shrink. Veneers provide an aesthetic at a lower cost.
Other Articles