17 Trendy Furniture Ideas to Decorate a Girl's Bedroom
Are you looking for the best girl's bedroom furniture ideas to create spaces that reflect their personal style? The girl's bedroom is not only about glitter and pink tones. You need to...
Are you looking for the best girl's bedroom furniture ideas to create spaces that reflect their personal style? The girl's bedroom is not only about glitter and pink tones. You need to organize it in a way that she adores for years to come and where she can be excited to welcome her friends.
A desk with plenty of storage shelves, an extra bed for sleepovers, and a stylish cupboard are essential for your girl's bedroom. While decorating your girl's bedroom, you should ensure to opt for furniture that gives her a homely feeling.
Let's take a look at some of the bedroom furniture ideas that can transform the appearance of her room.
Some Amazing Girls' Bedroom Furniture Ideas
Turn your girl's bedroom into a playful retreat with these awesome furniture ideas.
1. Utilize Empty Spaces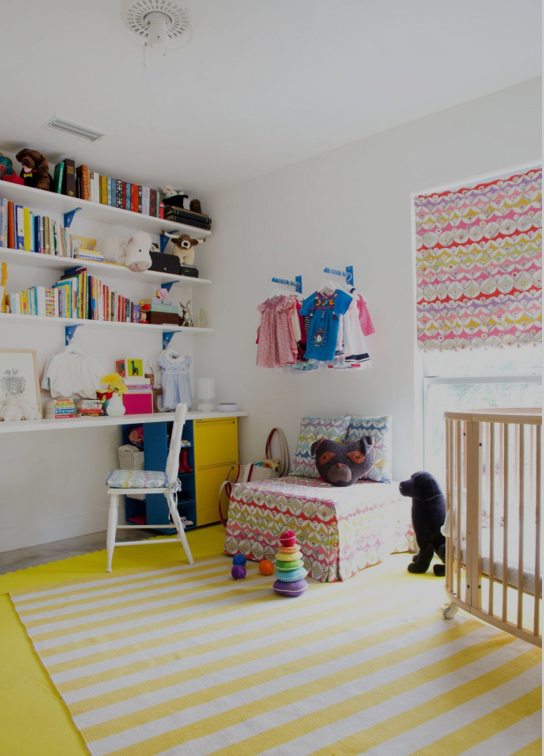 The best way to make your little girl's room feel clutter-free is to add enough storage space for them. Wall space is an excellent option to utilize unrequired areas without taking up additional space.Various shelves can be used for storing books, shoes, makeup, bags, jewelry, etc. Mostly, light colors and minimal decoration go well with such kinds of open-shelved rooms to make them look neat, tidy, and well-maintained.
2. Make a Chill-Out Space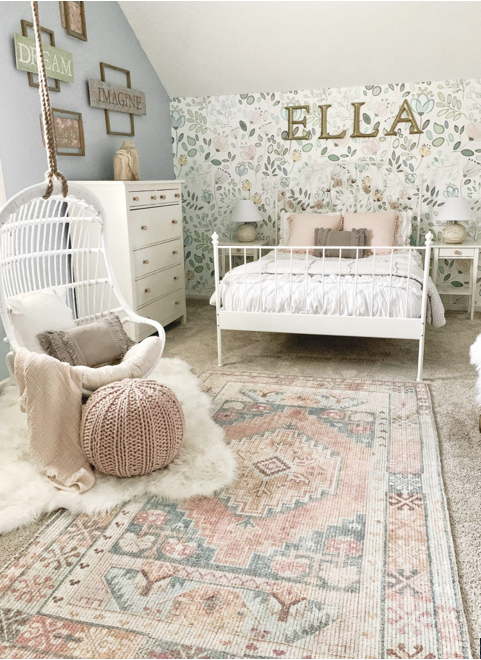 Hanging chairs are a great option when looking for a girl's bedroom furniture. These add a feeling of comfort to the room. You can pair them with cozy cushions with chic covers to transform the whole look of the room. Alternatively, you can also make a cozy corner in the room by setting up a daybed that can be doubled up as an important chill-out area when your daughter's friends can come over.
3. Combine Vintage with Neon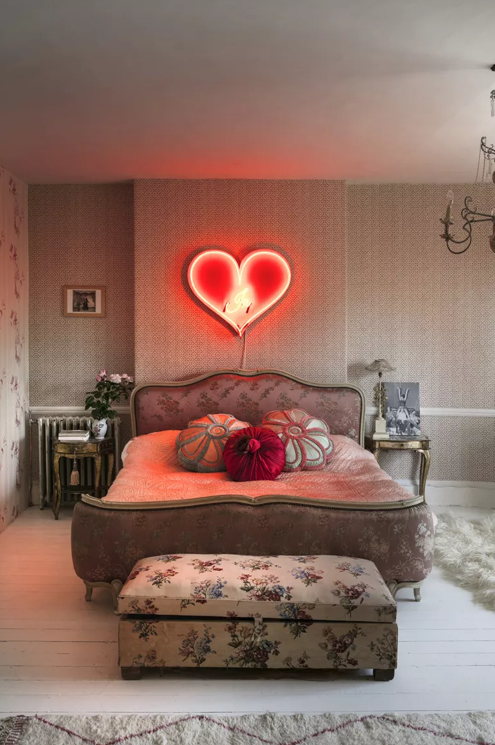 Vintage is among the most in-demand looks of the decade. A vintage-themed bedroom combined with neutral-colored flowers and furniture of the same color scheme would look ravishing. To give it a spicy edge, you can add a customized neon sign to bring some life to the room and also give it a modern look. Neon colors would instantly uplift the vintage color theme. The best place for a neon sign is the headboard.
4. Make It Flamboyant and Flowery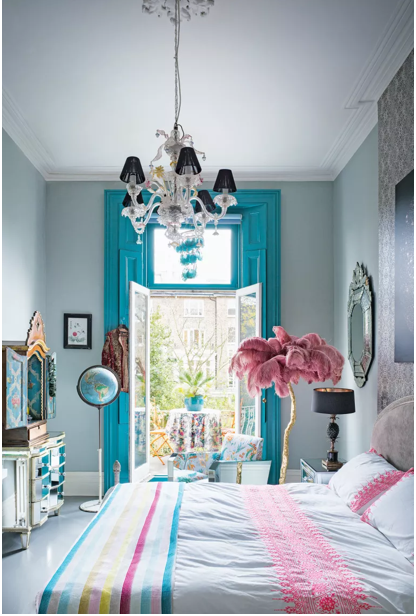 When searching for the perfect girl's bedroom furniture, always go with bright and beautiful colors. Wallpapers with flowery themes add vibrant vibes to the room and make it feel more airy and refreshing. You can also go for an ostrich-feather lamp, just like the one in the picture. Flamboyant colors like pink, yellow, and shades of blue add a sense of grandeur and decadence to the room. You can also combine these with a low-key mirror and a darker-shade cupboard so that the other pieces of furniture stand out. Opting for wallpapers is always a good option because your daughter's preference may change as she grows.
5. Add a Cool Canopy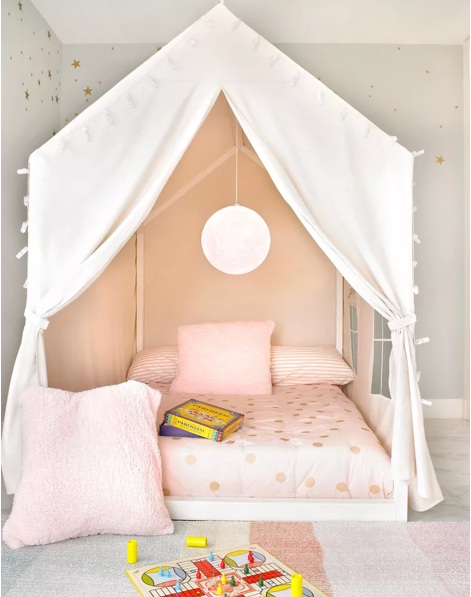 Give your little girl the feeling of a princess by adding a canopy over her bed. Although pink is the most commonly preferred and traditional color, there are a lot many other color options. You can also use bold colors like orange, red, or purple. Accessorizing the canopy can also add more glamor and elegance to the room. For example, hanging tassels or some faux vines to the canopy would make her feel like she's dozing in a magical garden. Or, even a floral crown above the canopy would bring more life to your daughter's room. Another great idea would be to opt for a house-shaped bed frame and then drape it with a canopy that would create a peekaboo-window effect, just like the one shown in the picture above.
6. Choose the Perfect Color Combination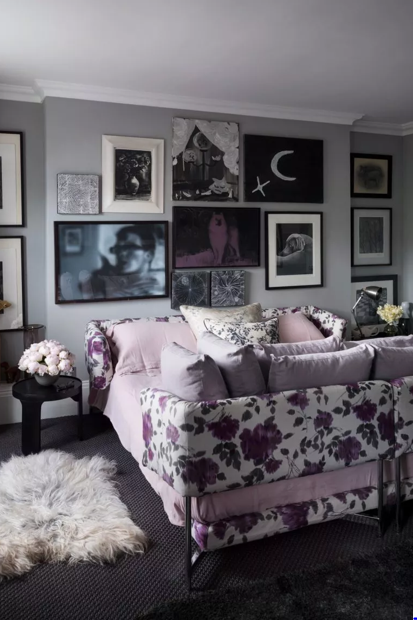 Choosing the perfect color palette when selecting a girl's bedroom furniture is a must! Colors like gold and cream give a premium look and add a grown-up feel to the room. You can also go with a dark color scheme to add some drama to your little one's room. Dark floors and a floral bed can also be a good combination for a teenager as it doesn't look too girly.
7. Ditch Decals for Stencils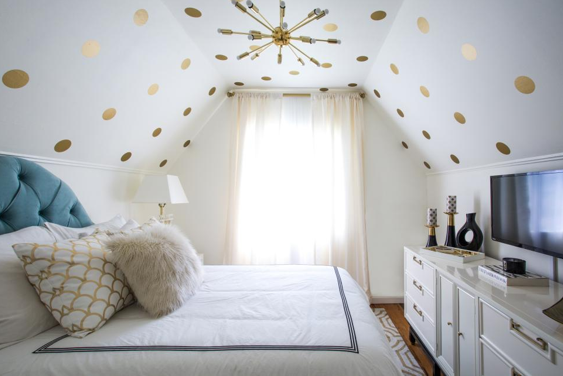 If you're looking for an inexpensive idea for your girl's bedroom furniture, choose a completely white color for the room and add fancy designs to the ceiling using stencils and paint. This ideal will especially work if the room is quite compact and cozy. Add a piece of statement furniture on the ceiling, such as a fancy decorative hanging fan or a chandelier, to complete the look.
8. Add a Boho Vibe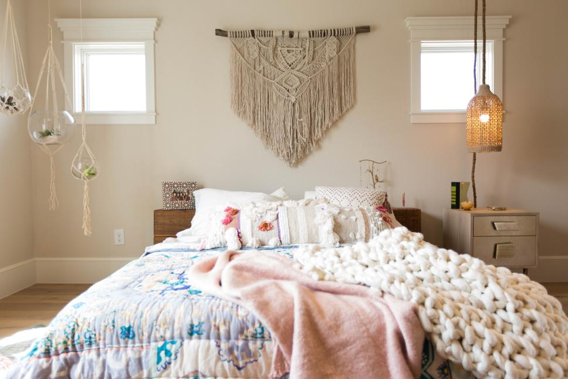 If you wish to create a stunning interior for your little girl, you can try the modern boho look by combining different patterns, colors, and textures. The picture shown above features a woven wall hanging, a huge knit blanket, and macrame plant holders that add a very "bohemian" look to the room. You can add layered rugs on the washed hardwood floor to enhance the bohemian look. Alternatively, wallpapers with flowers, decals, leaves, palm trees, basically jungle colors, and patterned pillows would look dreamy and turn even an ordinary space into a haven.
9. Don't Shy Away from Bold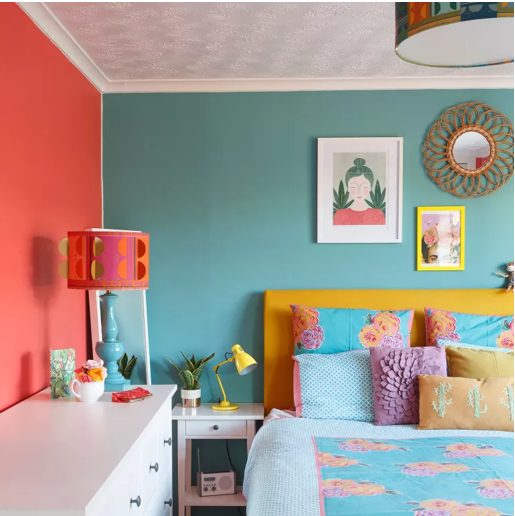 Add a bold print wallpaper to your teenager's room to enhance and motivate her bold side. Colors like bright yellow, turquoise, bright red, and purple create a vibrant, energetic vibe in a room. You can also choose complementary colors from the color wheel for your girl's bedroom furniture.Always keep in mind, when opting for a bold wallpaper, you must keep the interiors minimal. And when opting for bold-colored interiors, the wallpapers should be minimal to enhance the overall look and maintain a clutter-free environment. Bold colors usually make the room pop out, while grays and whites make the room look more laid-back and dreamy. It all depends upon your teen's personal preferences.
10. Go Natural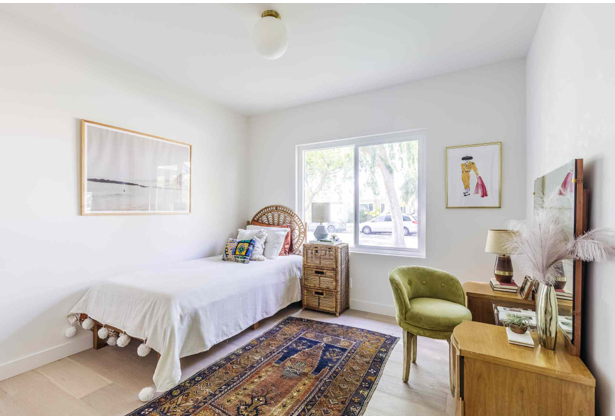 If you're opting for an easy-going natural look for your girl's bedroom furniture, you do not need to buy overhyped or unnecessary stuff. You can always keep it clean and simple by combining basic color combinations like white, brown, blue, and green. This will especially work if you're daughter doesn't like bright colors, posters, or patterns. If you want to add more dimension to the room without using a lot of loud colors or furniture, you can go with some fluffy carpet, luxe bedding, and a quirky bed frame. Allow as much natural light into the room as possible so that the room feels airy and comfortable.
11. An Organized Study Corner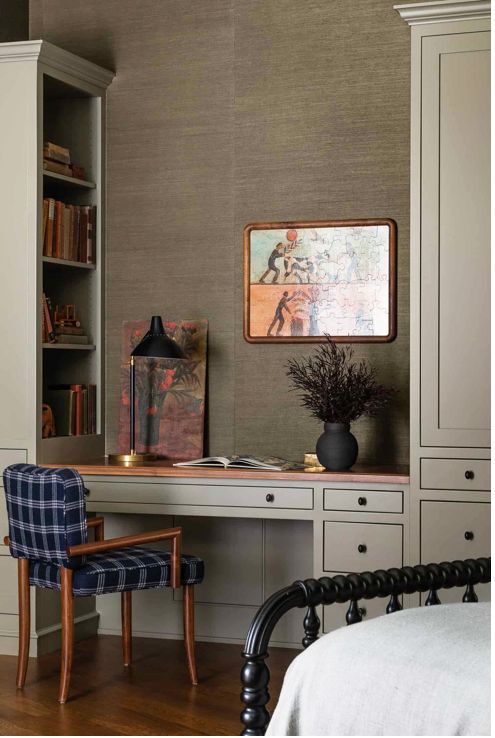 When looking for a girl's bedroom furniture, the study desk can be an excellent addition. You can go with a completely white study desk and chair if you want to give the room a minimalistic look. To spice it up a bit, you can add a statement rug or a fluffy carpet under the chair. To enhance productivity and make room for various stuff, you can also add a cute bedroom cabinet.
12. Hobbies on Display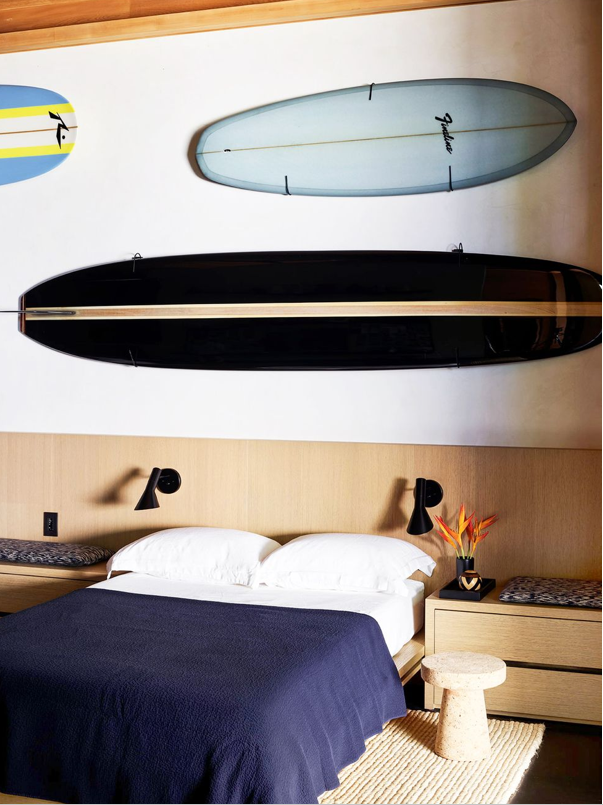 If your little one has a specific hobby or a particular area of interest, you can put it on display. This will not only convince them that their interest is valuable to you but will also keep them motivated and focused. Having things of interest hanging in the room always has a positive impact on a human's brain. In such cases, try to keep the interiors and furniture colors very minimal and subtle to enhance the importance of their favorite piece of decoration.
13. Make Room for Memories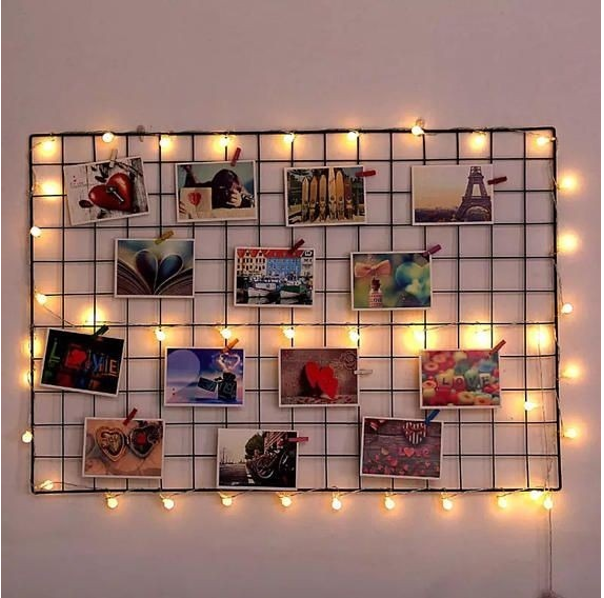 Memories are an indispensable part of a person's life. Especially for teenagers: they are in a phase of life where everything changes very quickly, and they feel very emotional and connected to everything evolving around them. In this phase, the best gift you can give them is a special memory wall that they can fill with their favorite photos, postcards, etc. You can also surround the bed's headboard with photos of their special moments with friends and family and special selfies. Polaroids are great options to get these photos, as they would look very organized and neat.
14. Create a Reading Nook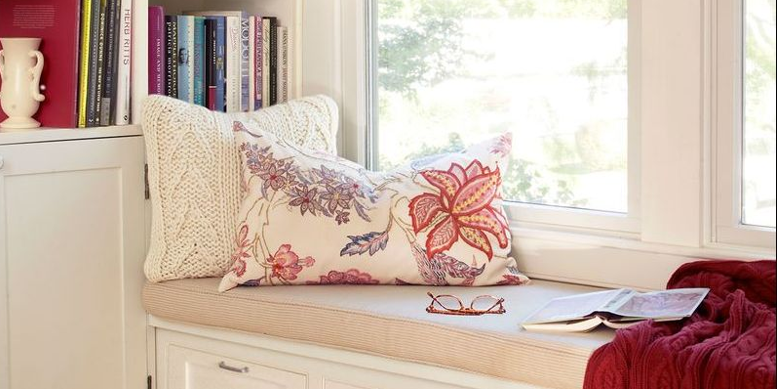 Is your little girl an avid reader? If yes, you can create a cute and cozy reading nook in her room. You don't require a lot of space to create the nook. You can use the space for a spare closet to create a nook and utilize the space effectively. Colors like bright blue and subtle brown create the perfect environment for reading. You can also attach a small bench beside the window, throw in some pillows, put on a small mattress on the bench, and call it a reading nook. Extra textures like woven rugs, fluffy blankets, cotton linen pillowcases, and woolen drapes can enhance the overall look of the nook and make it look very fancy and comfortable.
15. Motivational Space
To make your teenager's bedroom their happy place, you can give personal touches by adding personalized messages or quotes. Since teenagers are at a very sensitive and crucial stage of their lives, it is important to constantly push them toward achieving what they want in life. Motivational quotes and messages are an efficient way to instill a sense of commitment into your daughter. You don't have to overdo it. Just simple quotes can go a long way in bringing smiles to your teenager's face and would keep reassuring them that you are there with them.
16. Go Monochrome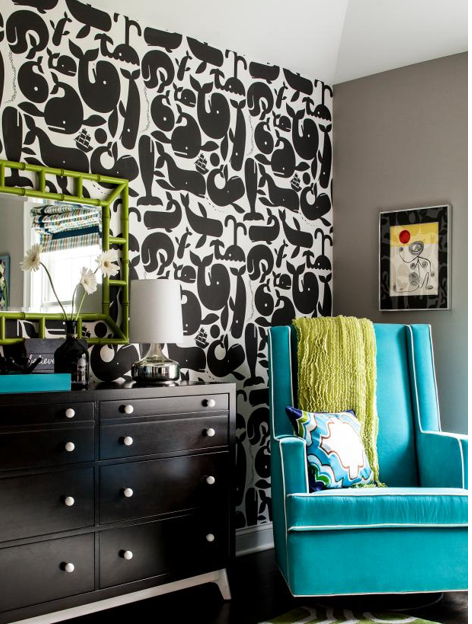 Monochromatic colored wallpapers like black and white geometric shapes or random black and white images look very attractive. Combine it with colorful furniture options so that the pieces pop against the black and white background. In the picture above, a black and white whale wallpaper shines in all its glory. What makes the furniture stand out is the pop of color added by the large chair, pillow, and rug. The dresser too is black color, making the whole room look very sophisticated and timeless. Monochrome rooms are a great option for color-shy teenage girls who want a chic feel to their rooms.
17. Create a Secret Door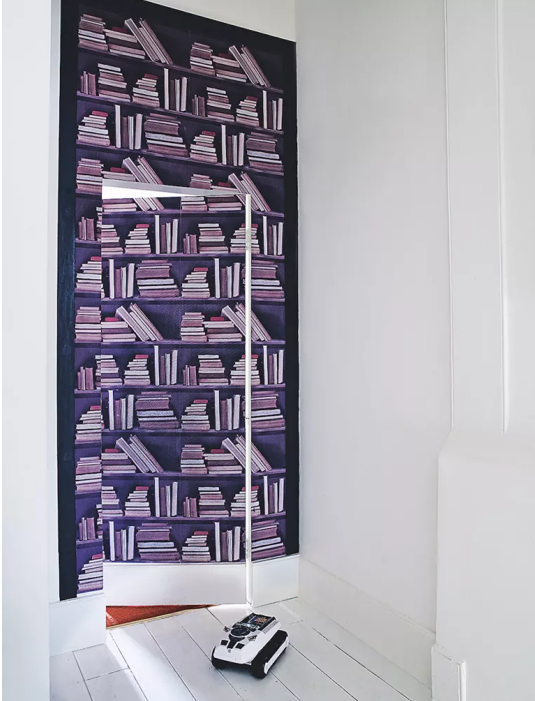 Kids love adventure and need privacy at all times. Keeping this in mind, you can install a secret door to their room where they can hang out for a while, read a book or two, or maybe, play some music. The secret door can be completely covered with beautiful wallpaper so that nobody can notice an unusual door. You can also go for 3D wallpaperoptions to create an illusion of an actual door, just like the one shown above.
Conclusion
Whether your daughter craves an ultra-glam bedroom or embraces vibrant hues, you can use these girls' bedroom furniture ideas to design a beautiful haven where your little one would love to relax, sleep, and dream.
These stylish and functional makeover girls' bedroom furniture ideas will turn even bland spaces into vibrant ones. And your daughter will love her bedroom as she transitions from a tween to a teen in a beautifully curated space.
Frequently Asked Questions
What Other Options Are There for Keeping Books Apart from a Bookshelf?
If you don't wish to accommodate a bookshelf for your girl's bedroom furniture, you can replace it with mounted book racks. The best part about these racks is that you can customize them according to your wall space. If you totally wish to avoid any kind of expense, you can also display books on furniture and cubbies.
Should I Go with Woven or Cloth Baskets to Store Miscellaneous Stuff?
Woven baskets look timeless and go well with every style. They also help the room look neat, tidy, and organized. Cloth baskets can be easy to clean but don't carry a style statement that one would expect with a woven basket.
What Colors Are Currently in Trend for Girls' Bedrooms?
When choosing the perfect girl's bedroom furniture,you must know the current and latest color options that are in trend. Usually, pastel tones are considered the best for girls who are in their teen years. Shades of blue, green, yellow, and pink provide a very refreshing and modern look to the room, making it look comfortable and fancy at the same time.
What Are the Most Important Pieces of Furniture for a Girl's Bedroom?
For a girl's bedroom furniture,you can choose a bed, nightstand, dresser, and additional storage space. Apart from these, you can also add other furniture like a closet, swings, reading nooks, study tables, bookshelves, etc.
Other Articles