If you're looking for a way to save space in your child's bedroom or guest room, bunk beds are a practical choice. However, bunk beds may not provide sufficient storage space, which is when bunk bed shelves can be useful. These shelves are designed to attach to the side of a bunk bed, offering extra storage for toys, books, and other items.
Below are the top 7 bunk shelves that you can find on Amazon. Furthermore, we have discussed below some ways that might help you choose a bedside bunk shelf that fits your needs the best. So, let's read on!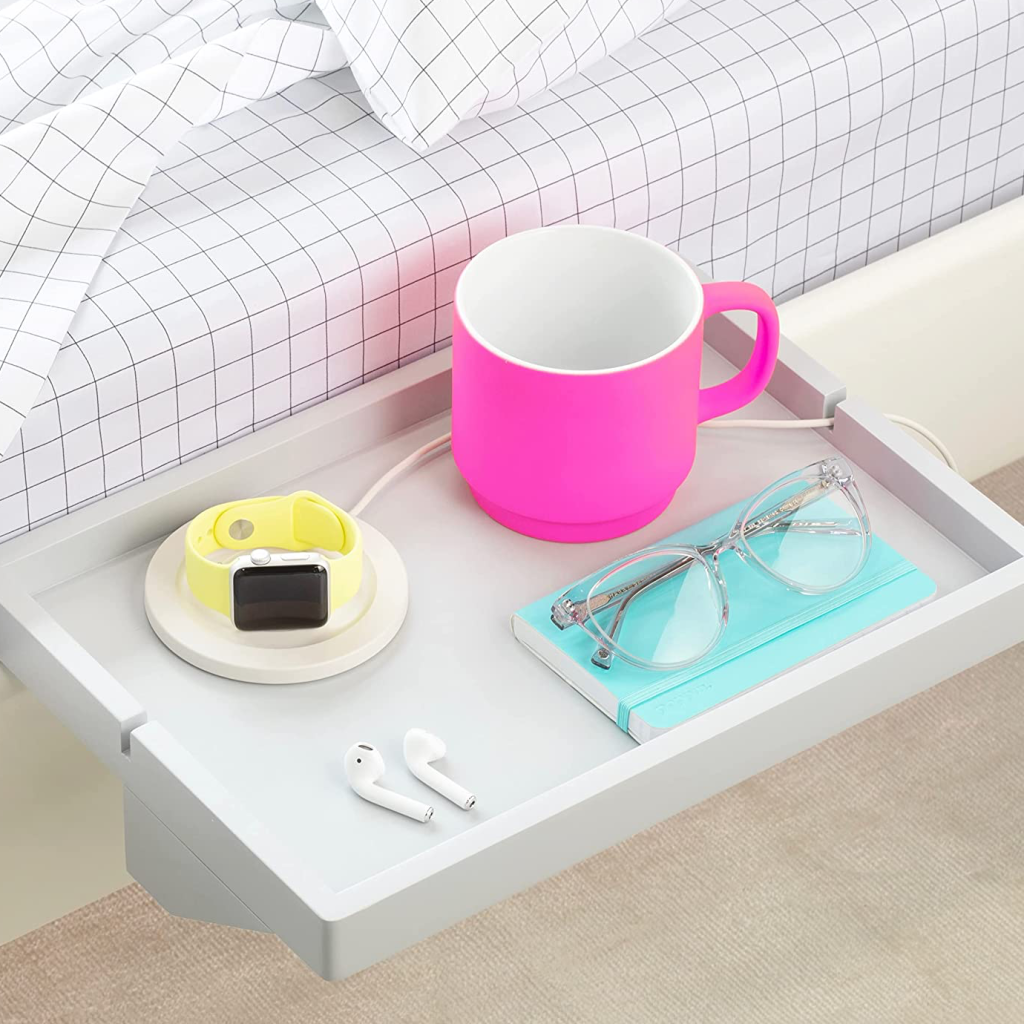 The BedShelfie Wood, The Original Bedside Shelf, is essential for those who wish to keep their essentials within reach while in bed.
This practical bedside shelf is ideal for people residing in cramped dorm rooms, cozy apartments, or anyone seeking a convenient storage solution for their bedroom.
The shelf is crafted from high-quality wood and metal, with a minimalist grey bamboo finish that complements any modern decor. The powder-coated finish enhances its durability, ensuring that the shelf will withstand the test of time.
The best part about the BedShelfie Wood is that it requires no assembly, making it an effortless addition to any living space.
Attaching the shelf is a breeze; just clip it onto the bed frame or bunk bed's edge, and removing it is just as easy, allowing you to carry it with you wherever you travel.
Similar Post: Bathroom Mirror with Shelf: 11 Unique Designs and Tips to consider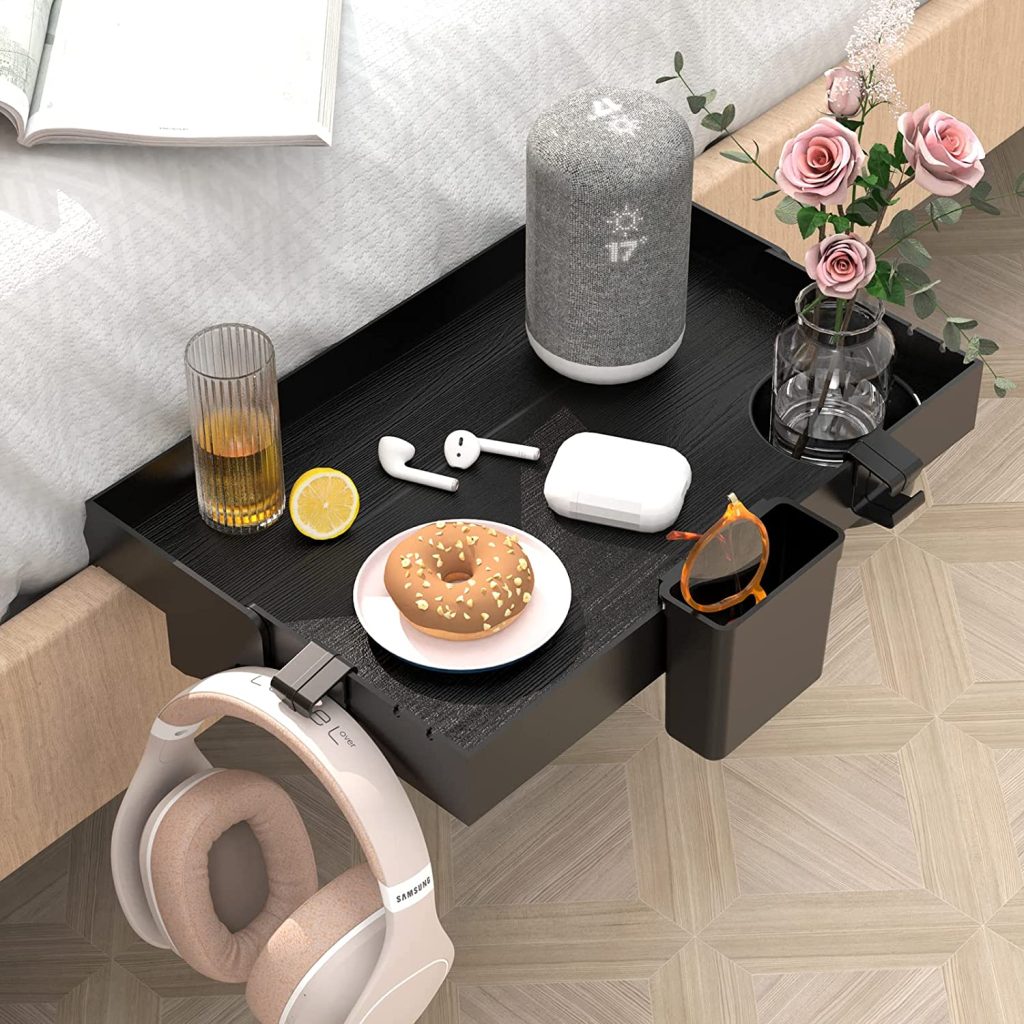 The Ronlap Folding Bedside Shelf, Bunk Bed Shelf is a great option for those who need a convenient surface near their bed but don't have the space for a traditional nightstand.
This bedside shelf is perfect for people living in small apartments, college dorms, or with bunk beds. It has a sleek black design and is crafted from high-quality plastic that is both durable and lightweight.
Measuring 15″D x 15″ W x 6.1″H, this shelf is just the right size to hold all your essentials, including books, glasses, phones, and more.
The Ronlap Folding Bedside Shelf also comes with a cup holder, which securely holds your beverage, so you don't have to worry about spills. Additionally, it features hooks that can be used to hang your headphones or other small items.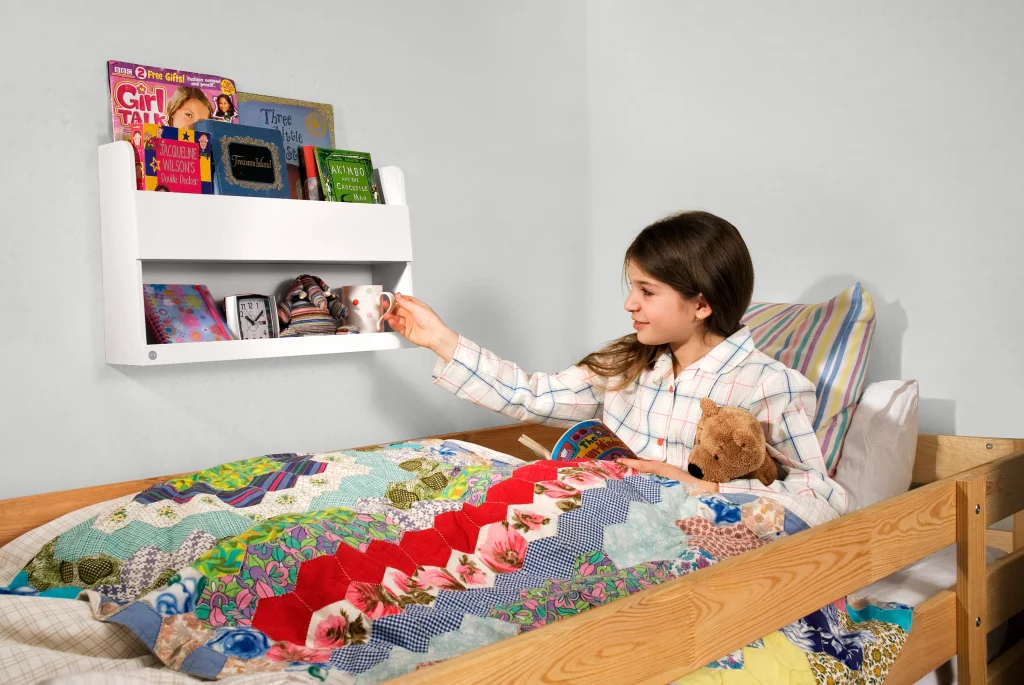 For parents seeking a practical and stylish way to maximize space in their child's bedroom, the Tidy Books Bunk Bed Shelf is the perfect solution.
This bunk bed shelf is specially designed to fit any standard bunk bed frame, offering a convenient storage solution for kids who sleep on the top bunk. Crafted by hand from eco-friendly engineered wood, this shelf is available in a charming ivory-painted finish.
It measures 13 x 21 x 5 inches and boasts a classic rectangular shape that complements any decor style. The Tidy Books Bunk Bed Shelf is designed to be wall-mounted and comes with all the necessary hardware for easy installation.
Not only is this bunk bed shelf practical, but it is also visually appealing, thanks to its sleek and minimalist design. Your child can use it to hold books, alarm clocks, and other small items they may need during the night while also keeping their space tidy – a big plus for parents.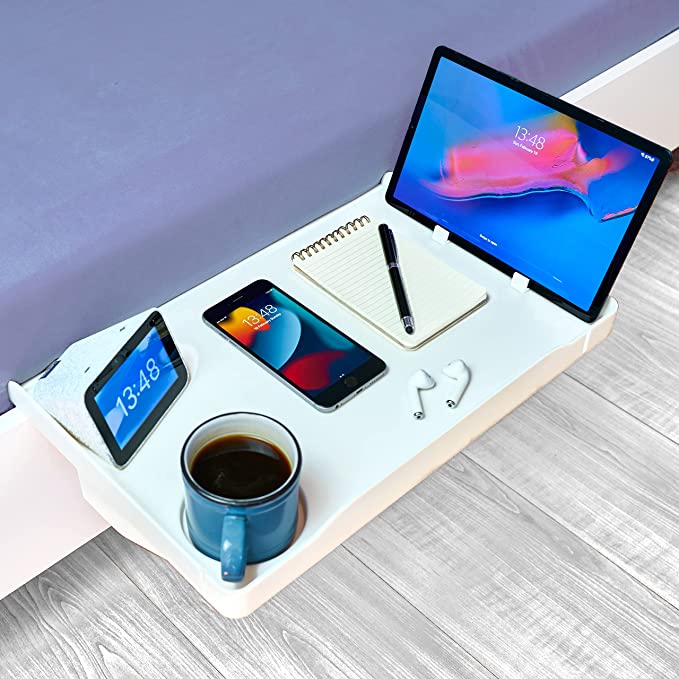 The Sturdyshelf Large Bedside Shelf is a great option for anyone who needs a sturdy and reliable surface to keep their essentials close at hand while in bed.
This shelf is perfect for use in college dorm rooms, bunk beds, or loft beds, where space is at a premium. One of the standouts of the Sturdyshelf is its adjustable tablet and phone holders, which are designed to keep your devices at the perfect angle for comfortable viewing.
The holders can be adjusted to accommodate different sizes of devices, so you can use them with your phone, tablet, or e-reader. In addition to the tablet and phone holders, the Sturdyshelf also features a cup holder, so you can keep your drink within easy reach while you relax in bed.
The Sturdyshelf is crafted from premium materials, featuring a robust metal frame and a resilient white plastic surface that is simple to clean and maintain.
Measuring 11.04 inches in depth by 17.26 inches in width and standing 3 inches tall, this shelf is suitable for most beds due to its ideal size.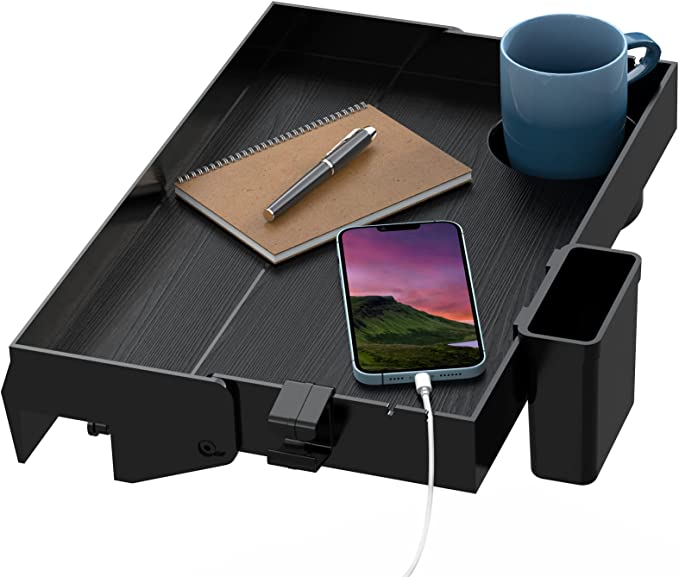 The Solejazz Bedside bunk shelves are an excellent addition to any bedroom or dorm room, offering a convenient and space-saving solution for storing essentials by your bedside.
This foldable bunk bed shelf can be easily clipped onto the bed frame, making it a great choice for use in a top bunk bed. Measuring 15.35 inches in length, 10.43 inches in width, and 3.34 inches in height, this black rectangular-shaped shelf offers ample space for storing your essentials.
The tray comes equipped with a cup holder and cord holder, making it easy to keep your phone or tablet charged while you relax in bed. One of the best things about this bedside shelf is that it can be easily folded and stored away when not in use.
This feature makes it an ideal choice for college dorm rooms or other shared living spaces where storage can be limited. The Solejazz Bedside Shelf is made from high-quality materials, ensuring its durability and longevity.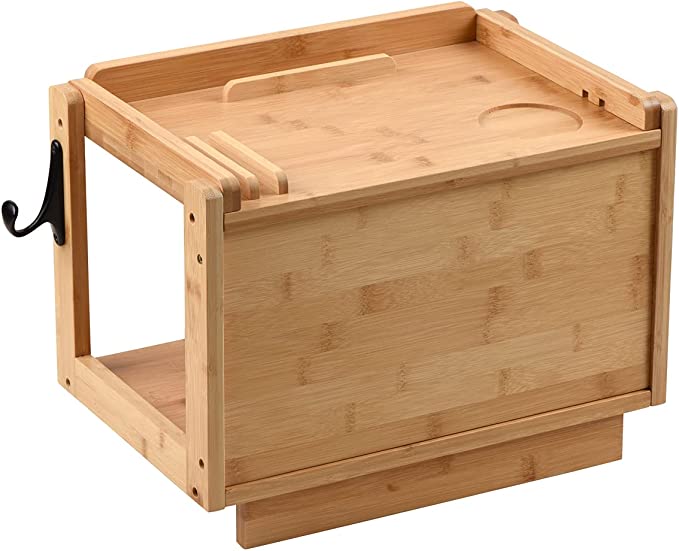 The OUZIO Bedside Shelf is a fantastic addition to any bedroom, particularly dorm rooms and bunk beds. With its unique floating design, this bedside shelf takes up minimal space while providing ample storage and organization options for your bedtime essentials.
The natural color of the shelf is aesthetically pleasing and will blend in with any decor style. The rectangular shape of the shelf is perfect for holding laptops, books, drinks, and other items that you might need within arm's reach while you sleep.
One of the best features of the Ouzio Bedside Shelf is its easy installation process. You won't need any tools to install it, and it can be set up in minutes.
This feature is particularly helpful for those who frequently move dorm rooms or rearrange their bedrooms. The sturdy construction of the shelf ensures that it can hold heavy items without wobbling or tipping over.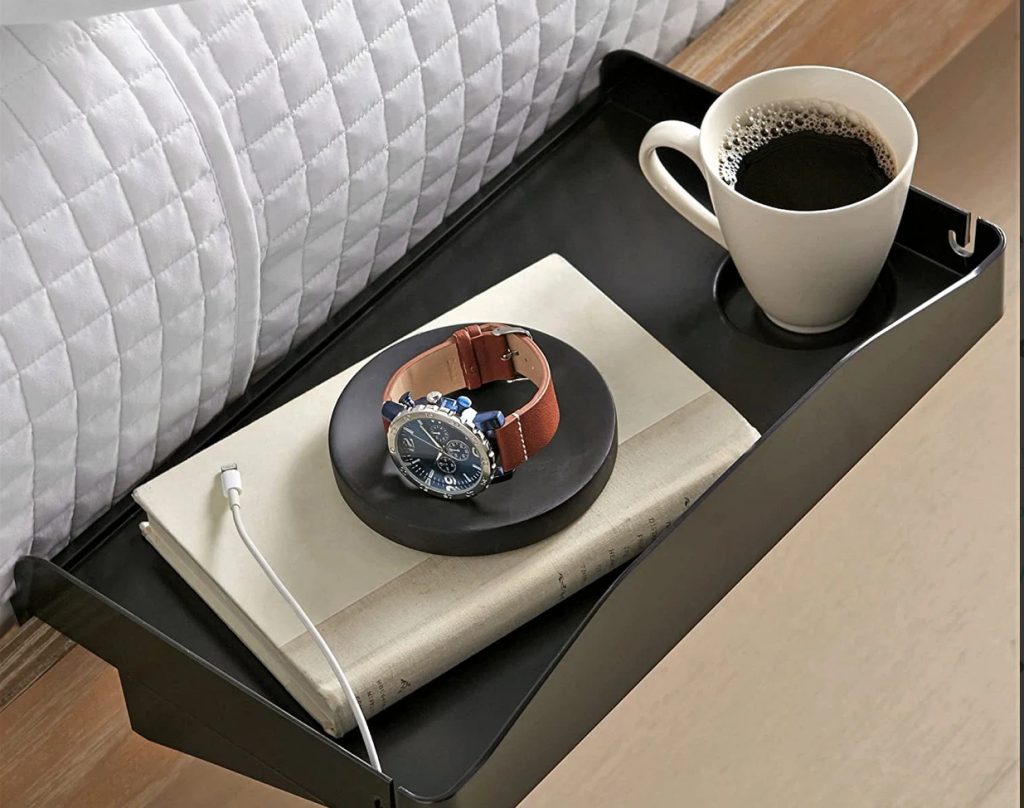 The Modern Innovations Bedside Shelf is a fantastic addition to any bedroom, especially for those in college dorm rooms or those with bunk beds.
This black clip-on nightstand tray is the perfect size to hold your essential items, such as your phone, book, and cup of water. The design of the shelf is sleek and modern, fitting in perfectly with any decor style.
The cord and cup holder feature is a nice touch, allowing you to keep your cords organized and your cup secure. The shelf is also very sturdy and can easily hold a laptop or tablet.
The assembly of the shelf is effortless, and the clip-on feature makes it very easy to attach to your bed frame. The quality of the materials used in the construction of the shelf is top-notch, making it a durable and long-lasting option.
How to Select a Quality Bedside Bunk Online?
Selecting a quality bedside bunk online can be a challenging task, but by following these tips, you can find a suitable one:
Look for a Reputable Seller: Choose a seller with a good reputation and positive reviews from previous customers. Check their website and see if they have a physical store or warehouse.
Check the Material: Bedside bunks are made of different materials like wood, metal, or plastic. Make sure the material is sturdy and durable. Check for certifications like safety and quality assurance.
Consider the Size: Bedside bunks come in different sizes. Consider the size of your room and the user's weight to ensure the bed can accommodate them comfortably.
Look for Safety Features: Bedside bunks should have safety rails to prevent the user from falling out of the bed. Check if the bed has a safety certification from an authorized agency.
Check for Additional Features: Some bedside bunks come with additional features like storage compartments, bookshelves, and built-in desks. Consider these features if they suit your needs.
Compare Prices: Compare the prices of different bedside bunks from different sellers to ensure you are getting the best value for your money.
Read Reviews: Check for reviews from previous customers. They can provide valuable information about the quality and durability of the bedside bunk.
By following these tips, you can find a quality bedside bunk online that meets your needs and budget.
Also Read: 5 Simple Steps for Creating Stylish DIY Floating Shelves
Conclusion
Whether you're a college student living in a dorm room, a parent with kids sharing a bunk bed, or simply someone looking to maximize storage space, these 7 bunk shelves available on Amazon are a great investment.
With a variety of styles, materials, and features to choose from, you can easily find one that matches your decor and fulfils your storage needs. Not only do these shelves provide extra space for books, drinks, and electronics, but they also make it easier to keep your sleeping area tidy and organized.
So, go ahead and choose the bunk shelves that work best for you and enjoy the benefits of a clutter-free and convenient sleeping area.
Other Articles