Are you embarking on the daunting task of creating your master suite floor plan? Are you remodeling your existing master suite floor plans? If the answer is Yes, then worry not; we are here to help you.
We acknowledge that your master suite holds a greater significance beyond its traditional role of serving as a bedroom and bathroom.
It serves as your haven where you can unwind and rejuvenate after a taxing day. A perfect master suite must balance both style and functionality.
We have curated 13 master suite floor plans that will simplify your planning process. Do not hesitate any further; delve in and begin creating your ideal master suite today!
1. Classic Master Suite Design
This plan includes a bedroom with an attached bathroom, as well as a walk-in closet. This bedroom floor plan might look simple, but you can spice it up.
Additionally, you can also incorporate other furniture, like a small sofa set, as this master suite floor plan leaves you with a lot of space.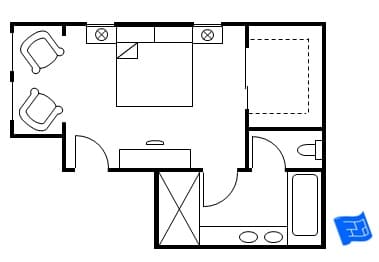 Designing the bedroom can happen in many ways. It can be designed with features like large windows to provide natural light, custom lighting options, and a range of flooring choices to create a luxurious feel.
A walk-in closet is an essential part of a master suite. It provides ample space for storing clothing and other personal items. Designing closets can happen in many ways, with built-in shelves, drawers, and hanging rods.
Furthermore, one can also use a variety of organizational features to maximize storage capacity
Similar Post: 10 Best Designs for a Perfect Luxury Master Bedroom
2. Master Suite with Balcony
Who doesn't like to wake up to the sun and blue sky? Or enjoy the moon's beauty from the bedroom?
Well, if you are someone who loves to have a little sky right across your bedroom, then this is the perfect master suite floor plan for you. A master suite with a balcony is a luxurious feature that adds an outdoor element to your private retreat.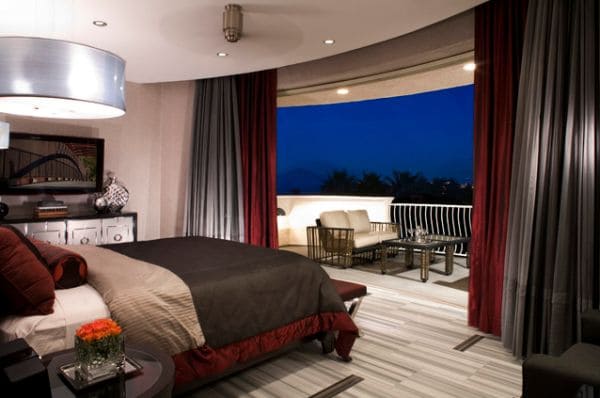 A balcony with a bedroom offers expansive views of the surrounding area, providing a peaceful and serene setting for relaxation.
The balcony can be accessed from the bedroom, allowing for easy indoor-outdoor living and entertaining. Customization of the Balcony can happen based on your preference.
You can have a minimalist, contemporary look or a classic, traditional aesthetic. A master suite balcony created a beautiful, functional addition to your room.
3. Master Suite with Large Bathing Area
This plan has a larger bathroom connected to the master bedroom and may include a soaking tub and separate shower.
A master suite with a large bathroom area is a popular design concept in modern homes. It's designed to offer homeowners a private, luxurious space. This design is perfect for you if you enjoy long showers.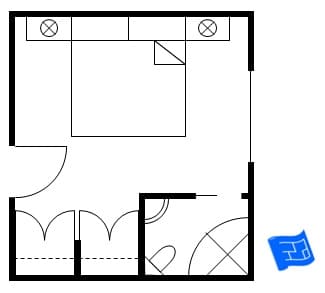 A master suite with a large bathroom area is a great opportunity to incorporate high-end finishes. Consider features such as marble countertops, luxury tile flooring, and custom cabinetry.
These finishes add a touch of elegance and luxury to the space. It is also a great place to incorporate spa-like features. Consider adding a Jacuzzi tub, a sauna, or a steam shower to the space.
These features provide a relaxing and rejuvenating experience. A large bathroom also ensures Natural Light which can elevate your mood while taking a long shower after a tiring day.
4. Master Suite with Split Bedrooms
In this plan, the master bedroom is on one side of the home, while the other bedrooms are on the opposite side. This layout increases privacy and personal space for the occupants.
It also allows more communal living in the other areas of the home. The Master Suite consists of a large bedroom with an attached bathroom and walk-in closet.
This space is designed to be a private retreat for homeowners. It provides a place to relax and unwind away from the hustle and bustle of the rest of the house.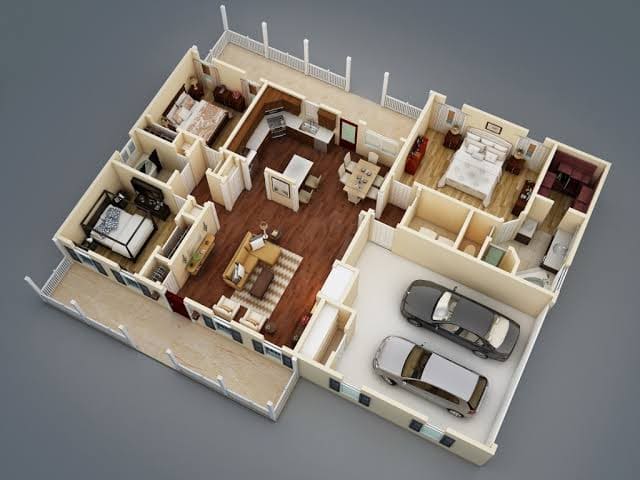 This allows for greater privacy and noise reduction in the master suite. At the same time also provides more space and privacy for other bedrooms. It is beneficial for families with children or multi-generational living situations.
5. Dual Master Suites
This plan includes two master suites, each with its own bathroom and walk-in closet. The two master bedrooms in a Dual Master Suite may be located on different levels of the home, or they may be situated next to each other for easy access.
This layout is particularly beneficial for multi-generational households, couples with different schedules, or people who host guests.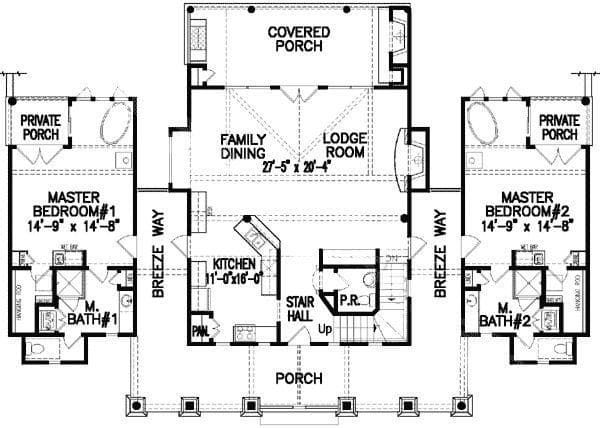 A Dual Master Suite is a popular design concept for modern homes, providing greater flexibility and convenience. It caters to people who have many occupants with different privacy and space needs.
It allows for more personalized living arrangements. And can help create a more harmonious and enjoyable living environment for all occupants.
Also Read: 15 Master Bathroom Floor Plans with Walk-in Shower
6. Master Suite with Sitting Area
A master suite with a sitting area is a type of bedroom design that includes a larger area for the bedroom and a smaller adjacent area for relaxing.
Furnishing the sitting area with comfortable chairs, a sofa, or a loveseat can be a great option. You may include a coffee table, side table, or other small furnishings.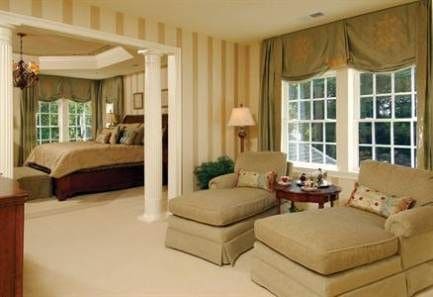 The main benefit of a master suite with a sitting area is the added space and versatility it provides. The larger bedroom area allows for a more spacious and comfortable sleeping area.
At the same time, the sitting area provides a separate space for relaxing, reading, watching TV, or entertaining guests.
When designing a master suite with a sitting area, it is important to consider the flow of the space, the placement of furniture and fixtures, and the use of lighting and color. Careful planning and attention to detail can create an inviting space.
7. Master Suite with Laundry Room
A master suite with a laundry room is a type of bedroom design that includes a dedicated laundry area within the suite.
This design offers several benefits, including added convenience and privacy for homeowners who wish to keep their laundry facilities separate from other living areas.
The laundry room within a master suite can be designed in various ways, depending on the size and layout of the space.
It may include a washer and dryer, a sink, cabinets or shelving for storage, and other features to help with laundry tasks.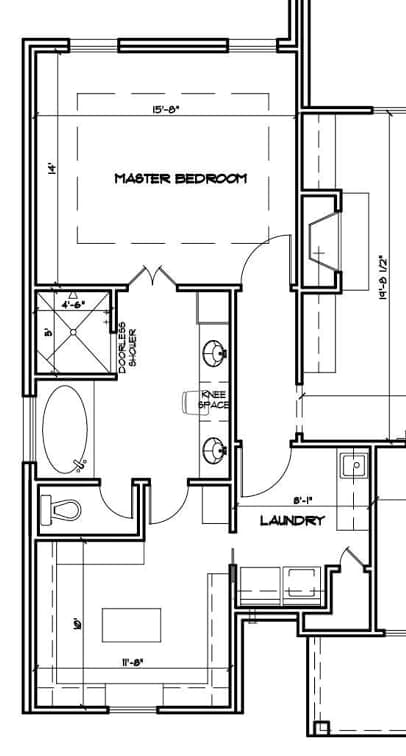 When designing a master suite with a laundry room, it is important to consider factors such as ventilation, plumbing, and storage needs.
Proper ventilation is important to ensure that moisture and odors from the laundry area do not affect the rest of the bedroom.
Plumbing must also be properly installed to ensure that water supply and drainage are functional and efficient.
8. Master Suite with Fireplace
This plan includes a fireplace within the master bedroom or bathroom. The fireplace within the bedroom adds warmth and aesthetic value.
A master suite with a fireplace is a luxurious bedroom design that offers warmth and a calming aura. A fireplace in the room can reflect a royal and abbey-like vibe.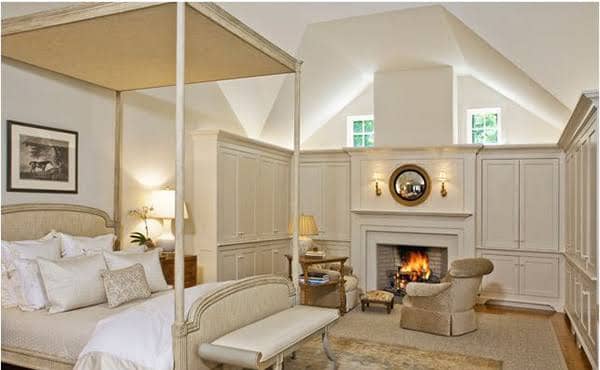 It also provides an extra source of heat, creating a homey and inviting atmosphere perfect for relaxing or reading on chilly nights.
Various fireplace styles and materials can be incorporated into the design to match the aesthetic of the master suite, whether it be traditional or modern.
9. Master Suite with His and Hers Walk-In Closets
This plan includes separate walk-in closets for the master bedroom occupants. It is a desirable bedroom design feature, providing ample storage and organization for clothing, shoes, and accessories.
This design offers practicality. The closets can be designed to match the style of the master suite, with a variety of materials, finishes, and features such as lighting and mirrors.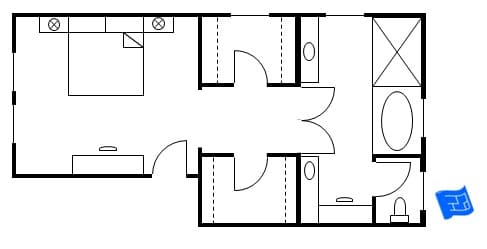 Having separate closets for each partner also provides security and helps to keep the bedroom tidy and clutter-free.
When designing a master suite with his or her walk-in closets, it's important to consider space and how the closets will integrate with other design elements. Some such elements can be the placement of beds and furniture in the room.
Incorporation of proper storage and organization systems is a must to maximize space and ensure that each partner has enough room for their belongings.
See More: 18 Impressive Master Bathroom Floor Plans You Need to See
10. Master Suite with Nursery
A master suite floor plan with a nursery is a bedroom design that includes a separate area for a baby or young child.
This type of design offers several benefits for new parents, including convenience, privacy, and bonding opportunities.
Having the nursery within the master suite allows parents to attend to their child's needs easily and without having to leave the room.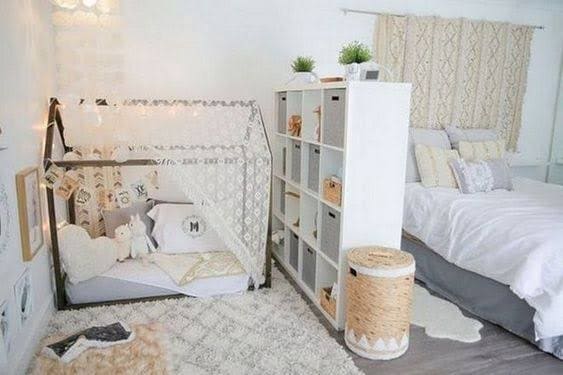 The design of the nursery can be customized to fit individual needs and preferences, with features such as a changing table, crib, and storage for baby supplies.
One can design the nursery to match the design of the master suite. This will create a cohesive and harmonious space. Factors such as ventilation, lighting, and soundproofing again become important when planning a Nursery within the bedroom.
11. Master Suite with Exercise Room
Are you someone who loves going to the gym? And hates it when you have to stay locked up in your bedroom when it rains? Well, if yes, then this master suite floor plan is for you.
This plan includes a separate room within the master suite for exercise equipment. Such a design prioritizes your love for fitness and also eliminates gym membership.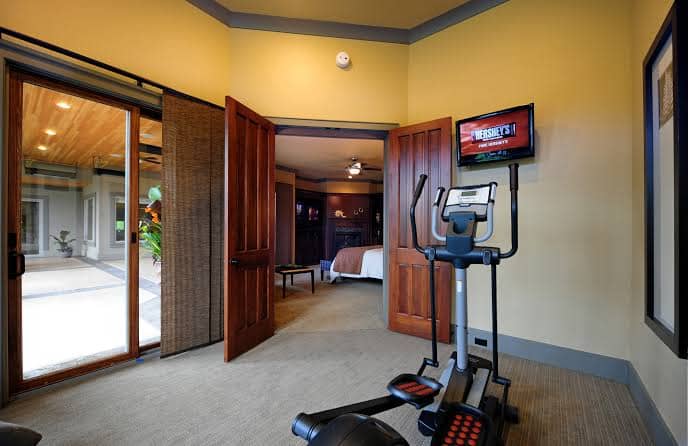 When designing a master suite with an exercise room, it's important to consider factors such as ventilation, lighting, and flooring. The room must have a proper ventilation system.
Adequate lighting should also be ensured for safety and motivation. The flooring should be suitable for exercise, providing a stable and safe surface for workouts.
12. Master Suite with Private Entrance
This plan includes a separate entrance to the master suite from outside the home. It also allows easy access to the master suite without having to go through the main entrance of the house.
This can be particularly useful for homeowners who entertain guests or who have busy schedules. Customization of private entrances can happen with features such as a patio, porch, or balcony.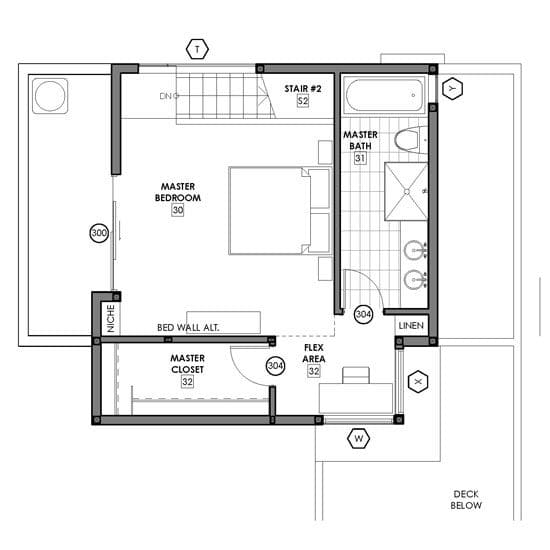 When designing a master suite with a private entrance, it's important to consider factors such as security and lighting.
The entrance should be secure and accessible for the homeowner but also protected from potential intruders. Adequate lighting is a must for safety and convenience.
13. Master Suite with Office
The Pandemic has affected our working boundaries. Some people have willingly turned their home office. While some have been forced to do it due to family responsibility, working culture, etc.
In such a new normal, it becomes important to have a bedroom that fulfills your working needs. And thus, we suggest you a master suite floor plan with an Office.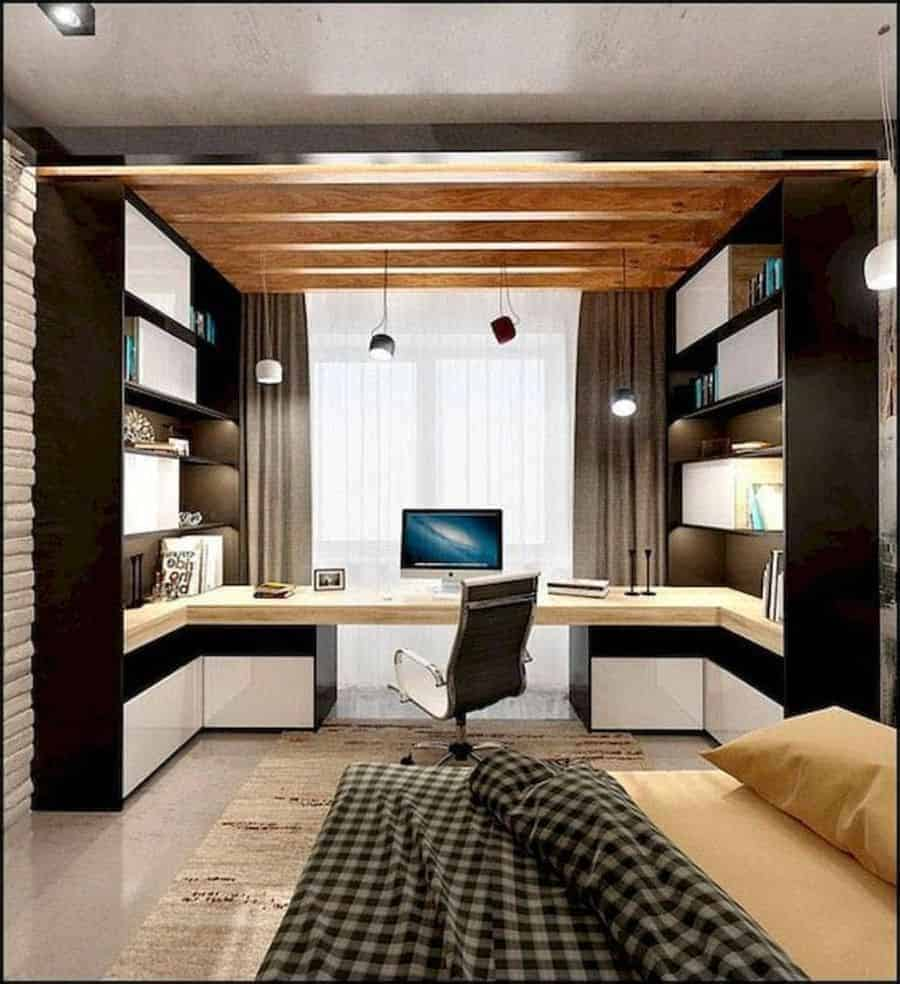 Having an office within the master suite allows for privacy and separation from the rest of the home. This creates a quiet and focused environment for work or study.
While creating an office within the bedroom, it is significant to distribute the right space for the office area, bedroom, bathroom, and closets.
It is also important to note that the desk place is an area which has good internet bandwidth and is soundproof.
Related: 11 Outstanding Bathroom Floor Plans with Walk-In Showers
Conclusion
A master suite floor plan is a personal place for couples or families. It is a place where you can relax after a long day of work or find seclusion when working from home.
This place ought to reflect both partners' personalities and needs. Thus, customizing the master suite is indeed the most suitable option.
In this blog, we covered many master suite floor plans to meet your needs and desires. These ideas ranged from Master Suites with Balconies to Master Suites with Offices.
We hope you like these Aesthetic yet functional master suite ideas.
Follow our page for more such content.
Check This Next: 15 Extraordinary Architectural Floor Plans for Your Dream Home!
Other Articles