15 Master Bathroom Floor Plans with Walk-in Shower
Planning to redesign your bathroom and don't know where to start? Don't worry, it's easier than you can imagine, and you definitely don't need to reinvent the wheel. We bring...
Planning to redesign your bathroom and don't know where to start? Don't worry, it's easier than you can imagine, and you definitely don't need to reinvent the wheel. We bring you some of the best bathroom floor plans which can be adapted to suit your space and requirements.
The most important aspect of bringing your dream bathroom to fruition is the floor plans and layouts. Bathroom plans are very important because it lays the foundation for the entire layout and the vibe you are going for. Having an understanding of the space and setting realistic expectations helps in achieving the most out of your space when you get down to the implementation of the plan.
Bathrooms are the most important and frequently used area of the house, but it's also the most overlooked when it comes to home design. Since it remains out of public view, most of us tend to make it strictly functional.
But investing in a well-designed bathroom floor plan can make all the difference in making your essential needs relaxing and efficient.
Key Considerations for a Bathroom Floor Plan
Bathroom Size
Size is one of the key considerations when planning the bathroom layout. Where and how the different elements will fit in will depend on the overall size and layout of the space- a square layout, a rectangle layout, or an organic layout.
Assessing the size will also help you understand whether you can have a full bathroom with all elements like his/her sink, shower, tub, toilet, etc. It also helps in planning the storage space available and if any separate provision for closets needs to be made.
Plumbing and Drain Lines
You might have it all planned in your mind about the right placement of your sink, toilet, and walk-in shower closet, but the actual plan might depend completely on the availability of the required plumbing lines and drain lines.
The availability of these, or lack thereof, will be the main cost in case you decide to rehaul it in its entirety.
Zoning and Functionality
Based on the above two factors, the zoning of the bathroom floor plan can happen according to the functionality required. Do you need a separate space for a vanity, linen closets, or separation of wet and dry areas?
Another key consideration is the requirements of the people who will be using the bathroom. Is there someone younger who will need lower sink placement or someone older with requirements for handrails- these are some of the factors to consider.
Main Types of Bathroom Floor Plan Layouts
Full Bathroom
A full bathroom encompasses all four key units of a bathroom- sink, shower, tub, and toilet. Most master bathrooms are, in fact, full bathrooms with all four key units present in the layout. Full bathrooms are also mostly placed ensuite with the bedroom.
Three Quarter Bathroom
The three-quarter bathroom is a combination of a sink, toilet, and a walk-in shower. The most common placement is in guest rooms and children's rooms.
Half Bathroom
Also called powder rooms, these feature a sink and a toilet. Primarily utilitarian and placed in the public areas of the house, they are useful when guests want a quick refresh without going into the private spaces of the house.
Quarter Bathroom
These typically hold only one bathroom component, either a shower or a toilet. These are completely utility based and mostly placed outside the main house or on lower levels of the house.
Master Bathroom Floor Plan Layouts
Let's now take a look at the 15 master bathroom floor plans for all sizes and budgets
1. Luxury Bathroom Layout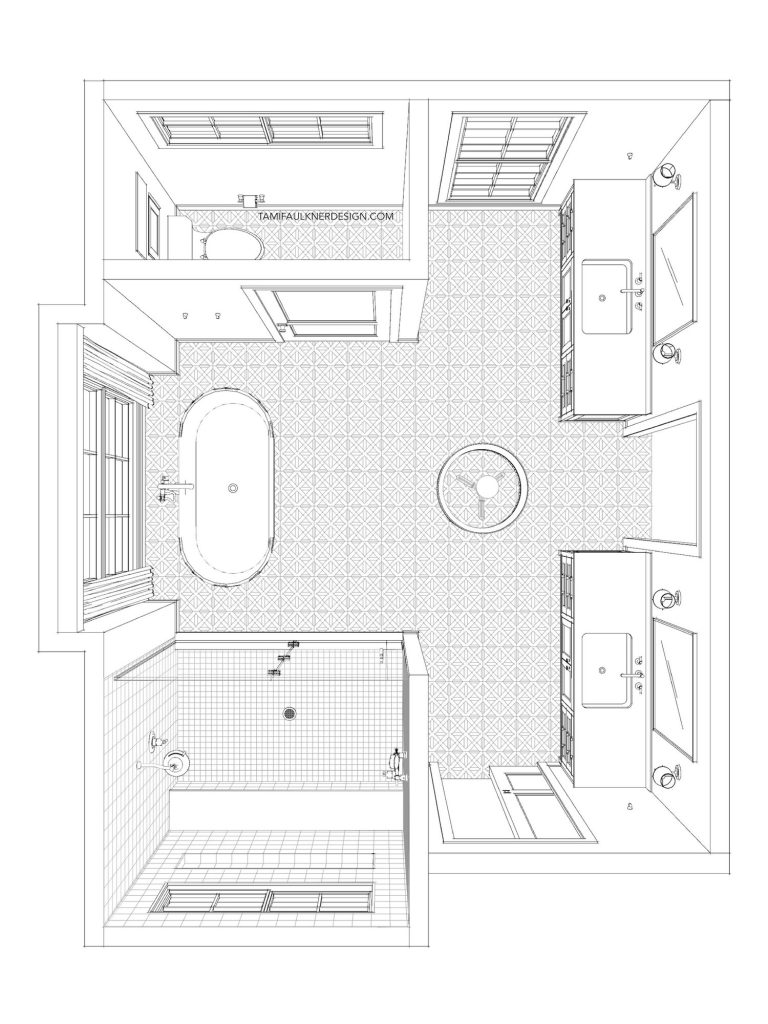 These kinds of bathrooms have intelligent zoning, which allows for private spaces, especially in a shared bathroom setup. With a separate his/hers sink, a walk-in shower, a soaking tub, and a private toilet, this bathroom layout is the ultimate in luxury.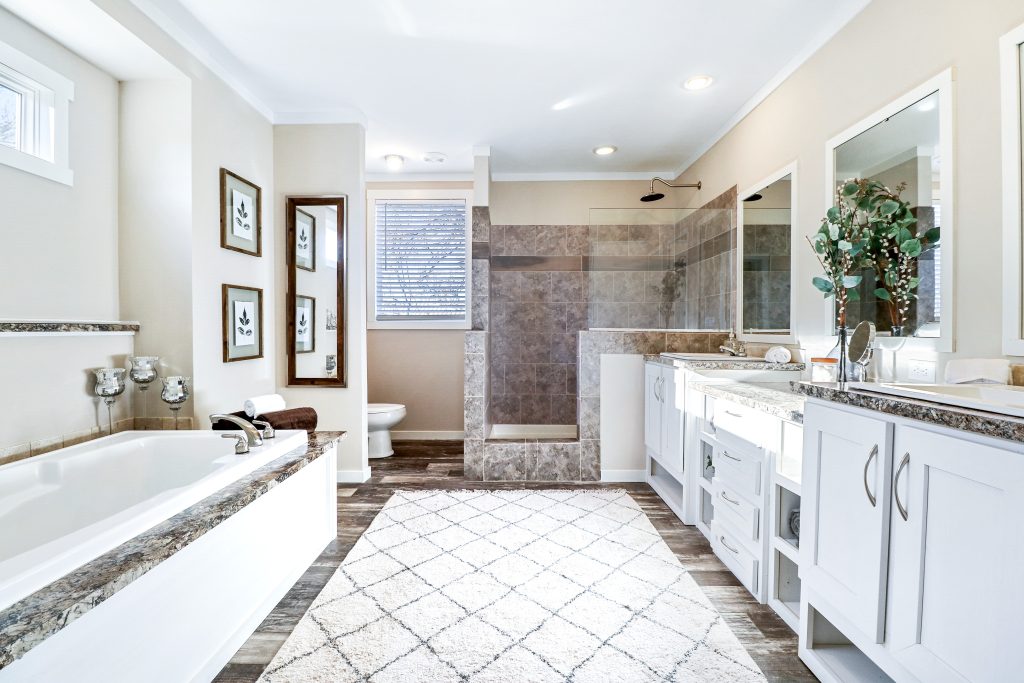 There is plenty of storage below the sinks and also in corners to store your linens and other essentials. The separation of wet and dry areas makes for ease of use, and the built-in vanity is super efficient in the hustle of the mornings.
2. Classic Bathroom Layout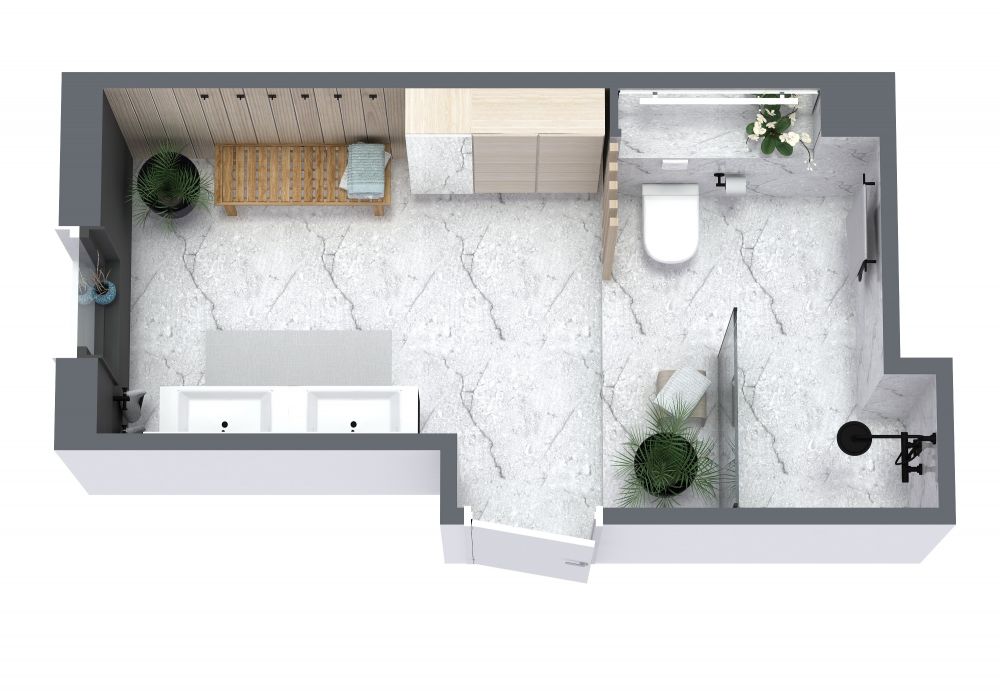 This is an ideal choice of a bathroom, which is both functional and elegant. This features two sinks on a shared countertop, with storage spaces and a vanity. The wet areas are demarcated and enclosed for complete privacy.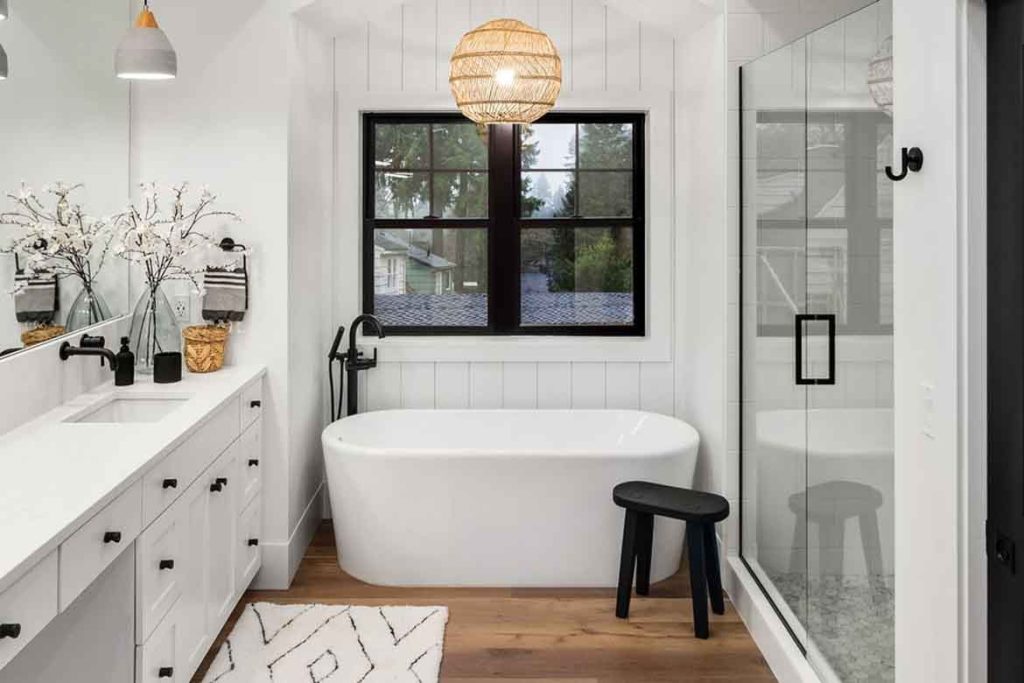 The use of colors, lights, and textures can help make this design a standout space. Mounting some of the fixtures on the wall can free up space and make the bathroom look roomier.
3. Master Bathroom with Walk-In Closet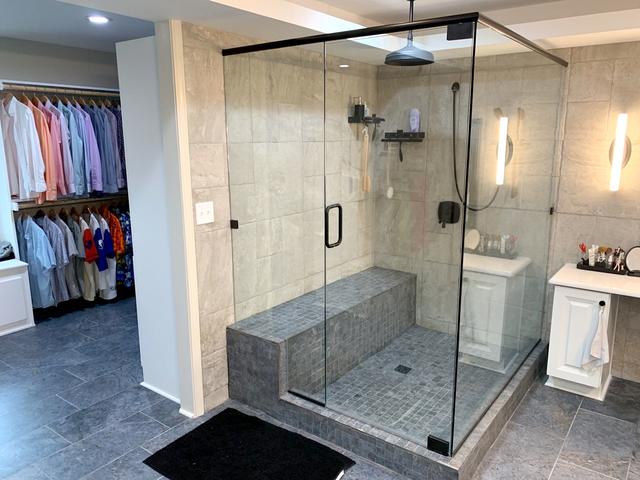 Having a walk-in closet attached to your master bathroom makes for the ultimate luxury with high efficiency in maximizing storage space. One of the most important factors to consider is that one doesn't have to leave the bathroom to get dressed.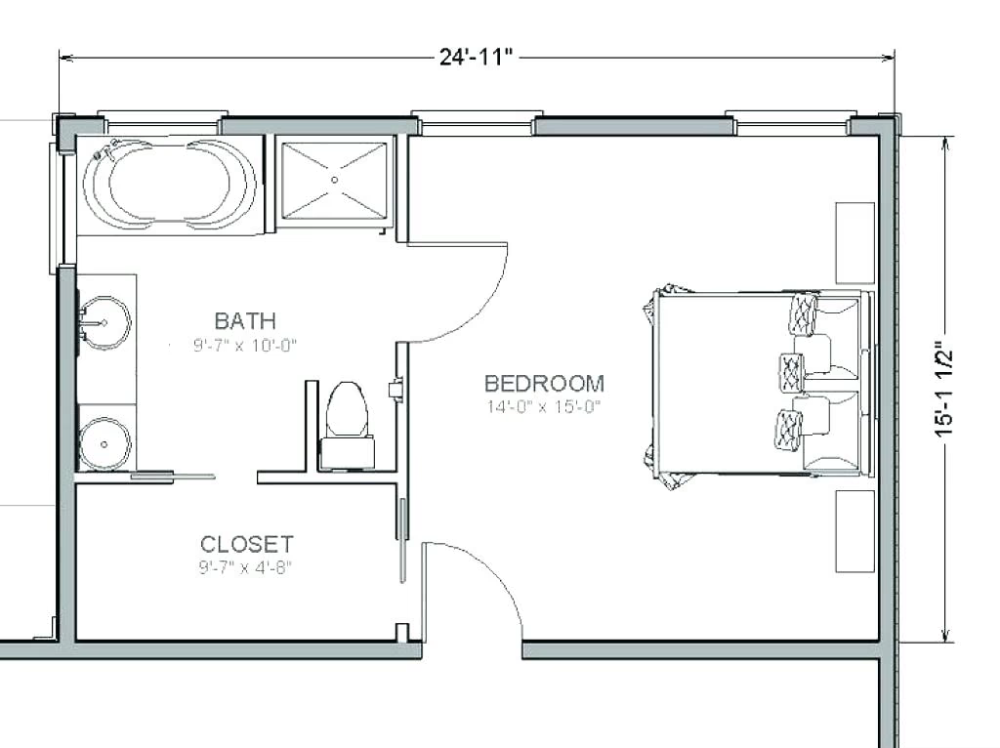 This design has a conveniently attached closet with entry from both the bathroom and bedroom for maximum comfort. A sliding door leading from the bathroom can help demarcate the zones. A great solution for a shared space where everyone can simultaneously access both the bathroom and closet space individually. But this setup needs extra maintenance with respect to handling the humidity and odor issues.
4. Master Bathroom with Extra Spacious Shower Closet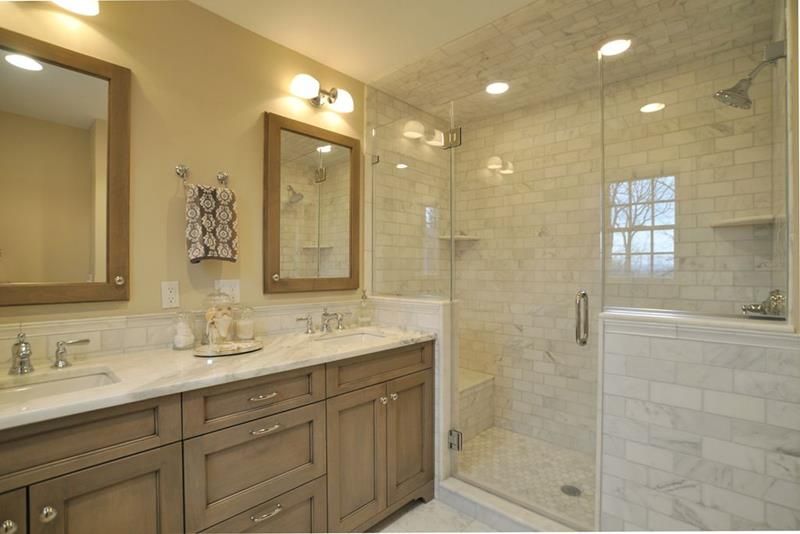 Planning to ditch your bathtub and go for an extra large shower? We have you covered. Most people these days are opting for larger shower cabinets instead of tubs. Most of us have fast-paced lives, and enjoying a relaxing soak in a bathtub might not be an ideal choice.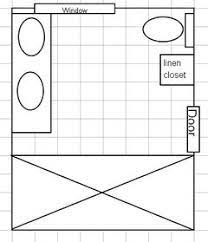 But you don't have to trade practicality for luxury because showers these days come with all your luxuries intact- a rain shower experience, a steamy sauna bath experience, and so on. Knocking off the bathtub also frees up space for much-needed vanity and storage spaces.
5. Jacuzzi Bathroom Layout
If the bathroom is your haven for a relaxing soak after a long day, having a jacuzzi could be a game changer for you. The whirling hot water from the jacuzzi is great for muscle stiffness and alleviating stress.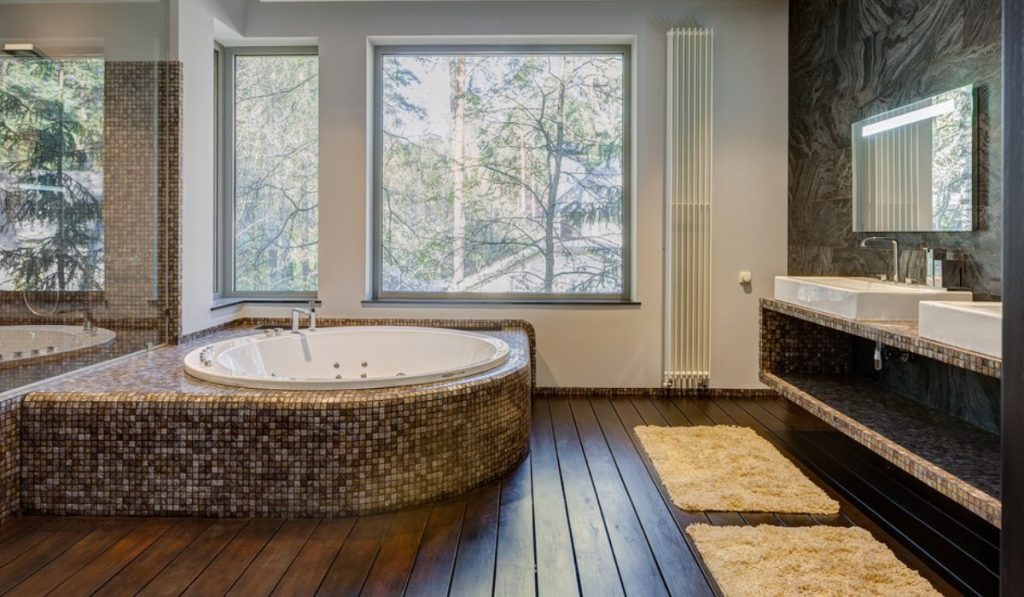 This bathroom features a double sink, and the placement of the jacuzzi along the corner makes for ample room for movement. The extra large windows make this a relaxing space.
6. L-Shaped Bathroom Layout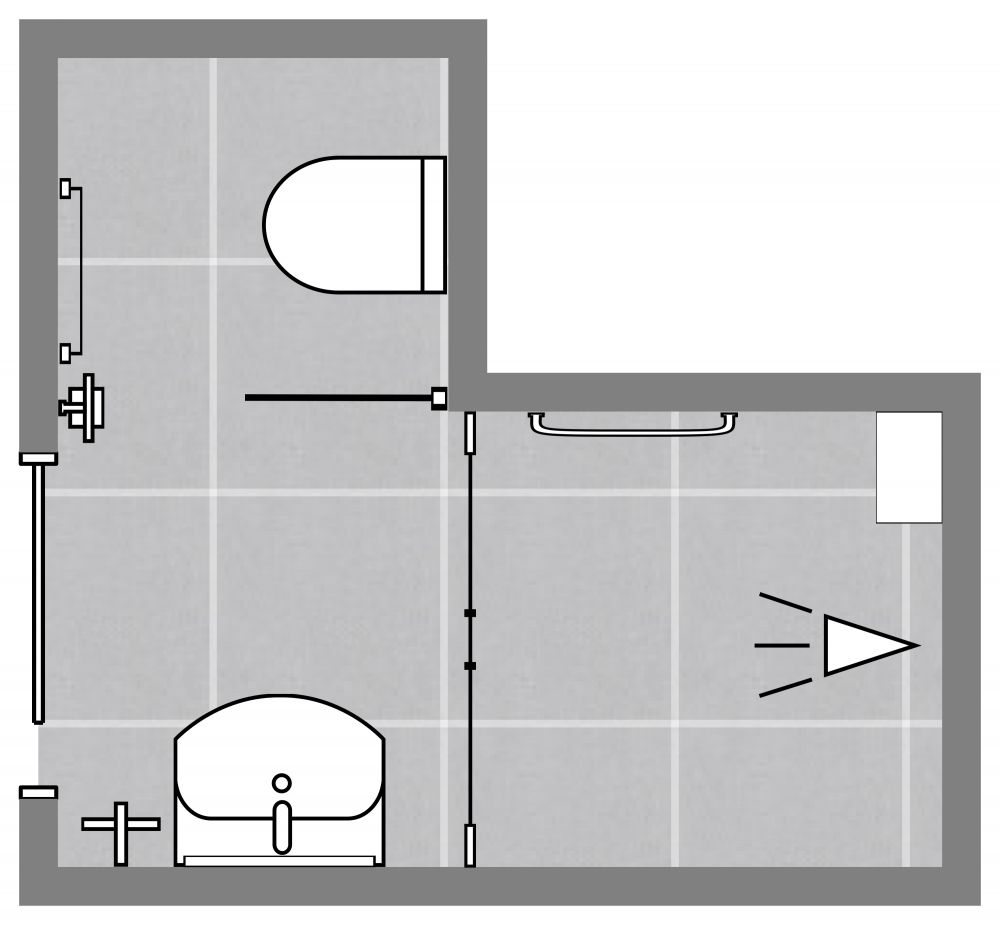 L-shaped bathroom layouts are typically narrow bathroom layouts with all 3 main components in a row. While the sink and the shower are laid in a row in this layout, the tub is placed on the short side to maximize the use of space.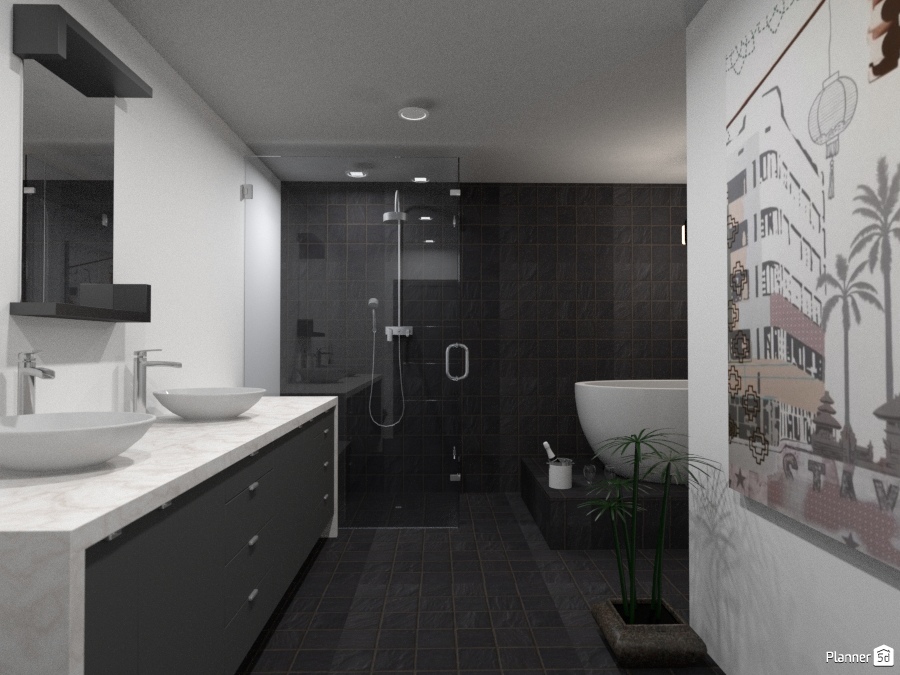 The use of colors and the appropriate placement of mirrors can make the space look more open and airy. Choosing unexpected elements can create contrast and take attention away from the narrow layout.
7. Double Bath Floor Plan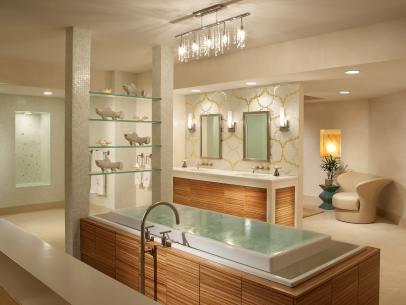 This master bathroom floor plan is a luxury setting. It features both a tub, a jacuzzi, and a walk-in shower. The tub and the jacuzzi are separated by a wall right down the middle, and the shower area and sink, toilet, and vanity are separated with ample privacy.
This layout allows two people to use the space independently without feeling cramped out. There is also provision for ample seating space, and a mix of natural and artificial lights makes the space look sophisticated.
8. Raised Platform Layout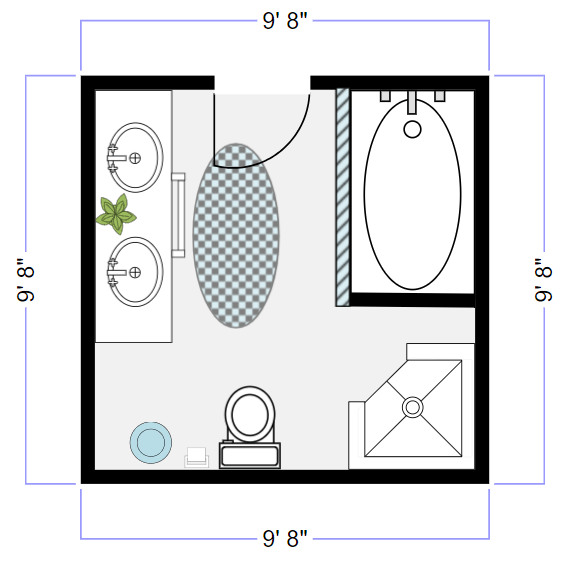 Playing around with different heights and levels can break up the monotony of the space and also help in visually modifying the proportions of the space. It also takes care of functional elements like concealing storage and drain pipes and makes it easy to zone out the layout.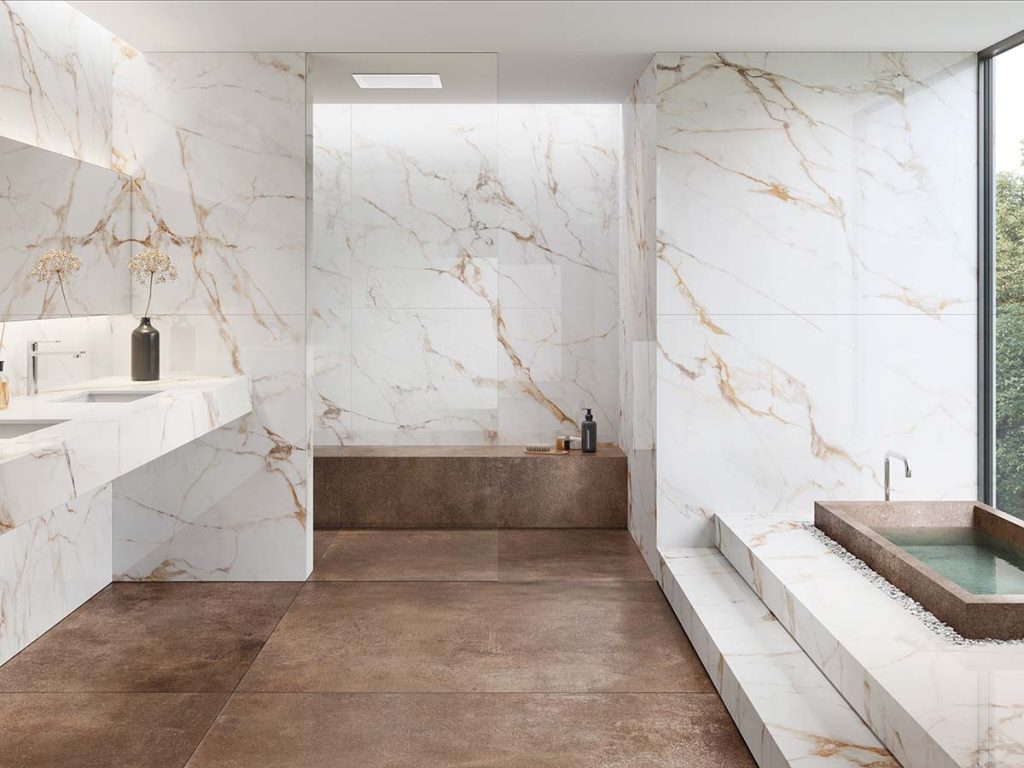 The raised platforms can also serve as extra storage space. Pairing this layout with some wall-mounted elements can create an illusion of space and make your bathroom look much bigger and more spacious.
9.Spa Style Master Bathroom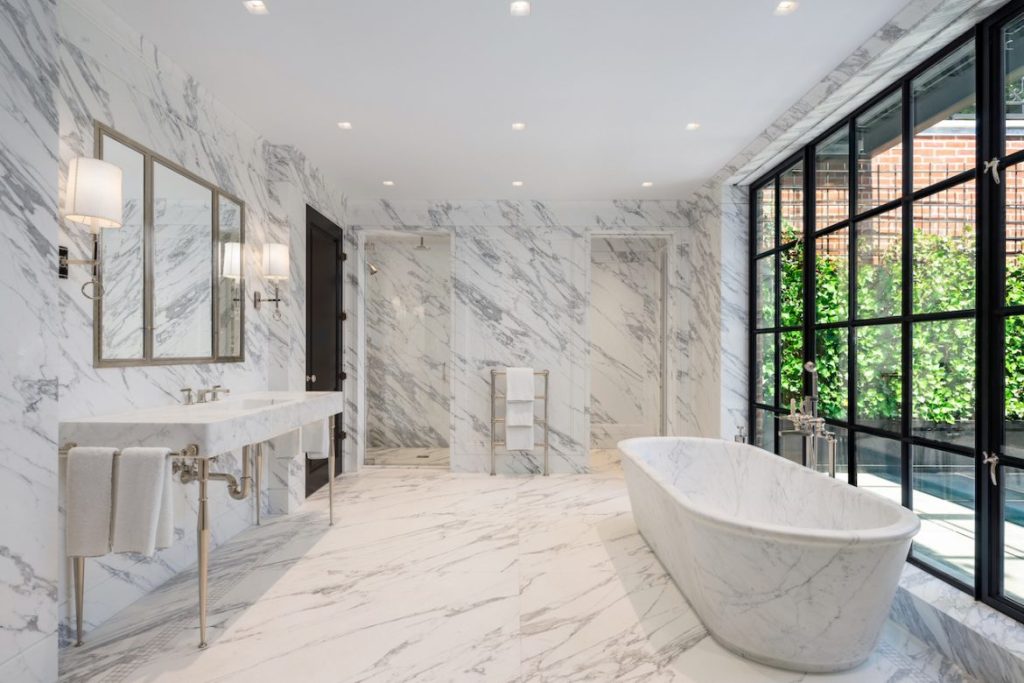 Do you dream of having a bathroom with a spa-like ambiance- which is both soothing and stunning at the same time? We hear you. Spa-like bathrooms have cleaner, more minimal designs.
Some of the ways in which you can achieve this layout are by decluttering the space, using neutral color themes to make it look calmer, outfitting your bathroom with more reflective surfaces for the illusion of light, and so on.
10. Jack and Jill Bathroom Layout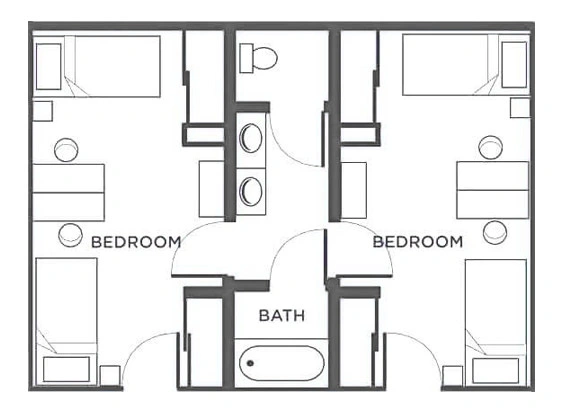 These are ensuite bathrooms which is a shared bathroom spaces ensconced between two bedrooms. This layout is great for maximizing space and utility while also creating a unique function space for all. Sometimes it can also open into the hallway from the bedroom to make it more accessible from the living areas of the house.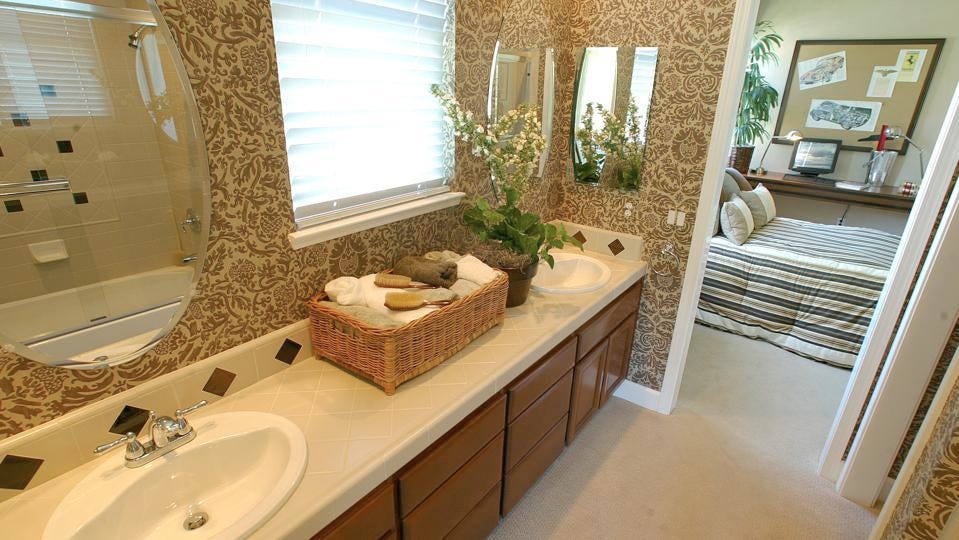 To make the space look seamless, it is best to incorporate decor elements that blend the sensibilities of both the adjoining bedrooms. Elements like double sinks and double vanities can also help create a more versatile look.
11. Long and Narrow Layout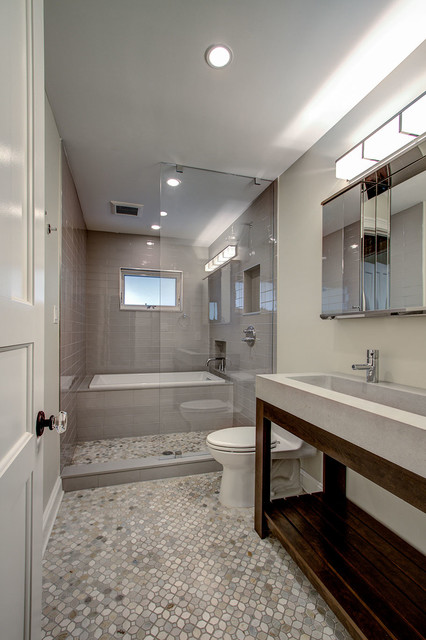 Most houses give primary space to more public spaces like kitchens and living areas, and the bathrooms end up with tiny narrow spaces. If you have such a narrow bathroom floor layout, you can still have the bathroom of your dreams.
Since the space itself is narrow, it is best to use mirrors on either wall to make the space look larger. Incorporating more open window spaces can help make the bathroom floor plan look larger. Lighter colors and the use of glass, when possible, can make for an open, airy layout without looking cluttered.
12. Bathroom Layout with Relaxing Seating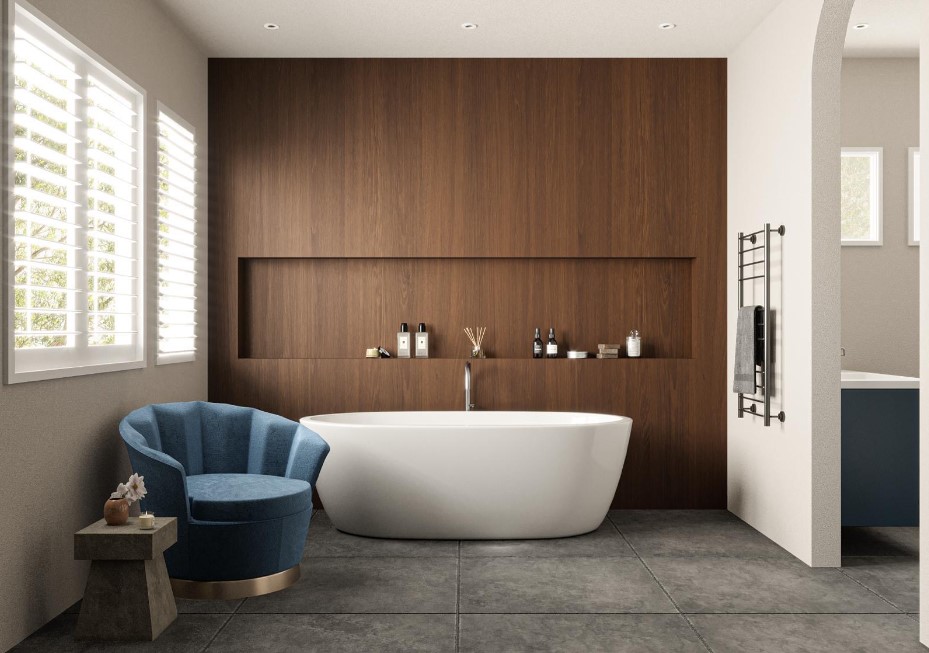 If you have adequate space in your bathroom and would like to add comforting elements, having a relaxing seating space can make all the difference.
When designing your bathroom, if there is a negative space or a small corner that is otherwise difficult to use, adding a small seating there can be a practical solution. Also, a luxurious couch with a small side table and an ottoman can instantly make the space more intimate and cozy.
13. His and Hers Bathroom Layout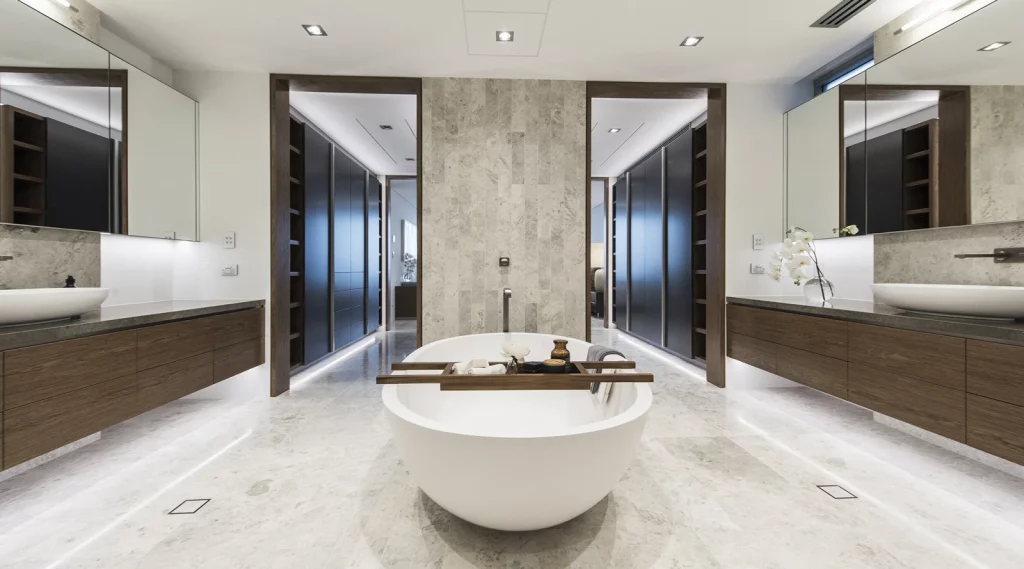 When both partners lead fast-paced lives, having the luxury of getting through your morning routine at your own pace without overlap is essential. This is one of the most popular layouts for people who have the space and would like clear zoning of the space.
The sink and vanity lined on either side and the enclosed walk-in shower and toilet give the much-needed privacy while also retaining some elements of open design. There is also plenty of storage space, and it can also feature walk-in closets if the space permits.
14. Double WC bathroom layout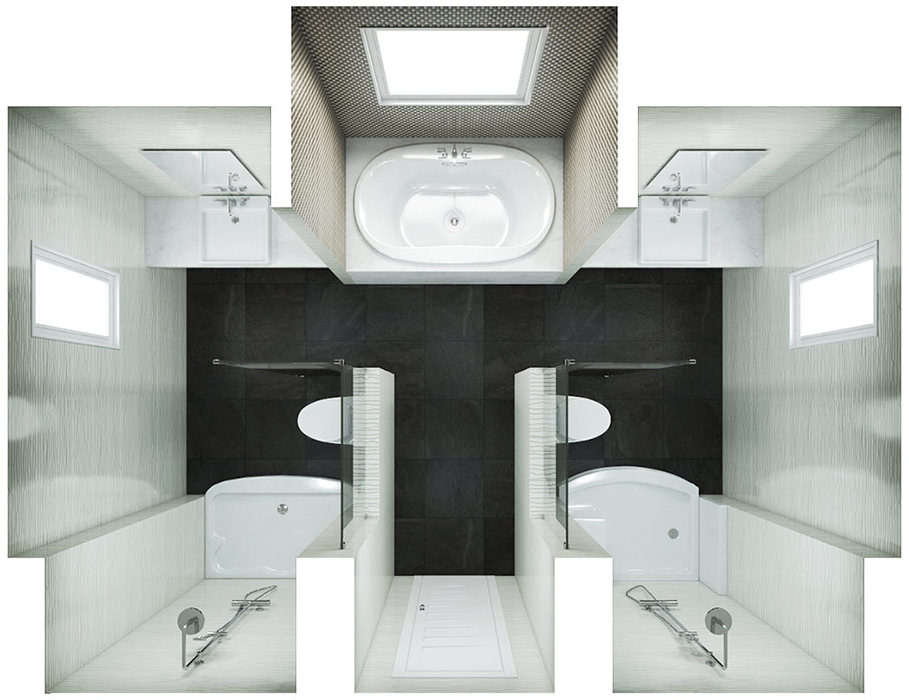 This bathroom layout solves the problem of those rushed mornings when everyone is scrambling to get ready at the same time. Featuring enclosed spaces with separate sinks, WCs, and walk-in showers, this layout is a great shared space.
Also, The freestanding tub in the middle of the layout can be used for those relaxed days.
15. Sunken Floor Bathroom Plan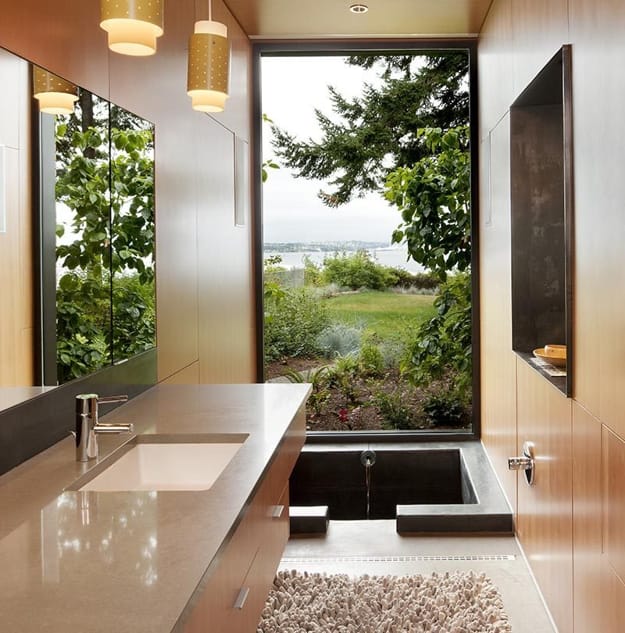 A sunken floor plan incorporates elements that are sunk flush into the floor rather than on raised surfaces. If your idea of an ideal bath is to sink into a warm tub, this design might be right for you.
The design can either incorporate the tub sunk into the floor lying at a lower level or create an illusion of being sunk into a raised surface. This design layout leaves plenty of space for storage and other elements and is a great layout if you have the space and the architectural details to support it.
Ready to Revamp Your Master Bathroom Layout?
Bathroom planning and redesign are often overlooked due to a lack of knowledge and understanding of both planning and layouts. Though there are many technical aspects when it comes to overhauling and redoing your bathroom, we have picked the best 15 bathroom floor plans for you to reimagine and redesign your dream bathroom yourself.
A well-thought-out layout can add so much to your lifestyle by simplifying your essential needs. So which of these layouts inspired you?
Share your best master bathroom floor plan layouts with us!
Other Articles