Are you looking for sliding bathroom barn door ideas for your bathroom that reflect your style?
If you're thinking about adding a space-saving solution that effectively separates bathroom spaces and adds character to your home, barn doors are an ideal option. Sliding barn doors are efficient and stylish interior design tools that serve multiple purposes.
They offer a stylish partition and add a rustic and vintage feel to contemporary homes. They also occupy less space as compared to traditional swinging doors and serve as an outstanding décor element.
These doors are commonly hung as sliding doors using barn door hardware. The doors are usually made out of wood or metal and can be installed anywhere in place of a regular door.
Sliding bathroom barn doors can be used in both big and small bathrooms. They work well with big bathrooms as they create a dramatic impact.
Space-Saving Bathroom Sliding Barn Door Ideas
Let's take a look at 15 space-saving bathroom sliding barn door ideas that suit any interior design style.
We have enlisted the best sliding bathroom barn doors that will encourage you to incorporate these wonderful multipurpose doors into your homes.
Similar Post: 11 Mirror Barn Doors Ideas for An Interesting Home Makeover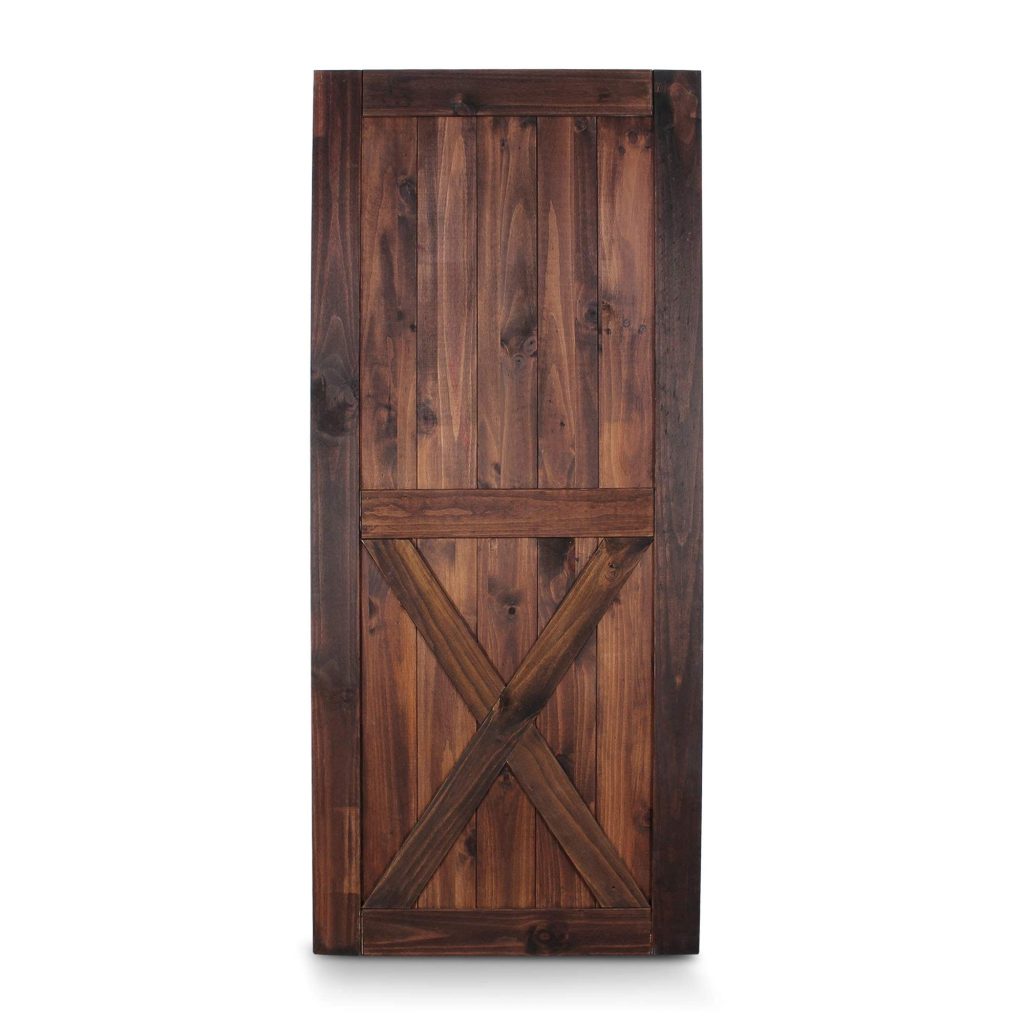 This traditional woodsy bathroom barn door by Amazon will add an earthy and refreshing vibe to your home. The door is made out of high-quality pine.
It can withstand rough weather conditions and is less prone to damage. The surface of this door is unfinished and can be stained as per your preferences.
The door comes with all the necessary hardware.  It has a modern and slick design which makes it ideal for bathroom, laundry room, and bedroom entrances.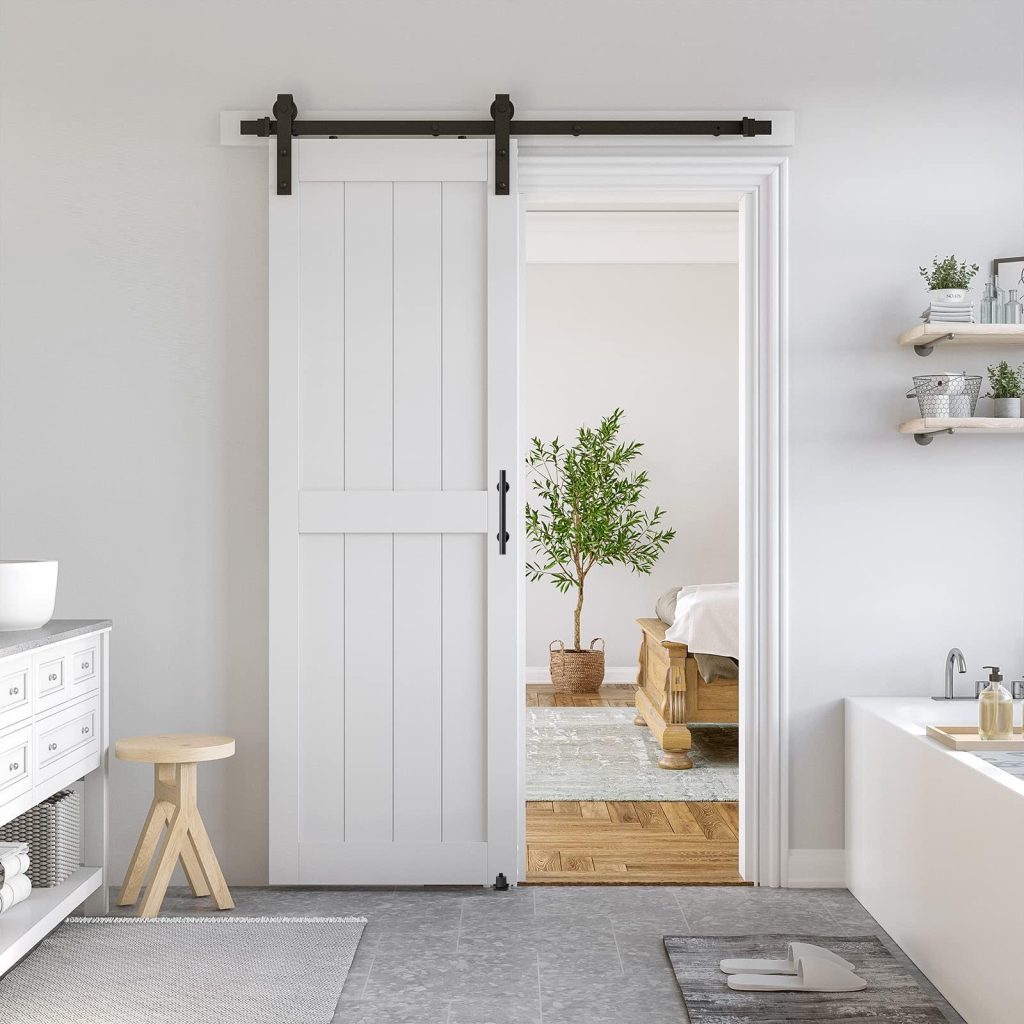 If you dislike the concept of large wooden barn doors, you can opt for this white barn door for your bathroom. This door is made out of MDF and PVC, which is sturdier than wood.
It has a water-proof surface and is highly durable. You can also paint this barn door in the color of the walls to align it with the decor of your house or any other color of your choice.
This white door can be an addition to any modern home bath space with a contemporary and stylish backdrop.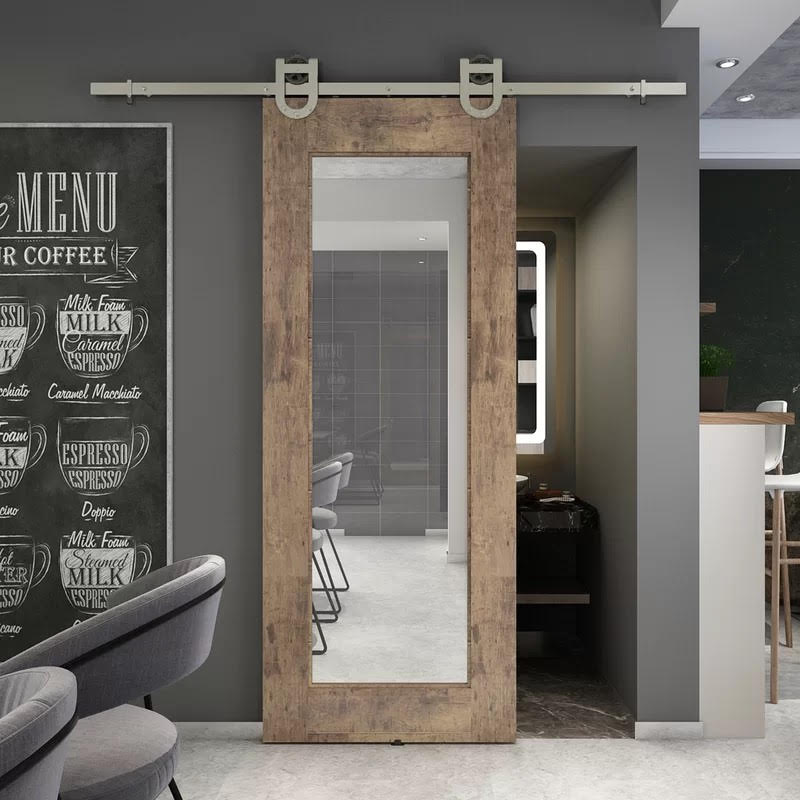 This multifunctional door has a rustic texture. It can be incorporated to give a vintage feel. A barn door with a mirror that leads you to a bathroom can be a great addition.
This door has a mirror installed in the center that will make the area of the room appear larger. The frame is made out of solid pinewood, which makes the door robust and durable.
It will look beautiful in any residential setting. You can also use it to get ready in the morning.
Also Read: 22 Closet Door Ideas for a Refreshing Look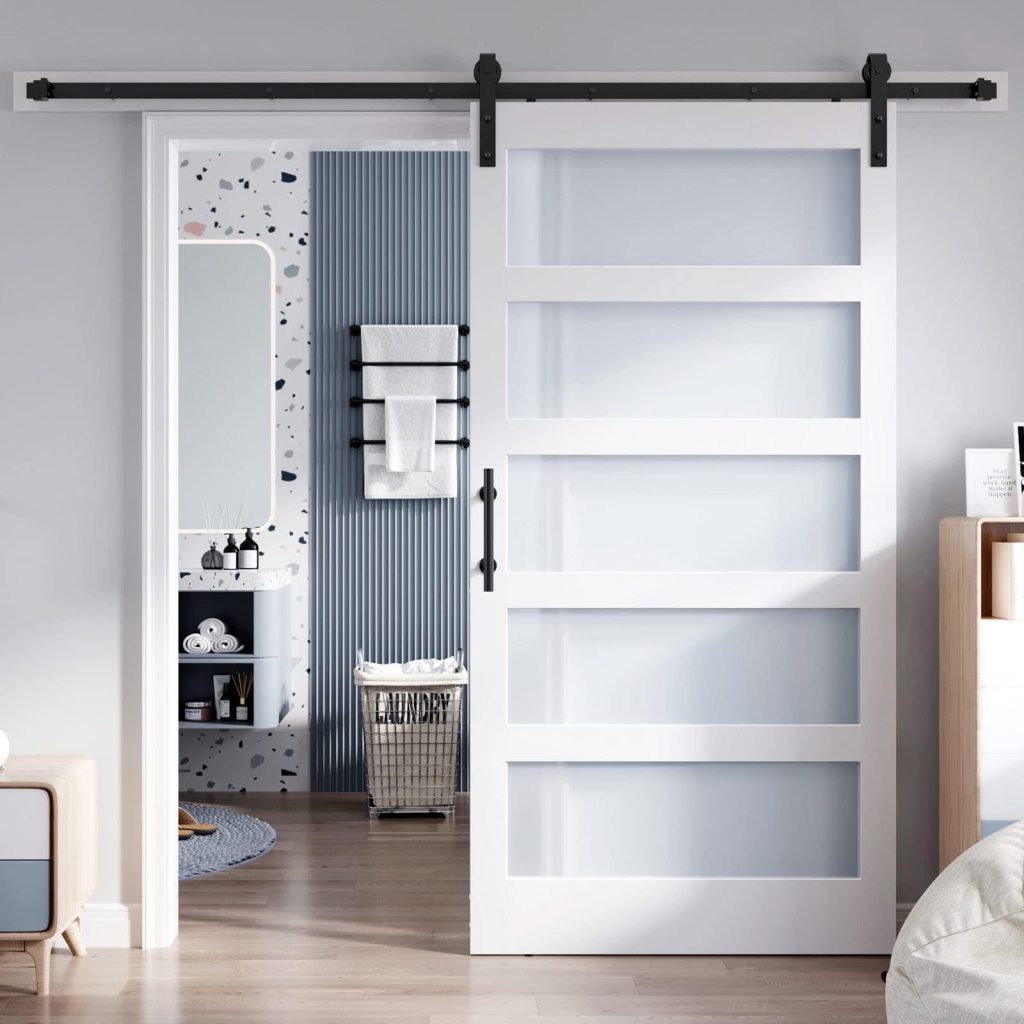 This contemporary barn door is not like any other typical barn door. It fits well in a contemporary and refined space. Glass panels have been added to this white MDF barn door to give it a modern touch.
This door serves as an ideal partition between a living area and a bath space. It can be installed almost anywhere in place of an existing door.
The door also has glass incorporated which makes it seem airier and less bulky. This door is waterproof, scratch-resistant, and easy to maintain and clean.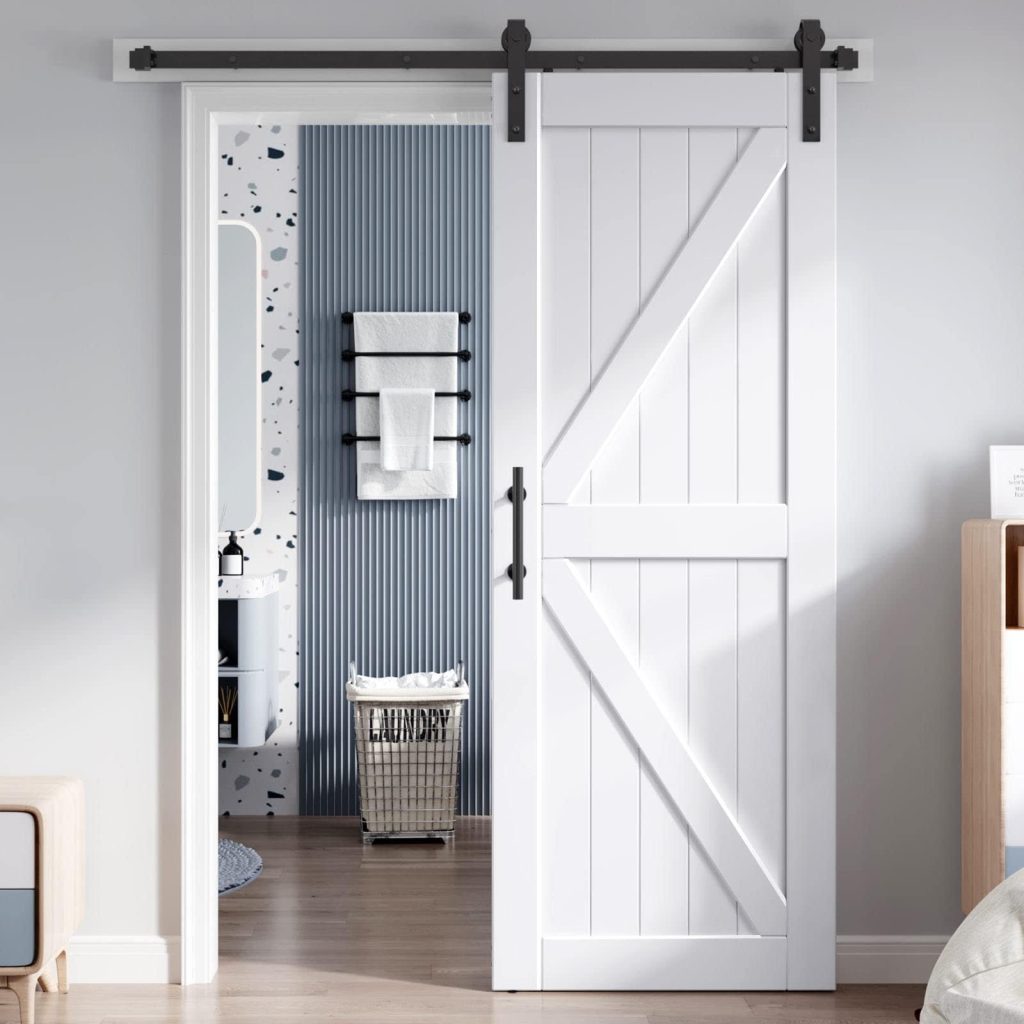 This white-checked barn door works well with any design. The door is made out of high-quality and durable PVC material. It will act as more of a supporting frame than an attraction or highlight.
The door will create a sleek and clean look and also add some visual interest. This door is pre-drilled and pre-grooved to ensure easy assembly.
You can pick this barn door and color it in the same color as the wall to neutralize the look of your room.
6. Wood-panelled Gray Barn Door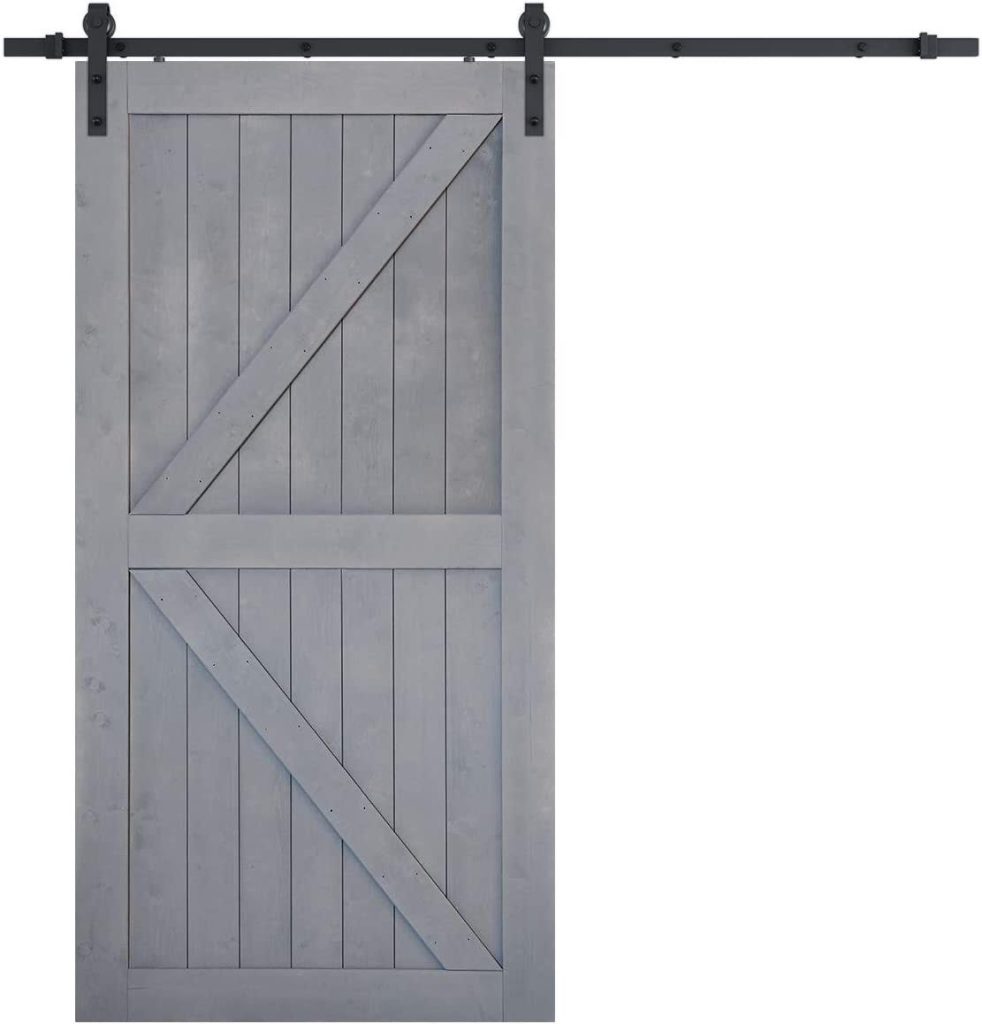 Do you wish to modify the ambiance of your room with minimal effort? The best way to do this is by installing a barn door in a unique color and pattern.
For instance, this grey barn door with black stripes will create the right amount of drama in your room. The door can be finished with a simple black matte handle.
It is made out of natural wood and has a delicate texture. It is highly flexible, durable, and tough. The door also has good heat and sound insulation.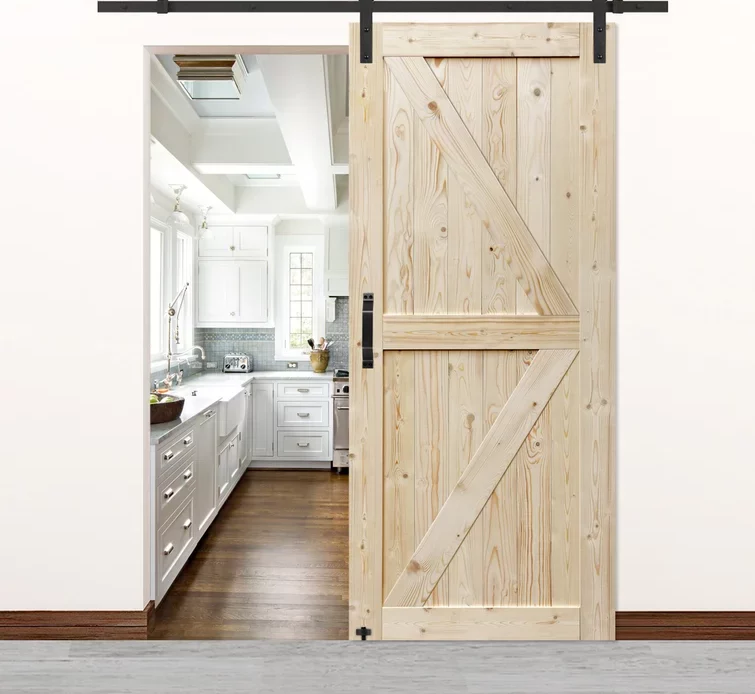 If you wish to enhance the look of the bedroom of your home, try experimenting with this wood-paneled barn door. This barn door will add life to your room. This door is made out of 100% spruce wood.
You can install this door as it is or choose a bright color and paint it on the door if the indoor color palette of your room is more on the dull side. The door is pre-cut and pre-drilled.
This ensures easy assembly. This paneled barn door would look good with almost any interior design and style. The door also comes with a 60-day warranty.
8. Double Barn Doors for the Bathroom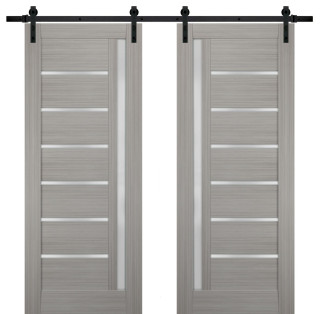 These double barn doors by Wayfair are made out of high-quality materials and have a soft opening. The materials used are eco-friendly, and they have an eco-veneer finish.
You can create an attention-grabbing bathroom entrance with these double barn doors. They require little maintenance and cleaning.
These doors will enhance the accessibility of the bath space while also adding some character. They can add unique style and boost privacy at the same time.
See More: 15 Different Types of Interior Doors for Your Home
9. Go Vintage With A Rustic Barn Door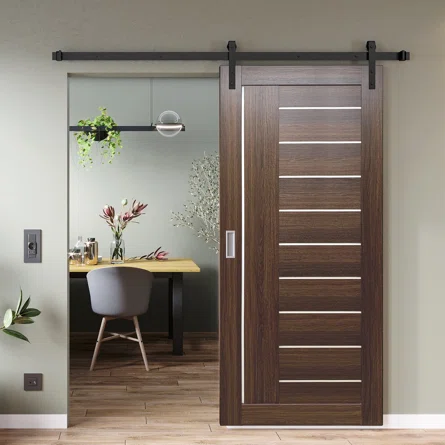 If you like the classic look, you can opt for these barn doors that appear like they are from a different era. The door has a polyurethane wood finish, which provides protection against scratches and also makes it water-resistant.
The coating on the door makes it glossy and smooth. Old antique barn doors, like this one, can create an earthy feel and give a retro vibe.
This door will separate two spaces without compromising the aesthetics of your house. It can be assembled easily without any professional help.
10. Chalkboard Sliding Bathroom Barn Door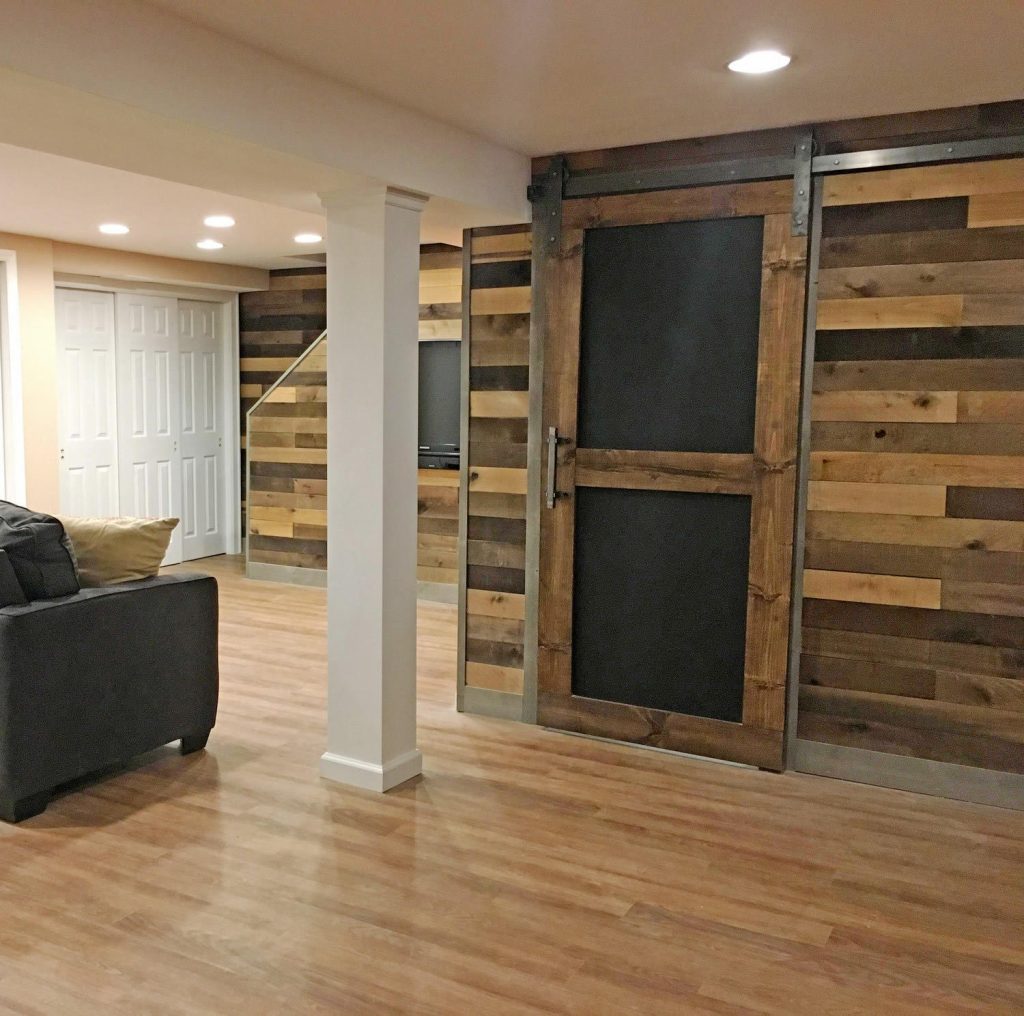 This chalkboard door is perfect for residential as well as industrial settings. You can install this door in your child's room.
Installing this chalkboard bathroom sliding barn door can serve as an ideal surface where they can write down their school timetables or schedules.
The door is made out of knotty alder pine, giving it a rustic and vintage feel. The back of the door has a smooth surface, and there are no planks at the back.
You can also select a paint or stain for this door according to your preference.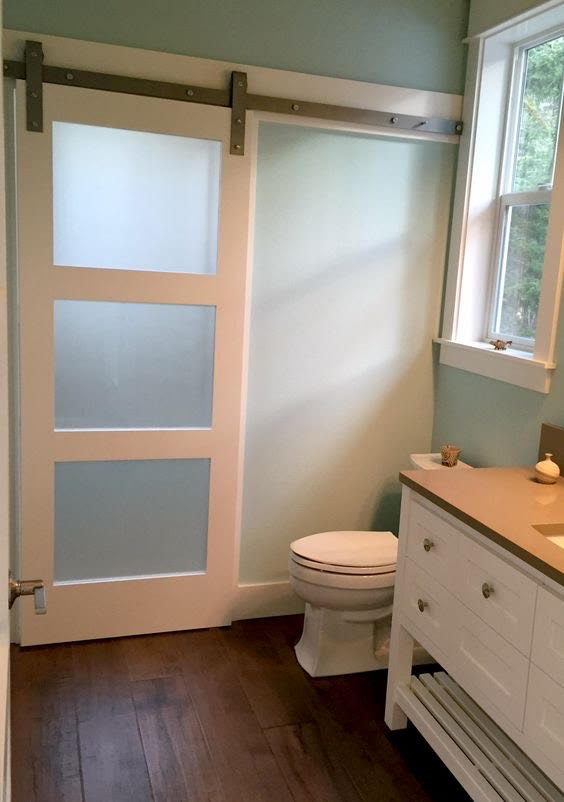 These mahogany sliding doors look aesthetically appealing. If you wish to go classic, opt for a rustic wooden frame for the door.
This door is made out of toughened glass and high-quality wood. The door is easy to install, even for inexperienced hobby craftsmen.
Complete mounting accessories are also provided with the door. The door comes in a walnut stain which goes well with most interior designs.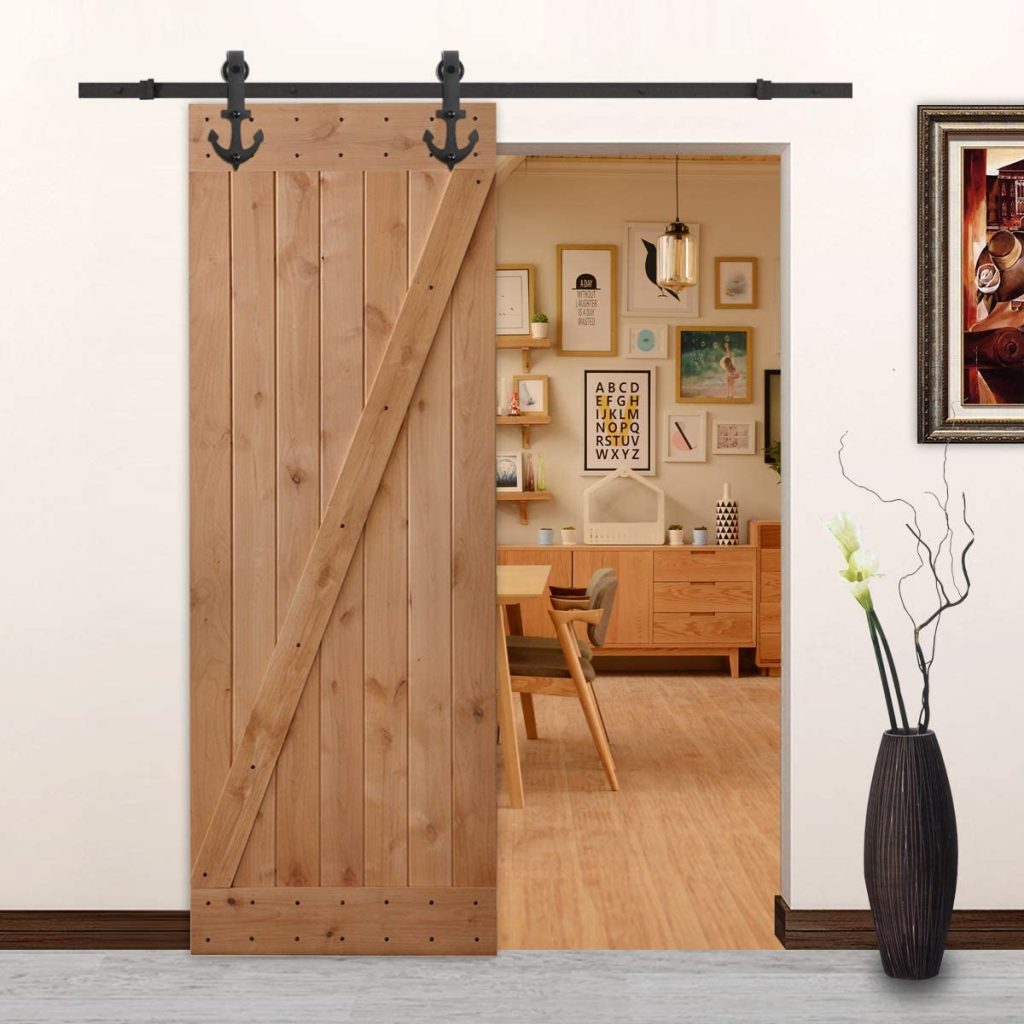 Sliding barn doors for your bathrooms can be an excellent way to add something visually appealing without much effort. This door gives modern farmhouse vibes.
The door comes with multiple panels that have to be assembled. The panels are made out of 100% authentic alder wood. You can easily assemble the door without any professional help.
However, the hardware for this door has to be bought separately. The doors will add visual interest and character to any room.
13. Whiskey Oak-Glazed Barn Door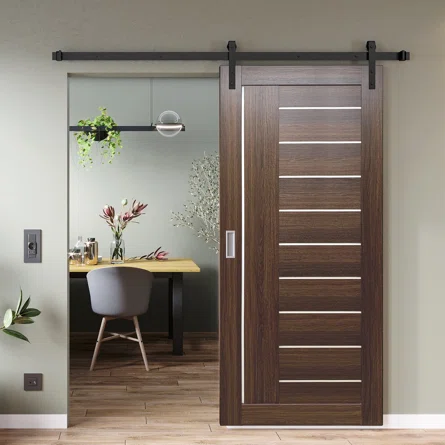 A whiskey oak-glazed barn door is a practical, fun, and space-saving bathroom door solution. This barn door provides greater privacy. It can enhance any space and is extremely durable.
This barn door has a unique design with rails and stiles that have rounded corners. A vertical full-height frosted glass on one side gives the door a stunning view and will make the overall look super modern.
14. Shaker Wood Sliding Barn Door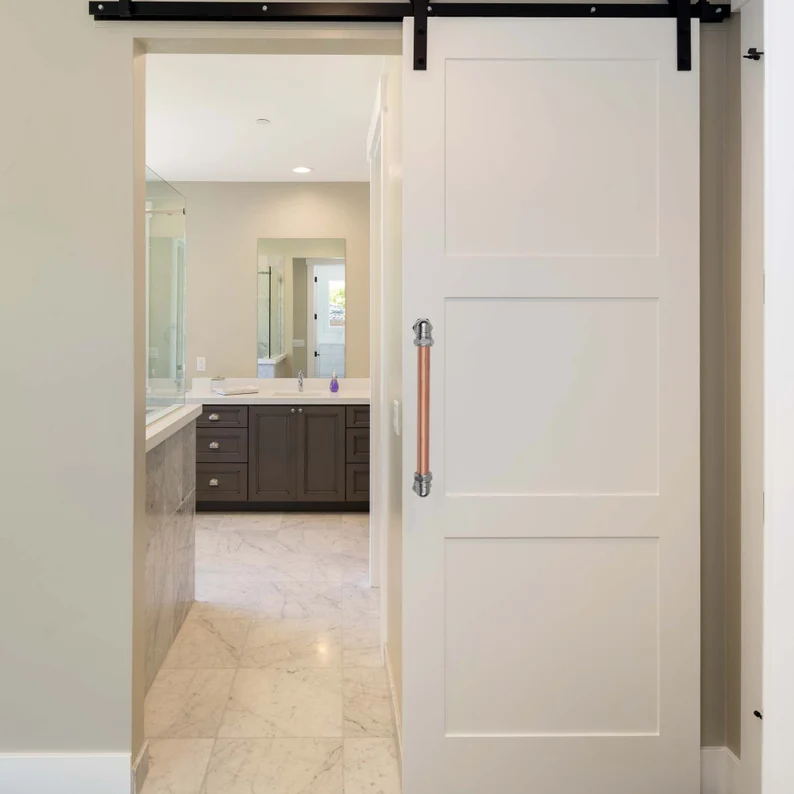 This shaker wood sliding barn door runs very smoothly. There are handles included in the package, which makes opening and closing the door even easier.
There are other mounting accessories included, too, like screws and dowels. That is why this barn door can be installed without much hassle.
It saves space and offers complete privacy. The material of the door makes it fire-resistant and water-resistant. You can also opt for a polyurethane coating to make it more sturdy and durable.
Related: 15 Types of Modern Closet Doors for Your Room's Aesthetics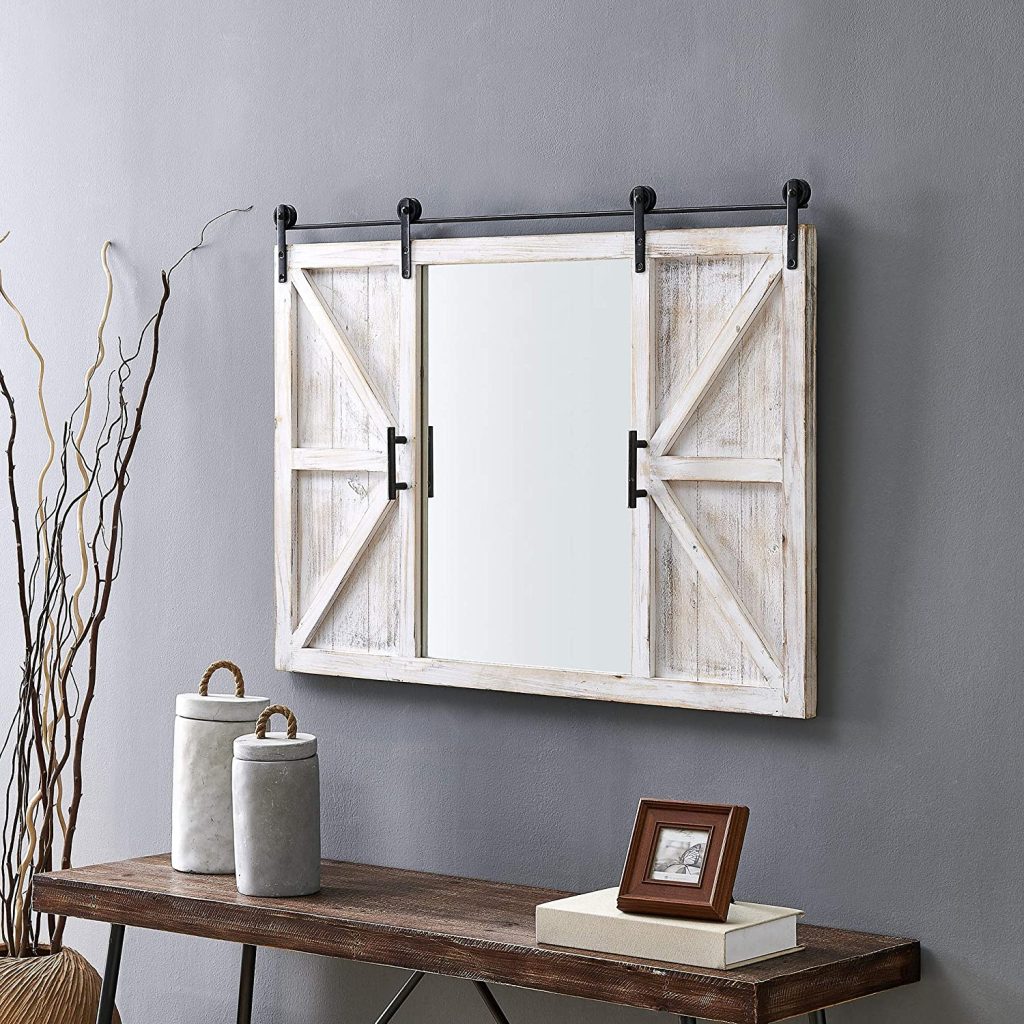 When it comes to barn doors, most people use them for segregating living spaces. Did you ever think of using a barn door-style mirror in your bathroom?
This grey rustic barn door-style mirror can be installed to bring a farmhouse feel to the bathroom. This piece has a rustic texture, and decorative casters create a charming ambiance that reminds you of a cottage.
It has an aged whitewash finish. This piece is made out of wood, dark metal hardware, and a glass mirror. The piece is resistant to damage caused due to water, and hence it is an ideal fit in a bathroom.
Things to Consider Before Installing a Barn Door
It is important to consider the following factors before installing a barn door for your bathroom.
The New Installation Shouldn't Impact the Old One
If you plan to make an addition to a pre-existing structure, you must ensure that the new installation doesn't have an impact on the old structure. It might be possible that the door is too heavy for the bathroom area where you wish to install it.
You will need the architectural plan of the house to ensure that the door is perfectly framed and there are no negative impacts.
The Area Covered By The Barn Door
A sliding door would look great in multiple areas of your house. It is important to consider that sometimes, these doors might leave a small gap between the bathroom door and the drywall.
Hence, if privacy is a concern, you might want to rethink your decision. The track you purchase also plays a role in the amount of gap that will exist.
The Style Of The Door
Barn doors come in several colors, patterns, and designs. You must keep in mind the interior design and décor of your house while choosing a sliding bathroom barn door.
From rustic and vintage to modern and minimalistic, you can select a style that suits your preferences and budget.
The Kind Of Barn Door Hardware You Will Install
The hardware of the barn door is as important as the door. Depending on the size and color of the door, the hardware could be noticeable.
You must select the hardware carefully, whether it is the door track or the wheels. Hardware placement also plays a crucial role in how the door will overlap the wall when one shuts it.
Is it a Temporary Installation Or A Permanent Installation
Barn doors are a great alternative to traditional swinging hinged doors. Many people find these doors appealing.
But if you're someone who likes to change the look of the house now and then, you must consider everything that goes into installing a barn door. Multiple holes have to be made in the wall to install the door.
So, if you're thinking about installing the door for a short span, reconsider your decision. Removing the door will mean restoring the entire wall.
This is why most designers recommend having a long-term mindset while installing a barn door.
Conclusion
Bathroom sliding barn doors can be used to maintain the minimalistic yet charming aesthetic of your home. They go well with almost all interior designs without compromising on the functionality aspect.
With the proper hardware and some ingenuity, you can make a barn door an eye-catching element of your house. The ideas mentioned above will help you determine how to incorporate these doors into your home.
You can choose from various colors, textures, and patterns as per the layout and design of your house.
Frequently Asked Questions (FAQs)
How Wide Should a Barn Door Be for a Bathroom?
Generally, the rule of thumb is to keep at least an inch of overlap on both sides of the opening of the door. Therefore, if the opening is 36 inches, you will require a 38 inches wide barn door.
What Is the Standard Size of The Barn Door?
Usually, most barn doors are around 42" X 80" or 36" X 84" with a sufficient extra gap on either side of the opening to overlap standard door frames.
How Much Room Do You Need for a Sliding Barn Door?
First, you have to decide the wall and direction in which you want the door to open. You will need a completely unobstructed wall. On this wall, measure right from the inside of the door jamb across the surface of the wall. You'll require a minimum of 43" for a 42" wide door.
What Is the Difference Between a Barn Door and a Sliding Door?
In commercial and residential settings, barn doors are considered an interior décor element that adds rustic charm to any space. The major difference between a barn door and other sliding doors is their design. Generally, barn doors are made out of wood and have large panels sliding across a track.
Are Barn Doors Cheaper than Other Doors?
Barn doors are usually more expensive than other types of doors. The installation of barn doors is also very expensive. It might cost around $1200 to install a 30" solid wood barn door.
Check This Next: 12 Stunning Black Front Doors to Make a Bold First Impression
Other Articles