Considering getting modern closet doors for your house? Whether you are someone looking forward to spinning your home interiors or decorating your new home, both of them require a lot of brainstorming.
All members in your house might have different choices and aspirations of how their closet doors should be, of which material, which colors, combinations, etc.
If you go on the internet to check for modern closet doors, it will give you loads of options with colors, styles, and types, adding to your confusion and more opinions from your family members.
Similar Post: 22 Closet Door Ideas for a Refreshing Look
List of Beautiful Modern Closet Doors
Closet doors play an important part in your room interiors as cupboards occupy a lot of space. Modern closet doors can be bifurcated based on several aspects, such as style, operation, material, and others.
It includes all ways like an accordion, sliding, pocket sliding, barn, mirrored, and the one with bookcase style.
With the large range of variety and colors, designs, and textures, it is difficult to choose one. They come in large numbers and promising designs to confuse you.
If you are looking for ways to build your modern closet door with a rich look that will compliment your walls, here are 15 types of closet doors that you must check out.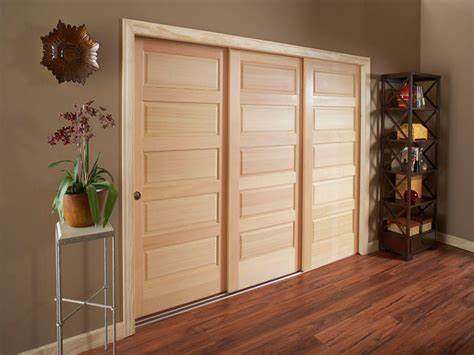 Sliding closet doors are made up of metal or wood that is light in weight, such that the doors are easy and light to slide.
There is a sliding track installed which allows the doors to move easily from one side to another without just giving a normal push. Anyone can access these doors without any need for effort or strength.
Pros:
They help to save a lot of space in the bedroom, and no space is required for the motion of the door.
Cons:
They are expensive as compared to other doors.
They make it slightly difficult to access your closet.
You can only access one part of the closet at one time.
Also Read: 15 Different Types of Interior Doors for Your Home
2. Pivot Closet Doors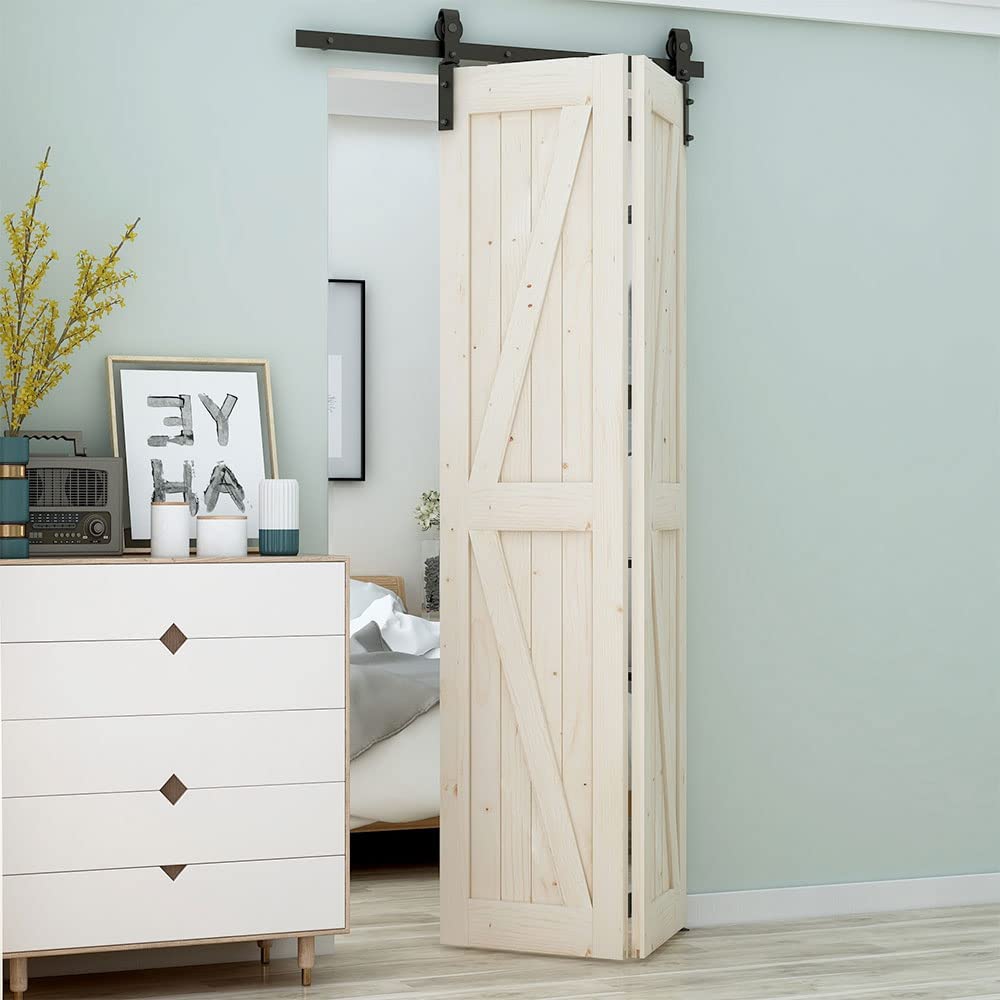 Pivot closet doors create a statement for modern bedroom décor. The door is built such that there are no traditional hinges on the side of the frame.
In this, the pivots are installed at the bottom and top of the door, and the movement goes in both ways. These doors need to be customized based on the space and size of the cupboard.
They are not like the usual doors of one size that open and close easily.
Pros:
The doors can be completely opened and give full access to the closet space.
Cons:
They are expensive as they require pricey hardware and skilled professional help.
They need a lot of space in the room to open them completely.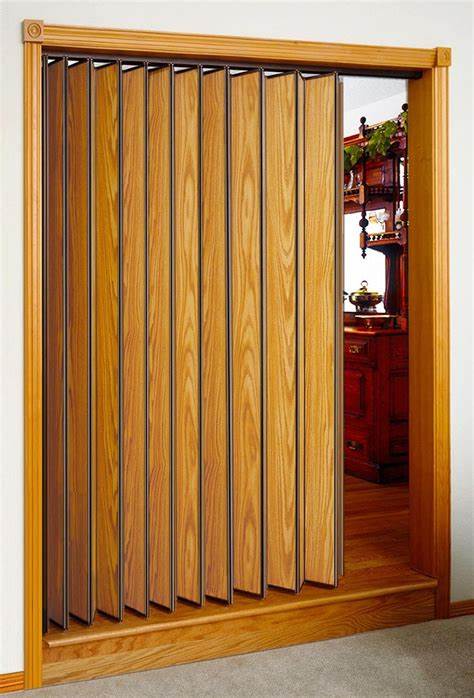 Accordion type is a modern closet door that is made up of narrow panels. These narrow panels are connected such that when the closet is opened, these panels fold like an accordion.
The door can be opened on a sliding track implemented on the upper part of the closet. They are made up of lightweight material to open the door easily without extra effort.
Pros:
They are pretty affordable compared to the former types.
They are great space savers, especially in bathrooms and kitchens.
Cons:
Sometimes, the lack of a sliding track on the lower side makes the user feel unbalanced while opening or closing.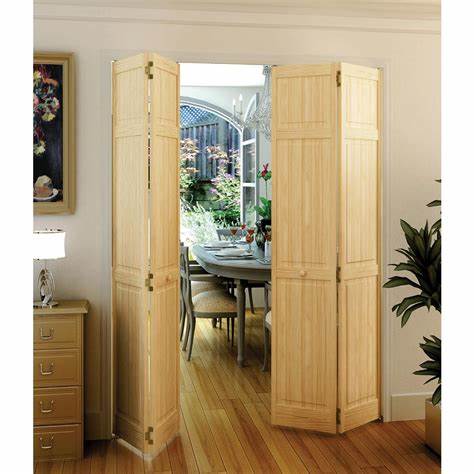 Bifold modern closet doors are one of the most used options of doors in households.
They have a configuration of either four-panel or two-panel configurations and can be opened with a hinge in the center of the cupboard. The panels are linked to each other with these hinges.
It allows the user to access both sides of the closet in one instance. Further, the center space can be used efficiently.
Pros:
They are space savers in small rooms.
One can access both sides of the closet at one time.
Cons:
They can fall off track and must be avoided, especially if you have children.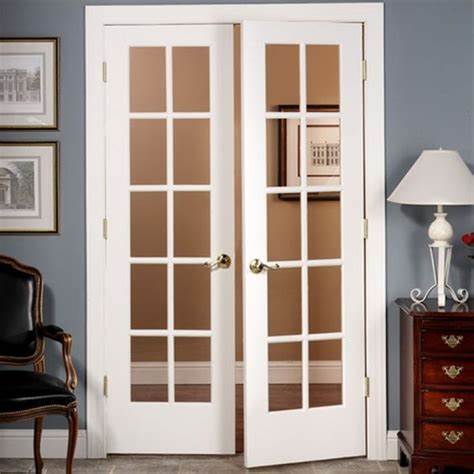 French doors are a crucial part of modern closet doors. They are simple doors with easy functioning. The pair of doors are hinged at two corners of the closet.
One opens on the left side and the other on the right side. If your room has a small closet, these are the best option. These are one of the top choices among people.
They are a great choice if you have a walk-in closet.
Pros:
They are easy to operate.
Best suited for small closet
Users can open both doors at once
Gives a sophisticated look and rich feel, like a huge walk-in closet
Cons:
Requires open space in front for doors to open
See More: 15 Best Stylish and Practical Bathroom Pocket Door Ideas
6. Single Swinging Closet Door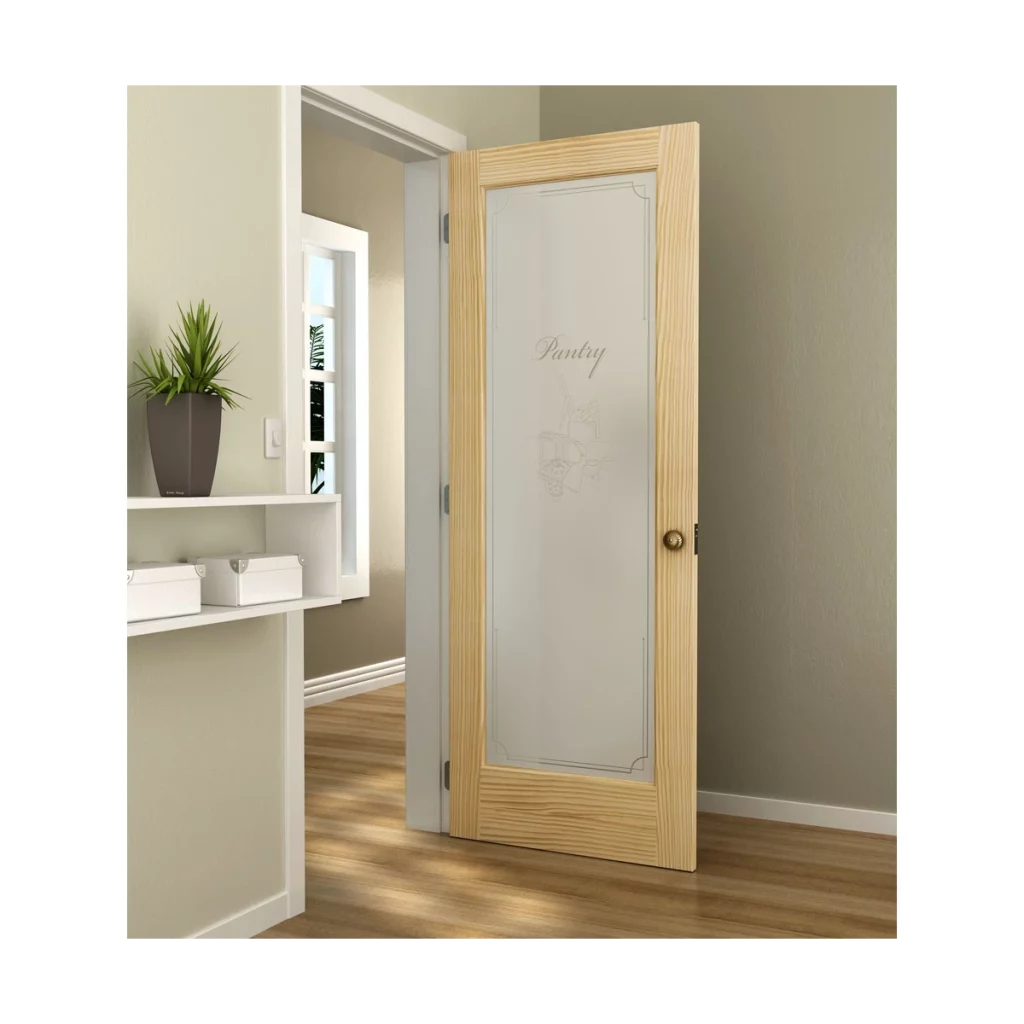 These are the most basic types of doors. If you are looking for something that is not so fancy but works well in the simplest ways, this is the best option for you.
It is a great option for small closets. The door opens 90 degrees in one direction and closes in the same way. They are mostly used in households and are especially suitable for kids' rooms.
Pros:
They are easy to operate.
They give access to complete closet space all at once.
Cons:
They are unsuitable for small places as the door requires space to open and close.
7. Pocket Closet Doors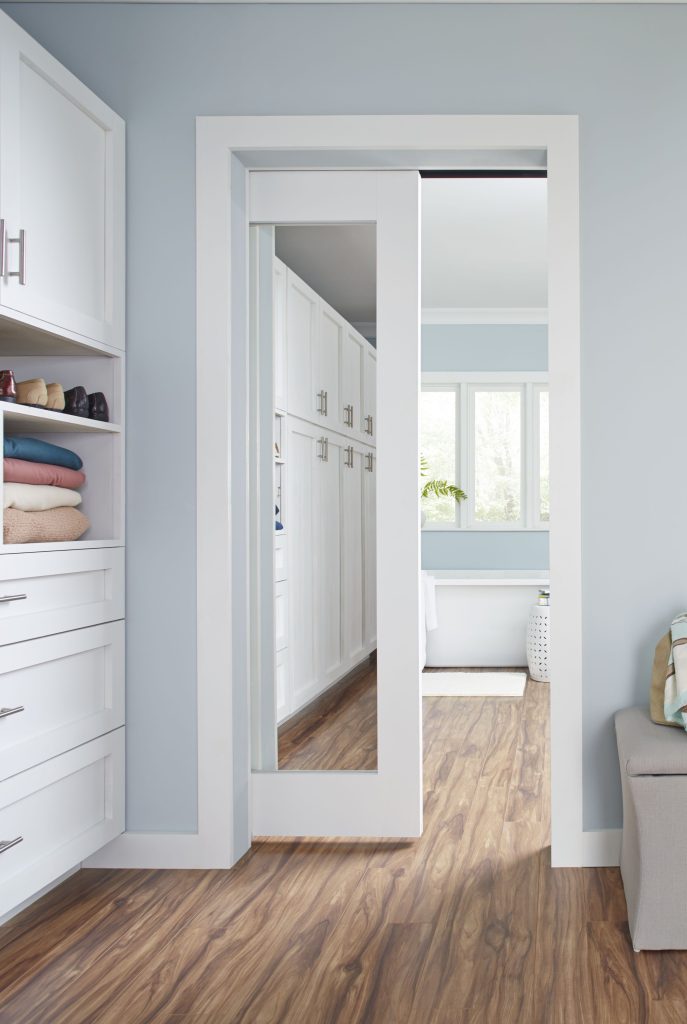 Pocket-type in closet doors is a note-worthy addition to modern closet doors. They are almost similar to modern closet doors except for their sliding ability.
These doors slide into the wall that is adjacent to the door. These types of doors are not seen in the closet when they are opened. They fit well into the wall giving the feel of an open closet.
The installations of these types of doors require professional help as it requires perfect measurements and hardware.
Pros:
They are great space savers.
They are the best choice for rooms that do not have space for door swings.
Cons:
It is an expensive installation.
Requires special material and opening in the wall.
8. Barn Closet Doors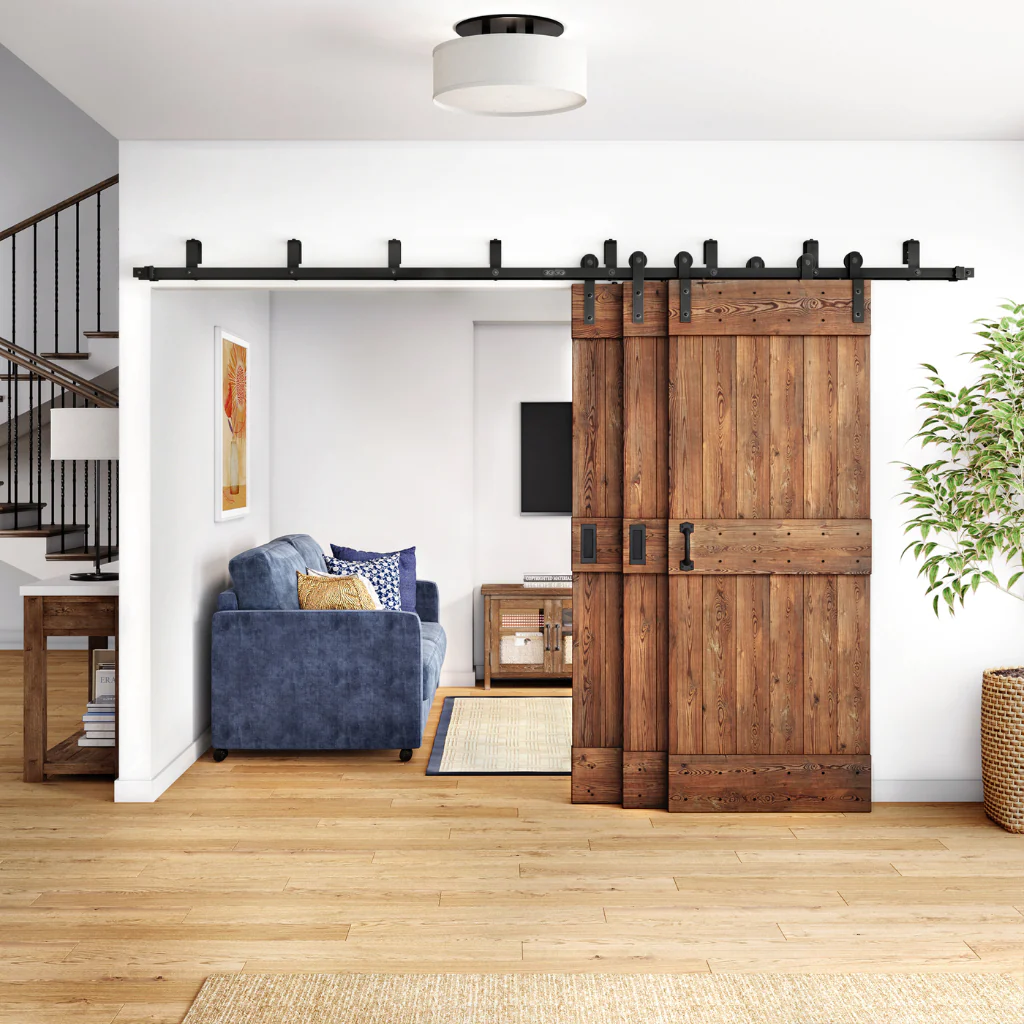 A barn closet door is built on a track on the door frame that slides on the track using wheels. It can be closed and opened easily.
They are a type of sliding door but with wheels instead of a sliding platform. They have been used largely in the olden times and give a lavish look to the spaces.
However, among the modern closet doors, it stands a little out of place.
If you have spacious rooms, these doors work well in them because they require space to open without disturbing other aspects of the room, such as lights, walls, sockets, and others.
Pros:
They go well for a stylish and modern look.
They can open smoothly and function efficiently.
Cons:
They require a huge amount of space.
They are expensive.
9. Mirrored Closet Doors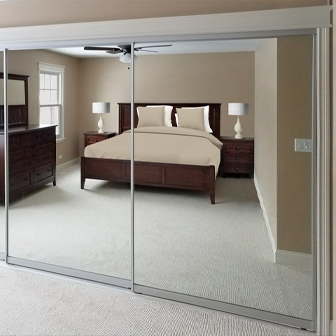 As suggested in its name, the mirrored closet doors contain mirrors attached to the door panels. They eliminate the need for fitting a mirror in the room, as the closet doors do the job.
Mirrored closet doors act as full-length mirrors. They help to enhance the bedroom space's look giving a classy and rich feel.
Pros:
Eliminate the need for a mirror in the room.
Enhances lighting in the room.
Cons:
They are expensive.
They are fragile.
Requires coating of safety material on the doors.
Related: 15 Stylish Sliding Barn Door Options to Transform Your Bathroom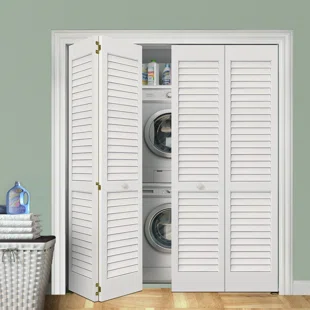 Louvered closed doors are built to enable the flow of air in the closet.
They are made up of wooden or glass louvers that are installed at an angle such that it does not allow anyone to get a peak of the contents in the closet.
In this type, your clothes stay fresh and ventilated with natural heat and light.
Pros:
They allow ventilation of the clothes through space.
Clothes can stay fresh with access to air and sunlight.
Cons:
They can be difficult to clean completely inside-out.
Repairing and replacement of these doors can be a difficult task.
11. Bookcase Closet Door>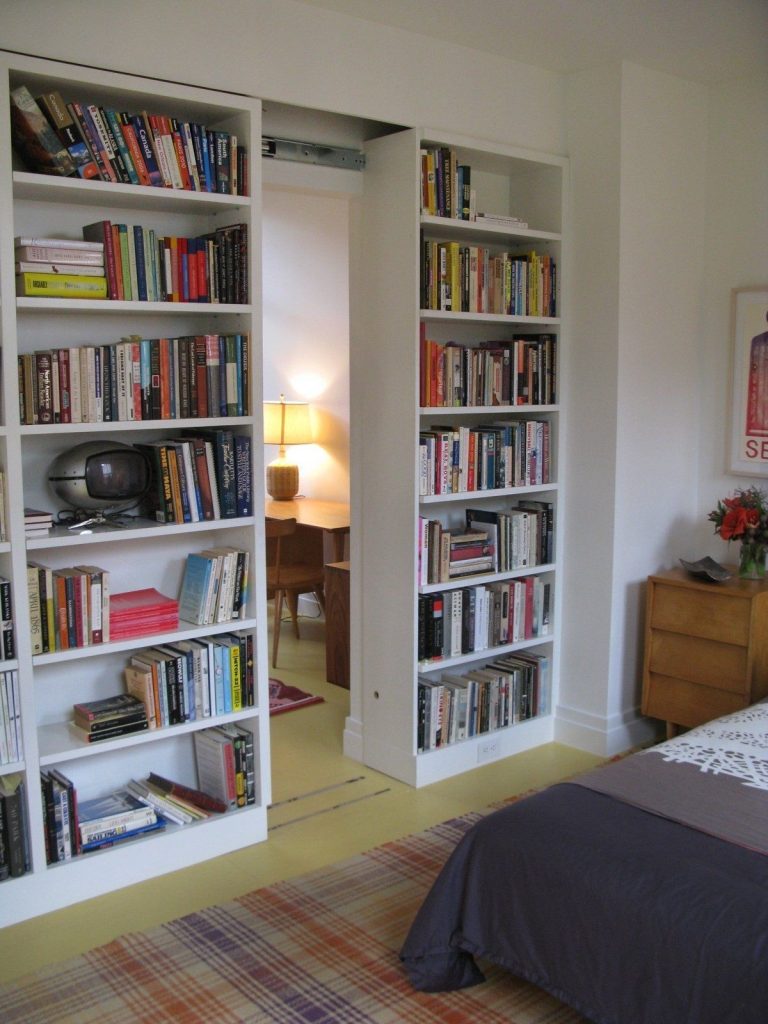 A bookcase closet door is a hideous door that does not let people know that there is a closet behind it. It is also called a jib door or hidden door.
This door is mounted on the wall, making it almost invisible.
These types of doors are used to conceal secret rooms or vaults that store jewelry or important documents, and cash. It is a unique addition to your bedroom closet.
It is not used in the kid's room but mainly as part of the master bedroom of the house. The visible part of the door can be used to keep books or other decorative items for aesthetics.
Pros:
They are unique in style.
They are aesthetically pleasing.
They can act as a secret doorway to a space or room.
Cons:
They are made of solid wood, which makes them expensive.
12. Glass Doors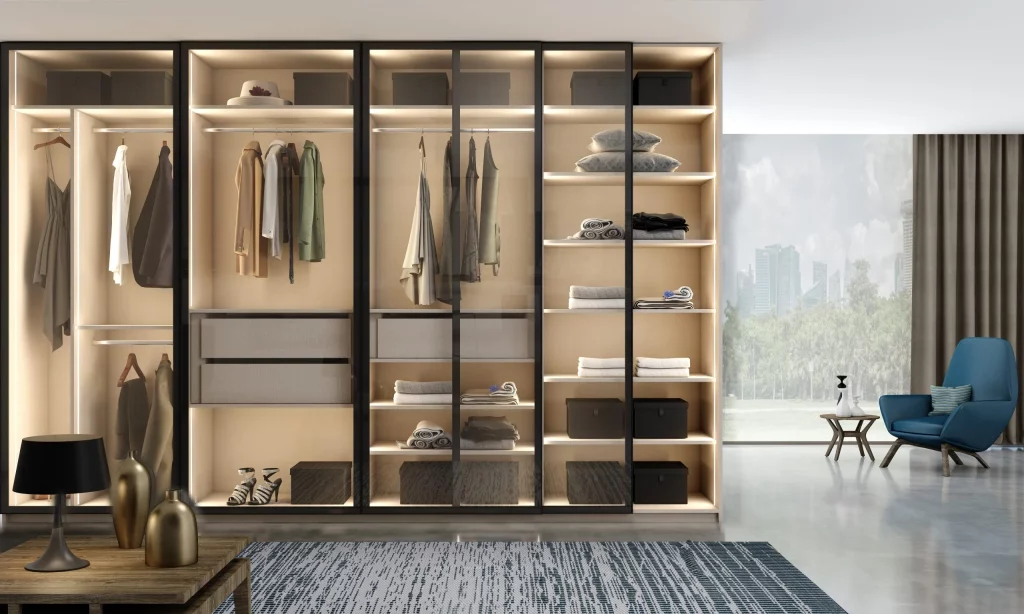 If you want a transparent closet door, a glass door is your way to go. It is made of glass and mounted on wood.
They enable the user to enhance the aesthetics of the house by implementing a modern closet door that enables privacy and gives a uniquely stylish look to their bedroom space.
Pros:
This gives stylish looks and a feeling of richness.
Cons:
Required frequent cleaning to maintain its luster.
It is expensive.
Requires you to be cautious around the door as glass is fragile.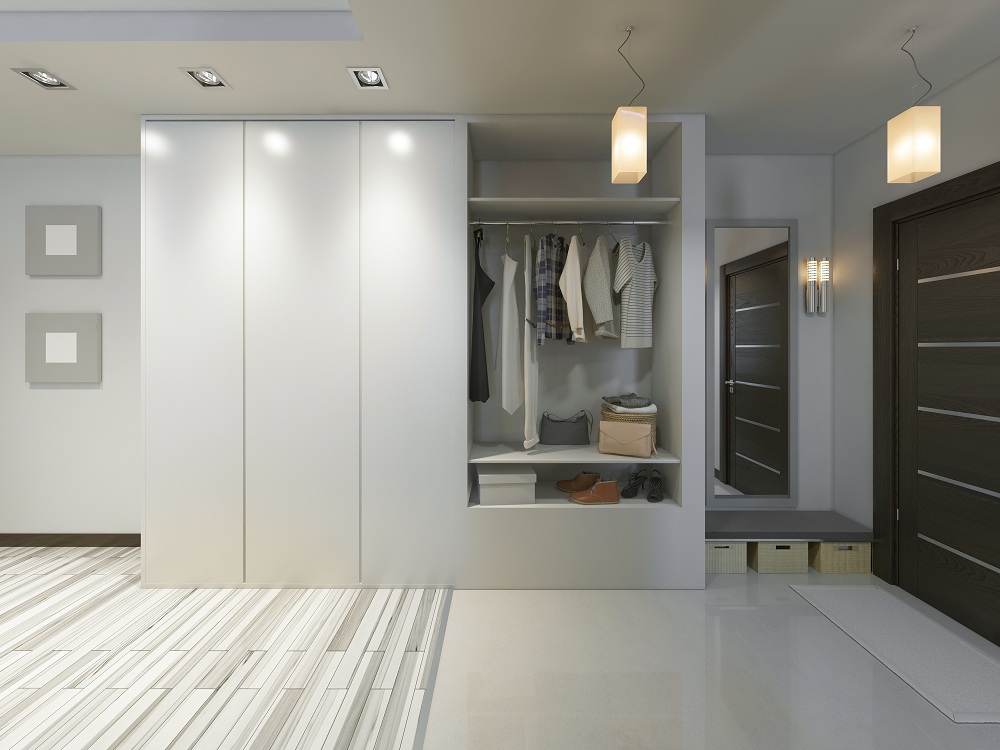 Closet doors made of synthetic materials are very common among the bachelors who rent cupboards and are looking for affordable options.
These are great options for people who do not want to use wooden doors. The major advantages of these types of doors are that they are available in a wide range of styles and designs, adding to the aesthetics of your space.
Pros:
They are easily available.
They are easily affordable.
They are available in different colors and styles.
Cons:
Wooden doors are one of the most used options for modern closet doors. Wood is a popular choice among people due to its wide availability.
They can be handled by people helping you in your home interiors. Wooden doors do not require professional help or any type of expensive materials. They are available locally.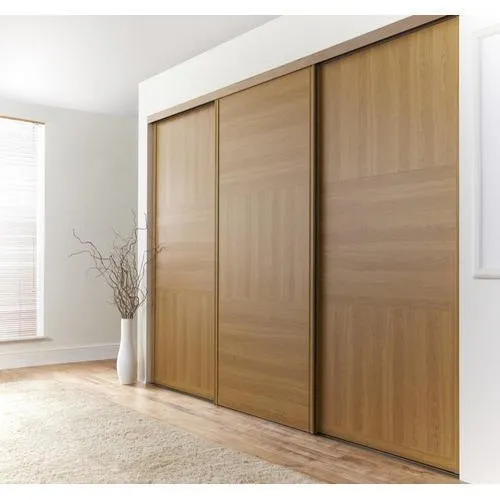 Pros:
Based on the quality of the wood, the prices of wooden doors range from low to high.
They are affordable.
Cons:
Does not allow a lot of styling.
Check This Next: 11 Mirror Barn Doors Ideas for An Interesting Home Makeover
15. Shaker Closet Doors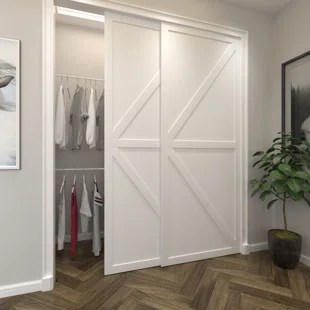 Shaker doors for your closet will maintain the aesthetic appeal of your room. They are made with panels of classic shaker-styled designs.
If you have a large closet space, you can add shaker door panels as you want. Further, they allow you to add hinges, tracks, panels, and patterns that can create a unique style for your room.
The space required is based on how you customize the modern closet doors.
Pros:
They are beautiful and add a classic look to the room.
Cons:
They are expensive.
They require professional help.
They require expensive materials.
Conclusion
We are sure that by now, you must have some clarity regarding the modern closet doors as per your requirements and what suits you based on your budget, storage space, and room colors.
Also, your taste and who is going to use the room is a matter of focus. Now all you have to do is shortlist the most suited options for your rooms and choose the best one among them.
Choosing a modern closet door might not be easy, but it is not that difficult if you are clear with your expectations and pricing.
Other Articles