Sofas-couches are one of the most important investments when decorating a living room. A blue sofa is arguably a great choice when trying to make this decision. They uplift dull rooms and give a pzazz to your room. Blue couch living room ideas are available in plenty because of how multi-functional it is. Not only are they a great element for interior decor, but they are also powerful enough to be able to convey different moods.
The good news is there are a number of different couches available that suit different moods and decors. Here are 21 Beautiful Blue Couch Living Room ideas to check out.
These Ashley Darcy Blue Couch Living Room Ideas are perfect from the list is a graceful structure designed and brought to you by Signature Designs.
It is a piece of furniture that will become the star of your living room as soon as you put it there. Made on a robust wood frame, this is a plush sofa that is very durable.
It features boasting top pillow armrests and has a clean, modern style that will enhance the look of your living room.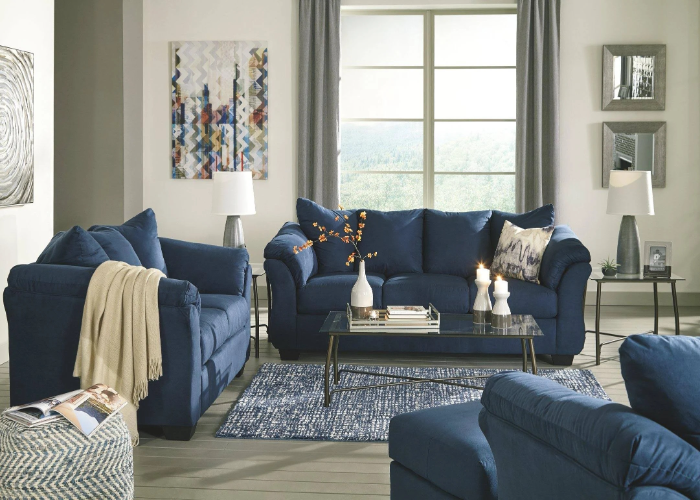 Similar Post: Top 25 Farmhouse Sofa Table Decor Ideas for your Living Room
2. Mercury Row Garren Sofa
Give your living room a glamorous touch with this mid-century Mercury Row Garren Sofa. The foundation of this sofa is on a solid hardwood frame, and it comes in a boxy silhouette.
This piece of furniture has a straight back, tapered square legs, and track arms. Upholstered in polyester blend clothing, the sofa has piped edges that come with good foam cushioning.
It is comfortable in seating and chic in look. You can add matching pillows to elevate the look.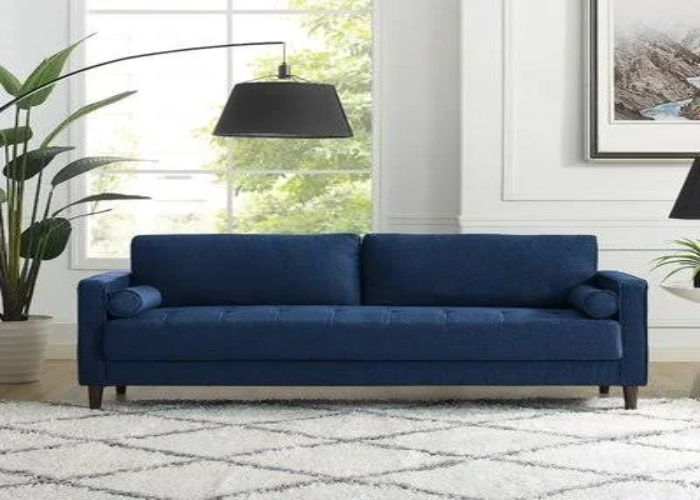 3. Aurelle Home Reversible Deep Seat Contemporary Sectional Sofa
Rated as one of the most comfortable sofas available, this Aurelle Home Reversible Deep Seat Contemporary Sectional Sofa is an attractive sectional that will give you the best comfort and is one of the best options for blue couch living room ideas.
This can be kept left or right-side facing and features a versatile finish. This set includes one sofa set in Corduroy fabric finish and wood upholstery.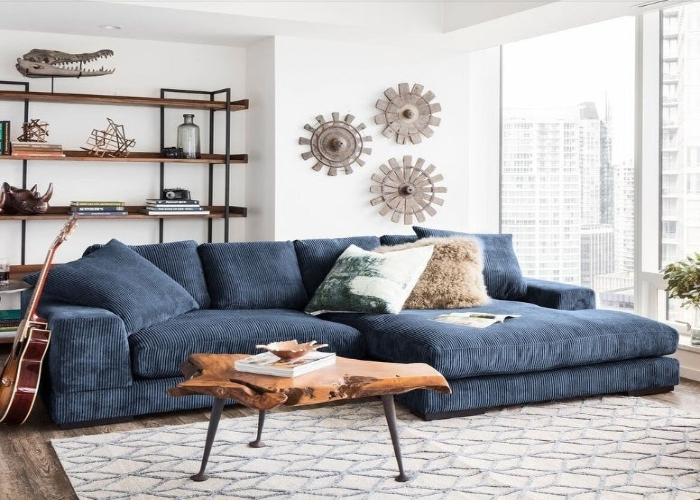 4. Indie Navy Sofa
You can add a boho vibe to your space with this Indie Navy Sofa from Affordable Furniture. Upholstered in blue polyester fabric, it is a great piece of furniture to set the tone of the room.
This sofa set offers a simple silhouette and has a fuss-free style that will go with any decor. As a styling tip, add some bohemian pillows to give a fun look to your living room.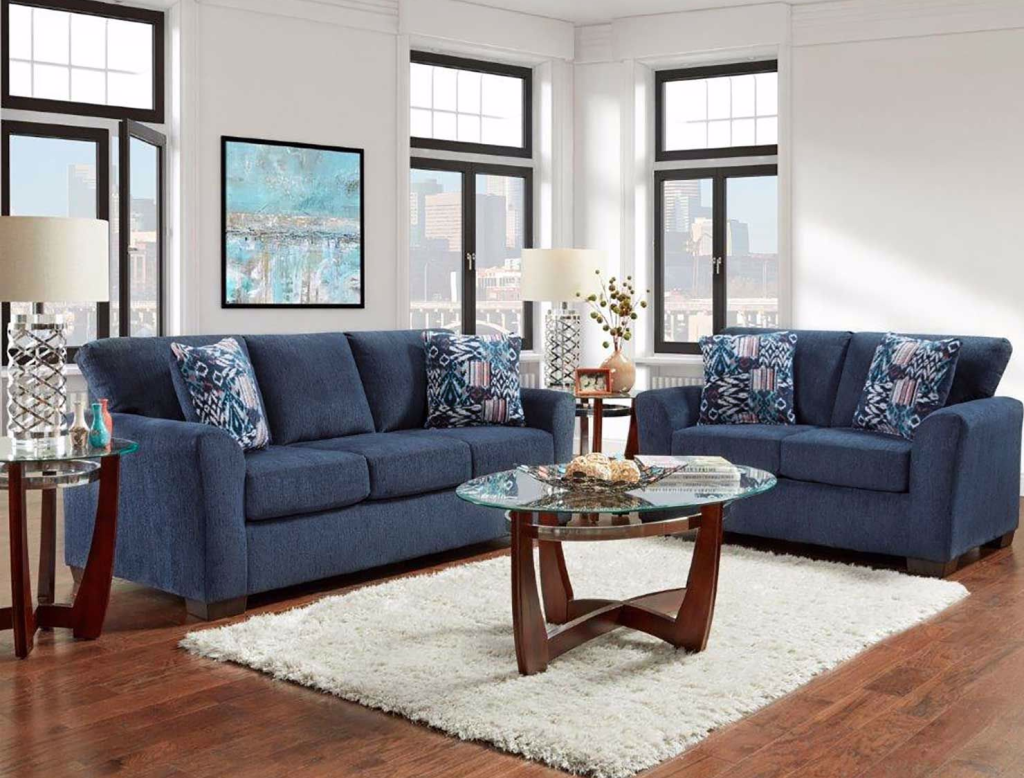 This Grepatio Convertible Sectional Sofa couch is a nice and firm sofa set that is comfortable and provides you with just the right amount of support. Built on a hardwood frame, the sofa is armed with ten solid legs that give a tough build and is durable.
It can bear the weight of up to 660 lbs and is suitable for any corner of your home. This sofa comes with a durable high-resilient sponge and gives you elasticity and enough softness.
Made with high-grade terry cloth and linen, it gives you an overall comfortable experience that perfectly combines practicality and looks.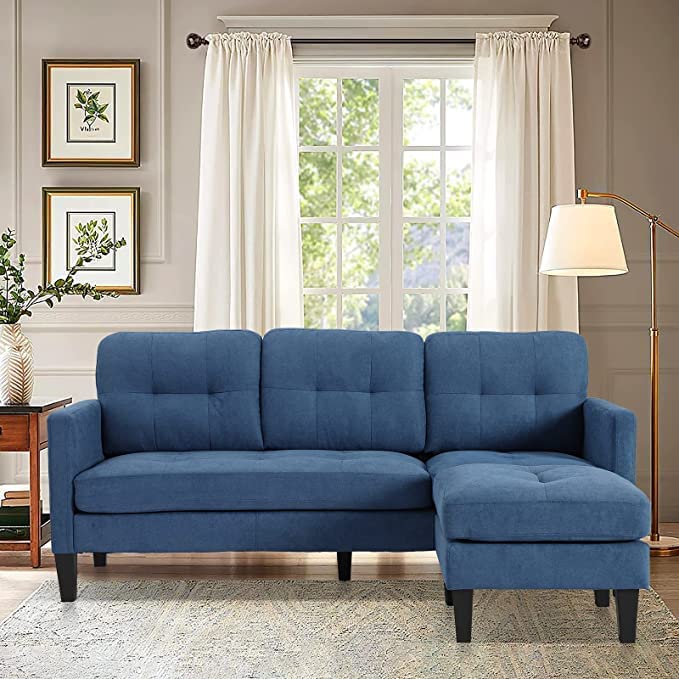 6. Coaster Sophia Blue Sofa
With an artistic flair, this Coaster Sophia Blue Sofa is a retro-inspired sofa that offers a curvy silhouette and bold look.
The sofa is wrapped in blue velvet that is soft to the touch and offers ample seating space. This sofa comes with tufted interior cushioning along with kidney-shaped bench cushioning.
It is a timeless iconic style couch that has an inverted camelback silhouette that comes with gold tapered legs.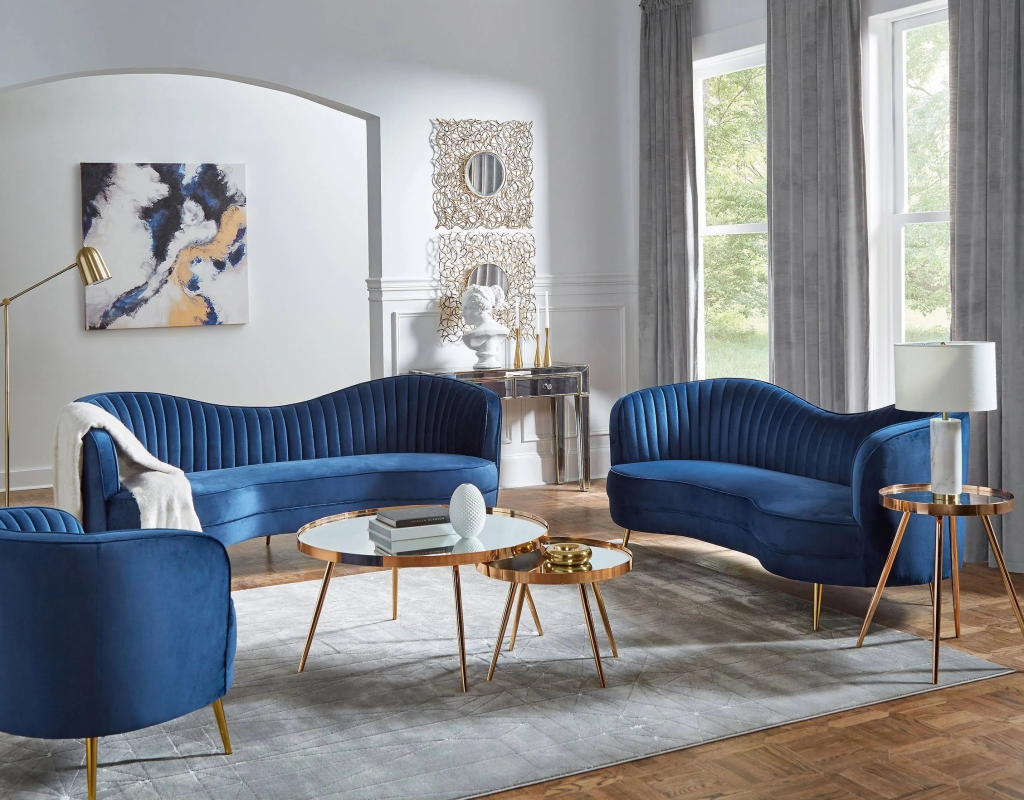 Brought to you by Belffin, this reversible chaise L-shaped sofa is comfortable and unique in design.
This four-seater sofa comes with an ottoman chaise that you can freely place on the left or right side based on our placement needs. The large rectangular ottoman chaise is large enough for you to be able to lie on and relax.
This Belffin sofa is upholstered in velvet and features an elegant vintage design. The fabric used in this is skin-friendly, breathable, pet friendly, and gives a simple appearance.
This sofa is fairly easy to clean. All four cushion covers on this L-shaped sofa are removable and washable, making it a fuss-free, easy addition to your living room.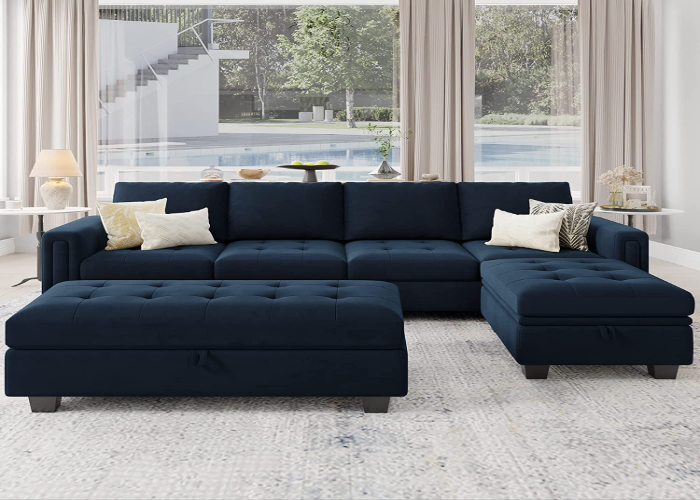 The Mjkone Sectional Sofa for living is a great addition to your space. Built on a solid wood frame, this sofa has a stable life and provides long service.
Not only durability, this sofa also ensures comfort. The sofa cushion and backrest of this set are filled with high resilience sponge and give good serpentine spring support that gives you comfortable sitting.
In addition, this couch comes with an ottoman that you can put on either side of the sofa, based on your preference. In fact, you can also use it as a coffee table or a storage unit.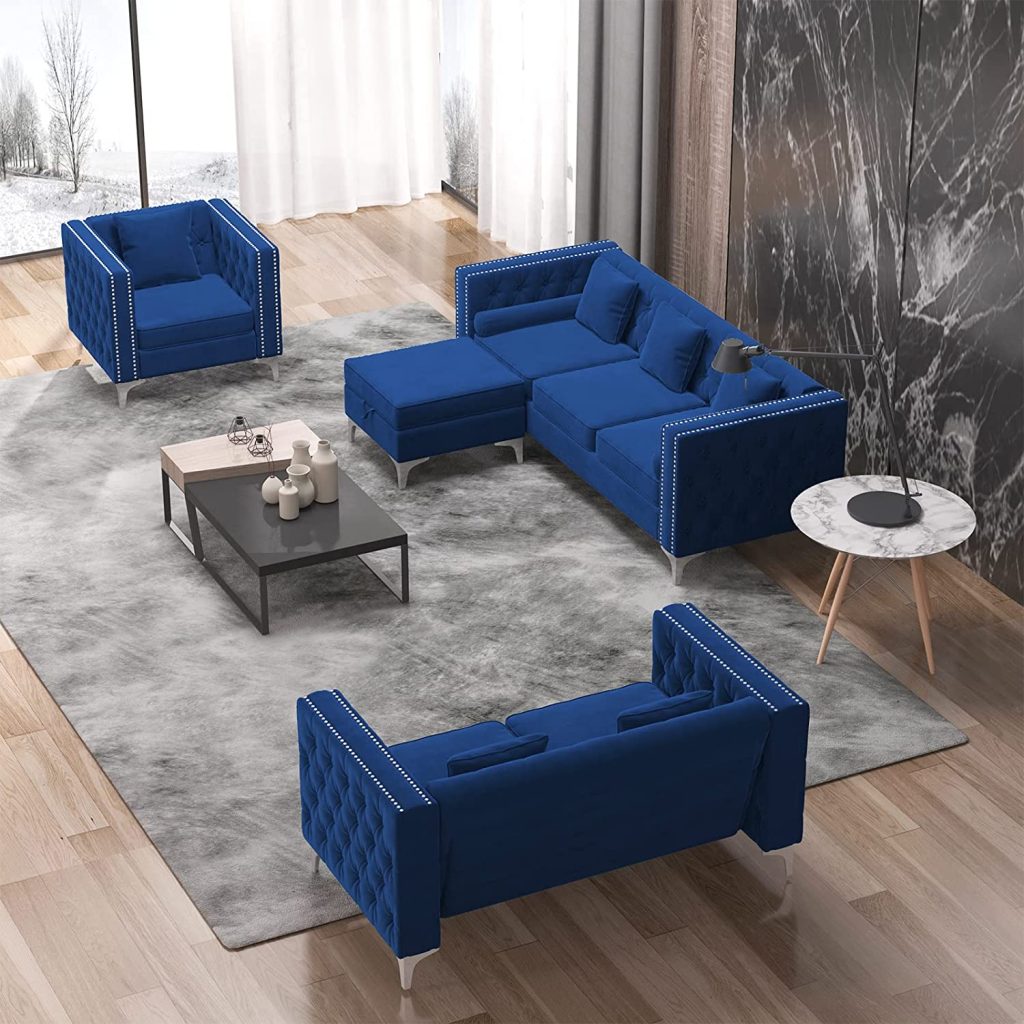 Another sofa couch you can check out is this LLapuil Modular Sectional Oversized Living Room Sofa couch.
Made with upgrade anti-scratch and waterproof fabric, this sectional sofa is set on a strong wooden frame that uses a wider built-in frame and solid wooden legs that makes it more durable.
The couch is filled with resilient foam in each seating that is great for comfort and gives good support to the body.
Each modular sofa couch in this set comes with a hidden storage space where you can keep various things. All these pieces are lightweight and easy to move around and can be accommodated in many setups.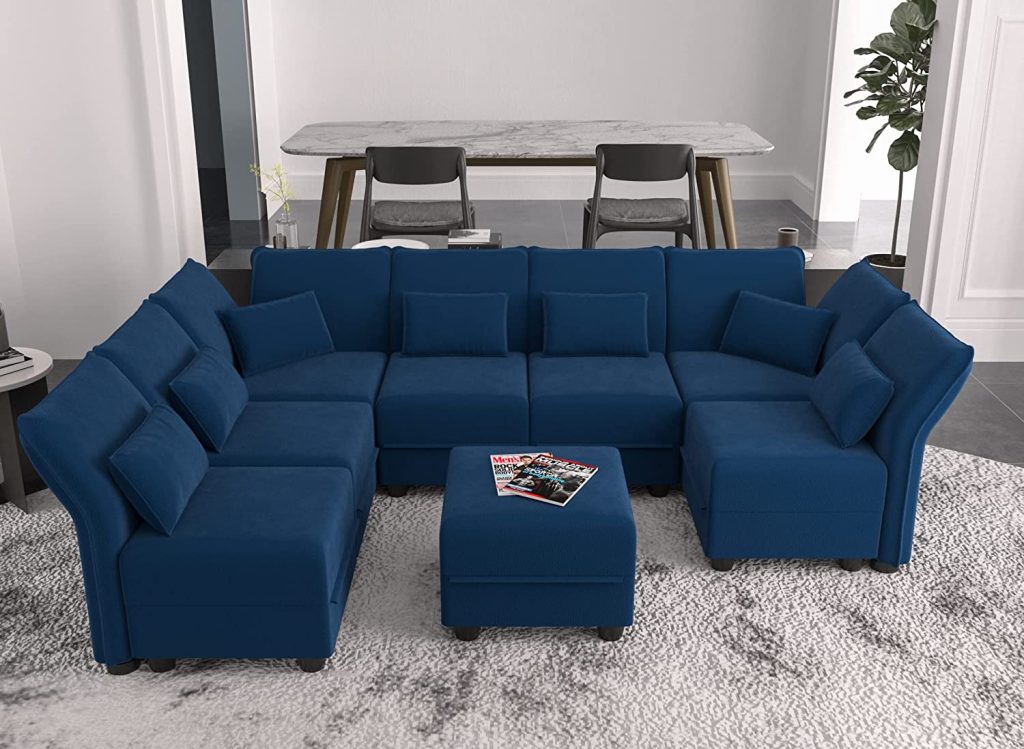 Also Read: 20 Colorful Living Room Ideas to Add Liveliness to Your Home
10. Zolia Wide Symmetrical Sofa
A one-of-a-kind, this Zolia Wide Symmetrical Sofa is made from engineered wood and sinuous spring construction that gives you ample support and comfort.
But comfort isn't all that this sofa offers; it also adds a touch of glam to the room with the gold-tone legs that elevate the look of this piece of furnishing.
The sofa is upholstered in ultra-soft polyester and has top pillow arms, loose back, and square seat cushioning that gives it a chic look. All of these parts of the sofa are removable, which makes it easy to clean.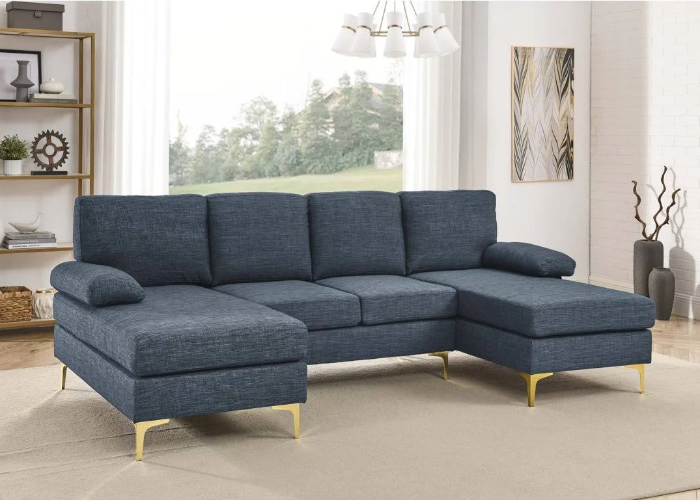 11. CosmoLiving Gloria Upholstered Sofa-Set
This CosmoLiving Gloria Upholstered Sofa is a chic, modern sofa that is a great fit for any living room. It is a mid-century sofa that is a perfect balance between a boho and glam vibe.
Upholstered in soft feathery velvet, this couch has open arms, a simple button tufted back, long tapered wooden legs, and comfortable seating for three people. This Gloria sofa set looks glorious in any setting and gives you great comfort with soft cushions.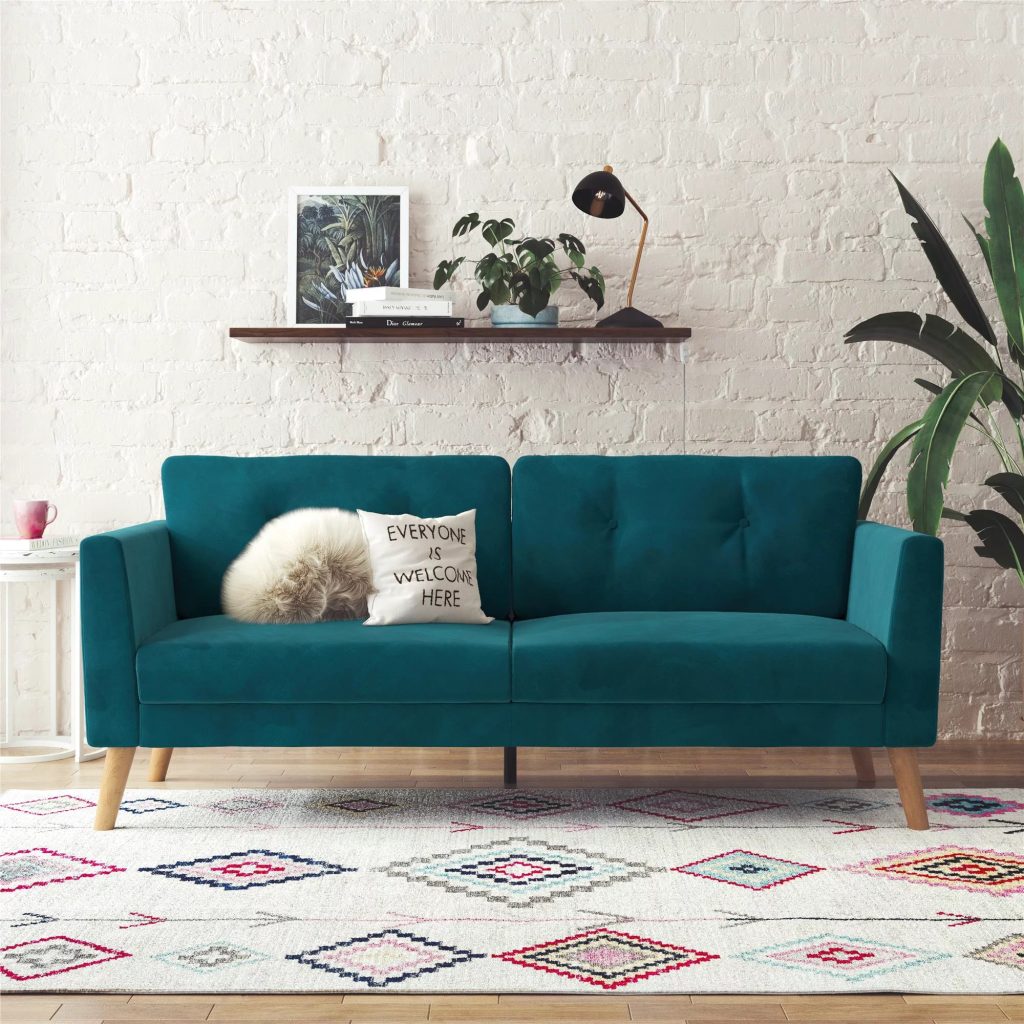 12. Harper & Bright Designs Three-Seater Sofa
Enjoy your time to unwind after a long day with this Harper & Bright Designs Three-Seater Sofa. It is a great contemporary style button-tufting sofa that gives a stylish and classic look.
Supported by beautiful metal legs, this sofa is upholstered in velvety soft linen and provides you with great comfort.
It also has highly resilient sponge cushioning with a spring package that gives you full support. The compact structure of this couch is suitable for any cozy living room while providing ample seating spaces.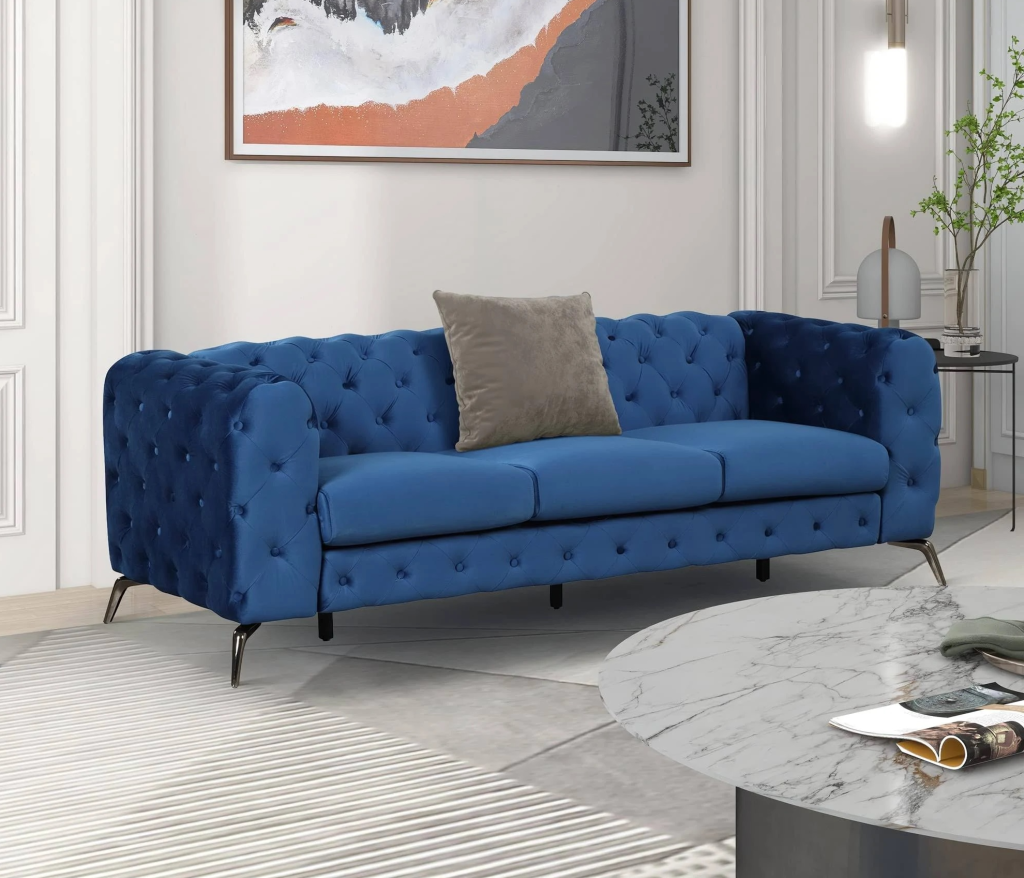 Brought to you by Anji Yinghou, this blue reversible Dutch velvet 3-seat sofa is a sectional sofa made of high-quality fleece fabric.
The set includes a three-seat sofa, one chaise, 3 cushions, and 2 pillows that feel soft on the touch and make your living room look more fashionable. This sofa is set up on a metal structure and is very stable.
It is a great addition to your living room and will complement any interior. As an additional feature, the seat cushions are removable and washable, making them easier to use.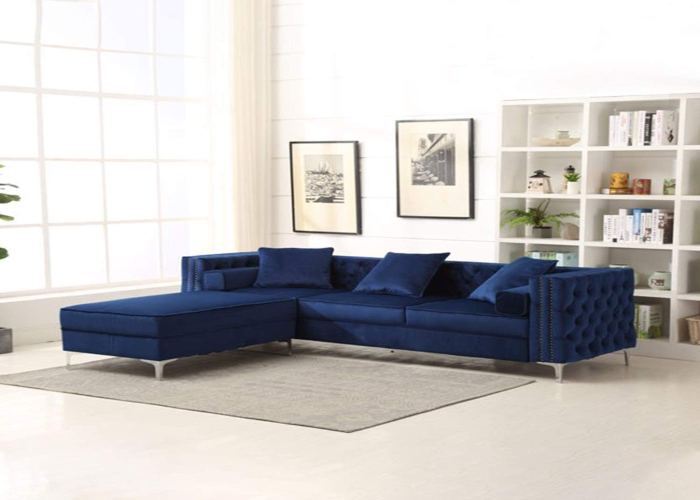 Bringing contemporary style to your living room, this Modway Engage Mid-century sofa has roomy depth and an iconic design that gives your living a mid-century modern design. This sofa embroils a retro design that brings elegance and sophistication to your space.
Upholstered in high-quality polyester, this sofa is set on solid wood, which makes it durable and comfortable. The Modway Engage sofa set is great for lounging and offers great comfort.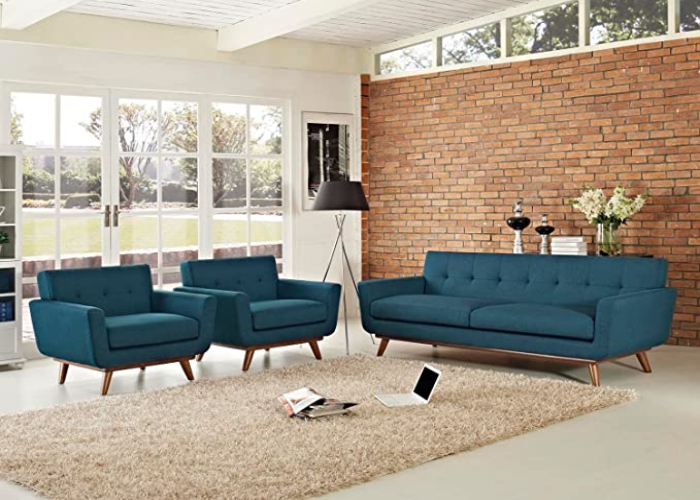 Add an element of luxury to your living room with this Kiss The Krown Blue Velvet Couch. Upholstered in soft velvet, the couch is cushioned with a high-resilience sponge that makes sitting on it very comfortable.
Offering enough space for 3 people, this couch can be used as a daybed and is perfect for a cozy living room. This is a perfect pick for all your aesthetic needs as it will add a contemporary feature and streamline silhouette.
It comes with button tufting along the arms and seat that gives a classic look. However, the wavy back and circular arms make it a modern sofa.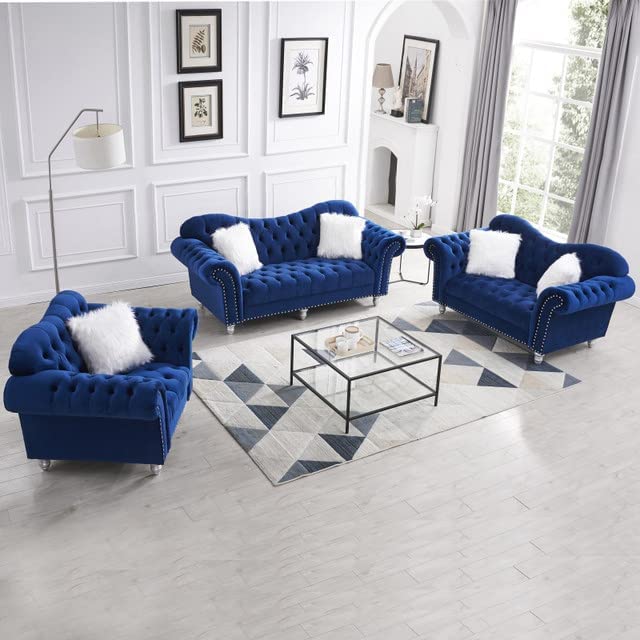 Related: 16 Beach Cottage Living Room Decor Ideas To Give You Coastal Vibes
16. Macleary Navy Living Room Set By Ashley Furniture
A part of the Ashley Furniture collection, this Macleary Navy Living room set adds an aesthetic look to your living room.
Bringing a clean linear design, the blue navy sofa fits perfectly well into a sophisticated space. This set comes with a sofa and a loveseat; all upholstered in 100% polyester.
The sofa set sits on a metal accent brass tone frame that elevates the look of your whole space.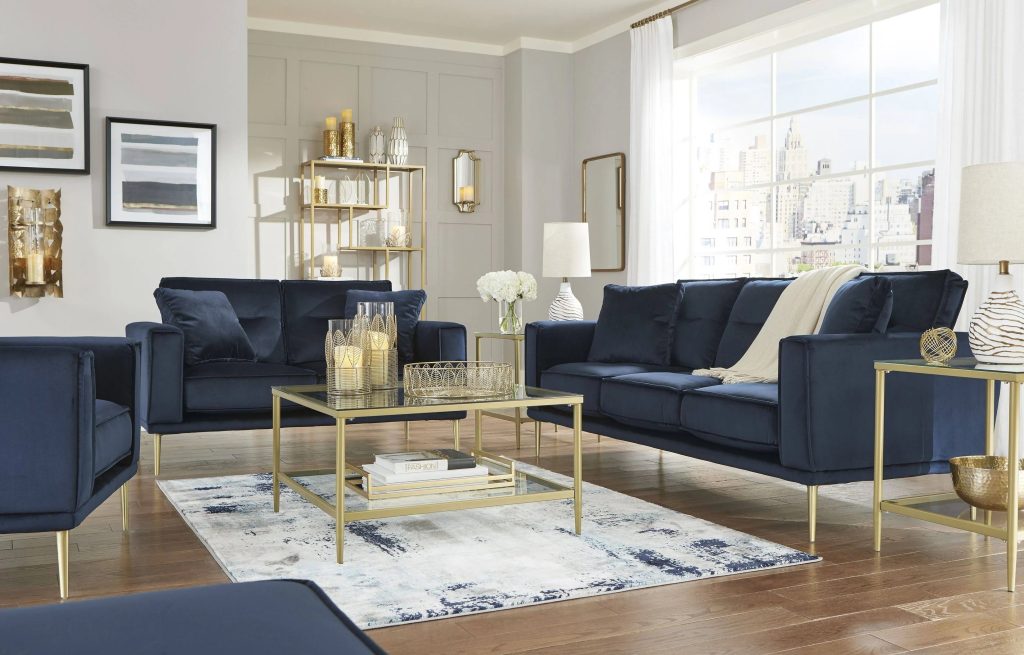 17. Mainstays Memory Foam Futon Sofa
A Walmart product, the Mainstays Memory Foam Futon Sofa features a clean silhouette making it perfect for adding a modern flair to the living room.
It is a comfortable piece of furniture that makes it easy for all of your day-to-day activities and makes seating pleasurable. This futon sofa frame is made out of solid wood that is laid on six metal legs that ensure durability.
The couch can be adjusted in four different positions, ensuring its versatility. Upholstered in soft polyester, this sofa is truly a great addition to your living room.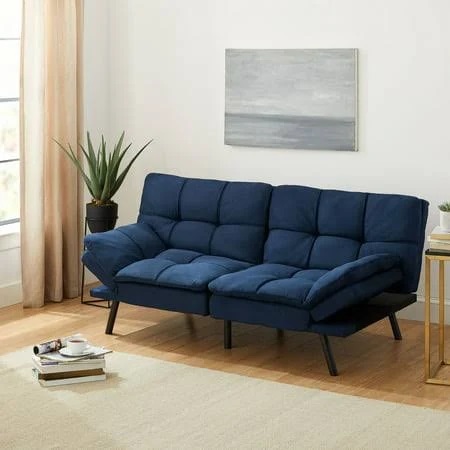 Another great sofa to check out is this Lazyspace convertible sectional sofa that is filled with a high-density sponge making it soft to sit on.
The sofa is covered in polyester fabric that is firm and durable. This sofa set sits on a solid wood frame that makes it all together very durable. Not only this, you get a sofa chaise in this set that is reversible and can be used as a footstool or single seater.
The cushions in these sofas are easy to remove and clean. All of these elements come with storage spaces, which is an additional element.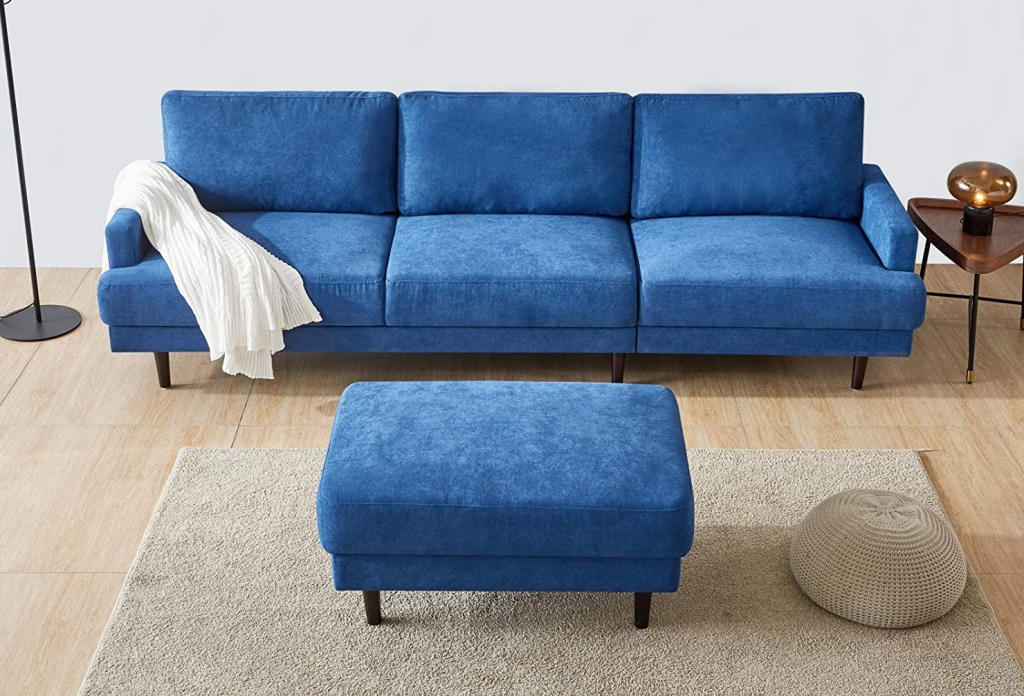 Promising to deliver ultimate comfort, this sectional sofa is cozy and offers comfortable lounging. Covered in soft polyester, the Modway Commix Sectional sofa features clean lines and comes with duck-down cushions that make it a perfect addition to the living room.
The whole sofa has padded cushions and provides superior comfort. The wood frame of this couch lends durability to the set. The elements in this collection include two corner chairs, two armless chairs, and one ottoman.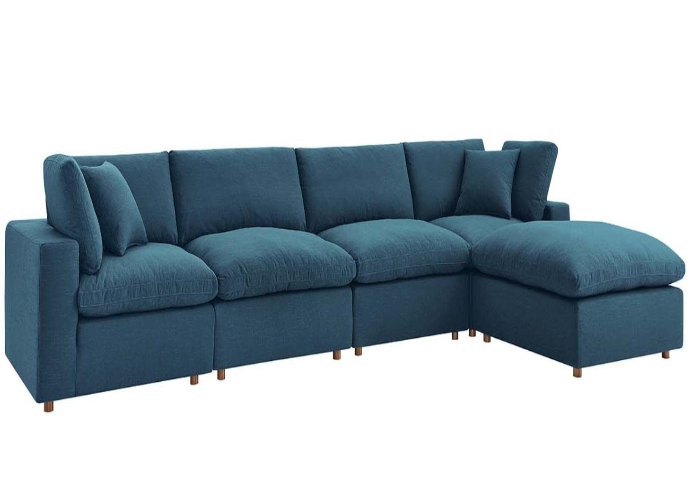 20. Murrow 3 Piece Living Room Set
The Murrow three-piece living room set has a mid-century modern silhouette and adds a retro-glam look to your living room.
The set includes one loveseat and two chairs that are all upholstered in skin-friendly fabric and set on a solid wood frame.
To make this piece very comfortable, the cushions of the sofa set are filled with foam and sinuous springs that make it a great amount of support and are perfect for movie nights or just spending time with your friends.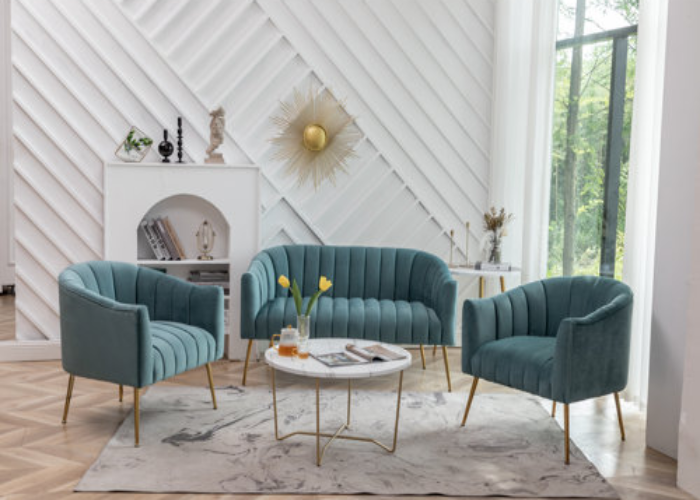 21. Bungay 3- Piece Reclining Living Room Set
This Bungay 3-piece reclining living room set is a great sofa-couch that is your best lounge partner. With this sofa, you can slow the pace of your life and just relax whenever you want.
Covered in great fabric, this sofa set is not only comfortable but also adds a great visual element to your living room. It is a great addition to your space.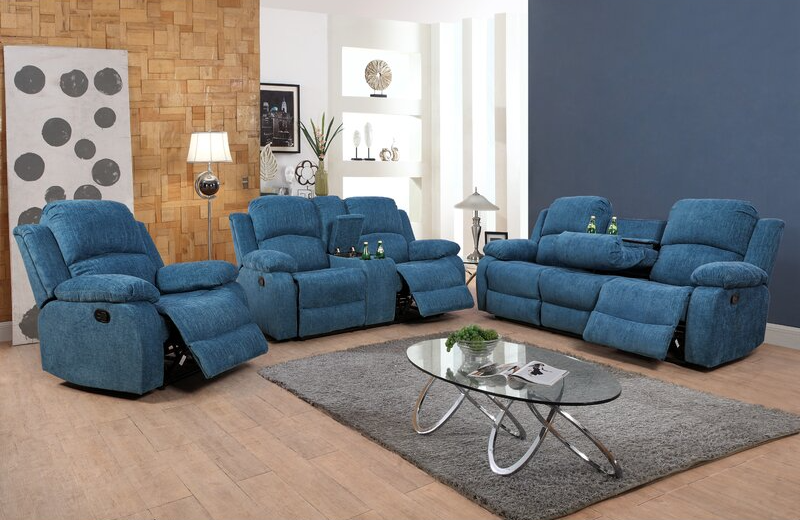 Decorating Ideas With Blue Couches – Tips and Tricks
Sofas are a big investment and one of the most important elements in your living room. If you are planning to add a blue couch to your living space, decorating the room in a certain manner will help you elevate the look of your room and give you the beautiful space you intend to make.
Check This Next: 11 Best Vintage Curtain Options You Can Order Online
Final Words
A blue sofa is a great element to create the perfect look for your living room. Whether you are looking for a bold or sophisticated look, a blue couch will be amazing to get started with.
They aren't hard to style, and with these blue couch living room ideas, you can get great crisp looks in your spaces. They are simple and look beautiful.
There are many different sofas available in the market right now, and you can choose any of those depending on your preference and need. Decorate your living room with a blue couch now.
Other Articles