Are you looking for some flower arrangement ideas? We often give flowers to patients in hospitals, people on their birthdays or special occasions, or as a gift to someone close to our hearts.
But what is the purpose of giving these flowers? At the end of the day, they are a temporary gift that lasts for some time and then die. Yet they are widely used across the globe.
The main reason why we offer each other flowers is to show our love and emotion in the most elegant ways. Hence even after the invention of several items as gifts, flowers remain the top ones.
Similarly, bringing flowers into your home and using them to decorate your place helps to make you feel calm, enhances the look of your house, connects you with natural elements, and makes your place look beautiful.
Further, it helps to clean your air and make you feel fresh in your house.
Best Flower Arrangement Ideas
Here are 25 beautiful flower arrangement ideas for your house. You can use different flowers and pots and arrange them in unique ways to make them look beautiful. Take a look at them.
1. The Pineapple Vase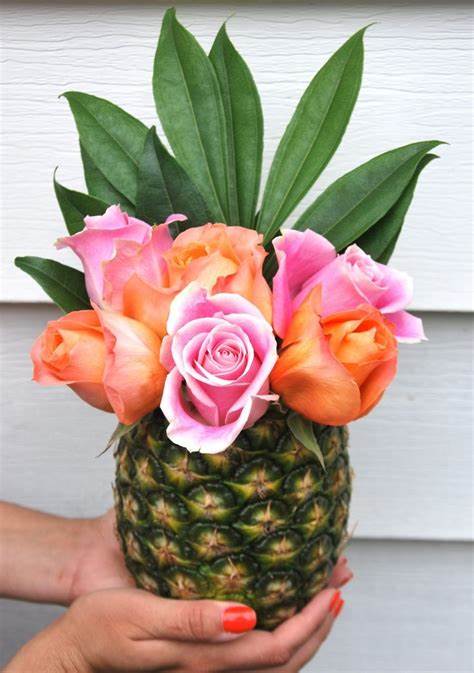 Give a tropical look to your table with a beautiful pineapple vase. You can make this vase at home with a little bit of your creativity and only a few ingredients. You can use any type of flowers to go in the pineapple vase, especially the ones in contrast colors to the vase.
Red and white flowers in the sunny yellow vase will enhance the beauty of your table.
This can be a great flower arrangement idea for any occasion, such as a birthday party, wedding, or cookout. It makes a bold statement in your living room and is one of the easiest flower arrangement ideas.
It does not require much time. Just remove the inside part of the pineapple, which you can eat, and place your flowers to create a beautiful vase.
Similar Post: 12 Stunning Black Front Doors to Make a Bold First Impression
2. Long-Stem Tulips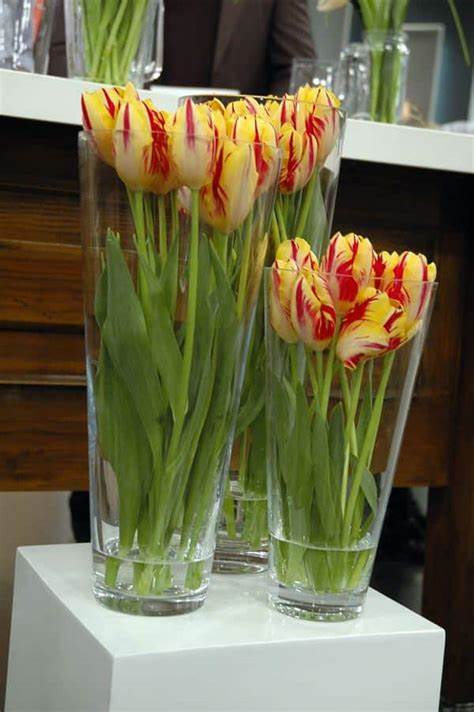 Tulips are flowers with long beautiful stems. Hence utilizing these stems for your décor is one of the great flower arrangement ideas to get the best of these flowers. When they are present in a bunch, they look the most beautiful.
Just buy a few long-stem tulips and wash their bottoms. Cut extra leaves from them and place them in a slim and transparent vase.
Here, the flower is dominant and beautiful to gain complete attention. Hence we can go basic on the vase part. In a vase, put the smaller ones on the sides and the taller ones in the center to give the best possible bulky look.
3. Use Fruits with Flowers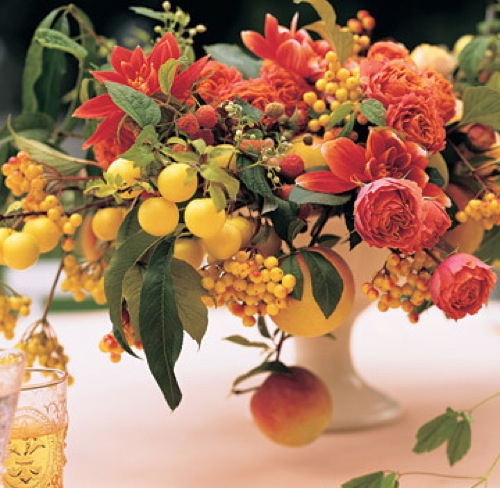 If you have a huge vase and are short of flowers, you can make an arrangement that works best for you in such cases. You can use a fruit that goes well with the color of flowers. This is a great flower arrangement idea for both outdoor and indoor spaces.
For example, you can use a white flower like Clementine, along with oranges in between. Further, use the leafy part of the flowers to add to the combination. Now, in this case, as you have already used a combination of three colors, you can keep the vase of glass that is transparent.
This enhances the beauty of your curation. This is a perfect vase for summer vibes.
4. Ginger Jar Arrangement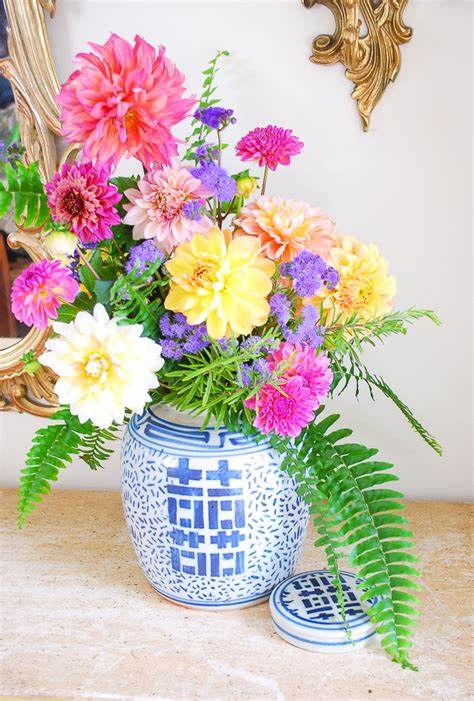 If you have bought a classic and expensive ginger jar, here you don't need any extraordinary flower arrangement ideas as it is the simplest way of flower arrangement. Ensure that the ginger jar is painted with bright colors that go well with your walls and curtains.
Now choose some bright flowers that are not exactly the color of the vase.
If you have bought a jar, it is definitely to show it off. Hence, using contrasting colors can help both the vase and flower look prominent, and the arrangement will have some flow. Further, keep some leaves hanging out of the vase for a better look.
5. Let Them Float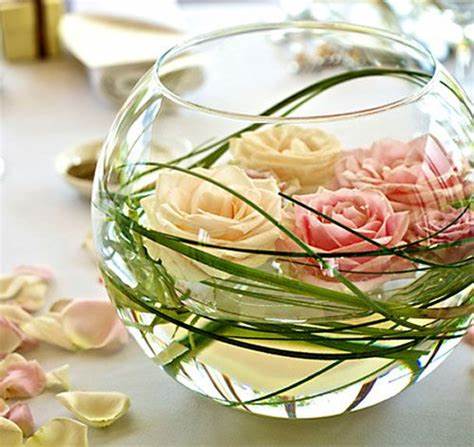 This is another great idea from the flower arrangement ideas to decorate your room with flowers. If you have flowers that have become old or the leaves are shedding, you can remove all their petals and place them in a transparent glass bowl full of water.
If you can, you must light a candle on the water so that the light reflected through the glass and water gives an elegant feel.
You can use any flowers, such cases as roses, lotus, hibiscus, and others. This is the perfect way to get the best out of flowers that are about to die. It also emits a good fragrance in the room.
Further, in this way, you can utilize the flower for a long time before throwing it off.
6. Floral Centerpiece in Your Living Room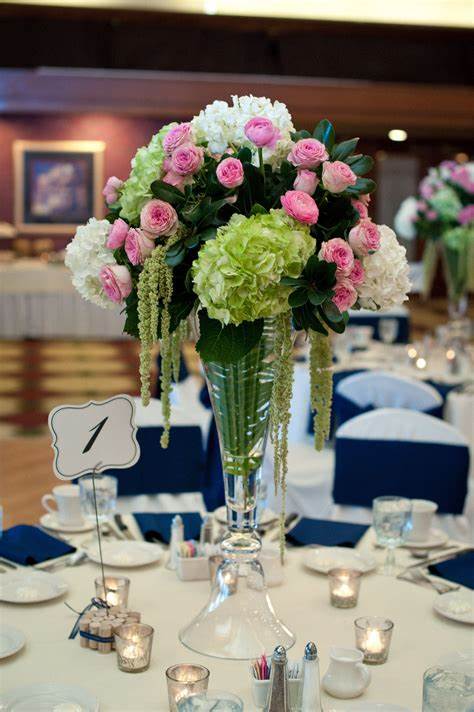 Based on the color of your living room, you can use flowers that would suit your entire arrangement. This flower arrangement idea will make you feel like you are on an foreign island. You can use any color and flower as long as the color goes well.
To get more creative, you can use a combination of two or three colors that will help you add a statement to your drawing room. It will enhance the overall environment of your living room.
It will give a refreshing look to your room.
7. Monochromatic Theme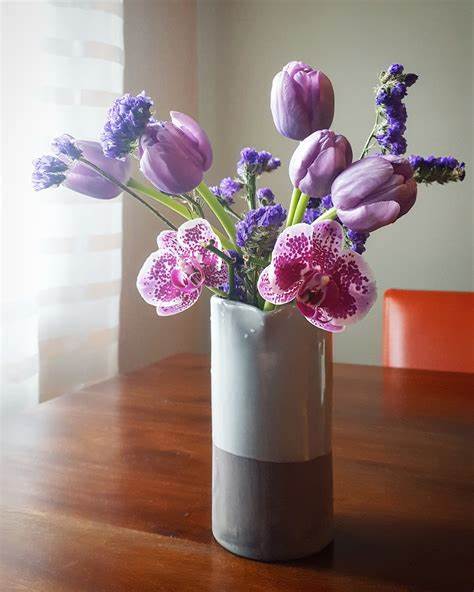 Flowers do not require you to go out of the way to make the room look good and vibrant. They help you to lighten up your home décor with just minimum effort.
A great-looking flower vase does not require an over-the-top flower arrangement idea or curation of several flowers. You can just use one single color of flowers, and that would be enough to catch anyone's eye.
This will help you to attain a modern and classy vibe in your room. To make the arrangement interesting, just ensure to buy flowers of all shapes and sizes.
8. Mini Arrangements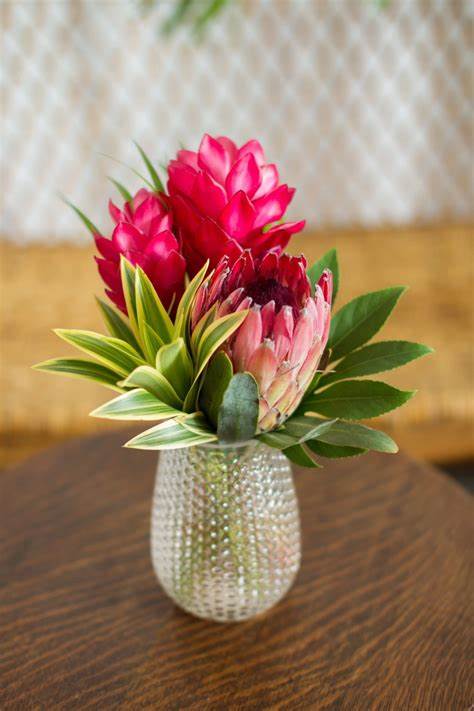 To create interesting floral décor, you don't always have to use huge impact flowers or vases. You can use small flowers available in your backyard and use old containers or bottles as your vase. You can place this arrangement at multiple locations in your house.
This will give a sense of pattern and curation in your house. You can enjoy the beauty of flowers in every room. This is one of the low-budget flower arrangement ideas.
You can follow this method regularly in your house.
Also Read: 21 Stylish And Simple Dining Room Table Decorating Ideas
9. Multi-Purpose Flowers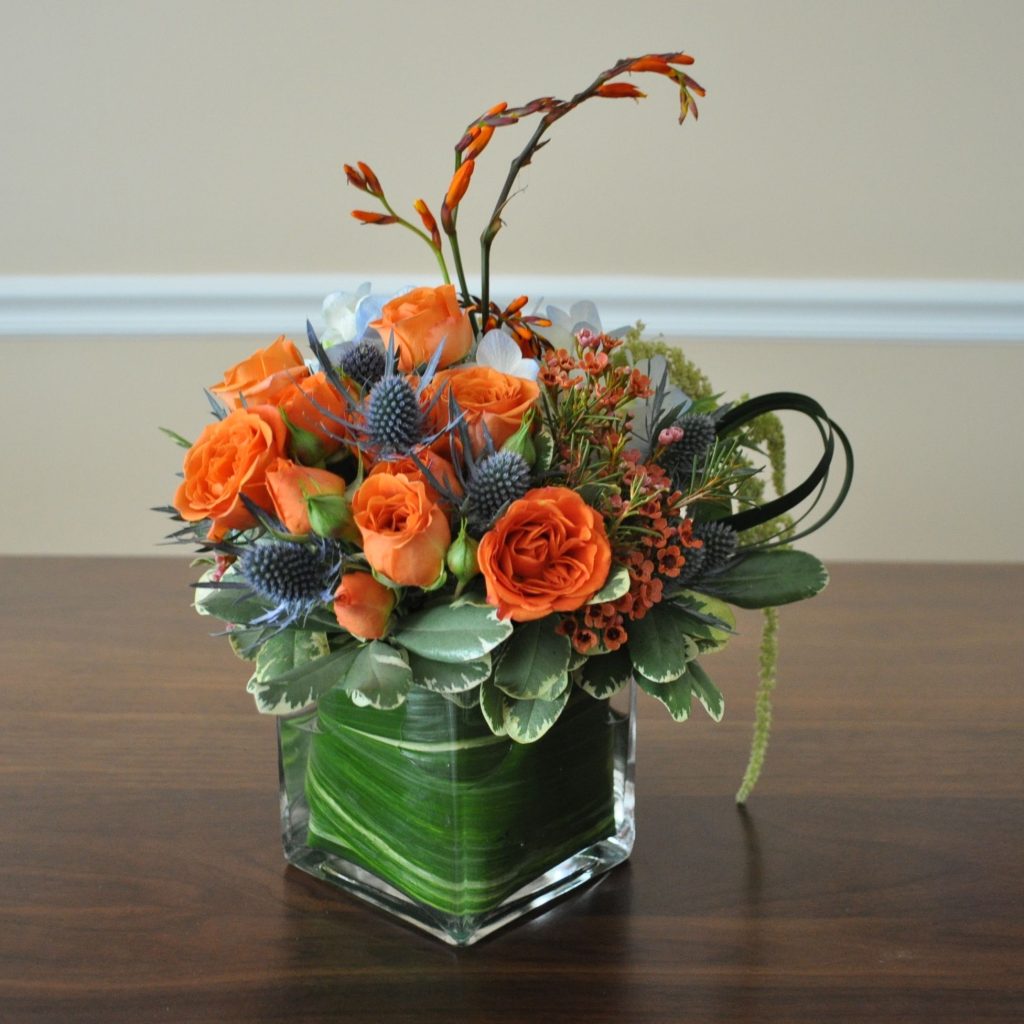 We think flowers only do the part of adding beauty to your house. But in reality, they can have multiple uses.
There are several varieties of flowers, including chrysanthemums and lilies, that not only look beautiful but are also useful to purify the air of the place where they are kept. You can place these flowers in your house to enhance your home's air quality.
Further, they are beautiful to look at, especially in a neutral-colored or wooden vase. They glow up the space with their vibrant colors.
10. Unique Vessels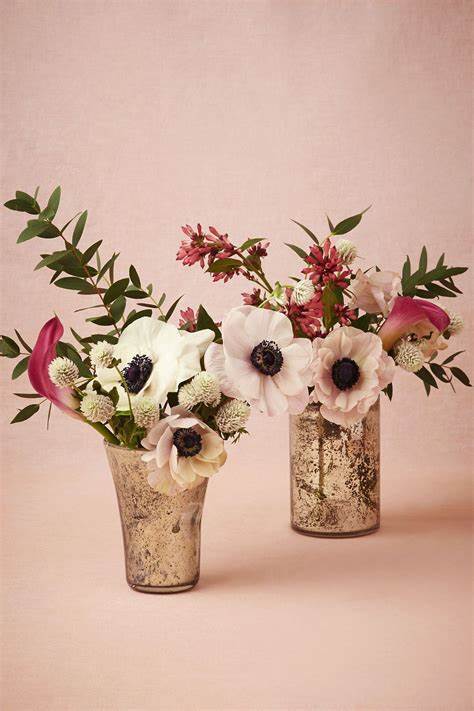 We all have some unique vessels or pots in our homes especially used in the kitchen for storage purposes. If any of the vessels got spoilt or if you get bored with any of them, you can convert them into beautiful vases just with a few modifications and décor.
You might need to paint them or cover them with accessories to get the best of the waste vessel.
You can put light and thin flowers with them as the vessels are the ones doing all the work. So use your creativity and make the best use of your waste products.
11. Floral Chandelier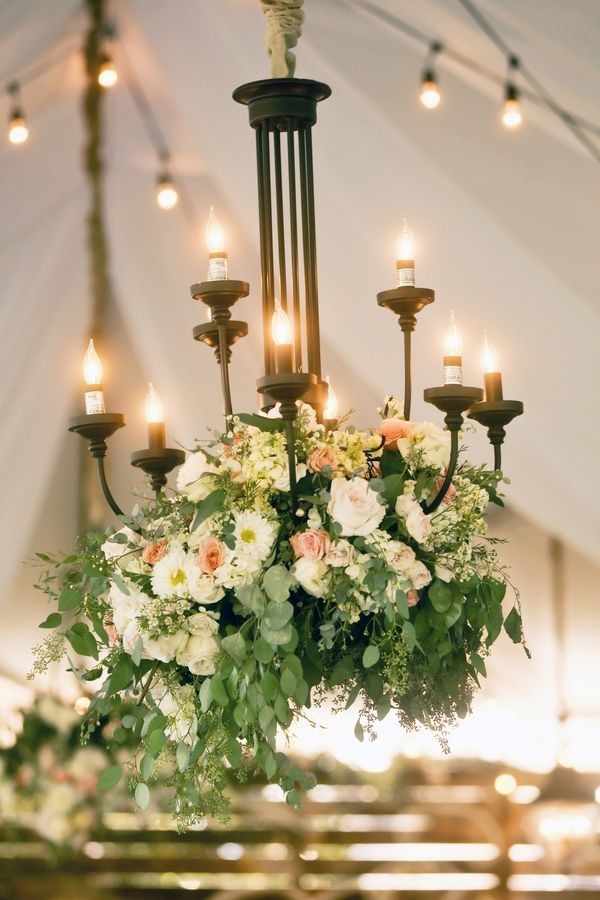 If you have a chandelier in your living room, you might want to spice it up a little with some flowers to enhance its beauty. This will drastically elevate your chandelier, and it will look brand new in design and look.
You can use small flowers of any color or a mixture of different colors of flowers based on what you are expecting out of the look.
If you want an elegant and great-smelling chandelier, you can choose one classy color, like white or yellow, to give it elegance. If you want to brighten up your place, use the chandelier with mixed-colored flowers.
12. Warm Décor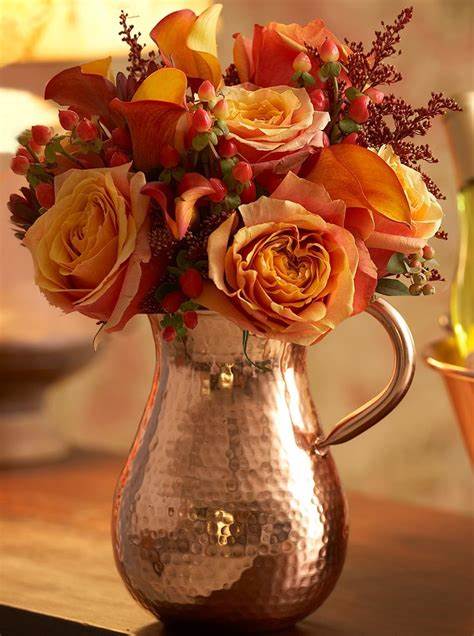 You can use one or multiple flower arrangement ideas and put together a vase that feels the best to you. If you are creating a flower arrangement for the first time, you might not want to risk different designs or colors.
You can keep it simple by using the safest flowers and colors that are generally liked by everyone, like roses, lilies, tulips, and others, as per your choice. You can use multiple flowers in similar shades like yellow, orange, red, etc.
Further, you can use a clear or white vase. This will create a warm look in your house.
13. Underwater Blooms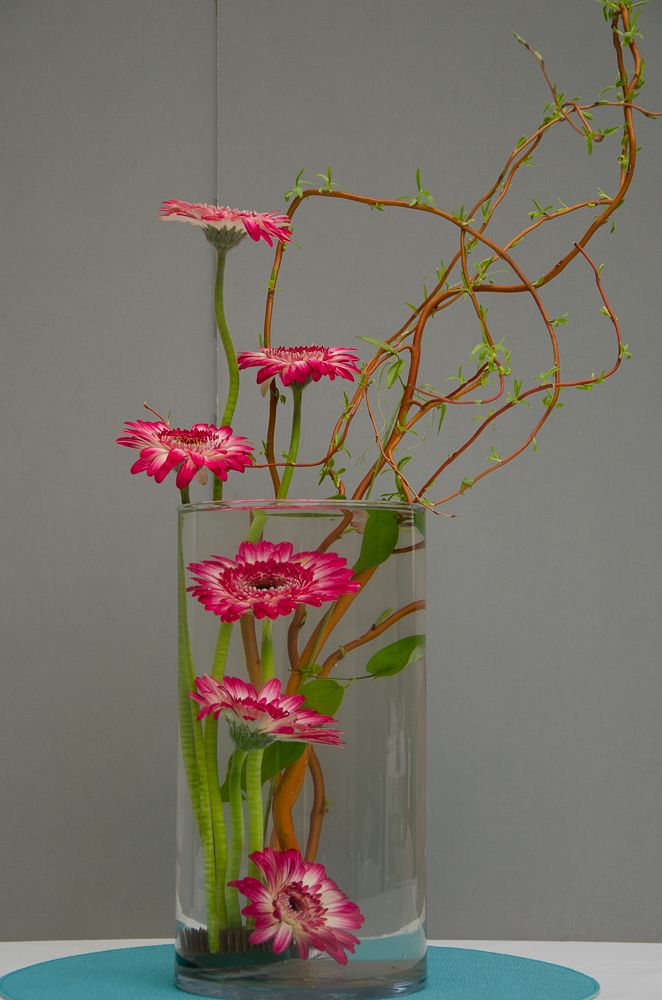 If you are preparing for a date, you will go for the typical romantic flower arrangement idea of red roses. But if you want to change it up a little, you can put a little more effort into it and enhance your date drastically using this flower arrangement idea.
You can use a tall vase of glass and fill it with water. Then put huge flowers of different colors in the vase till its bottom. Make two of these arrangements to make it look more impactful. This will add romance to your table.
You can also use a wire to keep them in place, as the flowers are likely to float in water.
14. Roses in Silver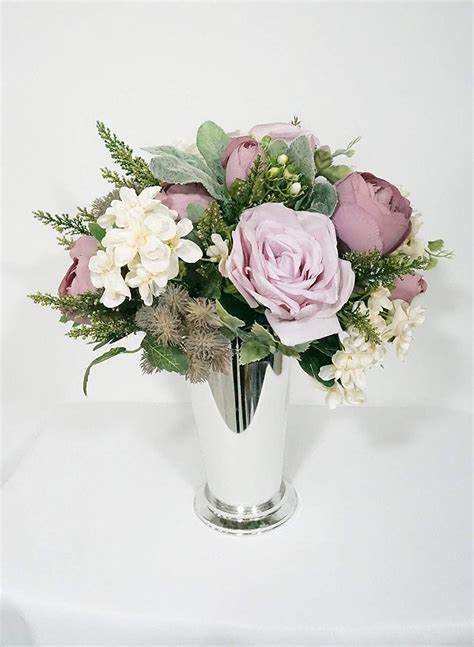 If you are thinking of vase shopping or ordering them online, you can opt for some regular vase options with vibrant colors and basic shapes. However, if you want to experiment a bit with the colors of the vase, you can order a silver vase for your drawing room.
In such a vase, you can put roses or tulips in two colors. Mix them well and place them in the vase for a classy and rich vibe.
Silver is a safe color to experiment with for a vase. All flowers have vibrant colors, and silver is a neutral color that goes well with it.
15. Sunflower Centerpiece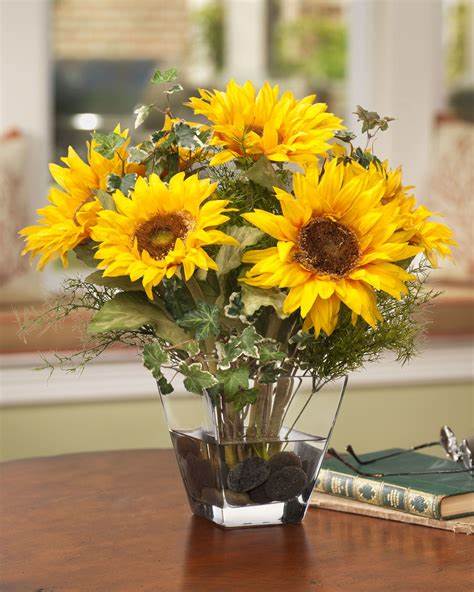 See More: Top 25 Farmhouse Sofa Table Decor Ideas for your Living Room
We all know the sunflower is a wholesome and vibrant flower with the brightest color, the most beautiful shape, and huge. These flowers occupy a lot of space and create a huge impact wherever they are placed.
There is no better place to place these flowers other than a centerpiece in your drawing room. Use some leaves and add sunflowers for the most attractive centerpiece. This will create a huge statement for your room.
Further, it is a highly attention-grabbing flower that will leave everything else unattended by whoever comes in. You can use a vase that is a simple and neutral color or use a contrast color in purple or blue to enhance its dominance.
16. Bottle Vase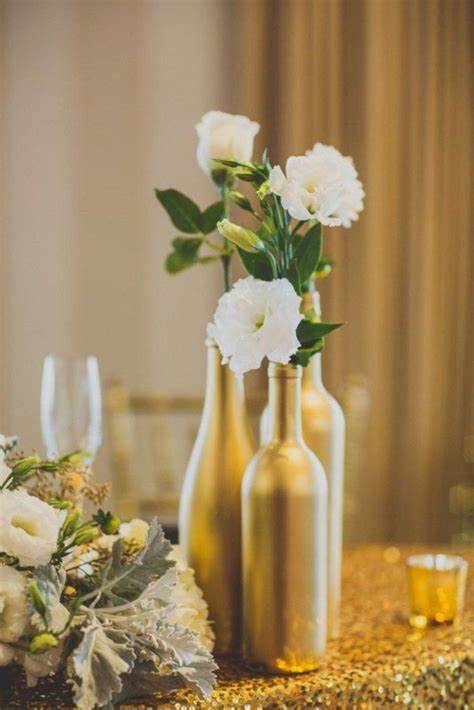 When it comes to flower arrangement ideas, you can get as creative as you want. All of us have containers, bottles, vessels, broken cups, and boxes in our homes that are just waiting to be thrown out.
You can utilize these vessels and containers, decorate them as you like, and use them as a vase.
Further, you can also use water bottles, plastic bottles, etc., to keep your flowers as they are already attractive in looks. This can help you to reuse unwanted materials in your house for decorative purposes.
Make the best of these elements and arrange your house.
17. Professional Arrangement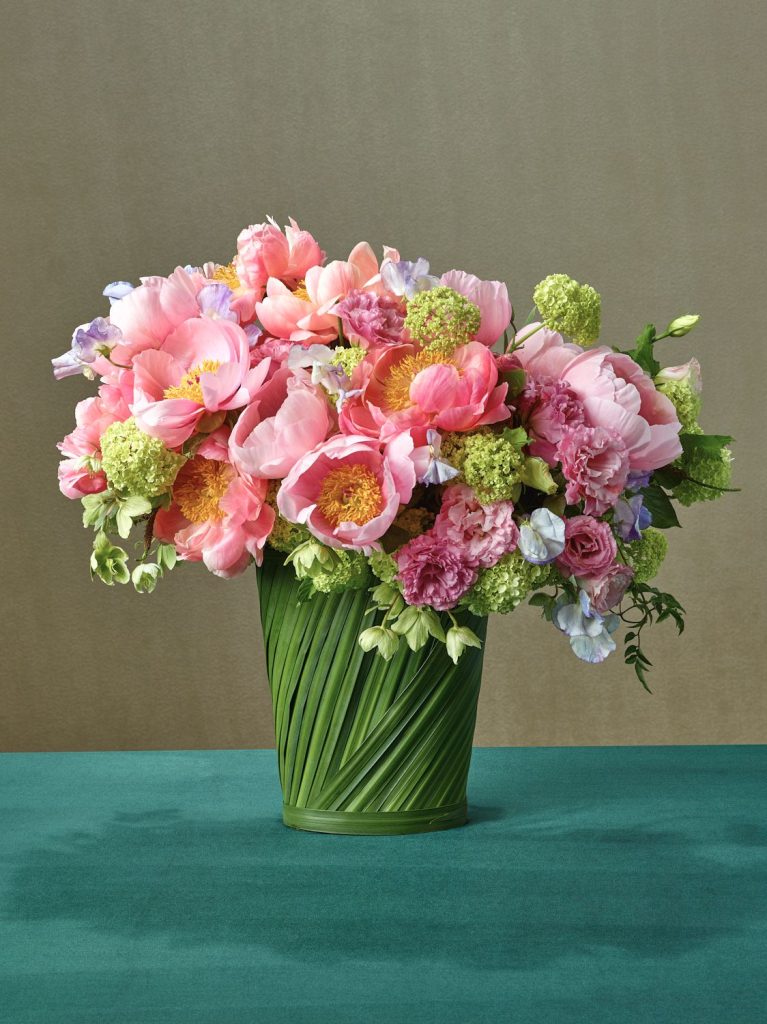 Coming up with flower arrangement ideas does not require you to be an expert or professional in the field. You just need the basic sense of color, taste, and flower combinations.
To make the flowers best suitable for professional arrangement, it requires the perfect amount of leaves and greenery in the vase. Further, you don't have to go over the top for the vase.
You can use any basic one, a transparent one, or a white one to make the flowers look good.
18. Pale Flower Arrangement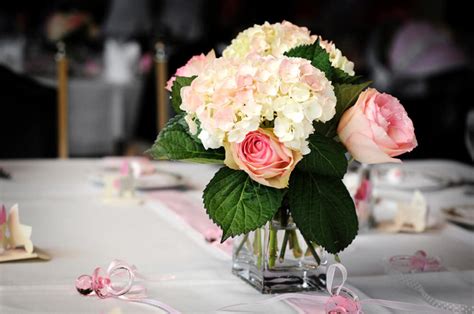 If you want your flower arrangement to be the center of attraction without fail, you can use this one from the flower arrangement ideas.
Use pale flowers of pastel colors containing white, pink, and orange shades and arrange them together in a white or pink colored pot. This arrangement will look highly elegant and stunning.
19. Minimalist Approach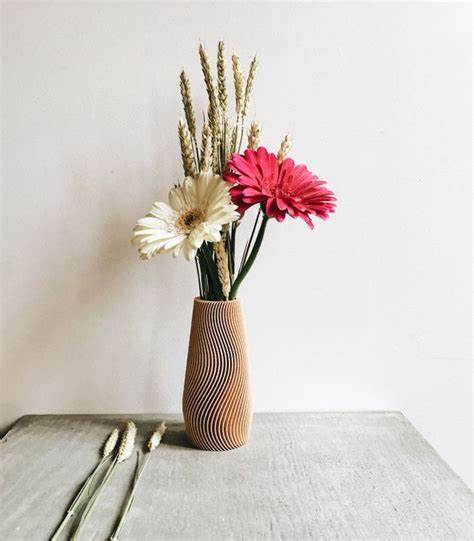 To give a minimalistic feel to the vase, use a simple yet elegant flower arrangement idea. Use a beautifully shaped vase in white color or glassware. Use two or three flowers of your choice in opposite shades of white.
You can use red, purple, orange, and blue. You can also use sand in the vase for the flowers to stand in place.
20. Pumpkin Vase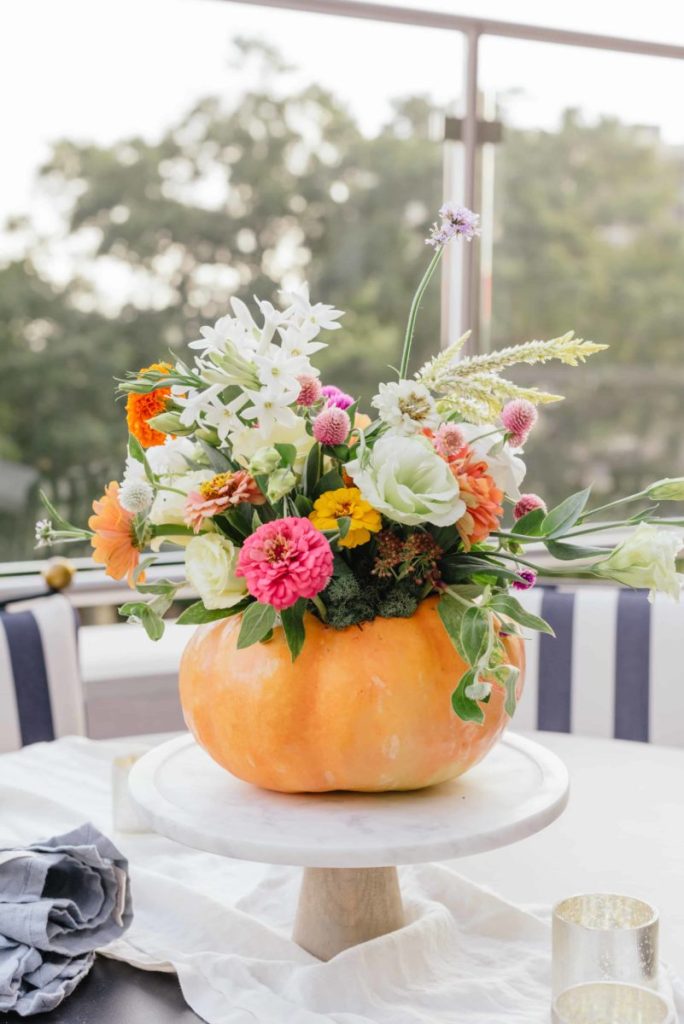 Just like pineapple, pumpkin can also be used as a vase. We have pumpkins lying over our place, especially around Halloween. You can use them to create a beautiful vase for your flowers.
Just dig a hole in the pumpkin and place your flowers. It will hold them tightly. Use green leaves or herbs to make it look warmer.
21. Balance the Leaves and Flowers Density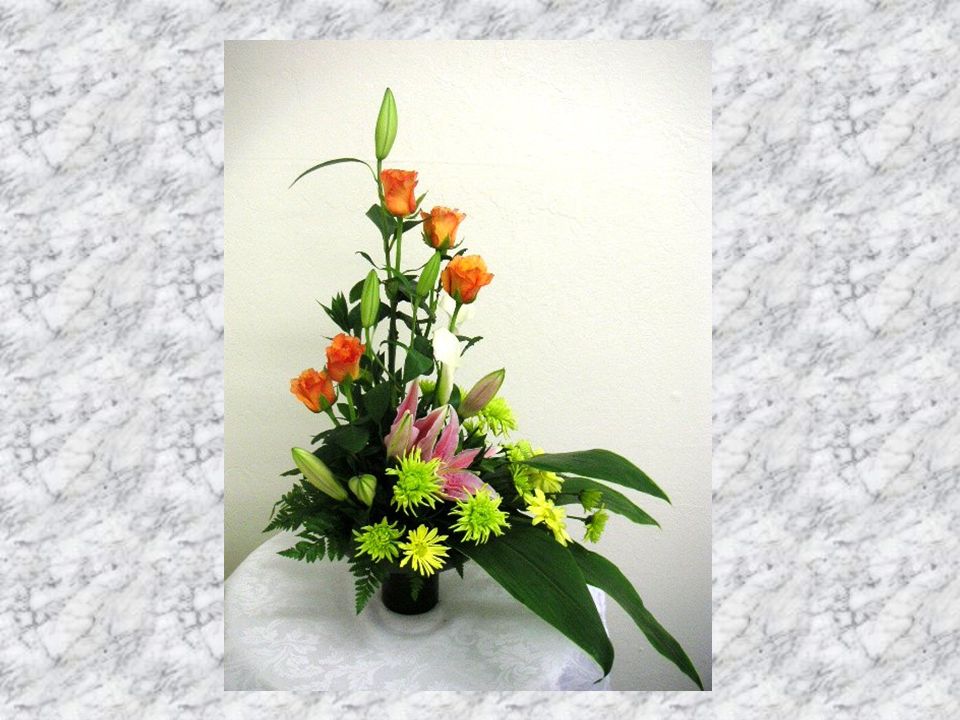 When we are using leaves and flowers to implement any of the flower arrangement ideas, the leaves likely take over the number of flowers. This will not be a great way to decorate the vase.
Always keep the leaves and flowers' density the same in the vase to make it look beautiful and let the flowers play the dominant role.
Related: 11 Spring Room Decor Ideas for Kitchen, Living Room, and Bedroom
22. Go for Asymmetry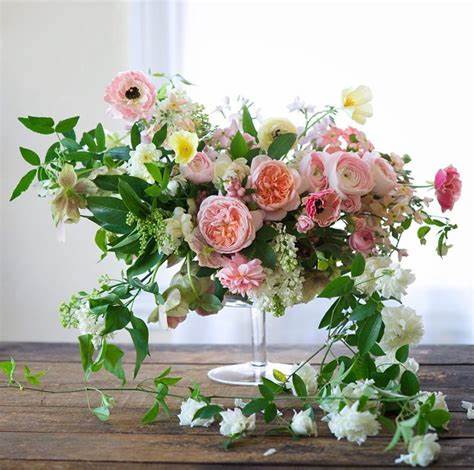 One might think that symmetry will make the flowers look good, but in the case of flowers, the impaction and asymmetry make them look beautiful and unique.
You must achieve the balance between leaves, flowers, and colors and yet let it be imperfect in order. You can arrange flowers of different sizes and shapes and make one side taller or denser than the other.
23. Use Anthuriums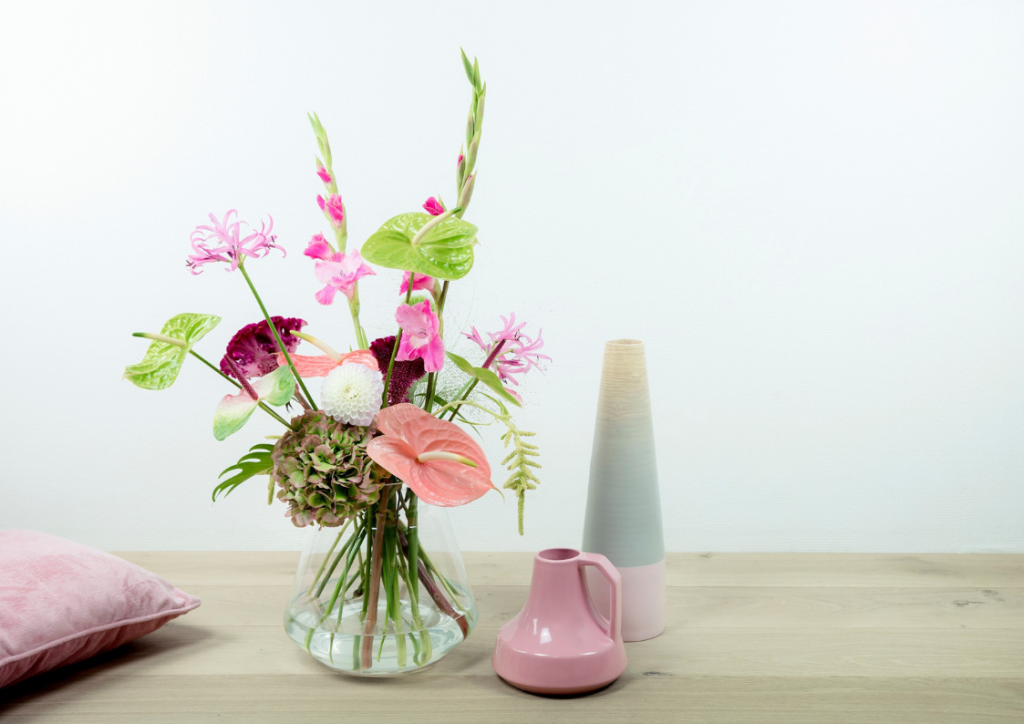 Anthuriums are leaf-like structures of white color, beautiful and elegant, but arranging them for decoration might seem a little tricky.
You can use these flowers with a small vase and use just them along with some greens. They have a dramatic impact on your table.
24. Hanging Florals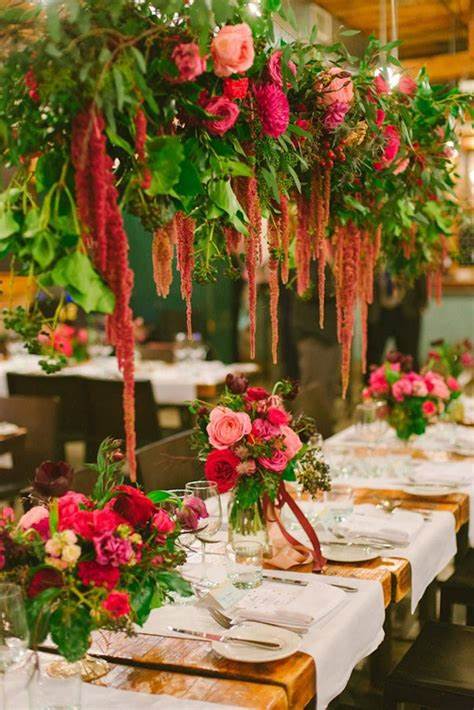 Sometimes you can think out of the box and go beyond vases and bouquets with your flowers and go for this flower arrangement idea. Hanging floral arrangements of different colors and sizes can make any place look dramatically attractive.
It cannot ever go without being noticed. You can use drapey long leaves for a beautiful arrangement. It creates a vibe that you cannot forget.
25. Nightstand Vase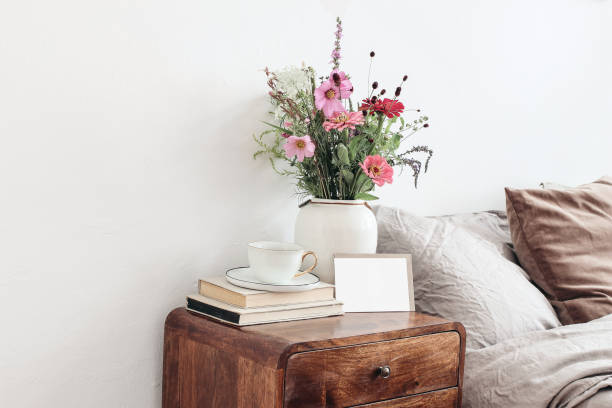 You can keep a flower vase in your bedroom and keep changing the flowers frequently as per the season. Flowers help to clear your air and help you sleep calmly. Further, it will make you feel good about being there.
You can use a simple vase or any vessel and keep flowers in it. It will help your bedroom remain fresh and pleasant.
Conclusion
So, get over the boring ways of putting all the flowers in the vase, and get comfortable with curating them as you like. Flower arrangement ideas involve a lot more ways and methods of decorating your house, as there is no limit to how creative you can get.
They will not just make you feel beautiful and smell pleasant but also purify your air and help you connect with nature. You can use these ideas as it is or pick some parts of a few of them and curate something of your own by using these ideas.
Check This Next: 10 Inspiring Coastal Grandmother Style Home Decor Ideas
Other Articles