Dining rooms are usually kept bare, apart from the tables and chairs. The walls may be well decorated with artwork, but the first thing people notice when they enter the room is the table. But how to make sure the dining table creates a lasting impression on your guests? The solution is to use some of the dining room table decor ideas out there.
With the help of these tips, you can liven up your dining room even when it's empty. The options available also suit every decor choice and personal preference of most guests.
In this article, we explain all the perfect centerpiece that matches the vibe of your dining room.
Decorate Your Dining Room Table With These Decor Ideas
1. Tablecloths
It takes a lot of effort to make sure your home is elegant as well as comfortable. Therefore your decor needs to be practical yet beautiful.
If you are constantly overrun by guests, you might want to rethink the costly bouquets on your dining table.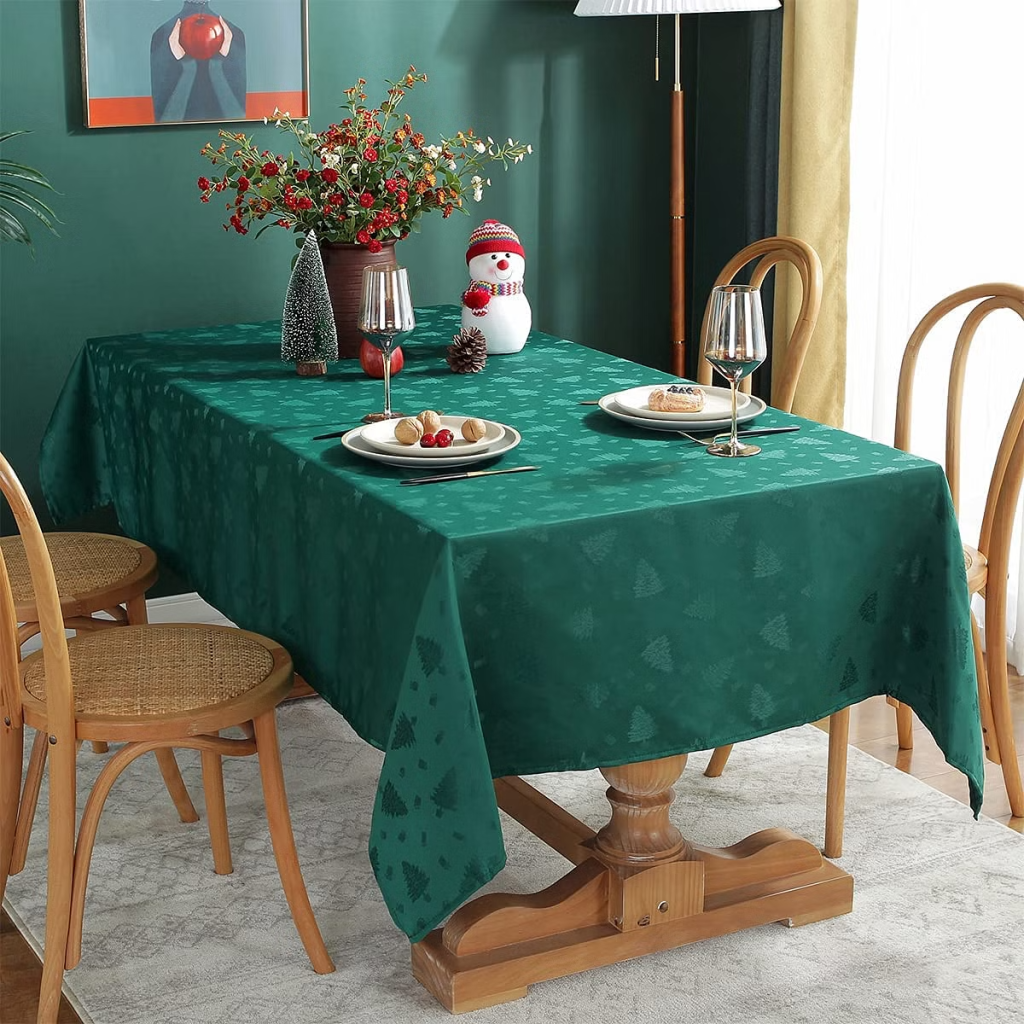 Instead, opt for a pretty tablecloth to cover the entire top of the table. Your choice of tablecloth can be anything, from simple cotton to festively colored to match certain holidays.
These can be easily washed in case of a spill and are maintained easily.
2. Candles
One of the most popular dining room table decor ideas out there is candlesticks of different types and materials. They are by far the best option for intimate dinner parties.
An assorted selection of candlesticks with a big bouquet of roses sets the tone for a warm romantic room.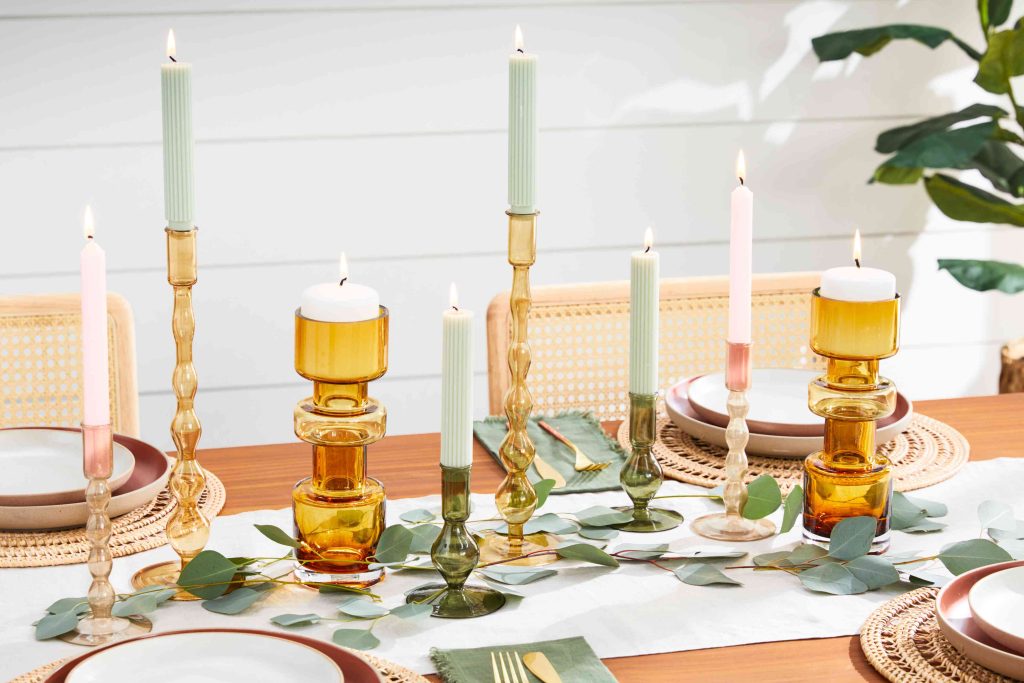 Your choice of candle holders also supports the focal point of the centerpiece. The vintage candlesticks that are available in dark tones are a great contrast with plain white candles.  The candles can be easily replaced, making the holders last a long time.
Similar Post: 21 Stunning Dining Room Designs for Your Home!
3. Ceramics
Minimalistic decor never goes out of fashion and is the best way to keep your room clutter-free. If your dining room color palate consists of mostly dark tones, your table decor ideas can be pristine white.
The result will be dramatic yet understated. A big vase filled with vivid-colored flowers will always be a classic centerpiece choice.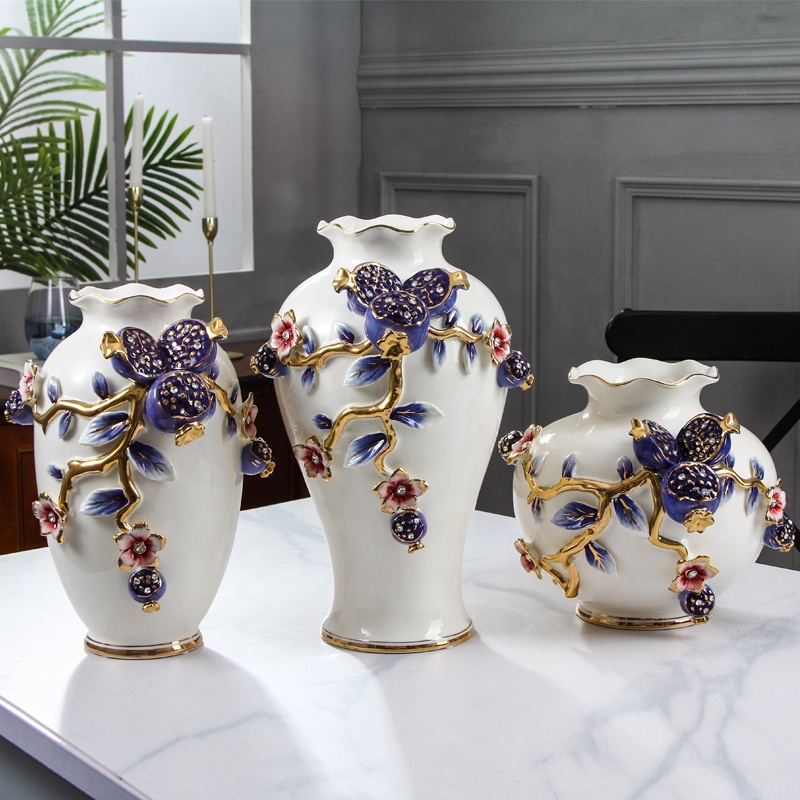 Apart from one statement piece, you can also choose multiple ones. A set of three ceramic vases always brings balance into a room. A couple of richly decorated vases also make the room look luxurious and exciting.
4. Iconic Glassware
Feeling tired of ordinary vases for your centerpiece? Opt for whatever glassware you have around. Select a few of your most iconic bowls and plates, stack them up, and create your unique decor.
You can make this a single statement piece or just keep on adding stuff and covering the table from one end to the other.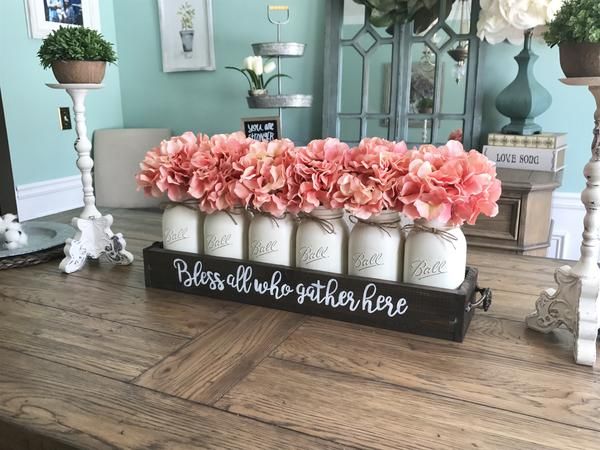 Other types of glassware often used as a centerpiece are repurposed mason jars. You can use the jars at home, or buy the decorated ones online for a cohesive piece. These small ones are perfect for containing mini bouquets.
5. Table Settings
If you have guests coming over and want the table to feel welcoming, simply set the table ahead of time. This way, you won't have to spend time and effort selecting good dining room table decor ideas.
You can also use table linen in case of a wooden table to avoid stains.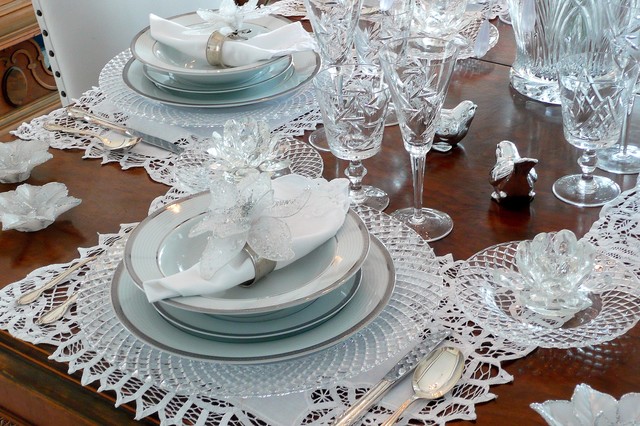 To set your table elegantly, you would only need a couple of things. Apart from your prettiest plates and cutlery, get some cloth napkins and napkin rings.
To go all out, you can even watch some videos on how to fold them neatly. In the end, your dining room would look pretty without much effort.
6. Lanterns
Apart from candlesticks, lanterns, too, are a great addition to a dining table. It is a source of light that doesn't overpower the surroundings. The geometric shape of the lanterns also brings a new dynamic to the table, making it look unique in terms of texture.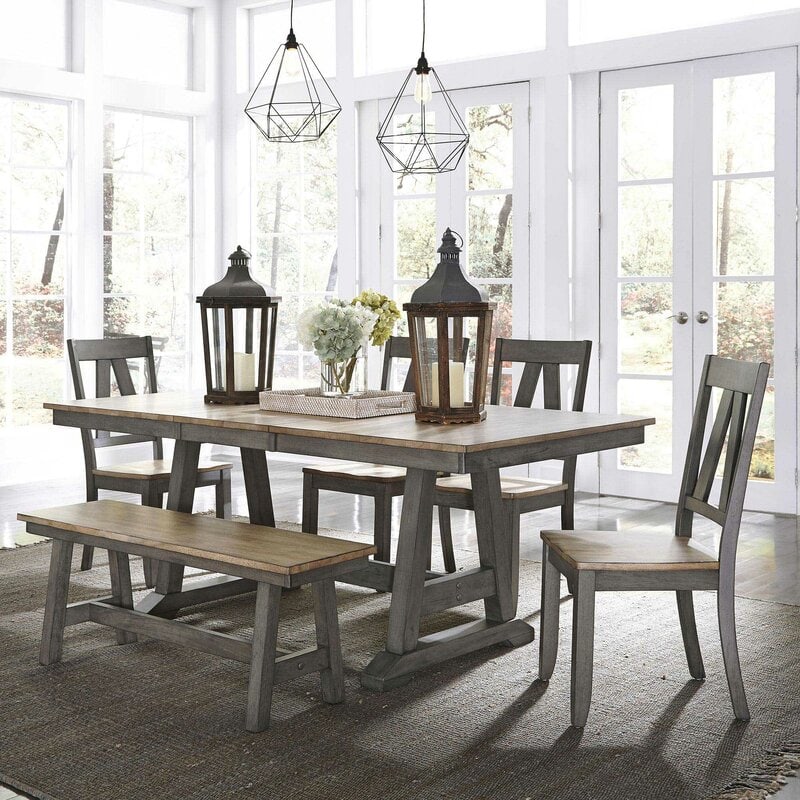 There are many types of lanterns available, and your choice depends on your overall aesthetics. For those with a love for farmhouse-style decor, a rustic set of lanterns made of wood would be best.
For the minimalists, the sleek metal ones create the perfect backdrop.
7. Chandeliers
Sprawling dining tables are a statement by themselves. And people often think that these especially need huge centerpieces to balance them out.
Contrary to this belief, you can keep your table bare and focus wholly on the light fixtures above. With this, the focus of the room becomes the table itself and not just the decor.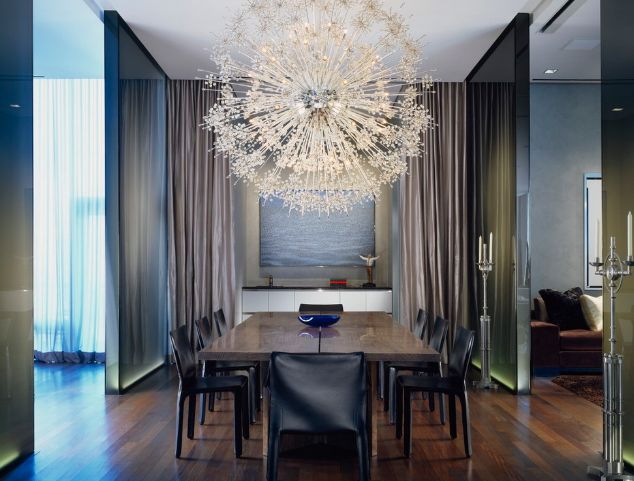 Unique chandeliers with accents of gold and crystal often bring a luxurious vibe to the entire room. These pieces draw the eyes up and keep the center of the table free.
The bare table, along with the wall decor, when paired with stunning lights, make for a drastic effect, even without any centerpiece.
8. Planters
If you want your decor to look warm and welcoming, your dining room table decor ideas are bound to be earthly. And often, people just go for flowers to achieve that effect.
But fresh flowers are just temporary. So, instead of something that would decay in a matter of days, choose something green that would live on.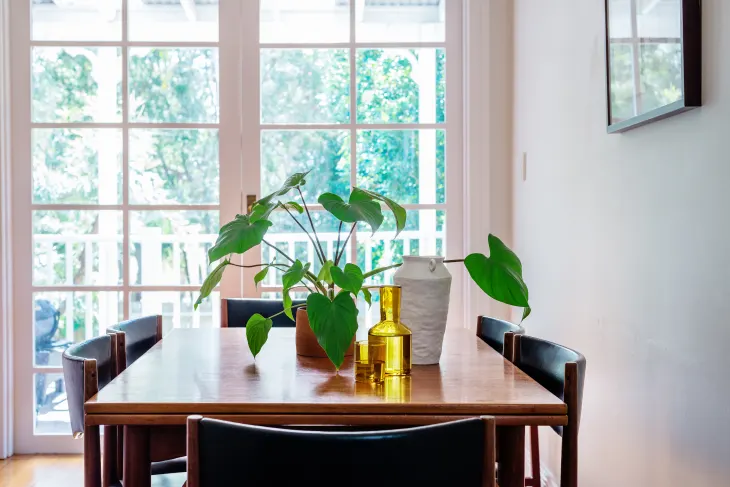 Plants are a great substitute for bouquets on the dining table. Place on cute planters, and the result is often a rustic farmhouse style that complements your decor effortlessly.
Some of the best indoor plants that need little light are lucky bamboo, palms, and dracaena.
9. Serve a Tiered Tray
Trays are often found on coffee tables or around the living room to help clutter. But they are also great decor for your dining table. Combined with other centerpieces, this look gives off a feeling of structure and contrast. The tray also works in clustering your mini-decor items together to look more cohesive.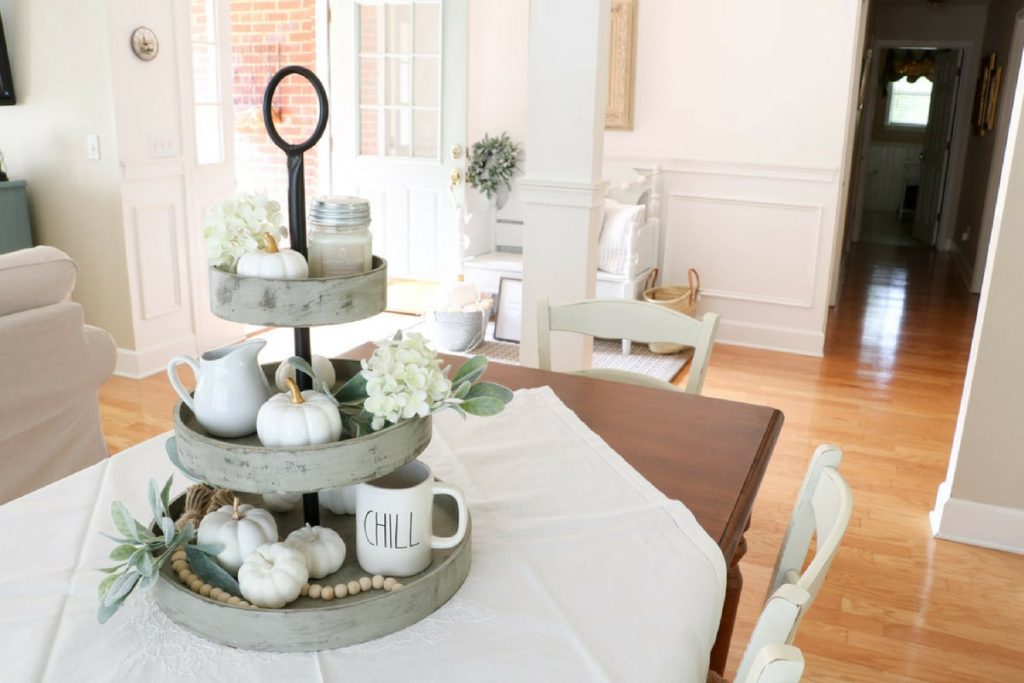 Instead of one tray pulling the centerpiece together tightly, choose a tiered option as a decor itself. These two-tiered trays can be used to display all your regular as well as seasonal decorative bundles.
Just change the knickknacks on it for a new look every day.
Also Read: 21 Amazing Mason Jar Centerpieces Ideas to Decorate Your Table
10. A Succulent Garden
A big bouquet will always be attention-grabbing. But another way to bring that earthly feeling into your dining table is by introducing real fauna to it.
But if you do not have a green thumb, you might end up with wilted brown leaves on dying plants. A great way around this is to use succulents.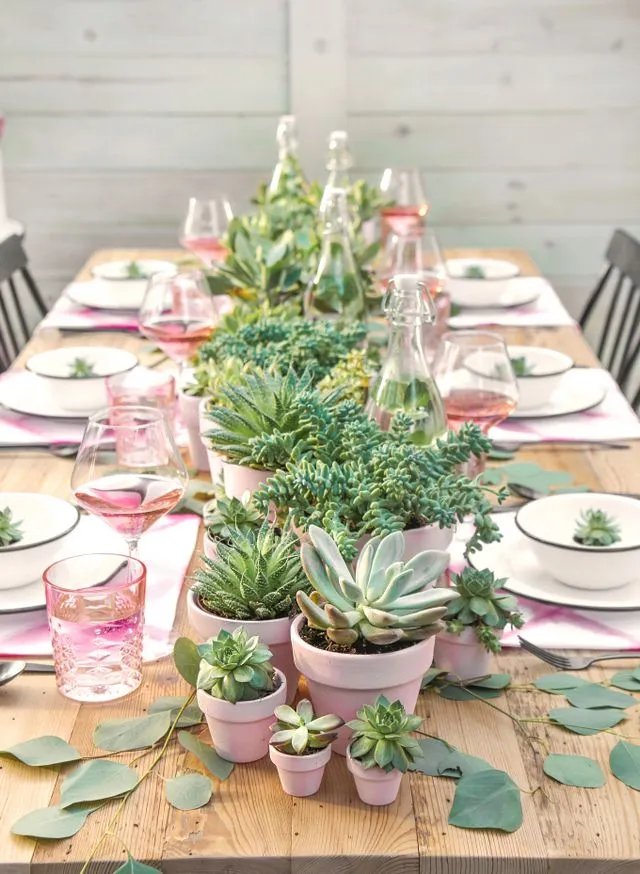 Due to their thick fleshy leaves, succulents can live for a long time under dry conditions. Thus they make for excellent indoor plants. Having a long planter full of your favorite succulents in the middle of your dining table creates a low profile statement easily.
Pro tip: Succulents love the sun, so try to keep them under indirect sunlight for a few hours a day.
11. Classic Floral Arrangement
Some freshly cut flowers will always bring new life to your room and home. When an assortment of flowers is put in nice vases or bowls of water, they brighten up the room almost instantly.
A beautiful bouquet is also one of the most popular and easy-to-put-together centerpieces around.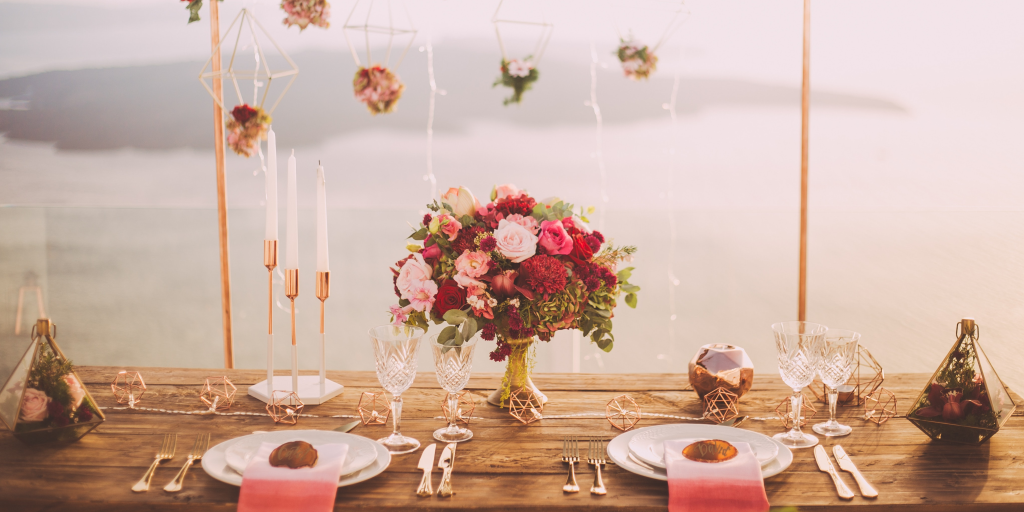 So, if you are looking for some dining room table decor ideas, look no further. Just choose your favorite flowers and set the table. Some of the most common choices for the dining room are tulips, roses, and lilies.
White flowers are chosen for their elegance, but a batch of red roses will never look bad.
12. Faux Flowers
Fresh flowers are not everyone's cup of tea. For one, they are a bit on the expensive side, and maintaining a bouquet takes time and effort as well.
But if you love flower arrangements, but cannot afford the constant hassle, why not try some lovely faux flowers? There are many elegant bouquets available all over the internet.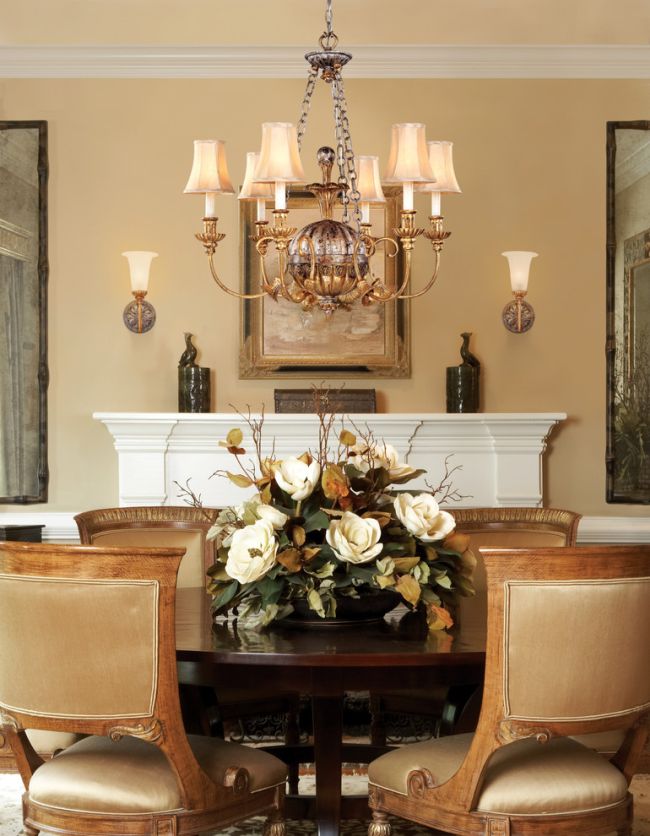 Faux flowers last a long time and have almost the same visual effect as real flowers. The only thing to look for while choosing a set is the materials with which they are made. You want your bouquet to look exactly like the real deal, so choose and maintain the set accordingly.
13. Large Statement Pieces
The best way to make an impression on your guests is to have a centerpiece that would blow their minds. Minimalism in terms of table decor has its perks as it focuses all the attention on that specific piece.
And modern artwork is well known for its vivid presence, especially if the common decor is not your style.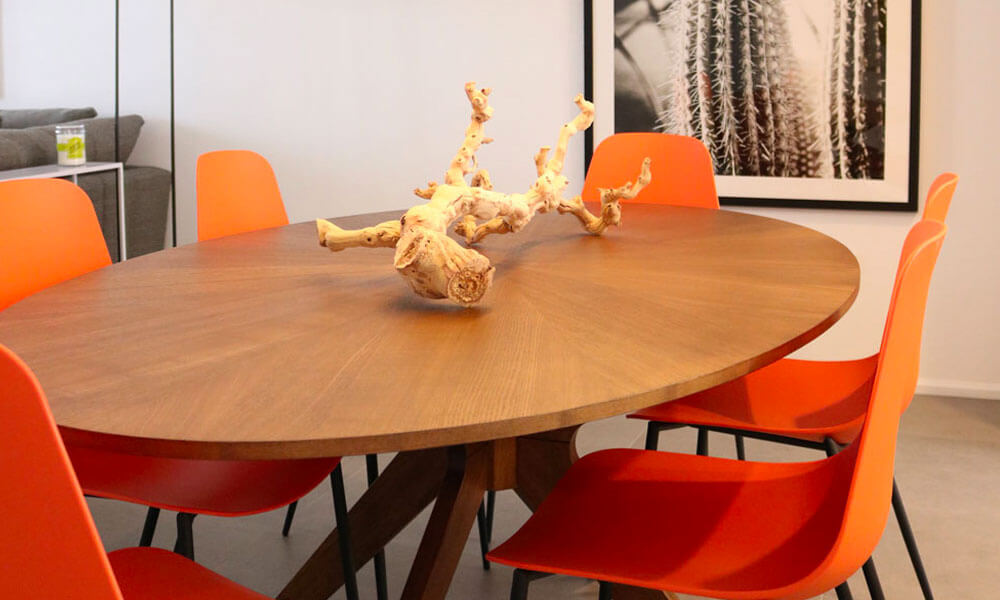 These sleek art statements are for your everyday decor, which you can easily change for a more festive look. You can also splurge on figurines for specific holidays like Christmas to add a more festive feel.
Pro Tip: Choose your artwork in an accent color compared to the rest of your furniture to make it pop.
14. Ships Ahoy
One of the most unexpected yet innovative dining room table decor ideas out there is the miniature figurines of ships. As a centerpiece, these sculptures often become the center of all conversation around the dinner table.
And if your heart belongs to the sea, having a longship around would make you feel right at home.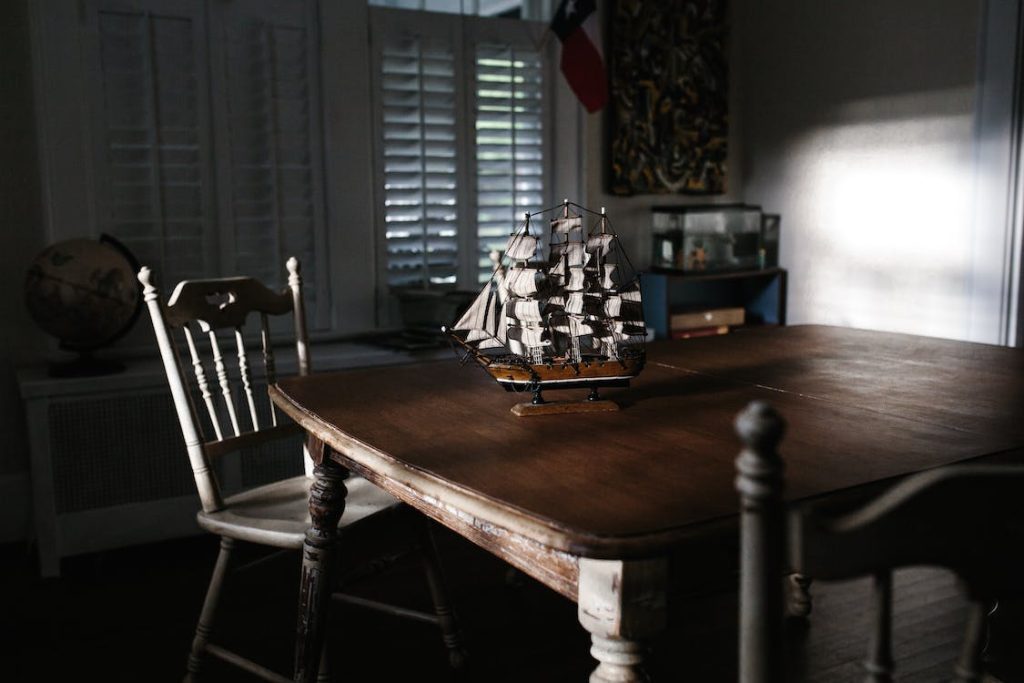 15. Mix and Match
While setting up your dining table, your options need not be limited to just one centerpiece. While some prefer a bowl of fresh fruits every morning, others love of bouquet of roses for their lovely smell.
And if you are a fan of both, why not go all out and display them together? A mixture of mini bouquets with faux fruits around them looks divine against a dark wood dining table.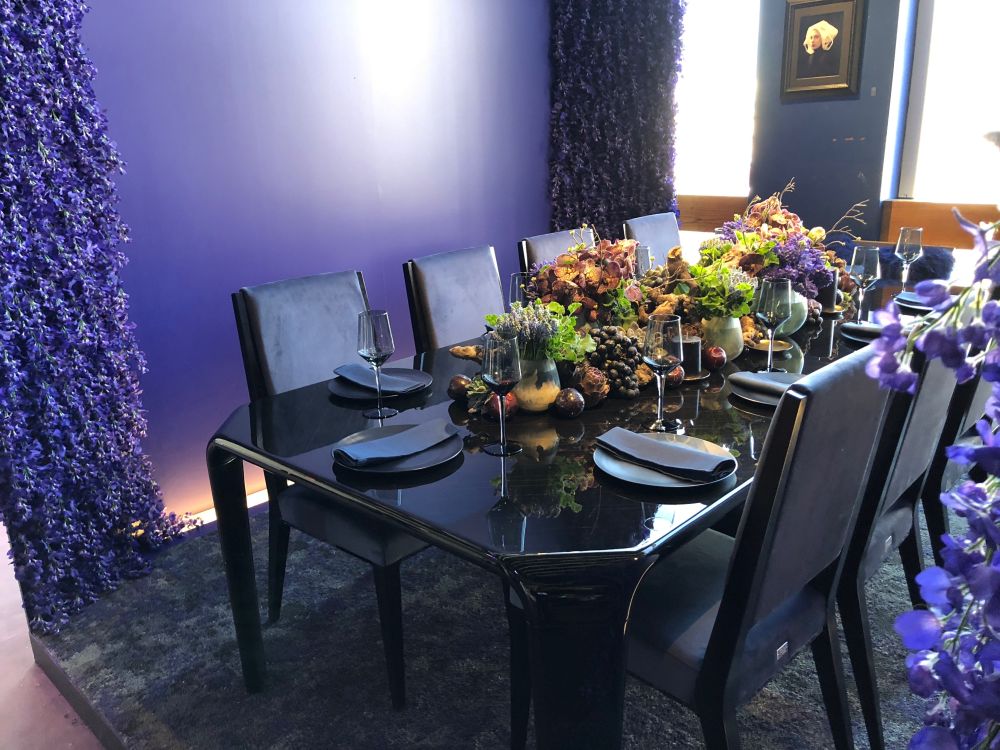 Apart from flora and fauna, you can also jumble up a set of other statement pieces for a finished look. Vases and other tableware together provide a fresh asymmetry without looking off balance.
Pro Tip: Stylists often arrange their items in groups of threes, with the biggest or tallest at the back.
See More: 25 Flower Arrangement Ideas for Every Occasion
16. Fruit Bowls
If you have a big and busy household, you might seldom have the time to sit down for a proper meal. And in that case, you might want to opt for some sensible dining room table decor ideas like fruit bowls.
Instead of just going for aesthetic sculptures, get a big bowl that looks welcoming and practical. You can easily stock it with your favorite fruits every time you go grocery shopping.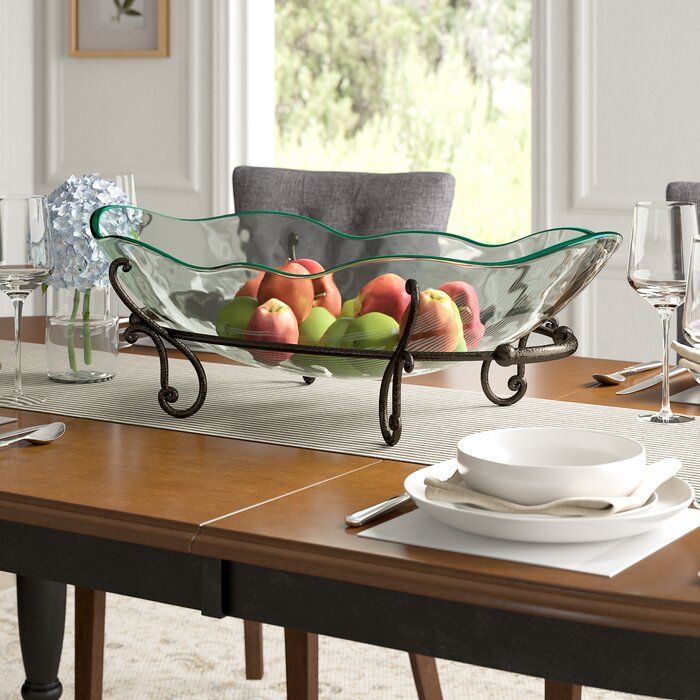 Having a bowl full of the juiciest of fruits within reach will inspire your family to hopefully grab one on the go. And as a bonus, the pop of color is bound to make your dining space look less boring.
17. Books
One way to make sure there are no electronics at the table is to keep plenty of books available. And even if you are not a big reader, keeping your favorites nearby is always worth it.
Keeping a small stack of your coffee table reads on the dining table is a great way to decorate it.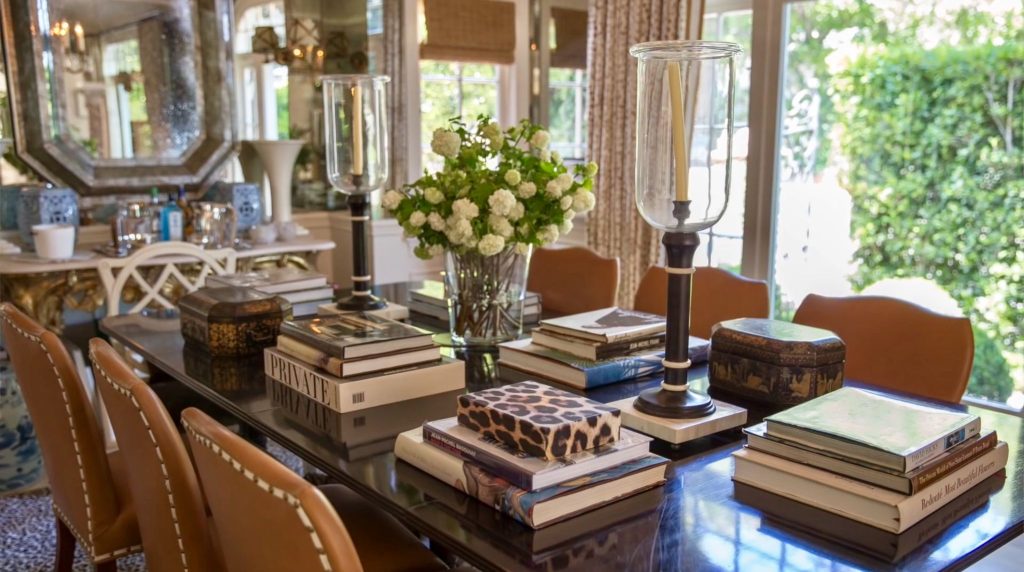 Having a book on the dining table also gives the entire room a lived-in look. Pairing it with some candles and a house plant makes the space look much more inviting. You can also use this trick to replace your current centerpiece for a change.
18. Practical But Unique
Not every table needs a statement piece to make it stand out. So if your decor style is more on the casual side, your dining room table decor ideas need to be something practical as well as pretty.
You will be surprised by how easily you can transform simple kitchen items into centerpieces with just a little creativity.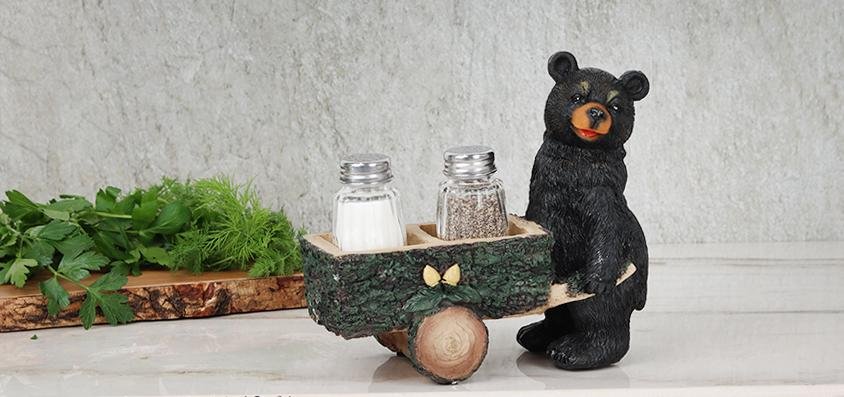 For your unique table decor, you can simply keep your kettle with a tray for a live-in look. Other choices that scream quirky yet efficient are tableware which is also kitchen decor.
Salt and pepper shakers like these are bound to get a laugh out of your dinner guests.
19. Diffusers
You can turn your simple assortment of centerpieces into something special in just one step: add a diffuser. This, along with your vases, will not only make the table look elegant, but it would also make the room smell good.
The appealing aroma of these diffusers creates a wholesome vibe that is unparalleled.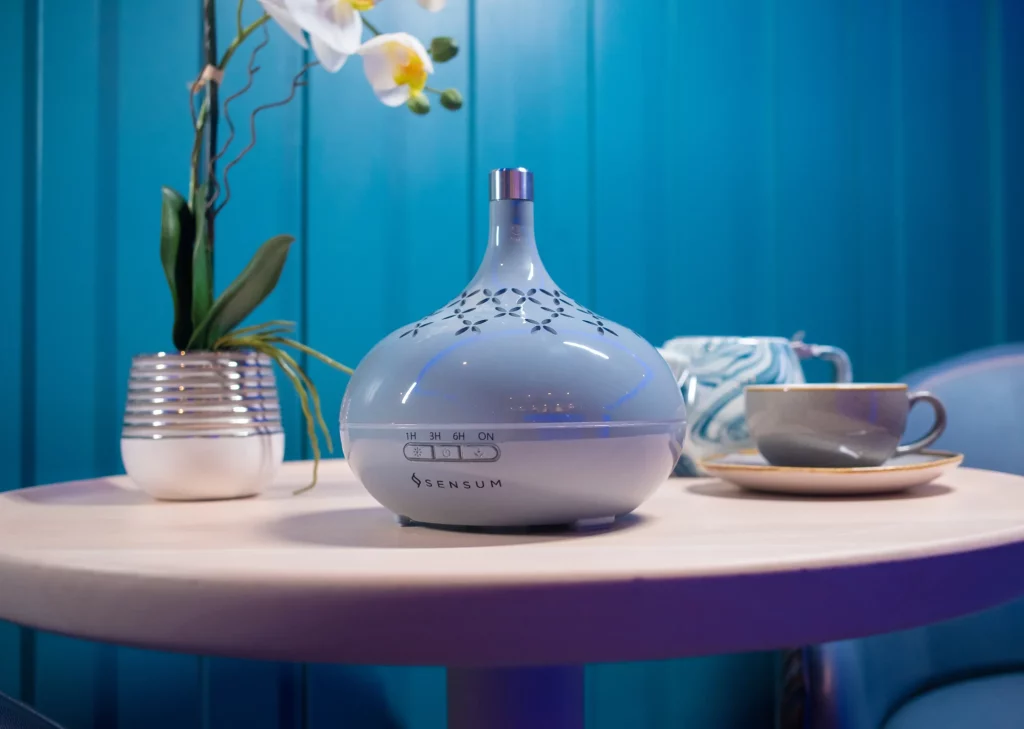 There are many types of diffusers available in the market, as they are quite beneficial for our health. With just a few drops of essential oil, your entire room will smell amazing and have the most relaxing ambiance.
Diffusers also increase the oxygen content of the room by purifying the air.
20. Play with The Shapes
While looking around the internet for some dining room table decor ideas, why not pause and figure out your aesthetics? If flowers and fruits feel too much for you, you can always downsize to one item.
But a better option would be to display your existing glassware elegantly. This works well when guests come over and have no chance of going out and getting special decor.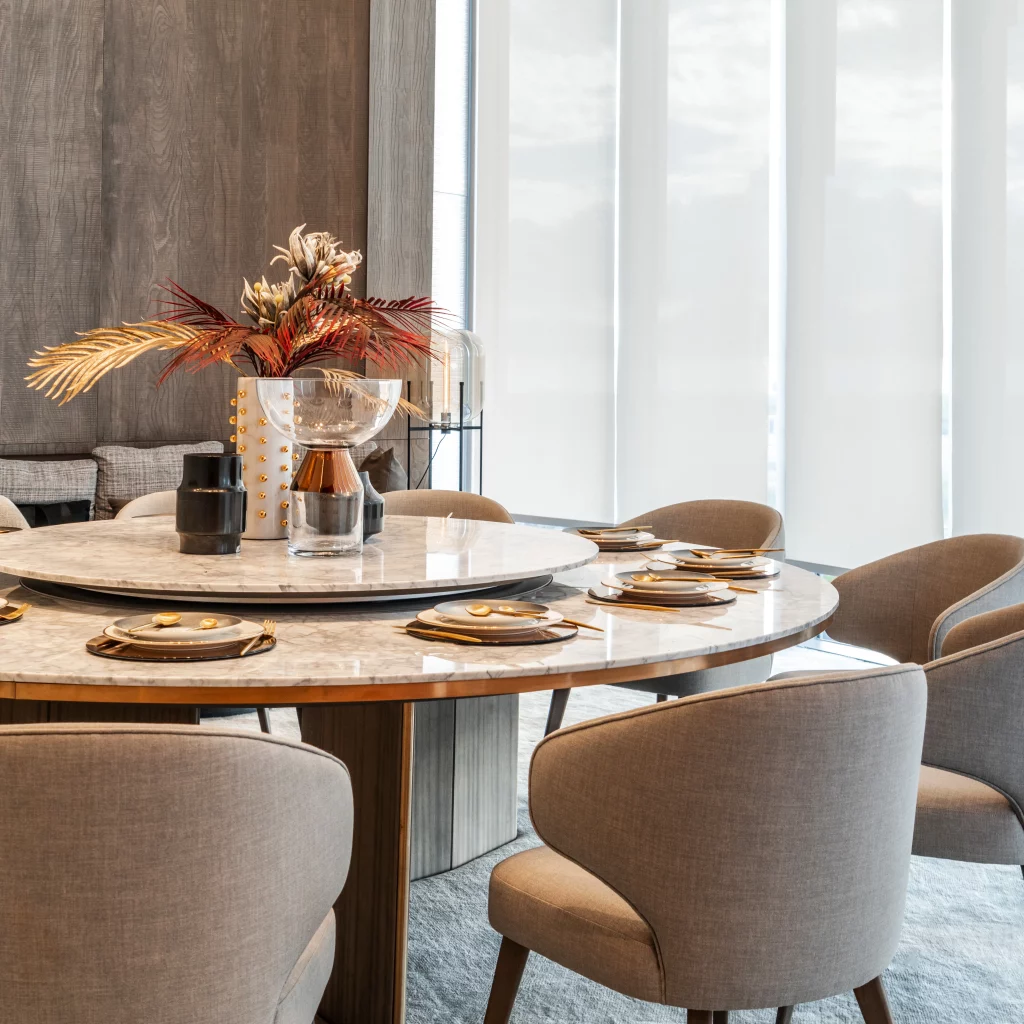 You can also dig deep and bring out whatever vases you have lying around the house. Different-shaped ceramics and glassware go well, especially against dark wooden furniture.
Related: 15 End Table Decor Hacks to Try
21. Bring in The Sea
Dining room table decor ideas often include themed centerpieces that are brought around during special events. But one theme that is sure to be a hit any time is the sea.
In summer, it would remind your guests of the cool ocean water, and in winter, the bright sun.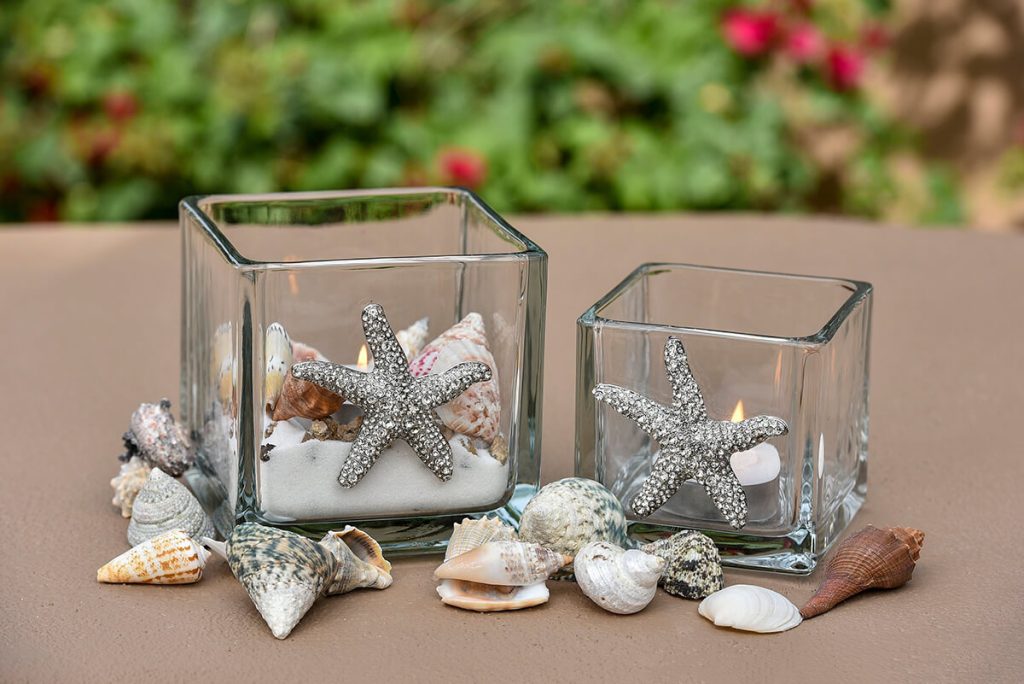 There are many ways to introduce beach-themed decor into your centerpiece, the easiest of which is through art. A bright blue coral sculpture works great as a statement piece that can stand alone.
It can also be paired with other small pieces like small sea shells collected on your latest trip to the beach.
Conclusion
Making your dining table stand out among all the other furniture in the room is a great way to set the theme. This can be achieved with many things, from a simple ceramic bowl to an elaborate fresh bouquet.
And these dining room table decor ideas mentioned above will make your table stand out.
So, comment below and let us know your favorite type of centerpieces and how you style them.
Frequently Asked Questions (FAQs)
What Can I Use to Decorate My Table?
There are many ways to decorate your tabletop; some of the most common items are table linens, placemats, and candles. Many centerpieces like fruit bowls, lanterns, and glass jars are also available.
How Do You Arrange Tabletop Decor?
Your tabletop can have many statement pieces, but the arrangement is key to proper decor. To make the table look stunning, arrange the items based on their sizes, with the tallest ones at the back.
How Do You Make A Dinner Table Look Good?
To make your dining table stand out, first, consider the shape of the table as well as the color scheme of the room. Then decide whether you want tablecloths or not. And finally, add one or more statement pieces like fruit and flower arrangements.
Check This Next: 15 Essentials/Elements for a French Country Decor
Other Articles