11 Spring Room Decor Ideas for Kitchen, Living Room, and Bedroom
Spring is the season when everything comes to life. It is the perfect season to welcome into your house to brighten up your space. If you have felt that your house needs more cheerful and lively...
Spring is the season when everything comes to life. It is the perfect season to welcome into your house to brighten up your space. If you have felt that your house needs more cheerful and lively energy, you need to give your house a spring makeover.
Your home is a space that should welcome you, one that you want to go back to unwind. A spring kitchen will cheer you up and encourage you to cook for yourself more. A living room with a spring vibe is just what you need to encourage more family time.   
It's time to welcome some freshness and life to your home; here are 11 Spring Room décor ideas to bring the spirit of spring into your house.
1. Spring Flowers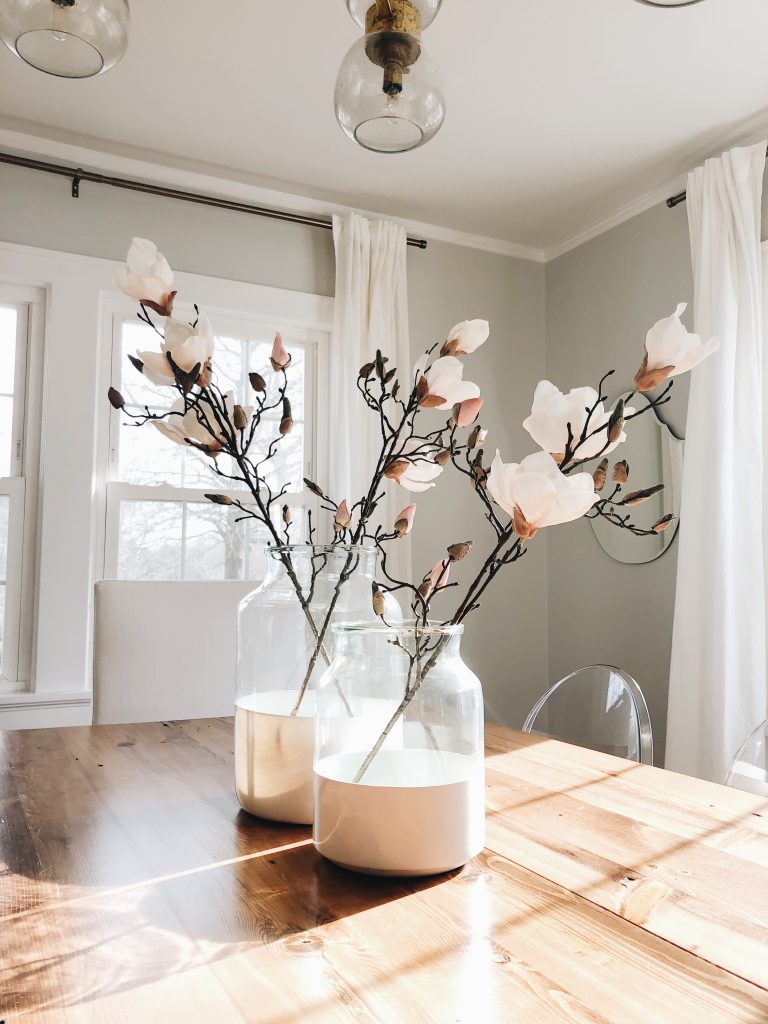 There is nothing that screams spring cheer like flowers. Flowers bring freshness to the house and brighten up the space. Flowers for your spring kitchen are a wonderful way to introduce life and color to your home.
Take a little time to buy flowers from your nearby flower shop or clip some from your garden and arrange them in your kitchen or dining area. Faux flowers are also a great choice if you don't want to arrange fresh flowers that wither in a few days.
Look at how beautiful the magnolia branches look in the dining room; they bring life to the entire room.
Tip; You can use dried pampas grass to decorate your space. Whatever flowers you choose, make sure that the arrangement is not cluttered.
2. Spring Kitchen with a Splash of Pink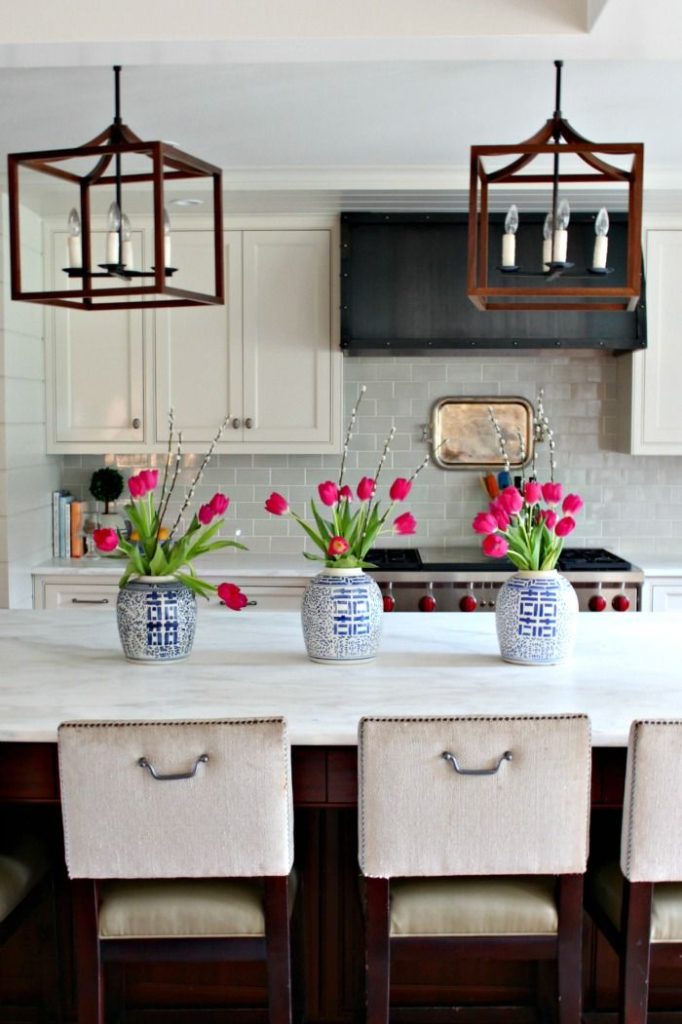 A hint of color might just be what your spring kitchen needs. Design your kitchen in colors of white and light blue-toned greys. A mix of classic and modern lighting will add elegance to your kitchen. Keep the lighting soft and warm. Light colors will help open up the space and allow natural light to do its magic.
Now for the color, decorate your kitchen in the color of spring by bringing home bright-colored flowers. Pink flowers represent the colorful spirit of spring; arrange them on the kitchen table in minimalist vases to bring out the color.
Tip; If you use pink flowers, you need to ensure that they go with the kitchen; a light-colored kitchen will compliment the pink of the flowers well. Don't shy away from experimenting with other colors.
3. Cream and White Room with Leafy Plants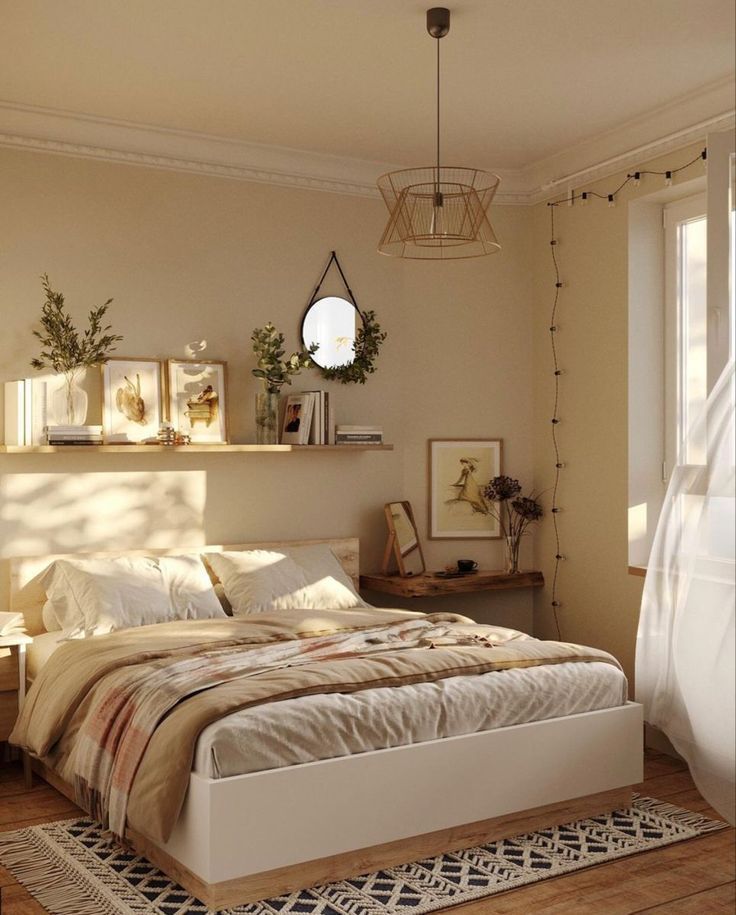 We might assume spring is all about flowers, but there is also a softness to spring. The cream and white bedroom channels that quality of spring. Dress your bed in the same theme of cream, beige and white bedding. Keep the curtains a soft white to let enough light in.
A cream and black rug balances the colors; the tassels give it a bohemian look. Add some lights along the window to impart coziness to the room. Sprinkle the elements of spring with green leafy plants on the platform over the bed. Place some flowers on the side table.
Use green vines where you can, and your soft spring room is ready.
Tip; Paintings of flowers and curious plants are perfect for a spring room; you can also put some potpourri by the bedside.
4. Rustic Greens Vines for Your Living Room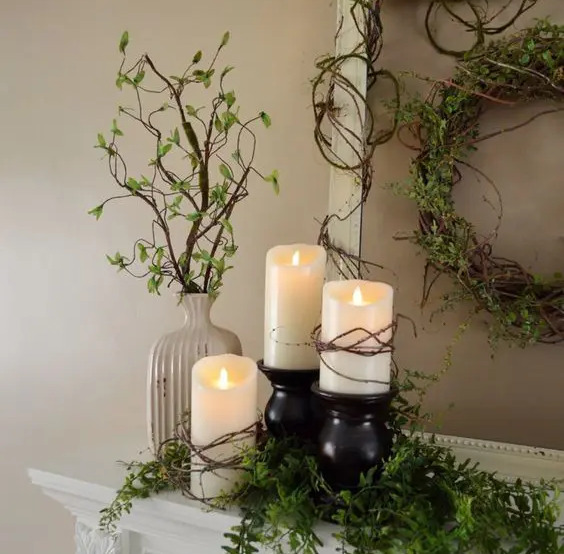 At first glance, it might seem like rustic and spring don't go together, but I disagree with that. Nature is not pruned, it is rustic, and you can add that aspect of nature to your home. A rustic wreath with woven vines at the mantle looks great. Some candles bring out the essence of a gentle spring evening.
Creams and white colors go well with the greens of the vines. This area could be a center of attention for your living space. If you have a fireplace, light it up at night and enjoy a pleasant spring evening under the faint glow of the light.
Tip; You can use faux green vines. You can add a lantern to your mantle or corner table to complete the rustic look.
5. White Living Room with Colorful Carpet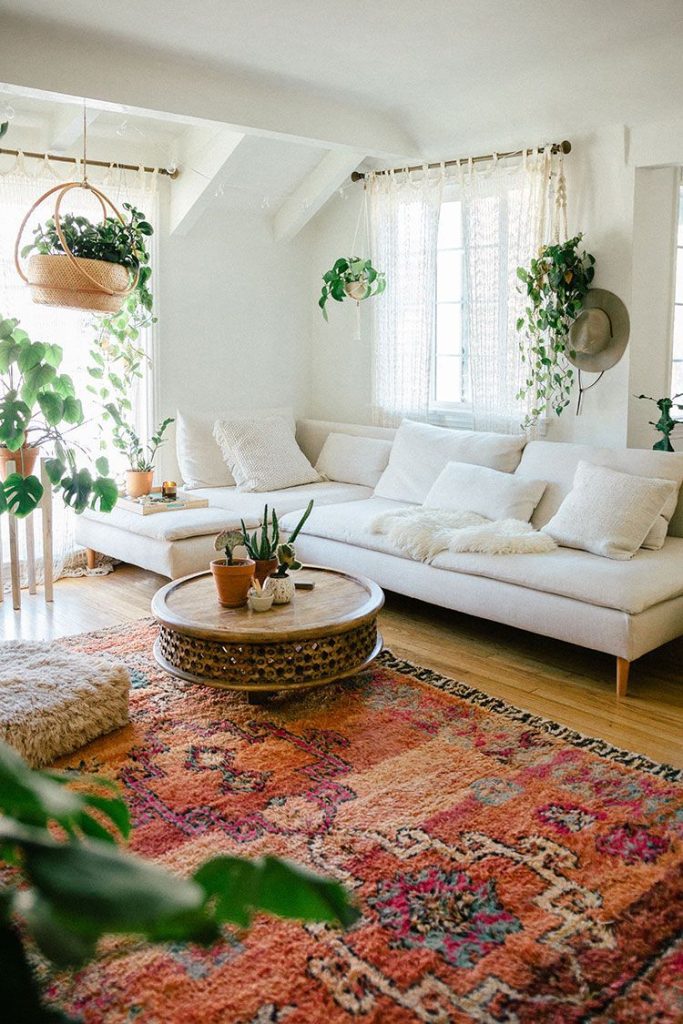 Another way to add the notes of spring to your house is by choosing a spring-colored rug for your living room. Keep the living room a pristine white, with white sofas and curtains. Introduce some greenery into the space by adding some leafy greenhouse plants. The touch of green against the white will look soothing and fresh.
Now for the color, add a colorful patterned carpet on the light-colored floors to invite spring colors into the living room. These colors will balance out the white of the room and add character to the room. Add a wooden center table, on which you can place candles and small potted plants.
Tip; Instead of using plain white curtains, you can go for white lace curtains or get cotton embroidered white curtains. These will compliment your spring-themed living room well.
6. White and Cream Living Room with Light Wood Furniture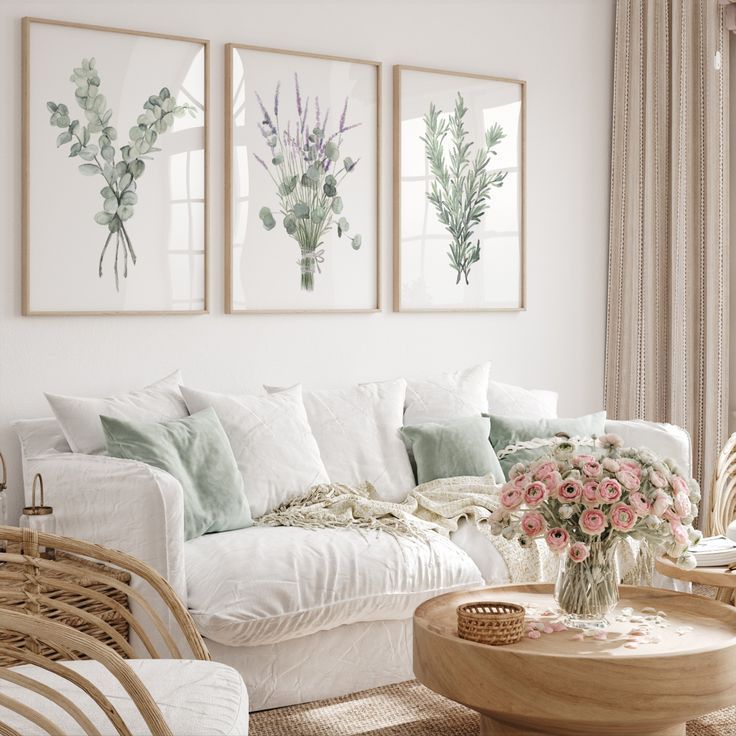 Design your living area in the colors white and cream. To compliment the color of the room, add light-colored wooden furniture to it. This will give the room a cool bohemian vibe. Add a woven jute basket on the table and put a bunch of fresh garden roses or any flowers of your choice. The spring elements of the room, the roses, will attract all eyes.
Since the room doesn't have any dominant spring elements, make sure that your bunch of flowers are well-fleshed out. It is recommended that the colors of the flowers also correspond to the theme of the room. Choose blush pink flowers to go with the room.
Tip; Keep the vase of the flower clear (glass vase); the green stems of the flowers will go with the green elements of the room and sustain the bohemian look. I would suggest you choose full flowers like roses for the center and not flowers with sparse petals.
7. Spring Kitchen with Display of Limes and Succulents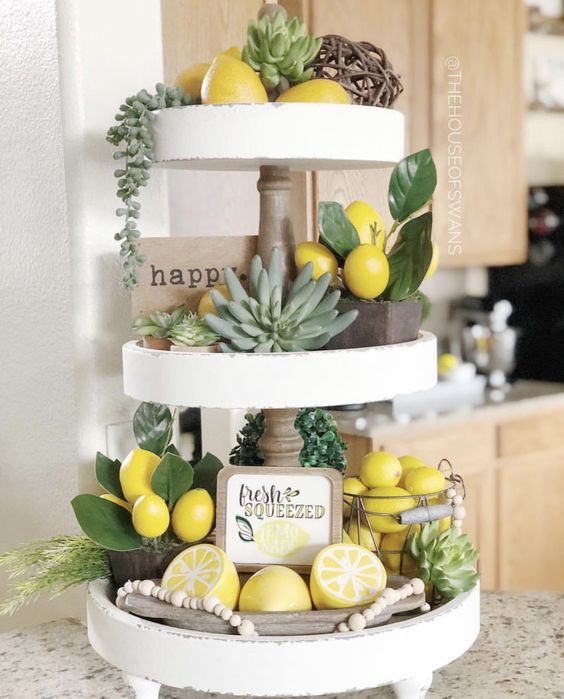 Add a table decoration to your Spring Kitchen in harmony with the spring theme. We often do a lot of things to make our kitchens look presentable. But, often, we underplay what a good display can do for the space.
Keep the kitchen clear and clean, and on the kitchen table, add a tray of lies with wild vines and succulents. The yellow and the green will brighten up your kitchen. Use a three tired tray for your arrangement; it will give it a bit of height.
All of it need not be just for display but could also be for functionality; you can place real lemons on the tray that you can use later.
Tip; You can use fake lemons and add some things of your own. For example, if you live in a mountainous region, you can add small pine cones to the display. 
8.White and Green Kitchen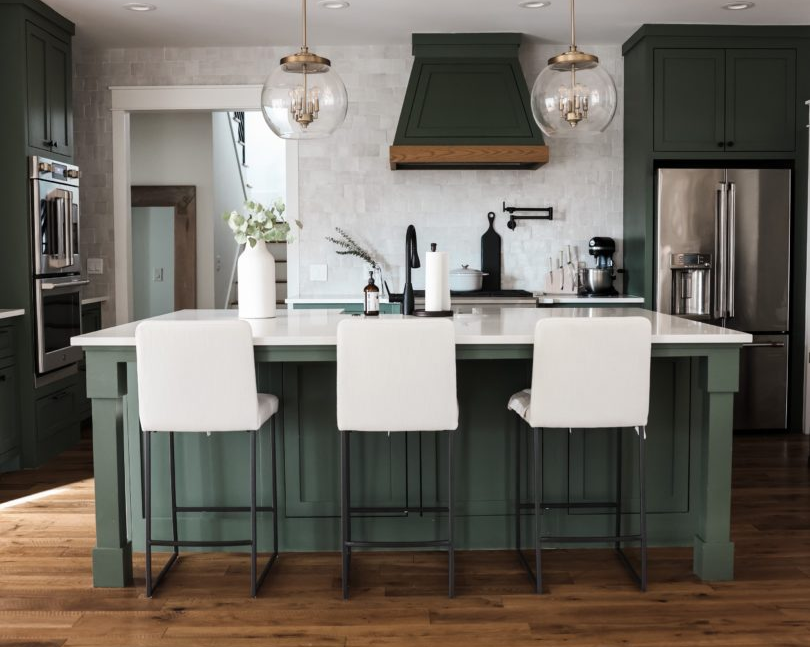 Design your Spring kitchen in the colors white and green. Green and white are a great combination to use for your kitchen, given it's the right kind of green. Keep the kitchen white and add green to the kitchen bar. The colors will mimic the greenery of the budding spring.
Add a white vase with white flowers and green leaves to go with our chosen color scheme, and add to the freshness of the kitchen. You can also add faux Tillandsias to your kitchen to add some drama to it.
Neatly framed paintings in a light wooden frame would look great in the kitchen. You can either choose landscapes or framed paintings of green flora. 
Tip; When it comes to your Spring Kitchen, it should not just look like spring but smell like that too. Ensure that the kitchen smells fresh. Citrusy and sea salt smells are great choices for your kitchen.
9. The Indoor-Outdoor Spring Space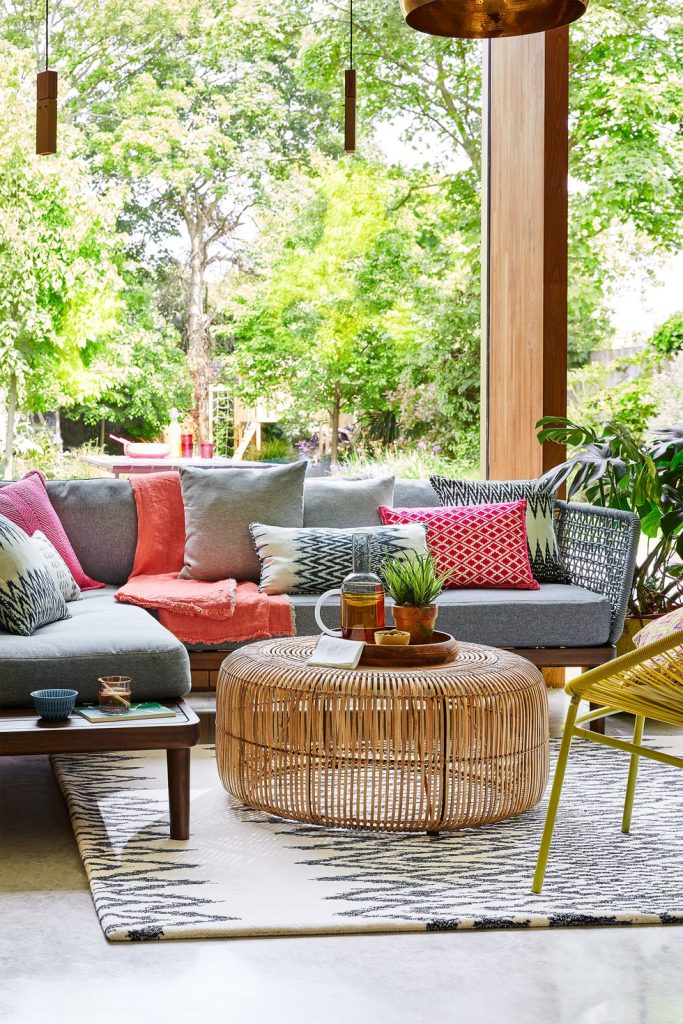 It is important not to ignore your indoor-outdoor spaces. Spring is the time when you must open the doors of your home to the outside. These indoor-outdoor open spaces are the highlight of the spring season, and you are likely to spend the most time there if they are well-designed.
Design this space with comfortable pastel color couches and light wooden furniture. Add a minimalist rug in white with black patterns on it. Play with the colors of spring on cushion covers. Keep the plans near the corner tables and add a small plant on the center table.
Tip; Have good warm lighting for this space. Bonsai plants are a great addition to indoor or outdoor spaces.
10. Vertical Garden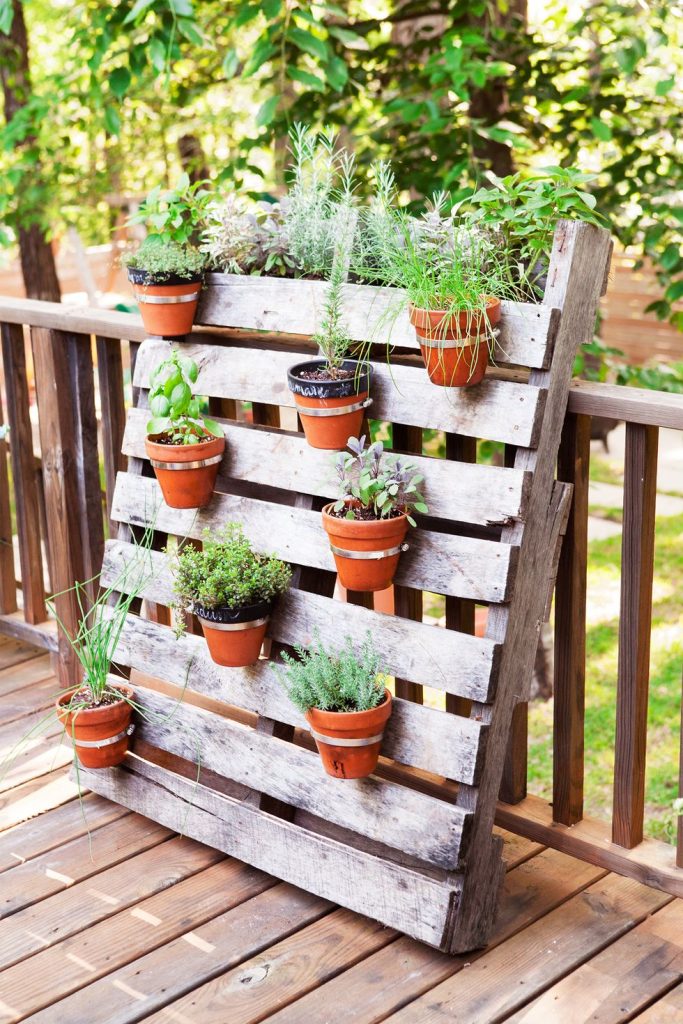 Vertical gardens are not just beautiful but can also be great additions if you don't have a sprawling garden. It looks beautiful and saves space.
Vertical gardens can also be installed in semi-open spaces. You can keep a herb one near your kitchen window. If you are very ambitious, a vertical garden with orchids is your spring project; now, that is something to show off.
Vertical gardens are compatible with your indoor-outdoor spaces; you can add some fairy lights to them, add some colors or construct a latticed wall out of them.
Tip; You can also use the vertical garden to grow flowering vines or other climbers; they will give your garden or patio a fairytale look
11. Flowery Stick-and-Peel Wallpaper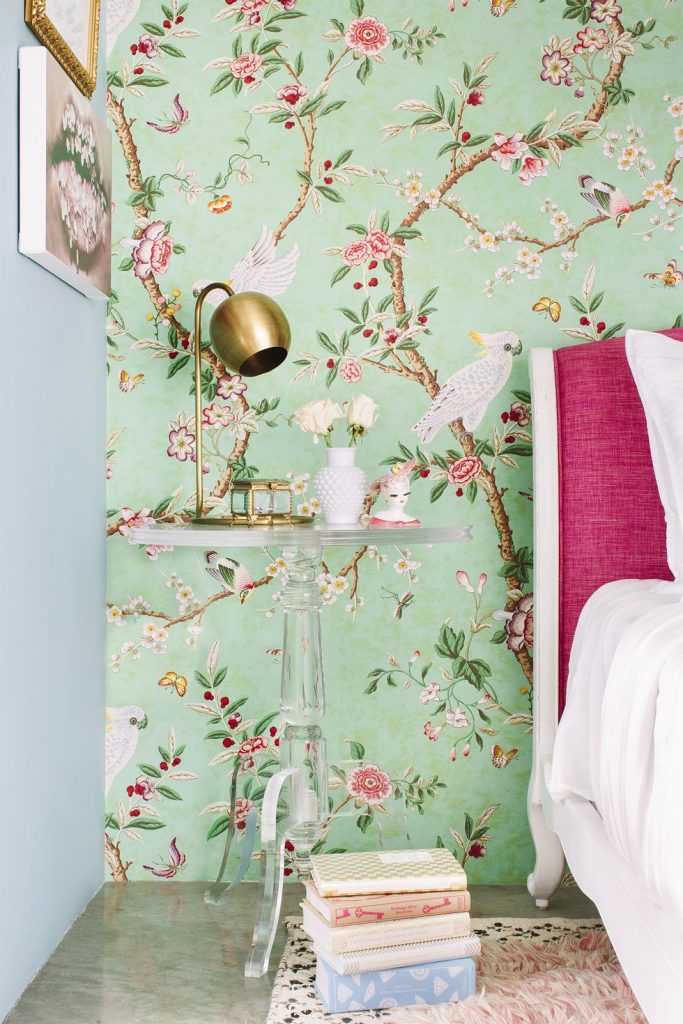 There is an easy way to turn your blank wall into a beautiful floral spring-inspired wall. A stick-and-peel wallpaper in a pastel mint green with flowering patterns is just what your boring bedroom wall might need. It will transform your room for spring without much hassle.
Since we have a flower-patterned wallpaper, keep the side table and lamps minimalistic in their look. A chic brass lamp will compliment the spring room well. Keep the bedding white; you can add some color to the pillows and cushions, preferably pastel green.
Tip; Do not use the wallpaper on all the walls, or it will get overwhelming, keep the rest of the walls a solid light color.
Conclusion
While spring is mostly seen as a season of flowers, one should remember that it is also a time of greens and light. Introduce leafy greens and vines into your home this spring.
Work on the little things, inhabit the spring in little details, like through bonsais. Get delicately embroidered white curtains with vines and flowers in lace.
You can never go wrong with introducing flowers in your house; go for tulips and roses, sunflowers, and hydrangeas for your spring kitchen or your living area. Do not ignore indoor-outdoor spaces; use flowering vines for vertical gardens.
There are many shades to spring; you can adopt any of them, from the freshness of a spring morning to the calmness of a spring evening; design your space in the mood you prefer.
Other Articles