Are you looking for a convenient storage solution to add to your bedroom or guest room? Platform bed with storage is the answer!
Opt for a practical platform bed with storage that offers functionality and adds style to any space. Usually, these beds are high enough to be comfortable and low enough to look chic and contemporary.
These beds also come with a variety of headboard options. You can simply accessorize them with throw pillows, a beautiful duvet, and some contemporary wall art. Platform beds are very stylish and functional.
Whether you're living in a multi-room apartment or a studio apartment, a platform bed with storage can be a savior. There are several configurations available in the market and online to choose from.
If you don't know how to select the right platform bed, we've got you covered. 
Best Platform Beds to Upgrade Your Space
We have enlisted the best platform beds that will address your storage and aesthetic needs.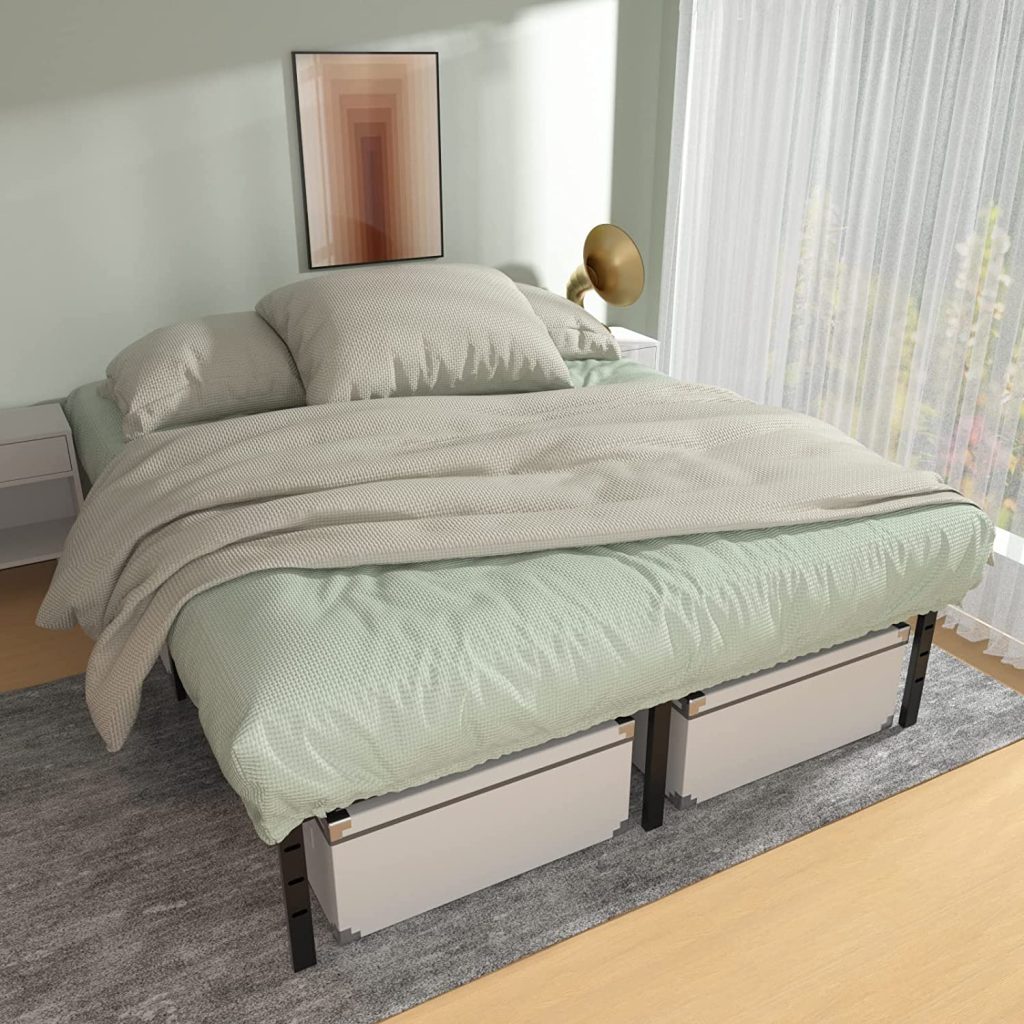 This bed frame is made out of high-hardness metal; therefore, it is extremely stable. It comes with a thickened steel strip support that eliminates the problem of sagging and also prolongs its service life.
This bed frame is equipped with a scratch-proof mat, scratch prevention, and noise reduction features to create a cozy and quiet sleep environment.
It provides 16 inches of storage space underneath where you can store your duvets, pillows, or other bedroom supplies easily.
This bed comes with all the necessary parts with labeling to make it easier for you to find the parts and assemble them.
Complete assembly of the bed frame usually takes 30 minutes. If you're looking for an exquisitely designed bed frame that will last years, then the Zizin Bed Frame is an ideal pick for you. 
Similar Post: 20 Black Bed Frame Full Room Ideas to Design an Inviting Space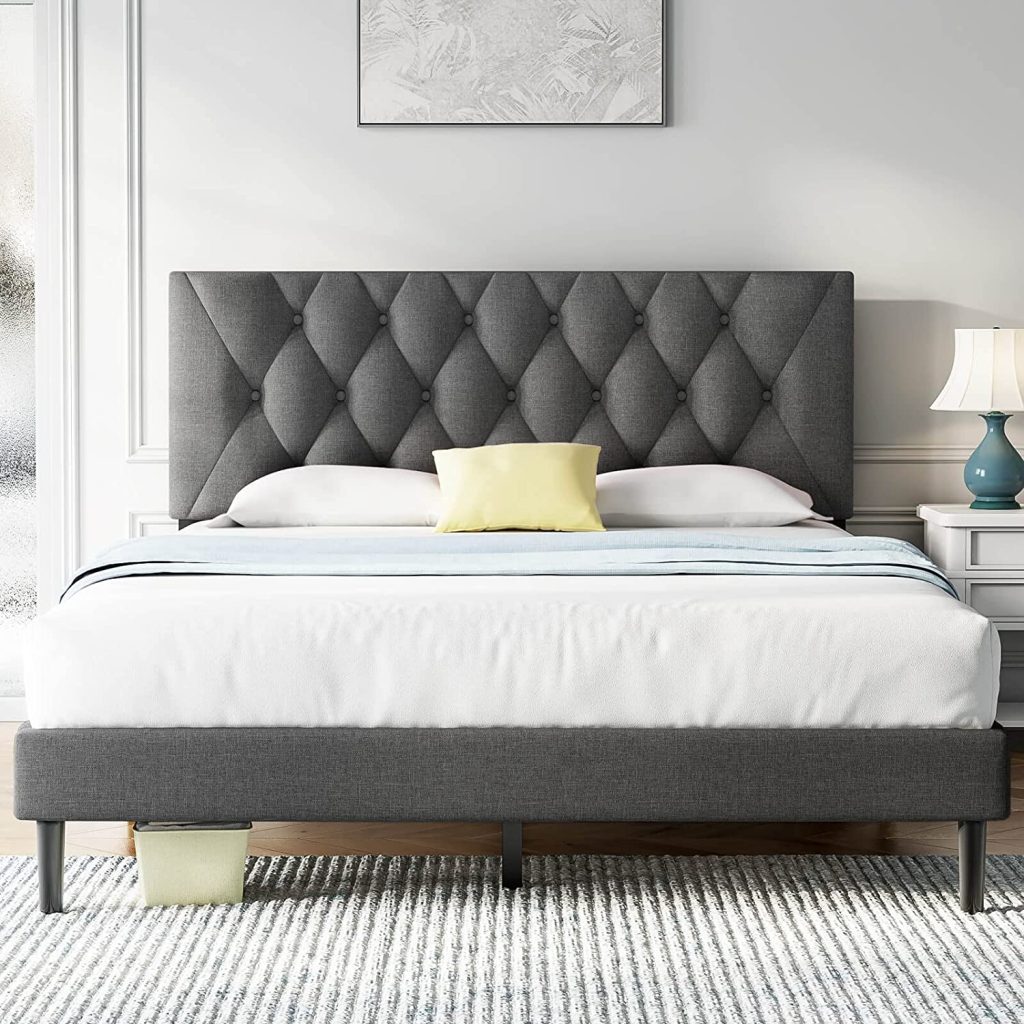 The Molblly bed frame is made out of high-grade metal and premium-quality wood. The foam used to wrap the sides is dense.
There are support brackets in the middle of the frame, which provide stability and increase the life of the spring mattresses or memory foam.
This bed frame comes with nine supportive feet, thus increasing the overall longevity of the product. The feet are covered with pads that will protect your floor from any scratches.
This upholstered bed frame includes slats designed with velcro to prevent friction. You can easily assemble the bed using the parts provided within 30 minutes.
The bed is high enough off the ground, enabling you to store things underneath.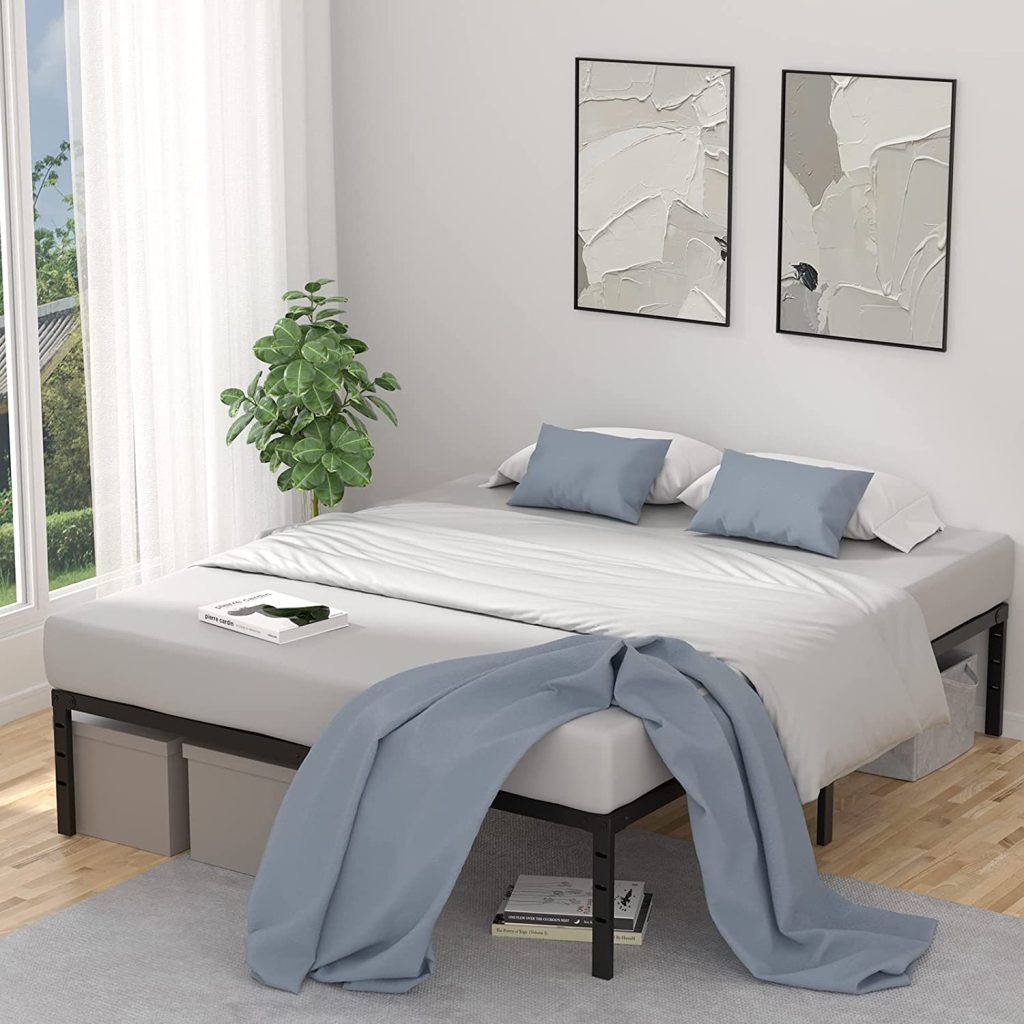 This is a full-size reinforced bed frame with steel slats that give the frame great load-bearing capacity. The static pressure capacity of the bed frame can also reach around 3000 LBS.
It comes with reliable and strong metal slat bars that provide stable support. You do not need a box spring for assembly; you can directly place the mattress on the slat bars. The overall height of the bed frame is 18 inches.
The under-bed storage space is 16 inches high. You can easily accommodate your suitcases, shoes, storage boxes, books, etc., under the bed. This is one of the easiest bed frames to assemble.
You can assemble it within 10 minutes. All the installation tools are included in the box.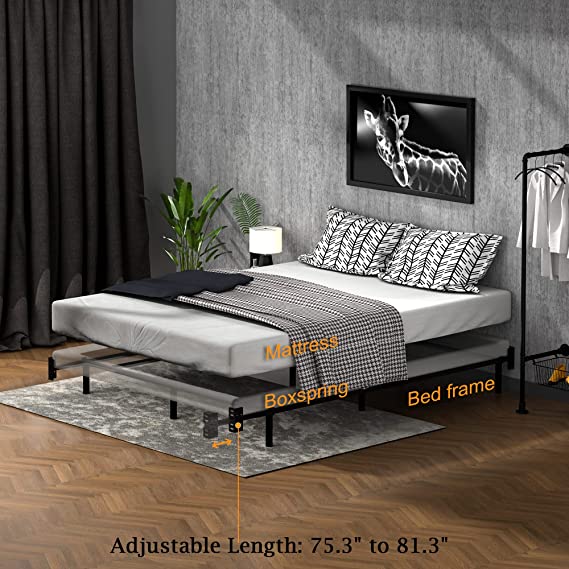 If you're looking for a full-size sturdy, and durable metal bed frame, then consider this bed frame by UJUJIA. The frame is designed using 4 long center support steel structures and 9 round legs.
This gives excellent support to your mattress. The package includes 4 brackets for the footboard and headboard for added stability.  It also includes mattress gaskets to make the mattress stable.
The bed frame legs are recessed so that no one stubs their toes while getting out or getting in bed. It comes with all the necessary instructions and tools to enable easy assembly.
The design is minimal and stylish, making this frame ideal for most interior settings.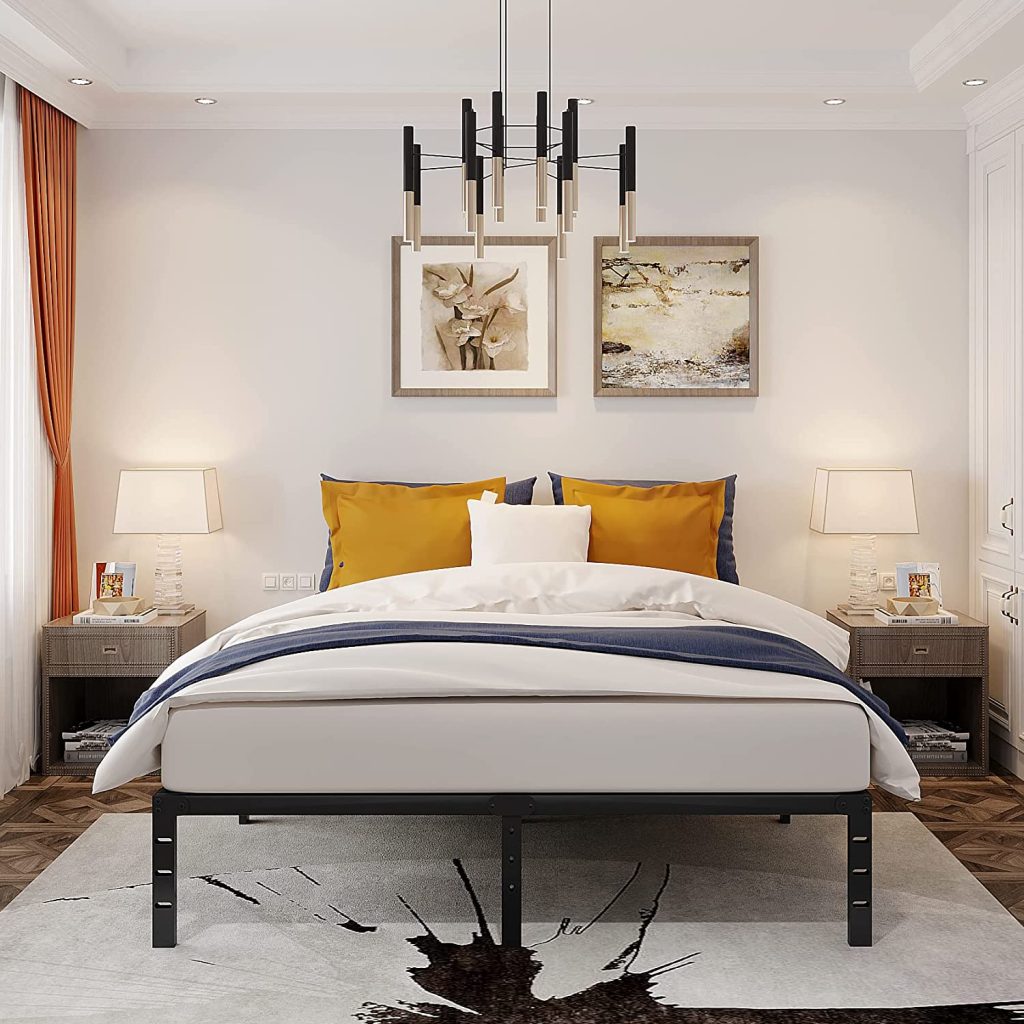 This king-size bed frame is made out of premium quality metal. It features 9 support legs that provide good support and stability. The bed frame is durable and has an excellent structure.
It's a no-box spring needed design. The frame is 14 inches high and creates a 12.3 inches space for storage. You can store your boxes, organizers, suitcases, and shoes easily under the bed.
The mesh steel structure of the bed frame makes the mattress and bed frame contact surface wider and larger, which will help you achieve the effect of noise reduction.
There are holes located on the front and rear legs; hence you can DIY your footboard and headboard. 
Also Read: What Makes Floating Beds Unique + 11 Design Ideas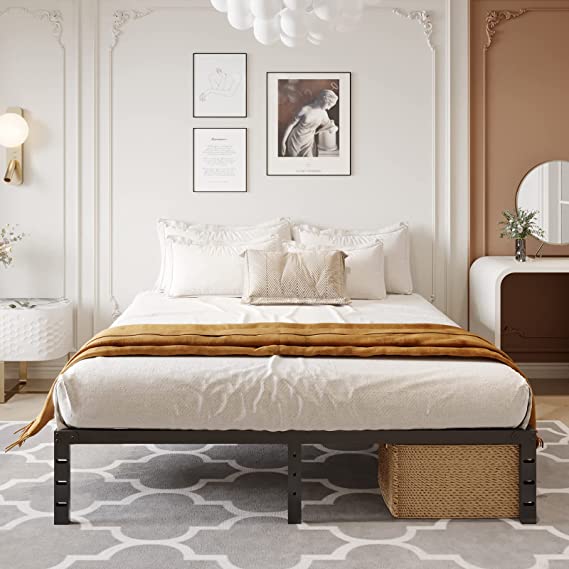 This bed frame by Vengarus is made out of sturdy steel metal, which can support the mattress firmly. The legs of the bed are equipped with anti-scratch pads that prevent scratches on the floor and do not make any noise.
It provides 13-inch under-bed storage where you can store your shoes, suitcases, and other supplies. It comes without a box spring. The metal base evenly distributes the weight.
It offers a streamlined and clean look, making it a perfect addition to your bedroom. It can be paired with a variety of headboards depending on the interiors of the room and your preferences.
The bed frame can be easily assembled within minutes.  It can withstand a weight of up to 2500 pounds. If you wish to give your room an organized and sleek look, this bed frame is an ideal pick.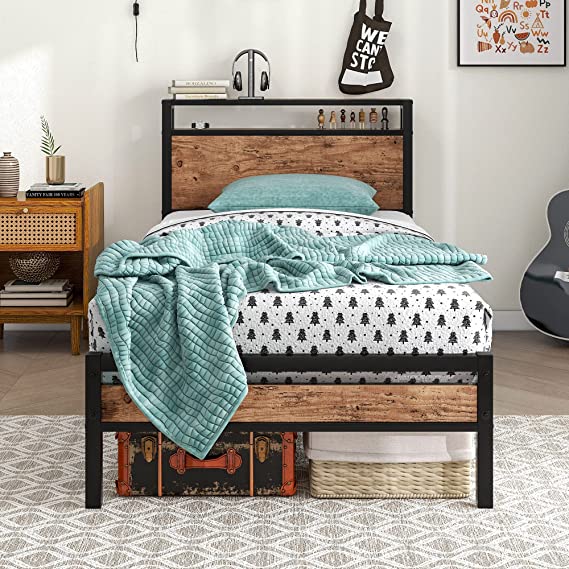 This bed frame by Bofeng is made out of premium quality P2 MDF board and is waterproof and scratch-resistant.
The frame is coated with high-temperature treatment powder, which prevents the paint and finishes from peeling off or developing rust. The legs are covered with plastic foot plugs to prevent scratches on the floors.
The bed frame looks vintage and rustic and will give a farmhouse feel to your room. If you're looking for something to refresh your bedroom, this bed frame is an ideal pick.
The structure is sturdy and is designed to last for years. It comes with clear assembly instructions and labeling. You can assemble the frame in a couple of minutes without the need to use any additional tools.
The frame also comes with a 12-month warranty.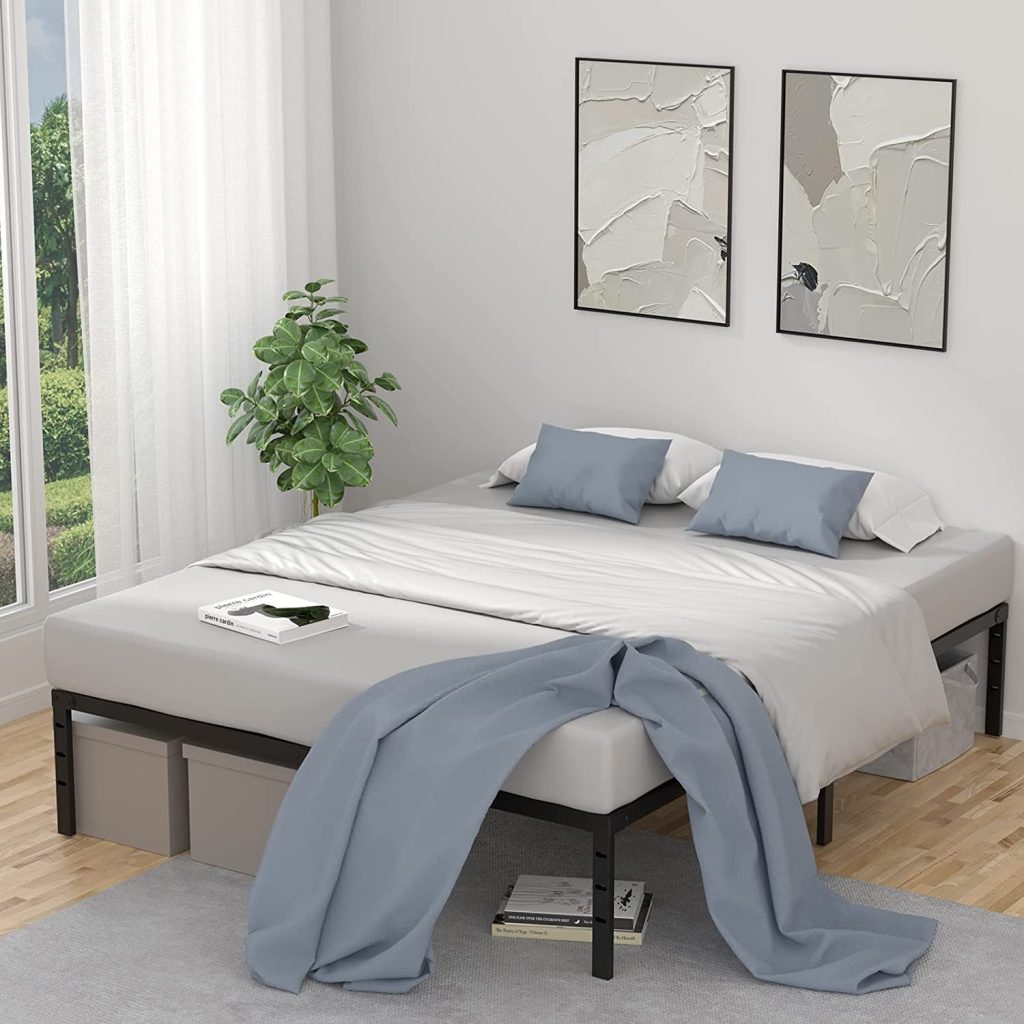 This reinforced bed frame by Meberan comes with a super load-bearing capacity. The static pressure capacity of the bed frame can reach up to 3000 LBS.
It comes with strong metal slat bars, providing stable and strong support.  It hardly takes 10 minutes to assemble the bed. You will be provided with all the installation tools, and the instruction manual is included in the box too.
The platform is raised at a height of 14 inches, which provides a good amount of storage underneath the bed. Enhance the look of your room while addressing your storage needs.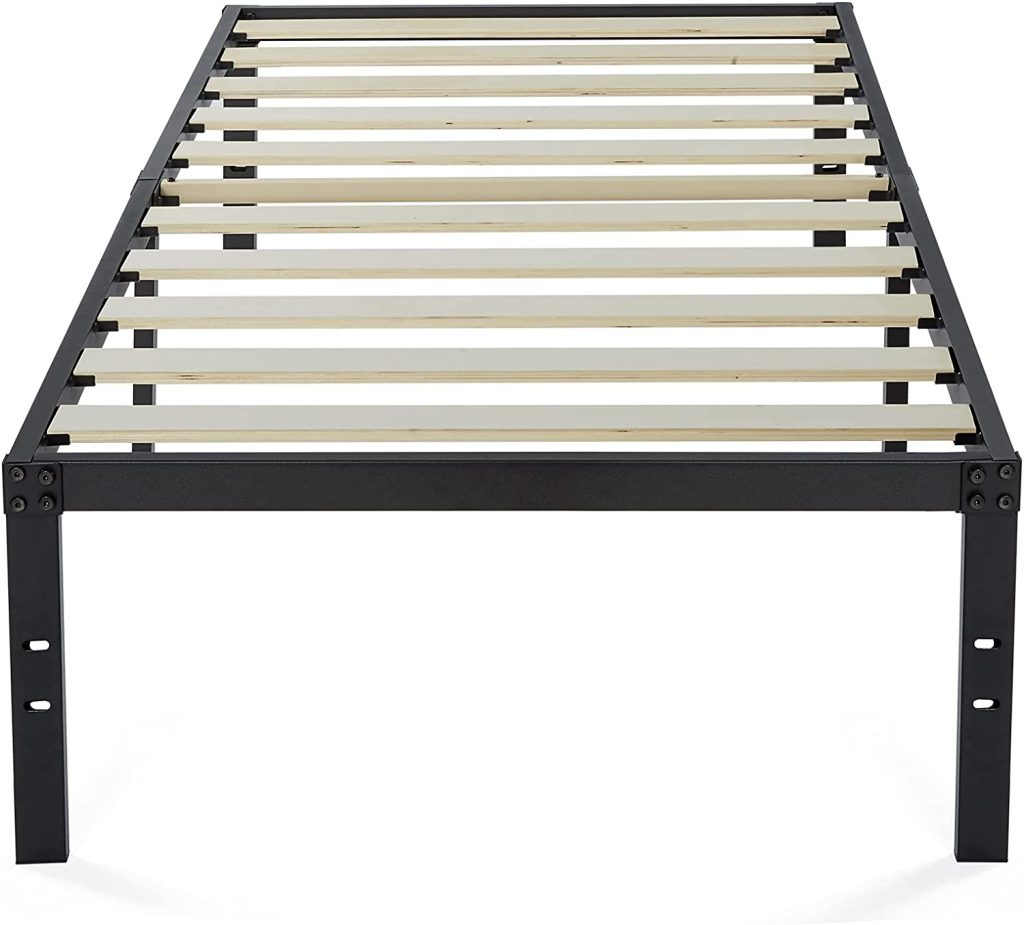 This stainless steel bed frame by Noah Megatron is a heavy-duty and non-shaking frame. The material used is eco-friendly and is designed to last for a long time. 
It comes with wooden slats that support the mattress properly. The wooden slats are heavier and sturdier than other standard bed frames. The quick-assembly design enables you to set up the bed frame within 30 minutes.
The package comes with all the necessary tools and equipment to set up the frame. 
See More: 10 of the Most Coolest Beds You Can Actually Buy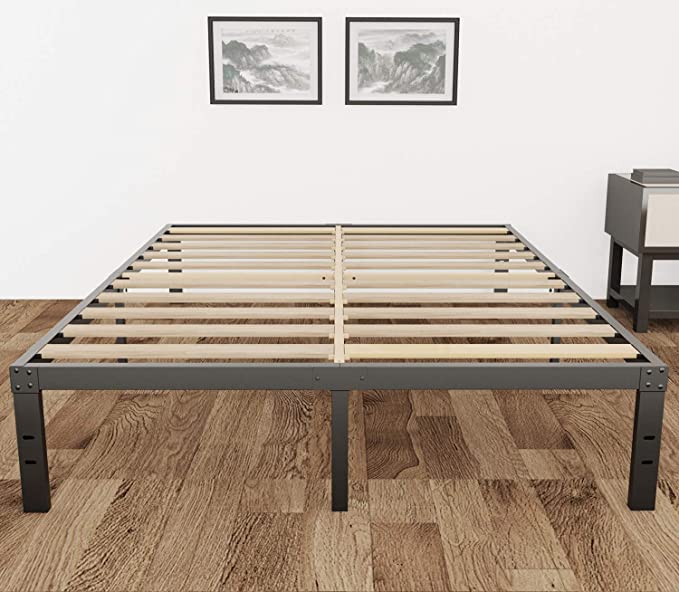 This Ziors bed frame comes with multi-point structural bed legs and load load-bearing design. It makes your bed safer and firmer.
The widened wooden slats offer excellent support and increase the mattress's life. The silent cushioning gasket prevents the bed frame foundation from sliding and squeaking.
The bed frame provides 14 inches of under-bed storage where you can keep your suitcases, baskets, organizers, shoes, and other stuff. It comes with a 5-year limited manufacturer warranty.
Overall, it is a hard-wearing and heavy-duty frame with remarkable design and styling that will suit any interior setting. The bed frame can be assembled very easily within 30 minutes.
It comes with just 4 components. There is no need for any additional tools or equipment. It would be better to take someone's help while assembling the bed frame.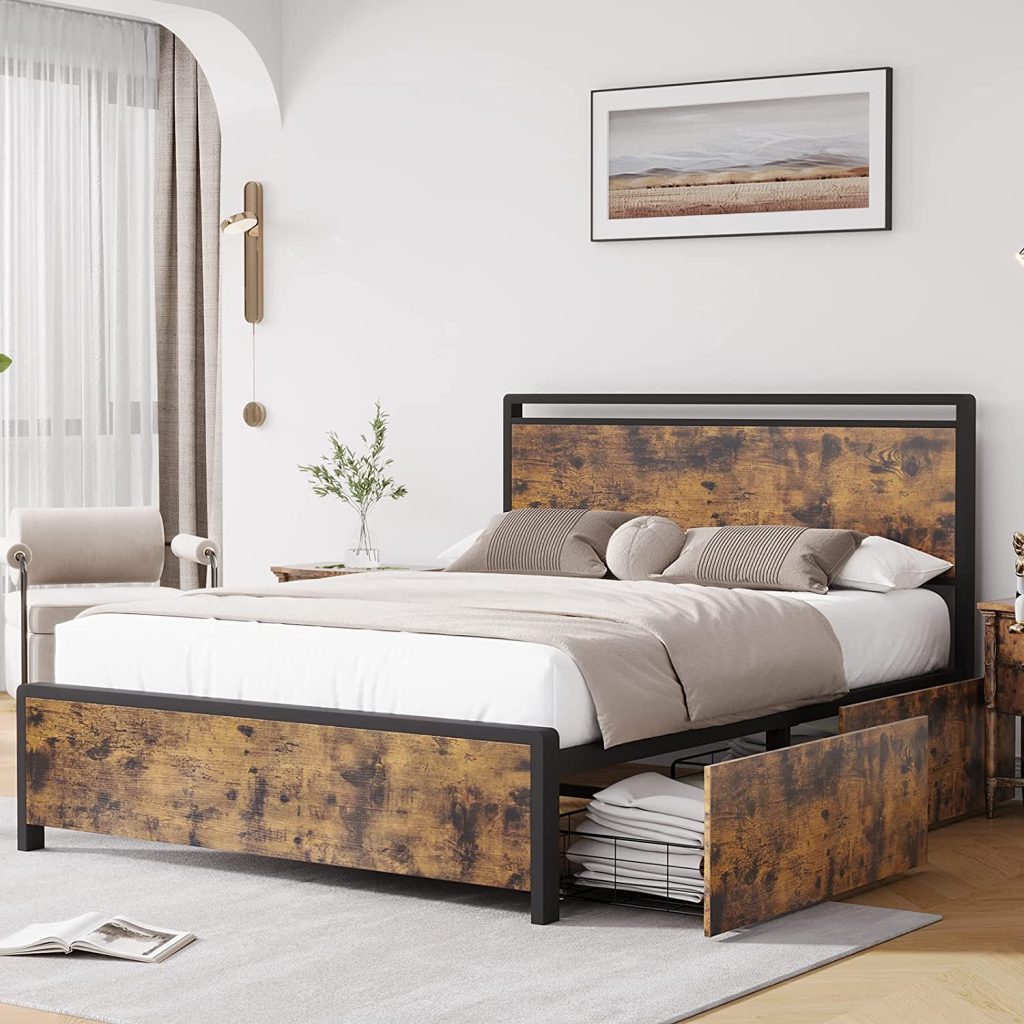 This bed frame comes with 4 drawers to address all your storage needs. The drawers are spacious and can easily accommodate sheets, duvets, clothes, and accessories.
The bed frame is made out of premium quality rebar and is designed using durable wood panels to ensure durability and comfort. All installation parts and tools are included in the package to enable hassle-free assembly.
This frame serves as a support foundation for mixed or memory foam mattresses. It provides a restful and comfortable sleep environment. The design goes well with almost any interior design and style. 
Conclusion
The platform beds mentioned above are designed to add style and address storage needs at the same time. They can be the perfect addition to your guestroom and bedroom.
Most of the designs are minimalistic and sleek and hence can be added to any interior setting.
However, you must carefully assess your bedroom space and decide which platform bed will suit your specific needs and preferences.
We hope that this list will give you some insight and help you decide which platform bed will give your bedroom a classy edge.
Related: 15 Office Guest Room Ideas to Create A Multi-Functional Space
Frequently Asked Questions 
Which Type of Bed Storage Is the Best?
A hydraulic bed or bed with box storage offers a good amount of storage since the entire space beneath the mattress can be filled. You can access all the stored stuff in one go, and you can also see all the contents of the bed at once. 
Is a Platform Bed Good for You?
Platform beds offer a lot of support. It is beneficial, especially if you use a memory foam mattress. The surface of the platform bed frame is such that it will prevent the mattress from sagging. 
Which Bed Height Is Best?
According to experts, the best bed height would be 20-23 inches. This height will allow you to get in and out of bed easily, and this range also falls in the sweet spots of not being too short or too tall. 
Which Color Bed Should You Choose?
As per experts, soft and natural colors are best to induce good sleep. It is recommended to avoid dark colors and look for contemporary or classic colors that go well with the interior setting of your house. 
What Types of Beds Are Trending?
One of the most trending beds is the canopy bed. Canopy beds with suspended metal frames with fabric draped over them can be a great addition to your bedroom.  
Check This Next: 7 Best Bunk Bed Shelves to Add Smart Spaces to Your Beds!
Other Articles