Looking for office guest room ideas? If you are fortunate enough to have some extra space in your home, you can transform it into a multipurpose office guest room.
Creating an office guest room means you need to create a space that is perfect for inviting friends and family on the weekends and also serves as an ideal working space.
Designing a room like this might be challenging. You have to consider a lot of factors, from design and layout to furniture and decor.
Even modern homes can benefit from office guest room ideas as they can add a warm and welcoming vibe to your office space.
Earlier, guest rooms were considered a luxury. However, now these rooms have become a necessity in every home.
After the pandemic, a lot of people have adopted the work-from-home lifestyle, which is why having an office space is essential.
But, not everyone has the amount of space and budget to create separate office and guest rooms.
Hence, in this article, we have enlisted a few office room ideas that double as comfortable and cozy rooms for guests.
Awesome Office Guest Room Ideas You Can Try!
Let's take a look at the 15 awesome office guest room ideas to get the most out of your limited spaces.
1. Install a Secretary Desk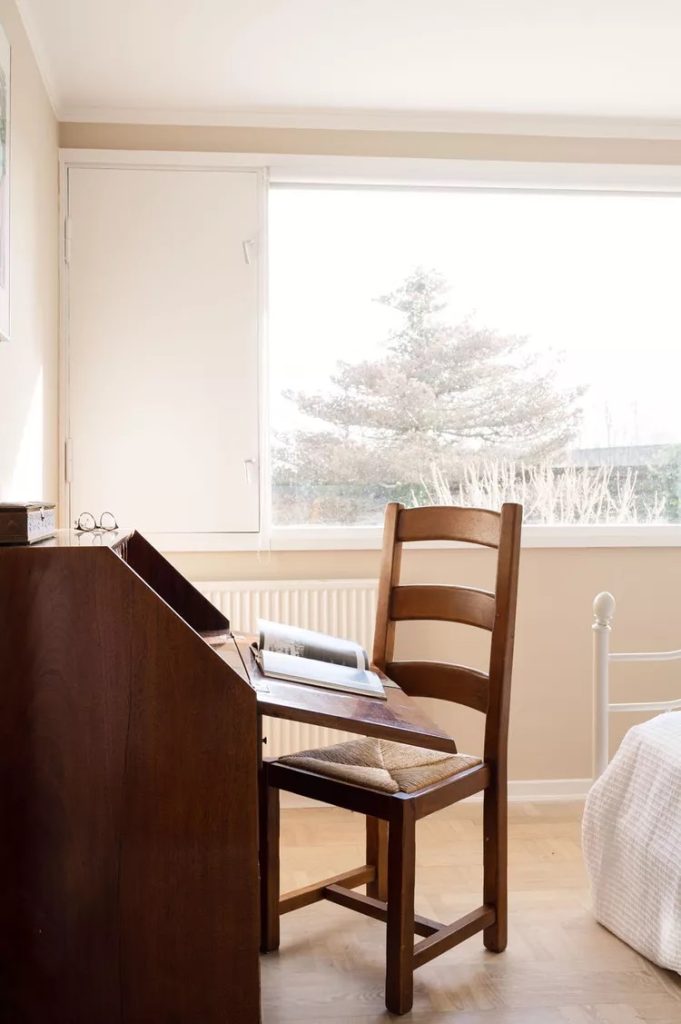 You can add a vintage, antique, or modern secretary desk to your guest room. It is a practical and stylish option that will enable you to declutter the office stuff at the end of your work session.
For instance, in the design above, a midcentury wooden desk is doing the trick. You can add a matching chair to create a dedicated office space.
Similar Post: 15 Welcoming Guest Room Decor Ideas: Create a Cozy Retreat
2. Repurpose a Closet Into an Office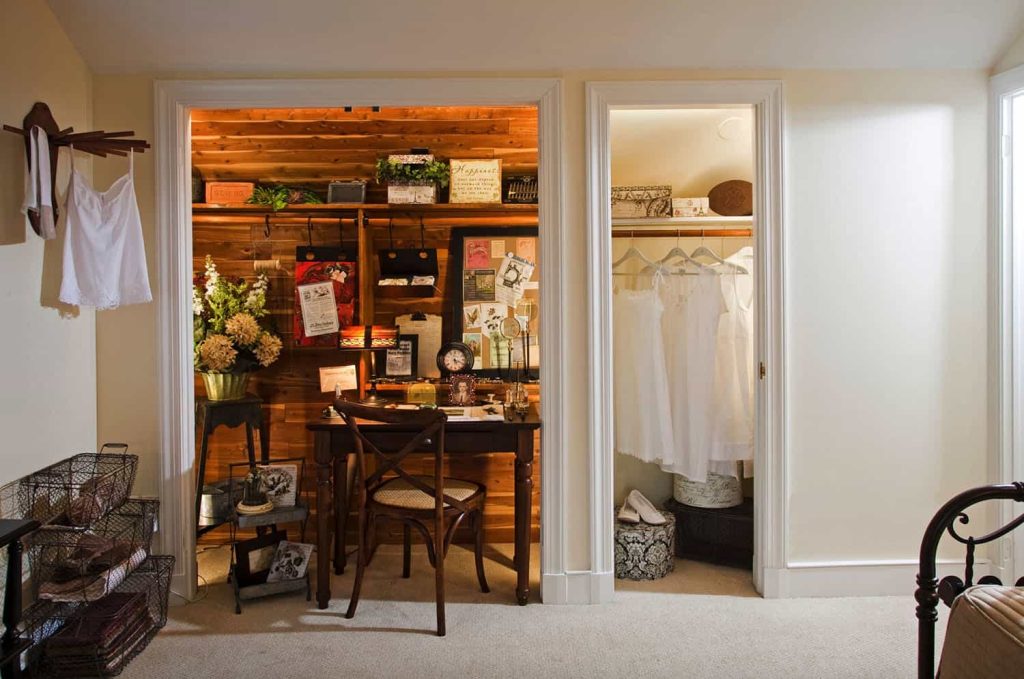 If there is a space constraint, ensure that you use every nook and corner of the room. The room in the image is created in such a way that it can be used for anything from reading, writing, sewing, painting, or lounging.
The room originally featured two closets, out of which one was recreated to feature a small office. A narrow desk and shelves have been installed to store office supplies. Mesh bins have also been used to store stationery or craft supplies.
The layout and design are such that it creates a welcoming ambiance for guests.
3. Build an Office Desk in a Corner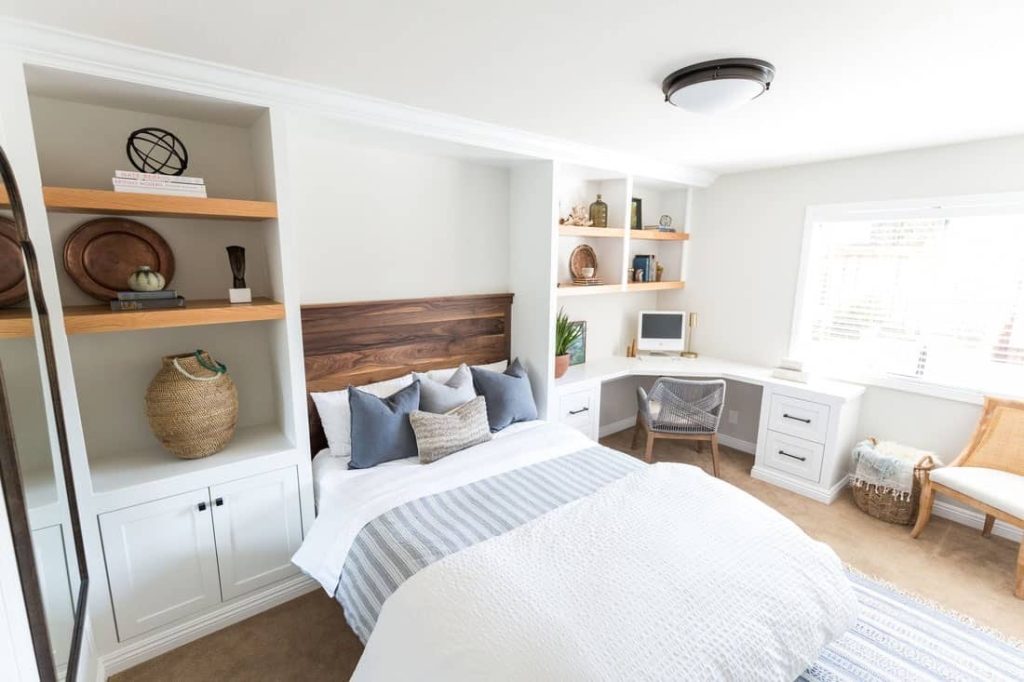 You can build an L-shaped desk in the corner of your guest room. You can also build a desk that sticks to the corners of the room so that when it is not being utilized, it creates an illusion of non-existence.
In the design shown above, a custom built-in desk has been installed, and a few shelves have been added to maximize storage space. The entire room is painted white.
Oak shelves and a wooden headboard make a statement in this room. You can add accessories of your choice to enhance the look of this space.
4. Add a Murphy Bed to Your Office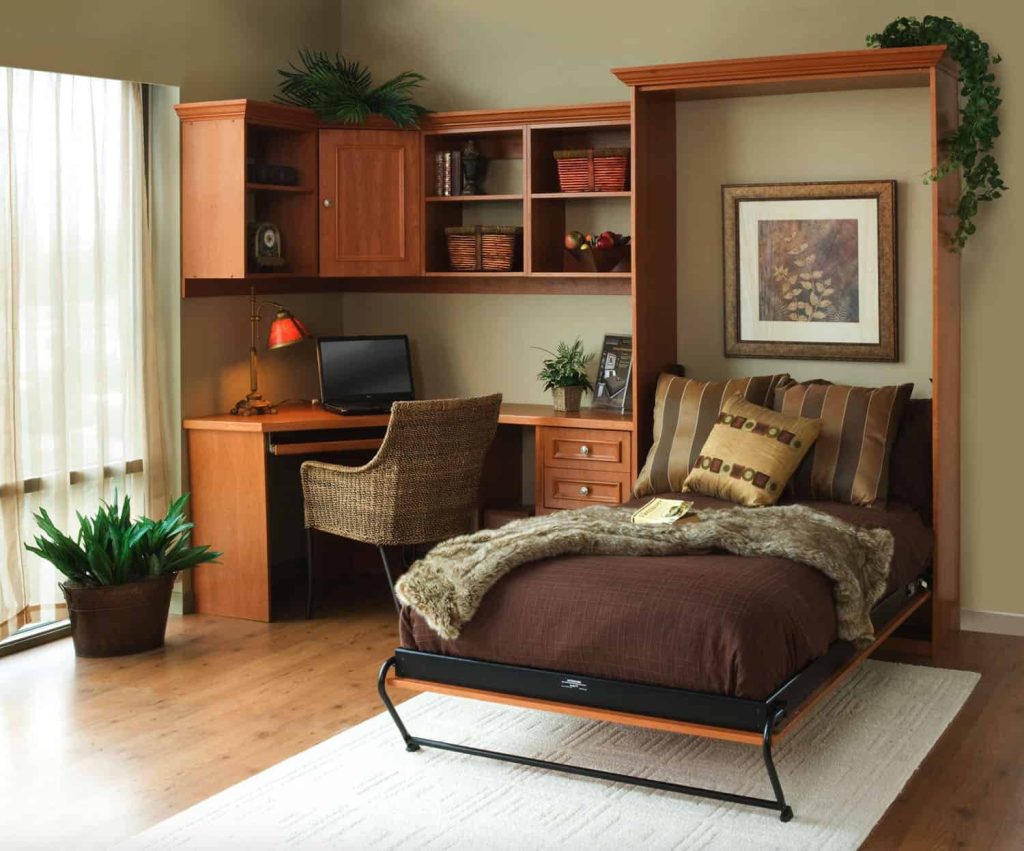 If you are short on space, you can add a Murphy bed like the one in the design above in your office room itself. This modern home office also serves as a guest room.
A desk in the corner and some shelving near the desk boost storage space. This room is highly space-saving and functional and looks aesthetically appealing. It can easily accommodate some overnight guests.
5. Install a Fold-Down Bed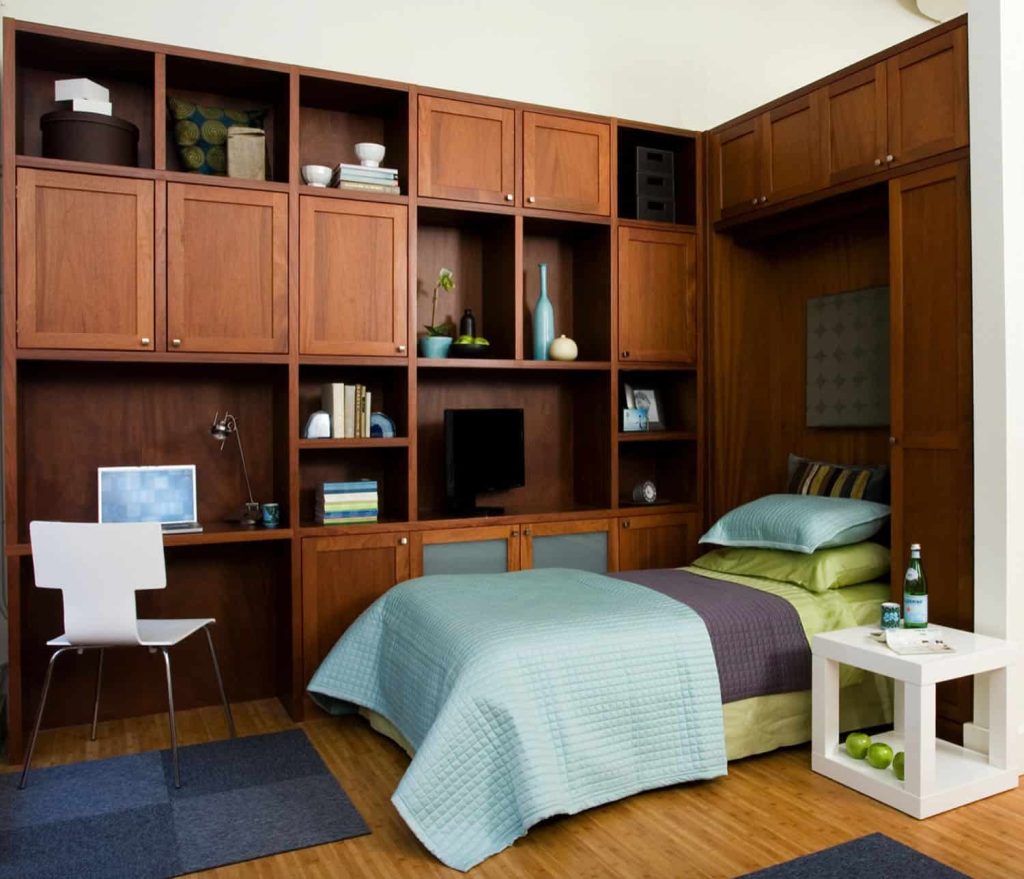 Just as shown in the image, you can repurpose a wardrobe into a fold-down bed to accommodate guests.
In this design, the computer desk area and television unit have been incorporated into the cabinet unit to save space. The entire unit is done in mahogany wood.
There are multiple shelves where you can add accessories or your office supplies.
6. Add a Comfortable Bed to Your Study Room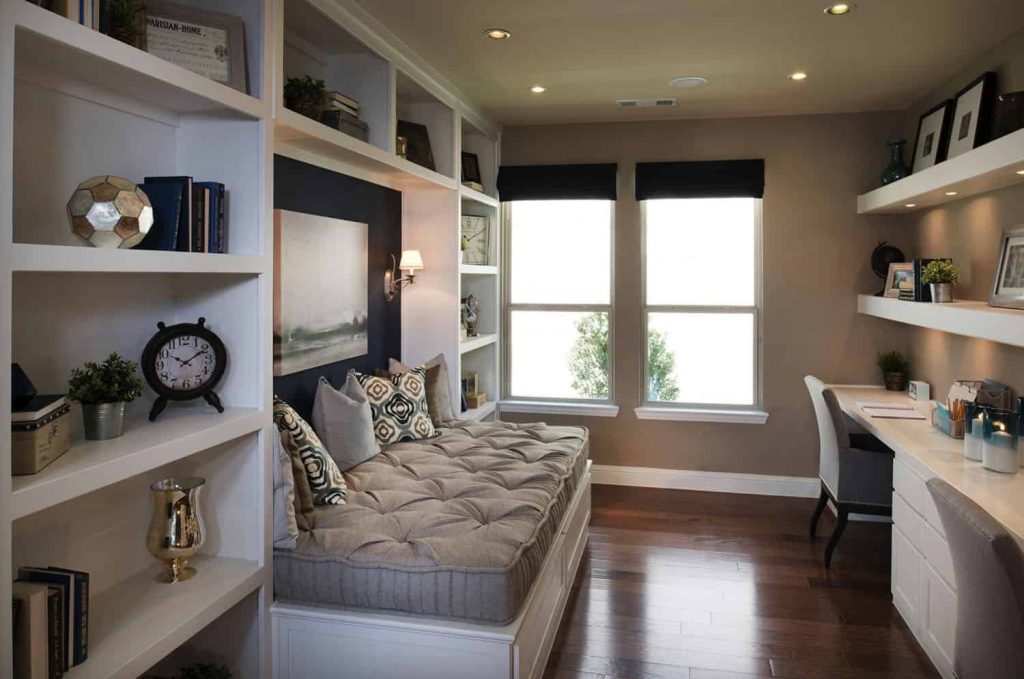 If you do not have space for a separate guest room, you can incorporate a small comfy bed in your study room. In the image above, a sophisticated bed has been installed in a nook right opposite the study table.
Multiple shelves have been added to maximize storage space. This room is a perfect example of maximum functionality in a little space. You can add statement accessories and showpieces to add to the aesthetics of the space.
7. Add a Sofa Bed to Your Office Room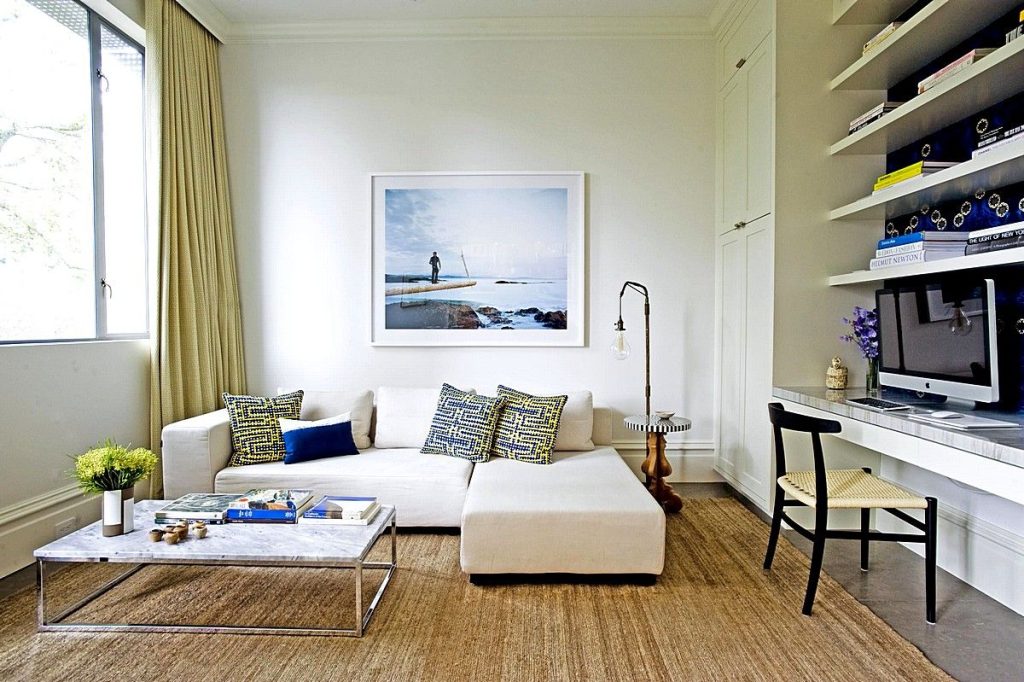 You can install a sofa bed in the corner of your office to save some valuable space. The sofa bed can be used as a sofa when no guests are staying over.
This will make room for other office essentials like a desk, chair, and office furniture. You can get the bed out of the sofa and provide your guests with great living space as and when required.
You can further add pendant lights or statement ceiling lights instead of lamps to save up on floor space.
Also Read: 15 Tips for Designing a Warm and Inviting Guest Bathroom
8. Utilize an Unused Wall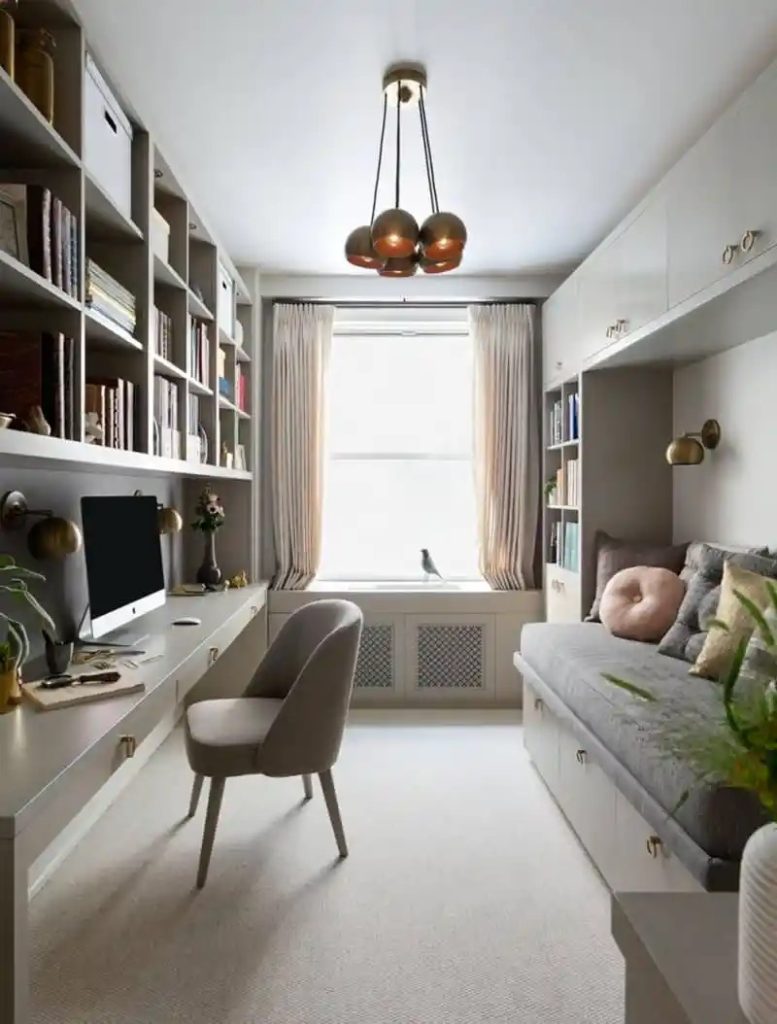 If you do not have sufficient space to build an office, you can utilize an empty wall in any room. You can install a fold-in desk and add some hidden shelves, as shown above, to save up some space. This pop-up workspace can be hidden easily and is also very functional.
The greatest benefit of this hidden office is the foldable desk that fits almost anywhere. You can select the desk color and texture depending on the interior design and layout.
9. Create a Functional Home Office Room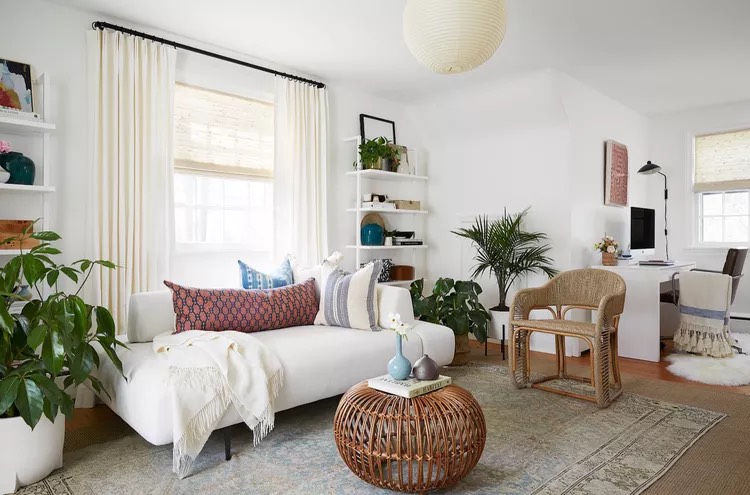 This home office idea is highly space-saving and functional. It looks professional and welcoming at the same time. There are file drawers incorporated right below the daybed.
With a combination of open and closed shelves. This room provides abundant storage space to keep office supplies and living room necessities. The room is done in gray and white hues.
The light tones make the space appear larger.
10. Incorporate a Modular Daybed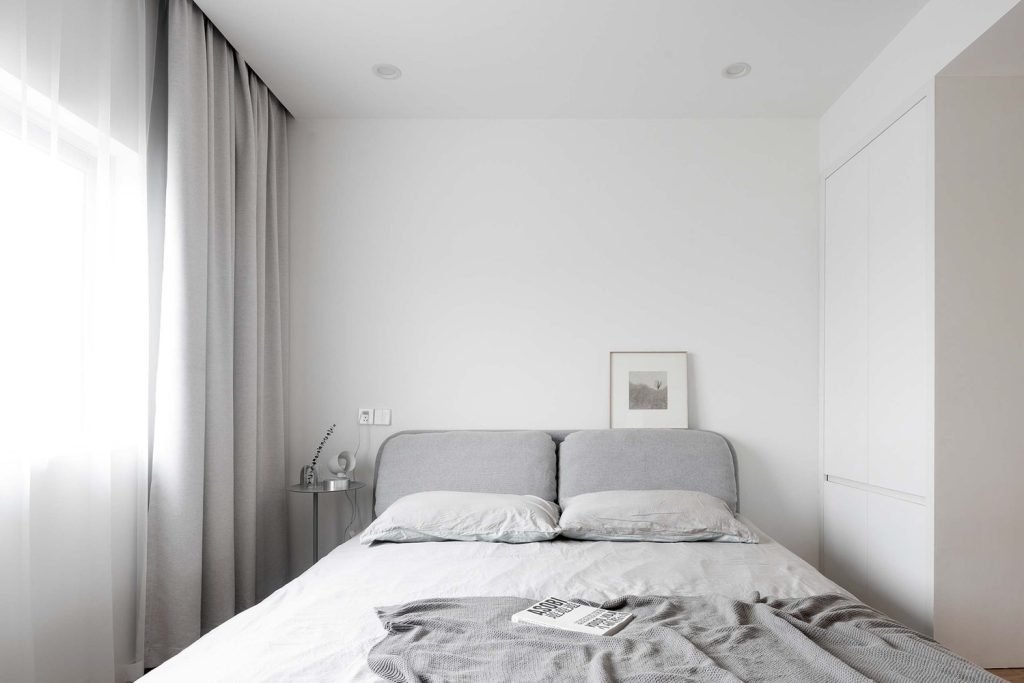 In this design, a modular daybed has been incorporated into a spacious office room. The backrest of the bed can be removed as and when required. The armrests are also detachable.
This allows you to create a large bed when guests arrive. The desk is installed in a niche so that visitors don't feel like they are staying in an office.
11. Add a Wall-Mounted Desk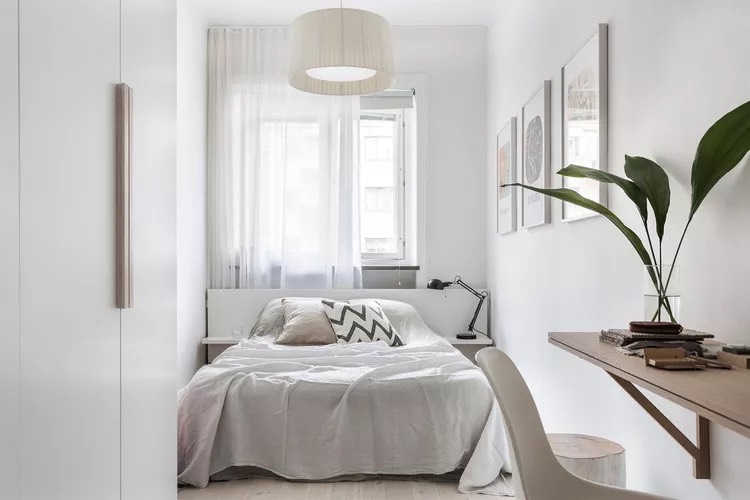 If your guest room is lengthy and narrow, you can add a wall-mounted desk to save up space. It can be used as a small office space, and when guests arrive, you can add plants or accessories to the desk for a homely and welcoming feel.
This is also an affordable alternative to a sit-in desk. The height of the desk can be determined as per your requirements.
12. Add a Built-In Desk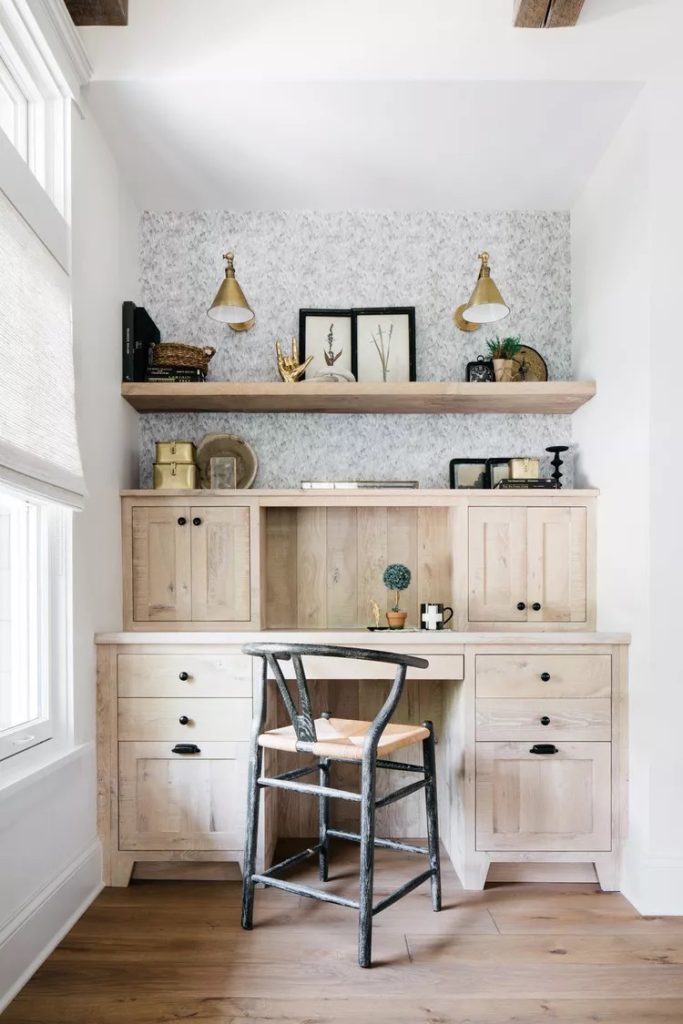 If you prefer working from home, then you can create an office area that matches the look and feel of your home. You can add a built-in desk to any corner and get a matching chair that goes with the overall look.
This design has a combination of closed storage options to conceal the clutter as well as open shelves to showcase accessories or office supplies.
13. Add a Sleek Metal Desk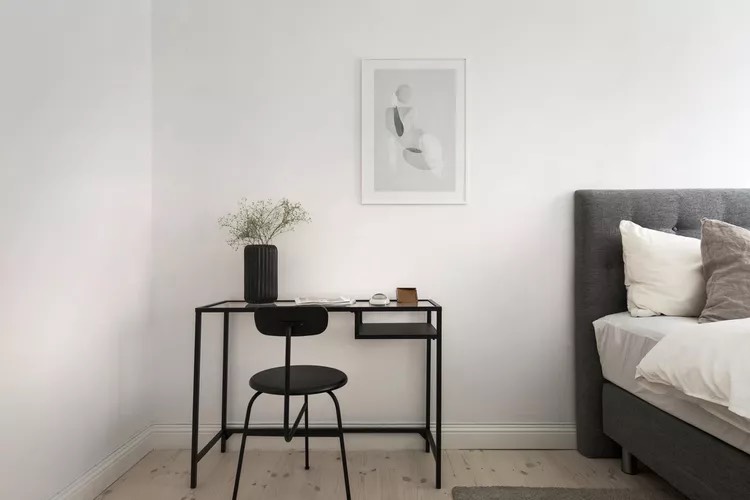 If you like minimalistic looks, you can add a very sleek black metal desk in your room at the side. This desk doesn't take up much space and looks classic and elegant at the same time.
You can add a black metal chair to complete the office look. To further elevate the look, you can even add some greenery or accessories. This office space looks best in a neutral grey or white bedroom.
Related: 20 Best White Floating Shelves Design Ideas for Your Home
14. Create Something Simple and Functional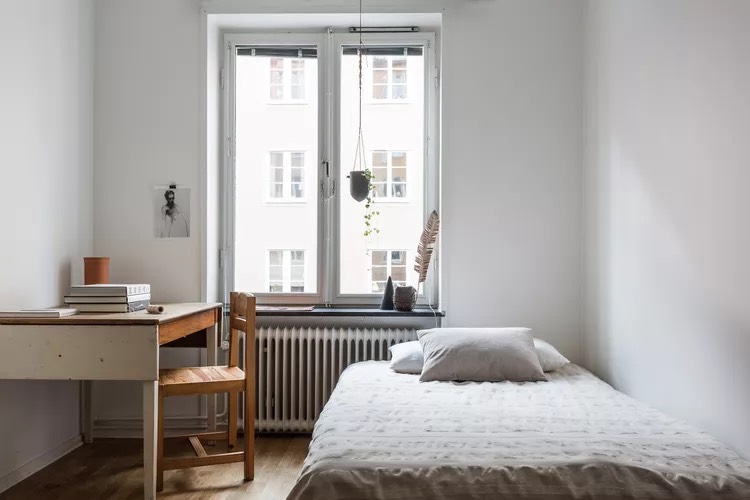 This design is the epitome of simplicity and functionality. There is barely any furniture involved, yet the space serves as a great office and guest bedroom at the same time.
It looks comfortable, welcoming, and professional. The floors are made of hardwood, and a wooden desk has been installed to give an earthy feel.
The bed is simple, and the entire room is done in white and grey, which makes it look spacious and airy.
15. Create a Separate Office Area on a Raised Platform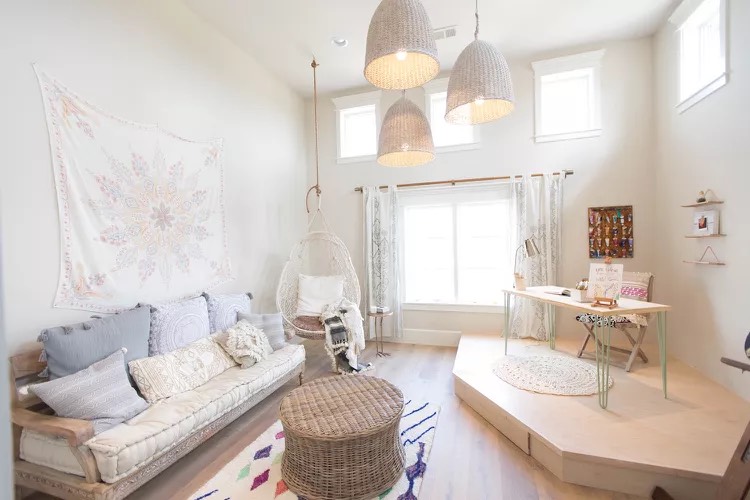 Putting the desk on a separate, raised platform in a nook gives your eyes a break and makes the area look larger.
The desk is facing outwards rather than towards the wall, which feels much better to the person who is working in the area. Light colors have been used all over the room, which makes it breezy and spacious.
A hanging chair in another corner makes room for changing work postures and taking a breather in between work.
Factors to Consider While Designing an Office Guest Room
Here are a few important factors to keep in mind while designing an office guest room.
The most important factor is that the space or room you create should be easily accessible from your bedroom so that you can get in and start working without wasting any time.
The room should be both functional and comfortable. The room should have a comfortable bed as well as a work desk. You also have to consider the aesthetics of the room to create a good impression on your guests.
At the same time, the room should be a little spacious so that guests can be accommodated without any hassle. A private bathroom would be great as it would ensure privacy for your guests.
Finally, the space should be equipped with welcoming and comfortable furniture. Basic amenities like Wi-Fi, a coffee maker, and a TV unit should be incorporated to make the guests feel at home.
How Can You Decorate Your Office Guest Room?
If you have guests coming over, you have to ensure a few things beforehand. You have to make them feel comfortable and at home even if there is a lack of space.
A few things that you can add to the guest room are fresh flowers and candles to create a refreshing vibe. The bed should be comfortable with a lot of throw pillows for added coziness.
If there is a lack of space, make sure you install floating shelves or desks to maximize the storage space for guests. These simple tips and tricks always work and will help you create a welcoming ambiance in your home.
Conclusion
We hope that these office guest room ideas have inspired you to create an office as per your requirements in a little space. Creating this space shouldn't be very challenging.
You simply have to focus on building an area that balances work and play. Select exquisite materials and furniture that embodies the design style, and you will be able to turn your vision of a dream home office into reality.
You can draw some inspiration and create something functional and affordable using this guide.
Frequently Asked Questions (FAQs)
How Can I Make My Guest Room More Functional?
You can make the space more functional by using it to create a home office. Or you can also create a nursery in the guest room. You can add furniture that offers high utility and functionality to maximize storage space.
Check This Next: Discover 12 Stunning Arched Bookcase Designs for Your Home
How To Design a Small Office Room?
You can create an office in the guest bedroom. You can also double a wardrobe into an office to save up on space.
Other space-saving elements like floating shelves and floating desks can be added. They offer high functionality and make the area appear larger.
What Is the Ideal Size for a Home Office?
A standard home office could be anything from 50 square feet to 150 square feet, depending on the amount of spare area you have in your house.
You can utilize anything from a small unutilized area to a spare guest room.
What Can I Put in My Guest Room?
You can install an extra comfy bed, a television unit, or an office desk and some functional furniture to make the most of your guest room.
How Can I Make My Office Room More Beautiful?
Invest in a comfortable and cozy chair, add some functional furniture to boost storage space, and color the walls. You can also add colorful plants to this space to give a refreshing vibe.
Other Articles