15 Budget-Friendly Bedroom Ideas for Men
Are you looking for creative and stylish men's bedroom ideas on a budget? This is where you will get all the ideas that you are looking for. No matter if you prefer minimal decorations or...
Are you looking for creative and stylish men's bedroom ideas on a budget? This is where you will get all the ideas that you are looking for.
No matter if you prefer minimal decorations or highlighting the masculine décor, every bedroom reflects your personality. Men these days are very savvy about the interior design of their rooms, as every single detail matters.
Though, it sometimes can be tough to give a sleek and masculine décor to men's bedrooms without ruining the whole essence. We are here for your rescue with some of the most favorite men's bedroom ideas on a budget. Create a space of delight and relaxation that matches your true self.
Men's Bedroom Ideas on a Budget
A men's bedroom doesn't have to be boring or dull. Thanks to social media in our lives, there are many inspirational ideas to décor a men's bedroom. Wouldn't you want a special attractive room designed especially with your sense of aesthetics?
Take a look at the top 15 men's bedroom ideas on a budget to give that special touch to your bedroom:
1. Paint It with The Right Color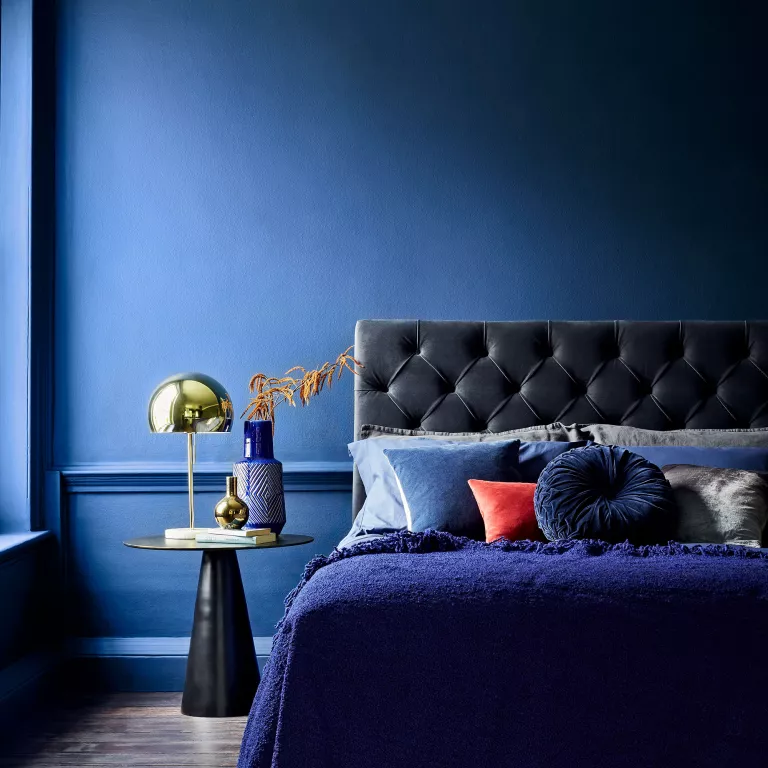 Neutral and warm colors are generally the best choice for men's bedrooms to enjoy clean and serene surroundings. You can choose shades like black, white, grey, dark blue, dark green, etc. as your choice. However, it is important to strike a balance.
You can also add any of your favorite artwork pieces to the room. Choose an accent color from the artwork and add some pillowcases, rugs, and cushions to transform the style of your room. Make sure not to overdo the accessories as it can hamper the entire look; just add 1-3 items in the accent color.
2. Keep It Simple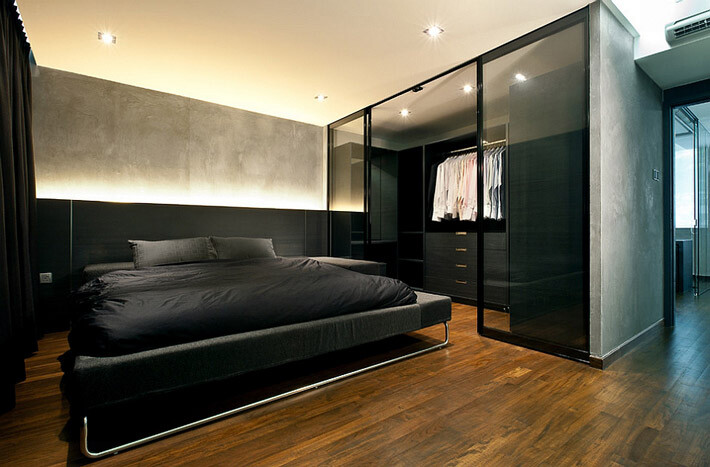 If you are one of those who prefer simplicity over anything else, then let it be. The idea of keeping it simple never goes wrong; when designing a men's room. Striking simplicity in design and accessories is one of the best men's bedroom ideas on a budget.
Include just the basic necessities in the room to get the most functional, practical, stylish, sophisticated, and cost-effective interiors. In addition, you can also use contrasting colors and décor to beautifully blend simplicity with masculine elegance. It is also a good idea to use different materials and light settings to make the place more cozy, comforting, and relaxing.
3. Balance the Details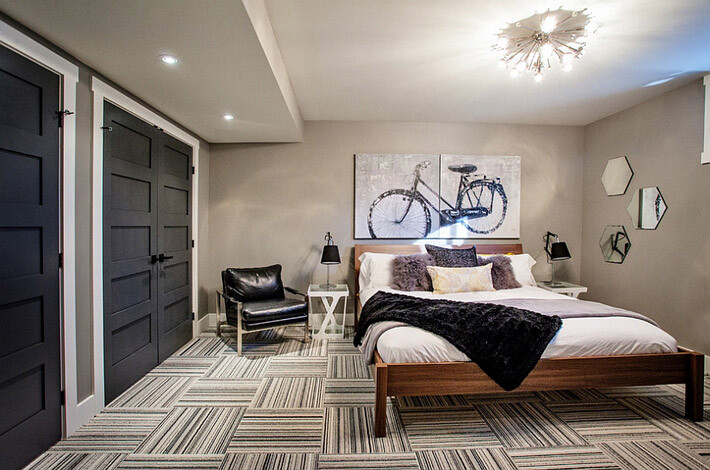 You surely want to have every single detail in your room, but overdoing them is not happening. When planning to renovate or design a men's room, striking the perfect balance with the details is one of the most important needs. 
Choose the accessories that define the fine line between masculine surroundings and electrifying style. Try emphasizing geometric patterns, an attractive wall painting, or an adventurous art piece for the room. You can also use masculine armchairs and mirrors in different styles to maintain balance with the detailing.
4. The Chest Show-Time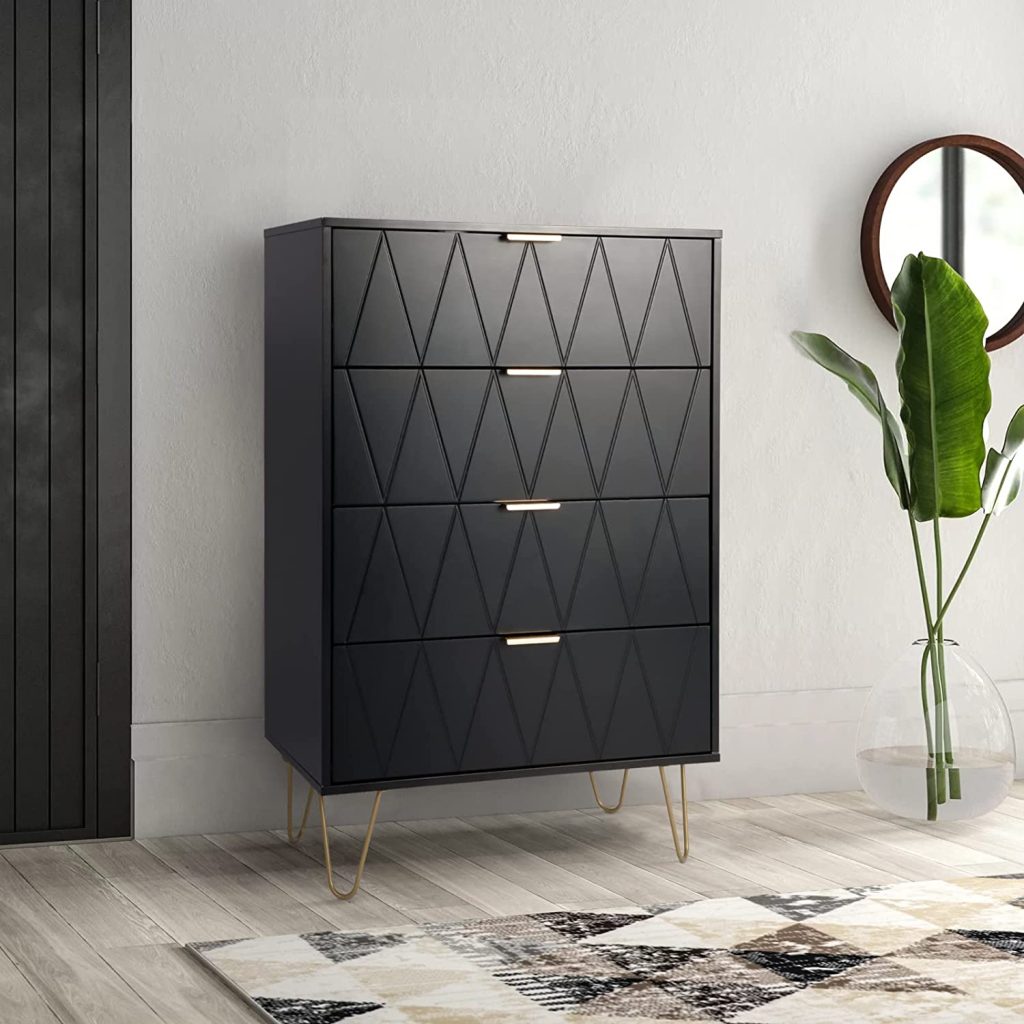 Do you want good storage space in your room? Why not use the storage accessories as defining stylish pieces for your bedroom?
With modern living in compact spaces, nothing can be better than a stylish chest for storage and looks. You can obviously go for the basic chest styles; however, adding a unique antique chest is highly recommended. To glam your bedroom with a vintage chest is certainly one of the best men's bedroom ideas on a budget.
5. Platform Beds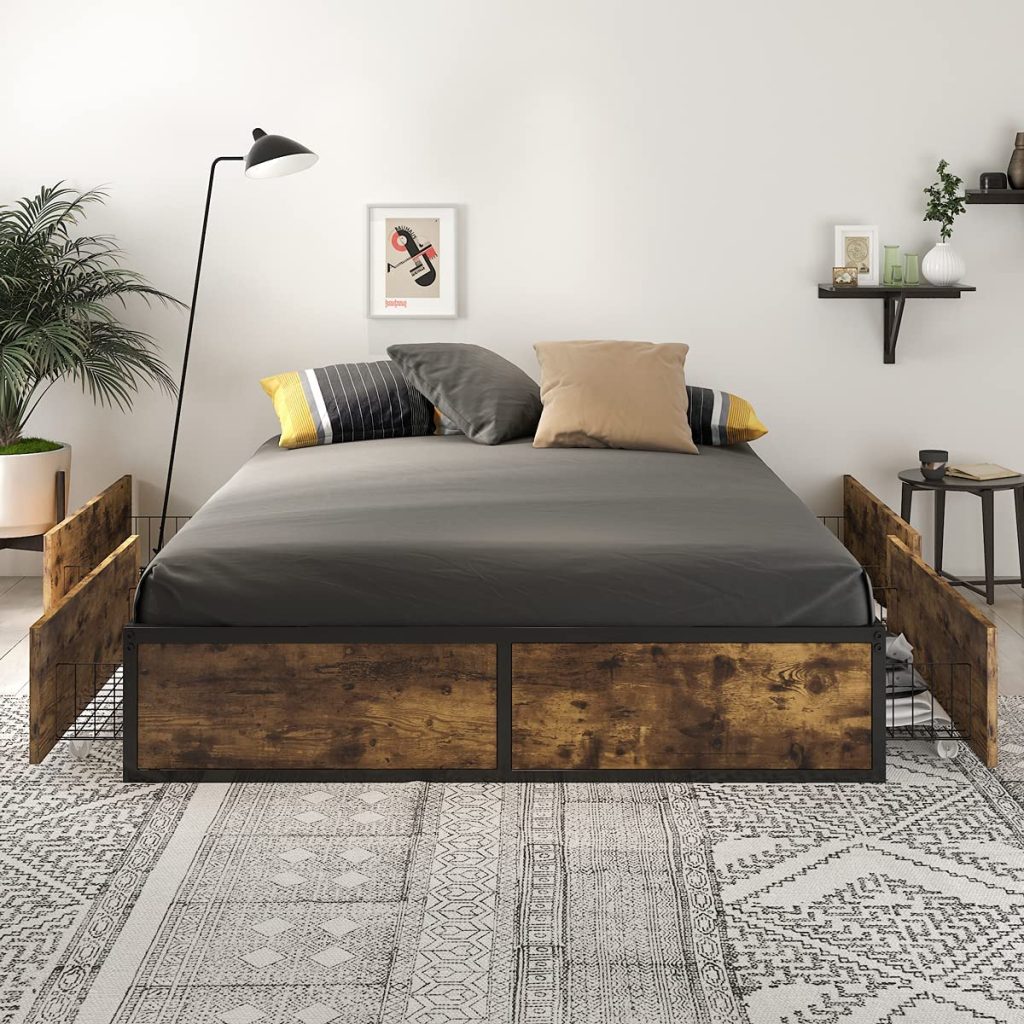 When you want to get the style right for a men's bedroom, nothing can come closer to maintaining simplicity. Besides preserving simplicity with the basic décor, maintain it too, particularly the bed.
One of the best ideas to have a simple yet effective bed for a men's bedroom is to choose one with clean lines and sharp angles. Also, always make sure to choose a high-quality bed to avoid any hassles that can later be a big problem.
Usually, platform beds make the perfect choice for a simple addition as they are versatile, aesthetic, and practical. There are several varieties available depending on the colors, shapes, and sizes.
6. Add the Magic of Leather Chair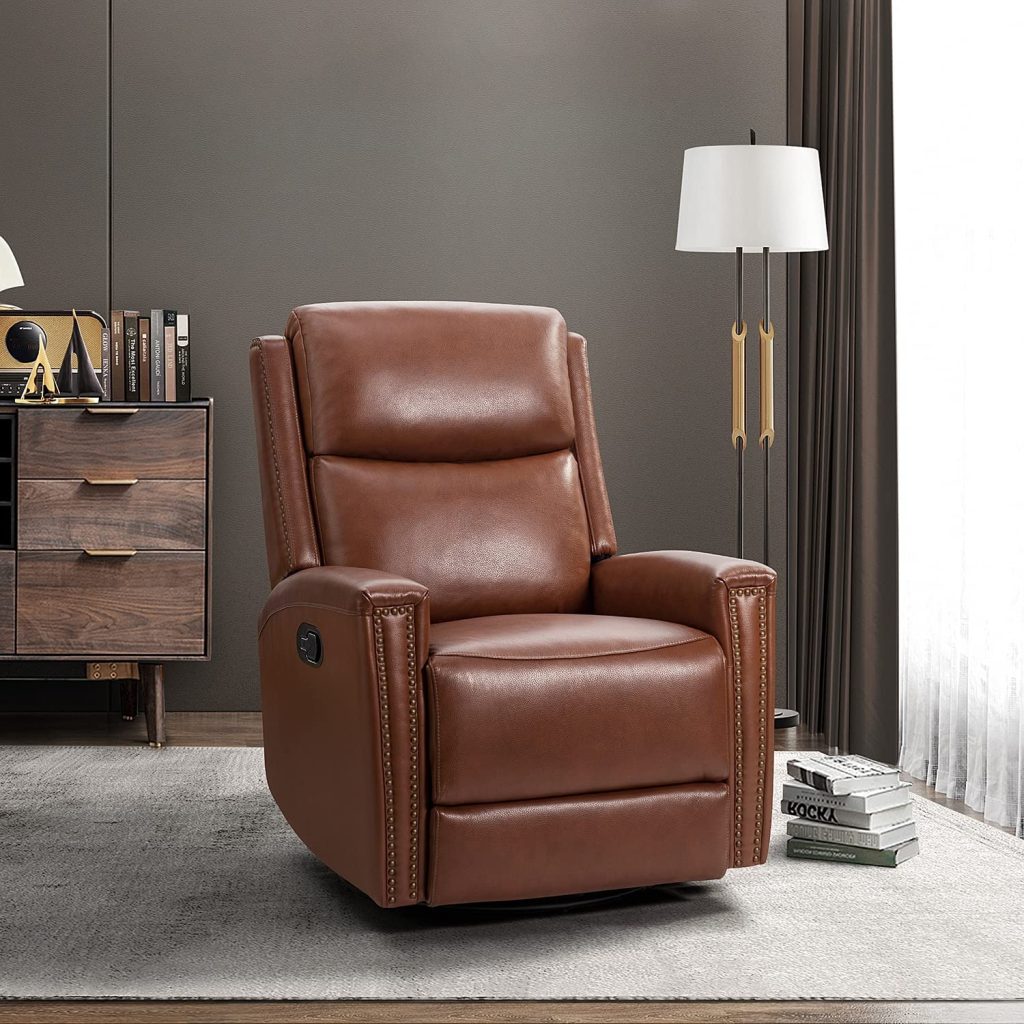 While a simple, sleek, and attractive bed is surely the center of attraction for a men's bedroom, you cannot miss the charm of a leather chair. It is not just a piece of furniture in the room but adds a whole different vibe to the room.
Just imagine the time when you can simply relax on the leather reclining chair to enjoy your quality time. Nothing can get better than this, isn't it? Moreover, a leather reclining chair is a must-have addition for all those times when you prefer to sit and watch rather than lie and rest.
7. The Sophistication of The Perfect Lighting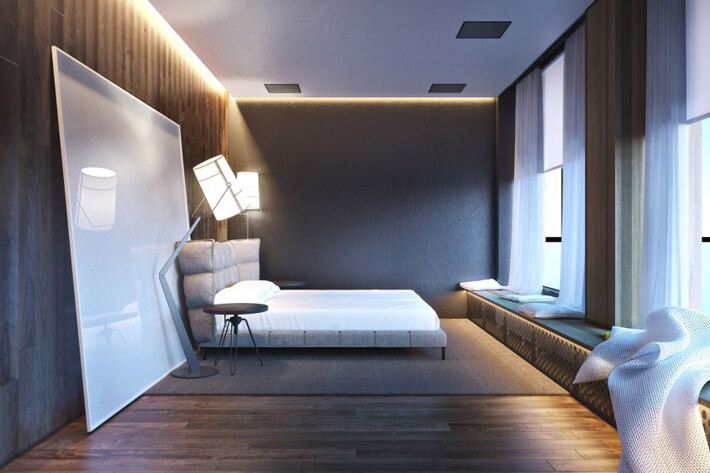 You may have all the wonderful highlights in your bedroom, but with bad lighting, nothing will work in your favor. A room only gets its charm and magical touch with the perfect lighting. It can be said that sophisticated lighting is the ultimate essence of men's bedroom ideas on a budget.
The most important part of having the perfect lighting is to understand the placement and adjustment of lights. Accompany the dark decorative colors with LED lighting to do proper justice to their beauty. You can also use LED lighting on the ceiling to add harmony to the sitting area.
8. Light up The Bedside Table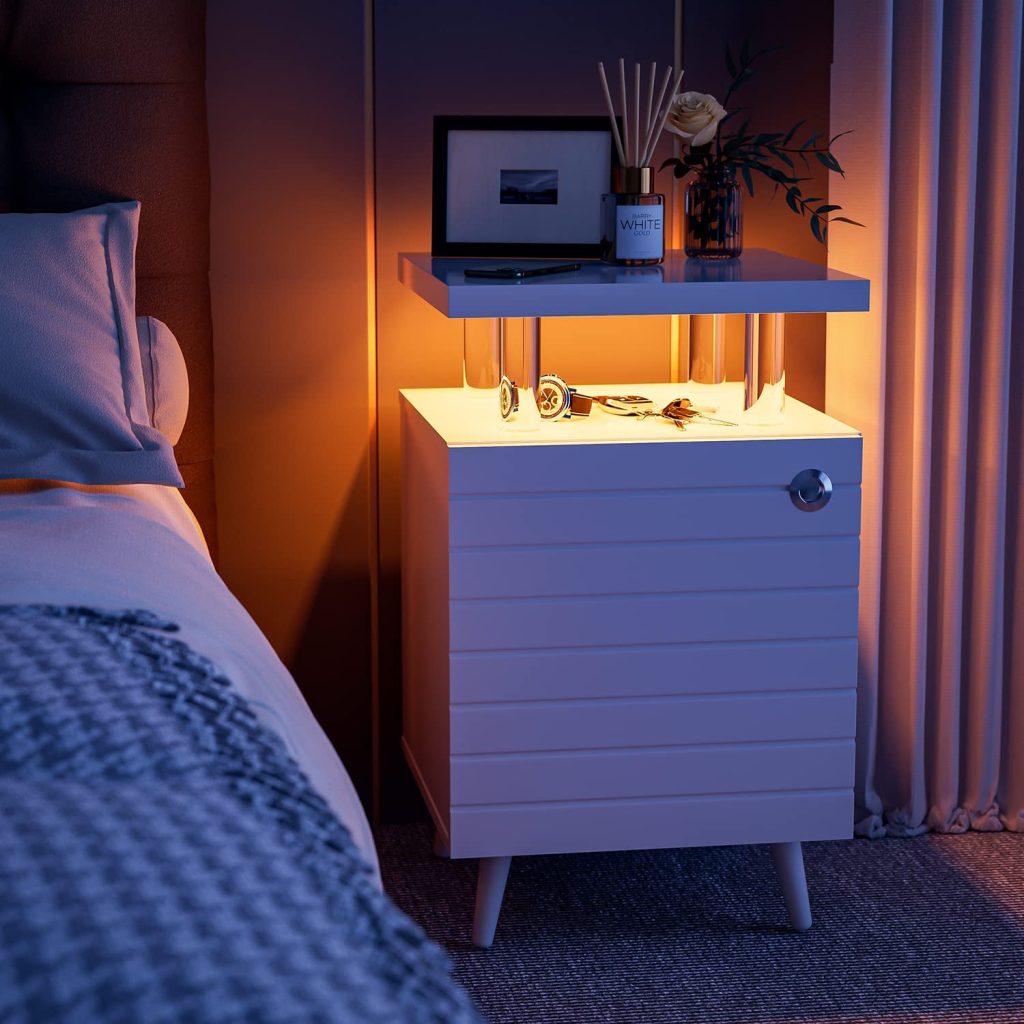 A beautiful bedside table has always been an attractive addition to bedrooms. Not just are they stylish but practical for storage as well. And who doesn't want some extra storage, isn't it?
If you have been overlooking the need for a bedside table, it is time to pick the most stylish one to notice the difference. Use the bedside tables to place an attractive lamp or simply to put your phone.
However, it is important to carefully match the bedside table with the aesthetic of your room. Don't just place any bedside table just for the sake of it. Invest enough time to find the perfect piece that elevates the style of your bedroom.
9. Combine Adventurous and Functional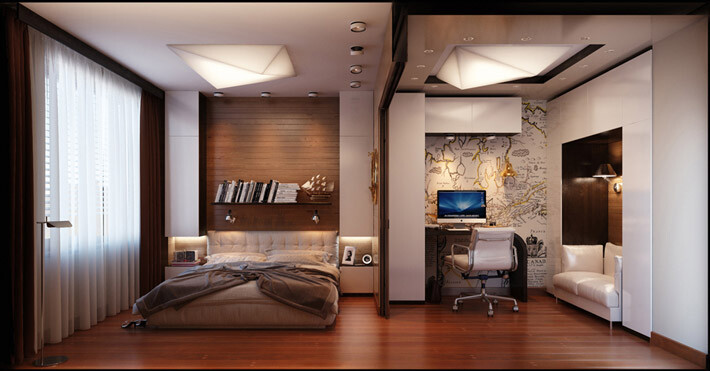 If you are an adventurous soul who likes to keep his surroundings functional and practical, combining the two will be one of the most unique men's bedroom ideas on a budget. You can add many adventurous elements to your room that matches your personality.
For instance – you can use travel map wallpaper for your working space to ensure high creativity and innovation. You can also decorate different souvenirs around your workspace to keep it more lively and energetic.
Enhance the beauty of the room with warm neutral colors with the perfect functional lighting. Make it a space that combines your life thoughts with passion.
10. Light The Lamp Light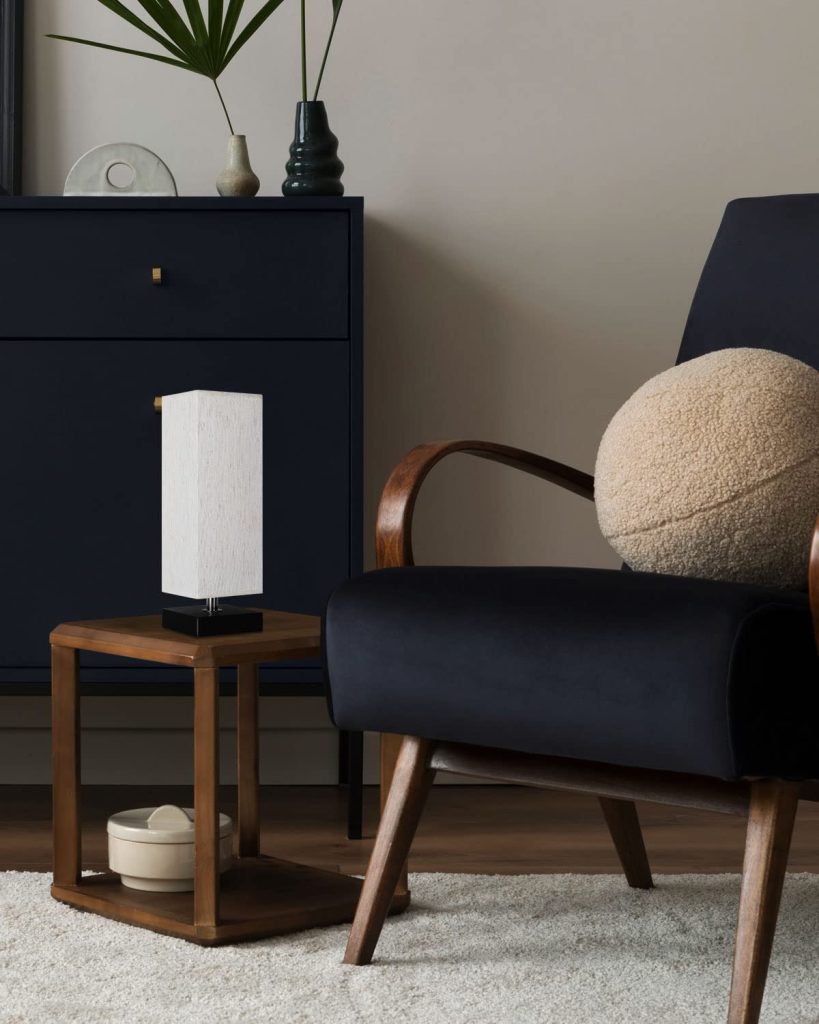 Whether you decorate your room with a whole bundle of light or have extraordinary lighting arrangements, nothing can come closer to the beauty of a side lamp. The glam quotient of a lamp is timeless and looks good with any room décor type.
If you have a simple room décor, a lamp can be an attractive solo item that adds the required charm and style. You can obviously choose any style, shape, and color depending on the vibe of your room. Small or big, wide or narrow, a room lamp adds sophistication to modern styling and design ideas.
11. Tall Headboard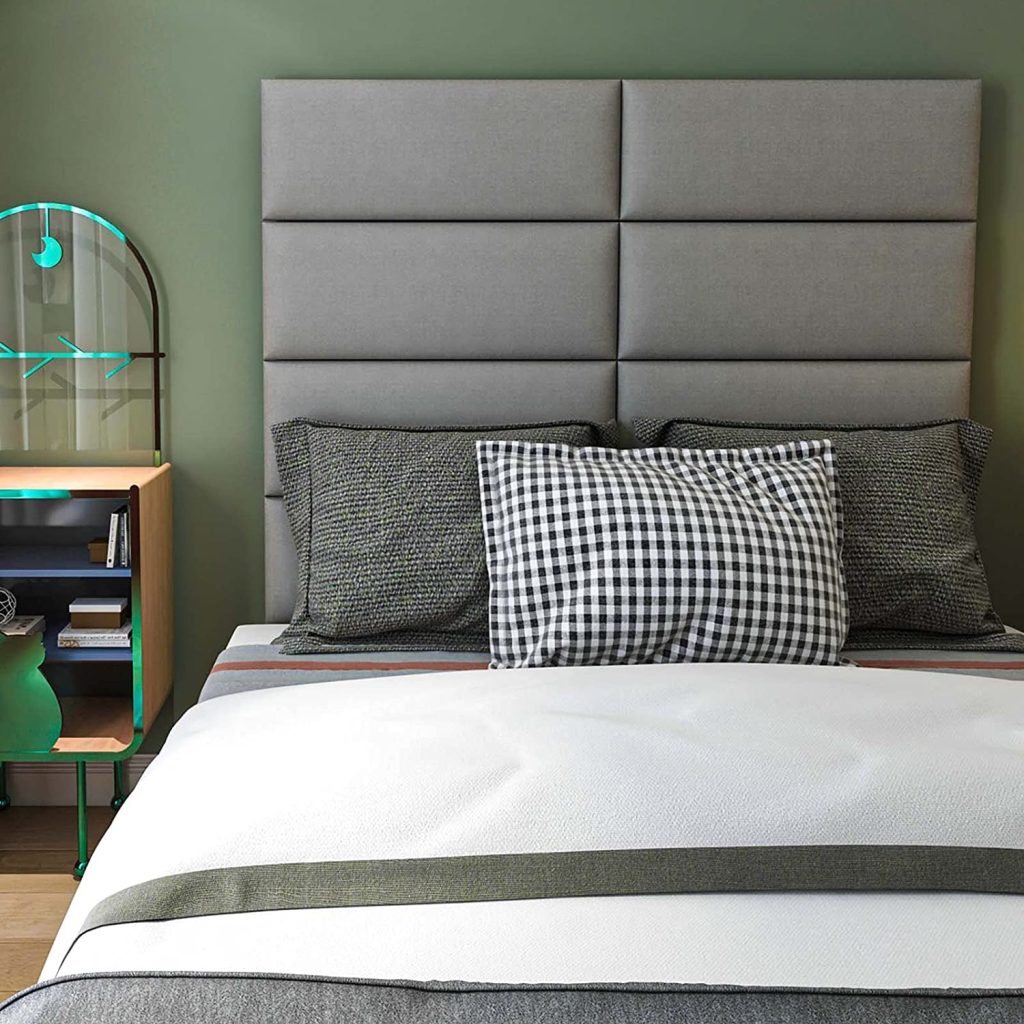 Headboards give so much to the bedroom. Besides offering the best comfort, these headboards have become the center of attraction in men's bedrooms. Playing with different styles and headboard options can be one of the finest men's bedroom ideas on a budget.
Move out of your comfort choices and pick a bright or tall headboard. The bright headboards are ideal for small places with pale and light-colored walls. On the other hand, the tall headboards create the illusion of height in your room, which is surely appealing in every possible way.
12. Walk on The Stylish Floors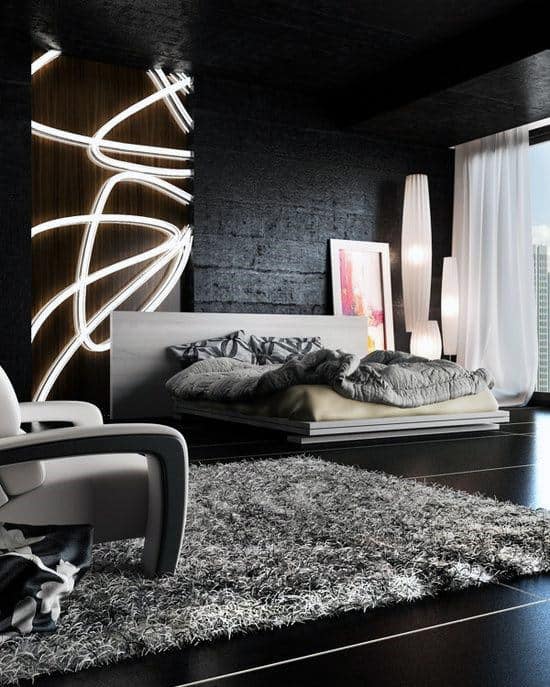 The choice of flooring you make can distinguishingly define the entire room. It is interesting to know that your room's flooring is one of the first few things that anyone notices. You certainly would want to create an impact with the choice of flooring.
If you have natural lighting in your room, you can also opt for dark floor tiles as they easily reflect the light. Simply adding some sheer curtains will also be a good idea, as the heavy ones would absorb most of the natural light. You can also choose light color floorings to experiment with many different styles and looks for your room.
13. Enjoy Luxuries with Amazing Nature Views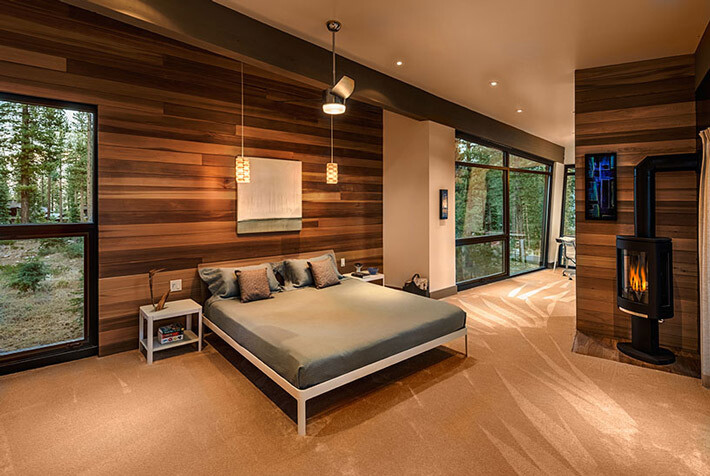 If you are one of those lucky, blessed ones to have a nature view in your bedroom, combine it with your needed luxuries. What can be better than enjoying luxuries with a relaxing and calm nature view?
Talking about the interiors, you can make plenty of use of large windows to enjoy the beautiful view as much as you want. Moreover, it also allows natural light and air to pass through the space. Maintain the natural elegance of the space using minimal, warm, and wooden additions.
14. Using Natural Materials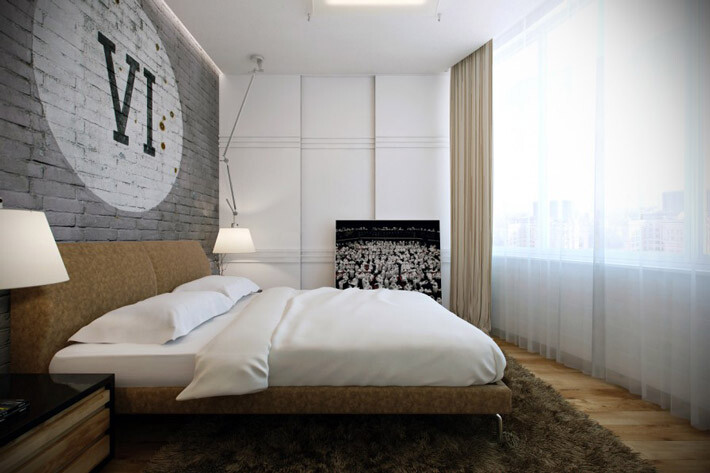 Don't Worry if You Don't Have Direct Access to The Wonderful Beauty of Nature. You Can, Too, Get Closer to The Beauty and Health Benefits of Nature. Designing and Decorating the Room with Natural Materials Is One of The Most Trending Men's Bedroom Ideas on a Budget.
Choose Natural Materials, Colors, and Textures that Bring You Closer to Nature. Moreover, the Use of The Right Natural Material Ensures Increased Breathability for Maximum Relaxation. Combining Wood Flooring and Brick Walls Makes One of The Great Choices for a Men's Bedroom.
15. Try a Pop of Color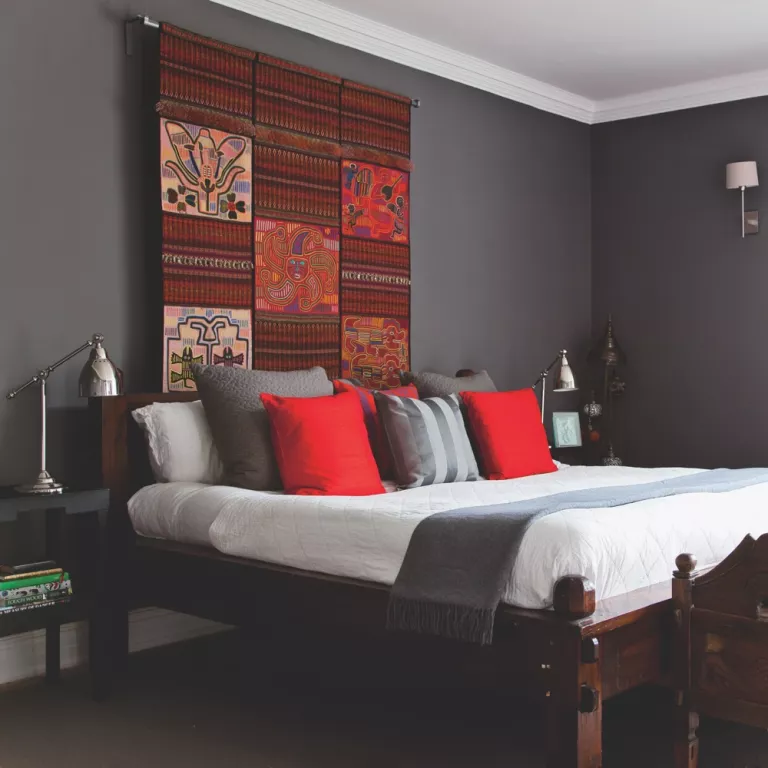 Are you tired of painting your bedroom's walls with blue, green, grey, or black colors? It is time to make some changes by adding a pop of color to your room.
You can brighten up your room by adding a splash of bright colors according to your personality. Try adding a bright color against a dark backdrop for the best impact, as it elevates the style to a vibrant and sleek level. Add some cushions in both dark and bright colors to make the place look more lively and beautiful.
Styling your room with contrasting accessories also adds to one of the finest Men's bedroom ideas on a budget.
Final Thoughts
Bedrooms are really important parts of our routine where we start and end our days. Thus, having a space where your mind, soul, and body can relax, breathe and motivate is certainly needed. You can experiment with different Men's bedroom ideas on a budget To define your bedroom just the way you want.
There is always a design and style that perfectly matches your personality. Get going to organize your personal space with the trendiest and most stylish Men's bedroom ideas on a budget. Reach us in the comments for any of your concerns or doubt.
Frequently Asked Questions (FAQs)
What is the Most Preferred Color for Men's Bedrooms?
Though you can use any color for a men's bedroom; however, grey makes an obvious masculine and sleek choice. Besides grey, you can also add some warm colors like brown, dark green, burnt orange, etc., for a man's room. You can use some cushions and accessories to add more comfort and attraction.
How to Make the Bedroom Look More Masculine?
Sticking to the neutral color opens the scope of maximum flexibility and creativity in men's bedrooms. It sets a base that can be experimented with in different styles and looks. Combining white bed sheets with colorful cushions is also one of the ways to add masculinity to the bedroom.
Can a Men's Bedroom Have Decorative Items?
When you are experimenting with different Men's bedroom ideas on a budget, there is always a scope for adding decorative items. You can add decorative items like rugs, lamps, curtains, bed sheets, cushions, etc., to make the space cozy without ruining the masculine vibe.
How Can You Glam Small Bedrooms with Creative Décor Ideas?
It can be challenging to showcase creativity and innovation in a compact bedroom space. However, you can still elevate your space by adding a stylish chest, drawers, almirah, side tables, etc. They not only glam up the space but also provides enough storage space.
Other Articles