Top 20 Long Floating Shelves To Enhance Your Home Decor
Are you frustrated with those old-fashioned shelves taking up so much space unnecessarily? Then you should definitely consider a long floating shelf in your house. It looks amazing in every nook of...
Are you frustrated with those old-fashioned shelves taking up so much space unnecessarily? Then you should definitely consider a long floating shelf in your house.
It looks amazing in every nook of your house. Starting from the bedroom, and kitchen, to the dining room, it steals your attention while increasing your storage area.
However, extremely eye-catching long floating shelves can store everything you like, or you can say the things that you require on a daily basis. It's a complete set of long-lasting utilities for your home. To make it more fun and interesting, start your day by decorating with some beautiful shelves for your home now.
Incredible Long Floating Shelves for a Stylish Appearance
1. Laminated Floating Shelves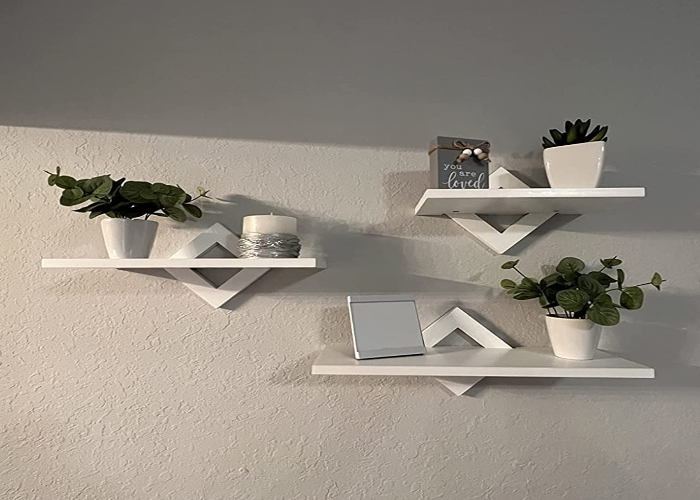 This wall features a greyish-white wall and fully laminated floating shelves on the wall. This provides sufficient space for your favorite piece. And plus, you can include it in any of your rooms without any fear of getting moldy. It definitely gives a modern, minimalist interior look. It's a perfect shelf to add a little more antique stuff. Just avoid the fear of damage and place items the way you want to.
2. White Oak Floating Shelve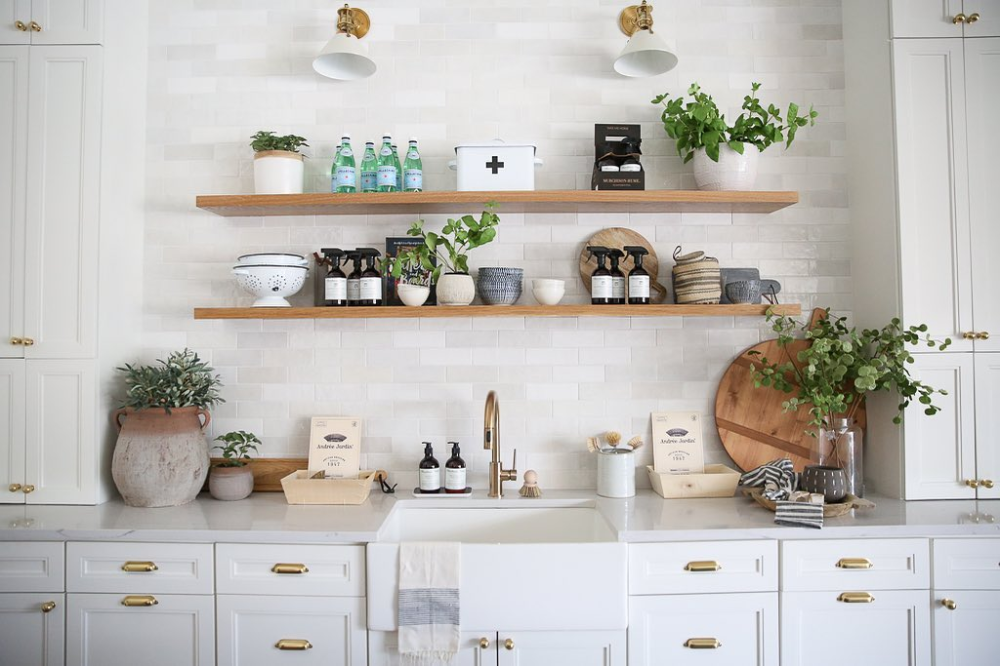 This kitchen space has white oak floating shelves consisting of wooden itineraries and black & white crockeries. The white kitchen counter has a chopping board, and a storage basket is placed under the floating shelves. The overall set-up represents a very neat and relaxing vibe. It is made from high-end engineered wood that makes it different from others. To keep it long-lasting, make sure to clean it on a regular basis.
3. Gold Floating Shelves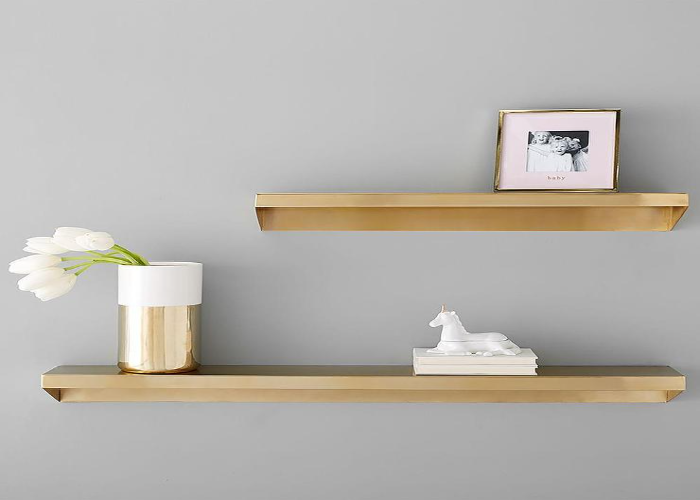 These gold floating shelves can be used both for placing decorative pieces or for your regular stuff. At the same time, you can include some flower pots to it for complete freshness. They perfectly fit into a small area, giving an attractive look. But make sure to choose the right size while placing it. If you have a large room, select large gold floating shelves or 2-3 segmented shelves to hold things securely in place.
4. Marble Floating Wall Shelves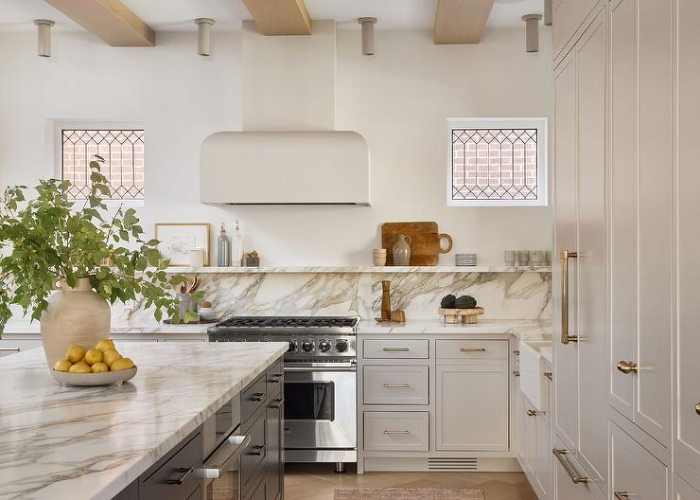 Don't you think this entire kitchen looks quite promising with the marble floating wall shelf? Yes, it is! Floating shelves are a great addition to your entire house. It just adds luxury to your little space! This type of shelf is preferred mostly in the living room areas and the kitchen. To make it more gorgeous, use some spectacular decorative items.
5. Brass Floating Wall Shelves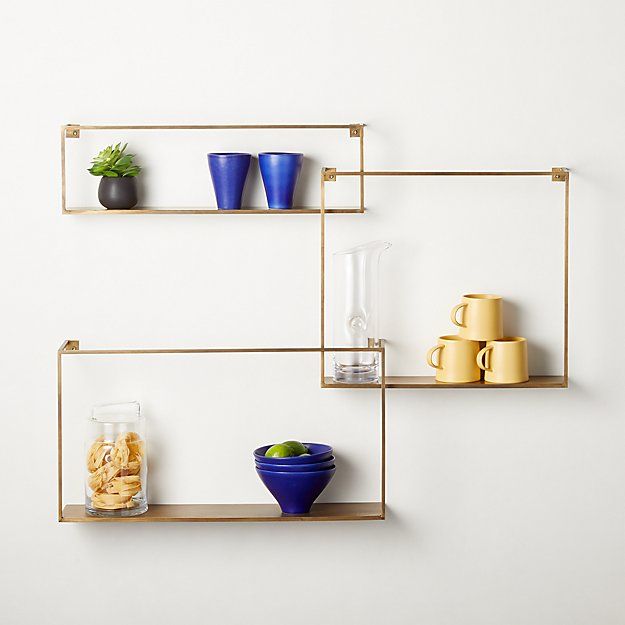 Brass floating shelves are another easy-to-use stuff that is totally suitable for challenging interior placements. These antique brass floating shelves are a sleek designer solution for every home. You can incorporate it in any corner of the house. They can be easily cleaned and mounted in a tiny space. You can fill it with something more attractive according to your needs.
6. Glass Floating Wall Shelves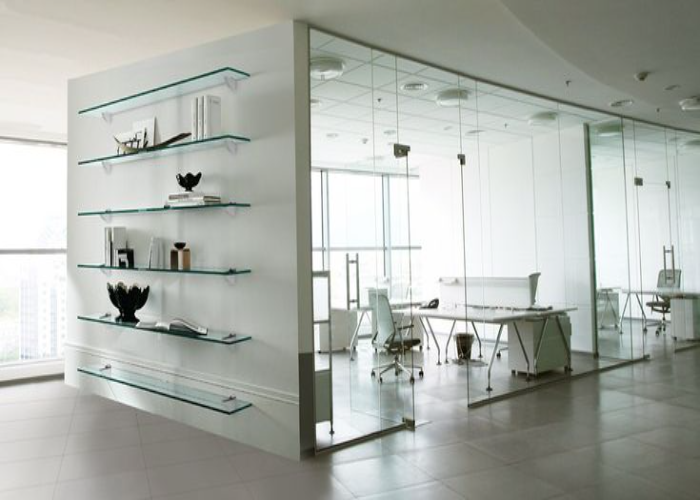 A Long floating shelf is nowadays fun and trendy. You can add it to your home as well as your workplace too. However, to keep it simple, you can design it with some LED lights. Another thing to keep in mind is that you can fit it on any colored wall. It looks perfect! A glass floating wall shelf will never go out of style. This whole office space gives an endless elegant vibe only because of these beautifully mounted glass shelves.
7. White Floating Shelf with Drawer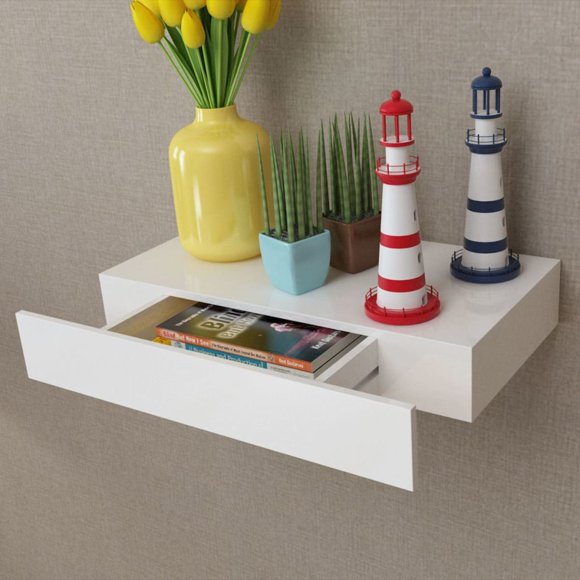 When it comes to adding up a floating shelf, people often dream of some more space in it. This white floating shelf with a drawer got you covered. Now you can use it too to store your daily essentials. However, depending on the size of the wall, you can add it. , if your living area wall is large, then you can definitely choose a larger shelf than the usual one to make it a valuable asset. A perfect display and storage solution!
8. Modern Floating Shelves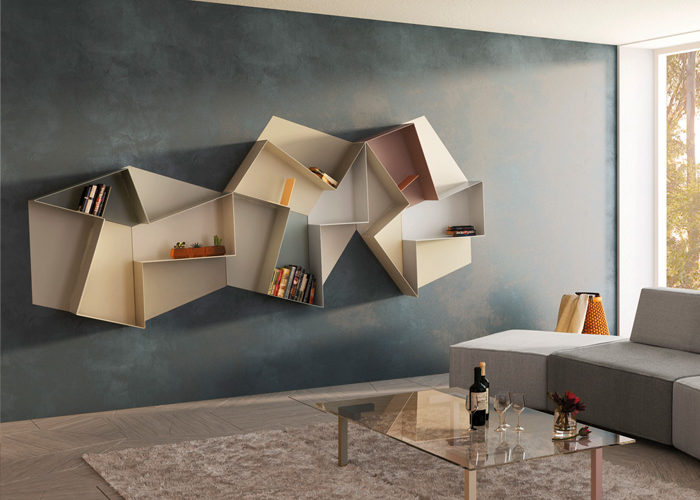 These modern floating shelves add creative style to your living area. It is ideal for storing books, antique pieces, and some light weighted stuff. And the best part is that you can easily clean the whole setup. This smoky blue wall enhances the overall look of the white dusty modern floating shelves amazingly. However, to make it look more attractive, you can add vibrant-colored shelves as well. But do not forget to coordinate with the wall color; otherwise, it might look weird.
9. Stainless Steel Floating Shelves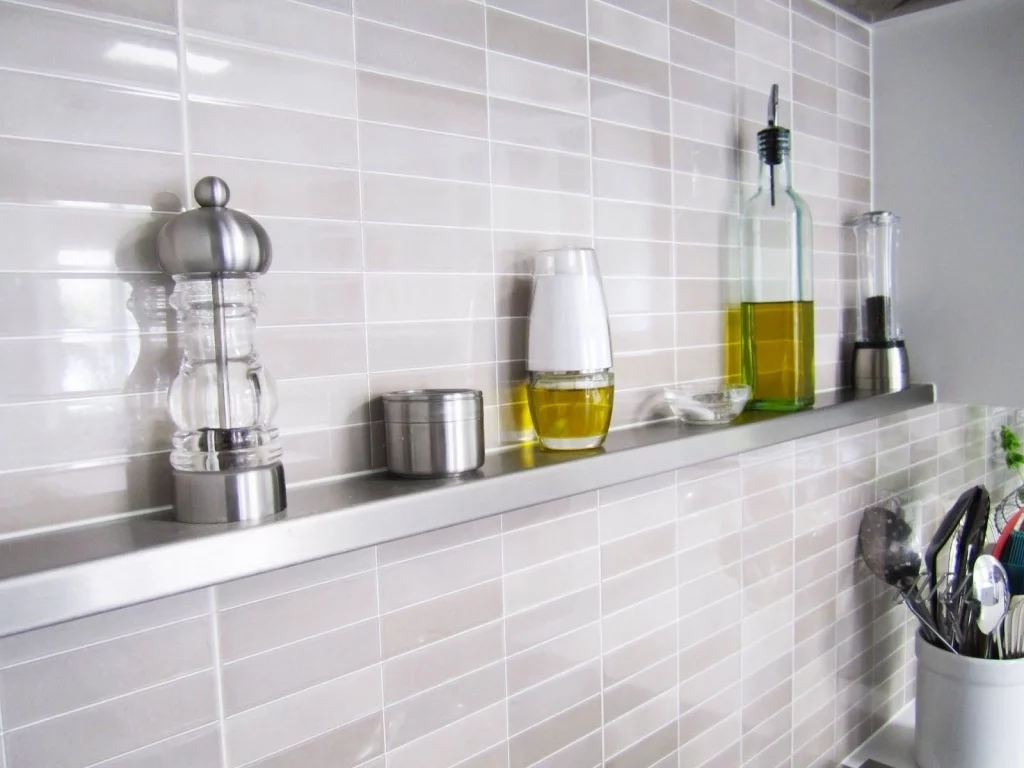 Using this beside your chimney or your bathroom basin is a good-to-go option. Just perfect for housemakers, you can say. This stainless steel floating shelf is non-greasy and fits perfectly in your kitchen space. Without affecting the space and look, you can add it to your bucket list completely stress-free. It's easy to install and strong enough to hold heavy things. Place it now!
10. Long Floating Shelves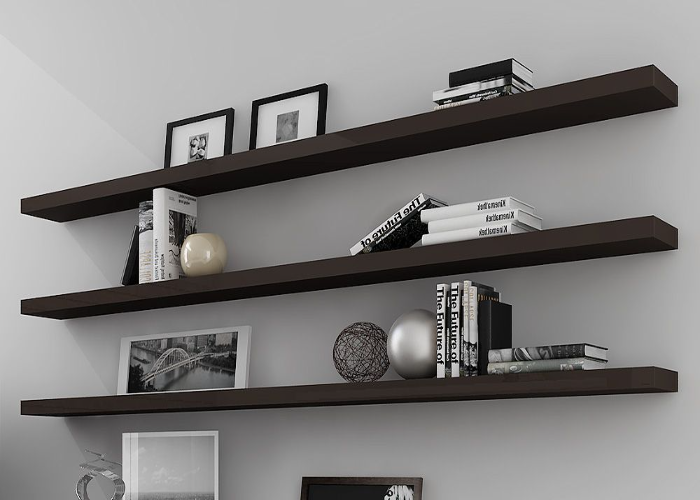 Decorate your wall with these beautiful long floating shelves to make it look complete. If you have a massive living space, then including such types of long shelves will uplift the entire look of your house. All you need to keep in mind is to avoid clumsiness and not add unnecessary and bulky items. Get it organized with cute little essentials to suit your living area's interior needs.
11. Rustic Floating Shelves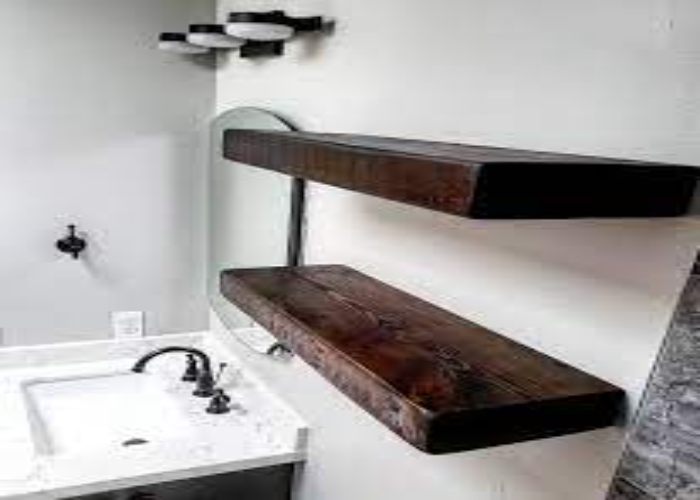 Choosing the ideal floating shelves for your bathroom is quite difficult because few people know how it works. Try rustic floating shelves if you want to store maximum bathroom essentials and choose the finest concept for your bathroom. Place it above the washbasin so that you can access things easily. Make your efforts count while placing them.

12. Floating Shelves with Lighting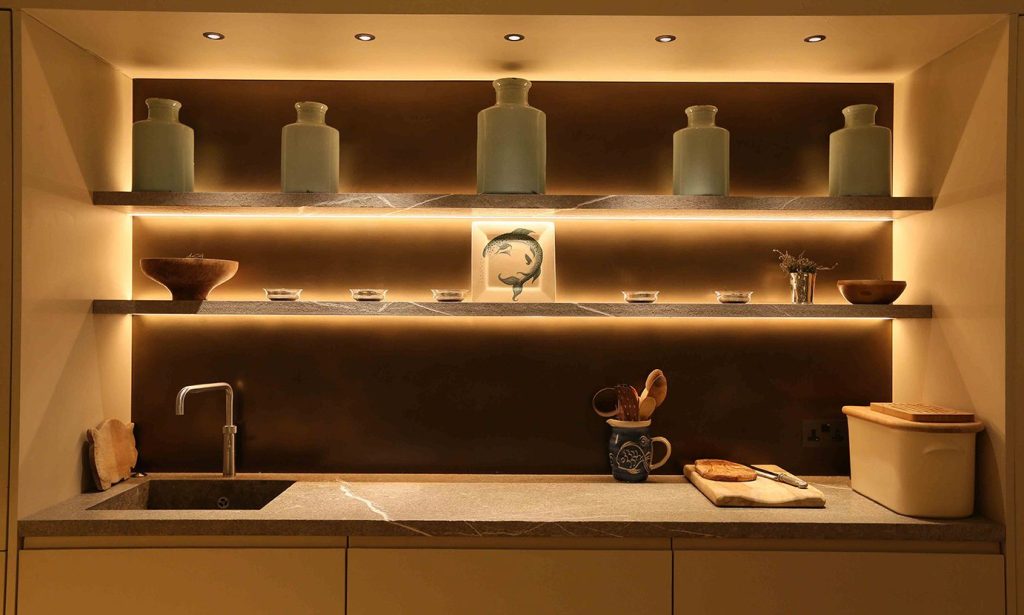 These exquisite rectangular-shaped floating shelves with lightning bring uniqueness to the bare wall of your kitchen with some great utilities. It is completely matt finished with dark oak color, made of high-quality wood. The best option for the living room, kitchen area, kid's room, and bedroom too. You can use it for any purpose like storing books, placing light and heavy weight stuff, etc. Choose accordingly!
13. Floating Corner Wall Shelves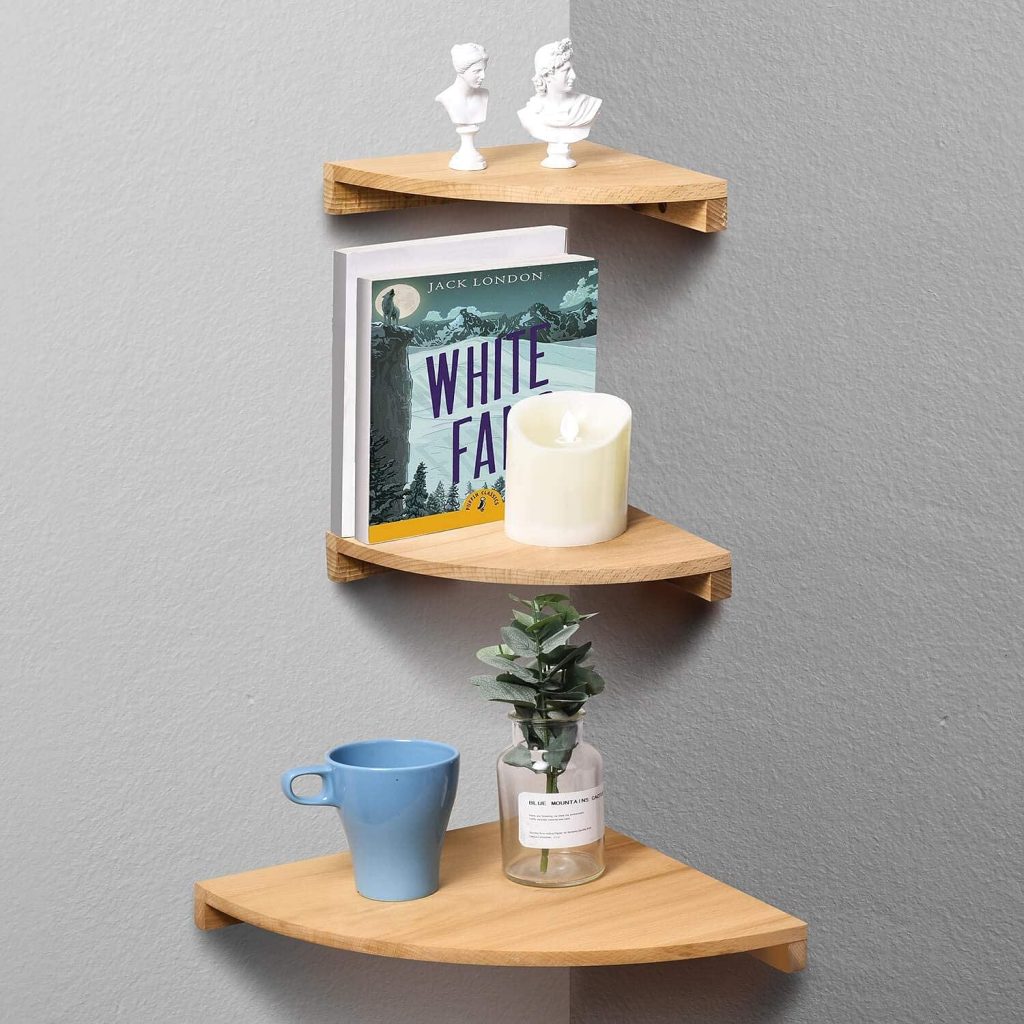 The floating corner wall shelves come with a unique design that fits perfectly in any corner of your house. It has limited rack space to keep your decorative items. You can choose any color of it, but the most demanding and sophisticated color is this white oak one. It gives a unique perspective to wherever you place it. Starting from the color, and materials, to durability, check everything precisely before you lock the deal.
14. Thick Wood Floating Shelves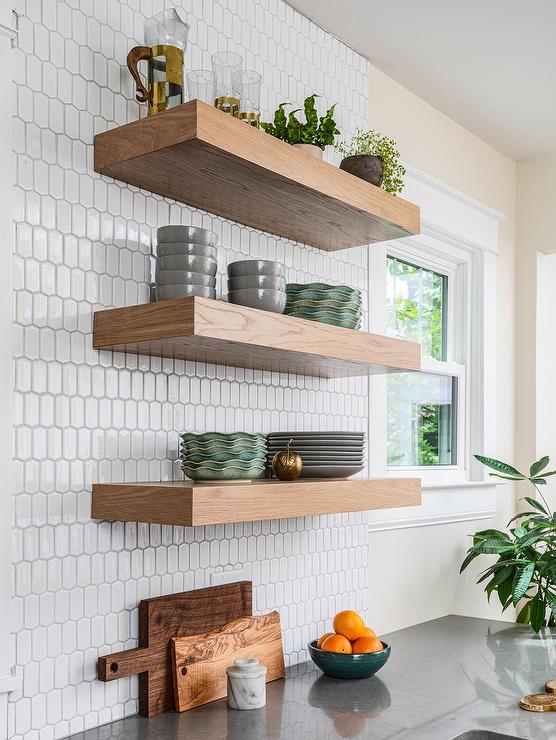 A kitchen unit typically has a set of shelves displaying crockery items, flower pots, glass jars, and a countertop area that can be used for cooking. It can also be used for placing oil dispensers and spice jars as well. These dark oak thick wood floating shelves are vertical, strong enough, and standalone pieces of furniture. Avoid placing things like burning candles or any kind of heat-generating items if you really require them for the long run.
15. Industrial Pipe Floating Shelves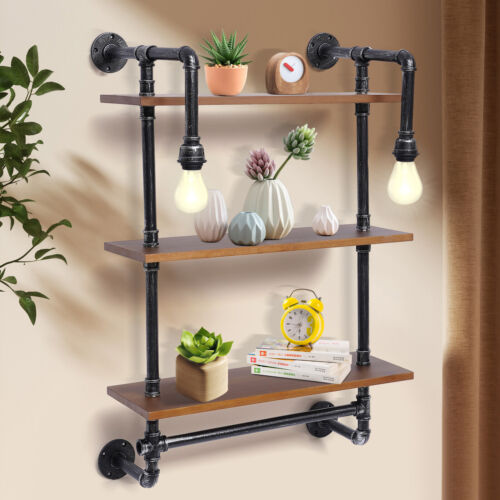 Industrial pipe floating shelves can add a great beach house style to your home. It's durable and provides secure storage without the fear of falling off your items. To add new life to your beautiful house, place it anytime. The dark-colored shelf increases the whole view of the wall. Still doubtful? Style it in your house with utmost care and see the magic. If you want to make it more than a decorative item, fill it with some books.
16. Bamboo Floating Shelves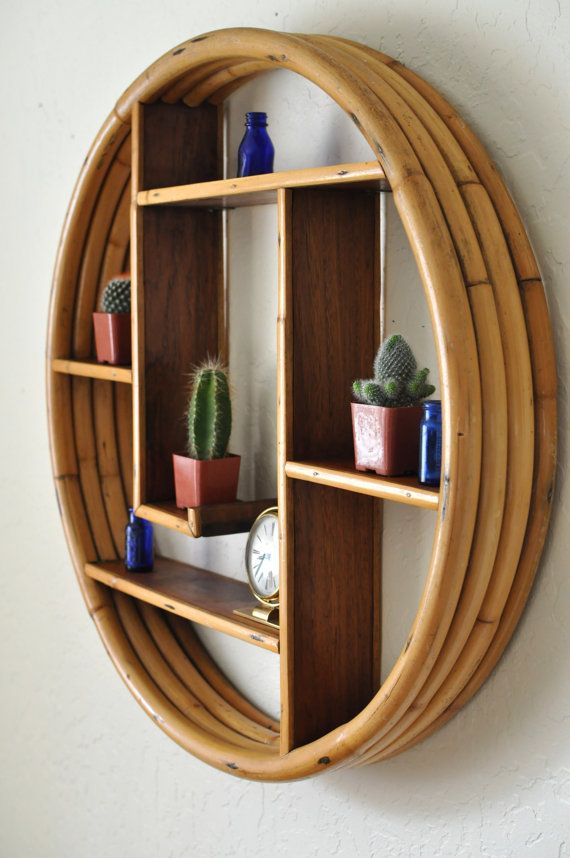 This bamboo floating shelf comes with a unique design that fits perfectly on your office and home wall. The dimension of the shelf is designed with adequate space for placing your favorite items. It is made from organic bamboo, which ensures its longevity. Being one of the eco-friendly items, you should definitely include it in your home.
17. Espresso Floating Shelves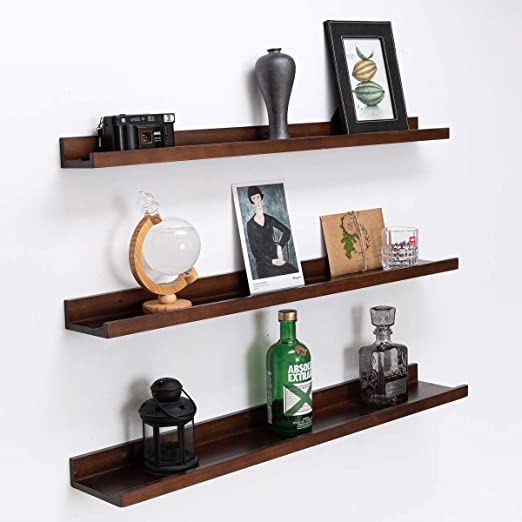 Decorate your wall with these espresso floating shelves to upgrade the whole theme of your house. You can place it according to your choice for a stylish look and feel. Select from any diverse range of sizes and colors to create something magical. This piece is expertly designed from solid oak and stained with a natural dusky matt finish.
18. Sticky Adhesive Floating Shelves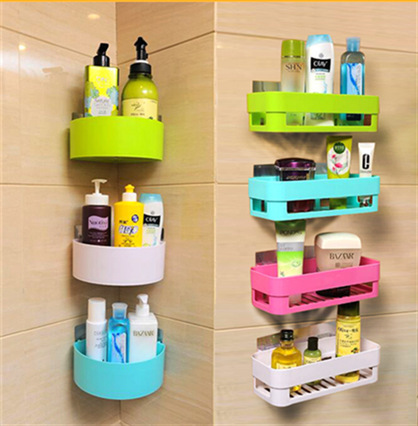 Organize any space you want to style by placing sticky adhesive floating shelveseffortlessly. Within your decor theme, this stuff is the most easily installed and cleaned one. The moment you decide to place it, you do need an outsider to fix it. You can do it on your own by following the instructions. These are beyond versatile.
19. L-Shaped Floating Shelves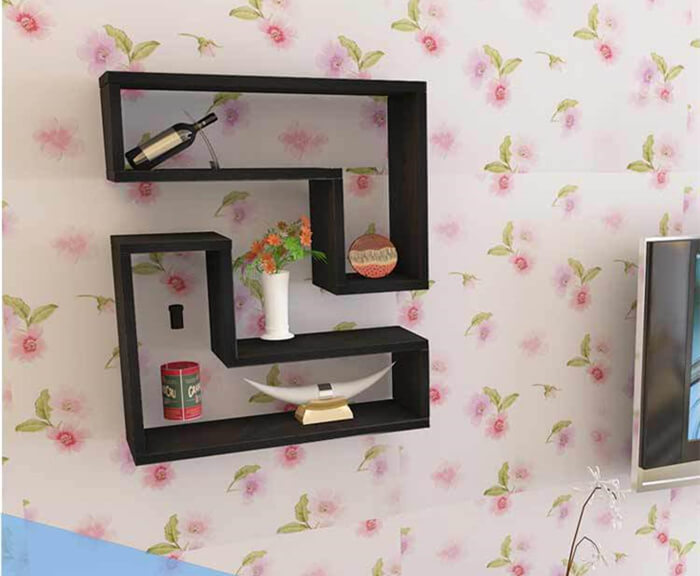 Try the most contemporary and latest design, L-shaped floating shelves. To increase the storage space, you can use it smartly. These are made of 100% solid wood, catchy enough to place small pots, and super easy to install. Moreover, organizing small things becomes easier. This matte black finish L-shaped shelf looks more attractive because of the printed wall color.
20. Tray-style Floating Shelves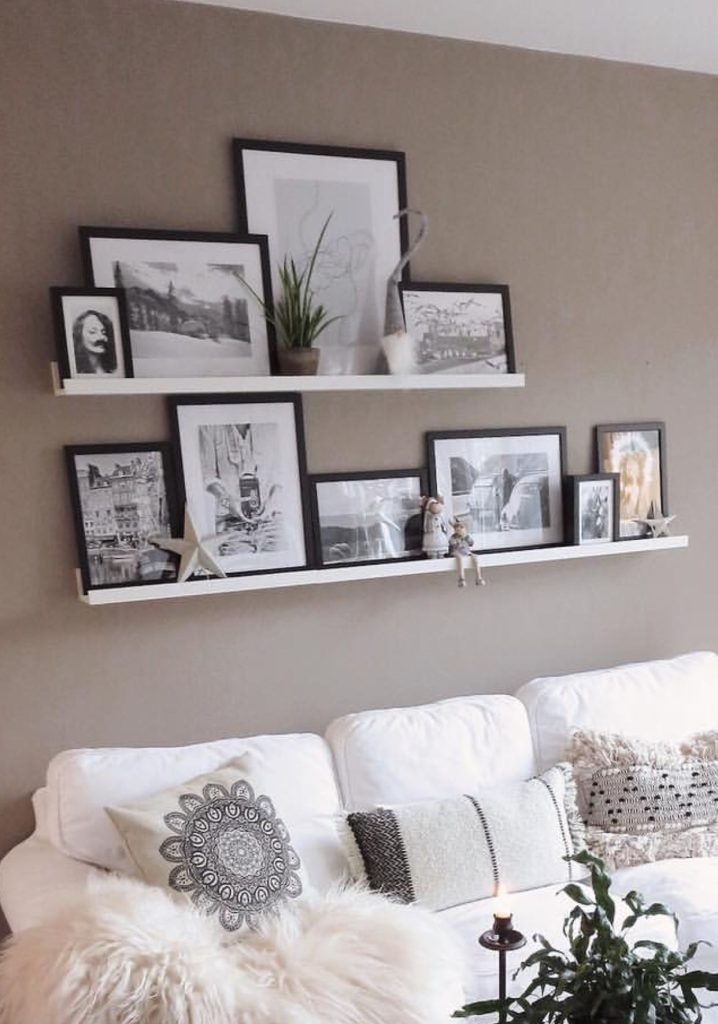 Shelves that are more than just a safe-keeping place but more of a wall decor are preferred. The white oak tray-style floating shelves are classically designed and are a perfect addition to your home decor. To provide plenty of space for other items, you can include them. This piece is made with a high-contrast finish touch that highlights its overall appearance. However, this beautiful shelf offers millions of decorative appeal to your home. Customize your lovely space now!
Wrapping Up
Always keep in mind to avoid mess to maintain the incredible look and feel of the long floating shelf.
Then, arranging things according to their respective size and shape is another crucial decision.
Choose the best decorative and durable pieces for your dreamland, as it is the only safe space where you are going to relax at the end of the day.
Just revamp your room style and maximize your wall space anytime, anywhere!
Other Articles