Do you want to have additional seating furniture in your room? A window bench with storage can be an excellent space-saving solution. It is also the perfect spot to curl up with your favourite book or enjoy amazing outside views.
Adding a window bench with storage lets you make the window the focal point of your room. Upholstered window bench with storage is most commonly used in houses. It adds beauty and elegance to your room and gives you an additional storage area.
A large window seat with storage can also serve as a daybed. Certain storage benches also have armrests and slightly curved or rolled arms for an improved appearance. The size and design of the window bench should match the window and wall space around it.
If you get bored with it, you can move it to a different room and use it for a different purpose.
Window Benches With Storage Ideas to Add Charm
Let's take a look at the top 20 window benches with storage ideas to retain the elegance of your room and give you an additional storage area.
1. Bunk Bed with Window Bench Storage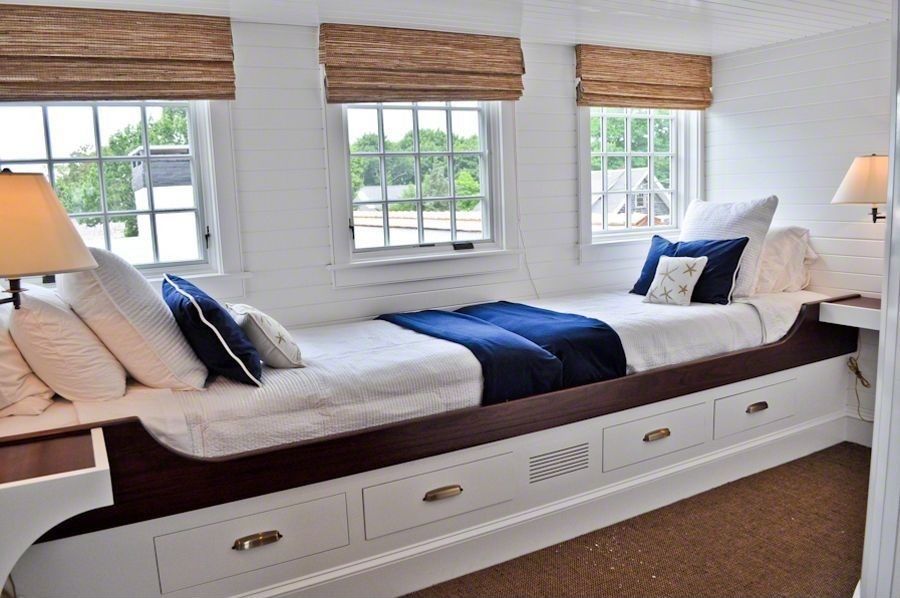 Bunk beds are the best choice for cosy sleepovers in limited spaces. You can even fit in the bunk bed next to a window bench with storage. This way, you can free up floor space for other important things.
Older children needing a homework space may use the window bench with storage as a desk. You can place blue, beige, and white cushions on the window bench to make a statement.
Similar Post: 21 Modern Window Trim Ideas to Boost Your Home's Visual Appeal
2. Create a Reading Corner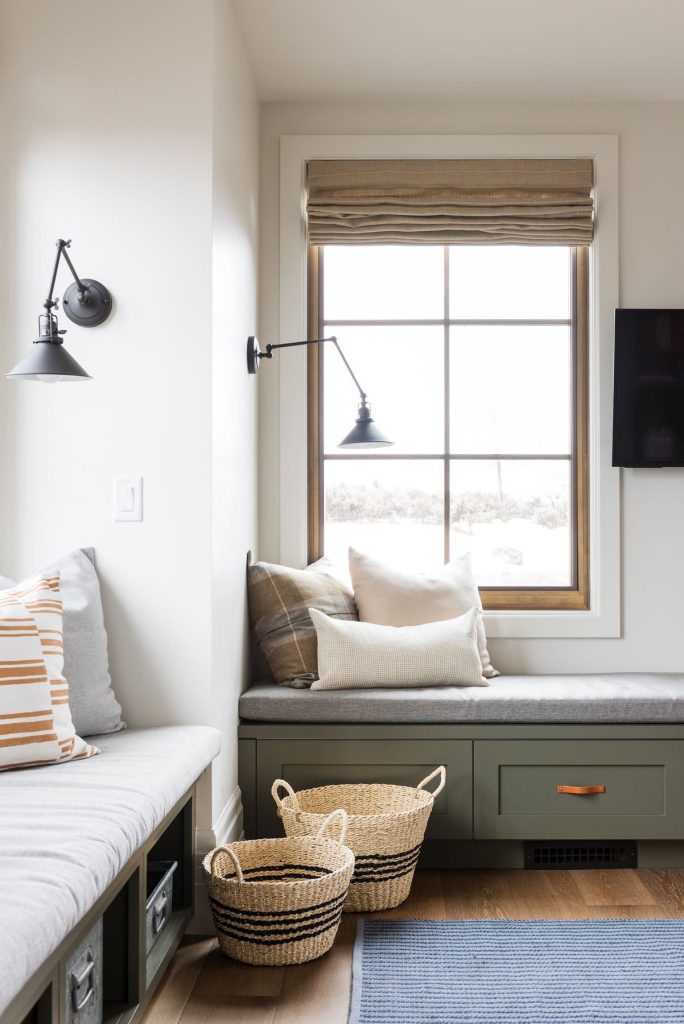 Whether you're an occasional browser or an avid reader, a window bench with storage can serve as the perfect nook for a reading session. Once you finish reading, you can keep the books in the built-in drawers of the window bench.
Decorate the window bench in a way that matches the theme of the room. A spare blanket and plenty of throw pillows can be used to encourage reading.
3. Shelf-Style Window Bench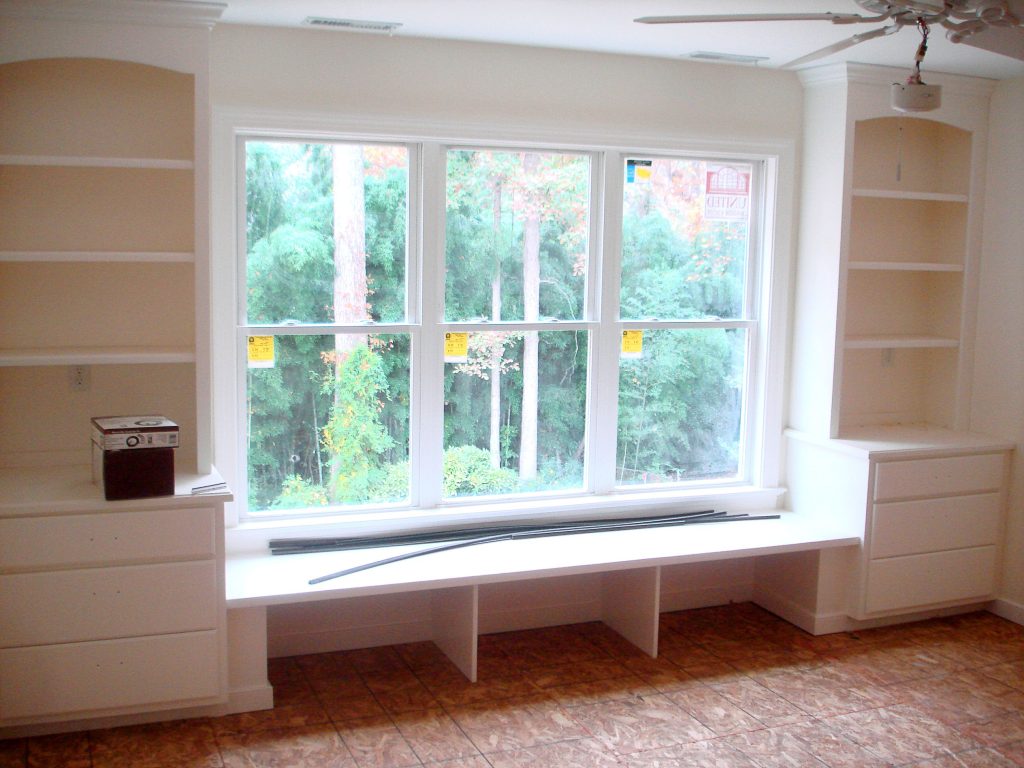 Do you know you can turn your bookshelf into a functional and stylish window bench? Shelf-style window bench style is great for communal areas, laundry areas, entryways, kitchen spaces, or mudrooms.
It will create more seating and enhance the storage space. It will also serve as a cosy reading nook and the perfect spot for relaxing and unwinding.
4. Built-In Window Benches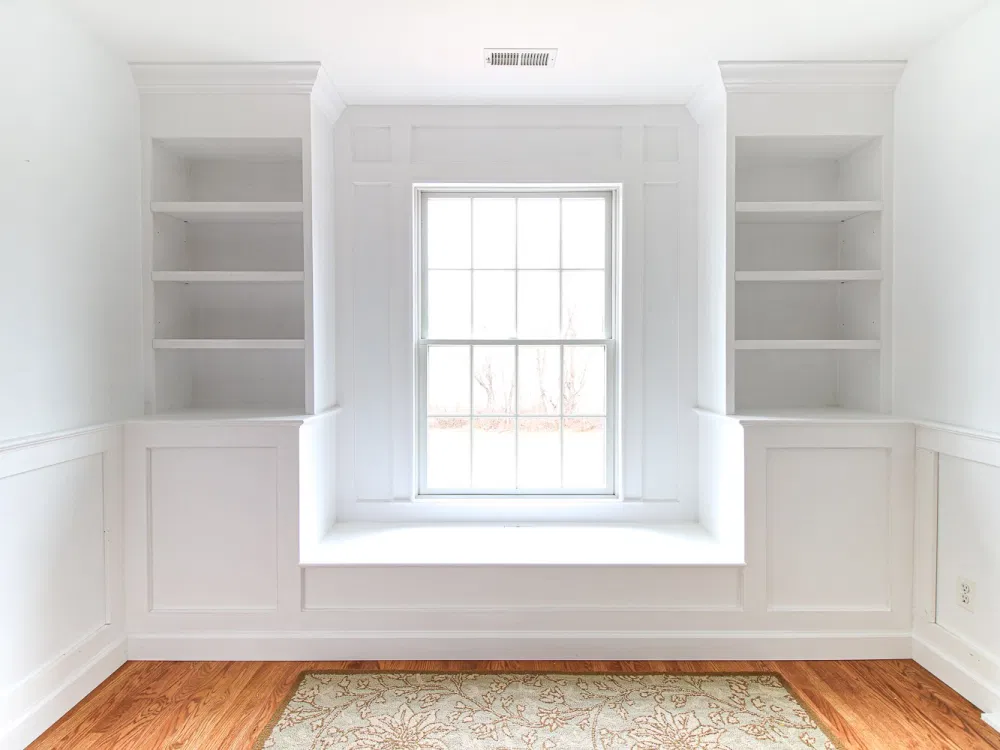 Building a window bench in the interior of your room can be the perfect choice if you're looking for a larger window seating option.
You can create a built-in window bench with additional millwork, like cabinets or shelving. This will give you more flexibility regarding function and size.
A built-in window bench can be the perfect addition to the children's bedroom. It maximizes storage and gives your little one an ideal place to relax and read books.
5. Dining Bench with Storage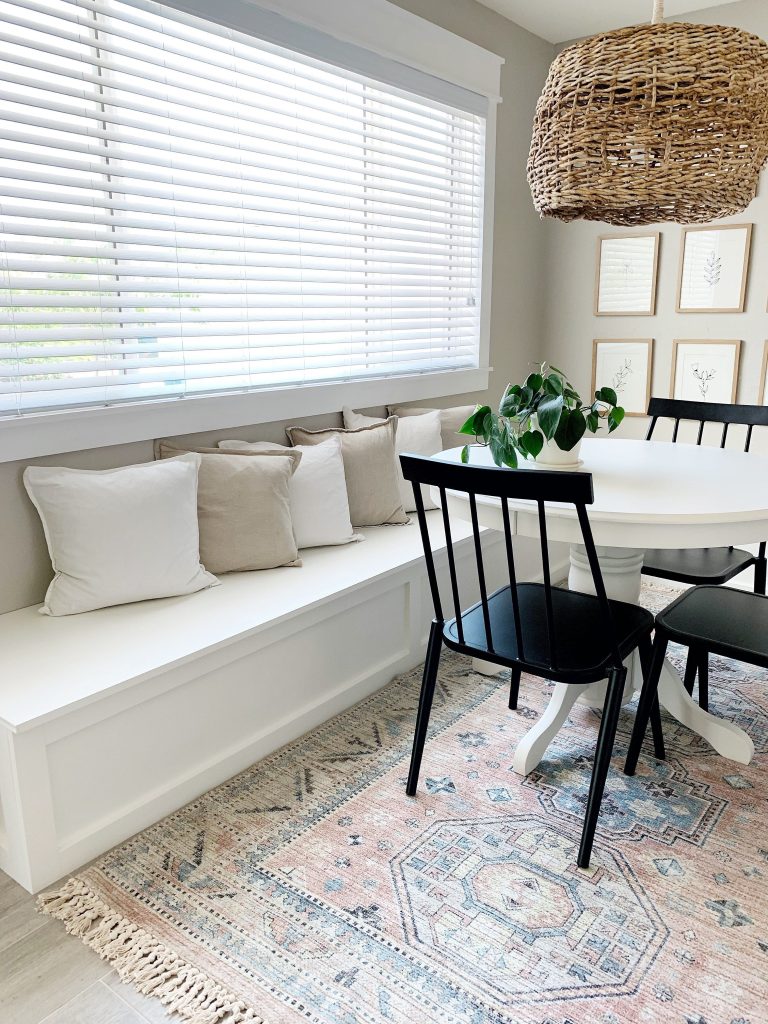 You can place the dining table with chairs in front of the window bench with storage. This way, you can enjoy the outdoors while having your meal, and in case of a huge gathering, few of the guests can even sit on the window bench.
You can also store your blankets or crockery in the storage area of the window bench. Ensure that the color of the window bench matches the dining table so that it doesn't look odd.
6. Bathroom with a Window Bench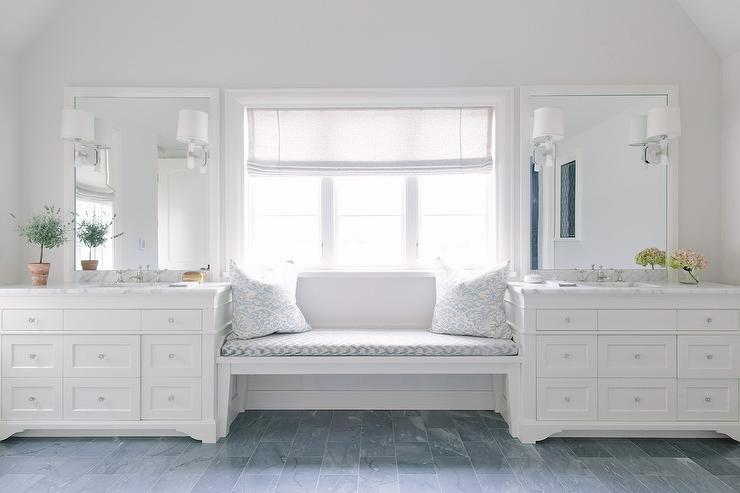 If you want to create a comfortable place in your bathroom to sit and get ready, adding a window bench with storage can be a perfect idea.
Ensure that the window bench is easy to clean and can withstand occasional splashes. You can use the storage to store toiletries and perfumes. When not used for seating, you can use the window bench to keep a few bath supplies or a stack of towels.
7. Fake it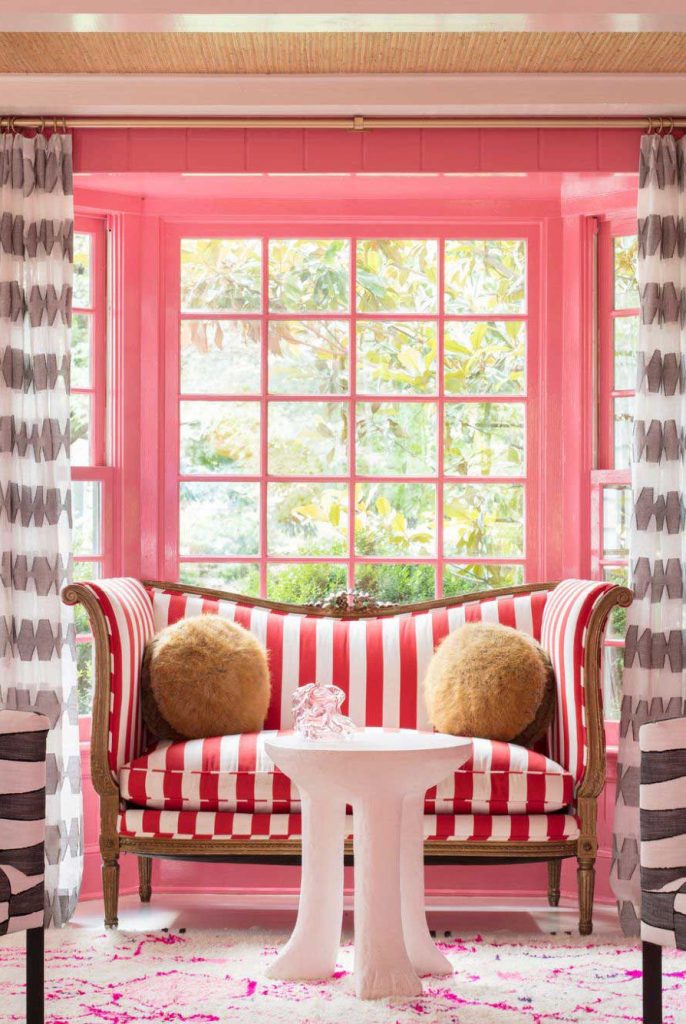 You don't need to invest in a bespoke sofa or built-ins to have a showstopping window bench. Place a settee with storage in front of the angled bay window and hang sheer curtains in front of the opening.
You can also use contrasting textures and colors to give this nook an intimate feeling. You can store kids' toys, electronic items, and stationery in the storage area giving your room a clean appearance.
8. Well-Lit Window Bench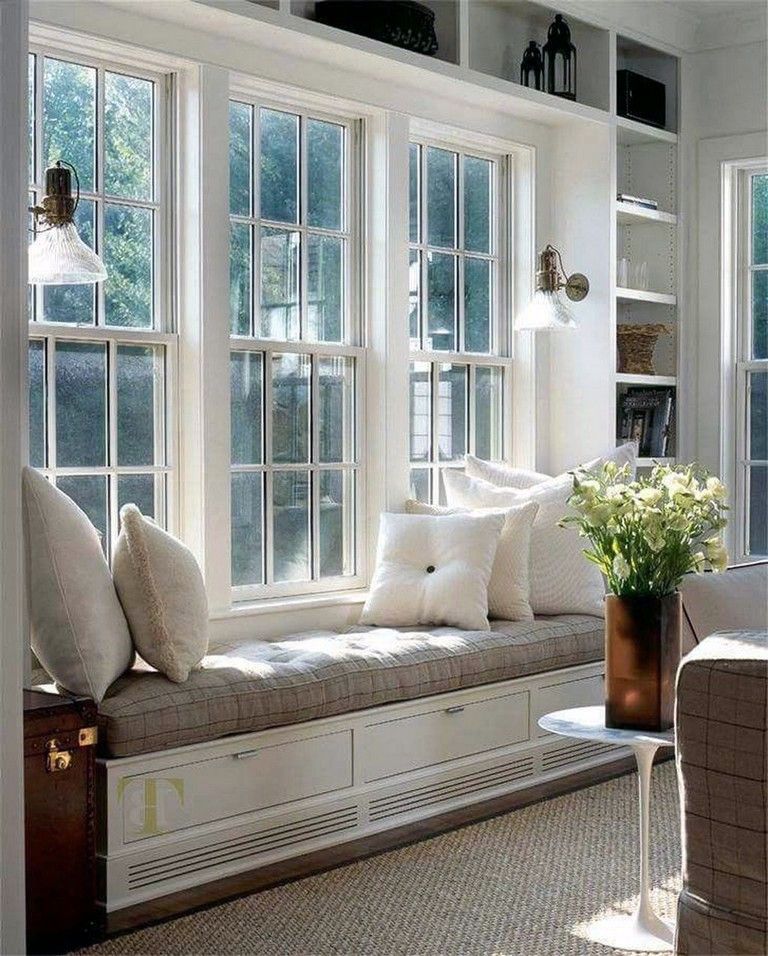 Make use of the available space in your home with the help of a window bench with storage. You can also install scones on either side of the window bench for late-night reading or practising guitar.
Use dimmers to create a relaxing space for napping. If you feel tired, you can keep the books or your guitar in the storage area of the window bench.
9. Repurposed Cabinet Window Bench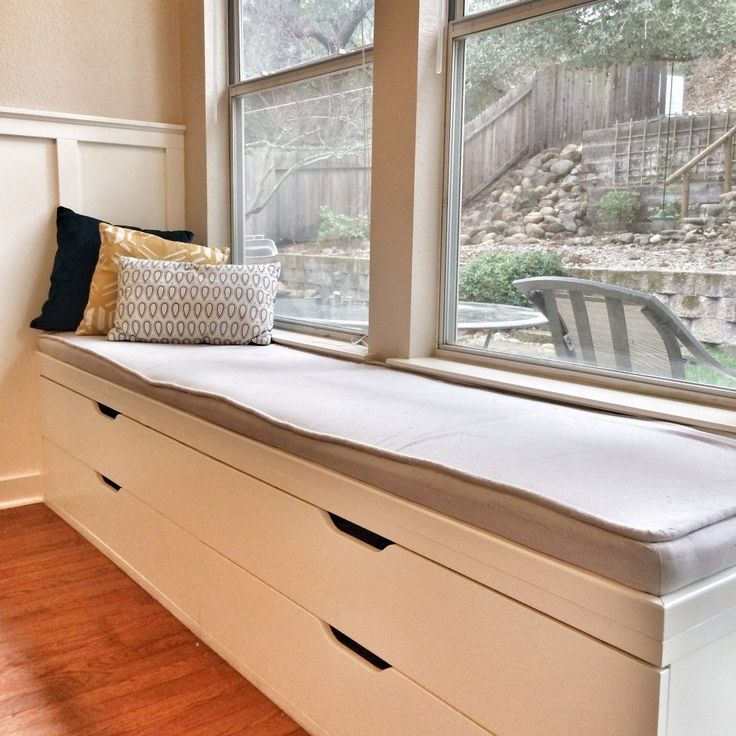 Do you know that you can create a stylish custom-made window bench from your old kitchen cabinet that may have lost its charm over the years?
This will save you from spending tons of amount on a ready-made piece that is not as per your expectations. Don't forget to create a storage area for the window bench, as it will give you tons of space to store your little one's clothes and crockery.
Also Read: 15 Craftsman DIY Trim Ideas to Upgrade Your Windows and Doors
10. Entryway Window Bench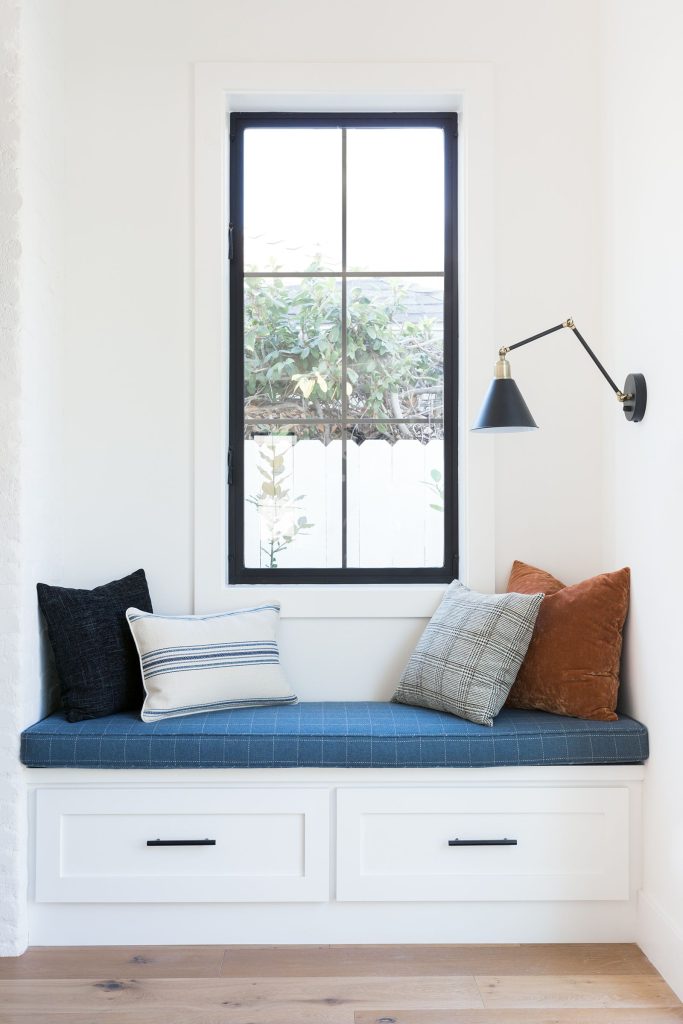 If you want to style your entryway, you won't find a better option than an entryway window bench. It will serve as an extra space for decorative objects and delivered packages and provide a seat for lacing up.
You can use a backless, low-window bench to give a laidback vibe to the hallway entrance. If the wall is white, you can cover it with beautiful wallpaper to break up all the white space.
11. Large Window Bench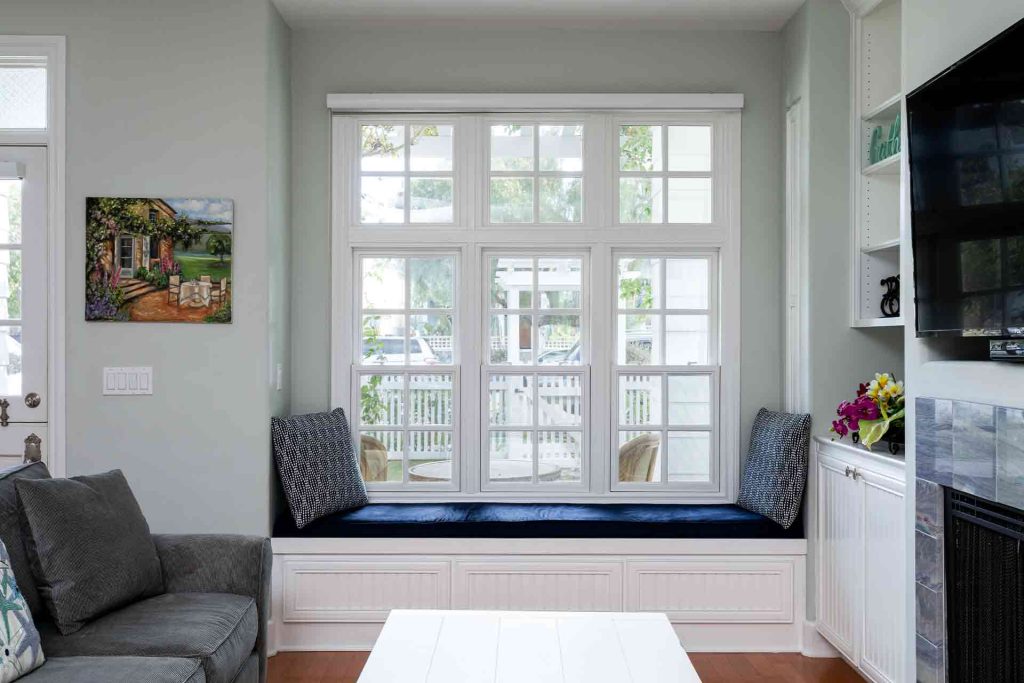 The right cushion and window bench combination will add comfortable seating and easy storage to your home.
If you have a huge family, you can add a large window bench with storage in your living room and spend quality time together. Use a range of textured cushions to accessorize the window bench and give a lively feel to your living room.
12. Extra Wide and Deep Window Bench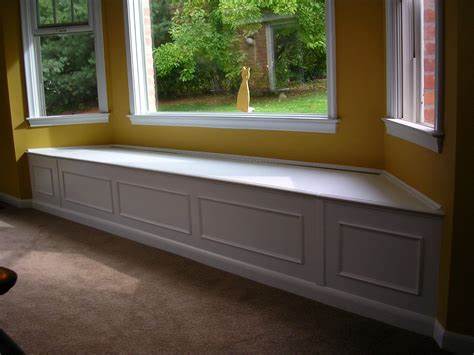 If you want to make the window bench the focal point of your room, opt for the one which is extra wide and deep. Ensure that it has built-ins so that you don't have to get up to grab your favorite book.
The window bench should fit the overall room's design and draw more attention than a typical sofa or chair. You can place lots of colorful pillows or a comfy blanket to relax and rejuvenate on the window bench.
13. Two-Tone Reclaimed Wood Window Bench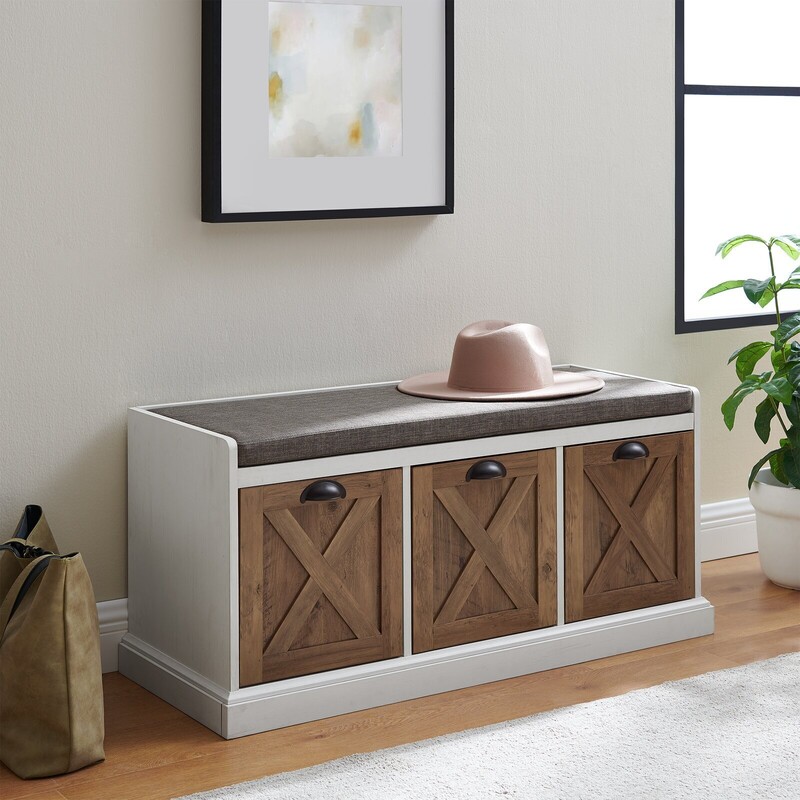 If you have an entryway with a cottage theme, a two-tone reclaimed wood window bench will perfectly fit in the setting. Add rough-hewn cushions in complementing colors to amplify the look.
The pull-out drawers can be used to keep your favorite books and daily essentials. You can also hang beautiful paintings with rustic frames on the staircase wall for a cohesive and warm look. Add a rug on the floor to give a unique texture to the stairway.
14. Modern Window Bench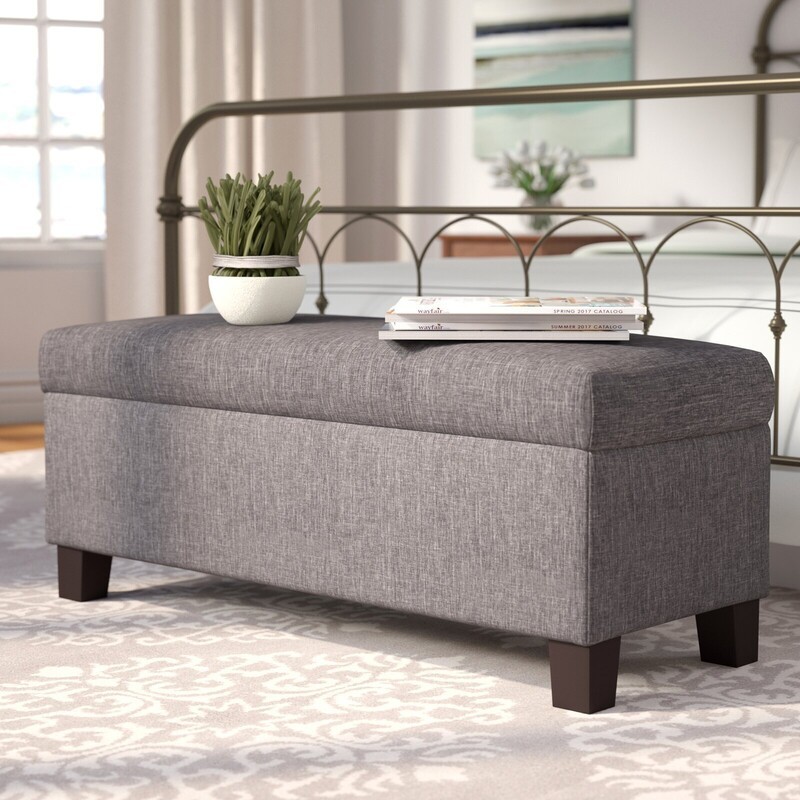 A modern window bench with storage is a transformative accent that can add instant style and texture to a transitional space. It will look best in the living room or a bedroom under the window.
You can use the storage space to keep clothes that aren't in season or hide the daily essentials and make the room look uncluttered. Opt for mid grey finish window bench with storage if the walls are white. If the window bench is upholstered in fabric, leave it bare.
15. Optimize the Mudroom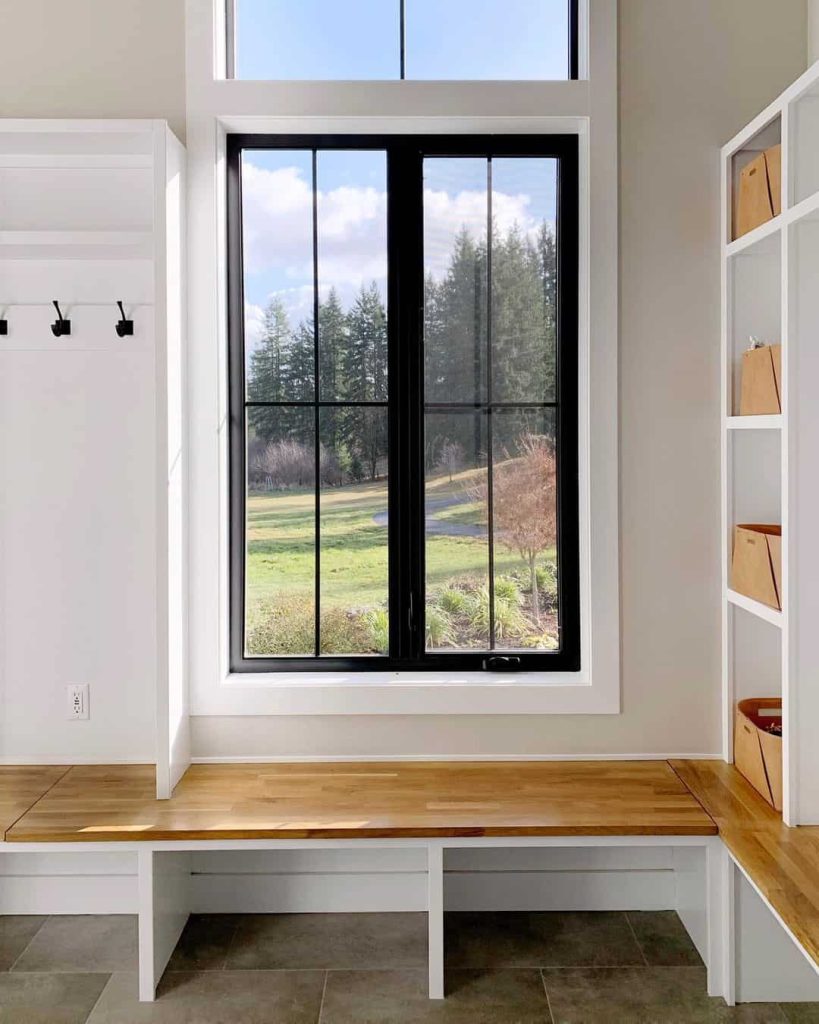 If you don't want to use a window bench as a comfort-focused seating, you can incorporate it into a utility-based space like a mudroom. The window bench in such a setting will serve as a convenient place to set down your sun hat and take off muddy boots.
You can even use it to keep your groceries and farmers' market items. You can even comfortably sit on it while putting on your shoes. Individual cubbies beneath the window bench with storage provide a place for shoes. Install a coat rack on one side of the window to hang your coat and other clothes.
Related: 14 Bay Window Curtain Ideas to Dress Up Your Entire Home
16. Integrate Technology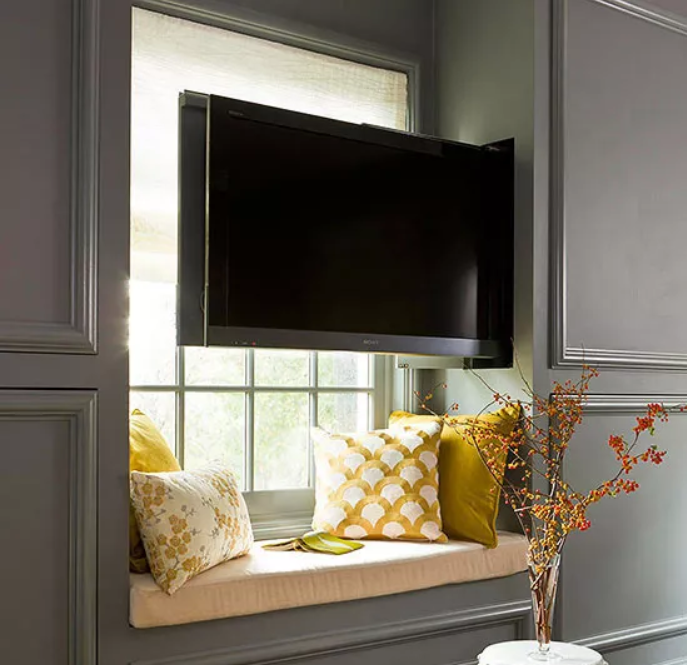 A pull-out TV above the window bench can be the best idea to give your traditional space a modern appeal. In the morning, you can enjoy the outside views while sitting on the window bench and at night, the entire family can watch their favorite show.
Add pillows and cozy floor rugs to amplify the visual appeal of the room. Ensure that the window bench is outfitted with cabinets, drawers, or a hinged bench top to provide extra storage.
17. Window Bench for Sleeping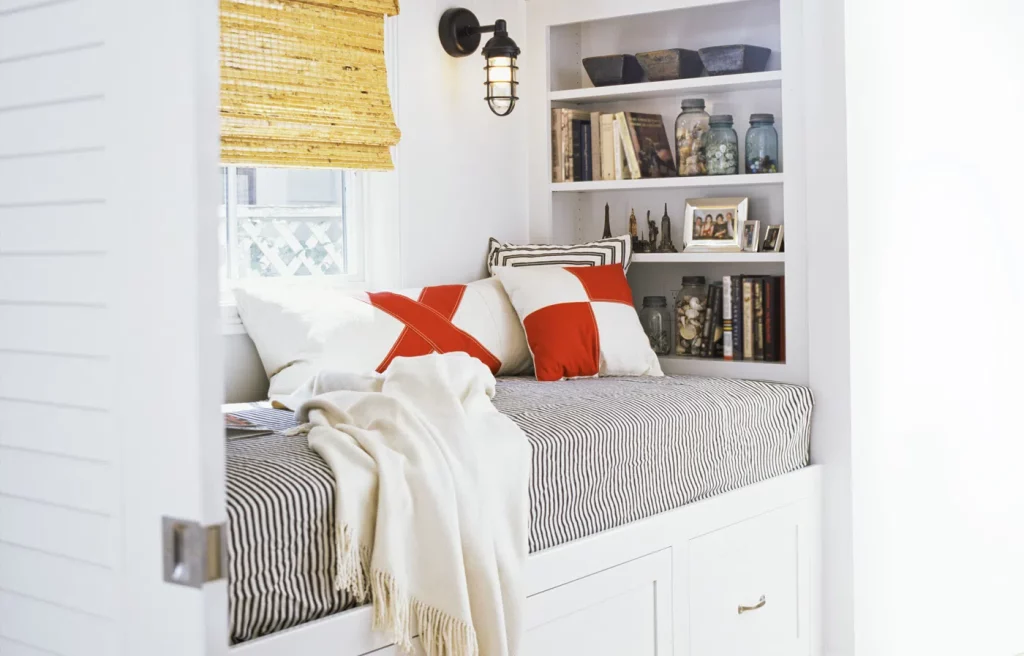 Gain extra accommodation for overnight guests with a window bench sized for a standard twin mattress. An arched or lower ceiling covered with wood slats can enhance the dramatic effect.
You can make the window seat platform longer than the mattress to get an extra surface area for placing magazines, books, and other objects.
Ensure that drawers and cabinets are included in the window bench base for extra storage. You can also install lighting and built-in bookcases to mimic the nightstand elements.
18. Open Cubbies Window Bench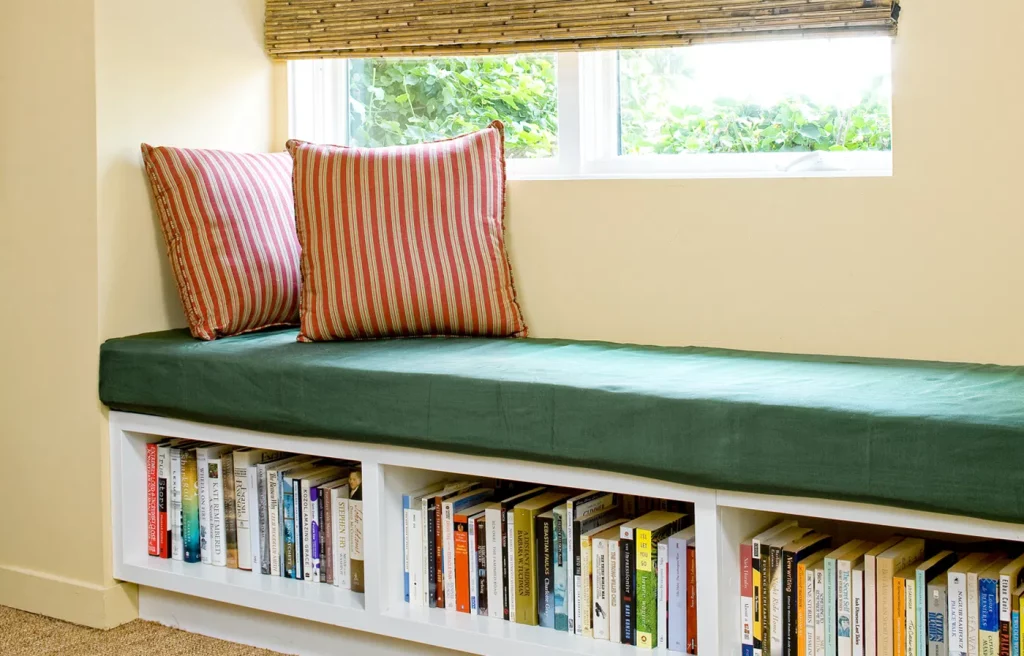 Add style to your interiors and increase your storage space with the help of an open cubbies window bench.
Open cubbies work well for shelf-type window benches as the dividers support and carve out spaces for holding baskets filled with small items, like sports gear in a mudroom.
The open cubbies can also be used for organizing books. This way, you can use the window bench for seating as well as bookkeeping.
19. Maximize a Sunroom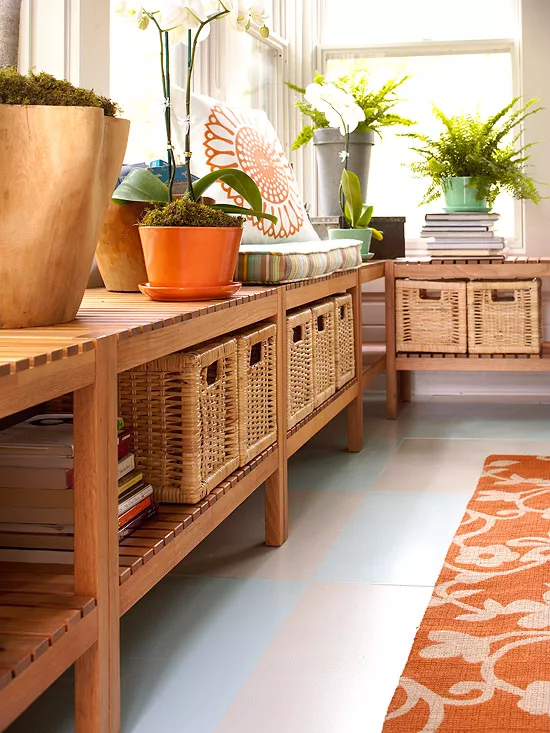 The sunroom connects you to the outdoors and serves as a private retreat from the sun and an informal living area.
If you do not have a preexisting window bench, you can take advantage of the empty nook of your sunroom.
A spacious indoor porch outfitted with window benches is ideal for catching the sun or displaying plants. Open shelves provide tons of storage for baskets and books.
20. Go Long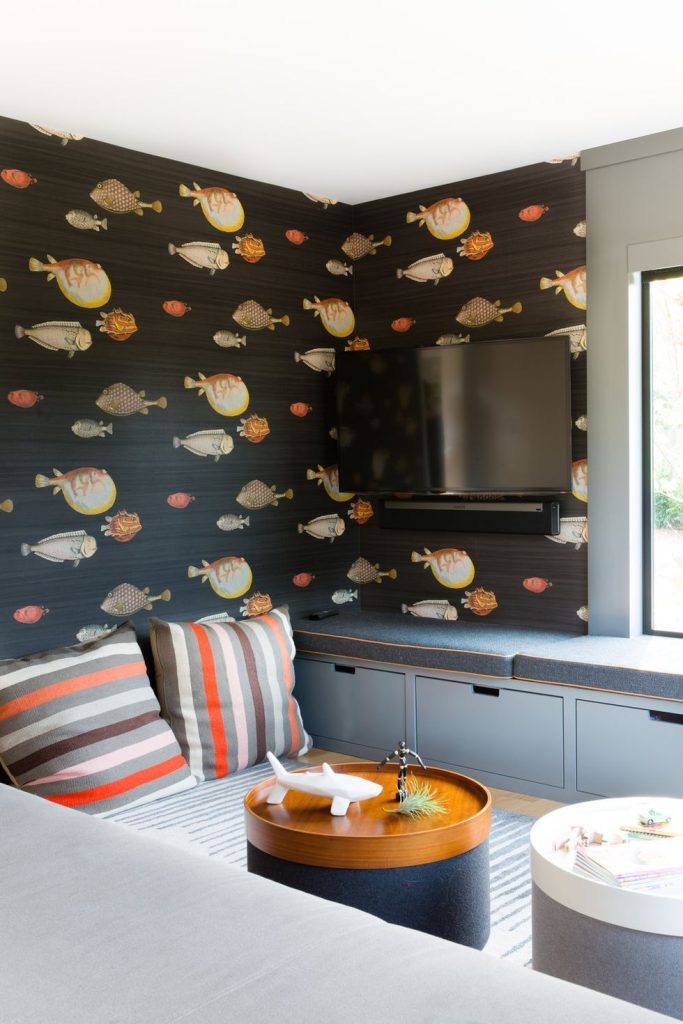 A window seat is the best addition to the room for soaking up the light, curling up with a book, gazing out at the view, or snuggling with a loved one.
But if the window bench is short, you'll be unable to use it to take a power nap or lie down and read your favorite book. So rather than limiting your window bench to the window frame's dimension, extend it from wall to wall. This way, you'll get more storage space and a longer ledge.
Conclusion
The best thing about window benches is that they are built out of unimportant spaces, allowing you to create something unique.
They also come with cabinets, drawers, or shelves fitted underneath the bench, increasing your storage space. You can throw in blankets and accent pillows to make the area even cozier.
So take advantage of the unused window spaces in your room to create your personal haven. You can use the ideas mentioned above to bring your dream window benches to life.
Check This Next: 15 Shower Window Curtain Best for Your Bathroom
Frequently Asked Questions
How Can You Enhance the Comfort Factor in The Window Bench with Storage?
A table lamp on a shelf and sconces on side walls can be used to create a soothing space for napping on the window bench. You can also tuck in soft throw pillows behind your back or head. To prevent heat or glare from coming in through windows, you can add blinds or shades.
What Materials Can Be Used for Making Window Benches?
The window benches are mainly made of manufactured wood. Some window benches are made of veneers or are mixed with solid wood for added durability. The hardware of storage window benches is also important, as you don't want the hinges on the drawers to creak open in the future.
What Is the Ideal Size of Window Benches?
A window seat shouldn't be less than 32 inches wide. This will give you enough space to sit and stretch out comfortably. For a window bench with storage, the seat should measure at least 35-40 inches.
Where Can You Place Window Benches?
A window bench can be a wonderful addition to your dining room, entryway, bedroom, or living room.
Other Articles