Are you looking for modern window trim ideas to enhance the visual appeal of your home? Window trims seal the gap between the wall and the window frame and cover the caulk, increasing your home's insulation and preventing nasty bugs from crawling through.
Window trims are available in various colors, styles, and materials. They can be installed at the time of a window installation or remodeling and can be designed to complement your house's siding.
Your window trim style should match your home's architecture, fostering an aesthetic environment that never clashes.
If you have a Victorian-style house, you can opt for a rosette window trim style, and if you have a farmhouse-style home, you can go for highland window trim. Those who want to keep a neutral and minimalist styling for their window trim can go for classic-styled window trims.
Windows without exterior trim appear unfinished and bland. So, choose a window trim style that perfectly aligns with your design goals. 
Modern Window Trim Ideas that Will Make Long-Lasting Impact
Let's take a look at the top 21 modern window trim ideas that will spruce up the appearance of your home and provide a sense of refinement and sophistication.
1. Craftsman-Style Window Trim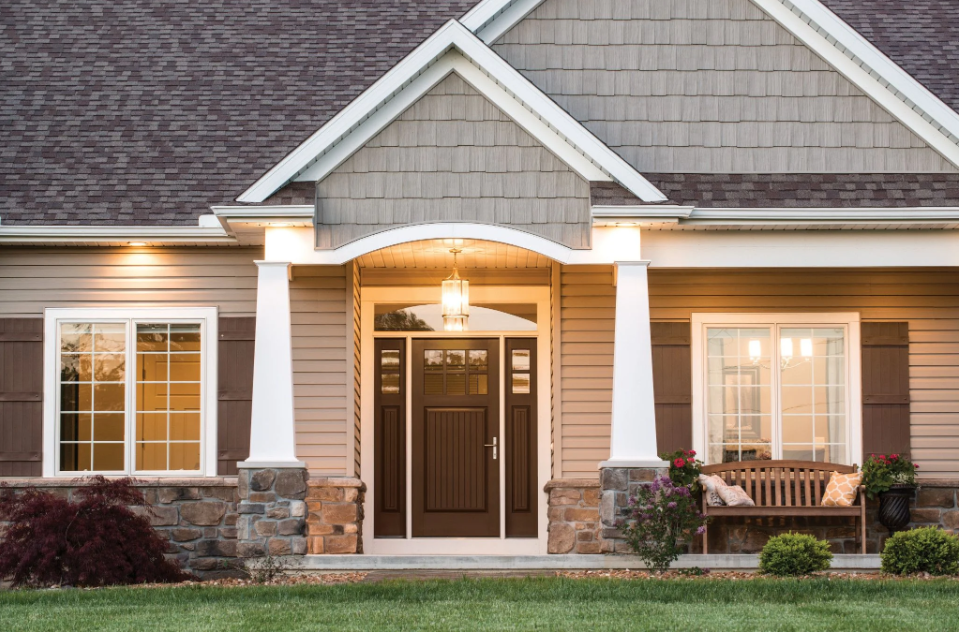 Craftsman-style window trims are based on classic designs that go well with every home. One of the main aspects of the craftsman-style window trim is a thicker and more pronounced header than the rest of the window trim.
The flexibility and variance of this window trim style make it the perfect choice for houses with different architectural styles. This window trim style can give a modern look to an old house while keeping its original charm alive.
By using white-against-white trim and window combinations alongside a blend of warmer hues, you can create an inviting home exterior.
Similar Post: 15 Craftsman DIY Trim Ideas to Upgrade Your Windows and Doors
2. Window Box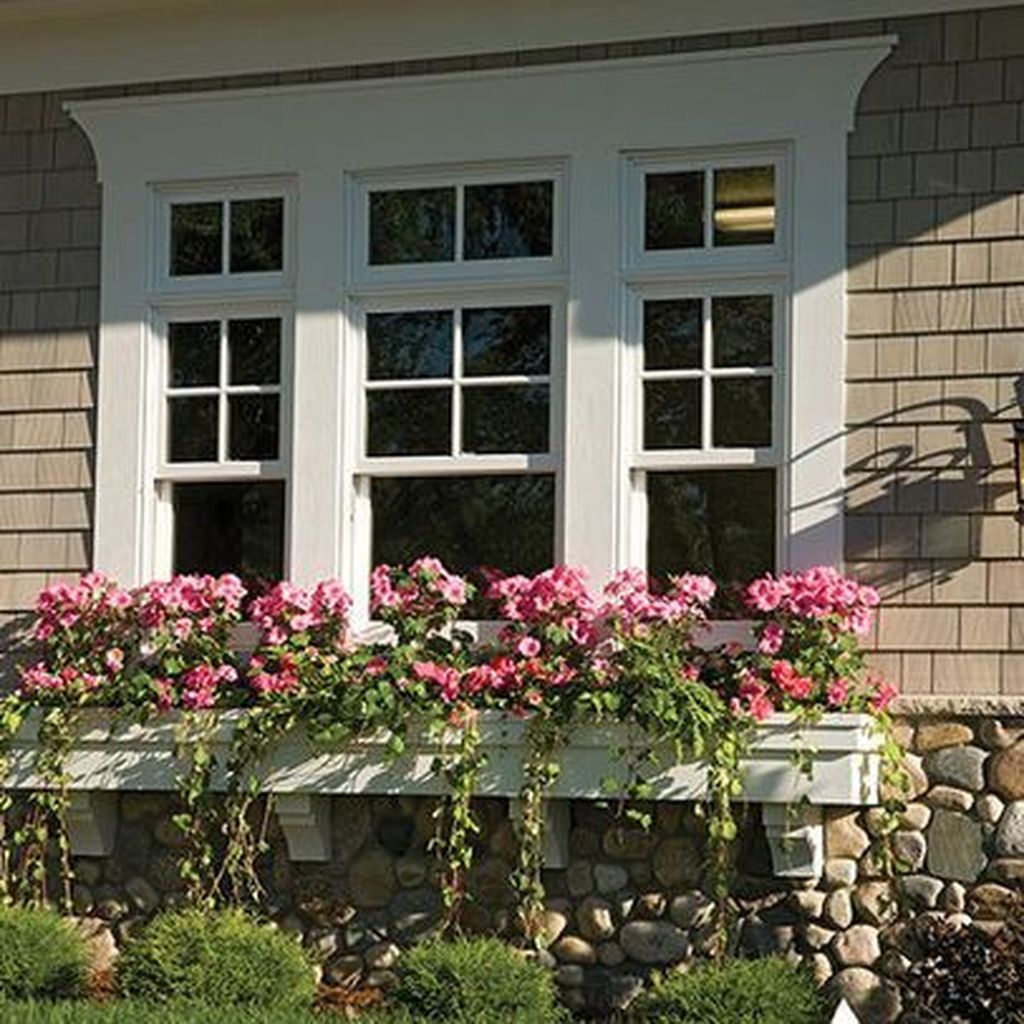 One of the best ways to accentuate the look of your home is by including a window box as part of your window trim layout.
A window box can instantly brighten your home from the inside and outside alike. You can use it to grow perennials or colorful annual flowers and give an extra touch to your home's exterior.
You can anchor the window box with complimentary trim or shutters to ensure that it looks natural and balanced. Give a nautical look to your box-styled window trim by applying shells, anchors, or old skeleton keys. 
3. Stone Accent Exterior Window Trim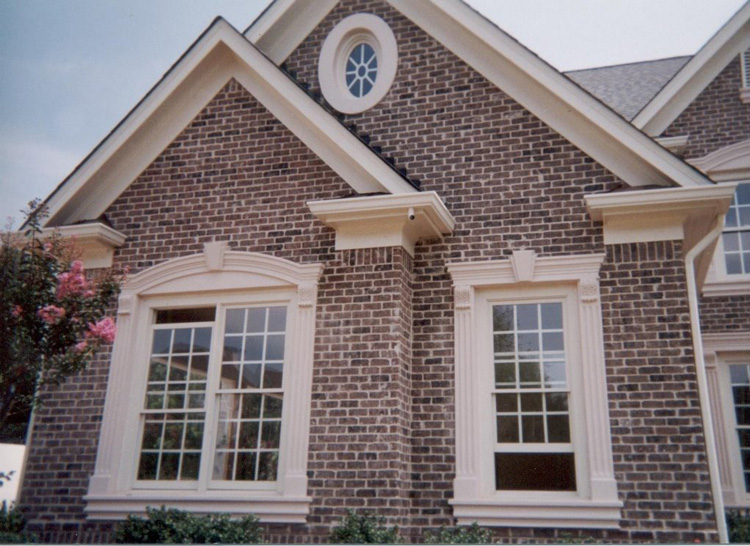 If you want to give a rustic and natural look to your home, then stone accent exterior window trim can be the best choice.
Stone window trim aligns perfectly with homes that have a traditional aesthetic. When using stone, use an elongated design that distinguishes the window trim and separates it from the surrounding stone structure.
Stone accent exterior window trims also look good in homes that have stone exteriors. But you should not use these window trim styles in homes that have a bohemian or chic appearance as they will not align well with the overall design. 
4. Window Trim with Flared Angles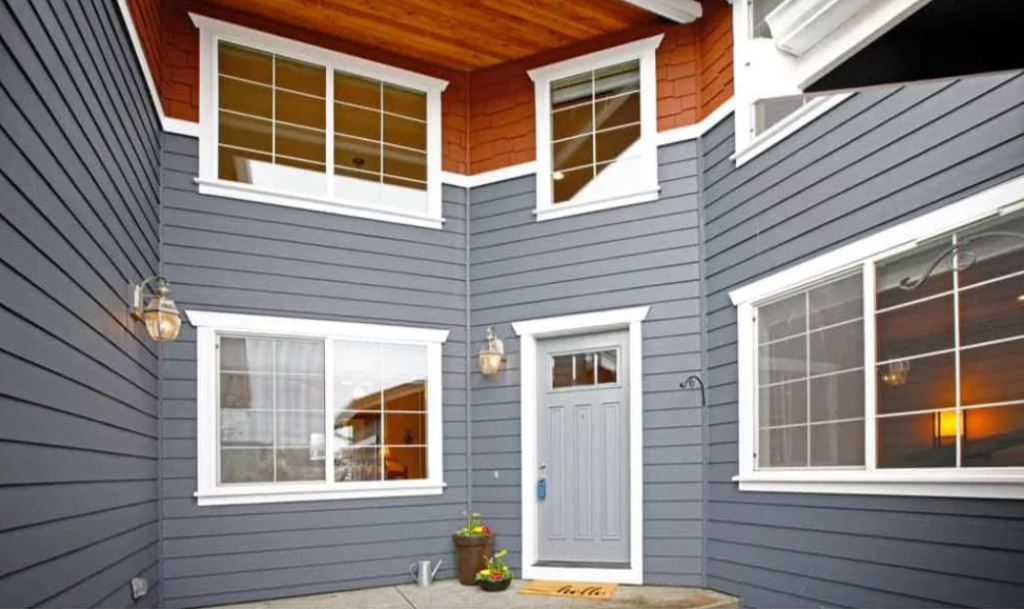 Flared-angle window trim looks great on buildings with unique dimensions and colors. The flared angles of the window trim enhance the architectural style of the building.
In this type of window trim style, the trim has a flared top with a slim, uniform design that creates 3D visual effects for buildings with unique architecture.
This design goes well with white PVC trim. Window trim with flared angles draws the eye toward the focal point of your exterior. 
5. Earthen Green Hue Interior Window Trim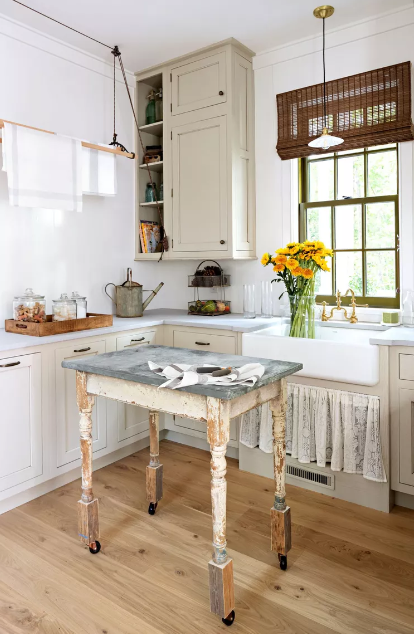 If you want to bring the outside vibes inside your room, earthen green hue interior window trim can be a perfect idea.
The best thing is that the color's infinite variations ranging from deep moody shades to soft pastels, blend easily with every other hue.
This type of window trim design can be used to connect the interiors to the beautiful landscape beyond the window panes. It can also be used to give an organic and neutral feel to your home. 
6. Flat White Window Trim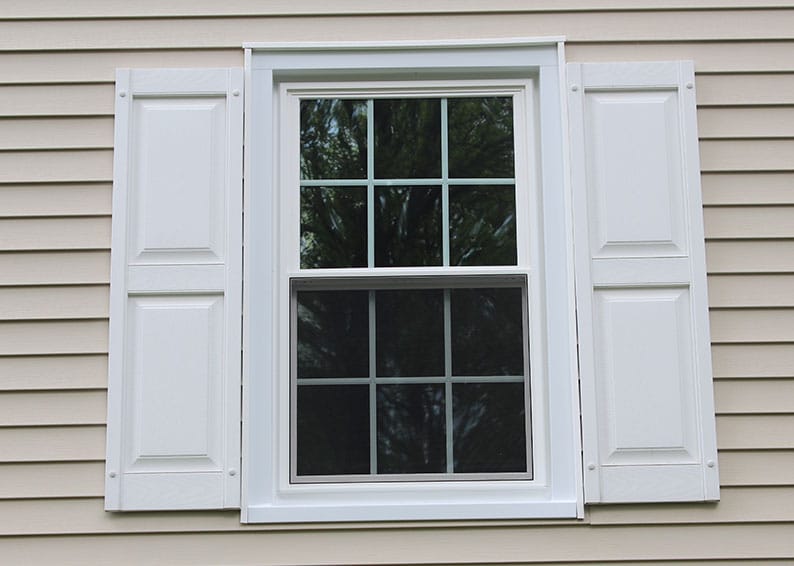 One of the best modern window trim ideas is flat white window trim. The benefit of white trim is that the light from the window gets reflected, making the room seem bigger and brighter. It also makes your room look uncluttered.
For a seamless look, you can use white paint color for your built-in units, trim, and walls. This will make your room look extra spacious. You can use colorful accessories to pop up the entire look.
To keep things uniform, you can even add accessories like flower vases and window hangings of the same color family.
7. Metal Window Trim<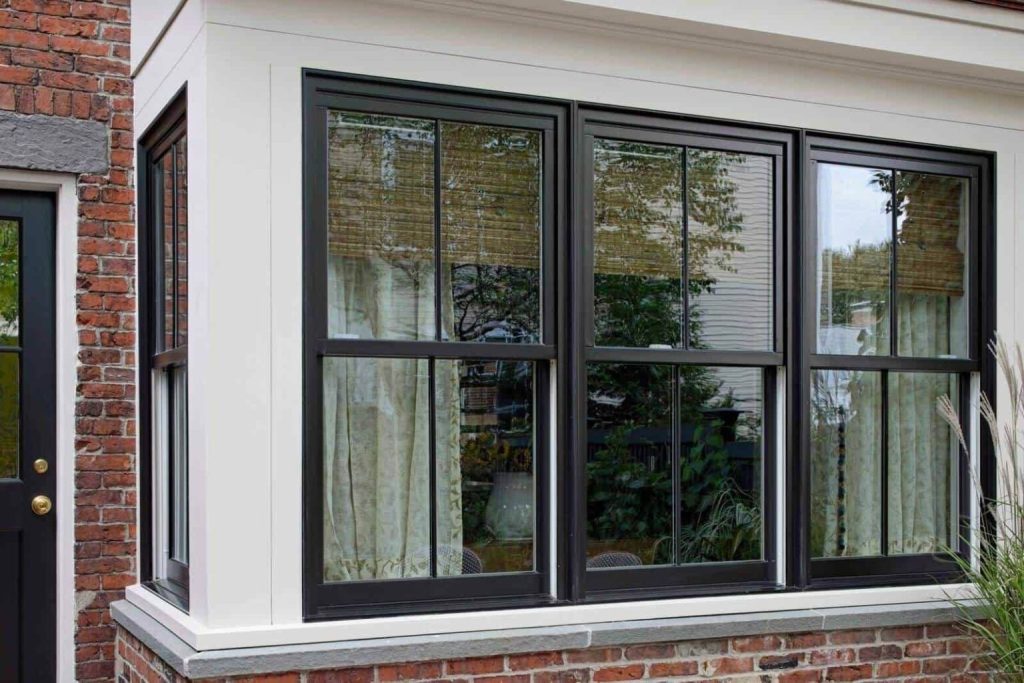 If you're looking for modern window trim ideas, you won't find a better choice than metal window trim. The minimalist metal trims will not only accentuate the pleasant window views but give a contemporary aesthetic to your home.
They are durable and can withstand all kinds of weather. Since they come in different finishes like stainless steel and chrome, you can choose the one that aligns with your design goals.
They are also easy to maintain and can be cleaned with soap and water, saving you money on their upkeep. 
8. Double Color Exterior Window Trim<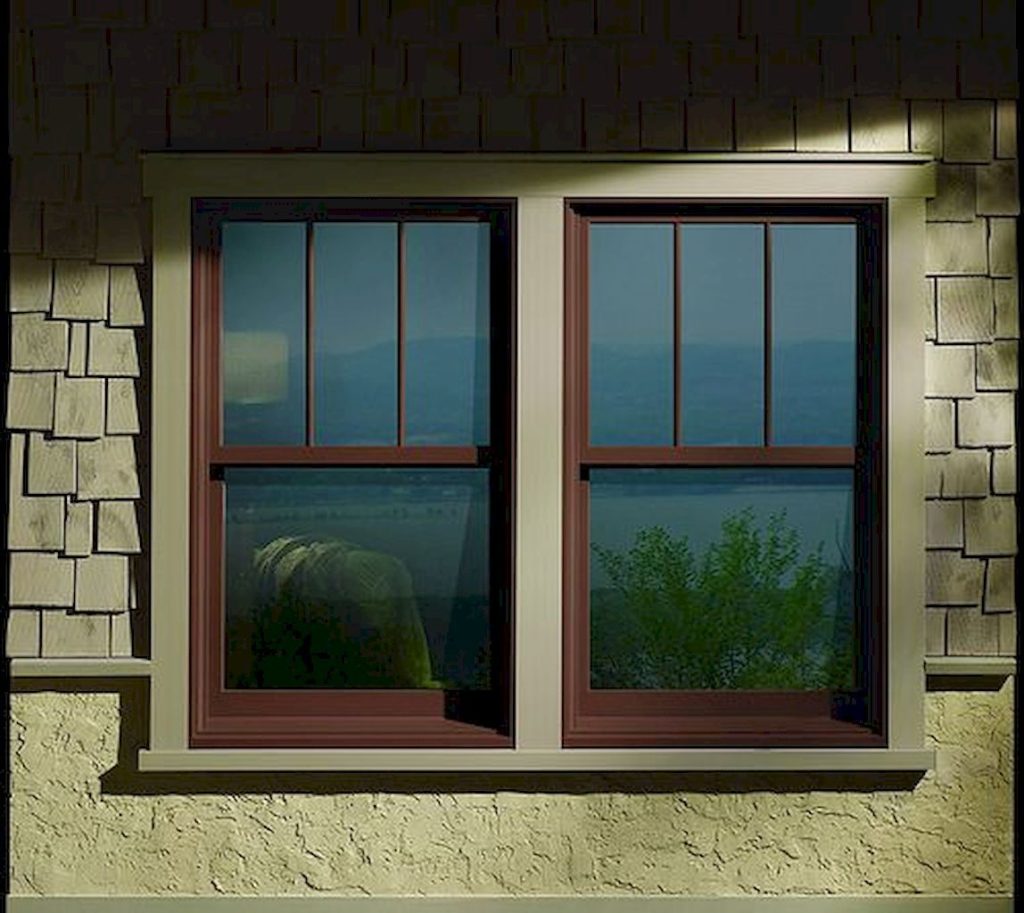 Double Color Exterior Window Trim can add an unexpected pop of color to your home. They especially look good in homes that feature detailed trim and additional ornamentation.
The contrasting colors of the trim can give your home a modern and updated look. You should keep in mind the surrounding details, like railing, door frames, soffit, banisters, etc., when choosing a double-color exterior window trim.
Choose a double-color window trim design that complements other elements of your home's exterior.
9. Mix and Match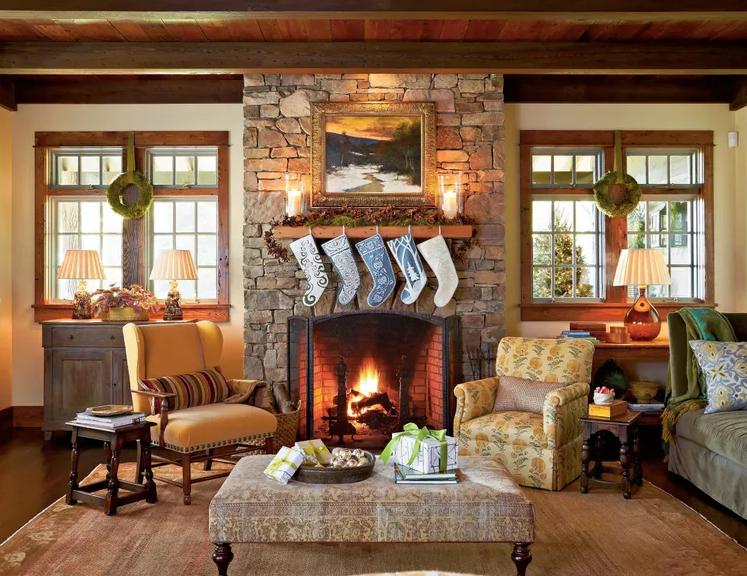 Do you know that you can mix and match the textures and colors of your interior window trim as per your interior design plan?
If you have a cottage home, you can give it a modern feel by combining solid wood trim, panel molding, crown molding, and ceiling beams. You can also mix white trim and wood or painted trim with stained trim.
If you take a look at the interior window trim in the picture, you'll see it exhibits a perfect blend of soft green paint on the grilles and stained wood on the casing.
The soft green paint adds a pop of color, enhancing the aesthetic of the space, and the stained wood provides a sense of warmth.
Also Read: Step-By-Step Guide On How to install Modern Wall Molding
10. Sleek Window Trim for Large Bathroom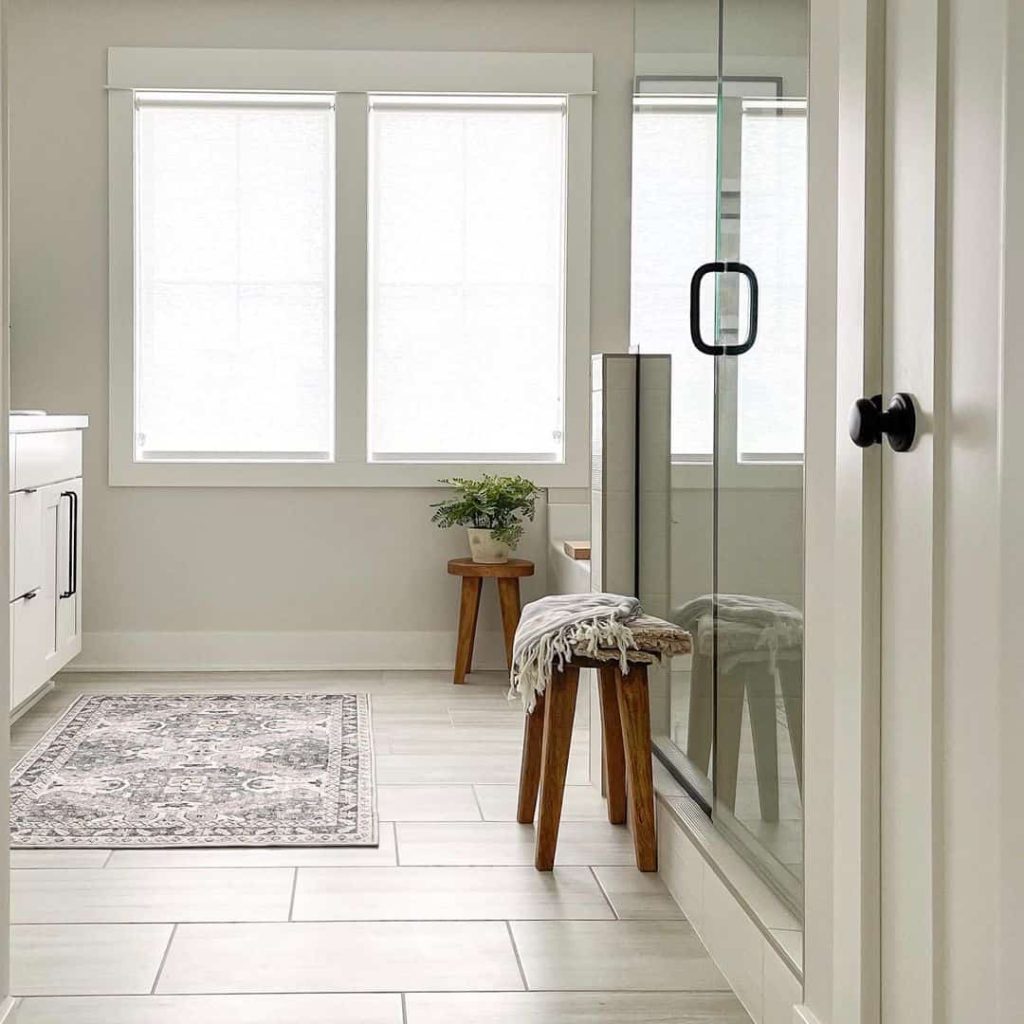 Give your bathing space a dreamy look by installing sleek window trims that complement well with the overall design of your bathroom.
Their sleek profile can allow natural light to enter your bathroom, making it feel more open and brighter. You can experiment with the pattern and color of the window trim to soften the hard surfaces and clinical appearance of your bathroom.
A patterned wooden stool and bath mat can be added to complement the cool tones of the bathroom. 
11. Tone on Tone Trim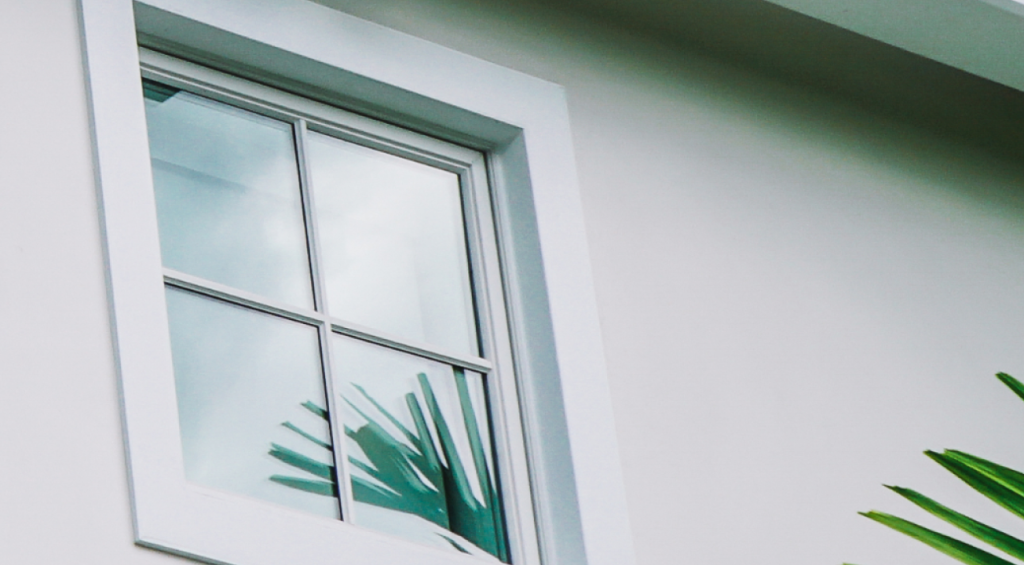 Tone-on-tone trim is one of the best modern window trim ideas wherein the same color or shade of the same color is applied to both the trim and the window frame.
This gives a unified look to your home and makes the window blend seamlessly with the surrounding wall. This kind of trim is perfect for houses having unique architecture, like statement windows.
It is also ideal for houses that involve different shades of colors and multiple tones. You can use muted and soft colors to create a soothing atmosphere. 
12. Stained Glass Window Trim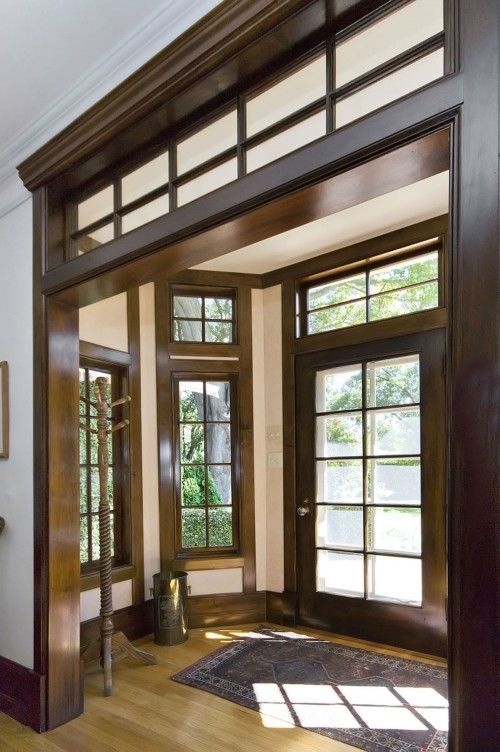 If you want to add much-needed privacy to your home without sacrificing natural light, stained glass window trim can be a perfect idea.
They are designed in a way that they restrict people from seeing you from the outside while still allowing natural light to pass through.
They come in different designs and colors and can be customized as per your personal taste. Stained glass window trim is ideal for modern and contemporary homes. 
13. Thin Trims and Jamb Extensions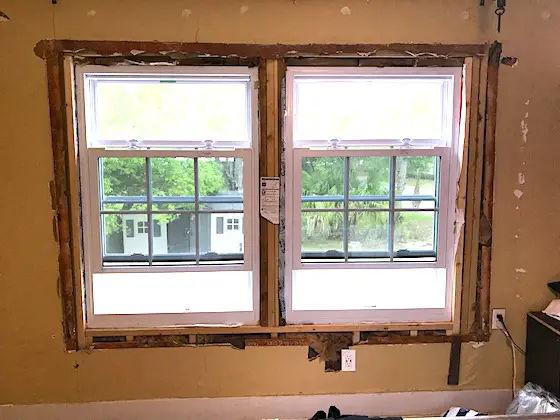 A jamb extension is the trim's interior part that extends the wall's full depth. It looks like an extension of the window frame and matches its material.
So, if you have a window frame not as deep as the wall opening, you can use jamb extensions to make it fit. After applying the appropriate jamb length, your window can be finished with interior trim so that it matches your decor.
While opting for this type of trim detail, you should ensure that the thin trim piece is consistent with other detailing in the room. For example, if you want thin metal or copper trim around your window, you can use the same wood for stair detailing or shelving.
14. Crosshatch Shutters Window Trim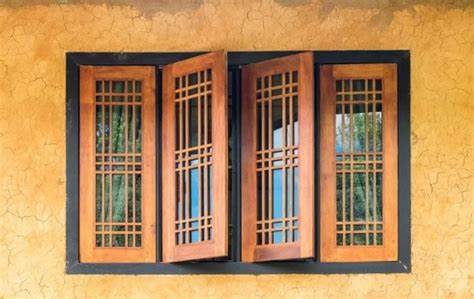 Crosshatch shutters are attached to the exterior window trim, and they provide incredible detail to your home. The best thing is that they exude both a modern vibe and antiquity. Bland houses can be given a more appealing look with the help of crosshatch shutters.
By adding them, you can make your home stand out from the rest by adding character and warmth to your home's facade. They also protect from severe weather and offer much-needed privacy. 
15. Multi-Design Approach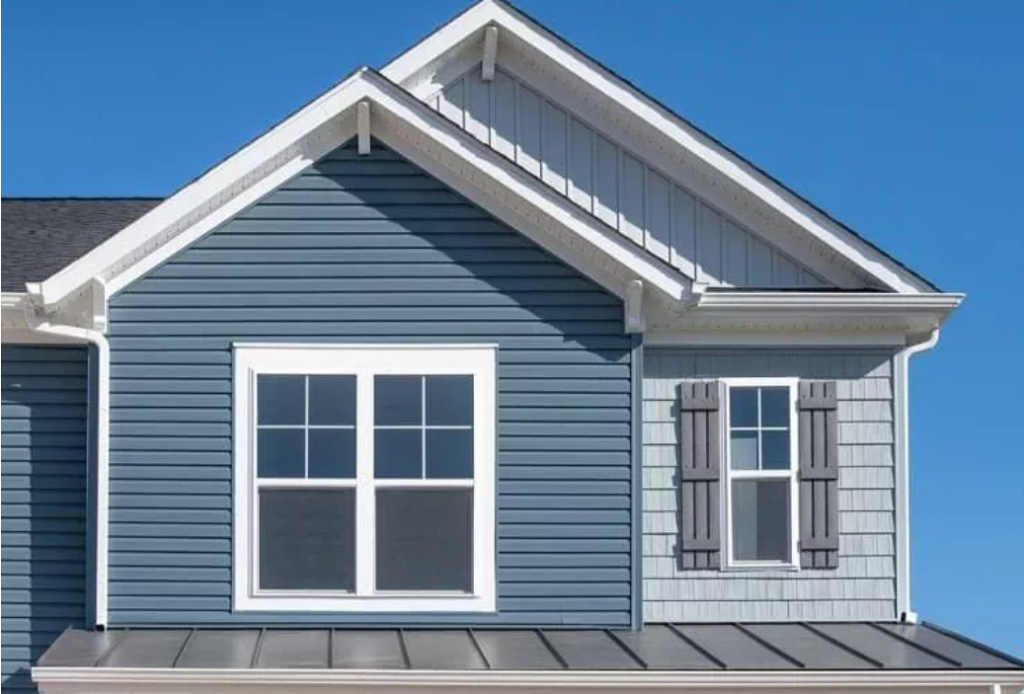 If you want to add visual interest to your home's exterior multi-design approach for window trims can be a perfect idea. This trim design is ideal for courageous homeowners who wish to experiment with their home's exterior.
If you have a beach cottage-style home, you can have basic trim on the upper windows and ornate or Victorian-style shutters on the lower windows.
A Victorian-style home can have detailed trim on the side-facing windows and simpler trim on the front-facing windows. You can also use trims of multiple colors and textures to add depth. 
16. Wood Colored Window Trim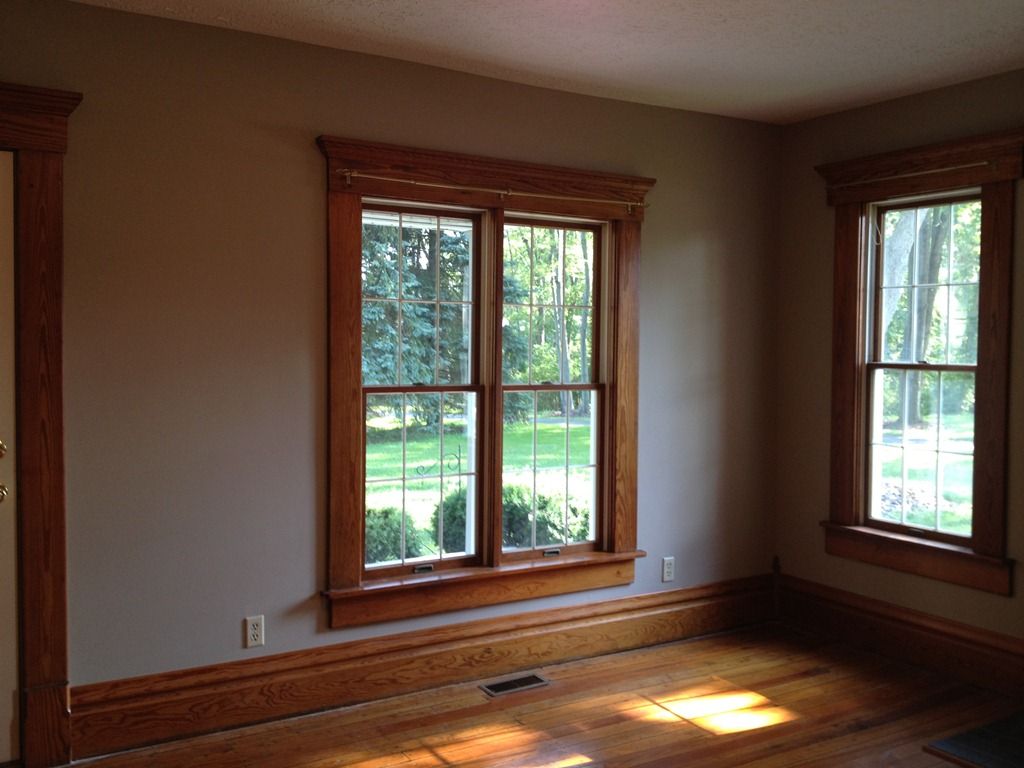 One of the recent trends that most homeowners are adopting is the use of wood-colored window trims to give a natural feel to their home's exterior.
You can customize the wood color trim in a way that matches the texture and color of the wooden accents of your home, like the porch or front door. The natural wood-colored window trims go well with bright white walls.
Instead of painting the window trims, you can also leave them bare for a rustic look. Natural wood-toned trim can introduce a sense of history and warmth to rooms.
Be cautious when pairing light-colored walls with stained wood trim because darker trim against light walls will divert all the attention to the woodwork.
Related: 20 Cozy Window Bench with Storage Ideas to Add Charm to Your Room
17. Modern Blinds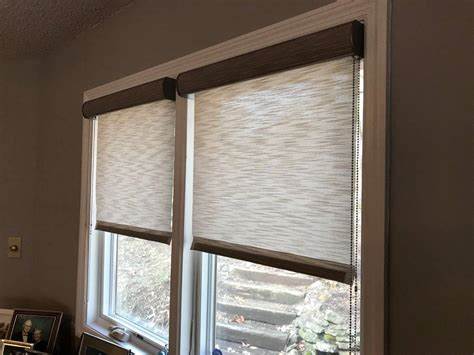 This is one of the most interesting modern window trim ideas that will add an inviting and cozy atmosphere to your room. A bedroom can benefit from black-out blinds, and in the breakfast area, you can have Roman blinds that fold up rather than rolling and aren't too heavy.
They will add a modern touch to your window and provide light control and privacy. You can also opt for energy-efficient blinds to get energy-saving benefits and save money on the ever-rising energy cost. 
18. Plaster Window Trim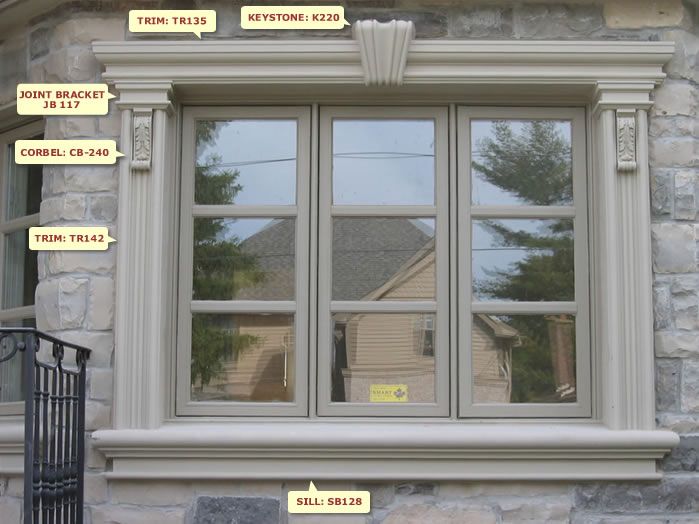 Plaster window trim can be used to make a statement even in boring spaces. It is very durable and can withstand regular wear and tear. Unlike traditional window trims, you can customize it to any size shape, giving you more flexibility in your design choices.
If you want to give your home an industrial look, you can opt for a distressed finish plaster window trim.
In a colonial-style home, a plaster window trim with sharp edges and clean lines can be used to add a touch of elegance. For a craftsman-style home, you can use simple, geometric shape plaster window trim that complements the overall aesthetic.
19. Modern Aluminium Window Trim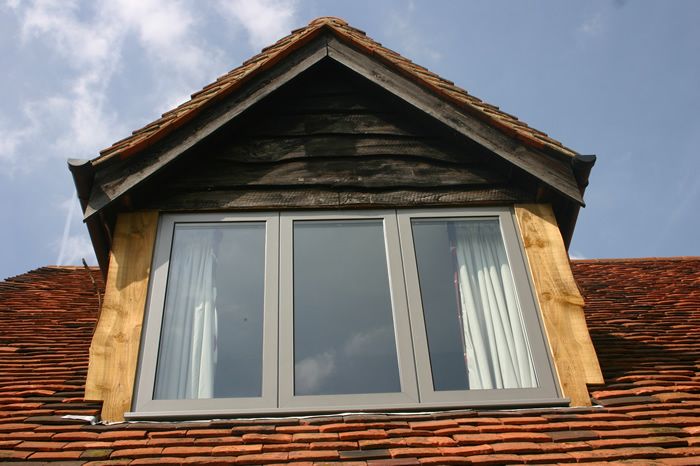 If you're looking for a durable and low-maintenance window trim option, modern aluminium window trim can be your ideal choice.
It can also be used in place of wooden trims. The best thing about them is that they resist moisture and insect activity, and their color doesn't peel or chip easily. They can be used to add an industrial flair to your room. Aluminium is often smooth, which gives it an oddly flat appearance.
If you're using aluminium window trim, play around with the accessories and accents so that the room doesn't look bland.
20. Timeless Black and White Color Scheme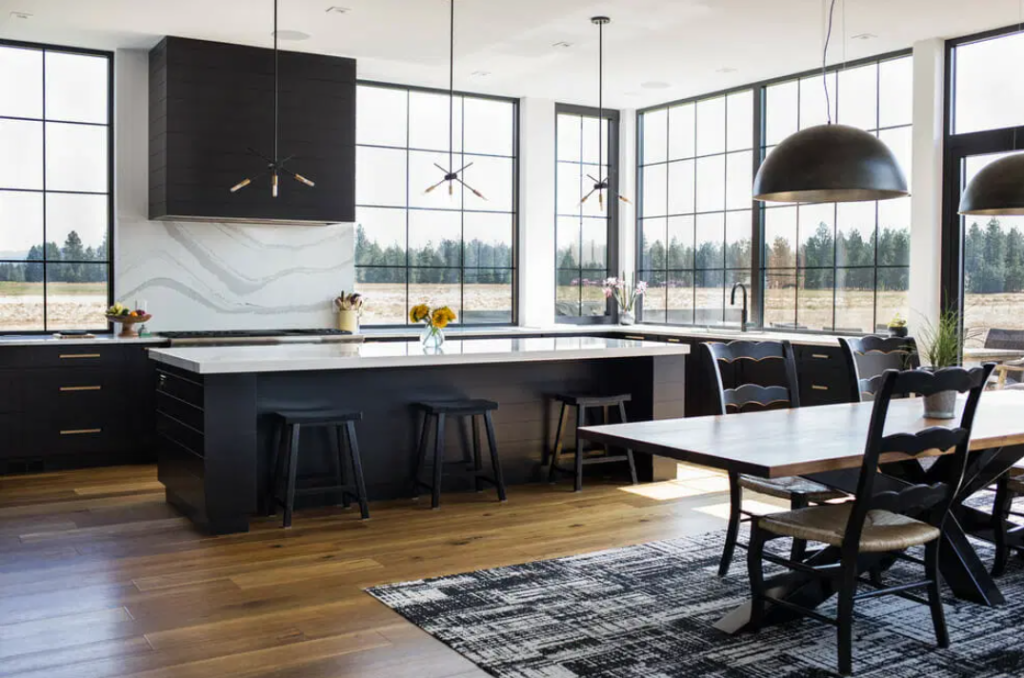 Black and white is a classic combination that can never go wrong in any setting.The black windows can be surrounded by white trim to add a timeless appeal to your home. This combination works well with various home styles, from ranch style to craftsman.
When installing white trim with black windows, you should choose the material intelligently, as black steel windows are very expensive, while wood and aluminum windows are more affordable. Similarly, wood is the most popular option for window trim, while vinyl is extremely budget-friendly.
21. American Farmhouse-Style Window Trim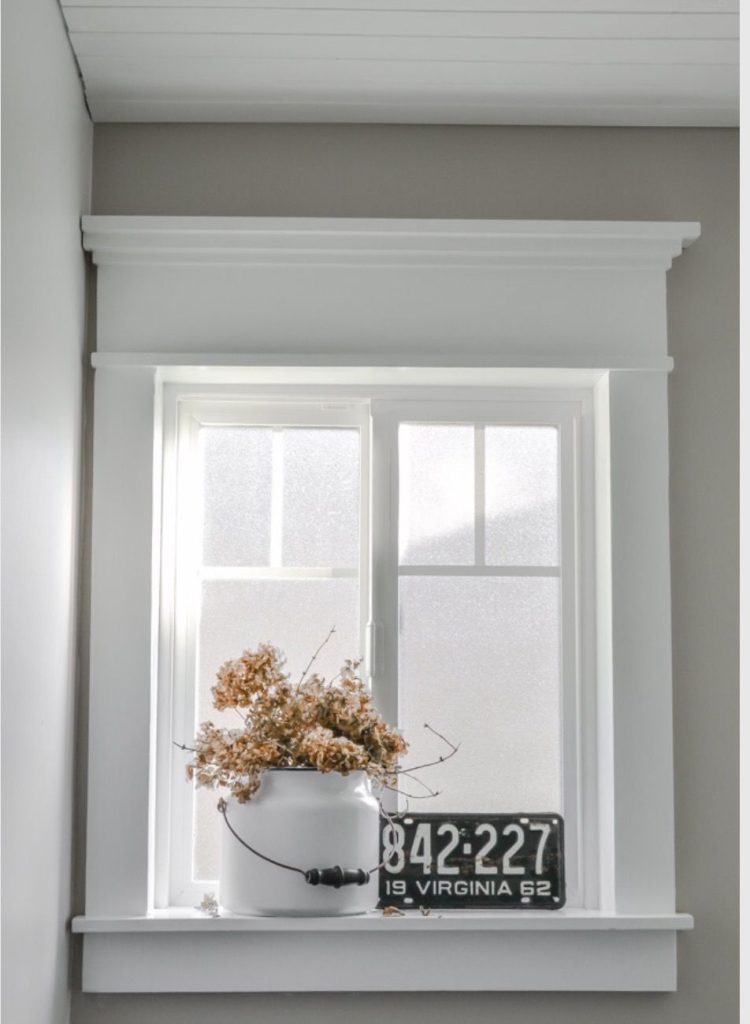 If you want to add a cozy charm to your home, American farmhouse-style window trim can be the ideal option.
American farmhouse-style window trim features a clean and basic design that emphasizes functionality. The wide casings give a visually appealing look to the window. Neutral-colored or white window trims go well with farmhouse-style homes.
Distressed or reclaimed wood window trims can also be used to give an authentic farmhouse feel. You can top off the design with accents like baskets and flower vases.
Check This Next: 15 Shower Window Curtain Best for Your Bathroom
Conclusion
Modern window trim ideas can be used to add a stylish and aesthetic look to any space. They play a huge role in the way a home feels and looks inside out. Modern window trims prioritize style and functionality and add visual interest to your home.
But while picking the ideal window trim for your home, consider how you can use trim style, color, and design to achieve the look you want! Keep the overall tone of your house in your mind when choosing the window trim color.
You should also choose the trim material wisely. While wood and vinyl are classic favorites, you can also use alternative approaches, like mixed-media types or stone.
You can check out the ideas mentioned above if you're facing difficulty in choosing the window trim that aligns with your design goals. We hope this article will help you in designing the home of your dreams!
Frequently Asked Questions
How Should You Choose an Exterior Window Trim?
There are three things that you should keep in consideration while choosing an exterior window trim- design, color, and style. You should look out for lines, shaping, edges, and continuity with other architectural features when considering exterior window trim designs.
What are the different materials in which window trims are available?
Window trims are available in various materials, such as cement, wood, aluminum, vinyl, and fiber. Vinyl is an inexpensive option, while solid wood is the most popular choice for window trims. If you're looking for a budget-friendly alternative to solid wood, a medium-density fiberboard can be the ideal choice.
Why Are White Window Trims in Vogue These Days?
White window trims are extremely popular because they make things visually bigger in smaller spaces and accentuate the positive. White trim can give a seamless look to your home and tone down strong elements.it can also magnify the natural light of your room and offer beautiful outdoor views
What Paint Finish Can You Use on The Trim?
You should opt for gloss or semi-gloss finish paint on your trim, as it will draw attention to your trim and boost your space's curb appeal. It is easy to clean dirt, scuffs, and fingerprints off gloss or semi-gloss finish paint on your trim. Avoid using a flat color, as it can give your trim a boring and monotonous look. 
Other Articles