Have you ever thought about giving your little laundry a complete makeover? Not really! Because the massiveness of your busy schedule never allows doing so. Right! Well, nobody can deny the fact that a small laundry setup that too wide range of small laundry room ideas with top loading washer are really important to put things in place. 
However, rearranging it can be not very clear when people are not sure where to begin. And it only happens when those tiny spaces demand some extra additives like a washer and many more things.
A quick guide to 14 small laundry ideas with a top-loading washer can reset your home with a completely new look.
Here's a list of some cool and amazing small laundry room ideas to make it look more appealing.
1. Create an L-Shaped Laundry Room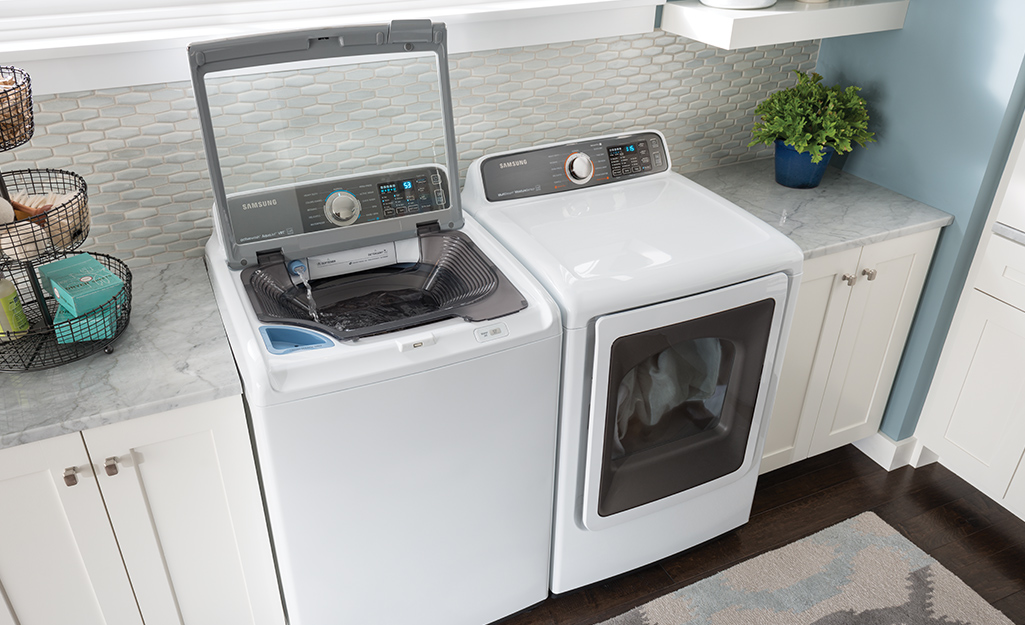 This L-shaped laundry room is preferred mostly by house owners as a way to regenerate their homes. There is a walk-in area in between accessories so that people can reach other things easily. Starting from giving a complete uniqueness to the home decor, it emphasizes creating human-friendly space as well.
Without wasting time, upgrade your small laundry room ideas with a top-loading washer the moment you feel its boring and old-fashioned.
Similar Post: 5 Simple Steps for Creating Stylish DIY Floating Shelves
2. Closed Shelves & Cabinets
You may get confused while integrating shelves or cabinets in the laundry room as it consumes most of the space. A small, confined, constructed cabinet with 2-3 racks will definitely fit. In order to make it work, you can arrange it vertically without affecting the overall look. 
And if the room is near any open space, then the closed cabinets & shelves will work amazingly to keep things clean and in place.
3. Cabinet Base
Among small laundry room ideas with top loading washer (s), placing a cabinet base is the toughest job. Isn't it? This white cabinet storage steals the complete look of the laundry. No doubt the look is appealing, but at the same time, the space has been managed with a cabinet base quite smartly.
Hence, you should always remember to arrange accordingly to the volume of the room so that you can take out space for other utilities. 
4. Use Beautiful Beaded Curtains
There is nothing more important when it comes to keeping the house clean and mess-free. Usually, an open laundry requires frequent cleaning, but at the same time, incorporating it with some beautiful beaded curtains not only changes the overall look but also keeps it dust-free. And in our list of small laundry room ideas with top loading washer this option does the job perfectly right for you.
Without placing closed curtains, try beaded curtains, as it is always advisable to use something light and attractive.
5. Place Ladder Hanger
A short ladder hanger is always advisable while designing the laundry room. Because they are extremely important to fight with the unwanted disturbed weather conditions. However, to keep things away from the reach of your kid, placing a ladder hanger is the best move one should take. 
6. Storage Baskets
While recreating magic in your small laundry room with a top-loading washer in it, never forget about the storage baskets. Those handy baskets just look perfect and in place while arranging the laundry space. Its multipurpose usage makes it an additional asset. Along with cleaned items, you can also keep used items separately. 
Also Read: 15 Black Floating Shelves to Enhance the Look of Your Walls
7. Incorporate Some Decor or Wallpaper
Adding up some light shade wallpaper or any sort of handcrafted decor pieces can really uplift the overall look of your small laundry room. Some finest antiques give a fine touch of freshness to the whole area. The only thing you need to do is place it accordingly to avoid clumsiness. So before moving ahead with the other stuff, make sure a beautiful look is very important, too, for the space.
8. Keep Minimal Things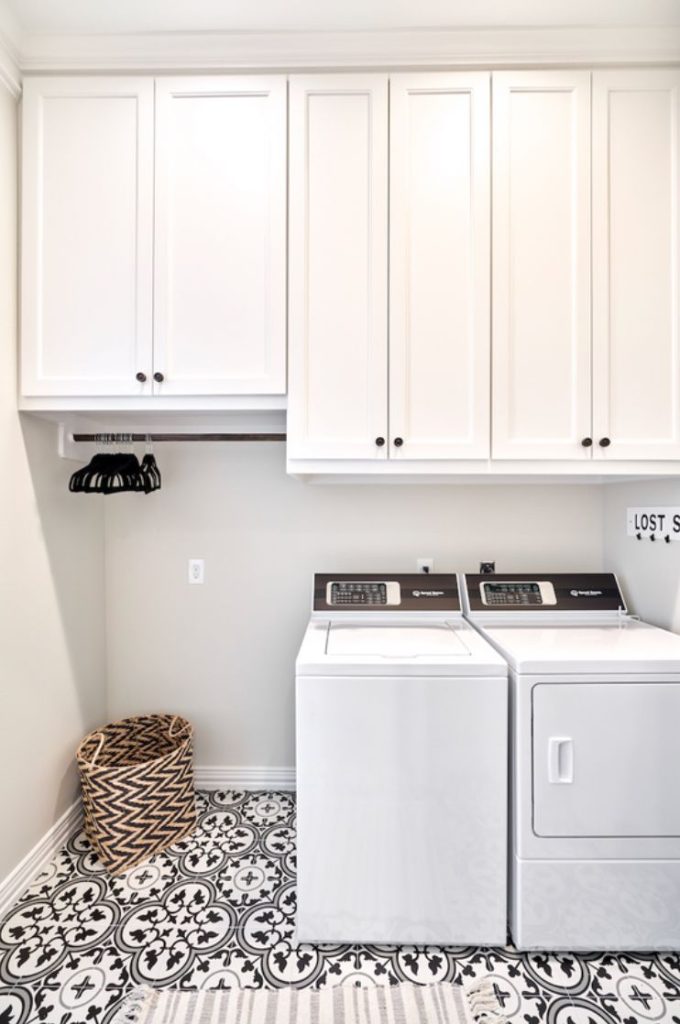 You can keep everything minimal to give your laundry a stylish and clean look. Just have a look at this small room laundry and how minimum things are being added. The overall appearance of the whole laundry is very simple, and everything is arranged in place. Isn't it? Well, do you know what exact benefit you will be getting by doing so?
A complete dust-free space. Yes, you heard it right! The more stuff you include, the more you invite the mess to your house. Clear out the extra baggage for more cleanliness around.
9. Include Multifunctional Stuff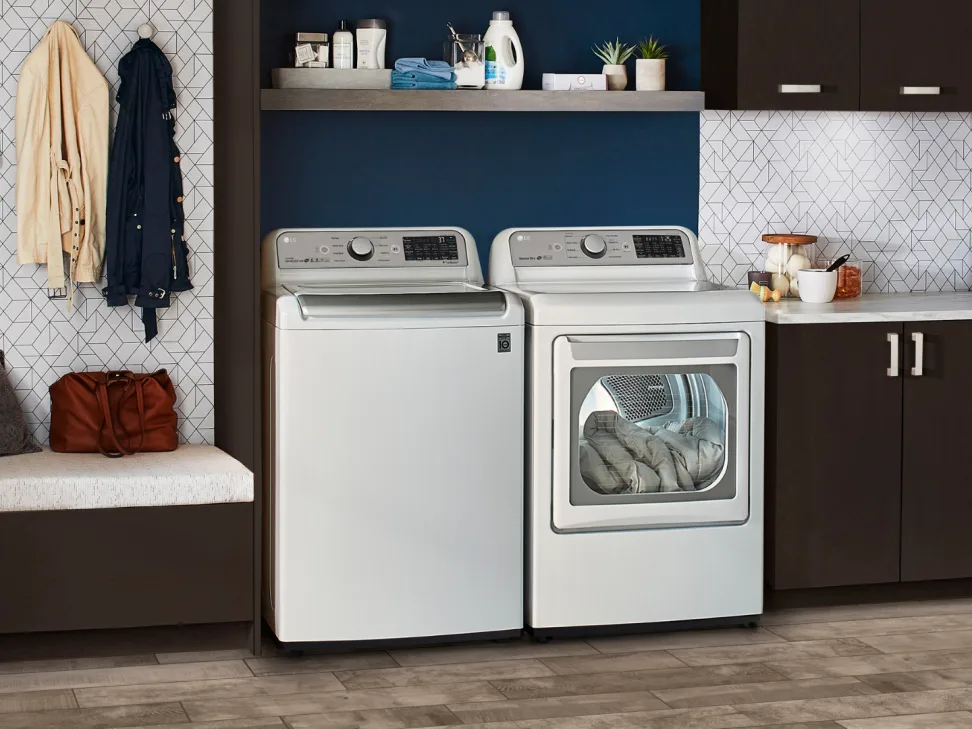 Be it a working professional or a homemaker, everyone requires a full set laundry room. Don't you? Especially when it comes to a cozy laundry in your house, including multifunctional utilities is a must-do thing. This complete arrangement of multi-units in a single corner of the room is not only fascinating but also empowers the whole room as well.
Things are easily accessible and are just one footstep away from your reach. Starting from the utility racks and the hanger space to other drying things, every single unit is accessible.
10. Add Lively Colours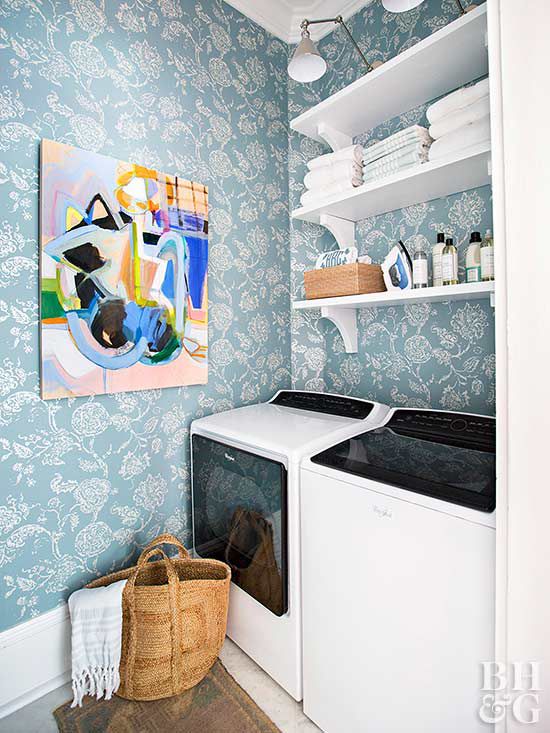 Isn't the color quite soothing? This light bluish shade of wall color with a little touch of white shelves just makes it pleasing. Well, that does not mean you cannot make changes. But always remember to choose a subtle color for the whole room so that you can have freshness and positivity all around. To make your room a child-friendly zone, try some creative colors as well. 
11. Create A Walk-In Area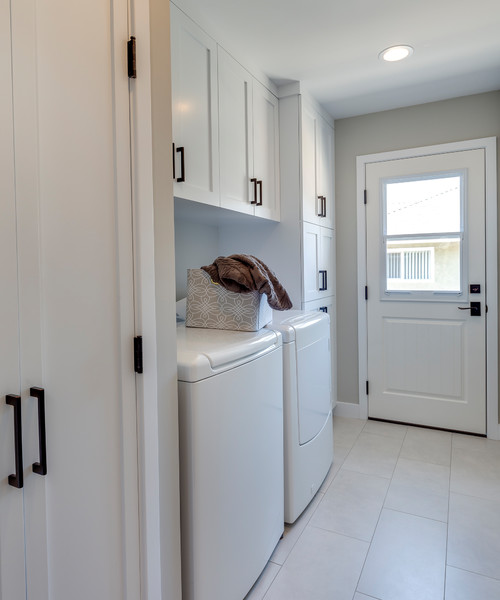 Taking out walk-in areas is the smartest move one should always make while rearranging the laundry room. Creating a spacious place for yourself and your family is the easier way to make it happen. Usually, inbuilt homes face difficulty because they do not carry a separate laundry room.
But if you are making your own dream space, then definitely look into this to give it a lively touch. This one area is all you have to put on some extra effort to avoid mess. 
12. Modern Styling Look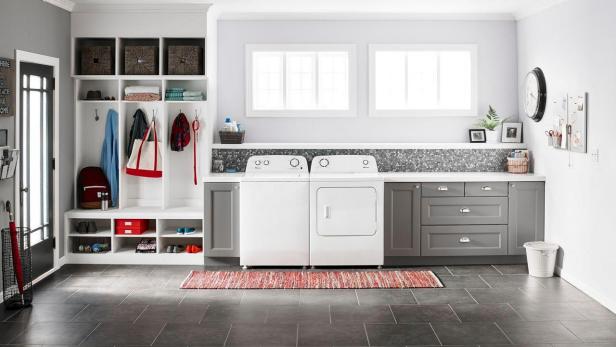 Having a stylish laundry room is now a new norm. Everyone nowadays is fantasized about having their home decor come out classy and stylish. Those old rugged decor and accessories are long gone. However, this spacious white laundry room with shelves gives the most appraising look. Why don't you try these? You can definitely get some amazing results with the correct placements of accessories.
13. Use Every Corner Precisely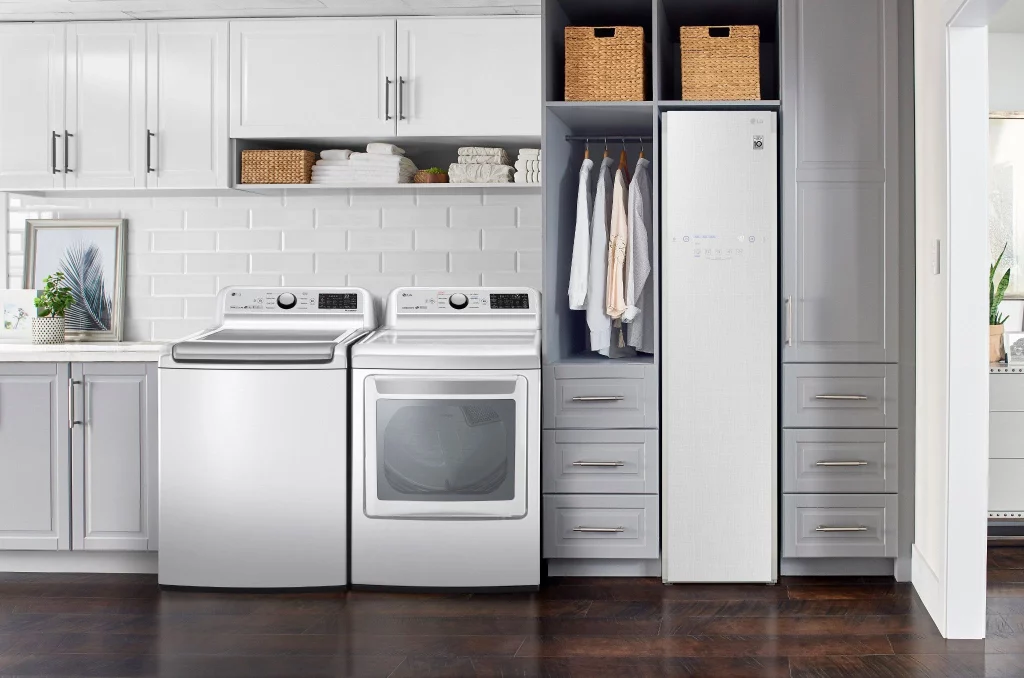 Is it really tough to use every single space when you have a small laundry room in your house? Surprisingly, yes. As each and every laundry accessory has its own importance, ignoring any of these might hamper your laundry session. Just add every possible valuable item to make it look organized and well-mannered. No doubt it sounds difficult, but you can easily do it by following the amazing ideas right away for rearranging them in place.
14. Build-In Top Loading Washer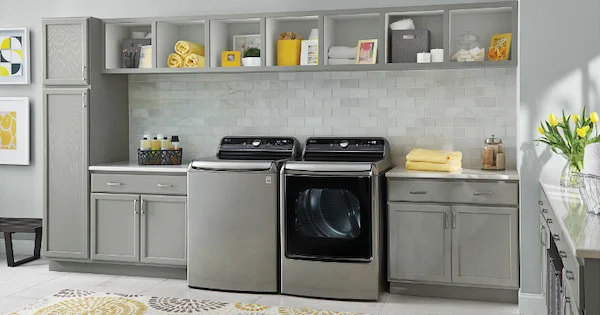 People never settle down when they are the age of working. Right? Because they always believe settling down for less is never an option. This is why they just keep moving and always hunt for a better place to end the journey. However, technological advancements have taken a good part while developing a well-equipped home for those, especially those who never stop at one place. So here comes the in-built top-loading washer usually homeowners are providing. Easy to access, no burden of carrying, and zero installation headache. Isn't it cool? Try these!
5 Best Top Loading Washers You Can Buy Online
Top-loading washers are showing tremendous results in terms of installation and access. People prefer more to these items rather than the front load. Being the most demanded product, you can easily incorporate these in your laundry room. To make it look good as well as usable, above are the top 14 tips listed for small laundry room ideas with top-loading washers. Just get through it for some amazing tips to follow. Because frankly speaking, the laundry room makeover is really important when you carry a top-loading washer. But how to choose the best top-loading washer?
Just scroll down and have a look at the 5 best top-loading washers to get a clear decision now.
1. Speed Queen TC5003WN
Speed Queen TC5003WN is highly recommended. With a top-load stainless steel wash tub, it gives a maximum spin speed of 1200 RPM. With an average weight of 200 pounds, it gives an amazing outlook. The capacity of the product is 3.2 cubic feet, along with 6 standard cycles.
Related: 15 Striking Kitchen Runner Rugs to Instantly Upgrade Your Space
2. Giantex Full Automatic Washing Machine
Giantex Portable Washing Machine is one of the best fully automatic pieces. With a compact design, it is easy and convenient to use. The capacity of the washer is 857.5 pounds with 8 standard cycles.
3. Avanti STW30DOW Portable Washing Machine
Avanti STW30D0W is another fully automatic top-load washer you can add to your bucket list. With a maximum spin speed of 800 rpm, it is completely portable. And the best feature of it is the annual energy consumption is 65-kilowatt hours per year. With a capacity of 3 cubic feet, it includes normal, heavy, delicate, quick, bulky, and spin only.
4. Nictemaw Portable Washing Machine:
Nictemaw Portable Washing Machine is considered to be one of the best, with a capacity of 1.7 cubic feet. Being fully automatic, it is highly recommended. With an amazing Led display, the whole design is completely compact and has a large loading capacity.
Check This Next: 22 Closet Door Ideas for a Refreshing Look
5. Danby DWM065A1WDB-6 2.11 Cu.Ft Machine:
Danby DWM065A1WDB-6 is perfect for different varieties of fabrics. Its auto-balancing feature makes it highly advisable for everyone. With a maximum spin speed of 740 RPM, it cleans heavy as well as light weighted materials. The capacity of the washer is 2.11 cubic feet.
Wrapping Up
Despite having in-built small laundry room ideaswith top-loading washers, people prefer to build their own setup. Whether it's about adding up those fancy colors and utilities, taking out walk-in space, to incorporating some lavish yet elegant pieces into the laundry room, everything requires time and some mind-blowing ideas. Without wasting much of your time, start designing your laundry room because it's just a matter of lovely ideas and techniques you are choosing!
Other Articles