Living rooms are generally the nervous system of a home. They are the spaces where everyone in the family gathers to spend some time together, and mostly, Entertainment center ideas are the centerpieces there. They get plenty of visual attention, but the TV isn't the only thing that catches the eye. How you decorate these units is important so they look the best.
Thankfully, the ideas to decorate your entertainment centers are limitless. From coloring them in a bright color to add some paintings, anything can be done here.
We came up with 21 Entertainment center ideas that you can take inspiration from to give your living room the desired look. Check them out.
1. Give Your Wall Some Character
Usually, entertainment centers are the focal points of most living rooms. To add to the look of it, you can design a featured wall around your TV system. You can paint the way behind the TV with either a contrasting color or maybe put a simple wallpaper if you plan to add a simple shelf beneath the TV that gives you some storage.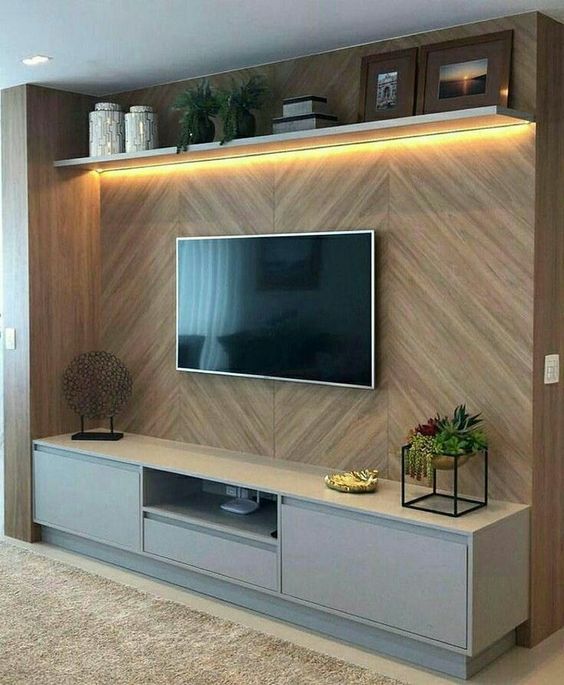 If you are looking for a simple shelf to add to your room, you can check out the Panana TV Stand, which is a simple entertainment console table that not just gives you a place for your TV but also caters to other storage needs. It comes with 2 shelves that create 4 cubby spaces that give you an opportunity to store and display your things beautifully. 
Similar Post: 15 Stylish TV Rack Designs to Upgrade Your Entertainment Zone
2. Place Some Books
Books add charm to any place. It would be a great idea to add some bookcases around your entertainment unit. It would give it a rustic look and make the visual very appealing. You can use the shelves around your entertainment unit to make a mini-library for yourself, and it can surely become the focal attraction point.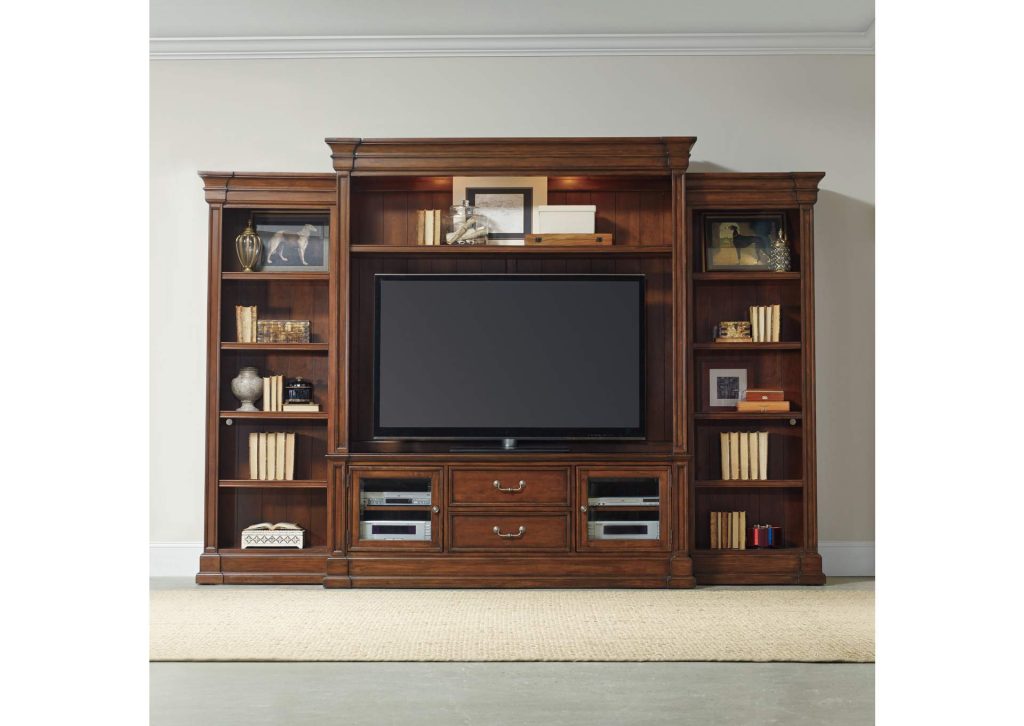 A classic floor-to-ceiling bookcase entertainment center can never go out of style. An entertainment unit you can check out is this Hooker Furniture Clermont Wall Center which gives you space not just to display your TV but gives you enough shelf space to put your books. This particular entertainment center has a lighted hutch on either side that can fit a TV of up to 70 inches. 
3. Odd-Numbered Shelving
Making your entertainment center eye-catching doesn't just have to be about its build, but it can have something to do with how you arrange things in it too. As a shelving trick, try to make odd-numbered groups of things. Be it 3 items, 5 items, or 7, make a cluster of objects that will turn them into focal points.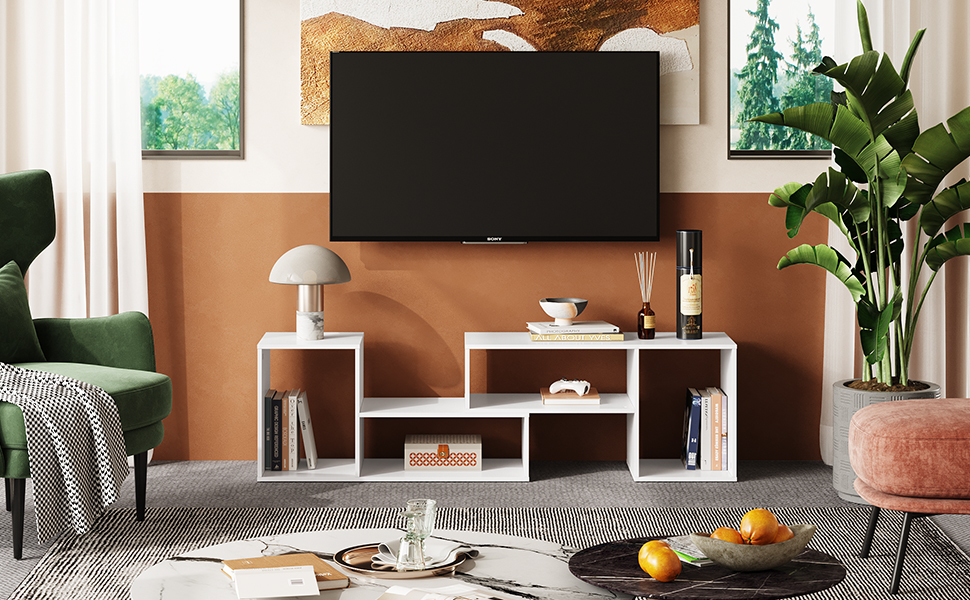 Look at this simple yet practical Devaise Flat Screen TV Stand And Entertainment Center that features L-shaped shelves that are great for everyday usage and fit well in decoration style. The unit comes with 2 L-shaped shelves that can be configured as per your needs. It can be used as a bookshelf, storage rack, corner TV stand, or media console. 
4. Bring in Some Gloss
Metal or gloss is a great element to include in your modern decor. You can use shiny chrome or stainless steel handles for your entertainment center. Add to the luxury of it by painting the wood of your entertainment unit with glossy paint. You can couple this entertainment unit with a simple coffee table and a couch to elevate the look.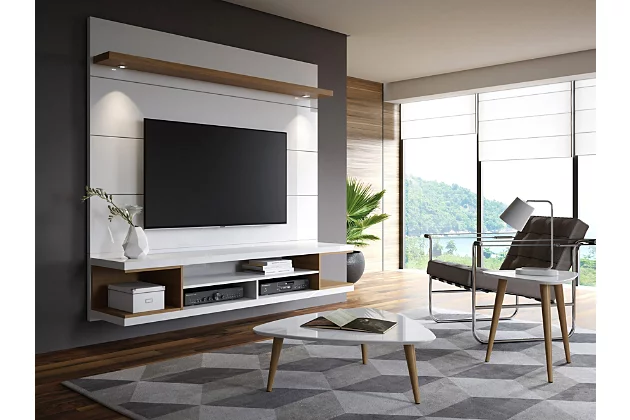 This Manhattan Utopian Comfort Floating Theater is a dream for all the entertainers trying to give a luxurious look to their living room. Glossed in off-white and maple-cream color, the entertainment unit is equipped with convenient LED lights and an open storage area. 
5. Cover the Whole Wall
You can make an entertainment unit that covers the whole wall. This way, you will get ample space to decorate many elements that can come together to make your living room look attractive. Make sure you are using all of your horizontal and vertical space around the TV. You can use grid-like patterned shelves to give your simple design an elevated look.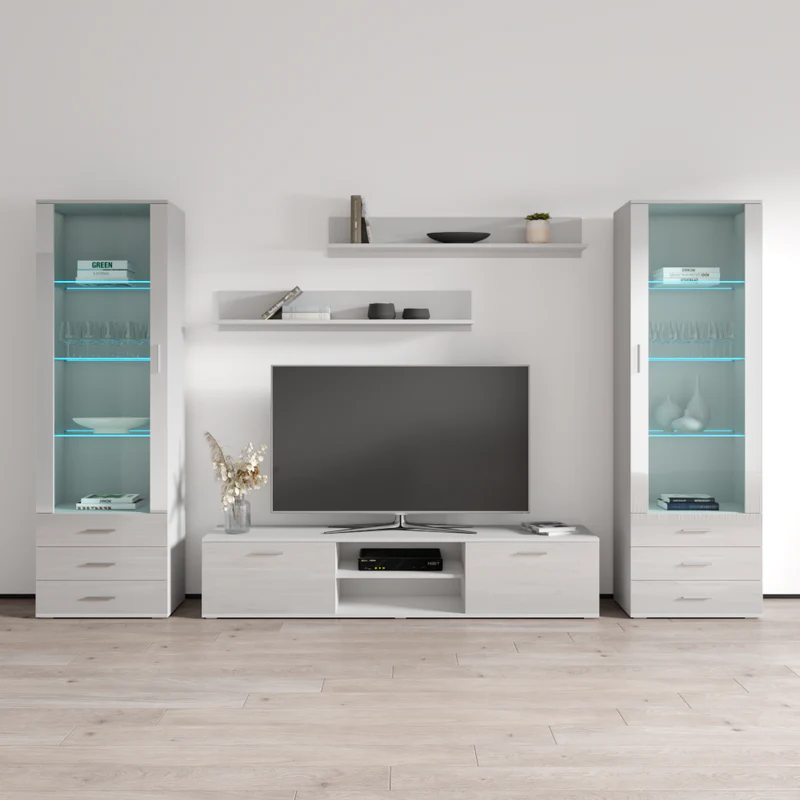 You can also check out this Mebel Soho 4 Furniture Wall Unit Entertainment Center, which is a great addition to your living room. It features a modern, unique, and contemporary design that covers your wall space. The panels of this entertainment unit have high gloss fronts with matter body and fit very well in a living room. This set includes 2 wide bookcases, a 71-inch TV Stand, and 2 piece shelf set, giving you ample space to store everything.
6. Go for a Floating Entertainment Center
A floating entertainment center is a great addition to your modern living room. If you have limited space, you can add one of those to your room. They are functional and sophisticated. If you are looking for a piece of Entertainment unit with some storage space, you can look for a floating entertainment center with some closed drawers.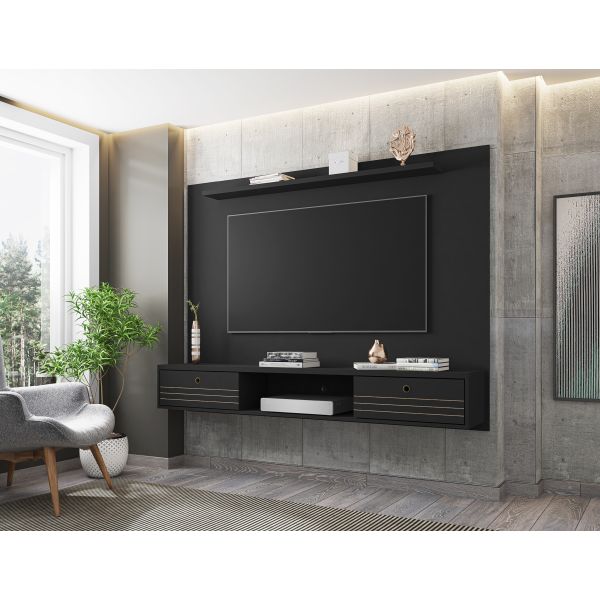 Give all your media consoles and wires a way to be displayed in a very neat manner with this Manhattan Comfort Liberty Floating Wall center. This unit comes with 2 flip-down doors, 1 center open shelf, 1 overhead decor shelf, 2 media, and cable management brackets to mount the TV. 
7. Add a Fireplace
Another great element you can add to beautify your Entertainment center is a fireplace. If you can't manage to add a real fireplace to your piece of furniture, you can always add an electric one. This gives your living room an elegant design and makes gives it a cozy feeling. One Entertainment unit that comes with an inbuilt electric fireplace is this Walker Edison Georgetown Farmhouse TV Stand.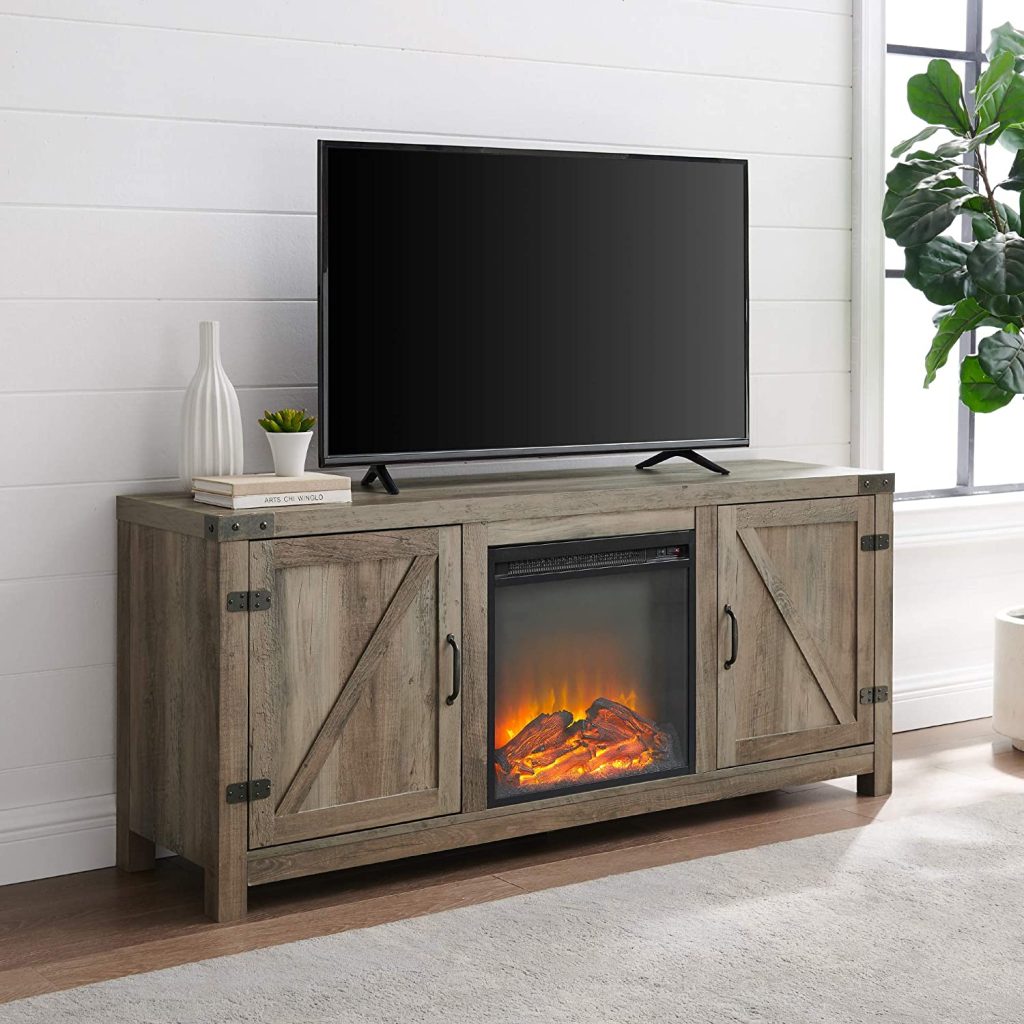 This modern farmhouse double barn door fireplace this cabinet comes with a top where a TV of up to 65″ can be mounted. It also comes with two closed drawers and adjustable cabinets, giving you the storage space that you will need. To add to the beauty of the entertainment, you get a removable fire stand that can heat up to 4600 BTU. 
Also Read: Which Colours Blends Best with Grey Kitchen Unit or Cabinets?
8. Bring in Some Wood
Most people spend a long time in front of their television screens. If you choose a design that is made out of natural materials, it will give relaxation to your eyes. If you have a cozy, snug area in your living room, a wooden design will bring warmth that will bring a welcoming feeling to sit and relax.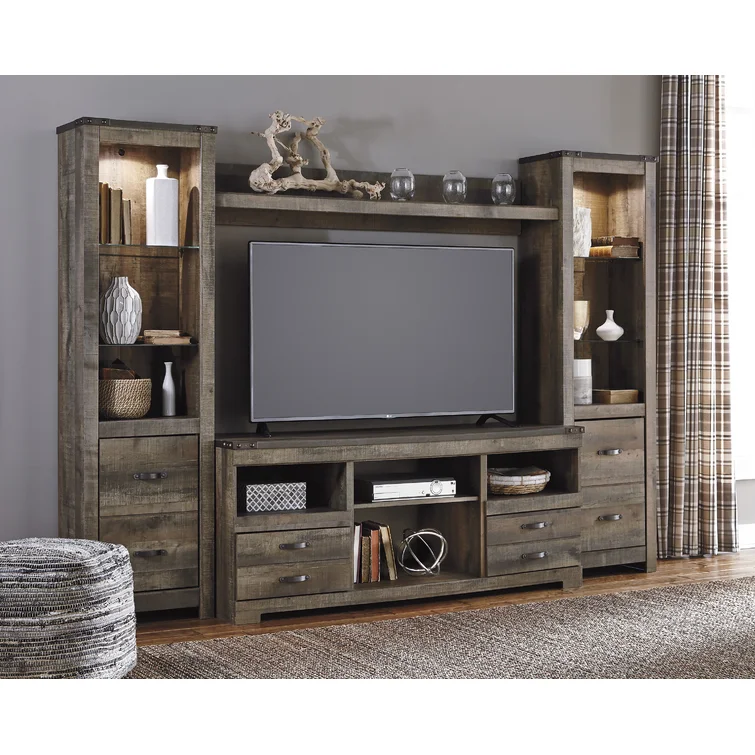 Bring a rugged yet refined look to your living room with this Entertainment Center has a rustic finish and plank-style detail. This piece of furniture is made out of reclaimed barn wood and metal banding with nailhead accents, also giving it Industrial cool and giving your room a super clean look.
9. Play with The Color
You can get creative with your Entertainment Center Ideas by coloring the cabinets of your Entertainment center. It is a great way to add character to your room. Create an immersive design by painting the furniture. You can choose any color depending on whatever vibe you are looking for. It will bring elegance or quirkiness to your space, depending on what you want.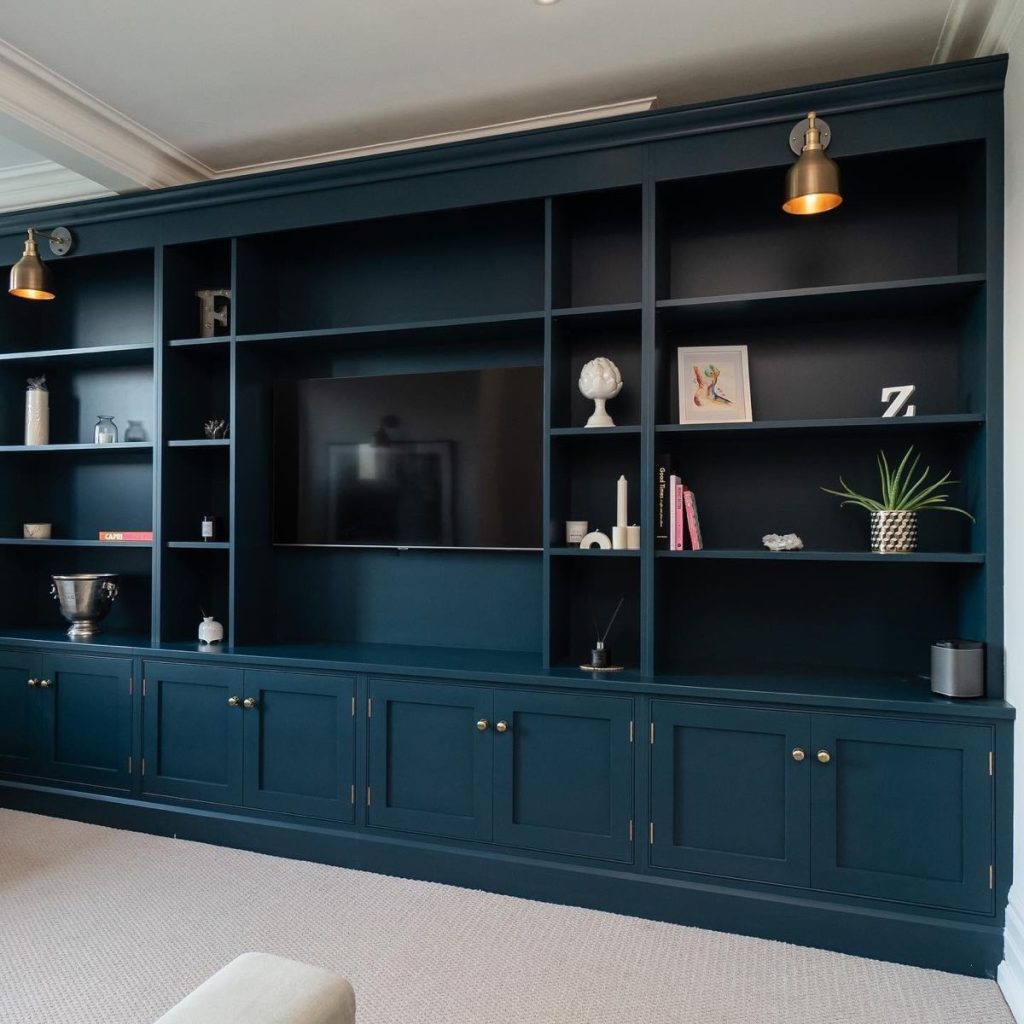 10. Give Your Cabinets Some Pattern
Another way to add character to your entertainment center is by adding a creative pattern to your unit. You can either put some patterned wallpaper on the cabinets or get some textures added that will give some playfulness to your living room. It will be fun and give visual depth to your living room.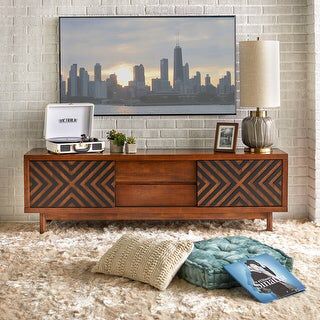 11. Play With The Textures
While wood is usually the first choice for Entertainment units, you can get playful by adding some textures to your unit, giving your living room an interesting look. If you are looking for a boho look, you can get a TV stand that is made out of natural cane that will give it texture contrast and mix beautifully with most decors. This is an artistic element that will up the look of your living room.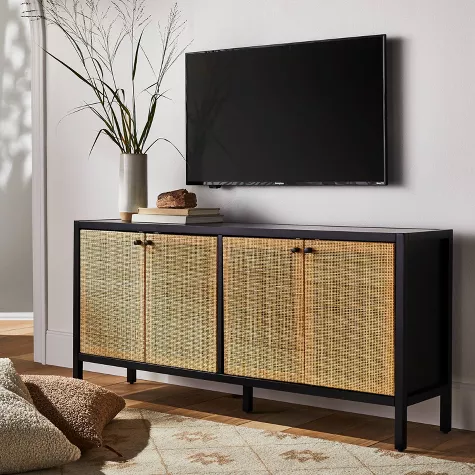 If you are looking for a TV stand that has a caned texture, you can check out this Springville Caned Door TV Stand by Studio McGee, It has the right amount of design and texture with a clean silhouette. This TV stand is made out of solid wood and has natural cane accents. The front cabinet doors are made out of cane which gives a great contrast.
12. Keep Things Toned-Down
If you do not want your entertainment unit to stand out, you can use a closed cabinet entertainment stand unit that has sleek storage and blends in your room.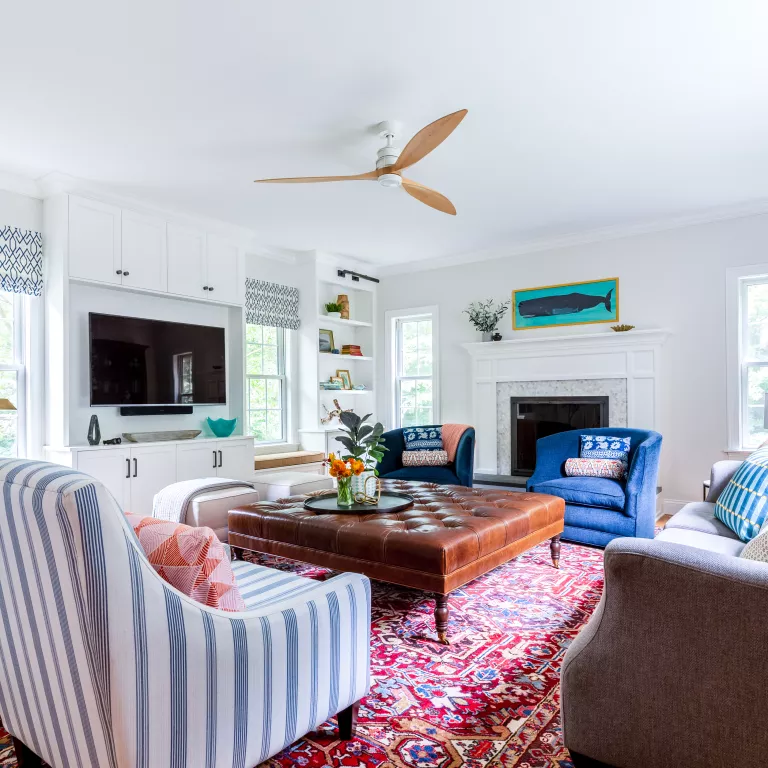 For example, the cabinets and shelves of your entertainment unit can be painted white in order for them to blend with white walls and ceiling. This is a practical entertainment center design idea and will be long-lasting.
13. Bring In Some Drama
Adding some sliding doors to your entertainment center ideas, you can take your living room visual up a notch on the drama scale. It is a playful element and can act as a canvas for a more decorative and unique design.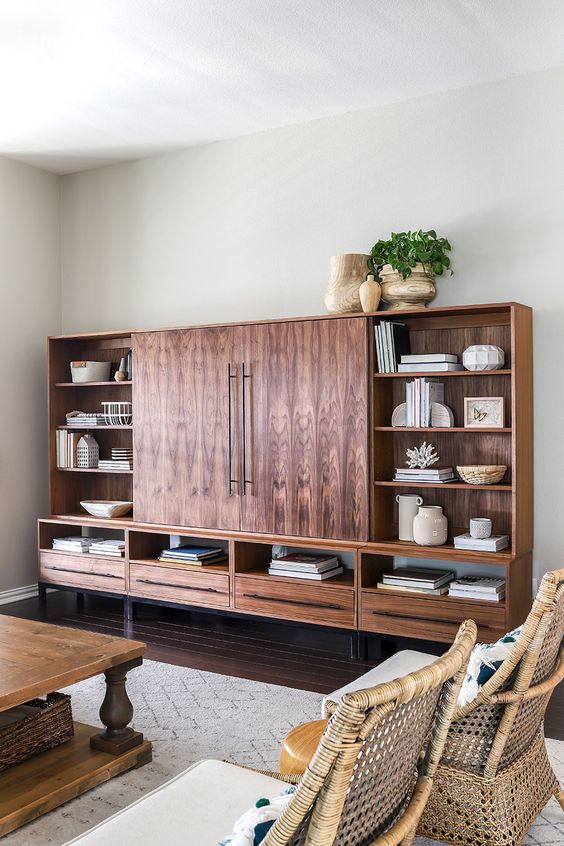 If you feel like the electronics in your living room are disrupting your visual flow, these sliding screens will hide them, solving that problem.
Related: 20 Best White Floating Shelves Design Ideas for Your Home
14. Mix Up The Storage
This is a simple idea that will give you a stylish element in your living round. Mixing open and closed storage will help you a versatile look and break the monotony of your Entertainment center. Since these will have a lot of storage space, it is a great unit for anyone struggling with storage needs.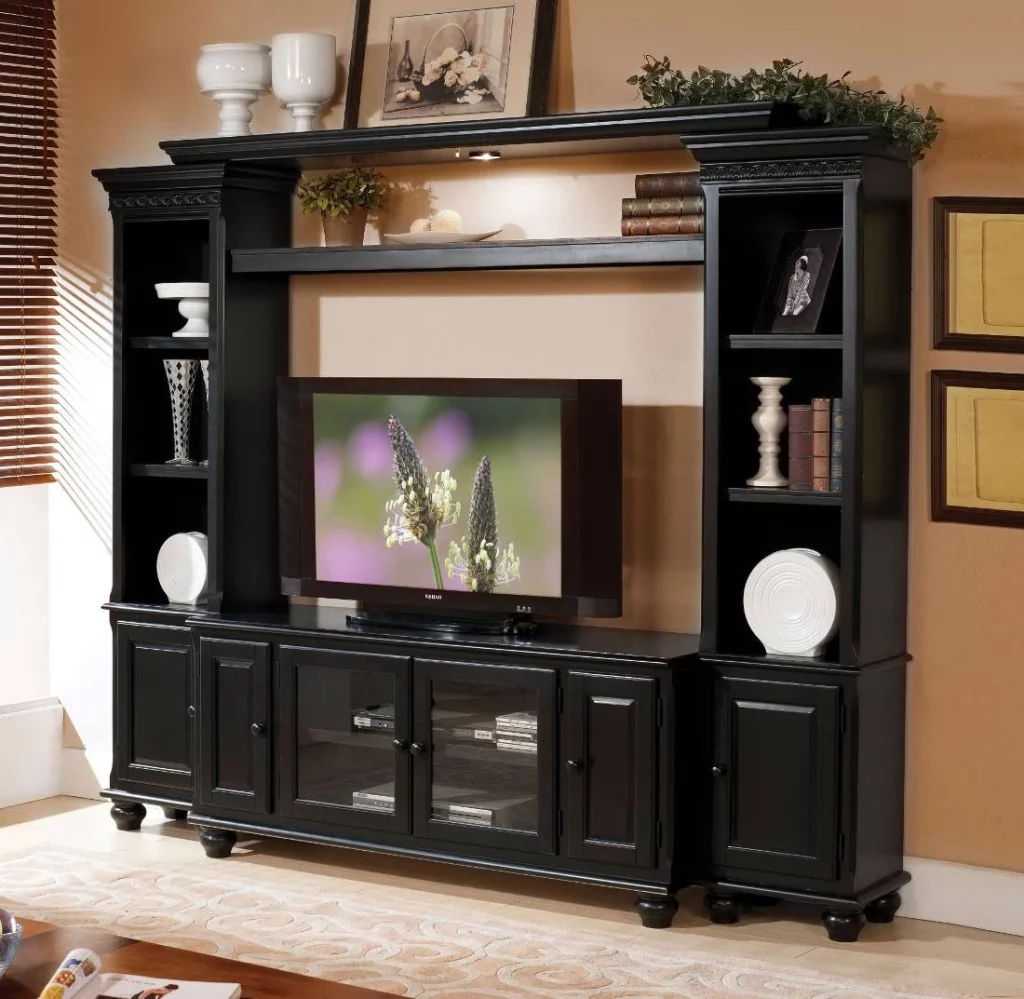 Take a look at this Ferla collection by Acme. This collection gives a great transition to your living room. It has a shelf bridge with a light function and two side piers that offer a lot of space to keep all your entertainment components. Made out of selected wood in black finishing, this piece gives a stunning sleek appeal and is good for any living room. The TV stand with this entertainment unit comes separately.
15. Use All the Decorative Objects
A very simple and obvious Entertainment Center Ideas is adding decorative objects that show your personality in your living room.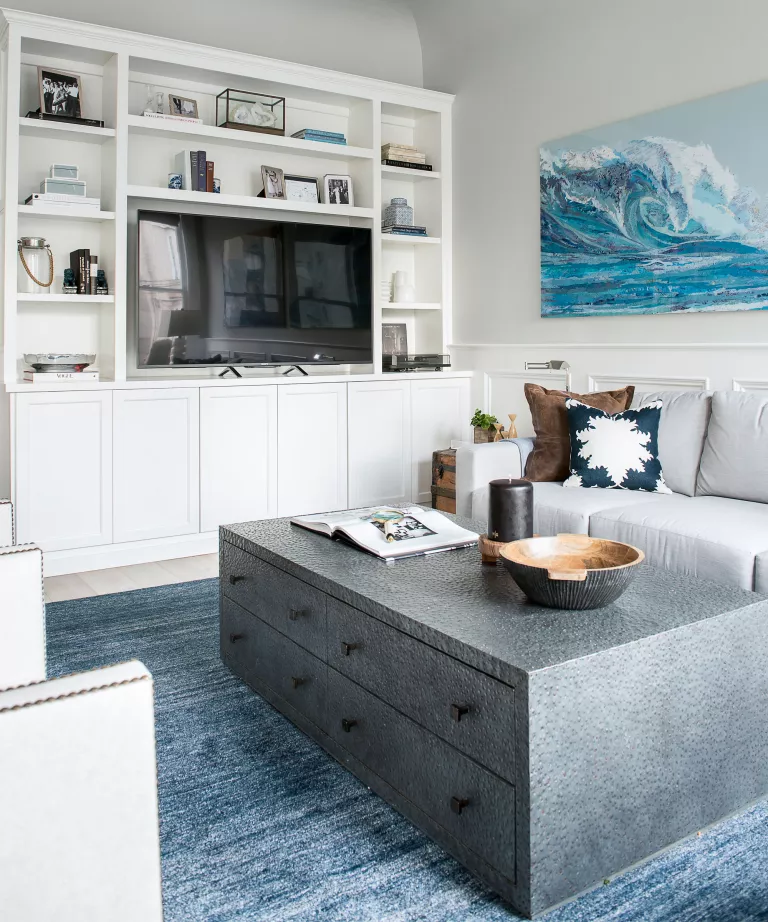 You can use almost anything, photo frames, show pieces, books, anything that shows your personality is a good thing to showcase in your entertainment unit.
16. Add A Statement Art Piece
Another way Entertainment center design idea is adding a statement piece of art around your entertainment unit that matches your living room decor.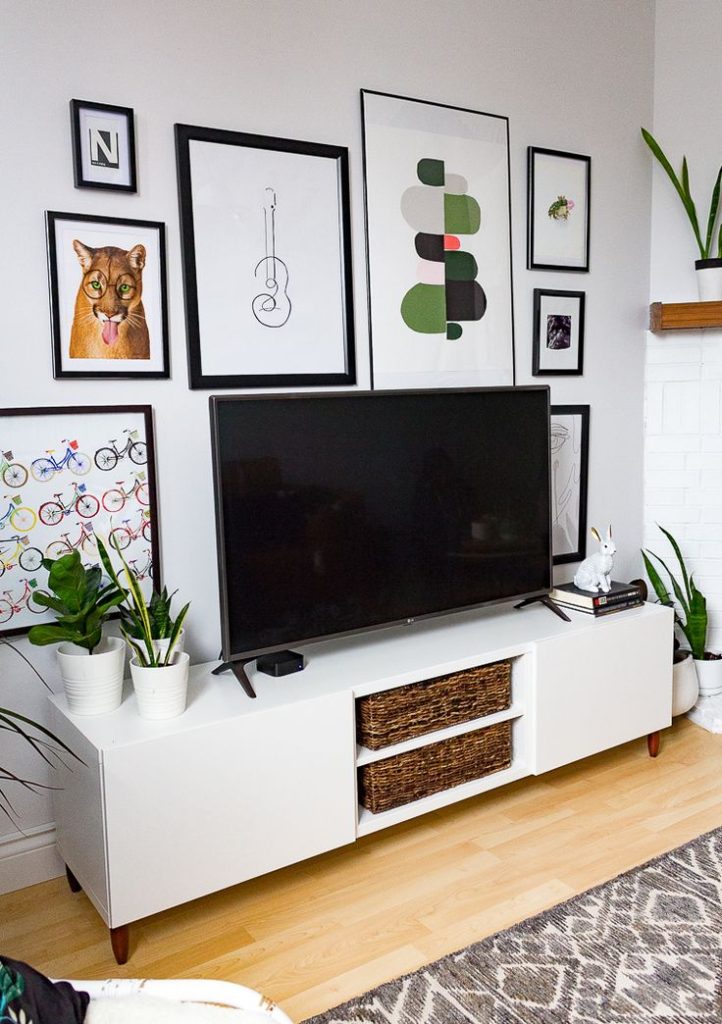 This will prevent your TV from looking like a black, eye-stopping piece of electronic and help your entertainment center blend in with your whole decor. If you are on a budget and looking for an idea to save money, you can make your own art.
17. Small Shelve Entertainment Unit
Go big or go home is not really the way everywhere. If you are looking to give your living room a clean look, you can add a small entertainment center with a little storage space that can hold your DVD or game consoles. This will give your room a minimalistic look and make your living room a cozy feeling.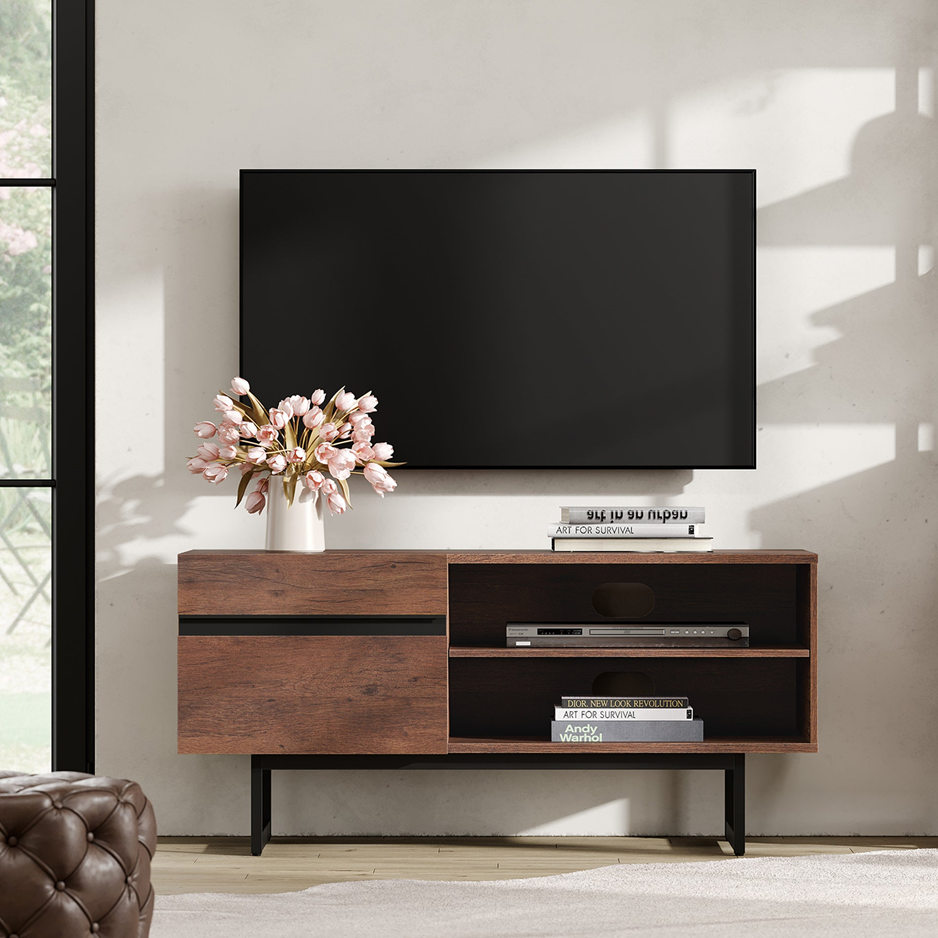 To achieve your goals, you can check out this WAMPAT 2 in 1 TV and entertainment stand that is a great piece of furniture to add to your modern-day living room. Giving you a TV console and ample storage for your other media consoles makes for a great minimalistic entertainment unit. This unit has the perfect blend of hidden door handles and walnut wood grains. It also has cutouts inside conceal cables that help you seal the whole look.
18. A Corner Entertainment Center
If you are running low on space, bringing in an Entertainment center can be a little tricky. To solve that problem, you can choose a corner entertainment center that will solve all your problems giving your living room a finished look.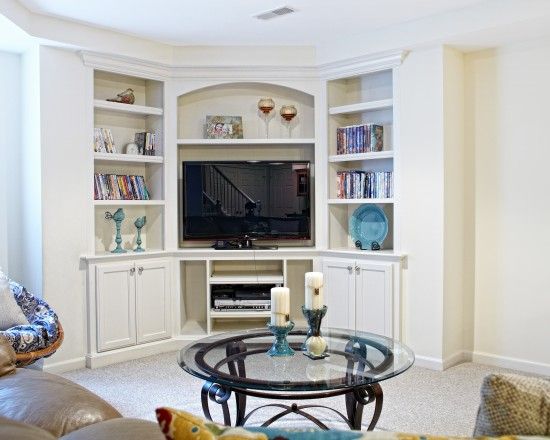 Since the corners of the rooms are generally very difficult to furnish, a corner Entertainment center will do that job for you freeing up other space for more important pieces of furniture like couches or sofas.
19. Light up Some Candles
Candles improve the ambiance and the mood of any space very quickly. You can make your living room cozy by lighting up some candles. This is a simple decoration technique in entertainment center ideas, but it is one of the most effective ones.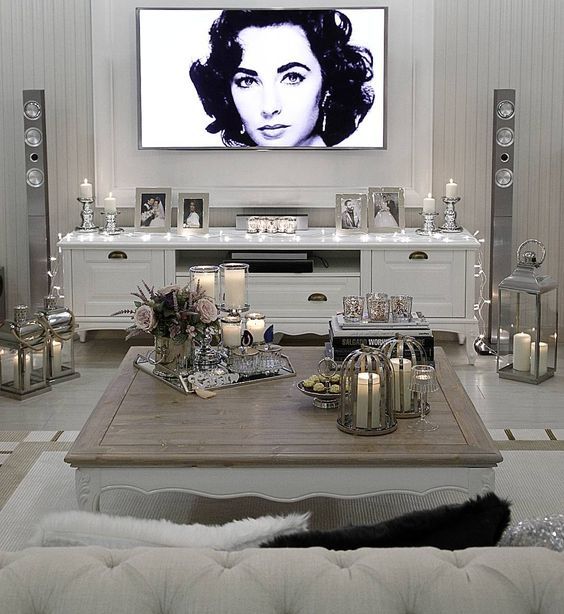 As an addition, you can choose scented candles, which will only improve the mood of the setting. You can choose the fragrance of these candles based on whatever mood you are trying to achieve. For instance, you can use rosemary and lavender for a fresh-relaxing feel. 
20. Add Some Houseplants
Adding some plants is never a bad concept in your entertainment center ideas. You can add some little plants to the shelves of the entertainment center, which will add a little bit of life to your living room and will be a welcoming dose of the outdoors to this set-up.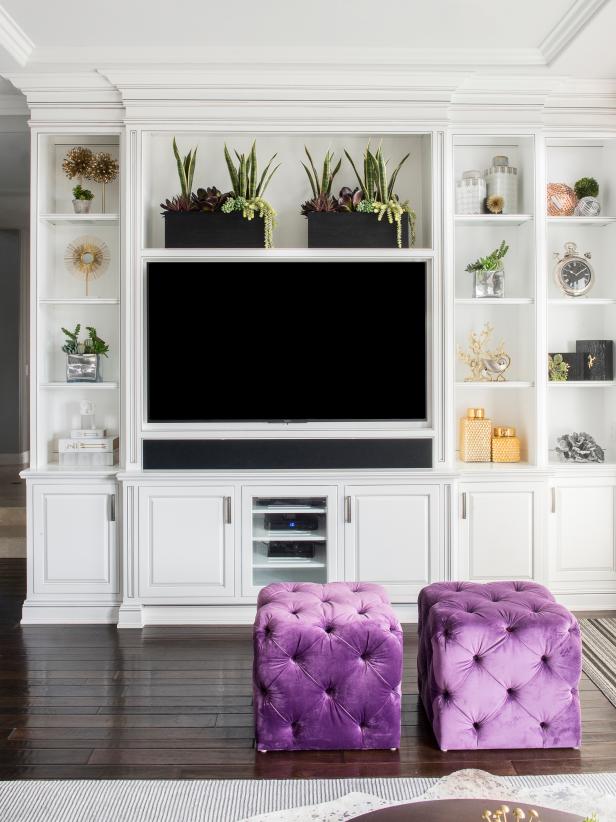 Some plants that you can include in your living room include snake plants, ZZ Plants, Peace Lillies, and Aglaonema, among all others. These are low-maintenance plants and add great visual value to your living room. 
Check This Next: 15 Sunroom Decoration Ideas You'll Love
21. Bring in Some Seasonal Garlands
Rotating your decorations seasonally is a great way to keep them interesting and fresh. You can add a seasonal garland to your entertainment center that will make it look up-to-date.  Either purchase or make your own holiday garland in winter, add a flower garland in the spring, and maybe a shell garland in the summer.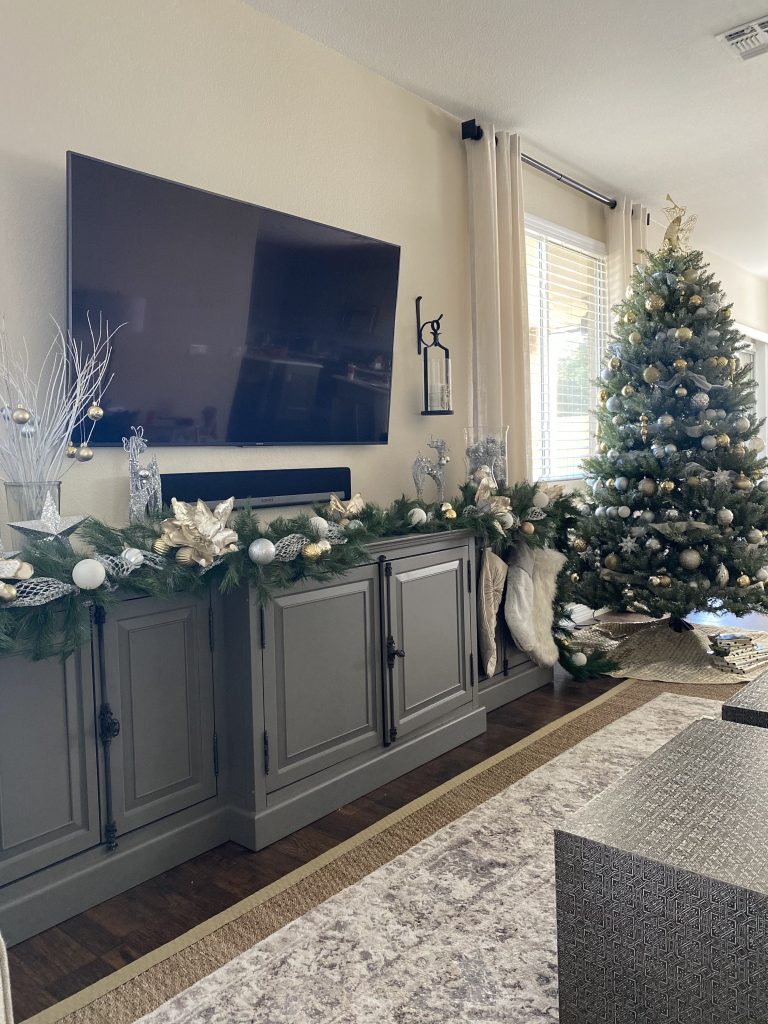 There is also an option to use dried oranges and cranberries to make your own garlands and lot to play with when it comes to making garlands. You can use whatever elements suit the best to you. 
Final Words About Entertainment Center Ideas
All in all, Entertainment centers are not just about television units but also about what you display around them. You can make your own DIY projects, buy all the knick-knacks and do whatever pleases you.
There really aren't any rights and wrongs when it comes to decorating your entertainment centers. It is a space that will make you feel at home when you look at it. So, make sure you let your personality shine through. You can take inspiration from all these entertainment center ideas and give your living room the creative look you are looking for.
Just remember, you can just have as much fun as you want with this.
Other Articles