The holidays are only a few months away, and we are all excited.
We can't deny that decorating our beautiful houses is one of the most enjoyable aspects of the holidays that we can accomplish with our family and friends.
If you want the ultimate Christmas decor for your home, get into the holiday mood as soon as possible and begin right away.
A little forethought may go a long way!
List of Best Coastal Christmas Decor Ideas
When it comes to gorgeous Christmas decor, what could look better than coastal Christmas decor?
Whether you live near the water or fantasize about a sandy paradise, seaside Christmas decor is terrific.
In this post, we'll walk you through 15+ imaginative and one-of-a-kind ideas that will fill your home with the joy and tranquility of the sea while also adding a festive touch to your coastal design.
Prepare to be immersed in a world of seaside Christmas fantasy, with everything from starfish tree toppers to seashell wreaths.
Let's get started!
Similar Post: 10 Sparse Christmas Tree Ideas to Buy this Holiday Season (+ Design Ideas)
1. A Beachy Bedroom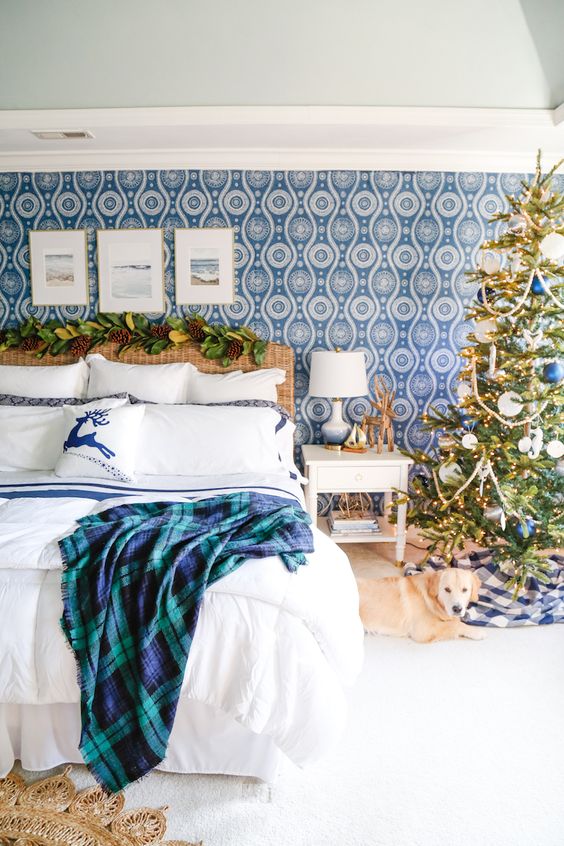 We'll start with the comfiest space in the house: the bedroom! If you already have coastal bedroom decor, you just need to make a few changes to welcome the Christmas spirit into your space.
Install a Christmas tree with blue and white ornaments that remind you of the sea, and use coastal design details such as beautiful throw pillows or a checkered blue Christmas tree skirt to accomplish this.
If you don't already have coastal decor, you can simply incorporate it into your holiday decor this year by making a blue holiday accent wall that will make a big difference in your room.
Make your room seem comfy with a fluffy white mattress with a tinge of blue and coastal wall art and accents.
2. Mini Coastal Christmas Trees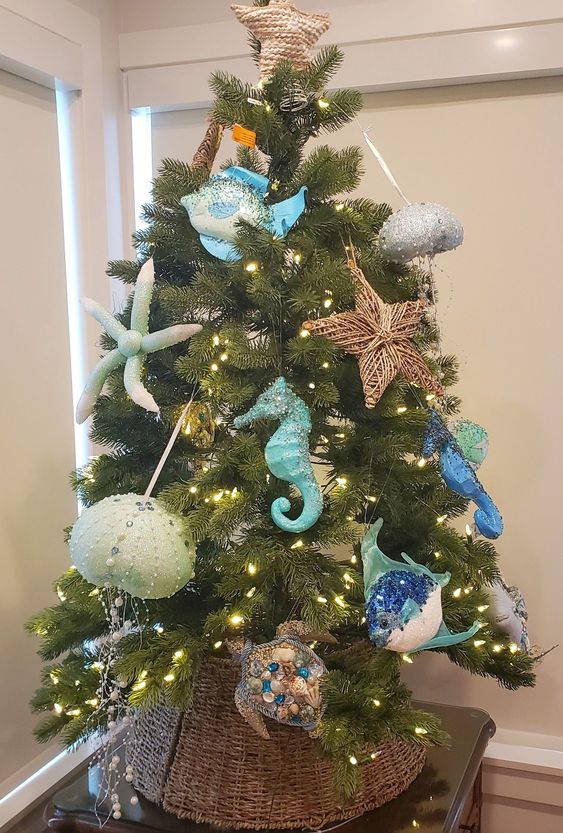 Mini Christmas trees are a popular decorative Christmas accent that can be used on tables, countertops, mantles, and in bedrooms. It can be a lot of fun to make your own nautical Christmas tree.
Coastal ornaments such as shells, figurines, or white and blue ornamental balls can be used to decorate the small trees.
To achieve a beachy vibe with fewer ornaments, choose a blue or white flocked tiny Christmas tree and keep ornaments to a minimum. To decorate the tree, you can also create your own DIY decorative starfish or white boho ornamental balls.
Also Read: 12 Ways to Decorate Your Small Front Porch for Christmas
3. Nautical Christmas Signs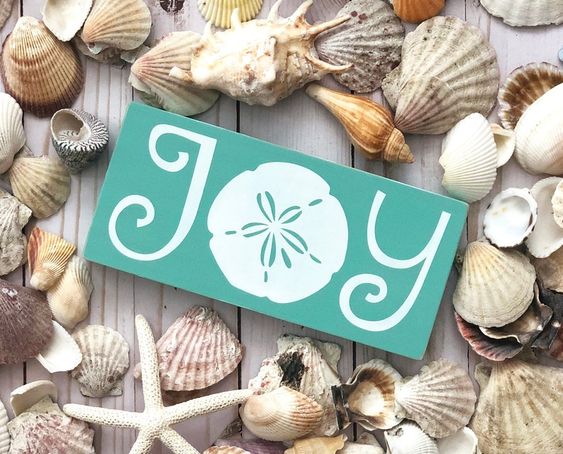 Christmas signs are a key component of the porch Christmas decor. You can use coastal Christmas signage to inform your guests about what to expect inside.
Many seaside signs have fascinating and hilarious inscriptions that will entertain your guests.
Most coastal decor is neutral with gorgeous blues; adding vibrant coastal Christmas signs adds a spark of color to your room.
As a fun activity, if you have a knack for sketching, you can be inspired by magnificent sea creatures to show your delight this Christmas by creating your own Christmas sign.
4. A Coastal Living Room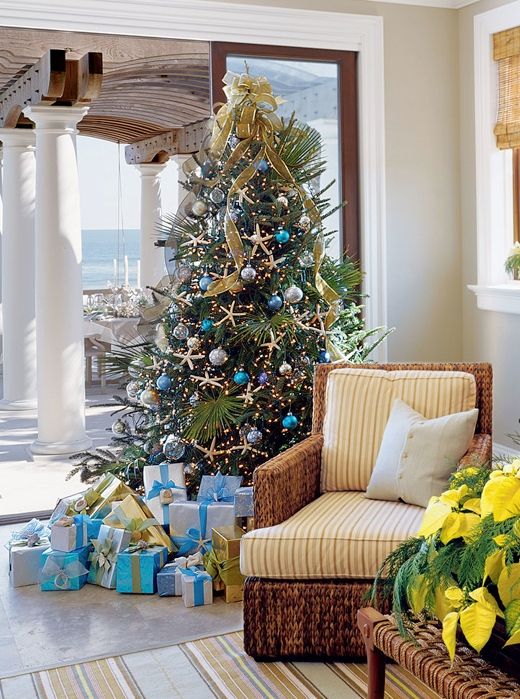 After a hard day, an excellent seaside room is one where you can feel the warmth of the sea breeze while relaxing. Decorating the seaside living room for the holidays is a simple process that can be completed with a few modifications.
The classic Christmas tree, decorated with silver and blue ornamental balls that can remind you of the sea, is the focal point of the living room design.
Display the gifts in blue, silver, and gold wrapping paper to complement the tree and provide a wonderful blend of metallic colors. If your living space is small, avoid going overboard with the decorations.
5. Beachy Wreaths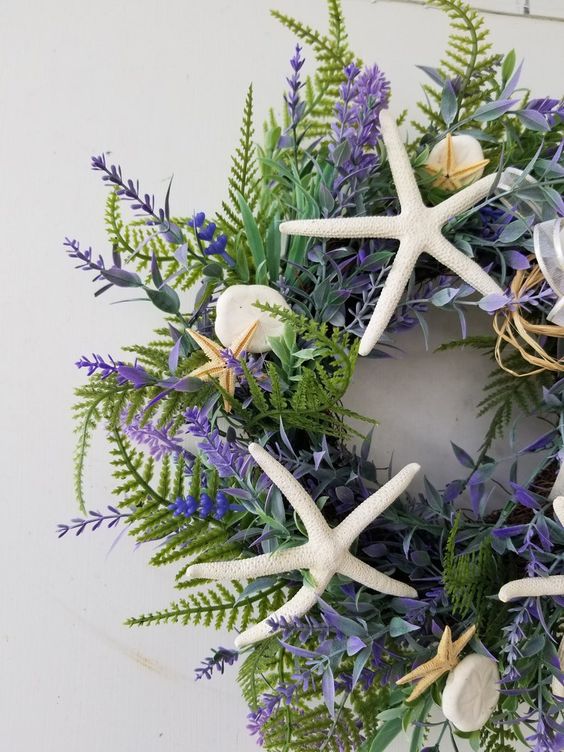 Beachy wreaths are charming items of decor that can be used for many years. These wreaths are often fashioned from natural beach materials such as seashells, starfish, driftwood, and sand dollars.
They can also incorporate artificial materials like ribbons, mesh, and artificial flowers to add color and texture. While making your beachy wreath, it's important to arrange them in a way that looks natural and balanced.
You can also add a ribbon or bow to your wreath to give it a finishing touch.
6. Coastal Centrepieces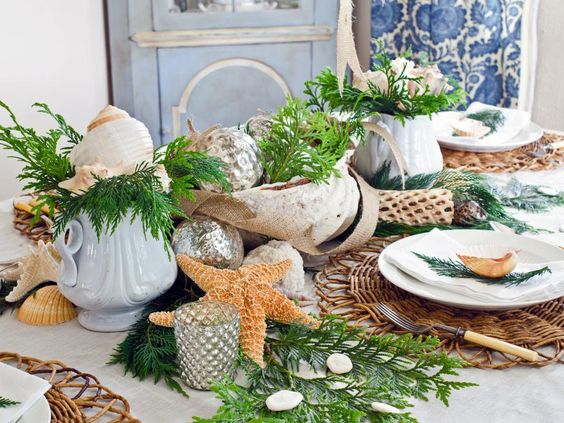 Coastal holiday centerpieces are a terrific way to add a touch of the sea to your holiday decor. If you live near the sea, you can go for a walk and find practically everything you need to make a magnificent centerpiece for this holiday.
These centerpieces include seashells, starfish, sand dollars, and other beach-themed decor.
To make a beautiful holiday dinner with your family, add Christmas greens and delicate ivory candles to the centerpiece. Incorporate natural touches such as rattan dining mats and wooden spoons.
See More: 15 Coastal Living Room Color Palettes to Bring the Beach to Your Home
7. Sailor Boats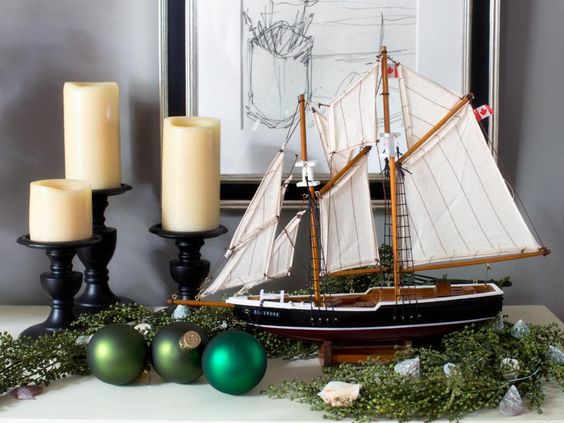 Sailboat decorations are a traditional touch to coastal Christmas decor. These nautical-inspired decorations add a coastal twist to your holiday decor while still including elements of classic Christmas decorations.
Sailboat decor comes in a variety of styles. A little sailboat ornament or figure, which may be placed on a Christmas tree or utilized as a table decoration, is one alternative.
Another alternative is to make a larger sailboat decoration, such as a wooden sailboat model or a decorative sailboat sculpture, the focal point of your design. Just remember to keep the color scheme in mind.
8. For the Love of Shells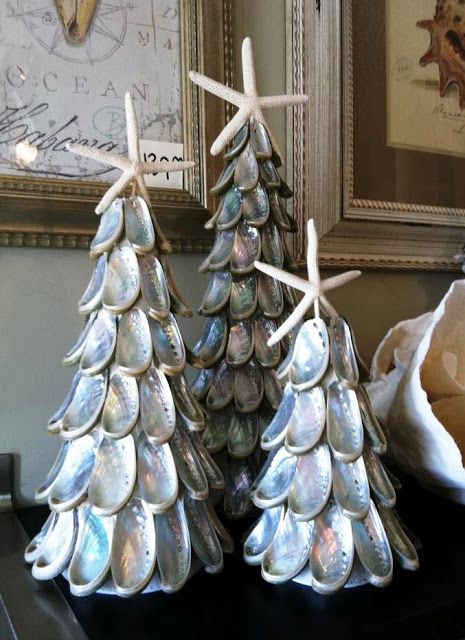 A shell is a lovely way to add marine influences to your holiday decor. A seashell Christmas tree is often built by combining various seashells, starfish, and other beach-themed decorations to make a beautiful and festive display.
You can also get a seashell tree made of artificial shells and other materials, which will also look great.
You can arrange these lovely trees on the fireplace mantel or in other locations where you wish to add some decoration. Seashell trees thrive in areas where there is some light to reflect and shine the shells.
9. Beachy Stockings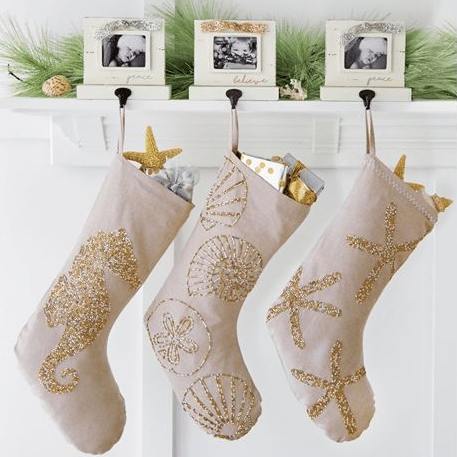 Christmas stockings and bunnies are adorable accents to any holiday decor. Making them coastal simply adds to the pleasure. Beachy stockings usually come in ivory, blue, or aqua green, as well as other colors seen near the shore.
If you want to add a traditional touch to your decor, choose a blue plaid Christmas stocking.
However, if you want a more rustic aesthetic, use burlap or other natural materials as the base for your stockings. To create a more earthy and organic atmosphere, add beach-themed decorations such as twine, jute, and small pieces of driftwood.
10. Nautical Garland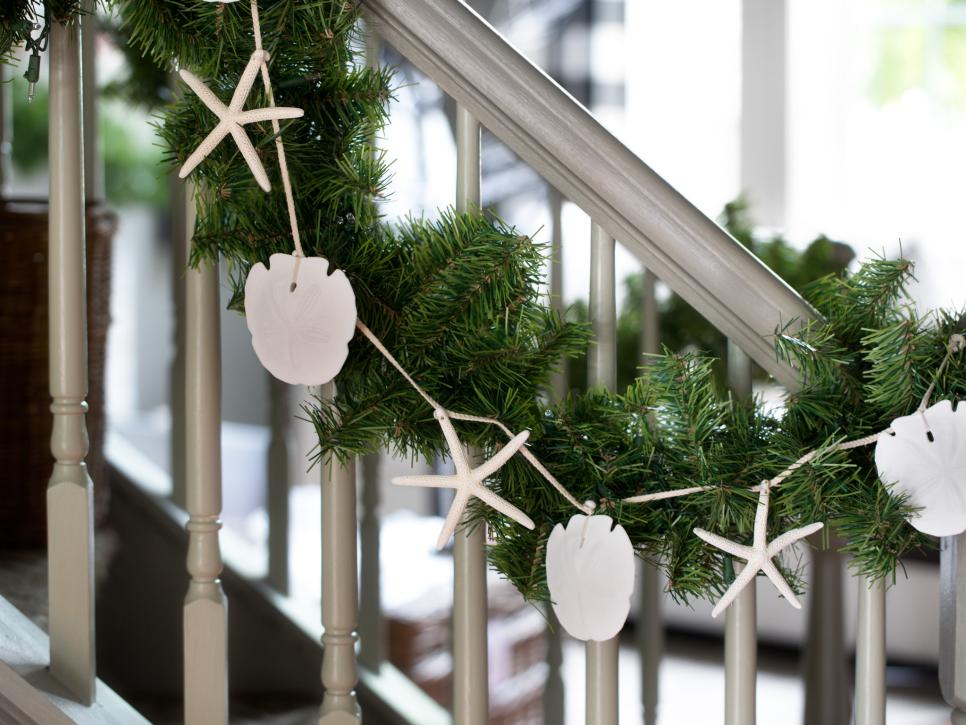 Nautical garland is created out of materials like ropes, anchors, and seashells and can be used in a variety of ways to create a festive and beachy ambiance. They can be a simple addition to your holiday decorations.
One method to utilize nautical garland is to wrap it down your fireplace mantel or stair railing to cover a large area.
You can use a single strand of garland or layer multiple strands for a fuller look. With nautical garland, you can bring Christmas green along with coastal elements and create a beautiful color contrast.
11. Take it Outdoors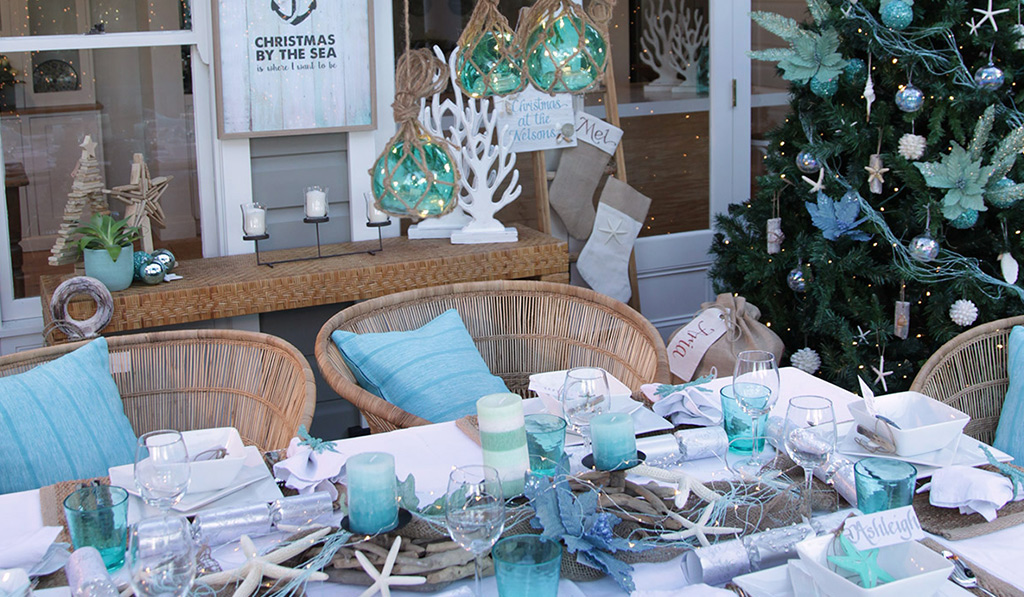 If you own a beach house, you should consider having your Christmas parties outside. Make a stunning environment with tones of blue and white facing the magnificent sea.
Blue and white decorations should be used to decorate the Christmas tree. Place beach centerpieces and exquisite candles on the table. Pair rattan chairs with beautiful pillows to make your seats even more comfortable.
The best part about celebrating Christmas outside is that you can blend living room, porch, and dining room decor to create the perfect backdrop for a Christmas party while keeping your home clean.
12. Coastal Entryway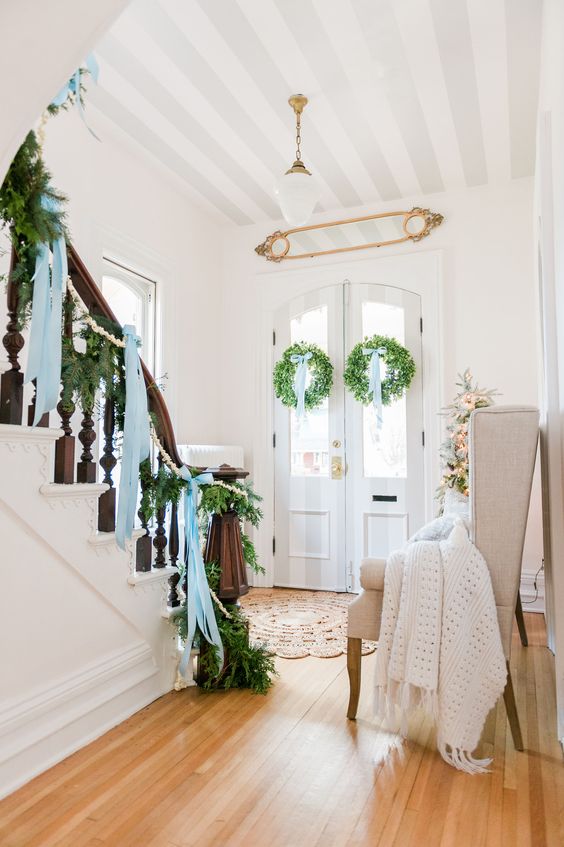 You can set up a warm and inviting entryway ambiance this Christmas by using natural materials and seaside-inspired accessories that embody the spirit of the season and the beauty of the beach.
You can make garlands or wreaths out of beach components like shells, starfish, or sea grass and decorate them with them. To add a bohemian flavor to your design, use a rattan welcome mat and knitted blankets.
A few neutral blue and pink accents are ideal for blending with the coastal décor theme. Include lanterns or candles if you want to create a nice ambiance.
Related: 11 Easy Coastal Decor Ideas for Your Small Living Room
13. Mix Blue and Silver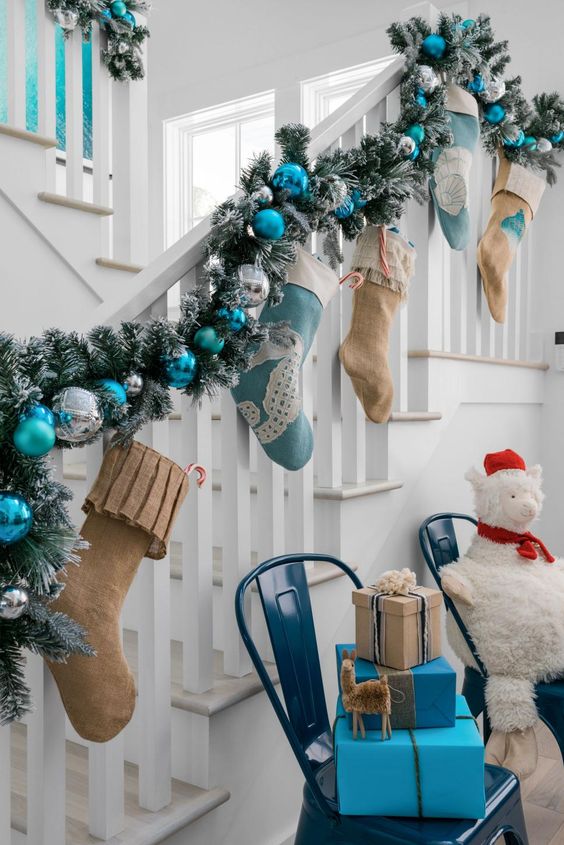 We can never have enough blue for beachy Christmas decor. An attractive staircase decor can be created with a Christmas garland composed of white frosted sage and embellished with blue and silver ornamental balls.
To cover more ground, hang coastal stockings or tie boho balls from the garland. A gift display with varying tones of blue and silver wrapping, as well as some rustic embellishments, will look visually appealing.
Finally, to acquire a more classic approach to coastal Christmas decor, adorn the Christmas tree with a combination of blue and silver.
14. Earthy and Minimal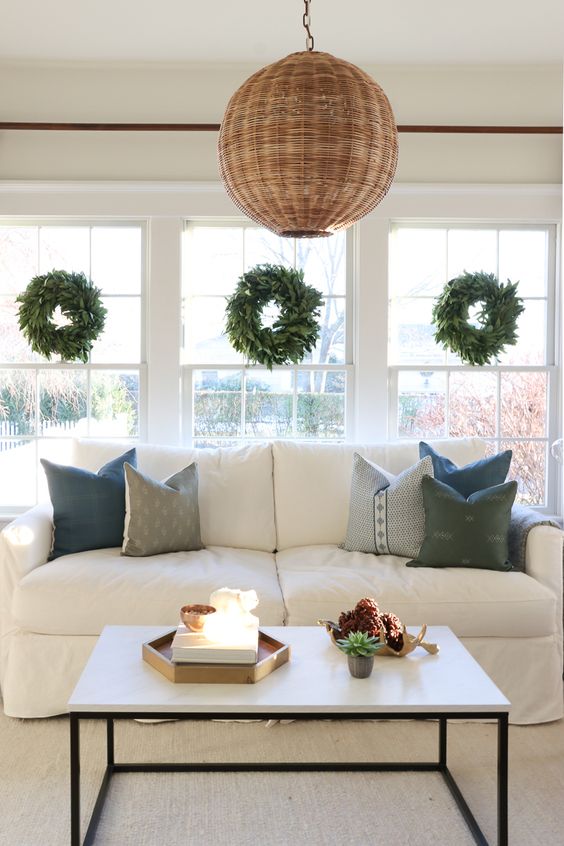 If you don't like over-the-top Christmas decorations or want to do something quickly, get inspired by this décor style and go for an earthy appearance this coastal Christmas season.
A modest touch, such as rustic pinecones on a gold tray, can lend festive charm to your coastal home. To add to your holiday decor, construct wreaths out of Christmas sage and beachy blooms.
This way of decorating your home is quite easy and sends a sense of joy gently without being overt. You may also try decorating the Christmas tree with earthy ornaments to complete the look.
15. Scavenged Rocks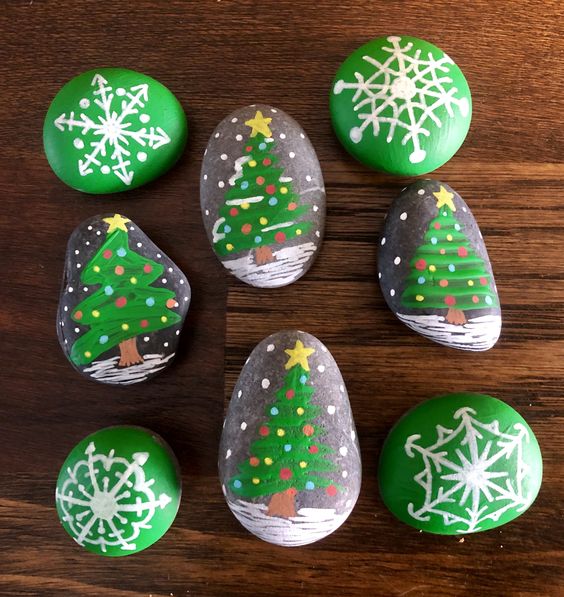 Scavenged rocks are unique and environmentally sustainable ornamental accents for your beachy Christmas decor. Rocks of different shapes and sizes can be simply collected from a nearby beach or park and transformed into festive decorations.
One of the simplest methods to use these rocks as decorations is to preserve them in a glass jar and place them around table centerpieces.
You can also show your artistic side by painting the rocks with acrylic paint to make them appear lovely. If you don't have time, you can buy a bunch of cute, scavenged rock decor pieces and arrange them as much as you want.
These painted rocks can also be used to add a splash of color to your seaside Christmas decorations.
16. Driftwood Christmas Tree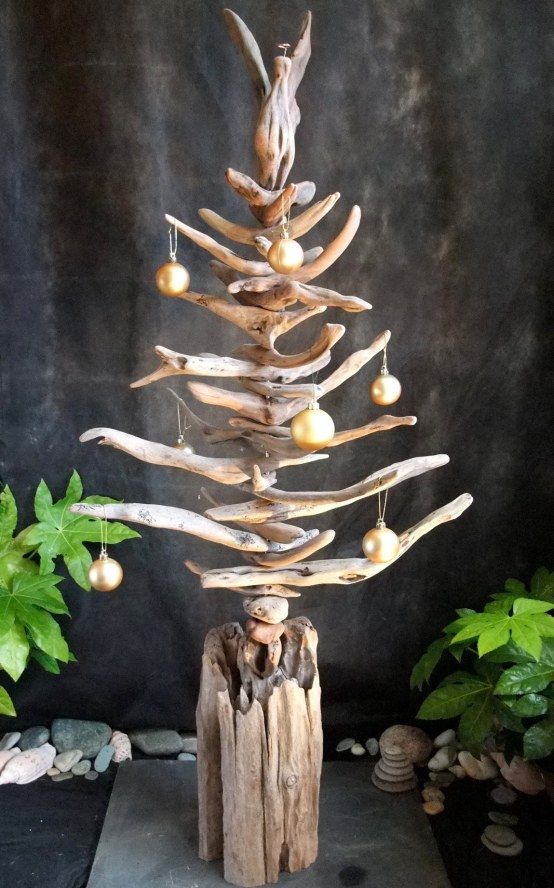 A driftwood Christmas tree is an artistic effort! It is a traditional and environmentally friendly ornamental addition to beachy Christmas decor.
One of the best aspects of driftwood Christmas trees is their natural and rustic appearance. The texture and colors of the driftwood give the tree a one-of-a-kind appearance, and the uneven forms and sizes of the wood pieces make it genuinely one-of-a-kind.
You can also take a walk to the ocean and collect driftwood to build your driftwood tree. These lovely trees come in a range of shapes and sizes, making them a versatile ornamental addition that may be kept practically anywhere.
Check This Next: 10 Inspiring Coastal Grandmother Style Home Decor Ideas
17. Festive Pillows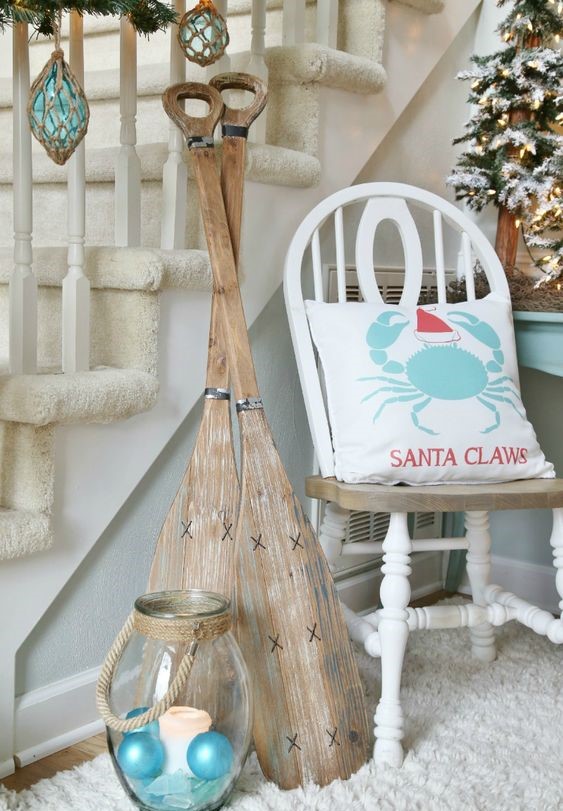 Coastal festive pillows are simply adorable decorative touches that you can use for comfort after the holidays.
These pillows blend coastal-themed themes like seashells, starfish, anchors, and other marine features with classic Christmas motifs. They also include hilarious short quotes that you will enjoy.
These pillows can make any environment feel warm and inviting. In addition, the combination of beach and holiday elements provides a distinct and inviting environment that can make any area feel more festive.
Wrapping It Up!
We hope you loved our coastal Christmas décor ideas and are excited to begin planning and preparing for the holiday season right now! Remember that beachside holiday decor favors ocean and shore tones. Choose the decor elements by the available space to avoid going overboard.
You can design your personalized holiday décor by combining modern and classic Christmas decor elements with your coastal Christmas decor. It is never too early to get into the holiday mood.
Happy Holidays!
Other Articles