Do you ever check the interiors before booking a hotel for a trip? Well, you should because a well-equipped and aesthetically pleasing hotel can make your trip memorable.
A hotel aims to provide the best hospitality and comfort to the visitor. From the alluring interiors of the hotel to the fully furnished living space. A hotel room with all the high-tech accommodations and attractive features ensures a luxury experience for the tourists.
Are you thinking about how to design such lavish hotel rooms?
We have picked some amazing and practical hotel room design ideas that may blow your mind. You can use these ideas to build a new project if you are a hotelier or re-create your room to gain a different experience.
Let's get started!
1. Enhance Your Hotel Room by Including Modern Features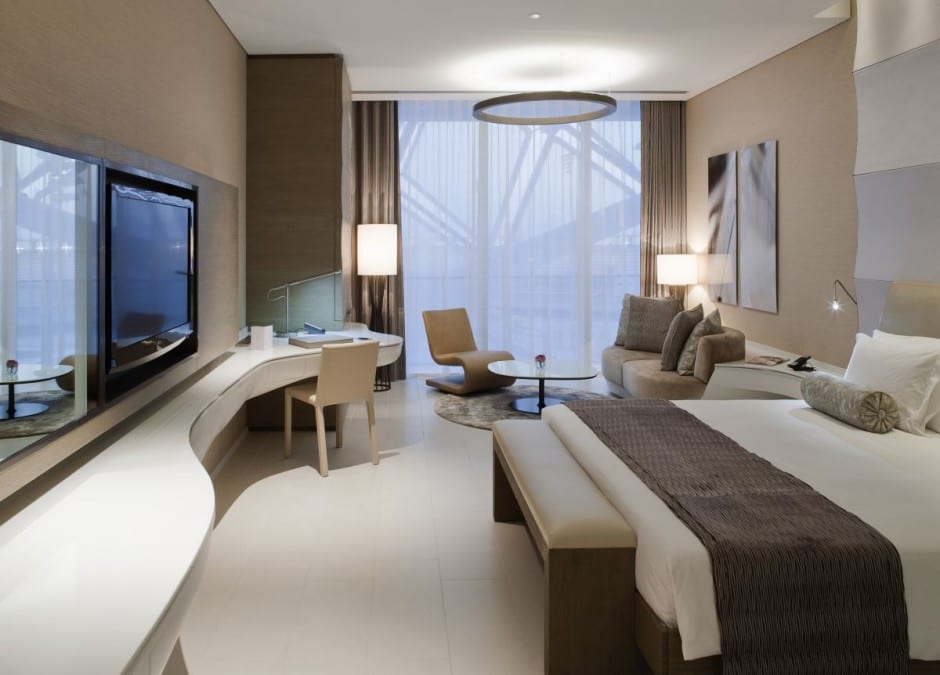 A hotel room should not be limited to setting a bed, table, or cupboards.
It should give a unique experience by placing fancy TV panels, king-size beds with headboards, soft and Orthopedic mattresses, beautiful lamps with side tables, and extra seating arrangements with multiple switchboards.
People traveling for work could use extra tables and chairs to set up their temporary workspace. A beautiful combination of room décor creates a dramatic effect to turn your hotel into a perfect gateway destination.
Similar Post: 10 of the Most Coolest Beds You Can Actually Buy
2. Create an Illusion by Utilizing Natural Light Adequately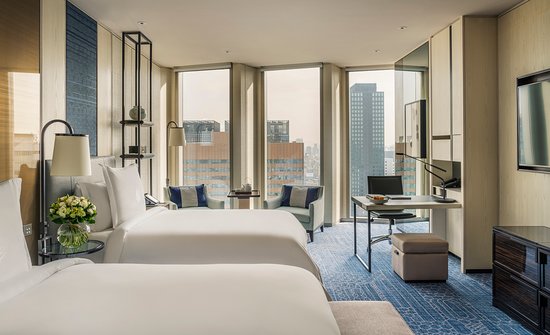 A perfect way to make the hotel room appear big and more spacious is by using natural light properly. Glass doors, light-colored walls, large windows, or French window design are a few ways to do so.
Dark color walls absorb the light to make the room look smaller than it is. Therefore, avoid them if your goal is to make your room appear bigger. You can try some color palettes that work best with natural light.
It's an extra advantage if the room is facing the sun. This way, your room will get an abundance of natural light with a beautiful sunrise-sunset view.
3. Create a Sense of Familiarity with Local Arts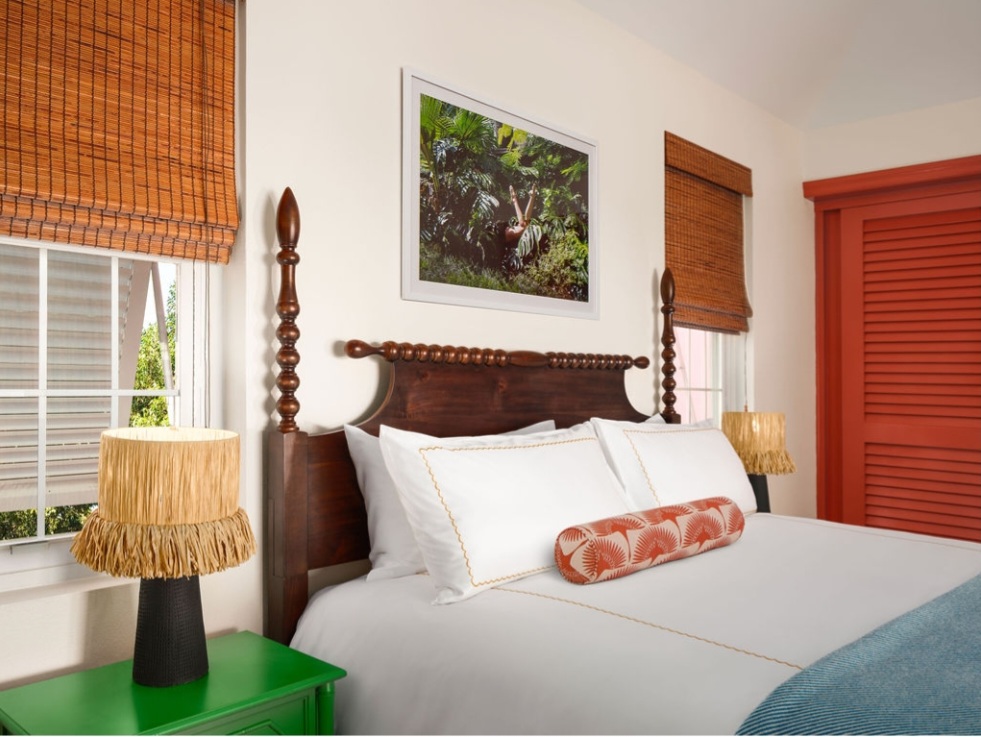 Incorporating regional arts such as paintings, hand-made crafts, sculptures, or vases into the hotel room shows the history of that place. These arts go well with minimalist wall paint to make them stand out.
Usually, these arts by local artisans are neglected while designing the decor of the hotel.
However, they portray the unique qualities of that place, and visitors want to explore the local art and design.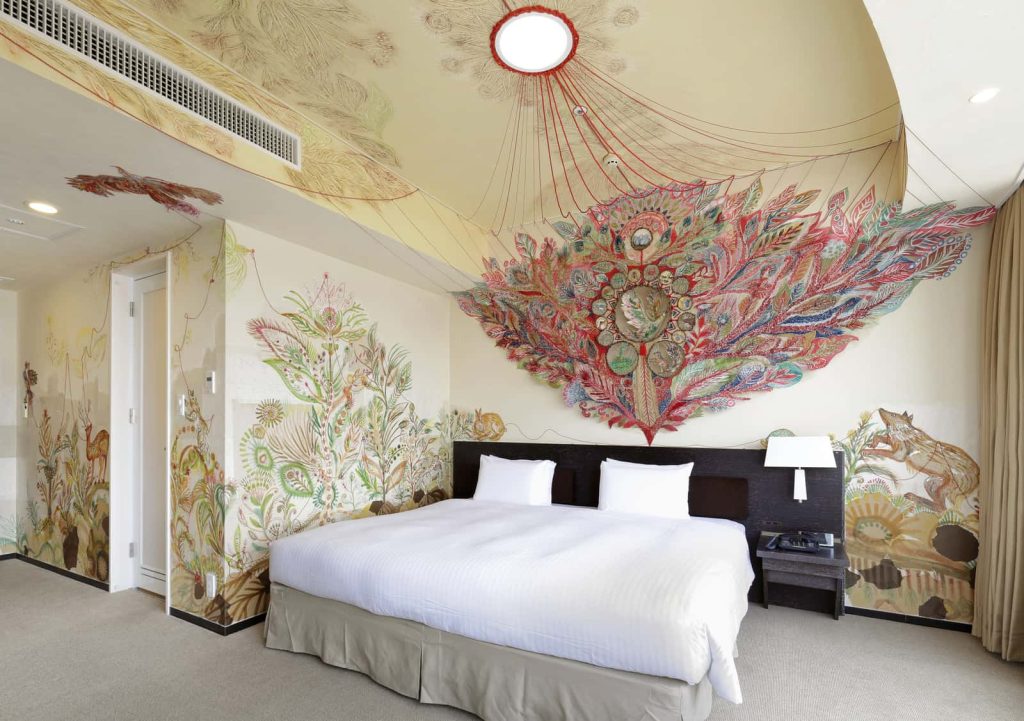 Murals are also preferred as they bring life to the walls. Wooden carvings have been used to portray the local arts for many years. Every place has a different form of art and culture. It should be utilized in designing the interiors of the room.
4. Finalize Your Hotel Room Design with Quality Woodwork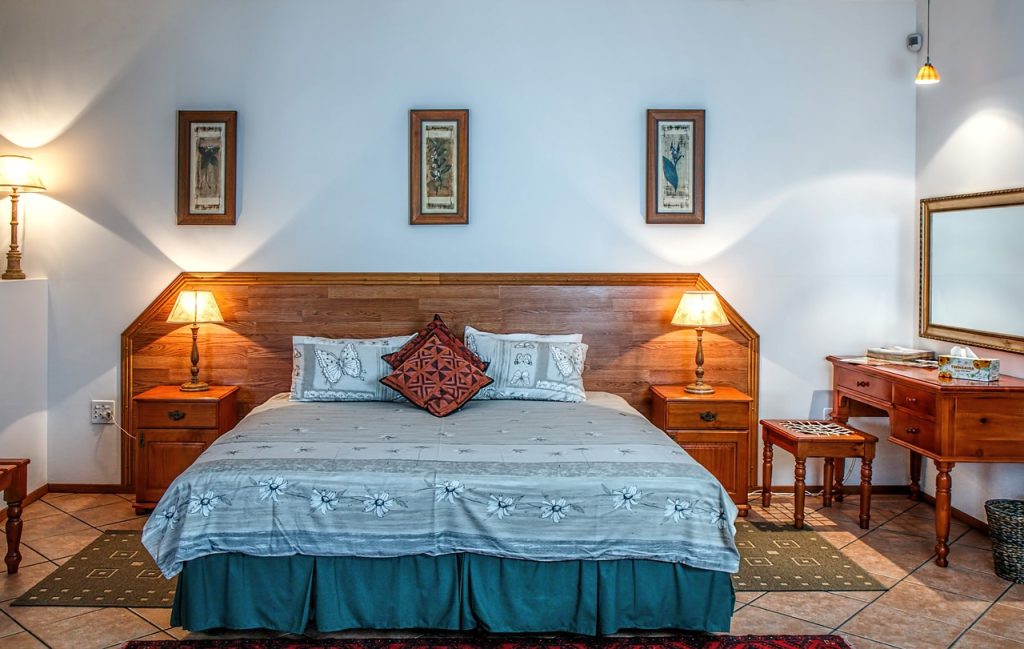 If you want to give a luxurious look to your room, select some finest quality woodwork.
It elevates the design and adds elegance to the room. Veneer wood or reclaimed wood is preferred while designing the hotel room as they are less expensive and give a subtle look to the furniture.
Wooden furniture for study tables, Center tables, TV cabinets, bookshelves, or beds can be used to show some quality woodwork done in your room. You can also design the ceilings or floor. Wooden furniture is durable and gives a vintage vibe.
Also Read: 10 Design Ideas to Give Your Master Bedroom a Luxurious Makeover
5. Attempt a Unique Color Pattern for a Luxury Experience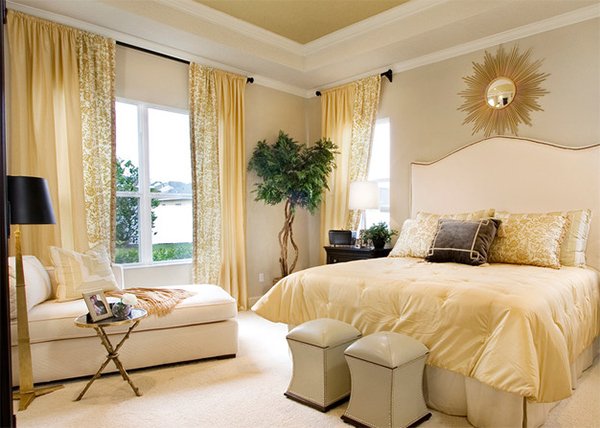 Wall color plays a crucial role in the design of the hotel room. They can bring out certain features by highlighting them or hiding them. For instance, the dark-colored room represents coziness, while the light color makes it look spacious and big.
6. Try Placing the Bed in Different Settings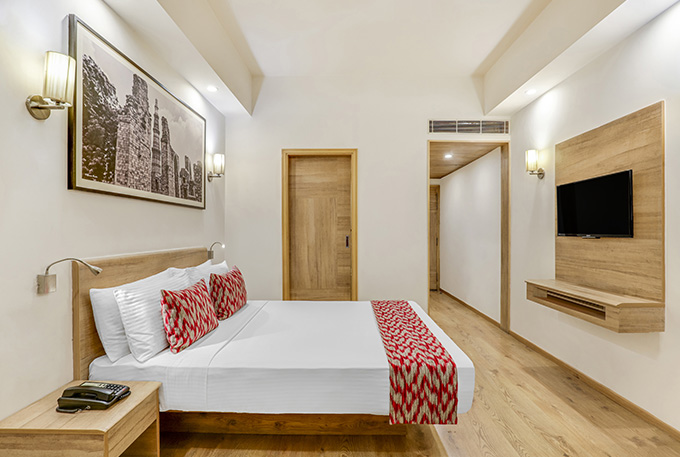 The bed area occupies a large space in the hotel room and is always placed by the wall. However, it's time to try something different and less conventional bedroom designs.
Place the Bed in The Center: Put the study table at the rear end of it. This idea is more suited for the smaller rooms as it helps in utilizing the space properly.
Put the Bed on The Platform: It will change the whole atmosphere of the room. This way, you can separate the space for living and sleeping areas.
Floating Bed Designs Are Also in Trend: They add safety and style to the room.
You Can Place a Bench or Ottoman: You can arrange them at the end of the bed. It can be used for sitting or as a locker.
7. Upgrade Bathroom Features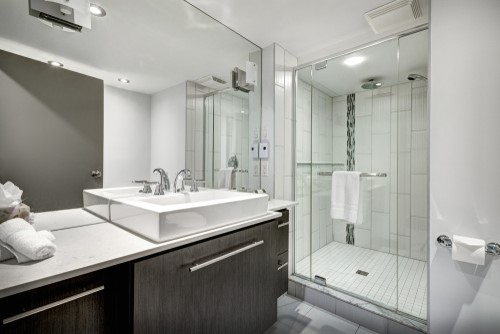 Tourists expect more than just a sink, shower, or toilet in the bathroom area. They want to relax and re-energize themselves for the next day.
Upgrade the bathroom features by adding a cabinet to the sink area. Put all the necessary items such as towels, napkins, bath salts, soaps, and other toiletries.
Add a bathtub with cold and hot water options. If budget is not an issue, install a jacuzzi to give a luxurious feel. You can separate the shower and sink areas by placing a glass door. Add a walk-in closet if the space is there.
8. Include a Lounge Area While Designing the Hotel Room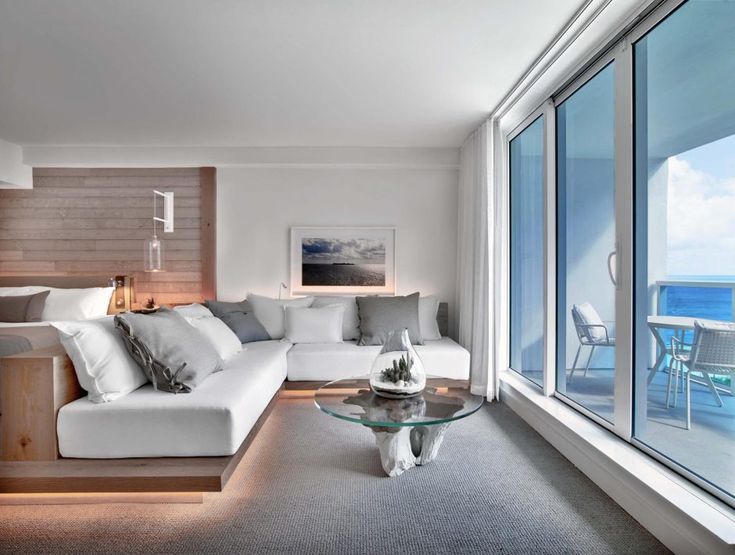 Everyone likes a place where they can sit and enjoy their coffee. Some people don't want to hang out in the common lounge provided by the hotel. They prefer a separate place to enjoy their alone time.
You can add a small lounge area in the hotel room by placing a table chair with some plants and a cabinet for drinks and snacks. Visitors can have their own place to relax. It also makes the room look classy and content.
See More: 11 Creative Ideas to Decorate Your Bedroom Like a Pro
9. Attach Wrap-around Headboard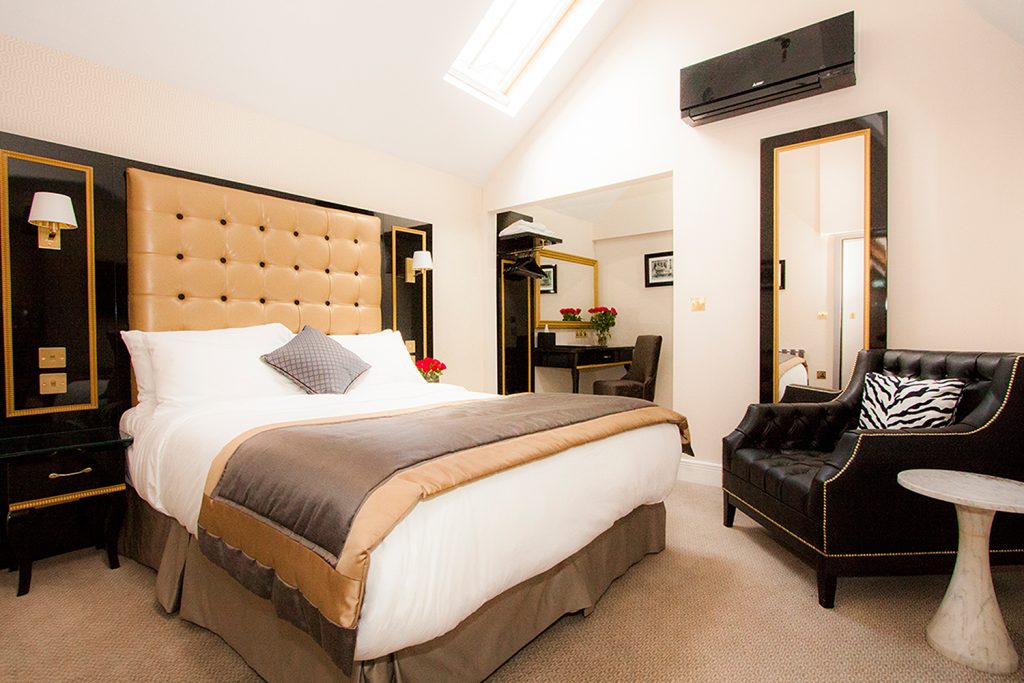 <
Headboard is pretty common in hotel room design, but you can add more creativity while selecting them. They provide a place for headrests and separate the sleeping area. Your room will look graceful by adding this distinctive feature.
You can install a separate headboard or buy beds that come with a headboard. There are many designs that you can choose from leather to velvety kinds or ones made of synthetic leather.
10. Use Indoor-Outdoor Space Creatively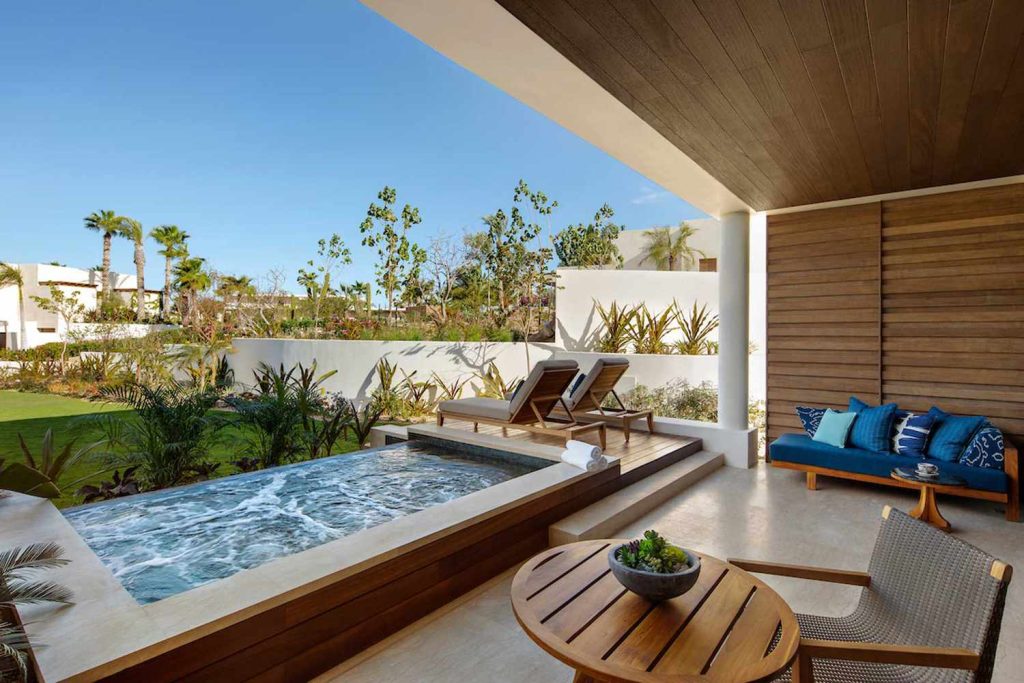 Hotel owners always try to make the transition from indoor to outdoor in the best way. It gives a sensory experience to the tourist. This concept will suit you best if you have a medium to large balcony space or terrace-like area.
The addition of a swimming pool, stone-based tiles, wood panels, and lush foliage can make this place as dreamy as it could be. People will feel closer to nature and want to spend their vacation in a place like this.
Tourists are even willing to pay more for such kind of balcony-look for beautiful views.
11. Design Theme-Based Hotel Room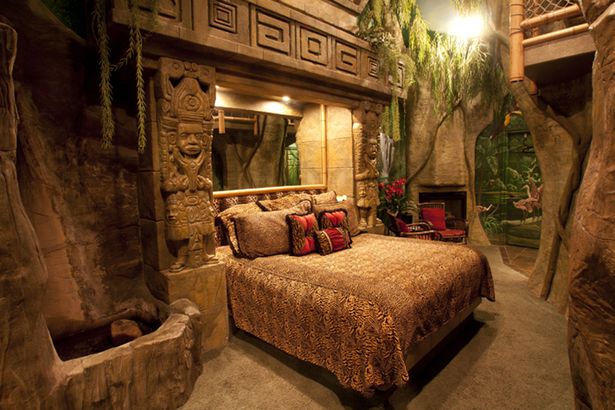 This idea is best suited for popular vacation destinations or if your hotel is near any theme parks. This is the most exquisite way to design the interiors of the hotel room.
A theme-based room uses a specific pattern or concept and incorporates it into all the aspects of the room decor. All the elements of the theme room should portray a purpose to the visitor.
It adds a unique factor, and if you are a hotelier, you can target a specific group of people. You have to hire a professional who has a lot of experience in designing theme hotel rooms.
Final Words
These were some of the best hotel design ideas collected from all around the world. It will help in delivering a lavish and comfortable experience so that the people admire the vision of the hotel and want to visit again.
You can always re-create these ideas by experimenting with certain elements as per your conditions or getting help from professionals.
So, start trying out these tips, and let us know your favorite one in the comment section. Feel free to ask us anything related to hotel room decor.
Related: 25 White Wall Decor Ideas to Revamp Your Home
Frequently Asked Questions
How to Design a Luxury Hotel Room?
Exceptional furniture, well-equipped with all modern amenities, unique color patterns, a luxurious spa-like bathroom, and a beautifully terrace-built area are some of the ways to design a luxury hotel room.
Why Do Hotel Rooms Not Have Clocks?
Hotel owners want to provide a space where you can relax and have a peaceful place of mind without getting triggered by time and sleep better.
What Are the Best Hotel Room Designs in The World?
Some of the best and world-renowned designs are:
Paul R. Williams's The Beverly Hills Hotel
The Terrace Plaza Hotel by SOM
The Royal Copenhagen Hotel by Arne Jacobsen
Morgan Hotels by Andress Putman
Hotel Marques de Riscal by Frank Gehry
Check This Next: 20 Black Bed Frame Full Room Ideas to Design an Inviting Space
Other Articles