The Ultimate Guide to Upgrade Any Cabinet with Soft Close Hinges
Have noisy cabinet doors ruined your sleep, or worse, wake your baby up from a hard-fought nap? Are you tired of watching the wear and tear on your cabinets as your family slam through a typical day?...
Have noisy cabinet doors ruined your sleep, or worse, wake your baby up from a hard-fought nap? Are you tired of watching the wear and tear on your cabinets as your family slam through a typical day? If this is you, and you are willing to do some DIY work over your next weekend, we have a super simple solution for you – soft close cabinet hinges that will work on
any
cabinet! These little hydraulic miracles help you transform cabinet door slams into silent slide-into-space shut functions.
Here, we're breaking the process down for you. We'll help you identify the kind of frame your doors have, what types of hinges will work best for those frames, and finally, a step-by-step guide on installing your soft close hinges. Slip on a pair of comfy work clothes, take a closer look at your kitchen cabinets, and learn how to transform them into noiseless works of art, which will save your temper and your bank account! Want some extra incentive?
Think of all the silent midnight snacking you can do with soft close hinges rendering your cabinets quiet!
Before You Install Soft Close Hinges
Identify Kitchen Cabinet Frame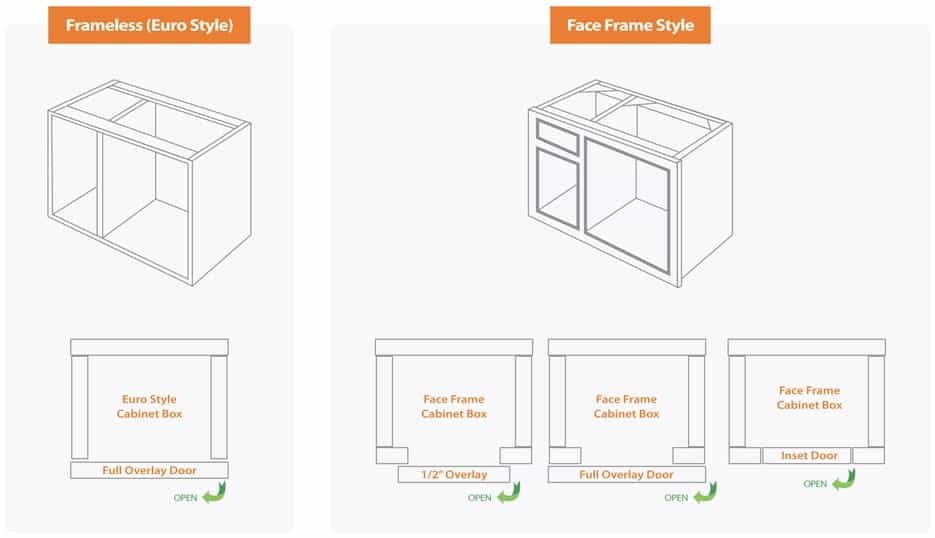 Framed Cabinet(American Style): Much like the name, this cabinet style comes with a wooden frame around the outer edge and a little bit of the inner edge or the "face" of the cabinet. Frames serve the twin purposes of lending the cabinet durability and rigidity for functionality and adding detailing to enhance the style of the cabinet.
In this style of cabinet, the hinges attach to the frame.
Frameless (European Style): The Europeans seem to be more of a fan of storage space in cabinets than the Americans and opt for a more minimalist design. Completely frameless, the cabinet boxes allow more room for your things and don't go in for an overly fussy appearance.
Frameless cabinets see the hinges being attached to the cabinet box itself.
Identify Overlay Type
Depending on the size of the soft close hinges you choose, some amount of the cabinet face frame will be visible. It is essential to understand the link between the size of the hinge and the kind of finish you want for your cabinet appearance so that the end result matches the dream kitchen you are building for yourself.
Full overlay: When the cabinet doors and the corresponding drawers entirely eclipse the face of the cabinet, you have a full overlay cabinet door. Full overlay hinges are used on this type of door.
Partial overlay: Known as the industry standard for door overlay and using standard hinges, this style leaves the face frame half or quarter visible when the door is closed.
Inset: For a flush, modern finish with the cabinet and drawer all within a single frame, you'll be choosing an inset overlay. While these are relatively high-end, the flush hinges can work on either framed or frameless cabinets while being invisible on the outside.
Identify the Correct Hinge
Now that you've understood how to identify the type of frame your cabinets have and know the kind of overlay you want, let's see what hinges will help you achieve this result!
For Framed Cabinets:
Clip on hinges: The simplest of soft close cabinet hinges, this works on both new and existing hinges, but just clipping them on top of them. Say goodbye to complex installation manuals; say hello to whisper-soft cabinet doors sliding shut.
Partial overlay: As the name suggests, this European-style hinge is used on partial overlay doors. They cover only part of the frame or cabinet strip on which they are mounted, thereby letting the door overlap a part of the hinge case.
Full overlay: With entirely straight arms, the full overlay hinge allows far more room for offset than the other types of overlay hinges. Used generally on full overlay doors, the soft close hinge brings the door to completely "overlay" the cabinet box or frame.
Face mount full overlay: If you don't mind your soft close cabinet hinge being on full display, pick the surface mount or face mount overlay hinge. It is installed on the outside of the door and on the front of the frame in full view. This style works best when you are going for a rustic or a more traditional type of kitchen theme overall.
Inset face frame: In direct contrast to the surface hinge, the inset face hinge gives you a flush feeling, concealing the hinge cleverly in full inset doors.
For Frameless Cabinets:
Inset: The most common soft close hinges for frameless cabinets, inset hinges work best for inset overlay doors for a sleek, flawless finish. You can choose your opening angle between 110 and 170 degrees, these two being the most popular.
Full Overlay: When you are working with two cabinet doors that aren't adjacent, like at cabinet ends, the full overlay hinges work best.
Partial Overlay: The partial overlay hinges are best for "middle" cabinet doors or when you have adjacent cabinets, creating a series of doors. Pair them with partial overlay doors for the smoothest functioning.
How Do Soft Close Hinges Work?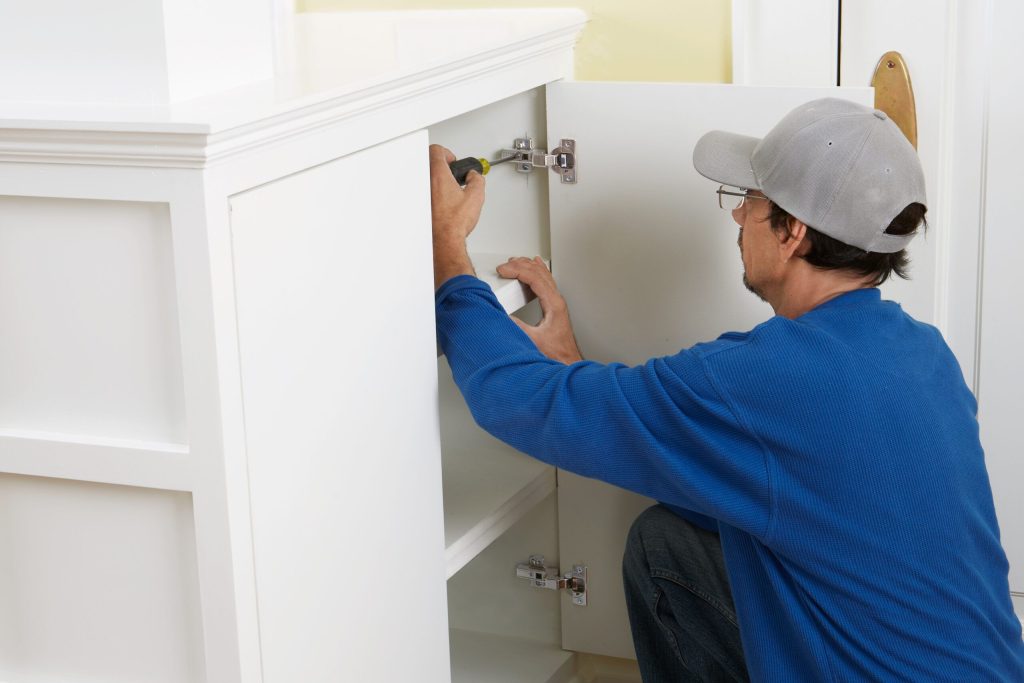 All the magic of soft-close cabinet hinges comes down to one little device called the hydraulic damper. Soft close hinges look just like your standard hinges but work to reduce the speed of closing of the cabinet doors – this is where the damper comes into play – and thus, by the time the door approaches the cabinet or frame, it is so slow that it glides smoothly and noiselessly into place.
This doesn't mean that your cabinet doors will take forever to shut or be so slow that they won't quite sit flush because the speed doesn't build up the momentum to close fully. Depending on your requirement, you can adjust the closing speed – making it faster or slower.
Finally, these hinges are a life-saver if you have toddlers or children at home. Even if your little ones attempt to shut doors independently, they are far less likely to get their fingers stuck or injured in the kitchen cabinets than if you use standard hinges.
Materials & Sizes for Soft Close Cabinet Hinges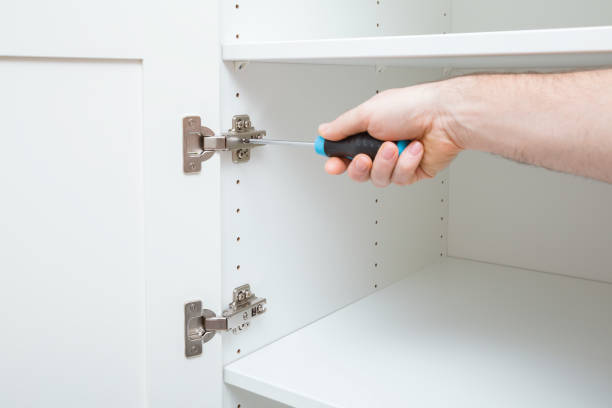 Stainless steel is the most common material used for soft close hinges being both durable and robust. More recently, zinc alloy has entered the market as another long-lasting material for hinges. Apart from these, you can also opt for bronze, brass, copper, or pewter to complement your interiors and the overall design style of your house. Additionally, you can try chrome or nickel plating for a more modern look while adding a rust-proof, water-resistant function, especially in areas with high moisture content and for outdoor cabinets. For a more traditional feel, polished or brushed finishes on hinges can complete your theme.

Concealed or hidden hinges generally come fit into cup holes of two standard sizes – 26 mm and 35 mm in diameter. In the case of larger doors, you might also need a 40 mm hole. Always remember to measure the cup hole, where the hinge will sit, rather than the soft close hinge itself, as it might be smaller.

Depending on the thickness of your door, you will also need a mounting plate for soft close hinges, which are typically either 15-16 mm or 18-19 mm. This might be slightly bigger for larger cabinets or doors made from glass.
How to Install Soft Close Cabinet Hinges
Materials Required:
Tape measure/calipers
Screwdriver
Screws
Pencil
Drill and drill bit (if required)
Jig (Optional)
New hinges
Installation Steps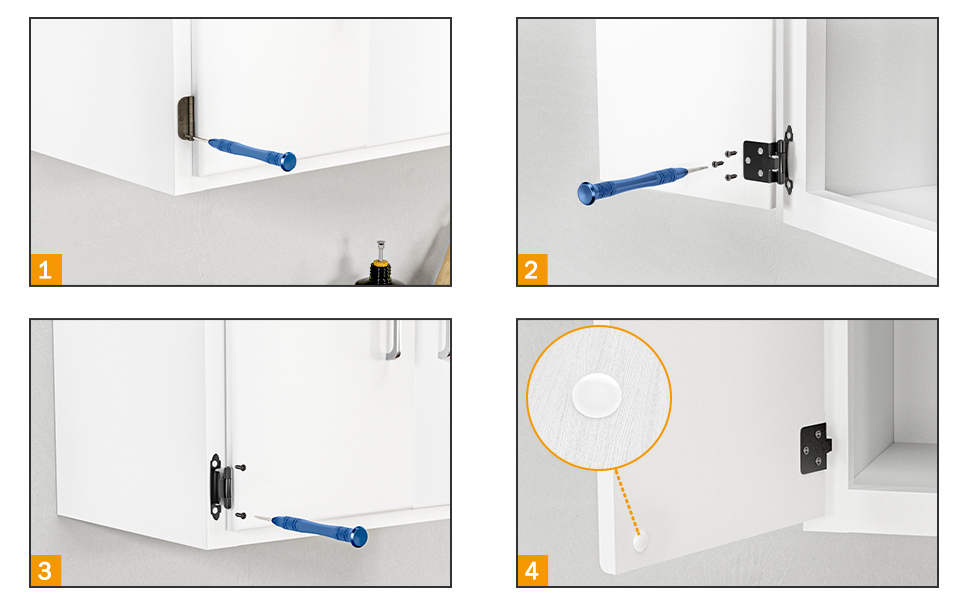 Use a tape measure or calipers to check the size of your existing hinges and your doors if you need help determining what size of soft close hinges you need.
Remove the old doors. Unscrew the old doors entirely and remove them.
If you have already been using hidden or concealed hinges, the door should already have cup holes of a depth of 35 mm, which is the general standard, so you are good to go.
If you are trying to convert older, more traditional doors into a soft close, you should deepen the cup holes to 35 mm. In order to do this, you will need a drill with an adjustable drill bit, along with a jig, if you require assistance to stay steady while making the hole.
Remember, always check the size and specifications of the new hinges you are installing

before

you drill any holes in your cabinets. You need to ensure the two are perfectly aligned for smooth, efficient functioning.

Guide the new hinges into the cup holes on the cabinet doors. Though it's a snug fit, you will be able to do this by hand. Avoid forcing the hinges into place, and use a smooth, steady motion instead.
Install the mounting plate. Whether you have a framed or frameless cabinet, install the mounting plate according to the instructions. You can use the existing holes from your previous hinges. Just use the corresponding drill bits to prevent wood damage while installing the mounting plate. Center the new plates with the holes and screw them into place. You can use the old screws saved from step 2.
Clip or slide (depending on the type of hinges you are installing) the hinges onto the mounting plate.
Test your brand-new soft-close cabinet hinges. Close them over and over from different distances to ensure smooth functioning.
Most soft close hinges are adjustable and come with 3 tension settings. You can tinker with your door until you are perfectly satisfied with how the hinges work on each cabinet. This could differ based on size, material, location, and more.
Congratulations! You are now the proud owner of silent cabinets – things of beauty and works of art!
Post-Installation Care
As time goes by, especially in kitchens, you might notice your soft close hinges are dirty, squeaky, don't close all the way, or worse, stop working altogether! Don't panic; it's easily fixable in almost all cases.
Squeaky Hinges: A simple application of grease, oil, or lubricant will soon have your door back to the original silent setting. Don't worry if the squeaking persists for a day or two. You just have to keep lubricating it until the hinge loses its stiffness completely.
Dirty Hinges: This takes a little time, but it is worth doing during your annual spring cleaning to increase the life of your hinges. Remove them, and soak them in a mixture of detergent and hot water to remove accumulated dirt and grease. While reinstalling, lubricate them for better functioning.
Door not closing: In most cases, you will need to use a screwdriver, or a Philips head, to adjust the resistance on the hinges. This should soon have your cabinets closing smoothly and silently again.
Ready to Install Your Soft Close Hinges?
In a nutshell, now you know just how easy the DIY method for converting any cabinet into a soft close is, are you ready to get started? Do your research, stock up on what you need, arm yourself with the tools of the trade, and gift yourself the most wonderful silent cabinets! These soft close cabinet hinges are a miracle if you have toddlers in the house and are worried about little fingers getting pinched. They are also a lifesaver if you want to preserve your cabinets; since frequent slamming tends to warp wood and cause unsightly nicks and scratches.

If you have any questions drop a comment below, and we'll be happy to assist you. Good luck to you, and welcome to the amazing world of quiet cabinet doors!
Other Articles