Are you looking for modern farmhouse lighting options for your house? The right choice of lighting gives your house character. Farmhouse lighting is something you should consider to give your living space a soulful touch.
You don't necessarily have to own a rustic, old-fashioned farmhouse for the same reason. You can get the feeling by choosing the right decor to match your place.
With just a couple of things in mind, such as the size of the light you are looking for, its color, and its texture, you will be able to start looking for the best pick.
Don't frown about spending a lot of your valuable time looking for the right lighting yet. We are here to save you some time!
Scroll down to check out some of the best modern farmhouse lighting ideas for your place.
Best Modern Farmhouse Lighting Concepts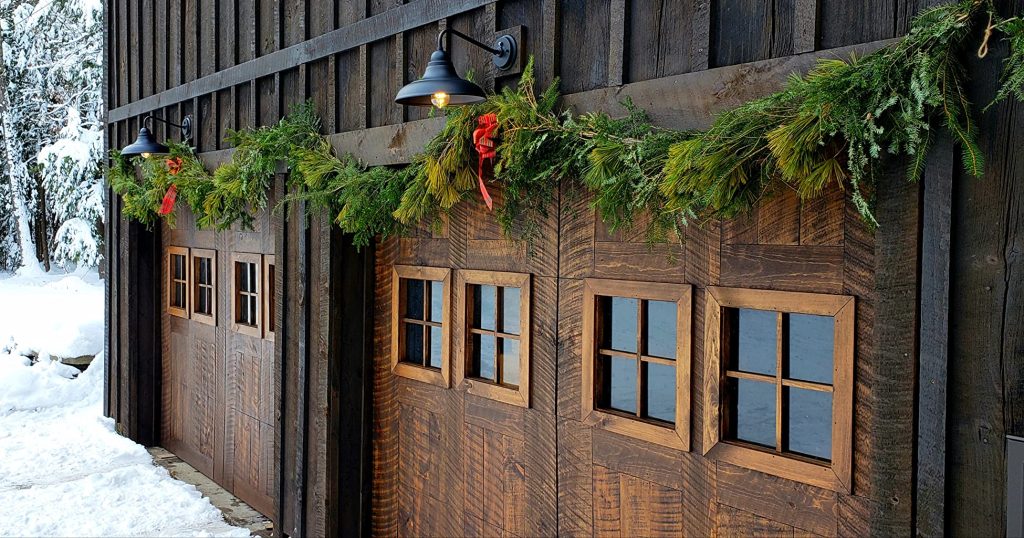 While trying to give your living space an aesthetic look with farmhouse-style lighting, why not give it an additional touch of smartness? This modern farmhouse lighting is one of the best finds on Amazon for those who want classy yet stylish lights for their house.
This classic outdoor barn light comes with an ultra-sensitive sensor that detects the amount of light in the atmosphere. You won't have to switch it off and on every now and then manually.
The light will automatically shut down during the daytime and turn on at night. These lights are best suited for your porch, patio, balcony, front door, entryway, or corridor.
Similar Post: 20 Amazing Ideas for Vaulted Ceiling Lighting for Every Room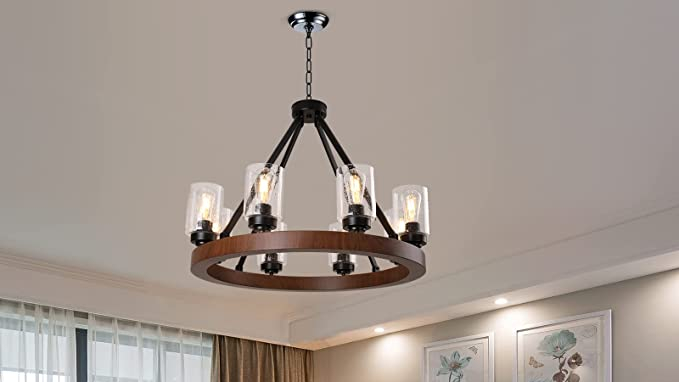 This beautiful farmhouse-style chandelier is designed with vintage wood grains to give it a classy touch. The lampshade is designed with transparent bubbles, and Edison bulbs are used, giving the chandelier a vintage touch.
The lamp holders used in the chandelier had undergone several anti-rust coating treatments and could last without any issues for 5–10 years.
This chandelier is perfectly safe modern farmhouse lighting for your home and is suitable for your living room, dining room, bedroom, aisle, and more!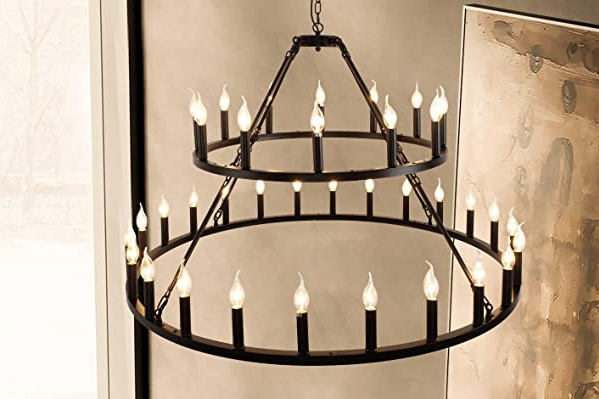 Give your house a generous touch with this retro-looking farmhouse-style chandelier. This chandelier comes with 36-tier lighting and is well-suited for high ceilings and front-door entryways.
What makes this chandelier a standout is its large and bright appearance compared to other wheel chandeliers. With impressive workmanship, this is one of the best modern farmhouse lighting ideas out there.
You will get the huge pendant lights in parts during the time of delivery, and with the help of an electrician, you will be able to assemble and wire them as per your requirements.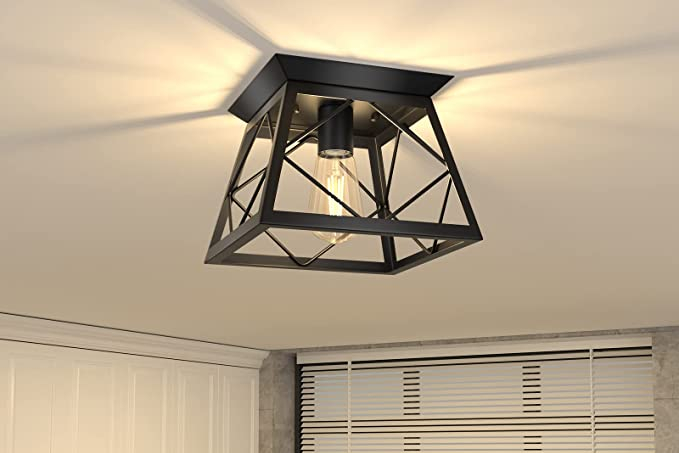 These attractive kitchen light fixtures are a beautiful mixture of vintage style and modern charm. The lamp is fixed inside a durable open metal black cage frame, which adds a stylish touch to your decor.
You can test different kinds of bulbs in this fixture to give the room different moods and colors of lighting, not to mention the shadow that gives the entire set-up an edge. This easy-to-install modern farmhouse lighting fixture is perfect for rustic, industrial-style decor.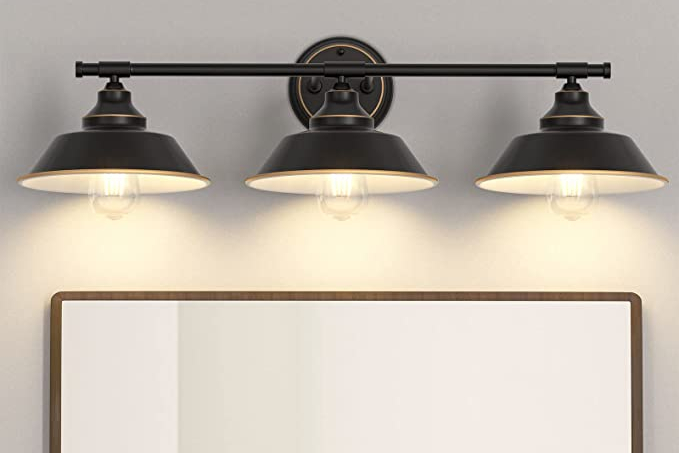 This stunning modern farmhouse light comes with a matte-style lamp shade and a golden highlight to give it a stylish look. This 3-light wall fixture is perfect for modern and farmhouse decor alike.
When it comes to assembling the parts and fixing them in the desired place in your home, you might need a bit of patience. But considering the result, trust us—it will be worth it! This light will suit your bathroom, dressing table, dining room, kitchen, mirror cabinets, etc., perfectly.
Also Read: 15 Gorgeous Farmhouse Paint Colors for Your Dream Home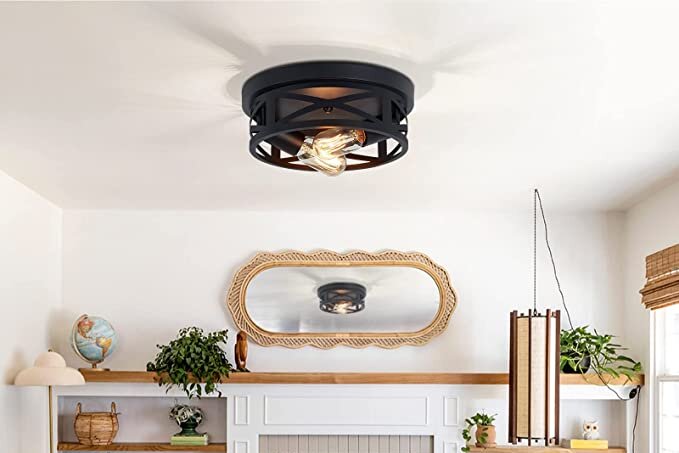 This mounted ceiling light comes with a stylish outlook and three-layered protection. With a multi-layered painting to avoid corrosion and rust.
This light comes with an open metal cage, which reduces the work of cleaning the glass and changing the bulbs. This modern farmhouse lighting fixture doesn't require any assembling after delivery.
Just follow the hard wiring instructions to set up this stylish and appealing light for your place. They are best for your kitchen ceiling, and the light is all about bringing a warm ambiance to your room.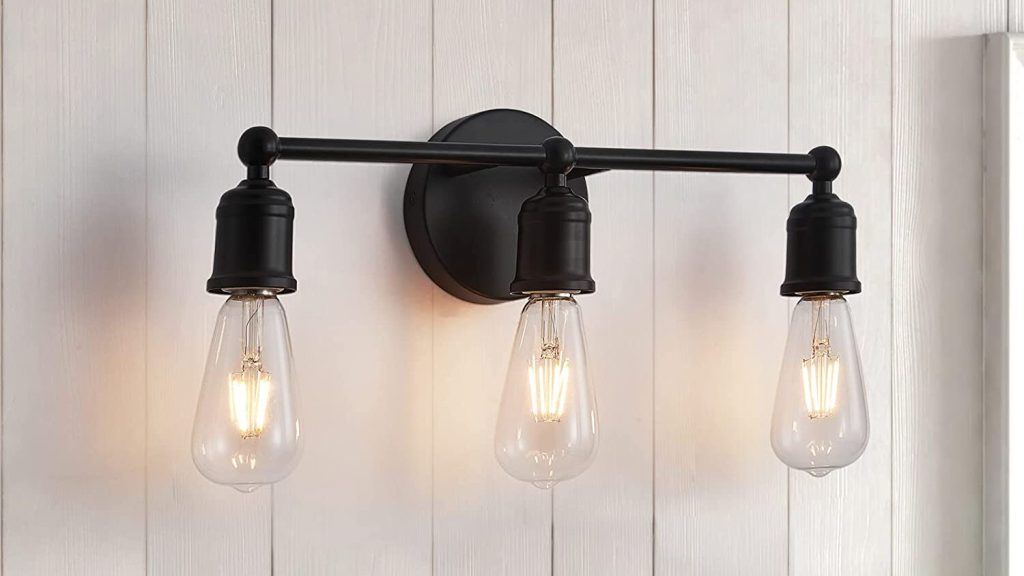 This 3-light vanity light fixture by Stambord comes with three bulbs and sports an interesting design. The bulbs are fixed to a crossbar, which is fixed to a round back plate.
Getting these lights will give an antique and minimal look to your place. This industrial vanity light comes with a matte black finish on high-quality metal. Hence, there are no worries about corrosion or rust.
You can choose whether to make the bulbs face upwards or hang downwards, as per your wish. When it comes to installation, all you have to do is follow the manual.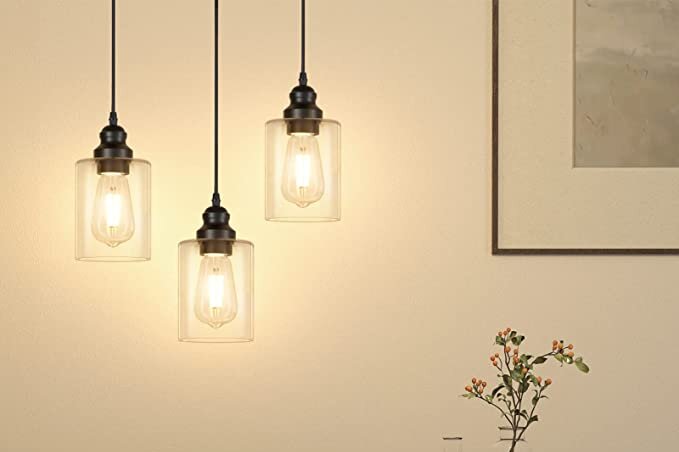 If you are looking for a farmhouse lighting fixture that looks both ornamental and modern, giving off a farmhouse feel, then you should consider this option.
Licperron's 3-pack light fixtures come with an adjustable rope, letting you hang the lights as per your requirements. This lighting option is ideal for a kitchen island and will make the entire room look extremely vibrant with its presence.
The product follows a simple and classic design to produce maximum glow in the room and is perfect for various decor styles. These safety-assured lights are made out of high-quality products, and hence, good durability is promised.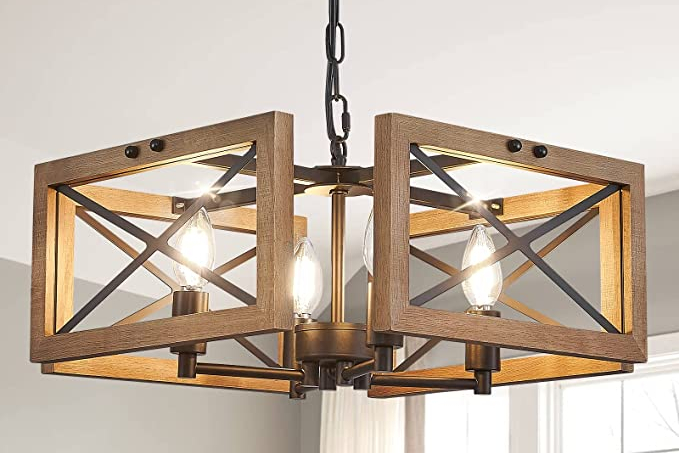 Imagine how perfect it will be to dine with your friends or family with such a beautiful chandelier lighting up the room. This farmhouse-style chandelier by Doltoro is ideal for dining rooms and comes with an antique wood finish.
Both metal and wood are used in manufacturing this product with a matte-finish chain base. This easy-to-install chandelier also never compromises when it comes to quality. You can go with this light if you are looking for a modern farmhouse-style product to give a unique and antique touch to your home.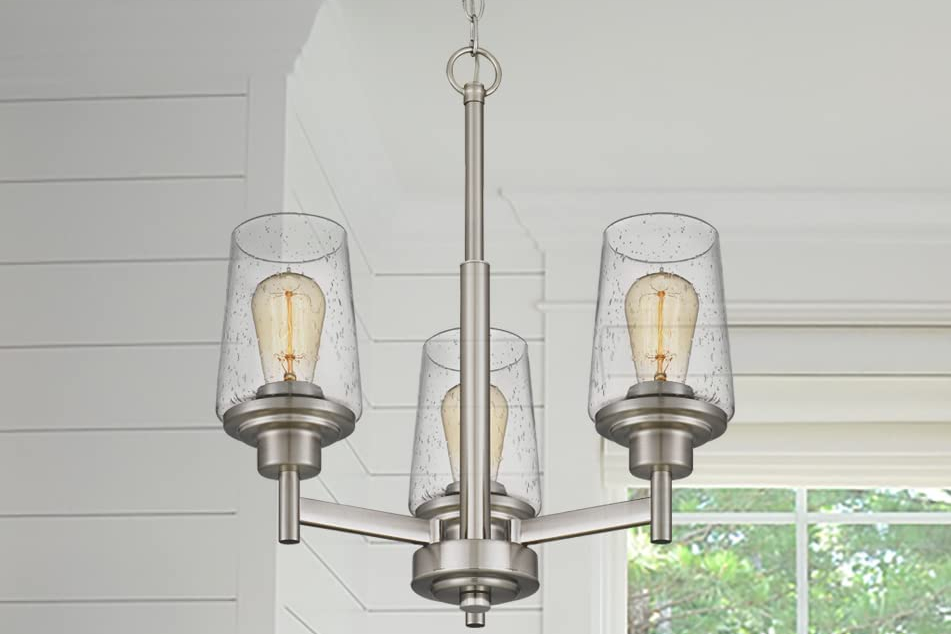 This attractive 3-light chandelier will be a perfect fit for the kitchen, dining room, and living room. The chandelier has a perfect brush nickel finish, making it a point of attraction in a room.
Seeded glass shades are used in this lighting, which will help the setup emit a beautiful glow that will give it an antique streetlight feel.
The light is made in such a way that it can be used on both sloping and flat ceilings without any issues. With high-quality workmanship and attention to detail, this chandelier is easy to mount and assures long durability.
This ceiling light from Feanron will give your house a farmhouse feel. With an additional dimmer switch and a dimmer bulb installed, you can set different color tones and temperatures in your room.
The manufacturers made sure to design this modern farmhouse lighting in such a way that it will create beautiful patterns on the ceiling when lit up!
Even though the style of this light is a cage, you can easily clean and change bulbs as the bottom is open. Assuring a sturdy and high-quality construction, this industrial flush-mount light is made of metal that ensures durability.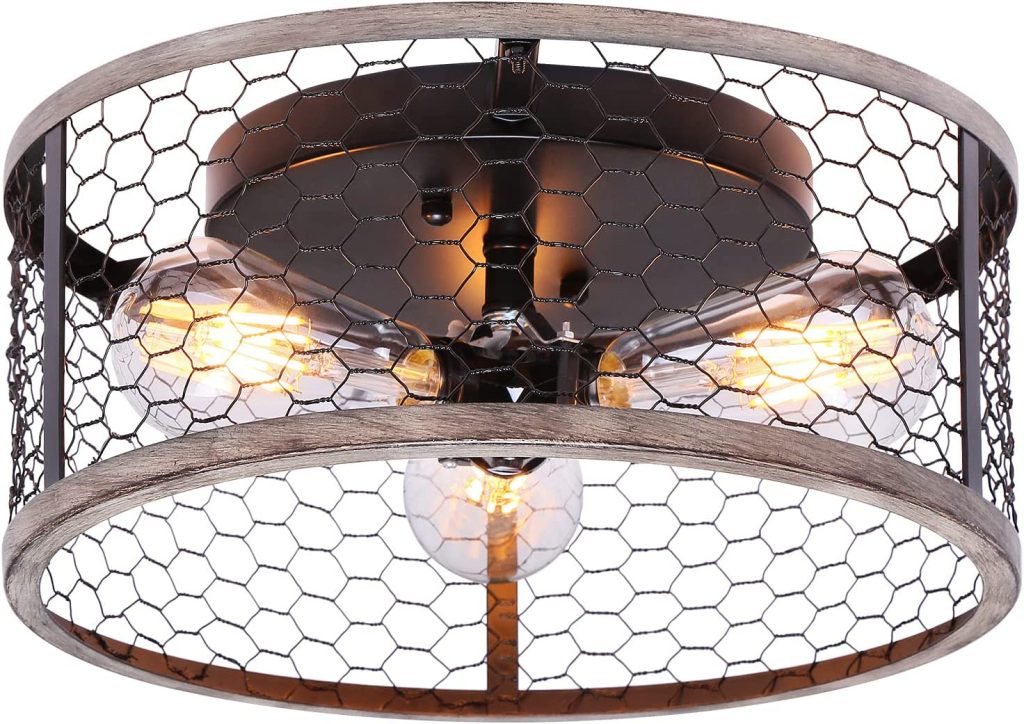 The best way to end this catalog of modern farmhouse lighting options for you will be by including this vintage flush mount ceiling light from Ohniyou.
The entire look of this lighting boasts simplicity, while the metal frame assures durability during all seasons. No matter the furniture scheme in your home, this lighting will be a perfect fit for all decors.
You can install them at any place, like the bathroom, sink, dining table, study, etc. These light fixtures come with E-26 bulb bases and will be easily replaced at any time.
Check This Next: 21 Stunning Dining Room Designs for Your Home!
Final Words
Make a statement with the choice of lighting for your house. This compiled catalog of industrial and modern farmhouse lighting styles will help you learn about the varieties you can consider.
We have added various kinds of lighting according to their style, make, and patterns to suit multiple decors. A small tip before making a choice: Go for 'timeless' styles. Trendy-looking lighting may look great at present, but it might fade away on the go.
Hence, choose antique, traditional, and classy-looking picks that will give a timeless look to your place!
Frequently Asked Questions
What is Farmhouse Lighting?
To define it in one line, a farmhouse light is anything that generally hangs from a chain or a chord. Such types of lighting are inspired by country or cottage decor.
How Do I Choose the Right Modern Farmhouse Lighting for My Home?
Three important things to consider while making your choice are the size, texture, and color of your lighting. These three metrics will help you decide what is the perfect match for your existing decor.
How Can I Clean Hanging Lights?
Cleaning a hanging light won't be a tedious task if done properly. Start with the bulbs. Make sure the power supply is off, and remove the bulbs gently.
Wipe the bulbs with a soft, clean cloth. While handling a hanging light for cleaning, make sure to remember where each part of the light goes for quick reassembly.
Other Articles