10 Top-Rated AC Filters for Fresh Indoor Air
Bless your family with fresh air that is free from dust and allergens with effective AC Filters. Your search for the best filter for your home and office ends here. Depending upon the strength, it...
Bless your family with fresh air that is free from dust and allergens with effective AC Filters. Your search for the best filter for your home and office ends here. Depending upon the strength, it eliminates the dirt, dust, allergens, and microbes from the flowing air.
It proves to be helpful for kids, elders, and individuals with respiratory diseases. The presence of a filter lengthens the AC's lifespan while improving overall wellness.
With multiple AC filters in the store, it can be a difficult decision to select one. To help you understand different kinds of AC filters, we have listed the 10 best AC filters below.
This article explores every filter and its specialty to help you select the best filter for your space.
What is Merv?
Before we dive into the list, let us understand a crucial term related to ac filters. MERV stands for Minimum Efficiency Reporting Values. It is a measurement scale that reports the effectiveness of the air filter. The higher the MERV, the more particles and dust it withholds. The filters with lower MERV rating trap little particles in comparison to higher MERV. Depending upon the space and type of AC, you can select a suitable filter with proper MERV.
Best AC Filters for Cleaner Air in Your Home
1. Filtrete Basic Dust Furnace Filter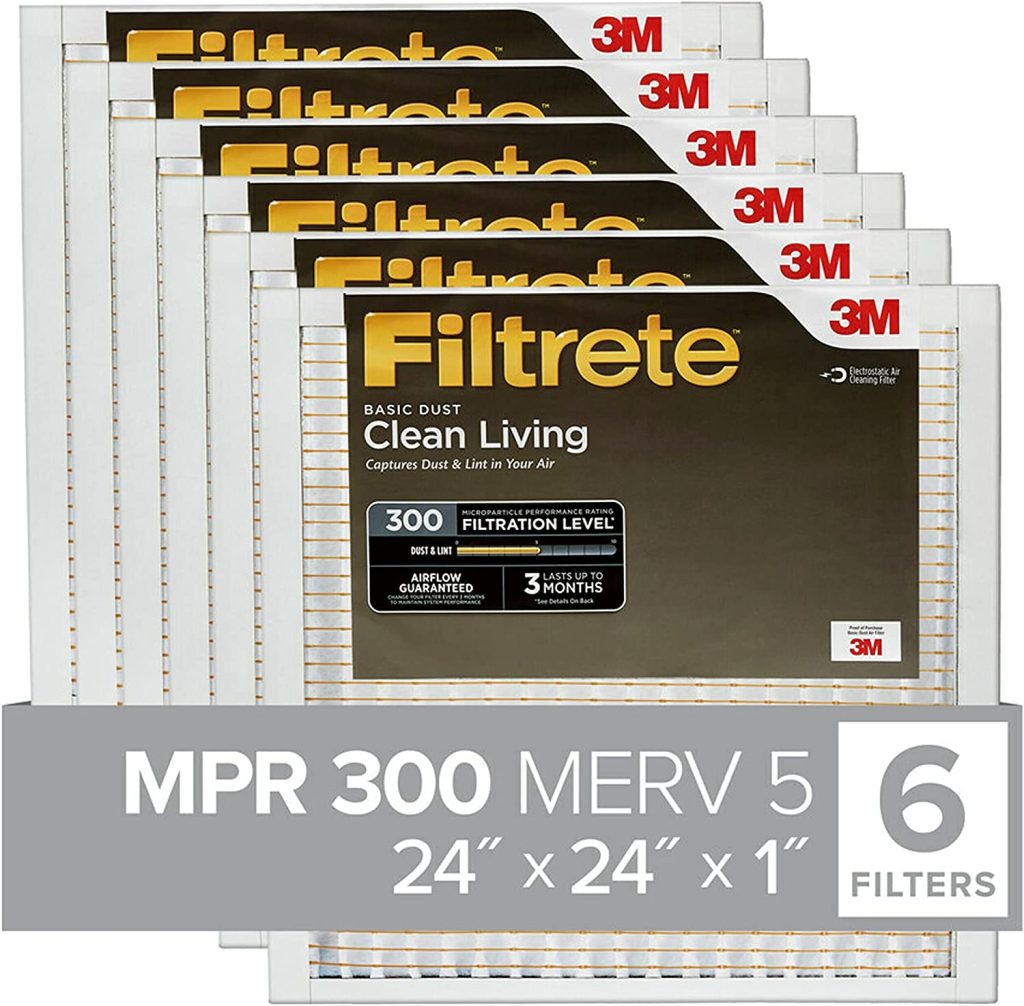 Filtrete Basic dust furnace filter is a lightweight polypropylene air filter. It is compatible with air conditioners and furnaces and is exclusively designed with 3-in-1 technology by the Filtrete brand. Change the filter every three months to keep the air clean and for better functioning.
The 3M technology attracts and traps unwanted large particles such as lint, household dust, and dust mite debris. It captures more microparticles like pollen, pet dander, and smoke with a MERV 5 and MPR 300. MPR is a microparticle performance rating for products developed by 3M company to measure the ability to capture tiny particles.
The filter is washable and non-electrostatic, making it easier to operate. Bring home this 24″*24″*1″ AC filter and enjoy the fresh air that ensures your overall wellness.
2. Trophy Air HVAC Conditioner Purifier


stands for heating, ventilation, and air conditioning. An AC is a system that only cools the air in your space.HVAC is a system that plays multiple roles in cooling or heating the air. This HVAC air filter is crafted with 20 PPI polyurethane foam between two pieces of corrugated aluminium for superior reliability. The long-lasting and durable HVAC purifier creates a healthier environment for your home.
This purifier enhances ventilation efficiency, enables proper airflow, and reduces HVAC stress. These are perfect for your residential and commercial spaces to create fresh air. The trophy air permanent air filter is modified based on customer feedback. With its updated size and features, it performs even better.
3. Colorfil Air Filter designed for Cat and Dog Odor
Do you love pets but not the odor that comes with them? This colorful air filter for cat and dog odor is the perfect AC filter for your home. Along with eliminating odor, it gets rid of dander, chemicals, dust, and pet hair. This filter is built to meet rigorous performance and safety requirements in authorized spaces.
This filter shows you whether it's working through the changing colors. The original pink changes to yellow as it works to remove chemicals and odors from your surroundings. You can also know when to change the filter by observing the color. Love your pets without getting any allergies or dust from them with this powerful AC filter.
4. Filter King HVAC Pleated AC Furnace Filters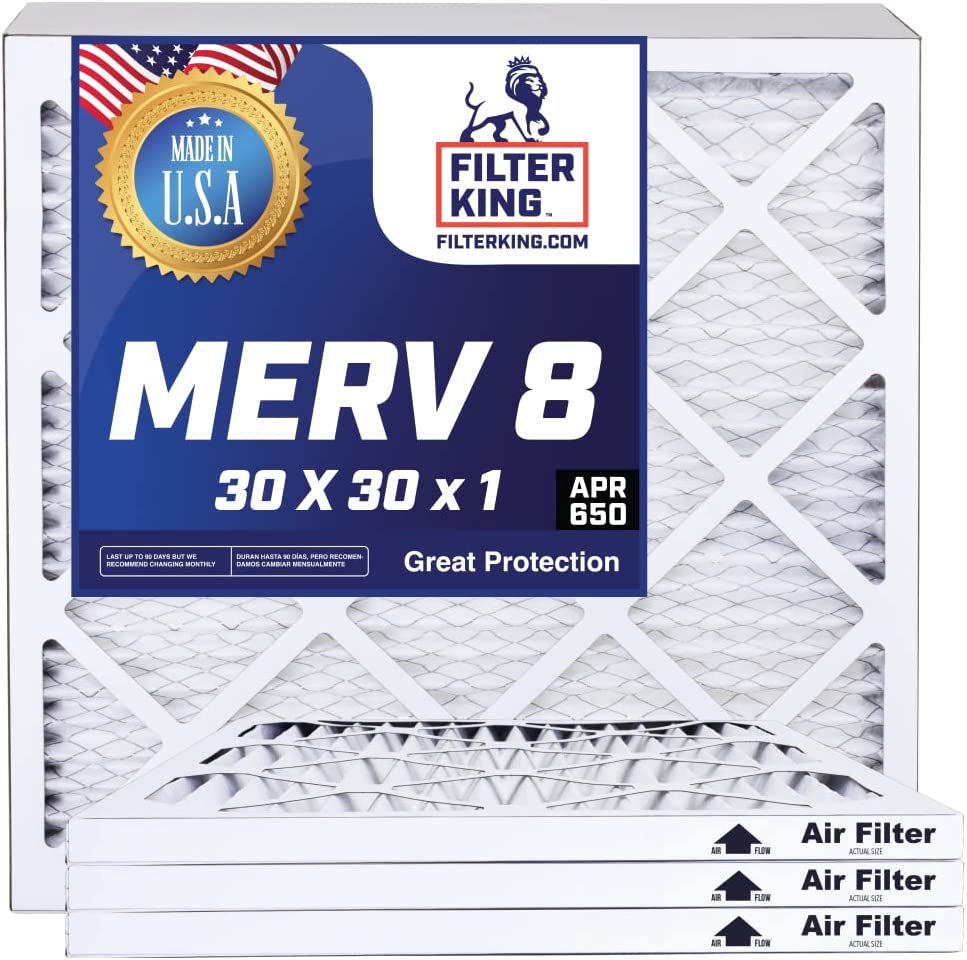 Filter King HVAC Pleated AC Furnace Filters with MERV 8 protects your home from airborne particles. When connected with the HVAC, furnace, or air conditioners, they keep the incoming air free from intruding particles. This 30*30 air filter needs to be replaced every 1-3 months. The time depends upon the space and amount of dust particles in the environment. The quicker it gets dirty, the earlier it needs to be changed.
While removing the old filter, ensure that no debris releases into the air. Replace the new filter after observing the arrows. This filter king AC filter will give you better sleep at night with fresher air and save you the repairing cost of your system. Using a filter can result in a more efficient and better system.
5. Lisol Complete Air Vent Filters Kit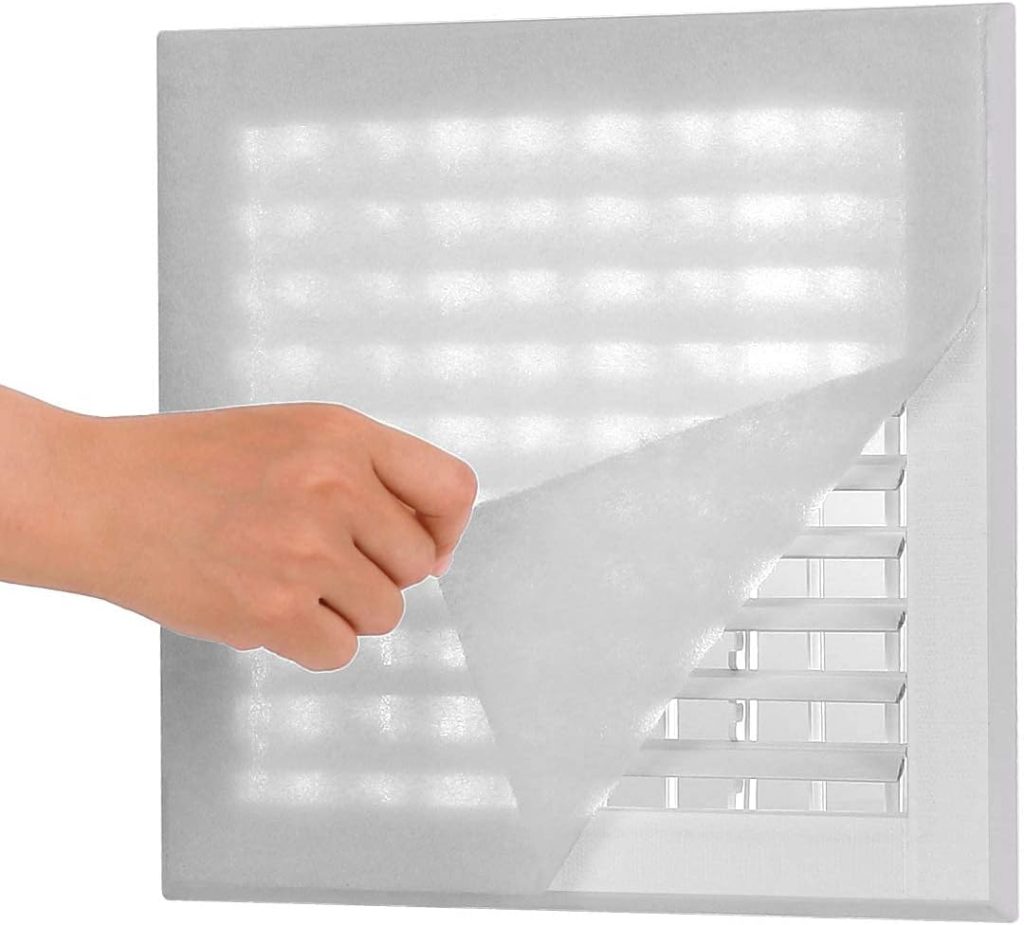 Lisol Complete air vent AC filters with electrostatic non-woven polyester fabric. This electrostatic filtration capture and trap small harmful particles, reducing dust in your space. Such AC filters come in the form of a roll. Cut it into any shape and size to fit the AC vents. It is comparatively easier to use and convenient.
This low-cost, high-quality product can easily be cut and placed on the AC vents to restrict dust and allergens. This specific product comes with 157-inch installation tape for 36+ standard vents.
6. Vioxfilter AC Furnace Air Filter with Active Carbon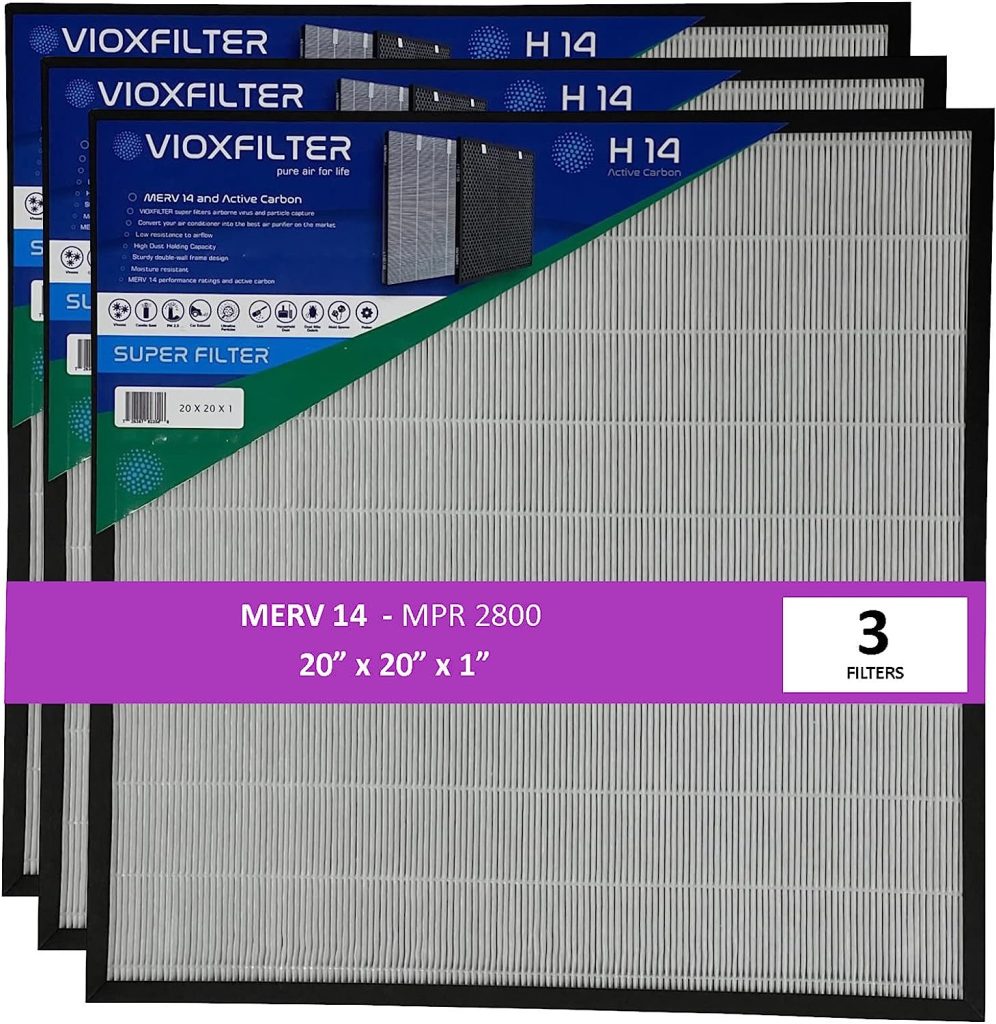 Vioxfilter AC Furnace Air Filter can instantly convert your air conditioner into an air purifier. The 3-in-1 technology with MERV 14 filters pollen, carpet fibers, hair spray, fabric protector, flour, smoke, face powders, and paint pigments. Along with households, it also purifies air in hospitals, laboratories, schools, universities, museums, and commercial office buildings.
Active carbon and low resistance to airflow allow the fresh air to flow. Active carbon enables the filter to improve indoor air quality. This metal purifier is compatible with air conditioners and furnaces.
7.Frost King Air Conditioners Open Cell Foam Filters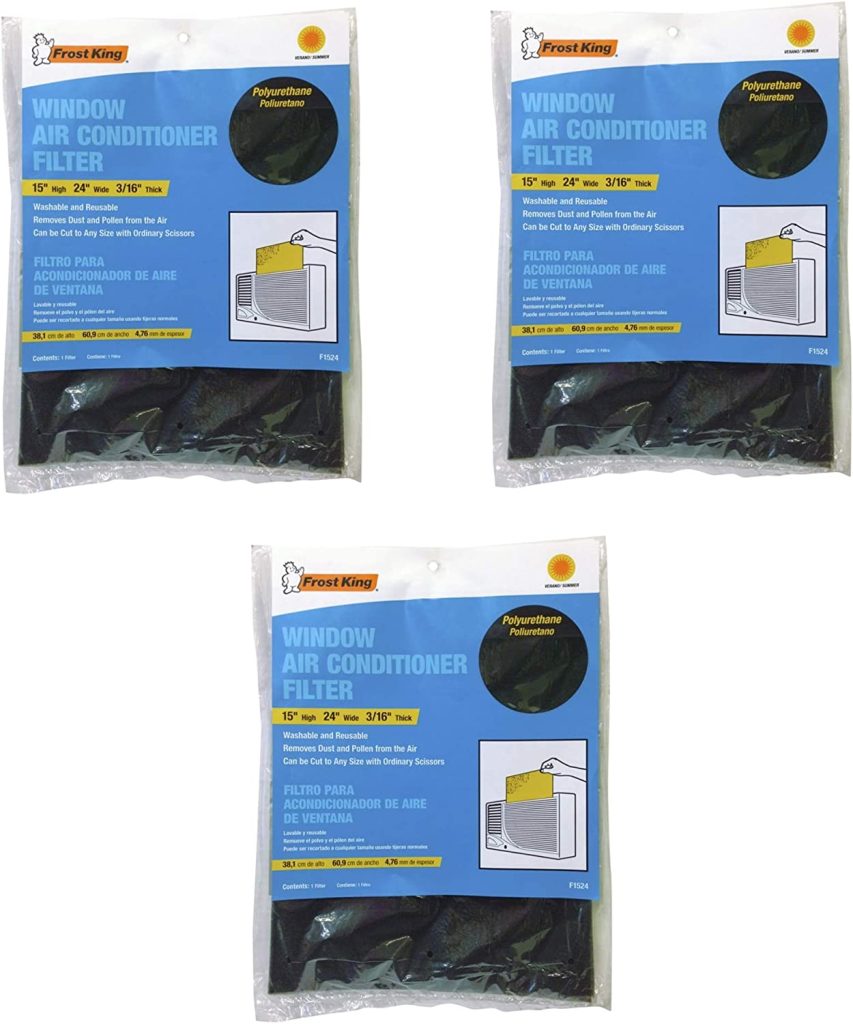 Frost King air conditioners open cell foam filters suits window air conditioners. Such AC Filters are washable and reusable. To fit in the air conditioner, they can be cut into any size as per the requirement. Place them in front of the air conditioner to remove dust and pollen from the flowing air. They are highly durable, making them an excellent solution for filtration.
8. Filtrete Healthy Living Ultra Allergen Filter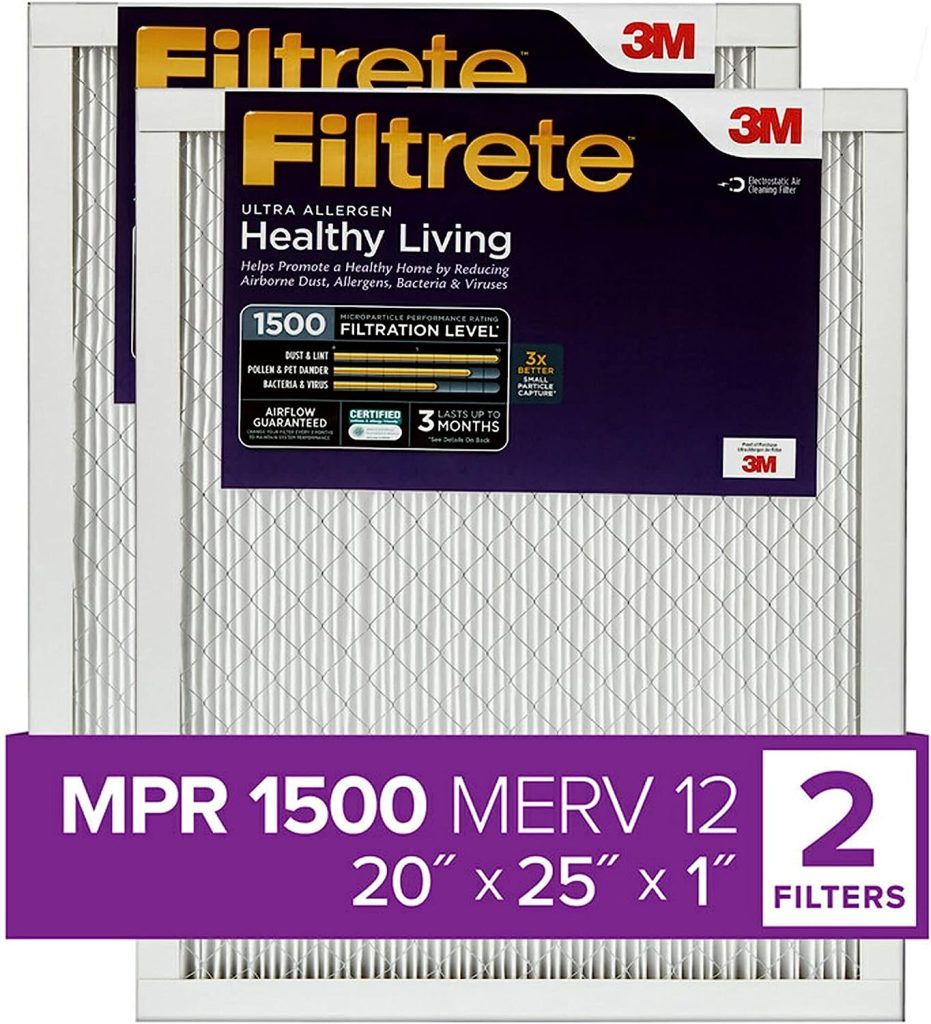 If somebody in your home is allergic to dust particles or has a sensitivity in their respiratory system, this Filtrete healthy living ultra-allergen filter is the best. With MERV 12 and MPR 1500, it filters the microscopic particles from the air. Washable and non-electrostatic home air filters are made with 3-in-1 technology from 3M.
Create a healthy environment for your family members to help them breathe easily. Such AC filters with high MERV and MPR ensure to trap of microparticles, keeping the air free from allergens. Some such particles include smoke, cough, debris, bacteria, viruses, and other particles like lint, dust, and pollen.
9. Nordic Pure Carbon AC Furnace Air Filters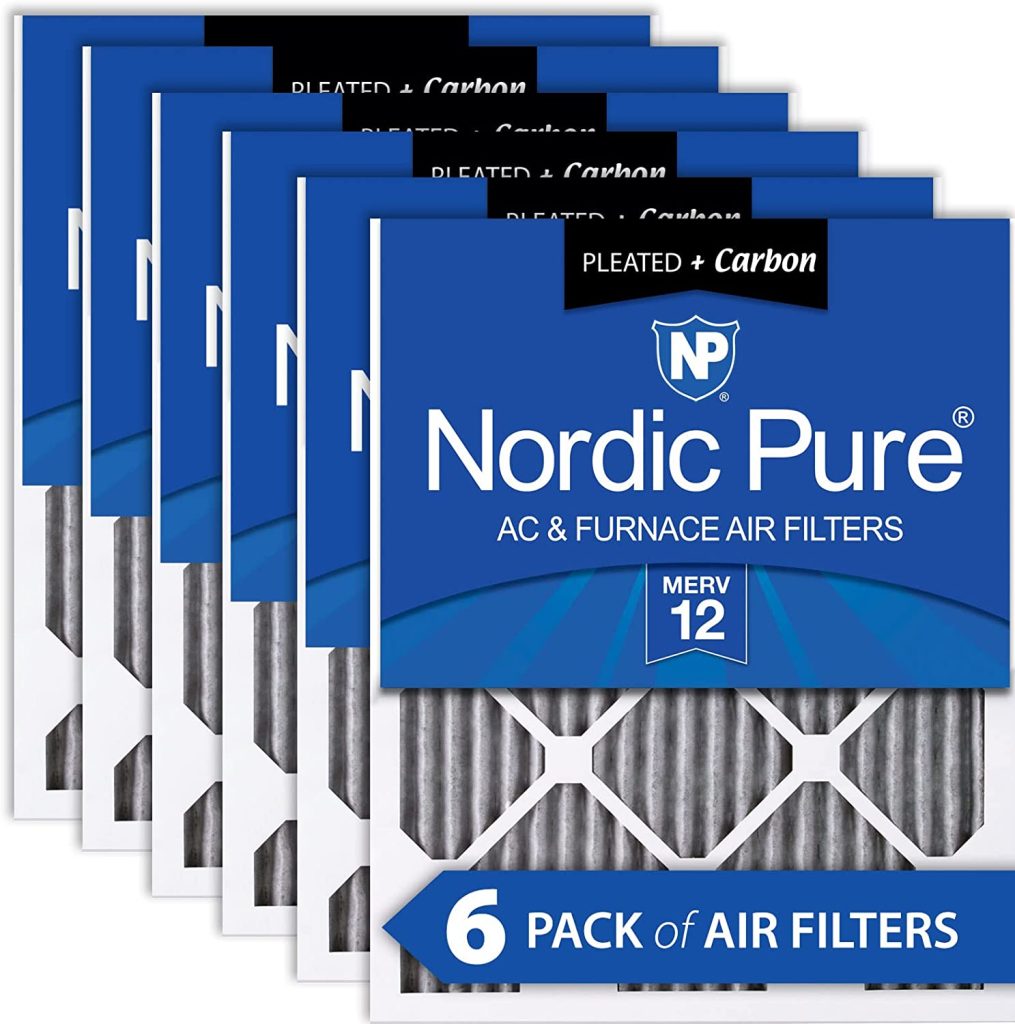 Nordic Pure AC and Furnace Filters are for those individuals looking to create a better and healthier lifestyle. With MERV 12, this electrostatically charged synthetic pleated media is ideal for individuals looking for odor control and fresh air. Certain areas and environments require higher filtration to get pure air. This filter is perfect for areas that need intensive filtration.
These Ac filters from Nordic Pure look after that there are no allergens in the air flowing through the system and also eliminate the dirt from the air in the room. The MERV 12 in Nordic Pure filter is equivalent to MPR1500-1900. It means that it is extremely powerful in eliminating microparticles. This power strengthens by the carbon present in the filters.
10. Puroma Cabin Air Filter for Cars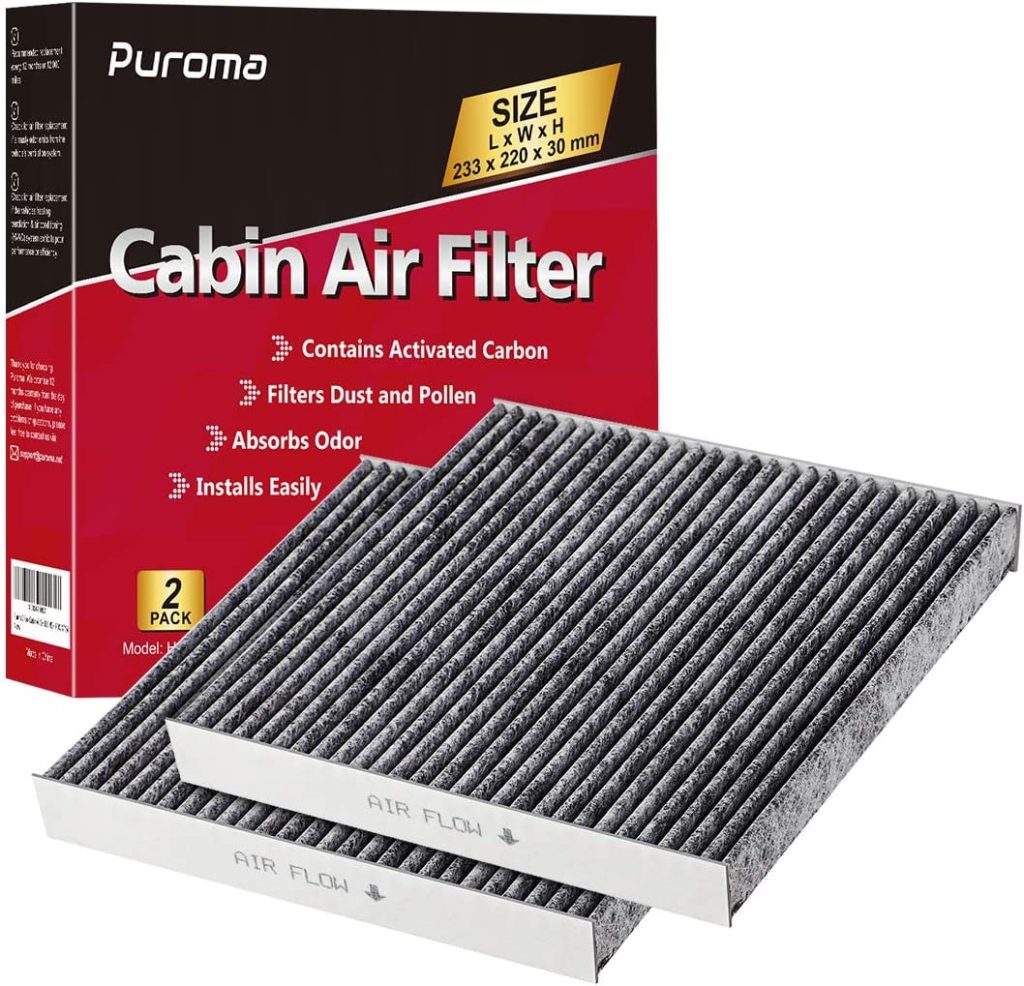 Having fresh air is also necessary when you are travelling in your vehicle. This cabin air filter offers protection from pollution and other dust particles as you travel in your car. Puroma Cabin Air filter for cars comes with activated carbon and is compatible with multiple Honda, Acura, civic, CR-V, Odyssey, CSX, and other models.
It is extremely crucial to change the filters every 12 months or after 12,000 miles, depending upon the instructions given by the vehicle manufacturer. This cabin air filter absorbs odor, filter dust, and pollen to give you fresh air on every drive. The close-meshed, non-woven filter layer prevents unwanted particles from entering the car. If you want every drive to be joyful and healthy, this cabin air filter is a must in your car. If this does not suit your car's current model, find one that is compatible and start using it.
How to Buy the Best AC Filter – Buyer's Guide
Determining the Size
The first and foremost thing to consider while buying AC filters is to get the right size. If you mess up on the size, the whole purpose of having an air filter will be defeated. Measure the length and width of the vent before looking up AC filters. If you already have an air filter, the measurements will be visible on the side. Using those measurements, you can buy a replacement filter for your home.
MERV, MPR, and FPR
MERV, MPR, and FPR exhibit the efficiency of the filter to trap the smallest particles most efficiently. If you are looking for a powerful ac filter for your space, always select the one with the highest MERV, MPR, and FPR. The higher these numbers, the smallest particles are trapped by those filters.
AC filters with higher ratings can seem costly, but they will last longer. High-rated AC filters require less replacement and thus will save a lot of money.
Replacement
Replacement is a crucial part of the filtration process. No matter how efficient your AC Filters are, if not replaced on proper time can harm the environment. The air flowing through such filters will not be fresh and can bring dust particles and allergens. Many filters come with colors, magnets, and other reminder symbols to tell you it's time to change the filter. Opt for buying such filters that remind you when to change them.
The Air We Breathe Impacts Our Health!
AC Filters enhance your health by cutting down the presence of dust, allergens, and odor. It's not just an accessory but a life-saving product. Whether it's your car, AC, furnace, or HVAC, a filter can add many more healthy years to your life.
Plastic mesh, carbon, and electrostatic are different types of filters that can help you in purifying the air. With the unique role of each category, they eliminate the odor and intruding particles from the flowing air. Having an air filter will save you and your family from seasonal allergies. Reduction in harmful chemicals from the air will reduce the possibility of having respiratory diseases in the long term.
Are you ready to bring home your health's biggest supporter, an AC Filter?
Other Articles