Are you looking for dresser decor ideas for your house? While designing the interior of a house, it is very necessary to utilize every space without making it look messy and unorganized.
Usually, we create an entire wardrobe to store all our clothes, shoes, and accessories.
But if you are dealing with a small space, you need to store all your stuff in limited storage so that things don't get cluttered. A dresser comes to the rescue in this situation.
Not only does it give an ample storage place for clothes, books, and miscellaneous things, but it also provides a platform to hold pictures and vases and even becomes a TV stand.
The best part about having a dresser is that this piece can be kept at any corner of the house and yet give an aesthetic look to the entire place.
A dresser can turn out to be the center of attraction with just a few accessories aligned properly, resulting in brightening up the place.
Here are 22 dresser decor ideas that you can DIY with the things you already have and turn a piece of furniture into a functional unit.
1. Collect Everything and Then Divide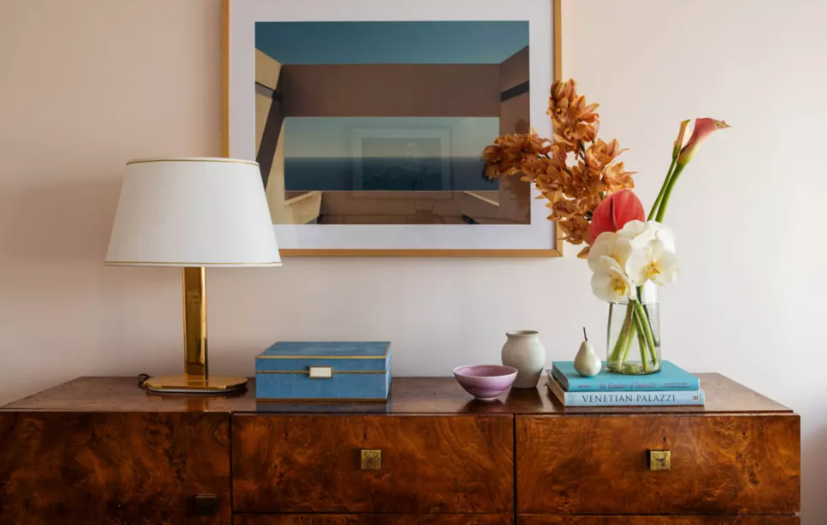 When it comes to decorating the dresser, first collect all the artifacts and accessories that you own in one place.
Along with this, decide what will go inside the table, like clothes, woolen, documents, jewelry, etc. As the dresser consists of many drawers, utilize each one separately, this will help in the future.
After collecting all the things, decide the location of the dresser, bedroom, living area, etc., as this piece of furniture will steal the spotlight.
Furthermore, try putting the pieces together and see if each of them is visually appealing or not.
2. Color Coordinate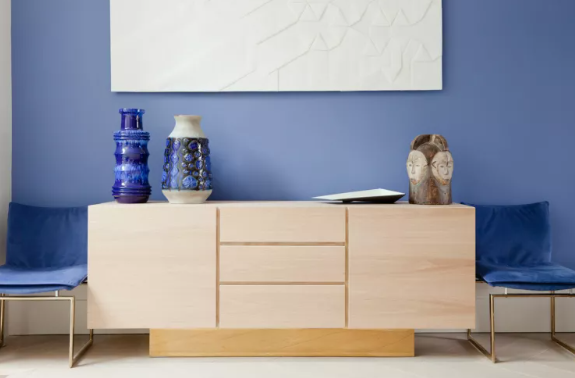 Out of many options, color-coordinating your accessories with the dresser leads to highlighting the piece and beautifying the surroundings. It is advisable to layer up the things instead of placing them all in the same line.
Start by grabbing the same color things that you have at home, like photo frames, books, trays, vases, etc., and just adjust them on the platform.
This makes the dresser look cohesive and aesthetically pleasing. Focus on creating a visual story by layering the stuff instead of keeping them in a straight line, as it is not visually appealing.
Similar Post: 15 Trendy Wardrobe Designs for Your Dressing Room
3. Use the Vertical Space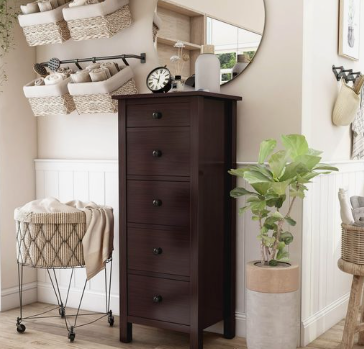 If you are planning to keep a single dresser due to constraints of space, use the space above it to hang all your artwork and collections. The vertical space is a good way to grab all the attention of the dresser.
Different inanimate things and souvenirs that have various shapes and sizes can also be hung vertically above the dresser; this will help utilize the space creatively without worrying about their storage.
Try to add height to the platform of the dresser by using tall plant vases, candelabras, lamps, or baskets to keep stuff.
4. Assemble Height-Wise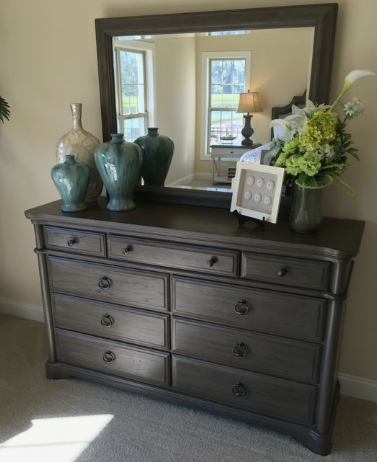 To create a visual story in your dresser decor, use tools with different heights and assemble them on the platform creating a triangle. Creating a geometrical shape in your decor not only brings an ornamental look but also is easy to make.
Adding a tall floral piece, books, and trays creates a maximalist side, which also has room to edit.
For example, you can keep your small souvenirs, perfume bottles, etc., in the tray to make the dresser look cleaner and larger. This minimalistic view will help to de-clutter the stuff that is roaming around.
5. Use of Mirror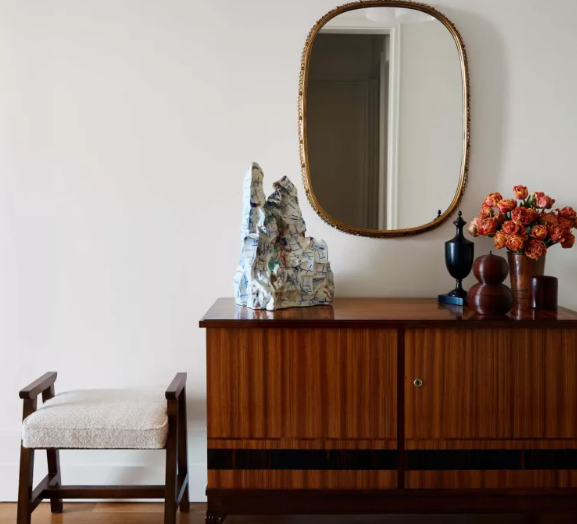 When you are incorporating all your accessories and day-to-day things on the dresser, adding a mirror will make it a lot more feasible while getting ready in the bedroom or stopping by in the living room.
Mirrors make the place look bigger than it is, as it reflects light. You can either put a mirror on the platform or hang it above the dresser, so you can use the space below to keep the required stuff handy.
On top of the dresser, a wood-framed mirror adds flair and usefulness to the space. At the same time, mirrors with gold frames are a mixture of modern and old.
6. Add Flowers and Plants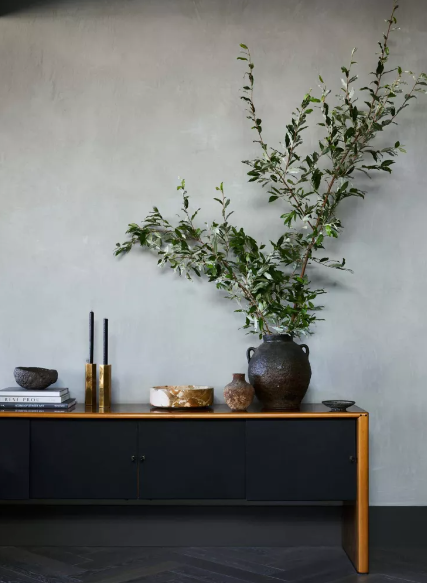 Decorating a dresser is completely on you, like the color of the dresser, the location, the size, and what will go on the dresser. Try to amalgamate different things of different shapes and sizes on the desk to create a visual balance.
Incorporating flowers and plants that grow in your vicinity and are native to nature can add a natural texture to the woody furniture.
Fresh-cut flowers can be easily changed out to give seasonal flair and color, but dried flowers or low-maintenance artificial stems are also other options. These natural elements help create a serene surrounding.
7. Use of Lights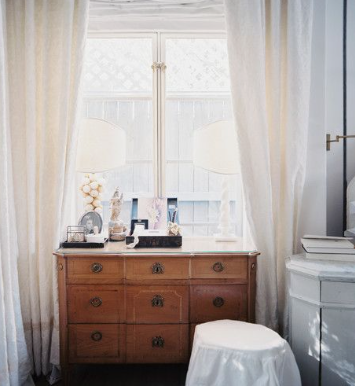 Once the dresser becomes functional, it turns out to be the key feature of the house. Try to assemble a dresser with ample daylight, like beneath a window or using a mirror.
Moreover, add lamps or candles to your dresser decor to lighten the place in the evening. As the dresser is multifunctional furniture in use, it can be in work as storage, reading spot, or office, so it is necessary to place it or equip it with light.
You can always be creative in decorating a dresser; one option is placing a contrast lamp on the wooden desk.
8. Different Hues on One Platform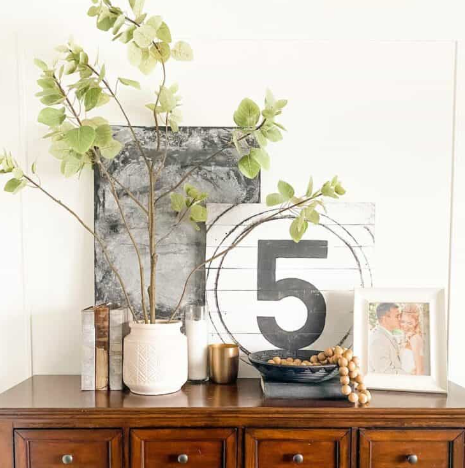 While choosing a dresser, you get to choose from a wide range of colors and textures that may match your current furniture or stand apart from all.
Even if you are going to match your dresser with the furniture, it'll stand apart because of the components used on it.
Furthermore, there will be many elements like crystals, books, candles, flowers, and frames that are of vivid color and exactly opposite to the dresser.
While decorating a dresser, it is not necessary to create a picture-perfect platform, but a mix and match, trial and error with the materials, can be visually pleasing.
9. Put Your Interests on the Top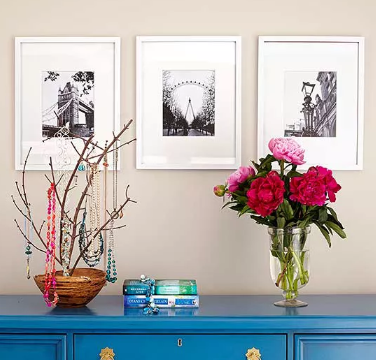 Decorating a dresser is all about placing your favorite things on the top to showcase your collection. This can be different types of candles, jewelry, perfumes, stones, and even coins.
Moreover, you can add a chalkboard, sign, or frame that reflects your personality and motivates you.
A collage frame of your loved ones on top of the dresser will be eye-catching to everyone visiting your home. For easily seen accessories, use a transparent glass box or a tree stand.
This will save time in searching for earrings, necklaces, and watches. Moreover, the damage caused by tangled jewelry will also be reduced.
Also Read: 11 Stylish Platform Beds with Storage You Need to See
10. Layers of Dressers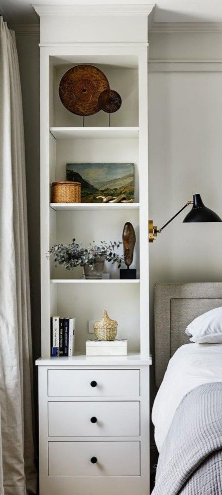 Why restrict yourself to just one dresser in the entire house for carrying all your stuff when you can have layers and different shapes of these woody wonders?
If you are placing a dresser in the bedroom, it is already jampacked with the bed and other furniture, so you can use a piece of furniture that has a long platform, storage, and a place for a mirror, so that it works as a study table, dressing area, and personal library.
Furthermore, you can add shelves above the dresser in the living area to keep the extra stuff like small plants, frames, books, etc.
11. Creating an Eccentric Dresser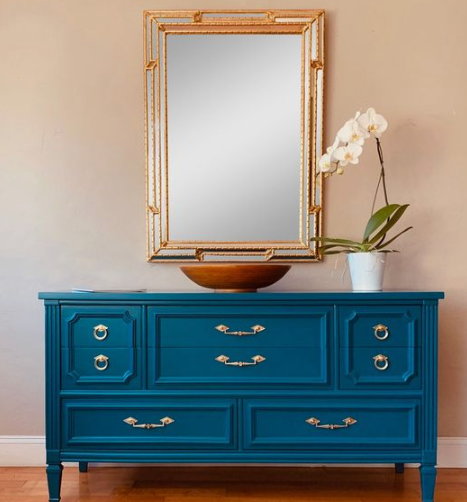 The advantage of owning a dresser is that it can be styled with whatever material you have and placed in any corner of the home or even on the balcony and yet make it a centerpiece.
Begin the decor of the dresser with a mood setter like a piece of art, as it helps establish the style and is the key to helping scale in the sizes of all other accessories.
Furthermore, anchor the artwork with an overscaled ceramic lamp, which has both a base and a lamp. A pile of books can help harbor many things on it, like a small statue, flower vase, or clock.
12. Dresser with a Country-Style Touch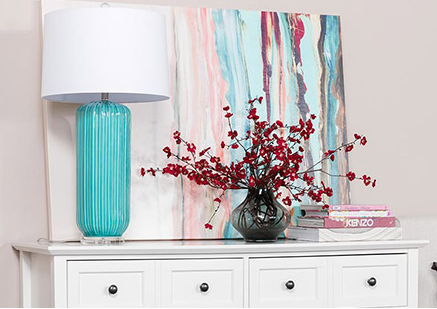 Dressers come in vivid colors that can easily catch everyone's attention, even if placed in a corner. The remaining furniture of the house may or may not match the dresser.
If you are owning a classic white dresser with a woody brown platform, there are many options to decorate this piece.
One of the art looks is that of country-style touch, in which a floral, soft, pastel-toned art piece can create a visual impact.
Along with this, anchor the artwork with a tall brass lamp for a glam touch. Using a book stack with some dry florals on top adds texture, height, and contrast to the decor.
13. Creating Vignettes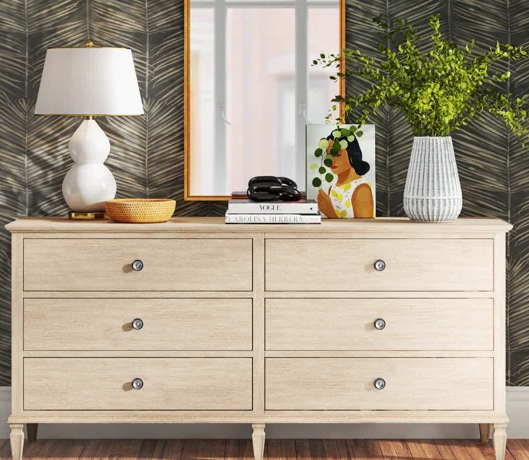 A vignette is just a fancy way of saying that we are going to be grouping items that work well together. There are so many different ways to do this on a dresser, and there is so much room for creativity.
While you create a vignette, start with the biggest items in size or height that you wish to put on the dresser. This can be a lamp, frame, tall plant, flower vase, or glass.
You can use different-sized artwork for creating layers. Next in line, pair this big decor with medium-sized decor like small plants. Furthermore, add layers to the dresser, like trays or books.
14. Decor as Per the Size of The Dresser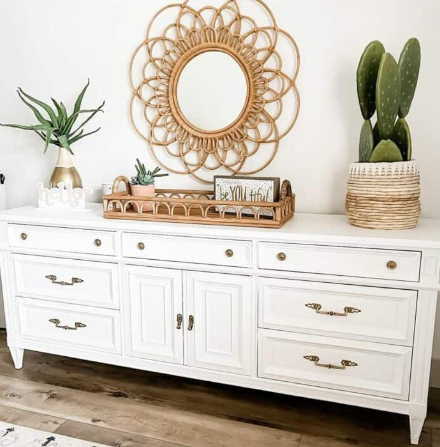 Dressers come in different colors and sizes; they can be tall, medium, and small in size. Select the dresser that best suits your interiors or looks the cutest.
Having a tall dresser only offers a small surface to keep all the things. Compared to this, a medium-sized dresser has a lot more room to spread things out.
You can choose to vignette a medium-sized dresser by creating a clear demarcation of smaller things on one side and larger things on the other end, keeping the middle of the dresser plain.
Moreover, if you are a garden enthusiast, you can spread all your seedlings indoors on one dresser to showcase your interests.
15. Add New Creativity to the Dresser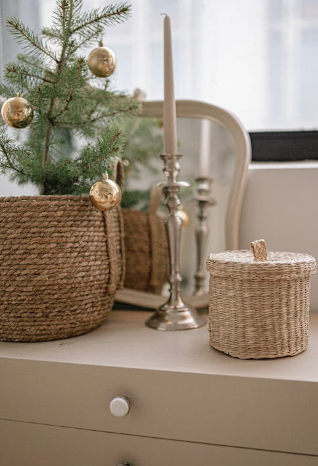 The dresser top is a perfect place to put down anything. As a result, it tends to collect clutter over time. Instead of topping your dresser with clutter, it would be better if you style it with your creativity.
It is suggested to go with heights while styling your dresser. You can begin by stacking some different-sized boxes that harbor your jewelry, visiting cards, extra keys, etc.
Moreover, this will add an ornamental look to the deck apart from clearing the clutter.
Instead of showcasing all artifacts and souvenirs on the dresser, try to keep the platform plain so it is easier to clean and organize.
Related: 11 Mirror Barn Doors Ideas for An Interesting Home Makeover
16. Renovating the Dresser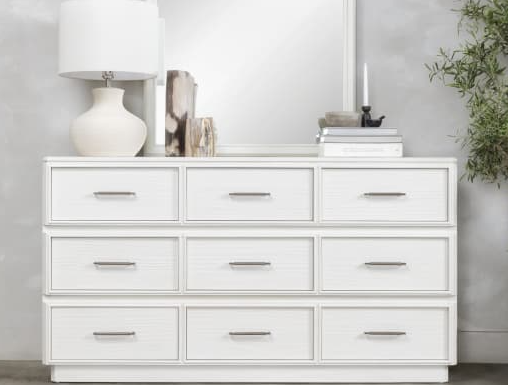 Why stick to changing the platform decor when you can renovate the dresser at home by DIY methods? If you think your dresser is getting dull, it is time for you to give it a facelift.
An effortless way to do it is by repainting it. Before applying the spray paint, you have to remove all the hardware.
Once you are done painting, you can install the hardware back to its initial place.
Furthermore, the new dresser can be styled to make it look more beautiful by using accessories like artwork, lamps, photo frames, candles, stacked books, trinket boxes, and greenery.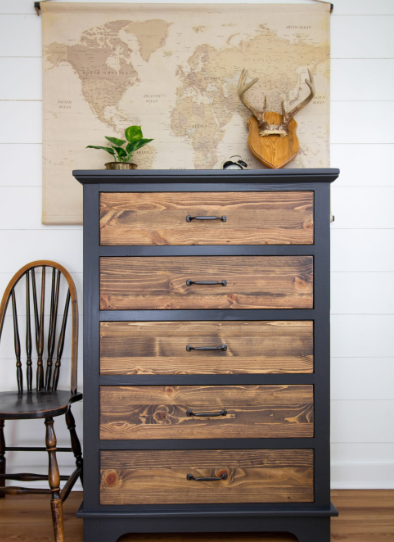 It is not necessary to match your furniture with the same colored dresser. A contrast combination of two shades in one piece of wood can stand apart.
Painting your dresser in two tones can always help uplift the value of the furniture. Begin by removing all the hardware, and use the fusion TSP to wipe down all the pieces.
Sand the drawers using an orbital sander so that you can remove the precious finish. By this method, the stain will be successful in penetrating inside.
If you want a slick finish, try sanding the painted drawers with 400-grit paper, and apply beeswax at the end.
17. Double-Colored Dresser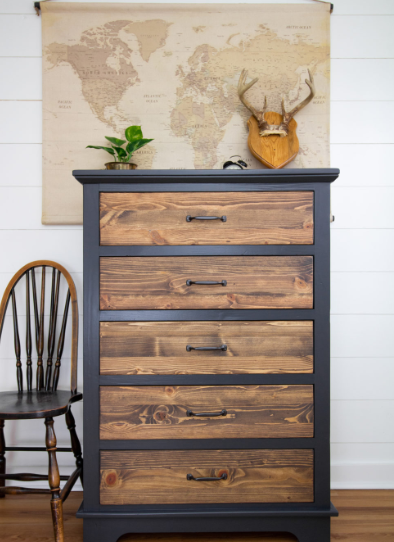 It is not necessary to match your furniture with the same colored dresser. A contrast combination of two shades in one piece of wood can stand apart.
Painting your dresser in two tones can always help uplift the value of the furniture. Begin by removing all the hardware, and use the fusion TSP to wipe down all the pieces. Sand the drawers using an orbital sander so that you can remove the precious finish. By this method, the stain will be successful in penetrating inside.
If you want a slick finish, try sanding the painted drawers with 400-grit paper, and apply beeswax at the end.
18. Colorful Dresser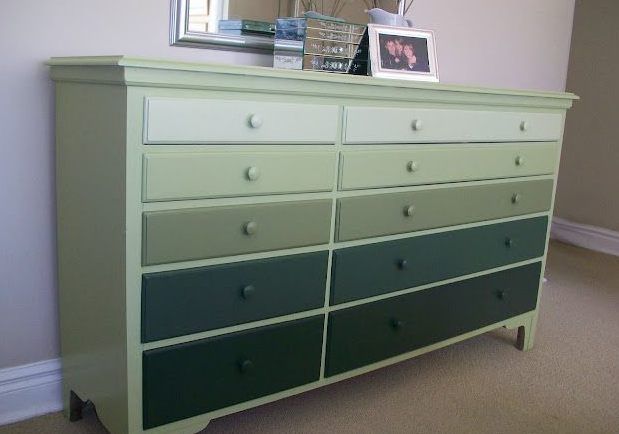 Instead of painting your dresser with just one color, you can try various hues to create an ombre effect. You can select any darker shade for the ombre effect.
For example, here we are painting the bottom drawer green. After that, mix in some old white chalk paint to get softer shades of green. The more chalk paint you add, the lighter the hue you receive.
The benefit of renovating your dresser into an ombre one is not only making it look unique and artistic, but it also matches your current furniture.
The usage of golden pulls and decorative lines can give a vintage touch.
19. Dresser Makeover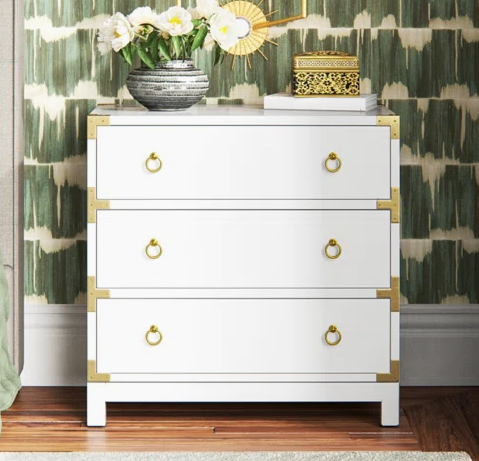 If you are purchasing a dresser that is already used, you have to tolerate the worn-out look. This is not a permanent issue, and it can be renovated easily by just staining it.
To give a wooden dresser a polished look, sanding and staining are crucial tasks.
During the preparation stage, sanding straightens the wood grain, and during the finishing stage, it removes dust. Rich tones are produced by proper stain application, which highlights the dresser's inherent beauty.
Furthermore, your dresser can get a makeover by trimming the bottom so that you can install legs and elevate it a few inches off the floor.
20. Dressers at the Entrance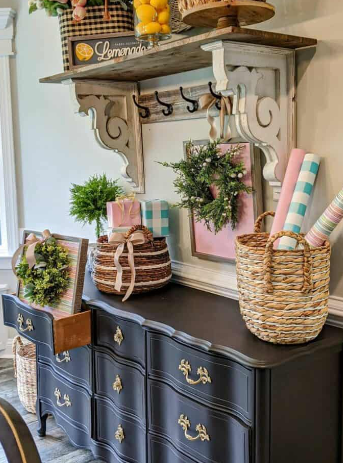 You can select any spot in the home when it comes to a dresser. They are not limited to a specific place.
Keeping an elevated dresser in the entrance can help harbor your shoes underneath, place some baskets for additional stuff, and keep umbrellas and scarves handy.
Placing baskets on the dressers can help de-clutter all the extra stuff and yet give a pleasing look to the home.
Moreover, the dresser at the entrance provides room for vertical shelves and hooks. The hooks will help place stuff like caps, umbrellas, brown bags, etc.
You can add a few books and greens on the dresser for ambiance.
21. Use the Dresser for Multifunctions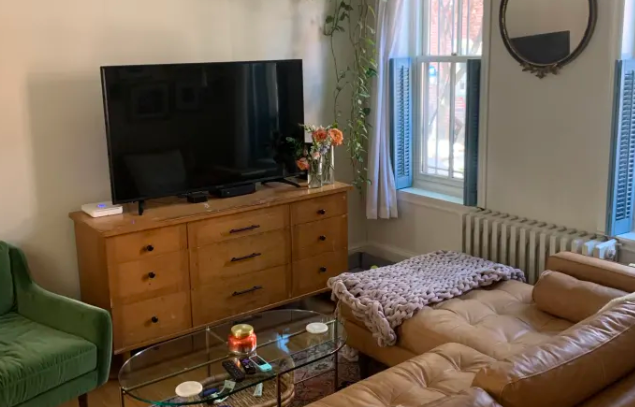 Living in a place that has space constraints and cannot cut out all your favorite furniture?
Try to use the wood for multifunctions, like the dresser is not only capable of decorative purposes and storage purposes; it can be converted into a TV stand or stacked with your microwave.
Furthermore, you can convert your dresser into a portable piece that has drawers, a rack, and a dresser in one.
This will not only store your clothes in drawers and keep them creaseless in hangers but also harbor your shoes and provide a deck for your watches and perfumes.
Check This Next: Top 15 Round Bathroom Mirrors To Elevate The Look
22. Make the Dresser a Priced Possession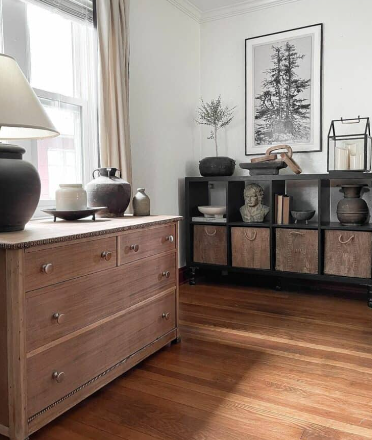 There are few places and corners in the home that are very close to the heart. It can be the wall of photo frames, the living area, or the garden.
One of the most artistic and creative pieces in almost every home is the dresser. It's more than just drawers and storage.
The platform of dressers can look sleek even if kept plain and yet keep the woodiness intact even when filled with artifacts.
Everyone has a collection of antiques and materials as their hobby; it can be coins, stamps, plants, etc.
Design your dresser to showcase your collection by keeping your priced possessions on the desk without making a mess.
Conclusion
Decorating a dresser is more like maths; you have to apply permutations and combinations with all the materials you have. There is no thumb rule for decorating a dresser.
It is all that you have and all that you love that needs to be on the desk.
Once you realize how much a stylish dresser top enhances the aesthetic appeal of your living room, bedroom, or balcony, you'll find it simple to stay organized.
Give the dresser a periodic once-over to look for objects that should be somewhere else.
By switching up your dresser-top display to coincide with the seasons or to decorate for the holidays, you can keep your décor interesting and add a little variety.
By following these decor ideas and options, you'll get a glimpse and guide of how it'll look later once everything is assembled.
Other Articles