21 Stunning Country Kitchen Decor Ideas for Your Home
Do you want to introduce the stress-free countryside vibe into your kitchen? The country-style kitchen is all about natural materials, aged woods, and subtle accessories. While designing a...
Do you want to introduce the stress-free countryside vibe into your kitchen? The country-style kitchen is all about natural materials, aged woods, and subtle accessories. While designing a country-style kitchen, inspiration is taken from the woodland and rolling hills around us.
Even modern homes can benefit from country kitchen decor ideas as they add a welcoming vibe to your cooking space. The beauty of the country kitchen decor is that it's simple and works well whether you live in a suburban track home, big-city condo small-town cabin.
Use these unique decorating ideas to create a cozy and welcoming country kitchen.
Stunning Country Kitchen Decor Ideas
Whether you want to renovate your kitchen completely or give it a budget-friendly facelift, these country kitchen decor ideas can help you design the kitchen of your dreams.
1. Neutral Palette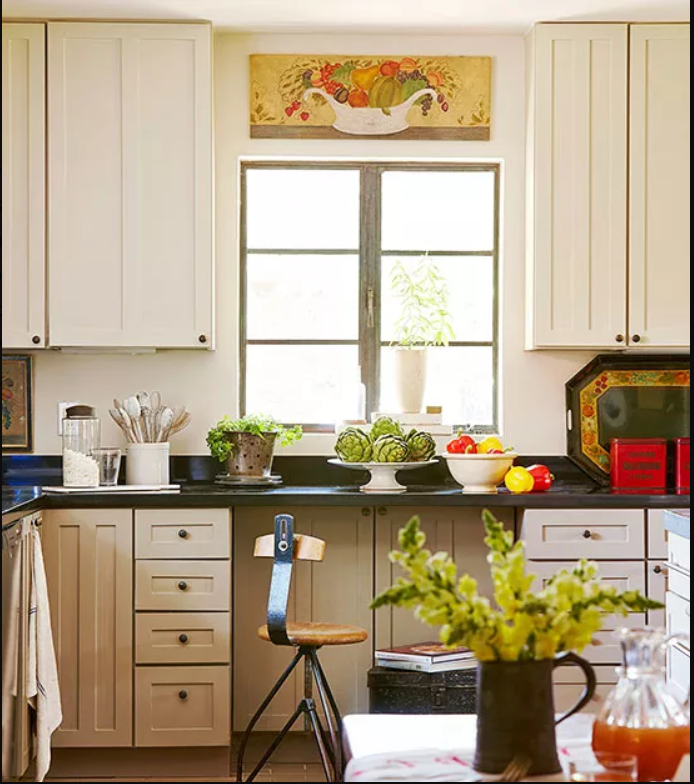 You can uplift the vibe of your country kitchen by using a neutral palette. A neutral color scheme gives a sophisticated look to your kitchen, and the lighter-colored walls make the space look bigger. A theorem-inspired painting on the wall and neutral-colored kitchen cabinets can refresh the look of your kitchen. You can also add a neutral tone to your country kitchen in many ways –through textiles, tile, and countertops.
2. Choose Vintage-Style Taps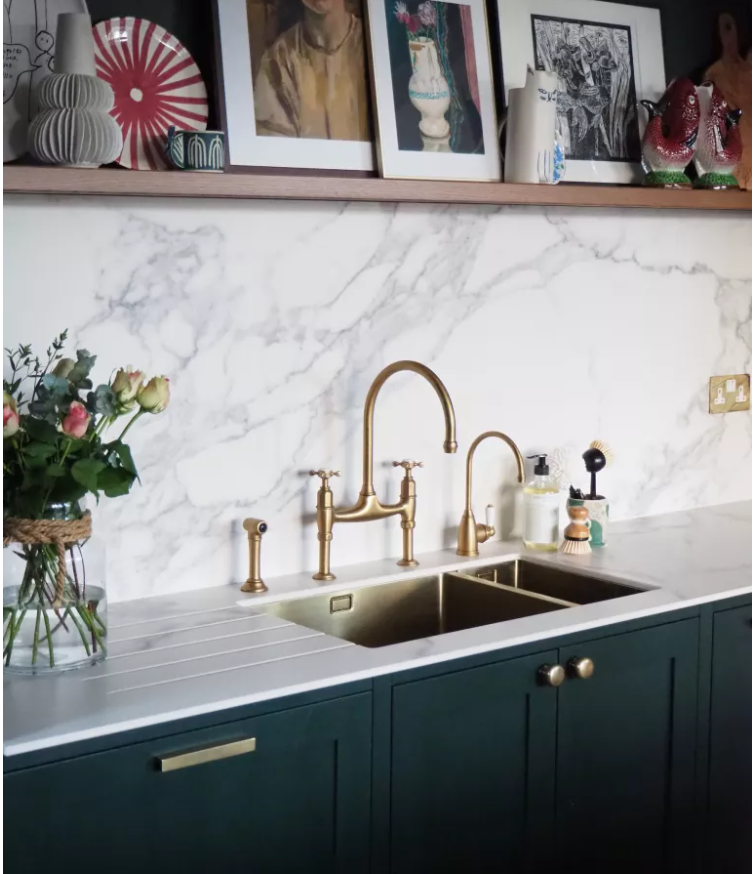 A tap is a style statement and an important accessory that can be used to harmonize your kitchen. When choosing kitchen taps, opt for the vintage style to enhance the country's aesthetic. Antique copper or brass taps are perfect for creating that older-style country look. You can also opt for brass and brushed gold designs when choosing a vintage-look tap. They are durable and age beautifully, making your country kitchen easy to maintain.
3. Open Display Shelving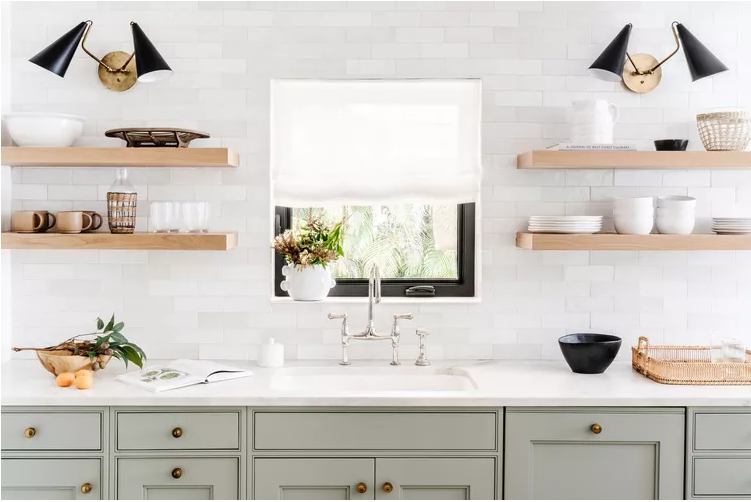 Open shelves create balance and symmetry in your kitchen. Rather than hiding your utensils in a cupboard, display them. You can enhance this look by displaying decorative or antique plates. Many people think that to incorporate open shelving into their country-style kitchen, they will have to add tons of shelves. But this is not true. A couple of smaller shelves work well for those who want to attain the look of open shelving but are less committed to styling and cleaning them.
4. Wooden Cabinets with Glass Doors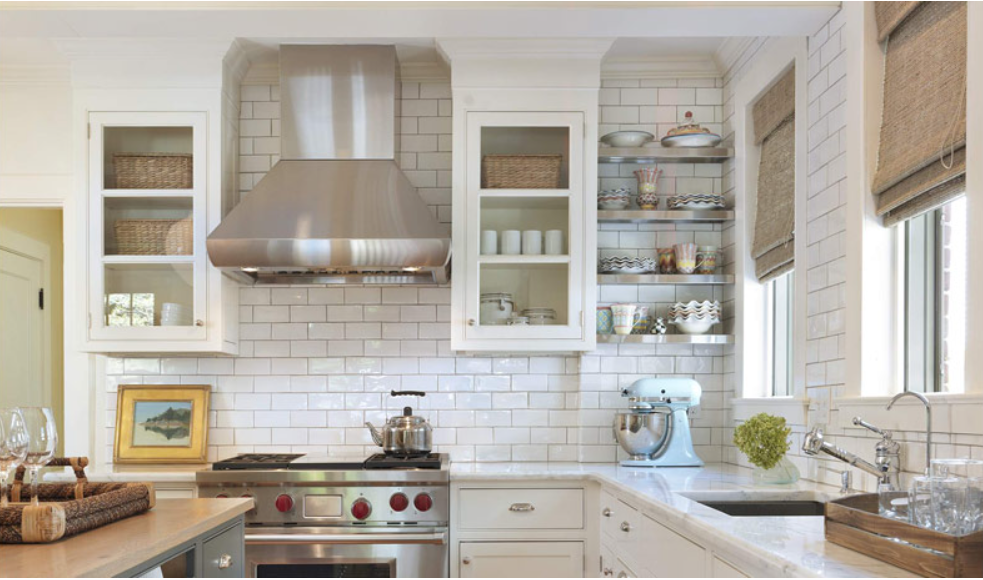 Country kitchens are meant to be used rather than admired, and to fulfill this purpose, cabinets made with lasting materials like wood can be the best option. In terms of cabinet style, beadboard and decorative panels like wire, stained glass, or tin are commonly used. Cabinets are given decorative flourishes and colors to accentuate the country-style charm. Similar to display cabinets, these can be used to store glasses, plates, cups, and other kitchen essentials.
5. Farmhouse Kitchen Décor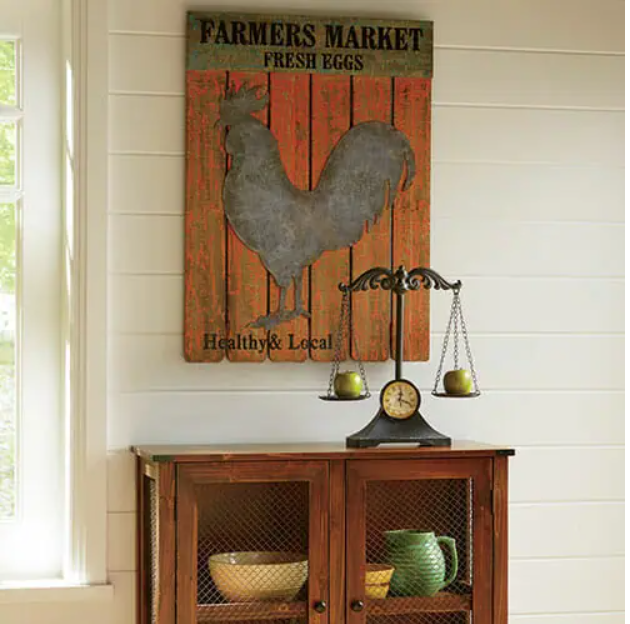 Farmhouse kitchen décor is one of the best ways to add rustic vibes to your kitchen. Add stools with tractor seats or wall décor that reminds you of older days. The space between the top of the ceiling and cabinets can also be used to hang farmhouse storage baskets. If you want a modern farmhouse look, add a neutral or grey-colored tile backsplash or upgrade to stainless steel faucets. You can also give a farmhouse feel to your kitchen with extensive use of traditional accessories or natural woods to pay tribute to pastoral history.
6. Rustic Lighting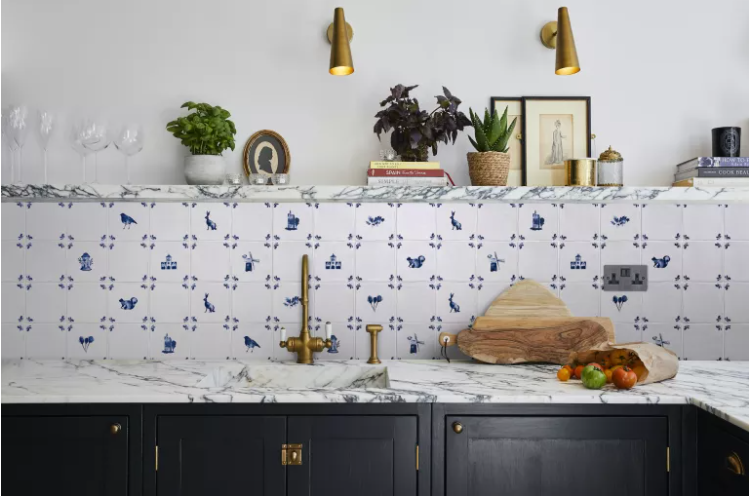 Country kitchens are known for their wealth of natural materials and rustic textures. So when considering lighting for your country kitchen, opt for rustic lights. You can place wall sconces with subtle aged finishes on top of kitchen work areas like sinks and countertops. Scones soften the light quality and create a vibe perfect for country living. Choose lights that can be cleaned easily and are made from materials that match your decor's style. You can also place angled wall lights on work areas like countertops and sinks for ambient lighting.
7. Mix New and Old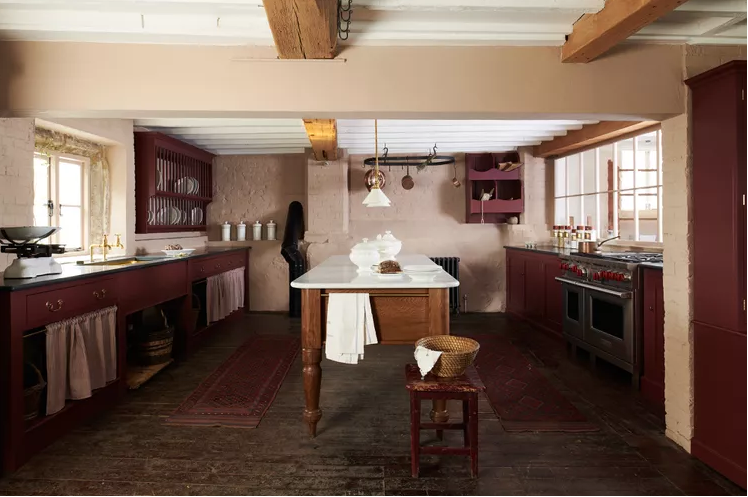 If you want to add timeless country charm to your kitchen, there can be nothing better than combining modern and age-old concepts. Add gourmet cooking equipment, lots of open space, and comfortable, durable seating for a kitchen perfectly suited to twenty-first-century living. Freshly painted white ceilings with rustic wood beams and warm red kitchen cabinetry with red-and-white curtain fronts can also be the ideal way to give a countryside look to your kitchen.
8. Add Rustic Homewares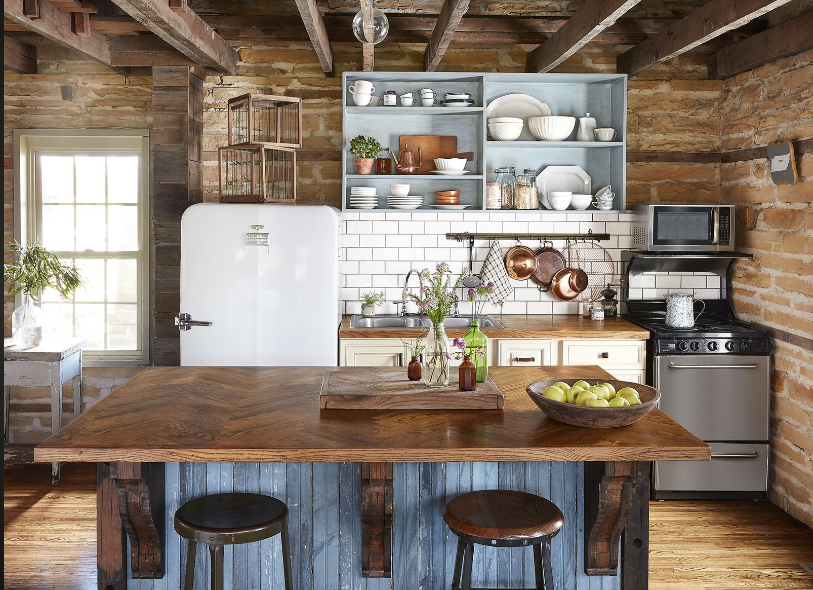 Creating a rustic kitchen country decor is all about choosing the right architectural details, fixtures, and finishes to showcase your cooking space in the best possible light. Vintage chairs, a breakfast nook built with timber and rustic wood, rustic wood beams, or old-fashioned racks for kitchens with high ceilings can elevate your space. Go to your local farmer's market and bring home some fresh veggies, and arrange them on your counter to create an inviting look to eat. 
9. Floral Wallpapers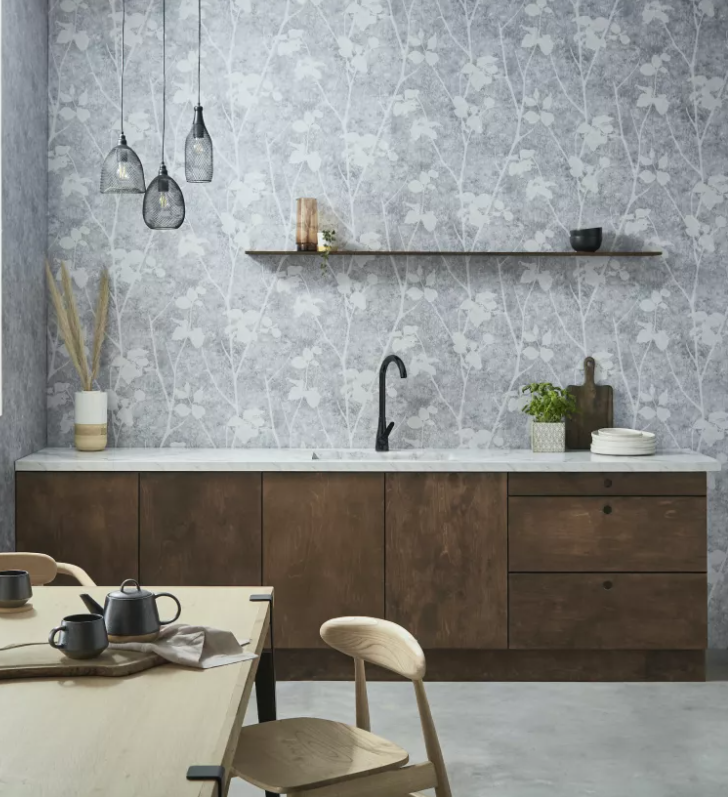 Floral wallpaper can be a great addition to a countryside kitchen as they fit the naturalness of the rustic theme and the freshness associated with ingredients and food. Wallpapers with classic touches like trellis designs work, florals, or landscape scenes give a romantic touch to a country kitchen. They also prevent the kitchen from looking purely functional and breathe vitality and life into the space. When choosing wallpaper for your country kitchen, remember that the kitchen is the space where the inside and outside of the house meet.
10. Dress up Your Kitchen Window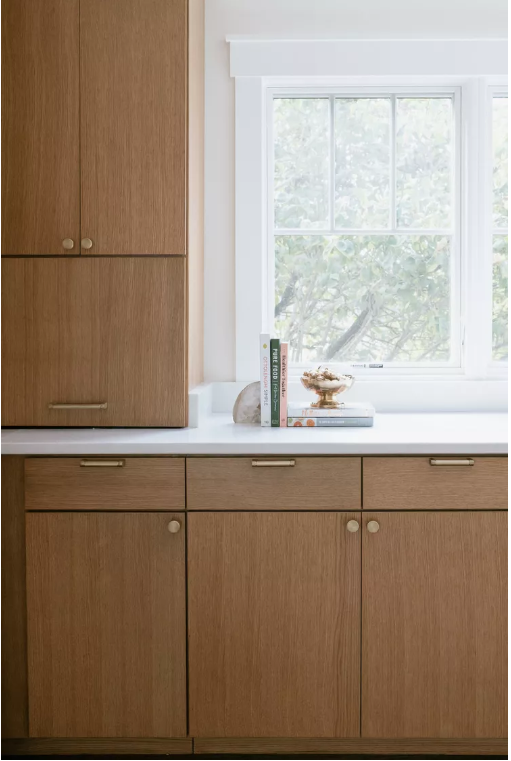 Another great country kitchen décor idea is to add finishing touches and decorative accents to your window. You can line your kitchen window with your favorite cookbook collection and use bookends to keep them organized. If your kitchen window is high on your wall, you can build a shelf underneath it. This will provide ample space for kitchen essentials, décor, and anything else you want to display. You can even paint your window to match it with your cabinets.
11. Go Dark Underfoot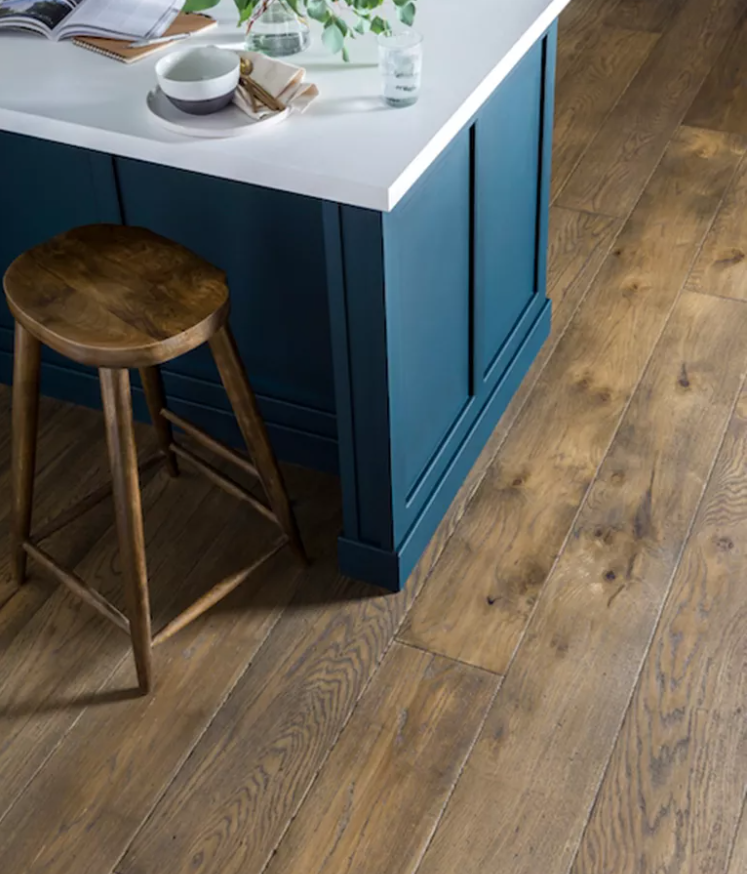 A country kitchen must have the proper foundation to make the space inviting. Although wood flooring is the ultimate choice for many country kitchens, you can also experiment by opting for touches of shining copper and beaded cabinetry juxtaposed with marble mosaic floors and black worktops to create a country home feel. Darker, natural brown, and black tones are trending these days as they give that cozy feel synonymous with the country style.
12. The Metro Tile Trend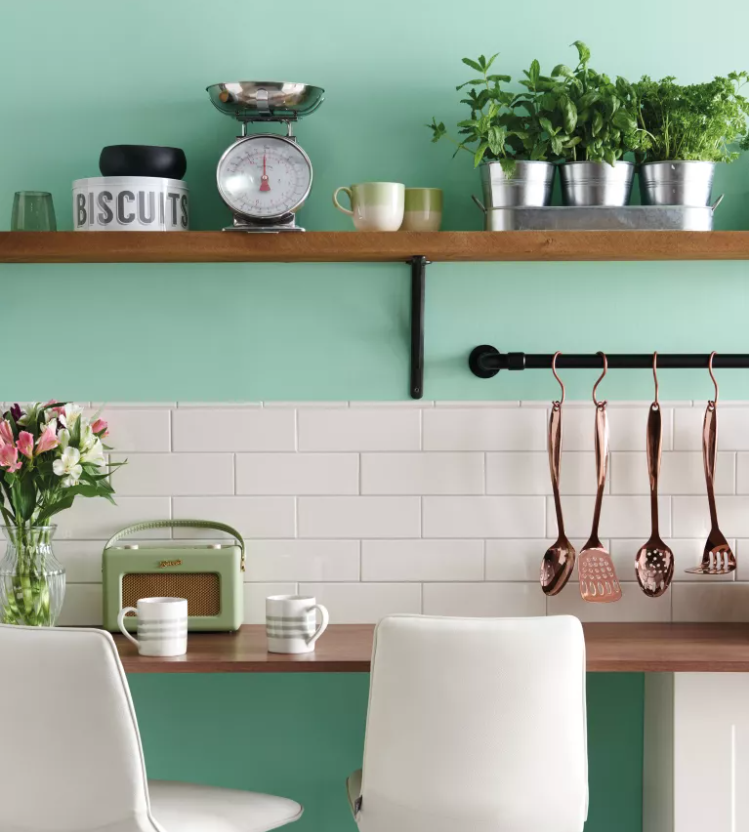 When it comes to country kitchen décor ideas, the metro tile trend is considered the most desirable format. These tiles can be placed across the entire wall or incorporated as a splashback or cool half-wall for a subtle finish. If you want to incorporate metro tiles into your country kitchen, opt for subtle grout work and more muted tones. Mint green and deep cream tones are the perfect options for country kitchens. By using simple, white metro tiles, you can drive away the attention of your guests from the bright or bold kitchen pain.
13. Add Some Texture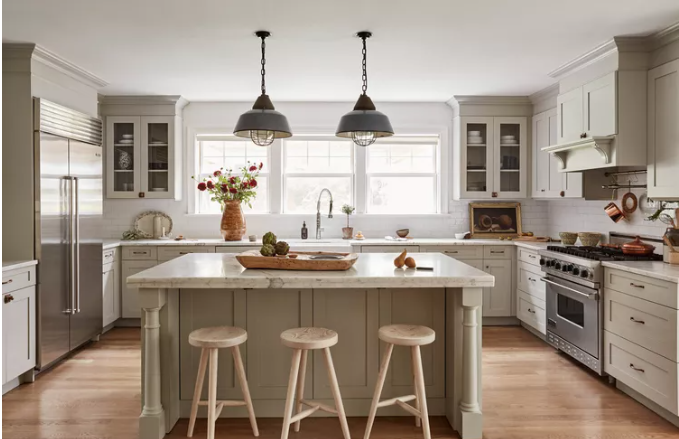 Country kitchens are filled with texture. The rustic style involves a combination of different materials, including metal and wood. You can stock up on copper pots, metal pendant lights, and antique hardware to add texture to your country kitchen. Even metallic picture frames, marble countertops, and sleekly painted cabinets can add life to bland kitchen spaces. You can also use wooden beams or exposed brickwork to create a countryside feel.
14. Natural Stone Counters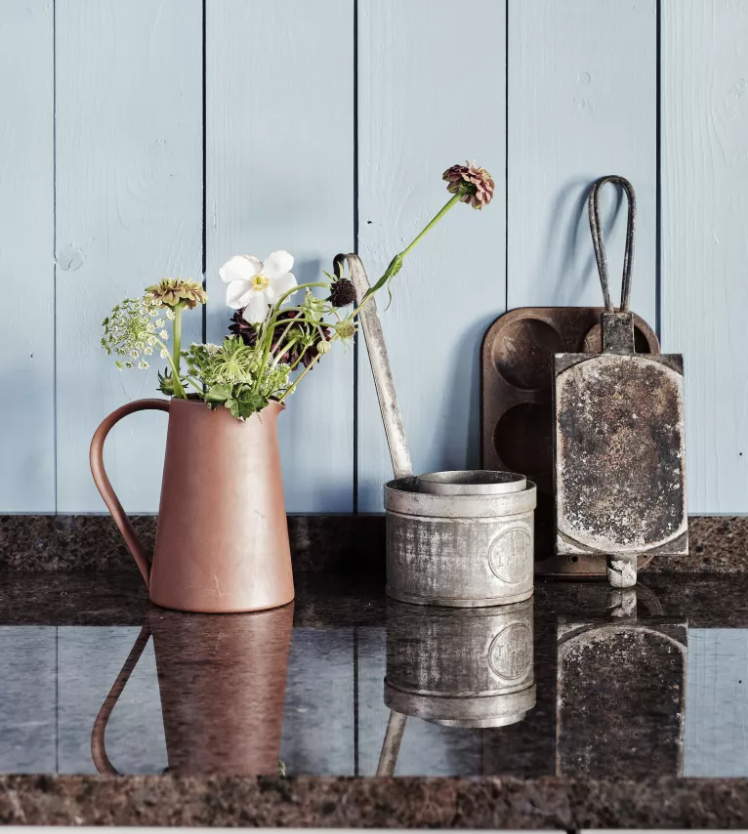 Another interesting country kitchen décor idea is to lay down stone counters inspired by nature. The best thing is that they pair beautifully with natural materials found in country kitchens, like paneling, reclaimed wood, or other stone accessories. Alongside their natural looks, stone counters are durable and can withstand exuberant cooking. They are also easy to clean and will increase the value of your home.
15. Flaunt the Imperfections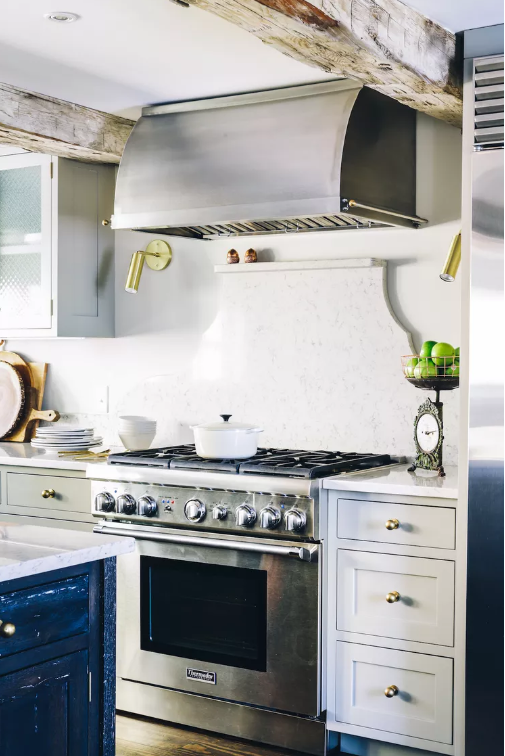 Imperfections in stone surfaces and granite countertops can be a huge concern when designing kitchen spaces. But when crafting country kitchens, imperfections like chips, scratches, and other forms of wear and tear can be a plus point. They are an essential part of classic country kitchens. So flaunt them rather than hide when designing country kitchens. Your countertop doesn't need to be perfectly polished or identical from end to end to be a showstopper. Marble with unpredictable and dramatic veining can accentuate the look of any country kitchen.
16. Cozy Wood-Burning Stove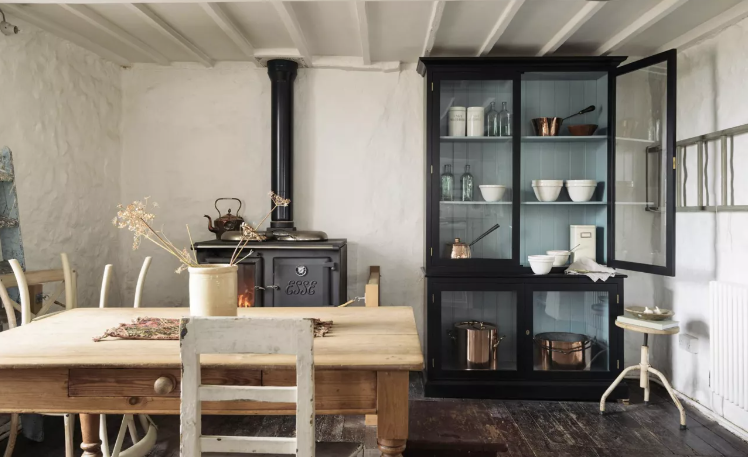 Another appealing country kitchen décor idea would be to add a wood-burning stove to breathe new life into your space. Food cooked on a wood-burning stove has an intense flavor since it requires an artisanal process resulting in tasty dishes. A tiny wood stove will add warmth to the kitchen and make it feel like home. If your kitchen also serves as a social space, then a wood-burning stove can be perfect for keeping your friends and family cozy and warm throughout the evening.
17. Source Reclaimed and Antique Pieces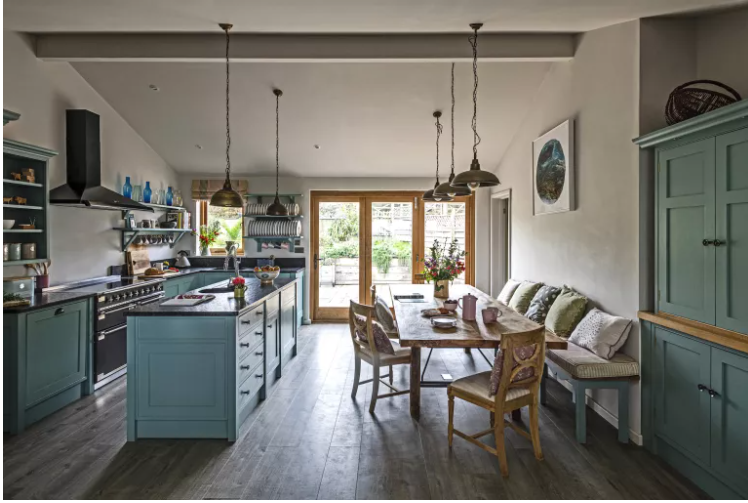 The best thing about creating a countryside kitchen is that you are not restricted by contemporary kitchen design parameters and can incorporate antique pieces of chinaware, furniture, and fabric into your kitchen design. A country kitchen is incomplete without reclaimed and antique finds, which instantly add character to the space. One of the best ways to incorporate country style into your kitchen is to hang vintage signs that say "Meat Market" or "Fruits and Vegetables." You can easily find them at your local antique store.
18. An Antique Finish Round Table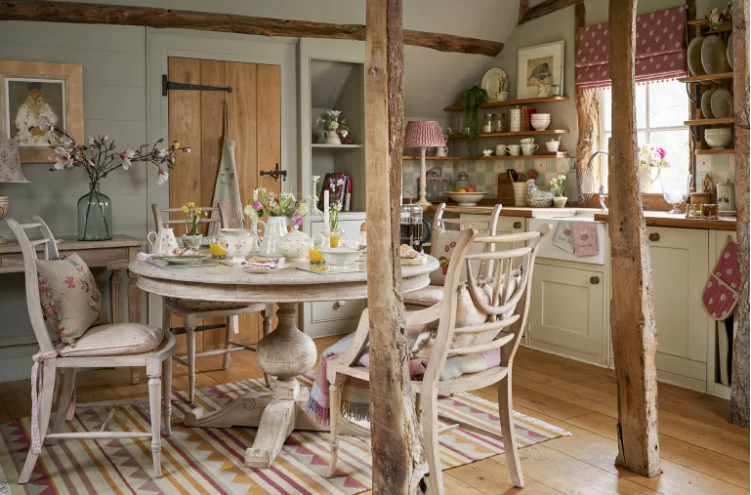 A country kitchen should be welcoming, cozy, and inviting. A great way to achieve this is with the help of a small antique finish round table with many chairs dressed with cushions. Try to create the impression that the kitchen has evolved over time by matching and mixing various fabrics, tableware, and furnishings. This will give the impression of a kitchen that has been built up over time and not instantly.
19. A Traditional Range Cooker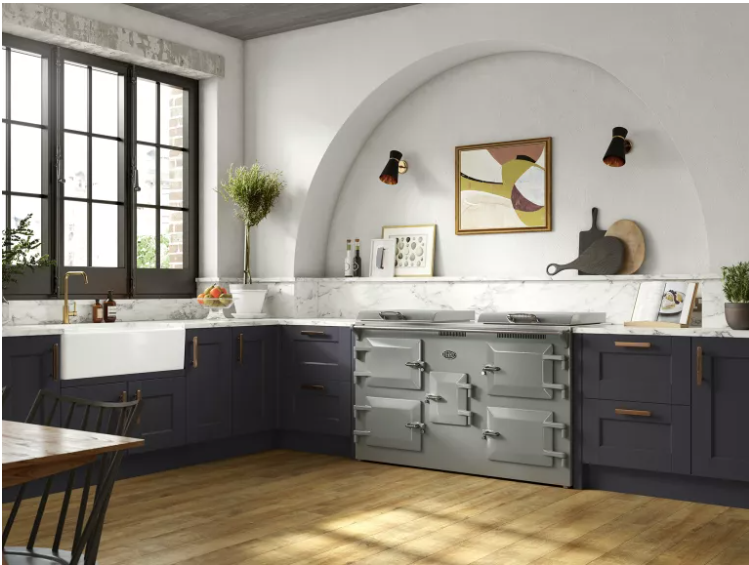 Another great addition to your country kitchen can be a traditional range cooker. You can place a restored cooker with modern electrics and a vintage exterior in your kitchen. These are cheaper than buying new ones and will give your kitchen that signature vintage look. If you're worried about energy costs, you can buy a cast-iron range that comes in a wide variety of formats and even includes state-of-the-art induction hobs and fan ovens.
20. Mix Different Finishes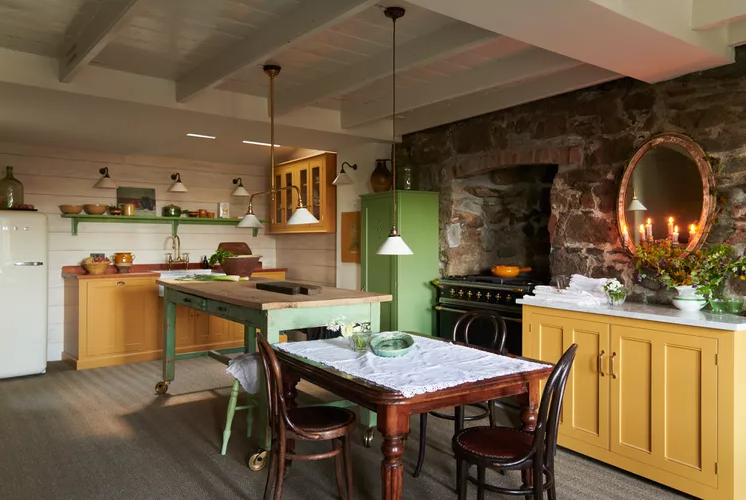 One of the best things about country kitchen décor ideas is that you can experiment with the look, feel, and textures of your space. You can mix rustic wood plank flooring with original stone walls and painted paneling on the ceiling and walls. To elevate the rustic look, you can place a wood dining table next to the wood butcher block-topped island. You can also go with a black-and-white motif on the countertop and light and primary colors on the walls.
21. Crocks and Pottery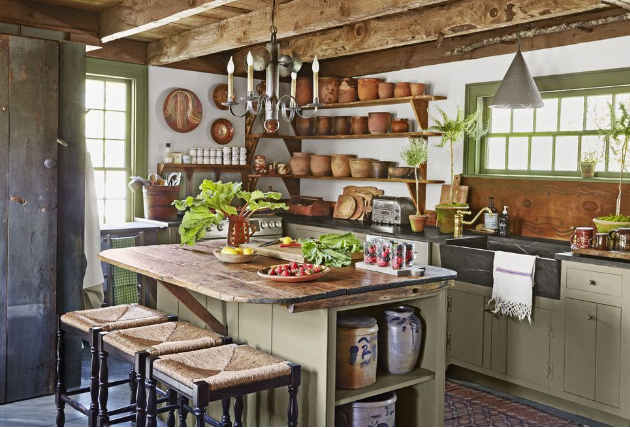 You can't visualize a country kitchen without a crock and pottery collection on display. You can buy handmade, custom, or unique pieces from your local store. They will instantly add a rustic vibe to your kitchen and make it look authentically original.
Conclusion
We hope these country kitchen décor ideas would have inspired you to create your own country-style kitchen. Forget the expensive-splash paint artwork and flashy red appliances and introduce the natural and minimalist vibe of the countryside into your kitchen.
You just need to select exquisite materials, finishing touches, and appliances that embody this design style, and you'll be able to turn the vision of your dream kitchen into reality.
Frequently Asked Questions
How Can You Achieve the Country Kitchen Look?
To achieve the country kitchen look, go for shaker-style or timber cabinetry and install stone or natural wood flooring. Introduce vintage homewares like vintage chairs, tables, or wall sconces and color-match the surfaces and floor.
What Cabinet Styles Should You Choose for Country Kitchens?
Symmetrical, clean lines of the shaker are an ideal choice for the country kitchen. Beaded cabinet doors and ones with intricate pelmets can also be used to create a Georgian manor house feel. Wood cabinets are also growing in popularity these days.
What Colors Can Be Used in The Country Kitchen?
Dark colors like olive greens, black and deep grey are in trend these days for the country kitchen. They are well-suited for a grand country house. Neutral colors work more effectively in rural settings like larger barn conversions and cottages.
What Kind of Lighting Can Be Used in A Country Kitchen?
Large lamp shades or chandelier styles hanging from bare wires work best in a country kitchen. You should also choose warm-toned lights to create a relaxing atmosphere.
Other Articles