Are you planning to throw a baby shower for your friend but don't know where to start? If yes, look no further because we have all kinds of out-of-the-box associated with baby girl themes for your little girl inspired by books, colors, and fashion. Discover creative ideas to plan for your friend to make her day special and memorable.
You can celebrate the birth of a girl child with these awesome themes and leave your guests astounded with the decoration inspired by this innovative yet simple list. 
To make your planning process seamless, we have compiled a list of the 20 best themes that will leave you with a memory you would want to hold on to forever. 
1. Unicorns and Rainbows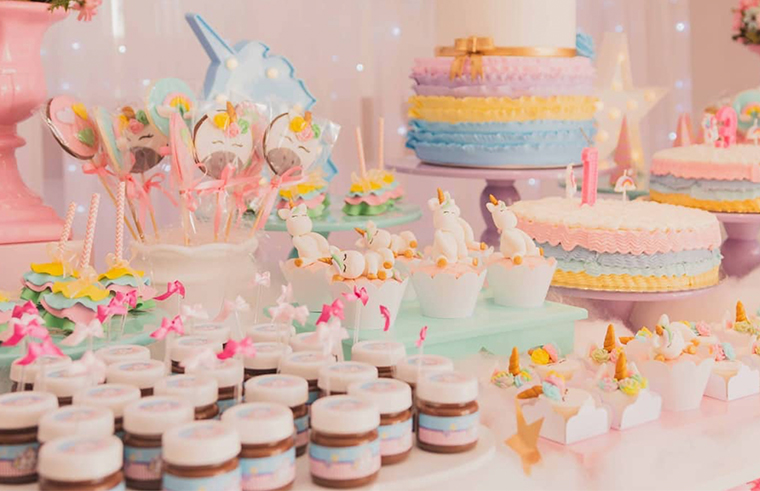 Is anything cuter than unicorns and rainbows? Of course not. Just imagine a rainbow backdrop, A tinsel skirt decorated table, a unicorn cake pops with edible glitter, a photo booth with unicorn props, and rainbow balloons.
Don't you feel wow? So throw this fantasy-themed baby shower for your sister or friend and give them a memory for a lifetime. 
Similar Post: 15 Stunning Accent Tiles in Shower Ideas for Your Bathroom
2. Pastel Colors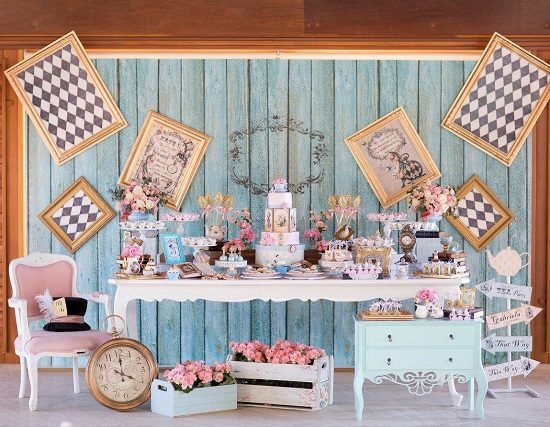 Want to throw the best baby girl themes shower for your friend? Does mom-to-be like soft and pale colors? If yes, then nothing can beat the pretty pastel theme.
It is a beautiful color palette with soft and vibrant colors applicable to every item, from food and drinks to party favors. To make the shower elegant and eye-catching, keep the same color scheme throughout the party.  
3. Rose All Day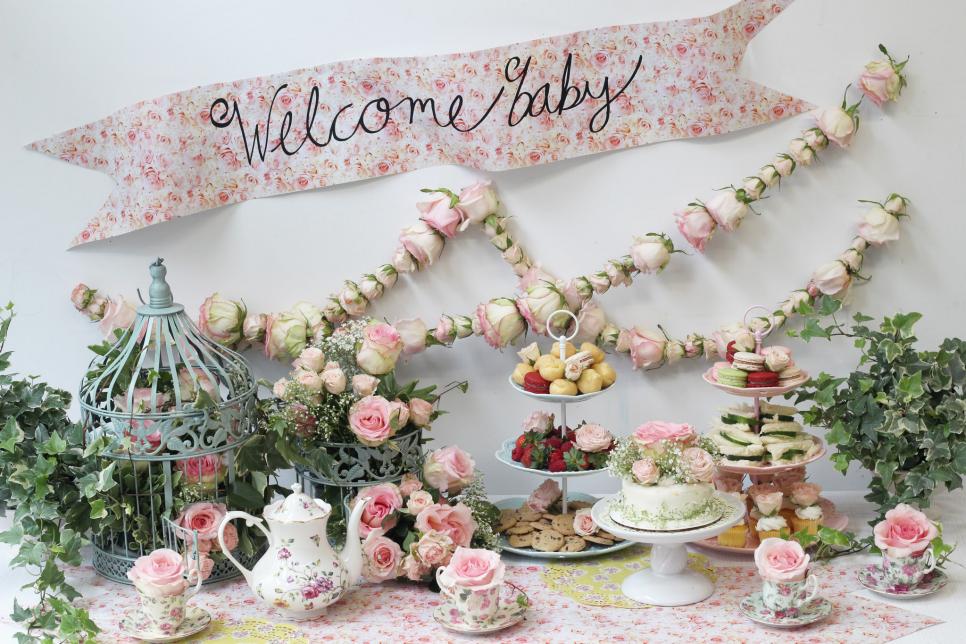 Does the mom-to-be prefer an outdoor shower? If yes, you can always go with the classic rose theme because they are never out of style and represent everlasting love.
You can burst the decor with different colors of roses, from blush pink to pearl white to timeless red ones. Make it a fun shower with DIY Flowery crafts. 
4. Pretty Ponies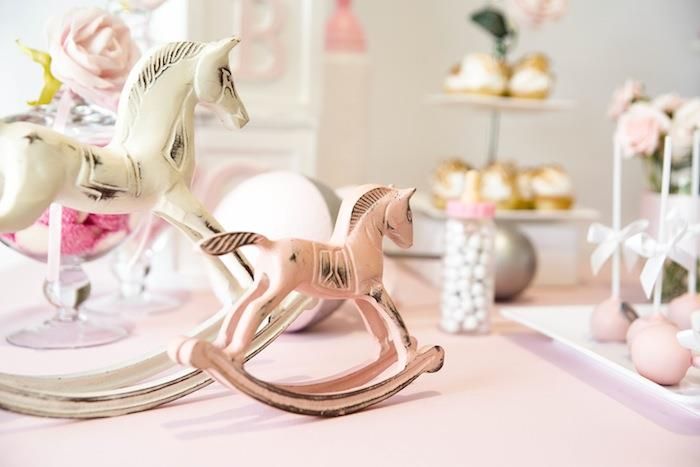 Is the mum-to-be obsessed with horses? Does she live on a ranch? If yes, then you can throw her a pony theme baby shower. Cowgirl attire and pony decor are all that she wants for her special day.
You can add the carousel ride to make the party more fun. You can also make pony-shaped cookies and give them to your guests as party favors.
5. Paris Themed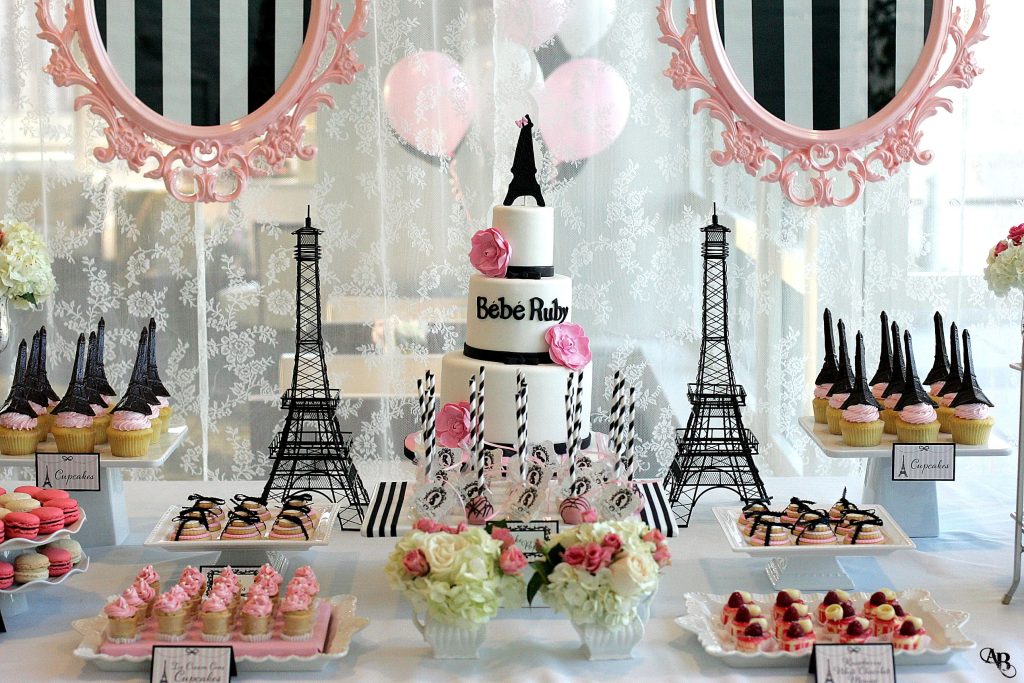 Who doesn't love the charm and glam of Paris? Nothing is as pretty and lively as this city.
Throw your pregnant friend an elegant and beautiful baby shower with Paris-themed decor, Effiel tower cookies, and of course, croissants.
When it comes to dressing, it has to be fashionable because its Paris. This party is incomplete without macaroons party favors.   
6. Mad Hatter Tea Party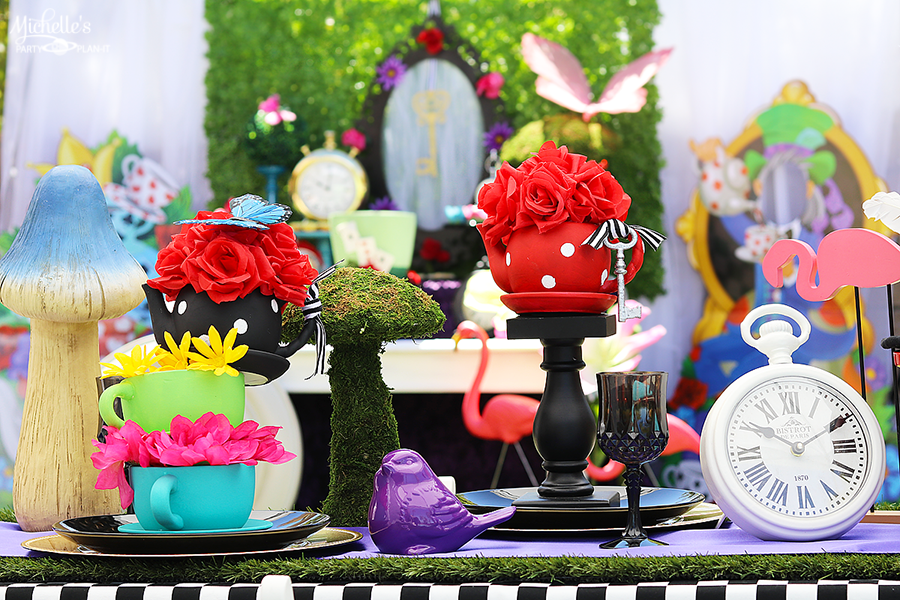 If you want the baby shower to turn out as an unforgettable event, then consider mad hatter, inspired by Alice in Wonderland, which can be a perfect match for you.
Welcome the child into this "mad, mad world" in a fun and joyful way. Embrace the magical feel of this party with goofy cakes and props like magical hats or wands. 
7. Berry-Sweet Baby Shower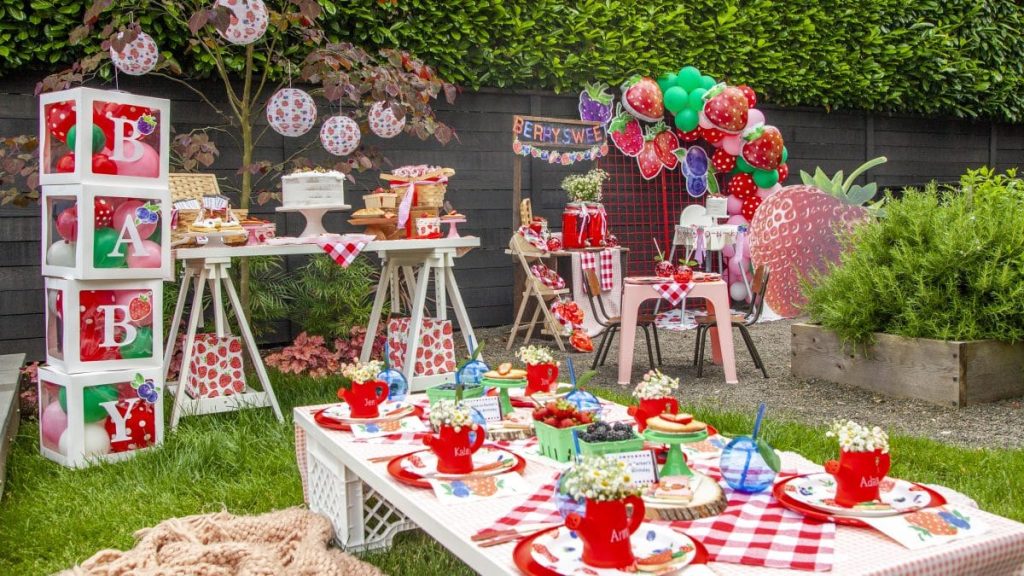 Do you want the baby shower to be filled with fruits and juices? If So, then this berry-sweet baby shower theme is perfect for you.
You can consider placing juicy fruits in colorful jars, or tumblers complemented with balloons and props like false fruits to complete the decor as well.
Savor the sweet moments of the baby shower with this sweet plus fun-filled decor idea. 
8. Ready-to-Pop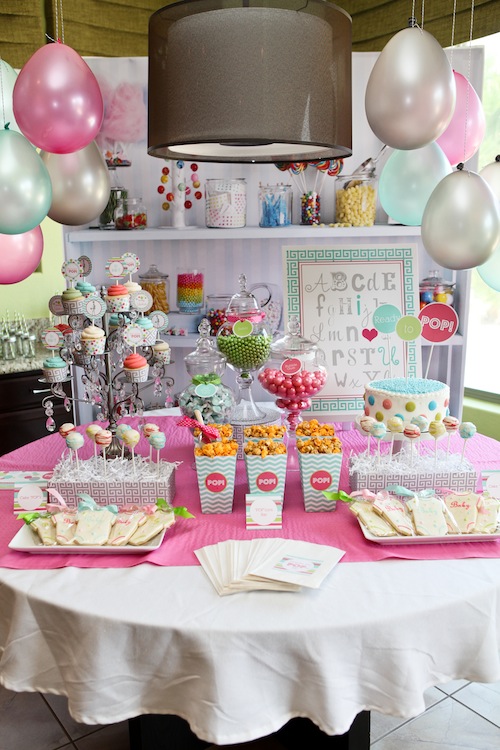 Every pregnant woman feels like she is going to pop any minute during the last months of her pregnancy time period. Does your pregnant friend feel the same?
Throw her a ready-to-pop-themed baby shower for a fun and popping evening. Decorate the room with things that pop.
You can bring this theme alive by adding food like popcorn and cake pops to drinks like a popped punch, and don't forget to give out popcorn boxes and mini champagne as party favors.
9. Breakfast at Tiffanys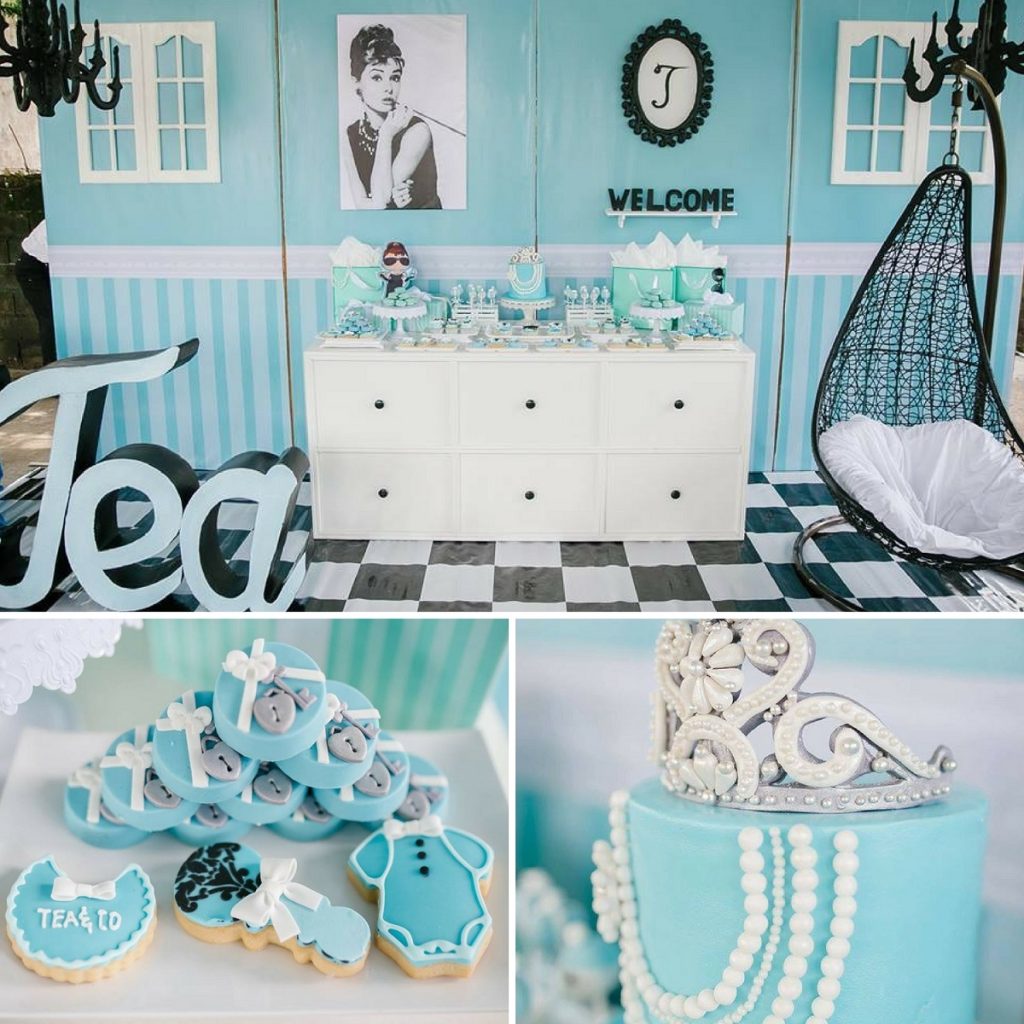 Are you thinking of throwing a baby shower for your friend that has to be a sophisticated soiree? You can definitely consider breakfast at Tiffany's theme to achieve this motive.
Just like the movie, your guests will love this elegant and graceful affair. Surprise your guests with a delicious breakfast and fabulous party favors, and this will be an affair to remember for years to come. 
Also Read: 11 Outstanding Bathroom Floor Plans with Walk-In Showers
10. Pretty Princess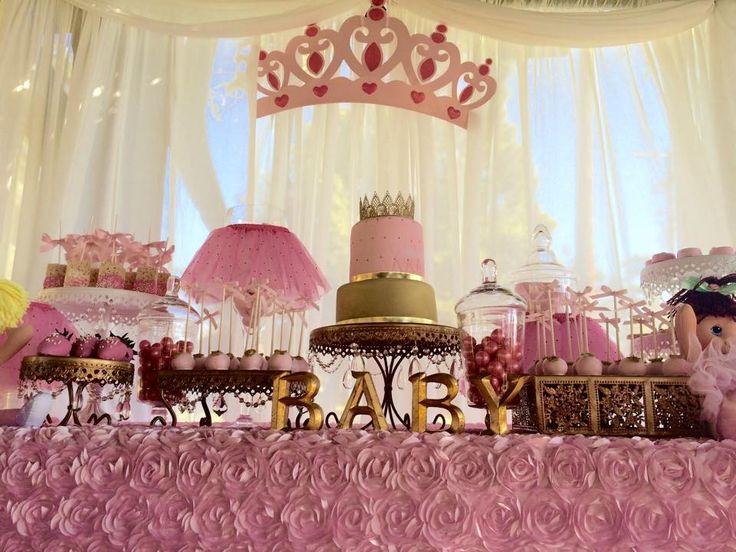 There is no bond as pure as that of a mother and daughter. Celebrate the beginning of this natural yet beautiful journey of the mother-to-be and her sweet little baby girl who is going to come into her life with this pretty princess theme.
Bring the angel energy with everything pink monochromatic look in your decoration and spread the magic of this surreal decoration that the guests can't help but praise. 
11. Boho Baby Shower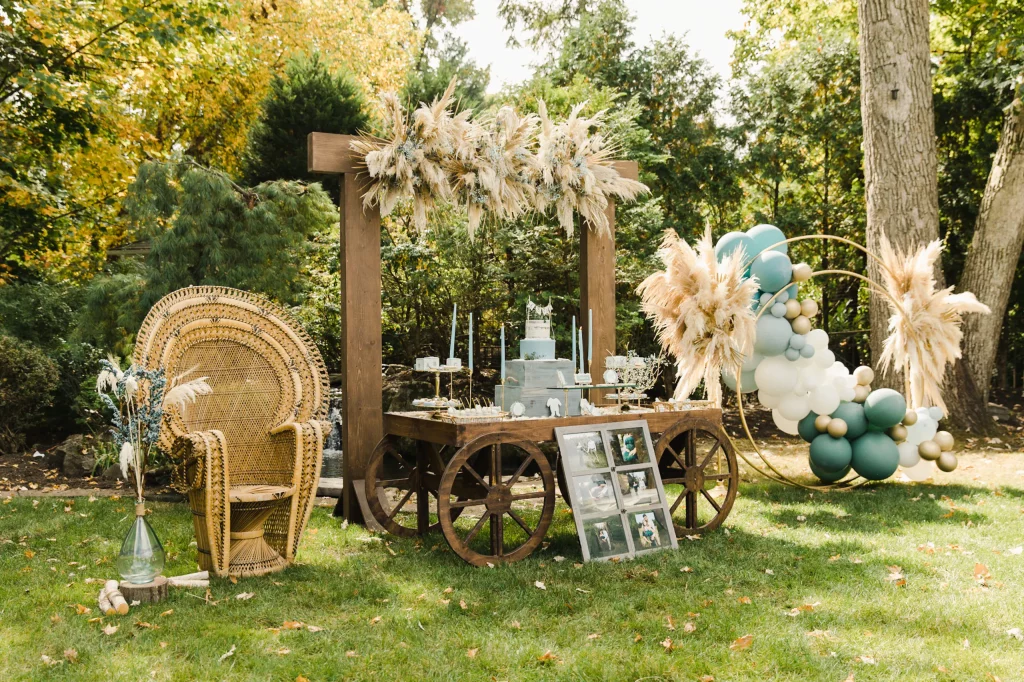 Choose from a variety of boho decorations like pampas grass, neutral centerpieces, fringes hanging overhead, and leather ottomans, and assemble them together.
All these items will complement each other in order to bring the whole boho theme baby shower together. You can throw this baby shower in a natural setting like a garden or a park to accentuate its liveliness. 
12. Alice in Wonderland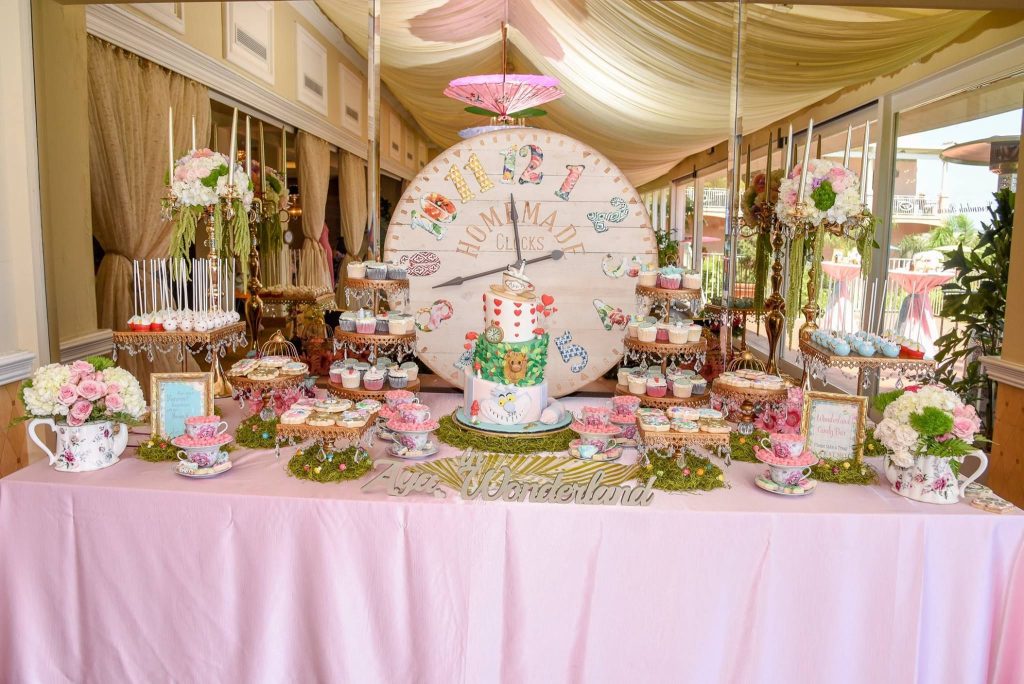 Do you want to make your friend relive her childhood one last time before she steps into the new phase of her life called motherhood? Then, this Alice in the Wonderland theme baby shower is all that you need to consider.
Spread joy among your guests with cartoonist's cakes, donuts, and unreal decorations. Do not forget to play the famous chair game with your guests to do justice to this baby shower theme.  
13. Velveteen Rabbit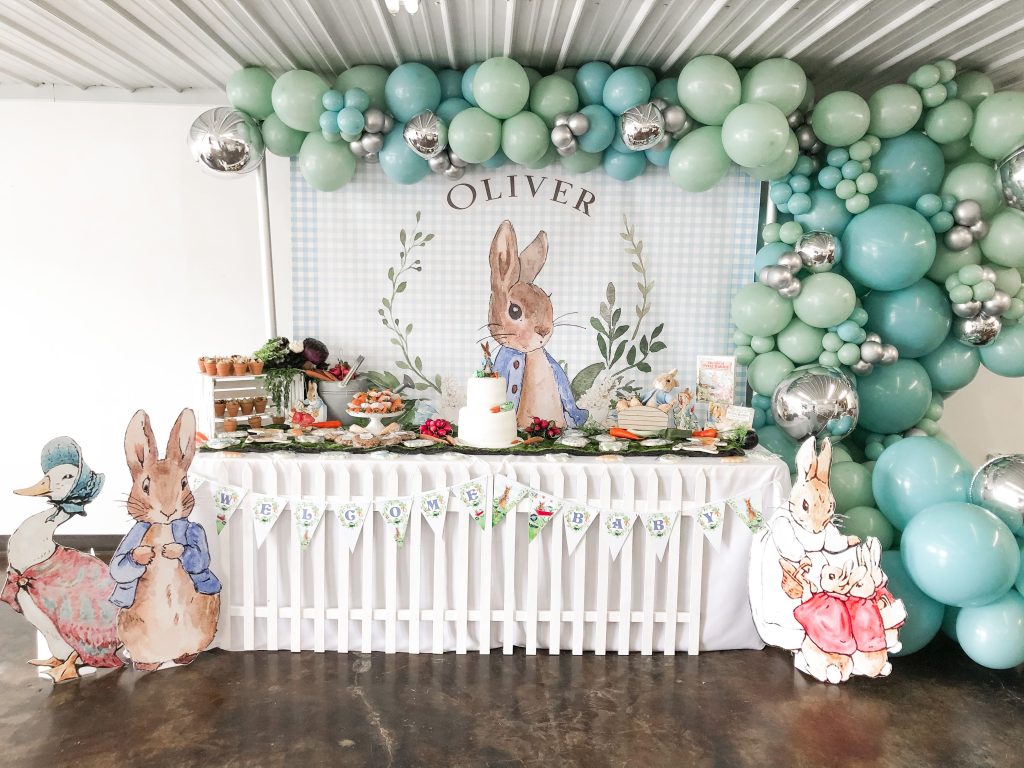 Do you still believe in bunnies or stuffed toys? We sympathize with you. Not everyone wants to grow up when it comes to giving up their favorite childhood stuffed toy.
This baby shower theme is inspired by a similar idea of celebrating the endless love for bunnies.
Incorporate the bunnies in the form of posters or banners in the decoration and help your guests to create a memory they would want to hold on to forever. 
14. Mommy to Bee!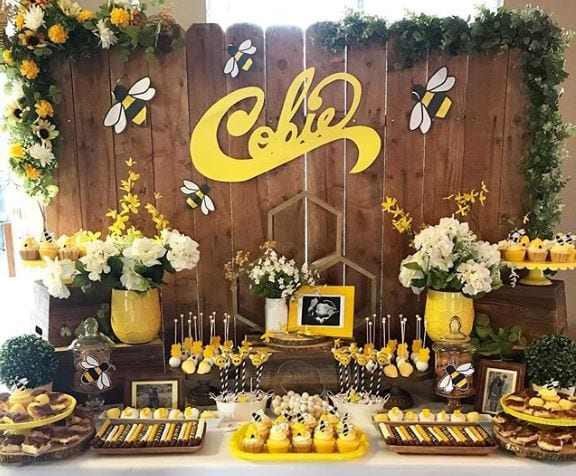 Is the "Mommy to Bee!" going to give birth to a baby girl but not a fan of pink? Are you confused to settle with the shower ideas related to the baby girl themes? This bumble bee-themed shower is the answer to your confusion.
You can use a contrast of yellow coupled with a soft brown tone for a rustic look for decor. Bumble bee cupcakes will be the highlight of your show. Don't forget to give honey jars as party favors to your guests. 
15. Cinderella-Style Celebration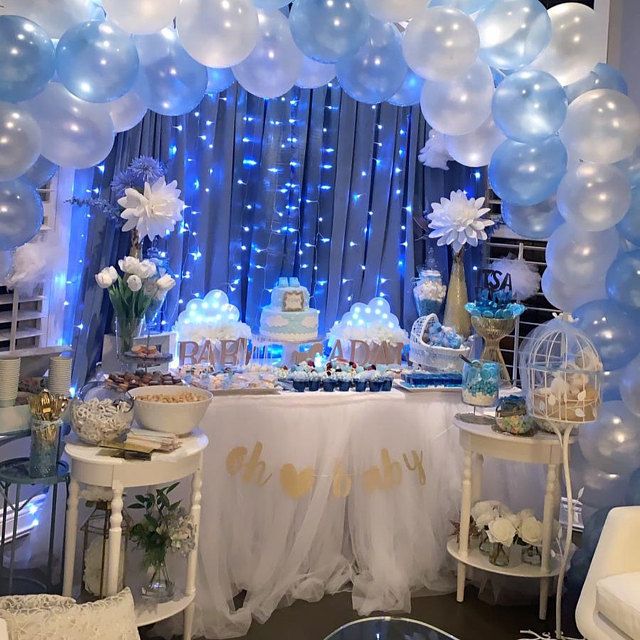 Take your guests on a magical ride with this surreal Cinderella-style celebration baby shower theme idea. Decorating with blue and white balloons along with blue fairy lights would just uplift the whole surroundings.
You can even arrange a magic show at the end of the party to make your guest interact with each other. Also, do not let your guests leave without taking away the handmade blue candies as party favors. 
16. Twinkle Twinkle Little Star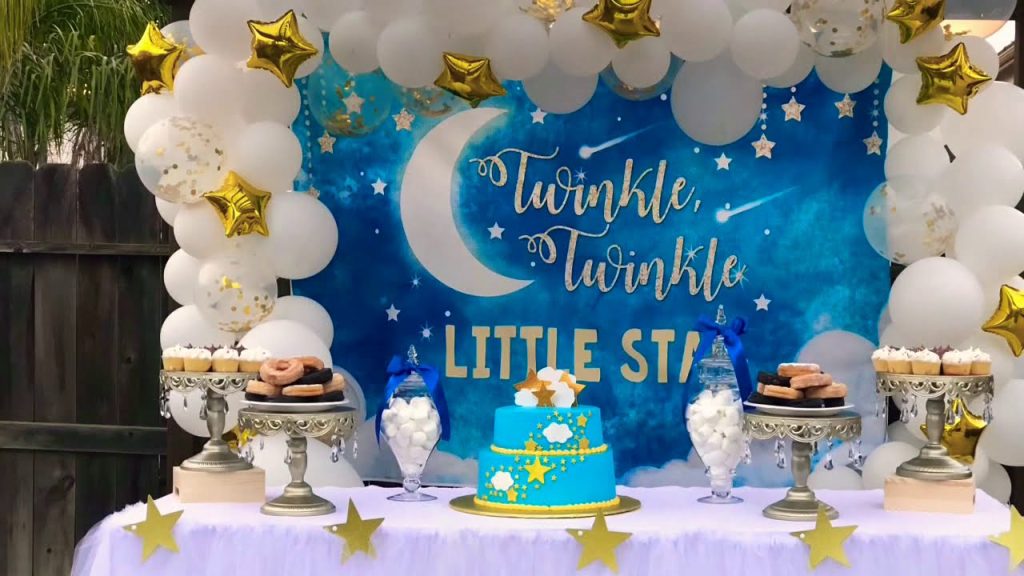 Make your friend feel special about herself and reward her bravery in surviving this roller coaster ride of pregnancy months by throwing this star-themed baby shower.
She is a hero who is going to welcome the star of her eyes in this big-big world super soon. Celebrate this journey with star-like balloons, star-shaped cookies, and a big banner that screams Twinkle twinkle, little star!
Related: 17 Trendy Furniture Ideas to Decorate a Girl's Bedroom
17. You Donut Know How Much You Are Loved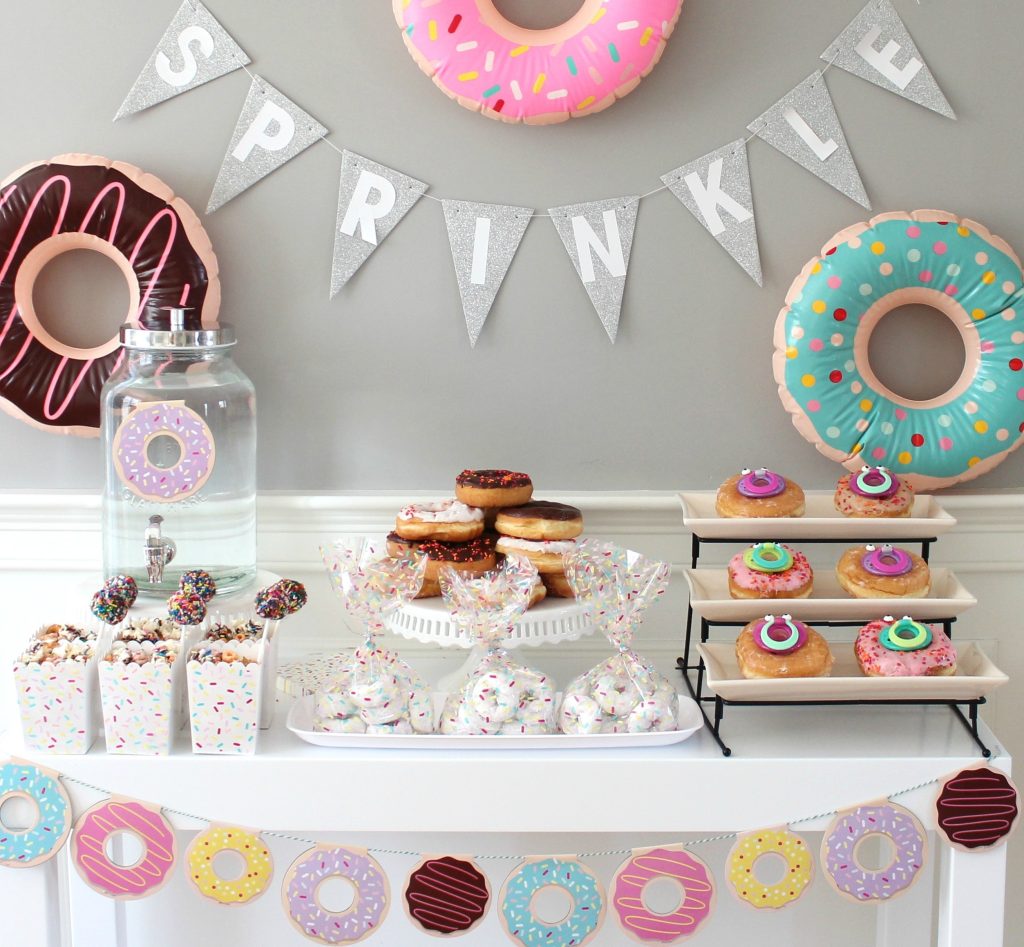 Sprinkle happiness in your baby shower, exactly how sprinklers are thrown on the donuts. Create a cute vibe with a donut-themed baby shower with a splash of colorful donut-shaped balloons, confetti, a variety of donuts to serve for your guests, and many more cozy items.
Also, make sure your guests leave with a smile on their faces and a hand holding a box of donuts to take away as party favors. 
18. Little Pumpkin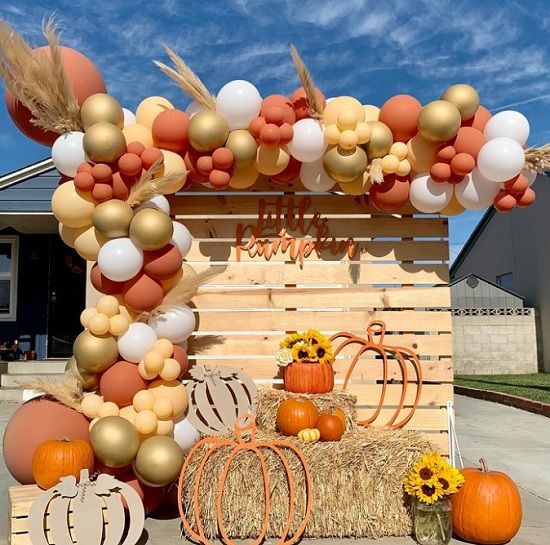 We are sure the mother-to-be can't wait anymore to hold her little pumpkin.
So, to make her time bearable and remind her to wait patiently for her little baby girl to enter this world, this pumpkin-themed baby shower is just on point. Introduce the pumpkin cake to leave your guests astounded and some sunflowers to symbolize fresh starts.
This is one of the best baby girl themes shower idea that will do wonders if organized in a place that receives abundant sunlight. 
19. You Scream, I Scream, We All Scream for Ice-Cream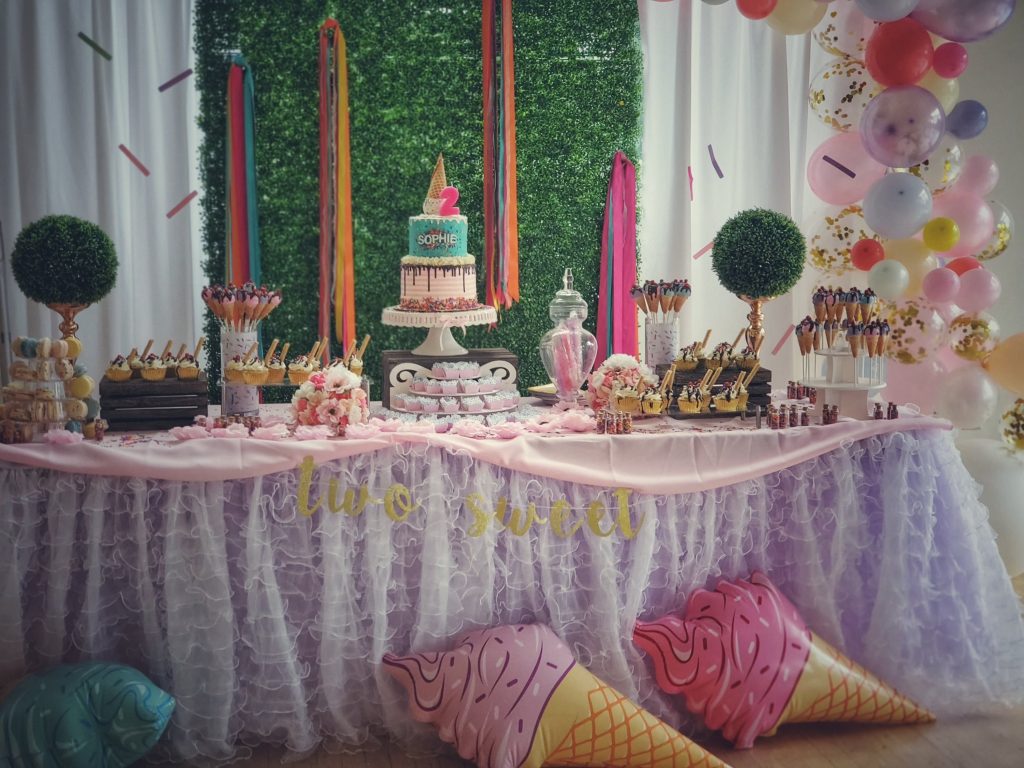 Is your friend going to pop any time soon, and its a summertime? Then what is better than this yummy ice-cream-themed baby shower?
After all, who mom-to-be doesn't like ice cream? Of course, everyone. Let the cake be the highlight of the shower.
Serve mommy-to-be her favorite flavors of ice cream sandwiches. You can hang large cone banners for decorative purposes too. 
20. Teddy Bear Theme Baby Shower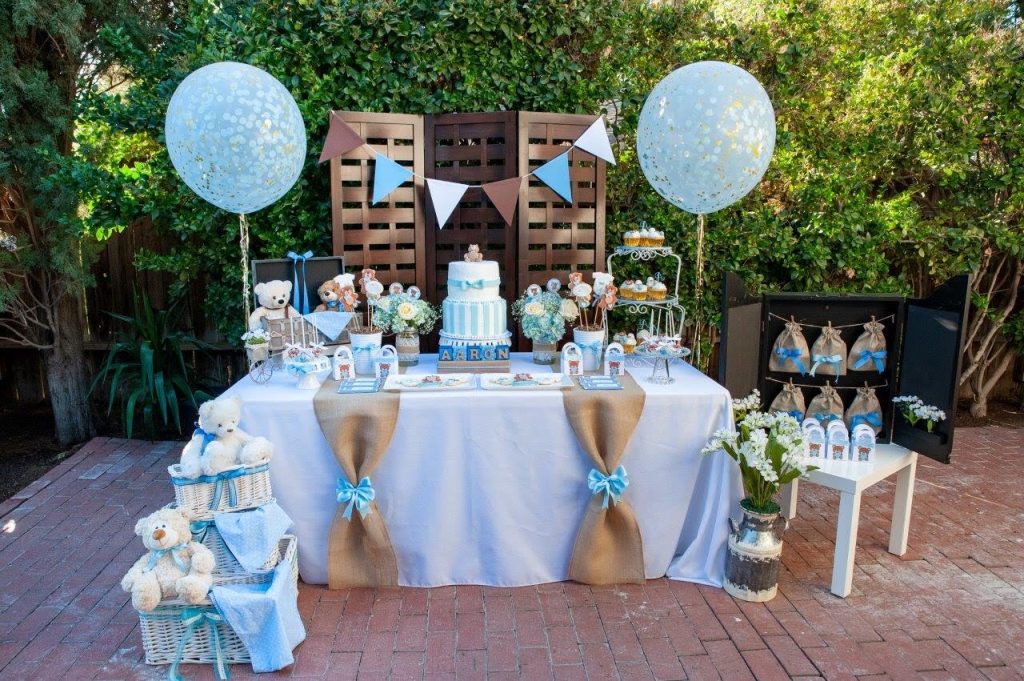 It is all about the little details that we need to pay attention to when it comes to making your baby shower theme stand out.
Consider this oh-so-vintage teddy bear baby shower for your friend to add a day in her life to remember. Work on the little elements and give your personalized touch by introducing handmade chocolates, small goodie bags, and balloons filled with confetti.
You can even put handmade cards that have some suggestions for the baby's name. 
Check This Next: 10 Beautiful Walk-In Shower Tile Designs for Your Bathroom
Conclusion!
It is such an exciting opportunity when it comes to throwing a baby shower with perfect baby girl themes for your friend anyway. But it is also a challenge for you to make her day special and memorable that she wouldn't be able to forget ever.
No one can ever understand the feeling of giving birth to a child, and every woman deserves to be praised for her bravery. The journey of every mother-to-be is quite unique in its own way, and it is our duty to stick with her during those times.
Being the friend of a mother-to-be can teach you a lot of things as well. And perhaps you are as much excited as she is for her baby to enter this world. 
Whether you are planning to throw a grand baby shower or looking forward to keeping the celebration minimal with your loved ones, we are sure you must have found the ideal pick by the end of this list.
Channelize your excitement in organizing a fun-filled baby shower for your friend and support her in this hard but worth it journey. 
Do not wait any longer, and get the party started!
Frequently Asked Questions
What Are the Most Important Things At a Baby Shower? 
Baby girl themes showers can include everything that a mom-to-be wants and can completely go beyond the pre-set norms! You can pick any theme for the baby shower but do not forget to pay attention to the yummy food, as that is what helps to release serotonin and make the guests happy. 
What is the Ultimate Checklist for Planning a Baby Shower? 
There are many important things that one may skip while organizing a baby shower, so it is suggested to make a checklist before. Some of the responsibilities include preparing a guestlist, deciding on a venue, sending out invitations, selecting the theme of the party, planning a yummy menu of food and drinks, ordering a cake as a center of attraction, and many more. 
Other Articles