20 Best Patio Firepit Ideas to Transform Your Outdoor Space
Is the Patio your favorite place to chill? Of course, but it feels like something is missing. You can add a fireplace to make your outdoor setting more inviting and cozy. Permanent or portable,...
Is the Patio your favorite place to chill? Of course, but it feels like something is missing. You can add a fireplace to make your outdoor setting more inviting and cozy. Permanent or portable, choose according to your needs. It will be a nice place to gather around chit chat with all those guests coming over. It is a perfect place to enjoy those cold winter nights with your partner and hot chocolate. 
You can make the most of your outdoor space by adding any fire pits mentioned in the list below to your Patio. 
1. Rectangular Pit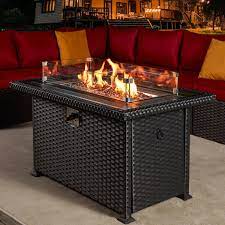 Do you like to entertain guests in open spaces? But your Outdoors is missing that charm. So add this rectangular fire pit to your Outdoor living space with this L-shaped sofa with built-in seat backs and see how it turns your Patio into your favorite place for you and your guests to hang out. It will become the focal point of your deck. 
2. Large Stone Fire Pit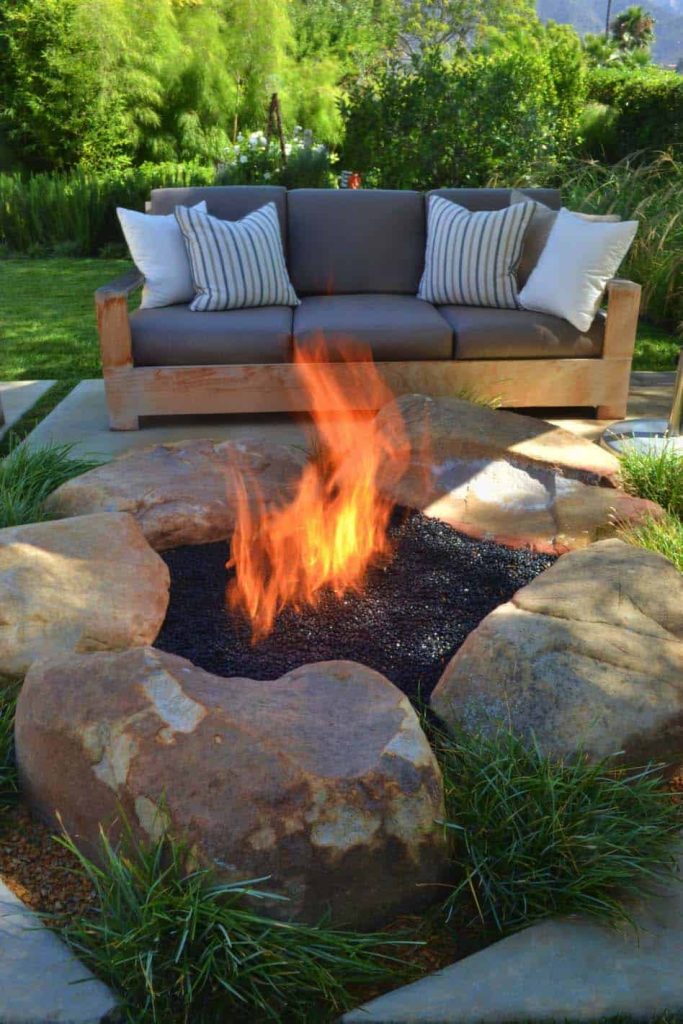 Are you looking for a fireplace that matches your bold rock outdoors? If yes, this large stone fire pit will complement your rocky outer space. This fire pit is not made up of perfectly laid Stones one above the other. Instead, it is made of large uneven stones laid side by side, creating a border on a dug hole. This adds a rustic charm to your Patio. 
3. Stone Fire Bowl Pit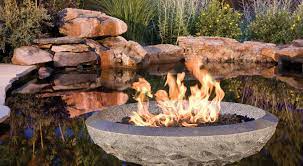 Looking for an elegant fireplace for your modern Patio? If yes, this stone fire bowl is a suitable alternative to traditional fire pits. It will add warmth and grace to your outdoor living space. Moreover, you can mount decorative lava rocks on the fire bowl to give it a dramatic effect. So now you can enjoy your summer nights with your friends and family in the open air.  
4. Outdoor Composite Fire Pit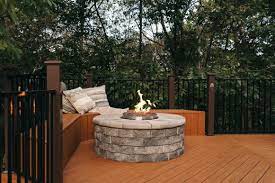 Do you want a fireplace matching your surroundings? If yes, the outdoor composite fire pit is your answer. You can make it from the same paver rocks used in your Patio. If you have a larger outdoor setting, build it in the middle of the lawn, and if your deck is smaller in space, round your fire pit. It will create a cozy area around the firepit.   
5. Concrete Wall Blocks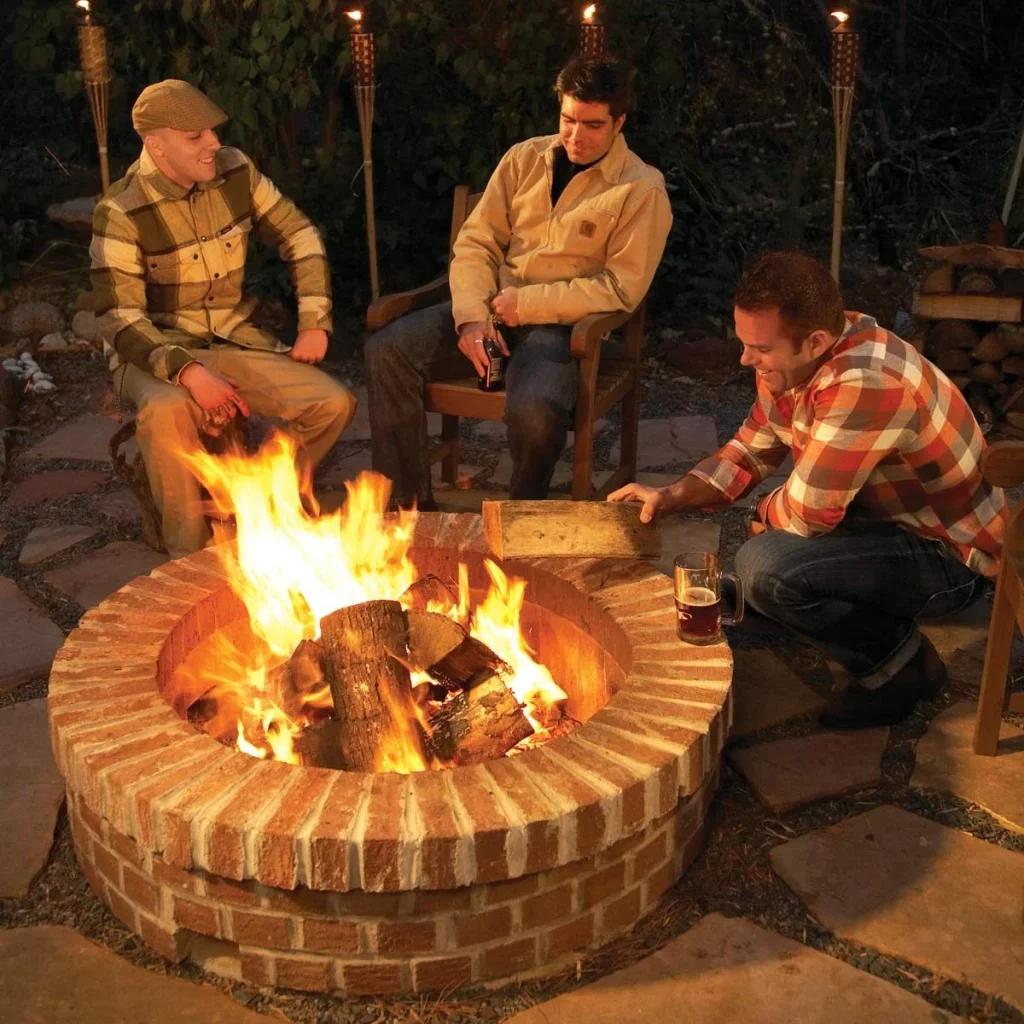 Doesn't want to spend money on a fireplace? Then don't because we have a perfect budget-friendly fireplace for you. These concrete retaining wall blocks will make a beautiful firepit for your Patio. You can make it yourself if you want, and moreover, you get a fire pit that looks more expensive than it is after assembling. 
6. Barbecue Grill Fire Pit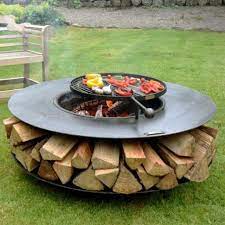 Want a firepit that can be used for barbequing? This multifunctional barbeque grill fire pit is what you need. It is a perfect way to enjoy food outdoors with your friends and family on those cold winter nights. Of course, if you want a permanent one, you can go for a built-in fireplace, or if you like camping or simply don't want a fixed fireplace, you can always go for the portable one. 
7. Glass Fire Pit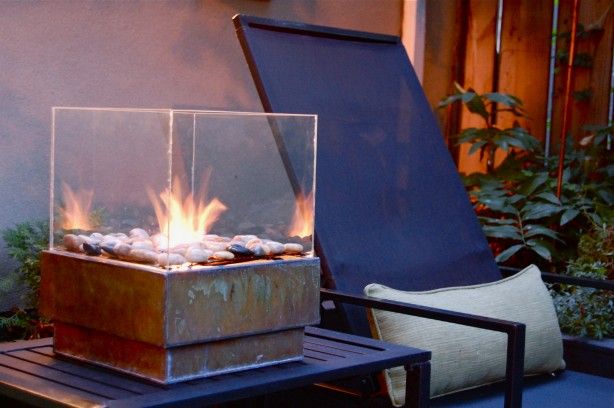 Pull out that metal planter from your junkyard because we have some other plans for it. You can convert it into a glass fire pit, making your outdoor setting attractive and alluring. All you have to do is glue four glass sheets to the metal planter, fill it with pebbles, and your firepit is all set in no time. 
8. Tyre Rim Fire Pit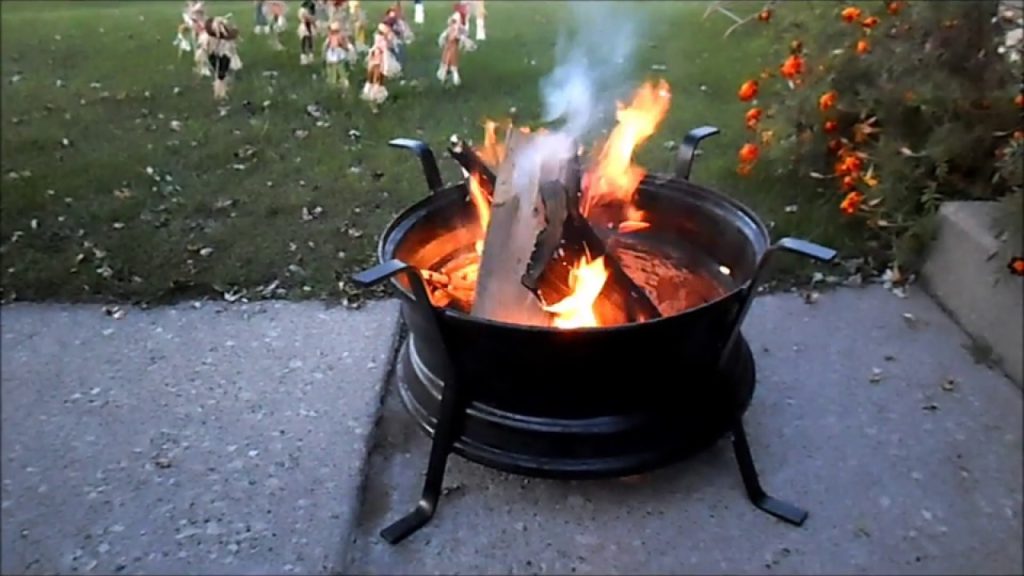 If you have your hands on a Tyre rim, you can make an aesthetically pleasing fire pit out of it. Just place it on a sand bed and line the border with wall blocks and stones. You can fix it at a place or can make it moveable. It is the easiest and most inexpensive way to beautify and enjoy gatherings in your Outdoors.  
9. Propane Fire Pit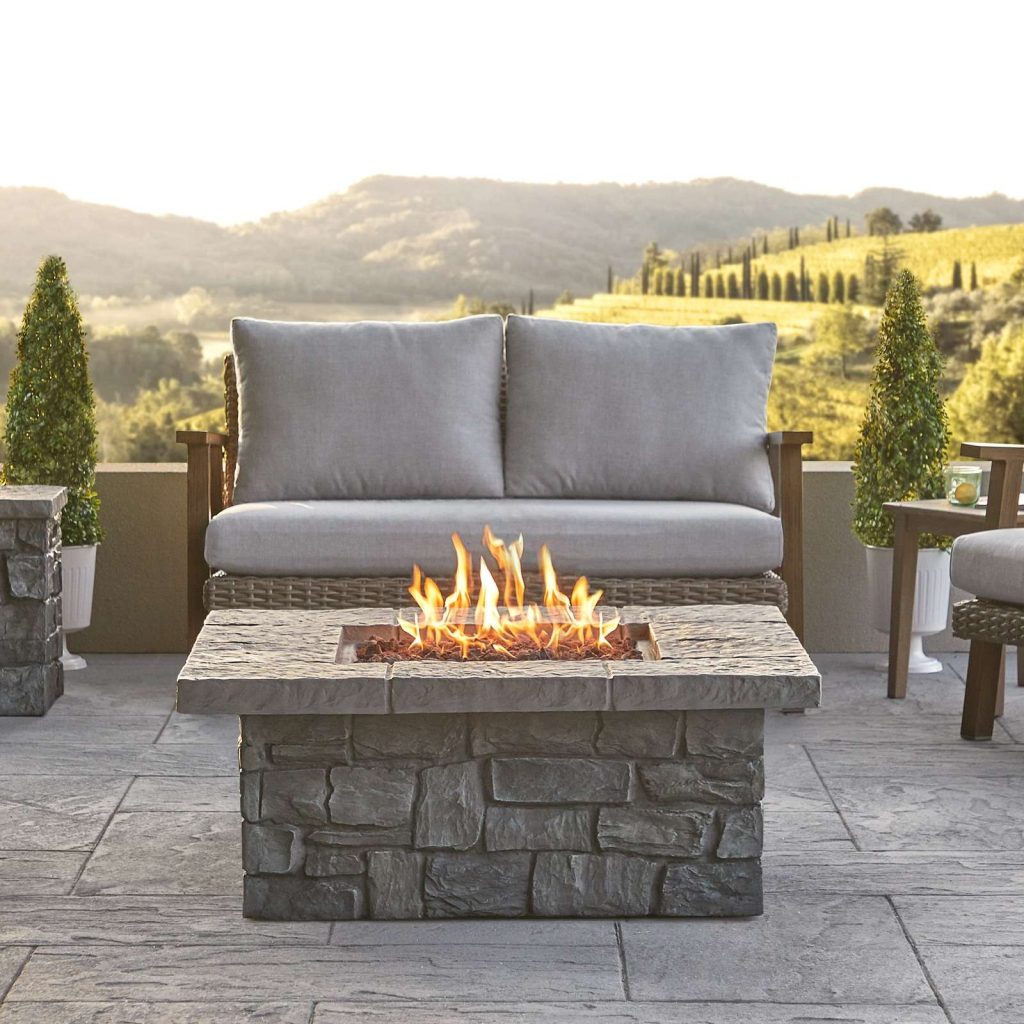 Do you want to install a fireplace in your outdoor setting but are worried about the safety of your kids? If yes, Then the propane gas fireplace is your safest bet. It has no open flames, which will protect your children from accidental burns. It is also a cheaper and low-maintenance alternative to those traditional wood-burning fireplaces. 
10. Prefabricated Fire Pit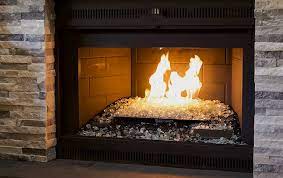 Are you looking for a fire pit that doesn't require any masonry skills for installation? Then this is your go-to fireplace, as it is factory manufactured that arrives in a finished ready-to-install state. Not only this, it is not high maintenance like those traditional fireplaces. It has become very popular among people in the last 15 years because of its easy accessibility and versatility. 
11. Sliced Boulder Fire Pit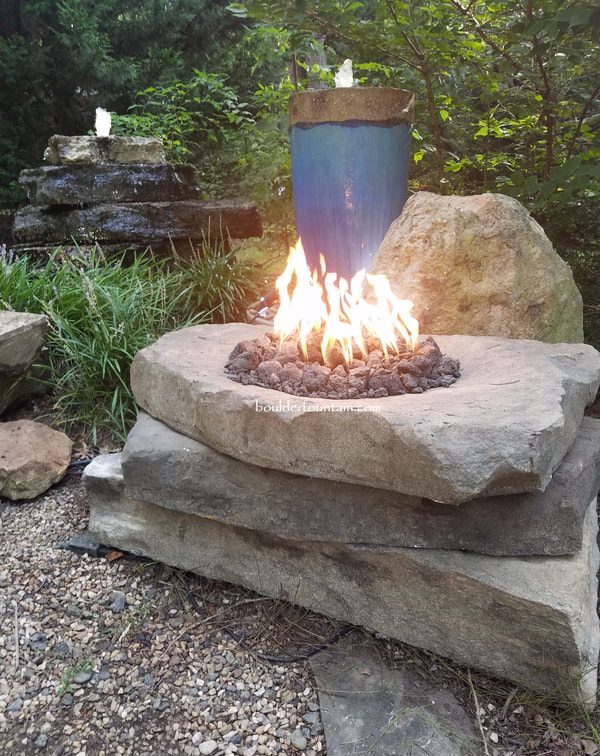 An unconventional fire pit is what you want for your Patio? This sliced boulder fireplace will add to the unorthodox aesthetics of your outdoor setting. It's like go big or go home. It is made by slicing a giant boulder in half; then, a small part is carved out. The best part is that it will last longer than any other fire pit. 
12. Chimineas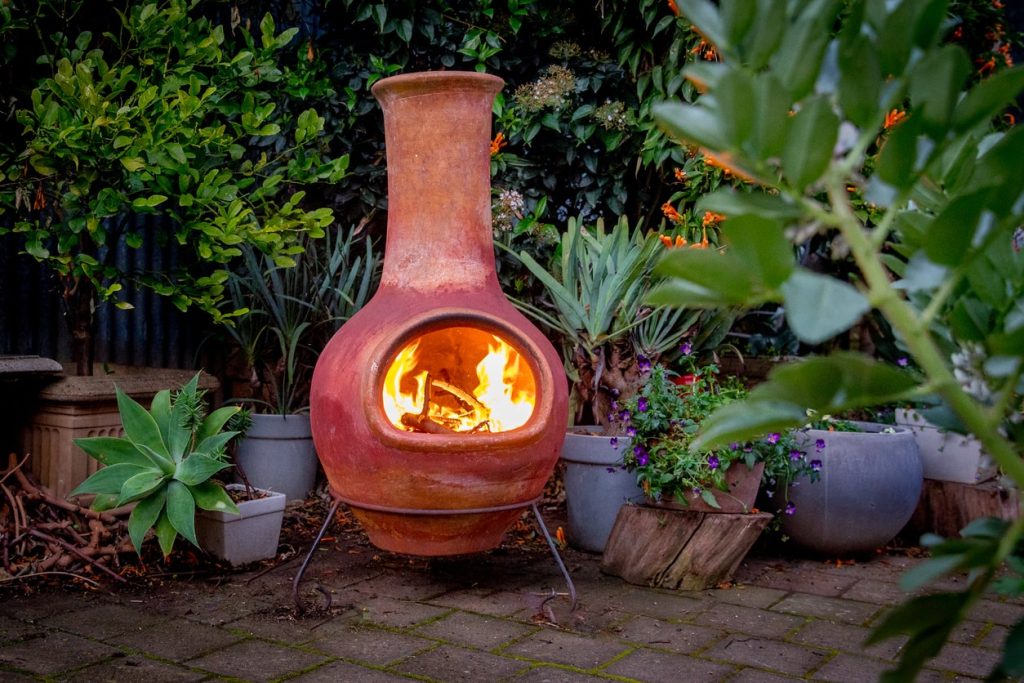 Do you prefer real wood-burning fire over those gas fire pits? Do you have a smaller outdoor space? If yes, then these partially enclosed chimeneas are your best choice. So enjoy the warmth of the real wood-burning fire with your friends and family. Choose the shape, design, and material according to your space and decor.   
13. Fire Columns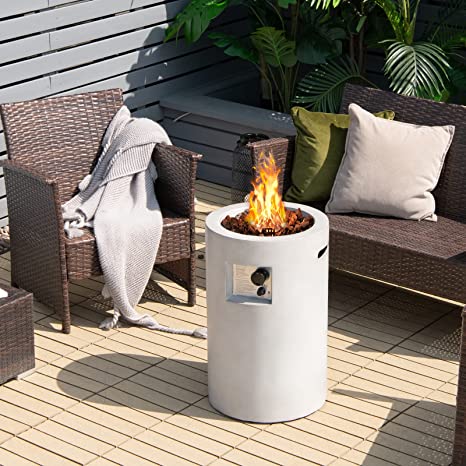 This is a portable and nontraditional fire pit. This fire column will match your taste. It is an excellent alternative to those conventional fire pits. The best part is it is available in various styles, from sleek and shiny metals to rustic stone, if you want it to blend in with your surroundings or stand out. Choose whichever suits your taste and the exterior of your Patio. 
14. Smokeless Fire Pit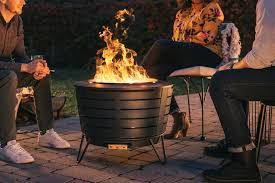 Are you allergic to smoke but enjoy the warmth of fire pits on those harsh winter nights? If yes, then this smokeless fire pit is made for you. Now you can sit for hours and enjoy cozy romantic nights with your partner without worrying about your allergies acting up. This is the best alternative for you available in the market. 
15. Washing Machine Drum Fire Pit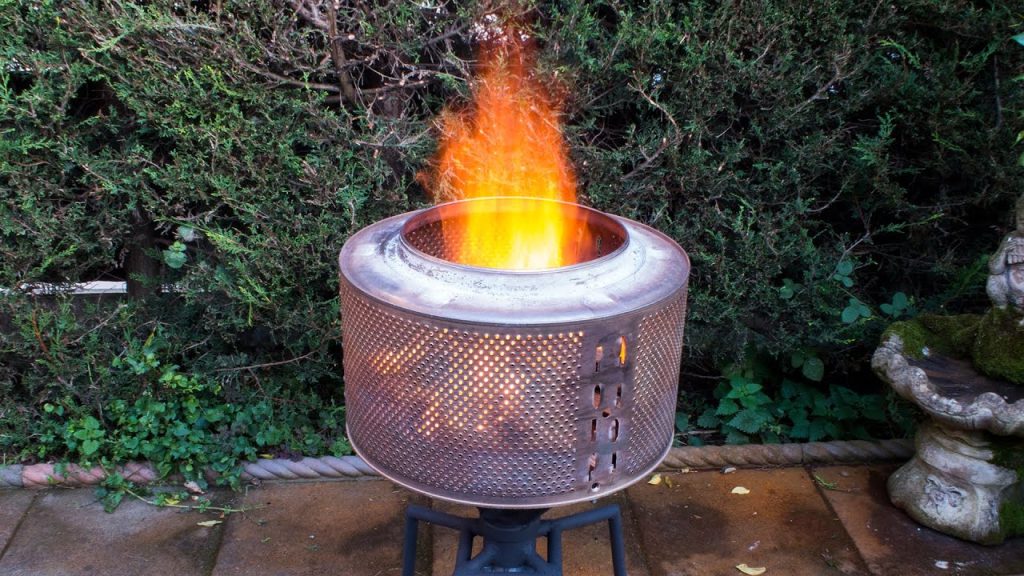 Has your washing machine run its course? Then don't throw it away in the junkyard because it can be beautifully repurposed. All you have to do is stick four wooden legs underneath it for stability, and you have got yourself a fire pit with no extra cost. You can place it anywhere on your Patio and enjoy the gathering in warm surroundings.
16. Koi Pond Fire Pit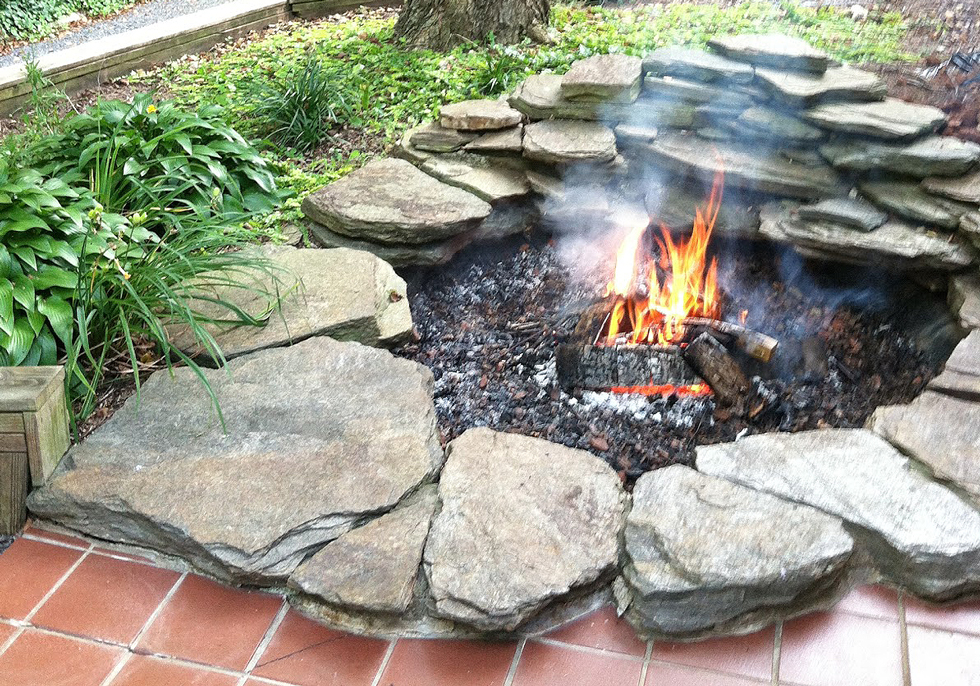 Do you have an unused Koi pond in your outdoor setting and need help with what to do with it? There is an idea! , you can build a fireplace out of it. As it is already lined with stones, only a little work is required in conversion. Just remember to remove all the heat-sensitive material from the pond before using it as a fire pit. 
17. Gel Fuel Fire Pit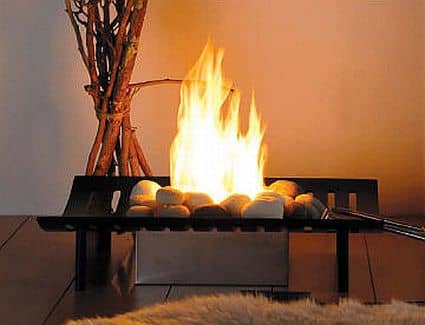 Do you want to install a firepit on your Patio, but is environmental safety got you worried? If yes, you have nothing to worry about because these alcohol-based gel fuel fire pit doesn't emit harmful particulate matter or excessive Co₂ So if you opt for this fireplace, you are making a wise and ethical choice; of course, you can always go creative with them. 
18. Gas Fire Table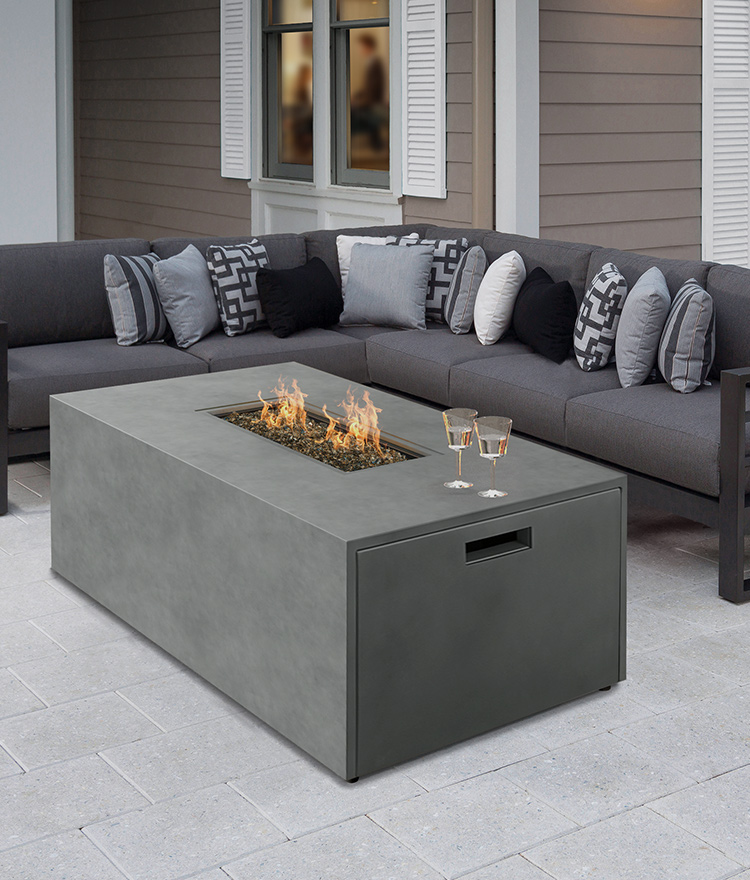 Does your Outdoors have a prominent deck place? If yes, add this gas fire table to your deck. It will add exquisite exterior barriers on the edges. It is an excellent investment if you want something stylish and elegant with realistic flames. It can also act as an outdoor coffee table when not in use. Your home needs this fireplace for those harsh and unpredictable winter nights.
19. Planter Tabletop Fire Pit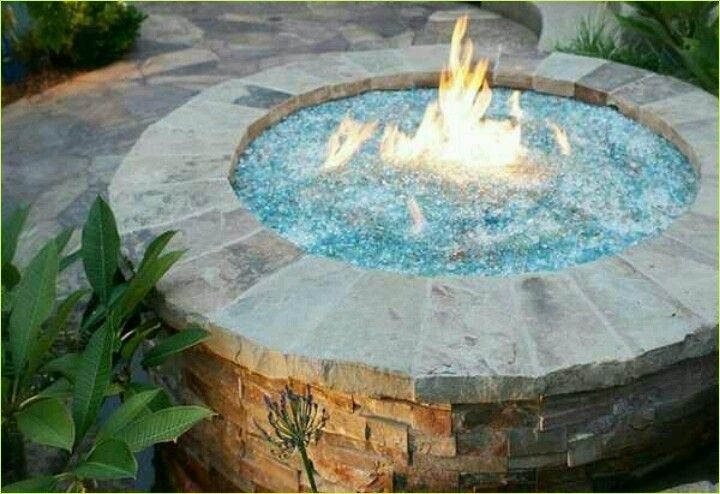 Are you fond of repurposing used items? For example, do you have a tabletop planter that is not in use anymore? If yes, you can fashion a beautiful fire pit out of it. All you have to do is just put some pebbles for the finishing touch, and you are all set to enjoy warm and romantic cozy nights with your partner at no extra cost.  
20. Stonehenge of Bricks Fire Pit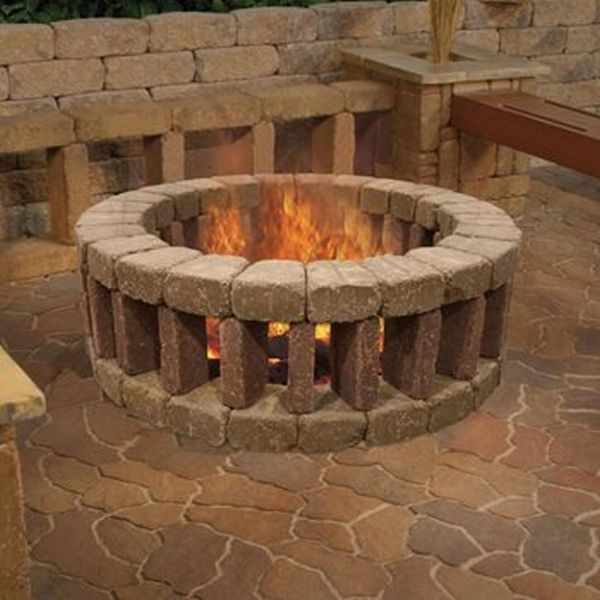 Do you want a fire pit that doesn't require much work and gives your Outdoors a majestic look? If yes, you can make a Stonehenge out of bricks by stacking them like dominos with space after each brick laying on each other. The best part about this firepit is that you can make it yourself without any paid help. 
Conclusion
The listicle above will help you find the right fire pit for your Patio. However, please consider a few factors like design, shape, the material used, and type before falling in love with a fireplace. So please tell us which one of these is the right match for your outdoor setting in the comment section below. 
Frequently Asked Questions (FAQs)
How Much Does It Cost to Put a Fire Pit on a Patio?
The cost of a fire pit depends upon what type of firepit you want. If you want an in-built fire pit, it will cost you around $1000 to $3000 for a project. But if you are looking for a low-cost fire pit, you can go with a washing machine drum firepit,  planter tabletop fire pit, or tire rim fire pit. It will cost you almost nothing. 
What Is the Safest Type of Fire Pit?
If safety is your priority, then never go with a wood-burning fire pit because it is not a safe option, especially if you have kids in your house. Instead, a gas-powered or gel-fueled fire pit is the safest option you can opt for compared to others.
Other Articles