9 Steps to Designing Your Dream Victorian-Style Bathroom
The Victorian aesthetic is one of the most loved design inspirations for bathrooms. Compact, stylish, and luxurious, these bathroom styles are a great pick for anyone looking to bring elegance to...
The Victorian aesthetic is one of the most loved design inspirations for bathrooms. Compact, stylish, and luxurious, these bathroom styles are a great pick for anyone looking to bring elegance to their space. Victorian designs are all about intricate-extensive woodwork, colors, elaborate wallpapers, and lavish ornates.
Today, making a Victorian design bathroom is very easy. With all the advancements in plumbing technology, incorporating Victorian design won't be too difficult. Here are some tips and tricks that will help you achieve your goal. Check out.
What is the Victorian Era, and How Was the Design Back in The Time?
Before we dive into understanding how to make a Victorian Bathroom, it is important we understand what it is and how all of it started. The Victoia Era refers to the years between Queen Victoria's taking on the throne in 1837 to her death in 1901. This era brought changes and stability to the world and saw changes in design and representation. This was also the time when most people started thinking about sanitation, and toilets moved from common usage to private ones in homes.
Back in the time, many people were trying to experiment with design and usage. Some very prominent features of the Victorian Style bathrooms were that they were sophisticated and compact. Most designs featured dark, rich, and bold colors with simple yet luxurious elements. While it was very difficult back in the time to make everything work, it has gotten better right now.
Here is an easy guide that will help you give your bathroom a Victorian look you are looking for.
1. Choose The Tiles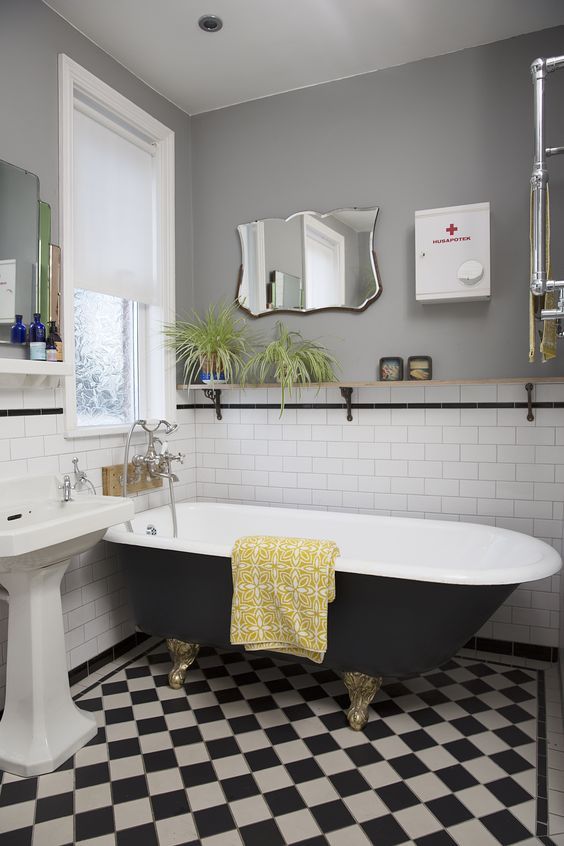 The first and foremost thing to do when creating a Victorian-style bathroom is to choose the basic decor. That includes figuring out the color scheme and the tiles. People in the Victorian era liked rich, colorful schemes. Ornate tiles were the first choice that were either spread across the bathroom or put on one part to break up the heavy space. 
You can choose good ornate tilings to give your bathroom the traditional Victorian look. Checkered, squares, diamonds, and rhombuses tiles are the most popular tiles that are used in this style of bathroom. Black and white are the primary colors that are used here. 
2. The Classic Basin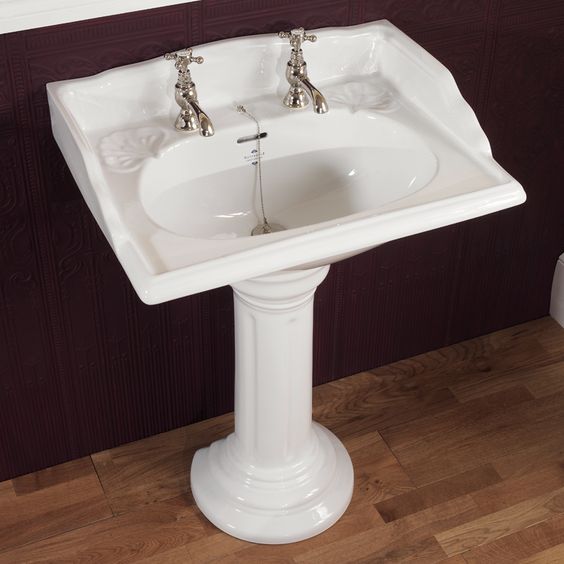 One of the very important rules in a Victorian Bathroom is letting primary elements be the hero. In any Victorian Bathroom, you do not have to look for a sink that melds in the bathroom but something that stands out. When choosing a basin for your bathroom, a pedestal basin is a must-have. You can choose porcelain as the material to make it look more authentic. If you are looking for a complete Victorian look, you can look for decorative ridges.
However, if the pedestal basin does not float your boat, you can also go on with a washstand or console basin. It is slightly more Georgian, but it will do the job nevertheless.
3. Freestanding Baths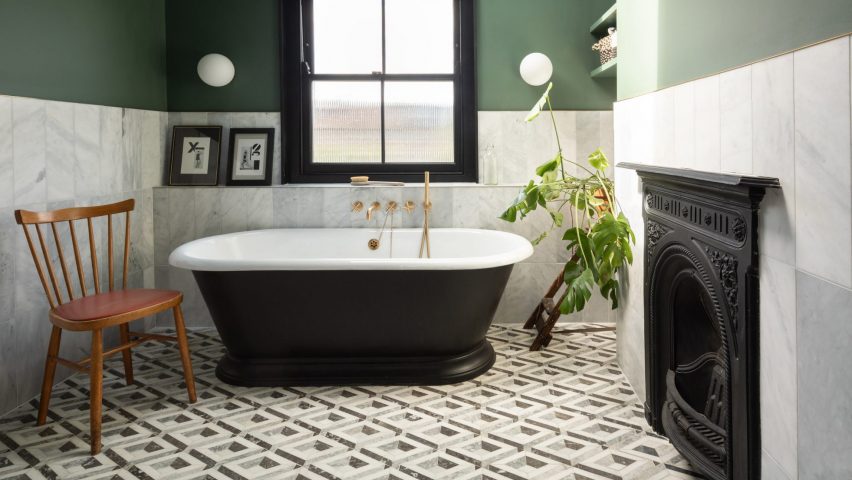 Baths are usually the focal point in any Victorian Bathroom. It gives the bathroom the proud Victorian look that you are looking for. If your bathroom space allows a freestanding bath, then it should be your top pick. Rather than being fixed into a wall, these baths stand on their own and are generally ornamented by traditional tapware and slipper feet. 
Clawfoot bathtubs are also very popular in Victorian bathrooms. They are spacious and spell luxury. To amp up the look of your bathroom, you can also choose a bath rub that has an ornate foot that would not only raise the tub about the ground but add to the look you are trying to achieve. Traditionally, baths in Victorian Bathrooms are white in color with metal ornaments and exposed plumbing. 
4. Showers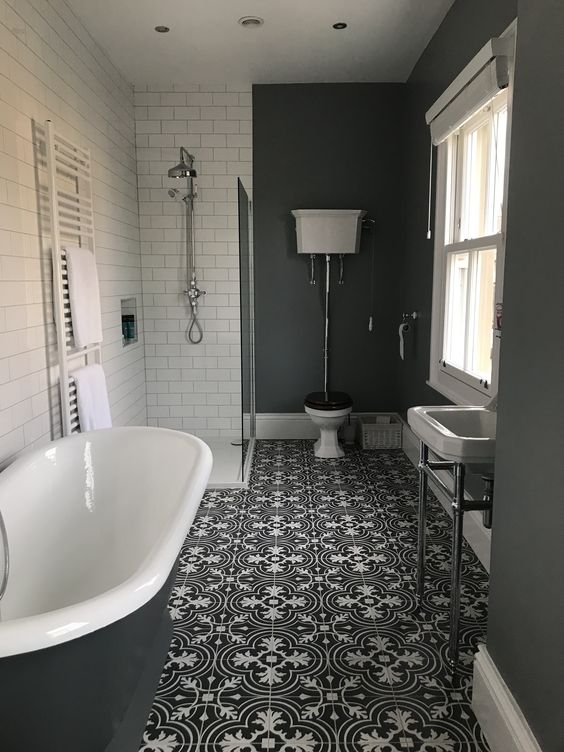 Showers are a fairly new addition to the bathroom. They did not really exist the in the traditional Victorian Bathroom. However, they took off around the 19th century. So, it won't be too harmful if you bring in some modern elements to your Victorian bathroom. You can give this new element a traditional twist to make it look at home. Pay attention to the size of the shower faucet. 
Make sure when you are putting up a shower in the bathroom it is either wall or ceiling mounted. They should have an exposed metallic look, and the faucets should match them in regard to the metal finish and crosshead handles. All of this should have exposed pipes to give it a traditional look. If you are too afraid to add an overhead shower, you can very easily add a hose-attached adjustable handset shower. 
5. Taps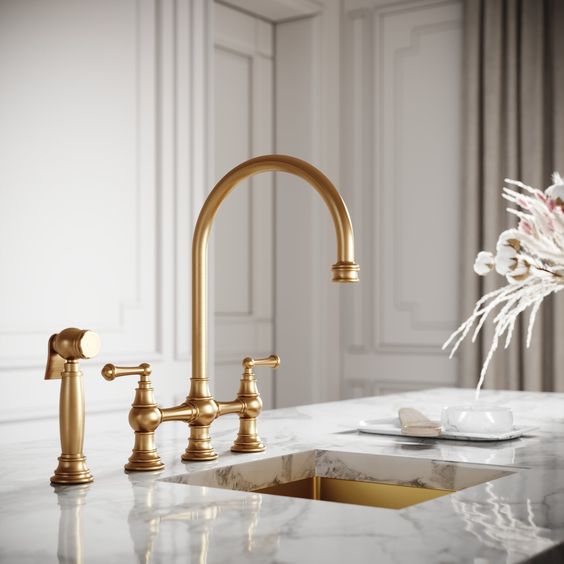 The next thing to pay attention to is the taps. Back in the time, all baths and basins were ornamented with metallic pillar taps, mostly in gold, brass, or chrome color. You can do that too. For your basins, you can install a good metallic tap. Crosshead handles were particularly very popular back then. So, if you are looking to elevate your basins, add a good tap that makes your basin look more authentic.
These days you can get a model that has shower handsets attached to it, and it will improve the functionality. The bathrooms in Victorian eras screamed luxury. So, make sure you are using a tall bath tap to elevate the whole look.
6. Toilets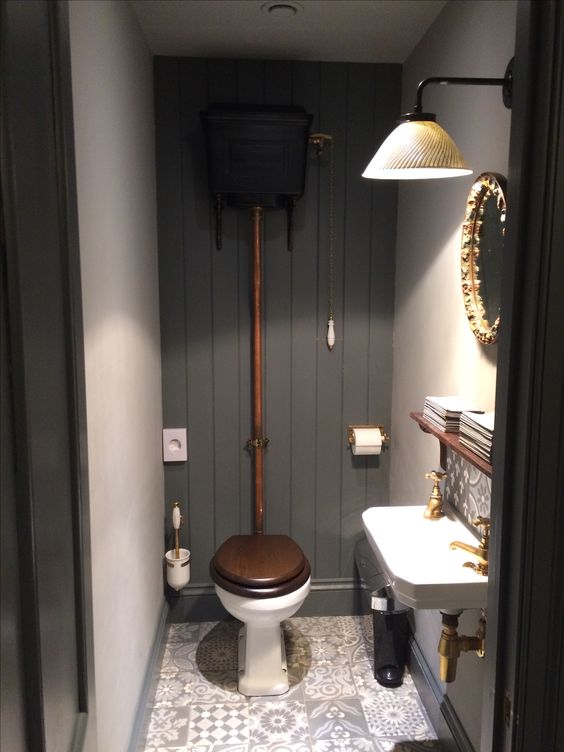 Traditionally, Victorian Bathrooms did not have toilets. The toilets were located either outdoors or in another room. They were made out of wood with a ceramic pedestal that could be washed down by the water. However, it is almost necessary to include them in your bathroom. The good news is while many other elements have changed over time, a toilet remains almost the same. 
The Victorian-style toilers are compact and simple. One element that you cannot miss in these toilets is the flushers. Back in the time, they were high chains to make them a statement piece and were tough to break. While we now have easier-to-use flushes, make sure you use a metal handle if you are not going for the traditional chain flusher. 
7. Towel Rails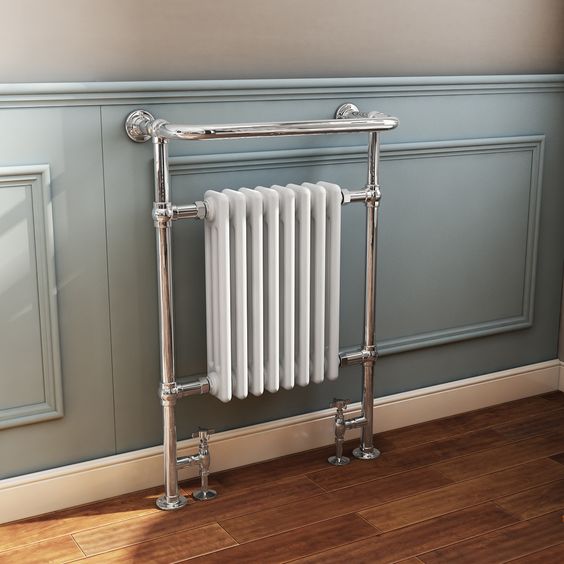 To make your bathroom more functional, you might want to put in some towel rails. You can use iron, chrome, gold, or even brass to give it a Victorian look. These feature a 'radiator look' with exposed pipes. You can also drape some gorgeous towels that will take your bathroom decor to the next level.
8. Ornaments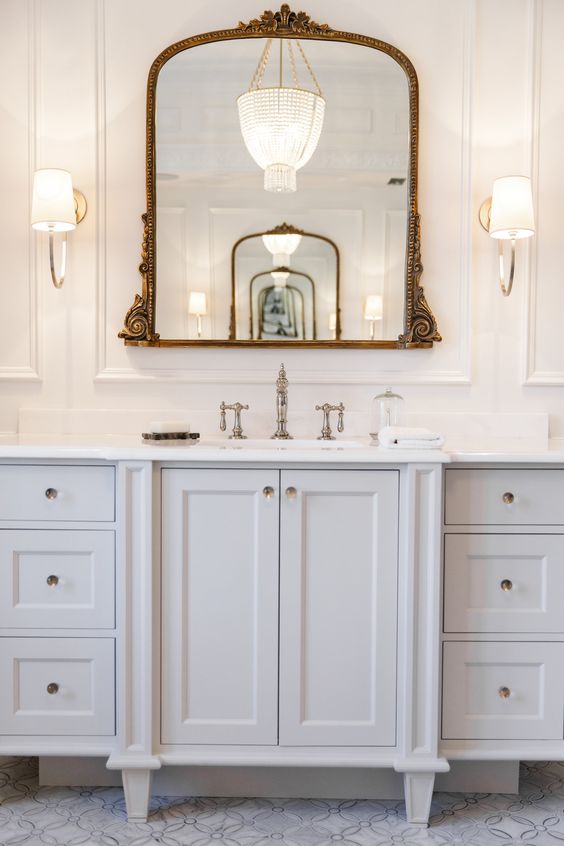 Another thing to keep in mind when making a Victorian Bathroom is the little things that bring luxury to the space. More than often, Victorian Bathrooms have elements like intricately shaped metal mirror frames and grand carved dressing tables that feature crown molding that brings beauty and elegance. An iconic ornament of Victorian Bathroom design is a grand centerpiece in the bath space. You can also add a shining crystal chandelier to elevate the look. If you are not such a fan of brass or gold, you can try copper. Add a few paintings in the bathroom to give it an antique look. 
9. Furniture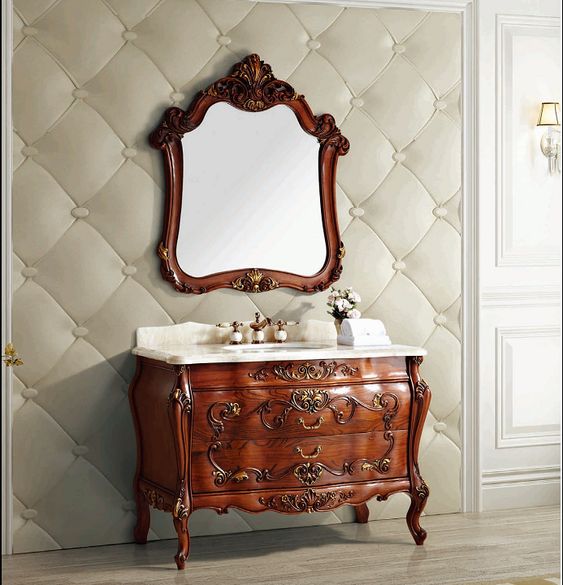 The furniture in a Victorian Bathroom has to be intricate and artful. Using wooden furniture in your bathroom would enhance the traditional feel of the whole space. You can add a gorgeous vanity unit, side tables, and a wall-hang unit. Tufted benches, chairs, and stools are also great additions in terms of furniture. Any bathroom, regardless of what era it belongs to, needs storage space. You can add antique bureaus or chests of drawers that are intricately carved and elegantly sculpted. 
Other Tips 
Other than making sure you get all the important elements on point, there are some little knick-knacks that would make your Victorian Bathroom much better. Here are some things that you must keep in mind. 
Make sure your bathroom is airy and light. Use a good big mirror to add depth to your space.
Another thing to keep in mind is that when making a Victorian bathroom, leave the pipes exposed. It used to have functionality back in the time, but right now, it is more of a decorative thing.
As for the fabrics, use linens in your Victorian bathroom. You can also use heavy fiber shower curtains that feature some tassels or fringes that will add to the visual effect. 
Use luxurious high, quality soft cotton towels and bathmats.
Do not forget to use lights to your advantage when trying to create a great Victorian bathroom.
Here are Some Amazing Inspirations for a Victorian Look
Check out these pictures for inspiration on what you can do with your bathroom to give it a Victorian look.
Inspiration #1
This Victorian-style bathroom is a balance between modern and traditional decor. It has a neutral palette that combines textures and contours. The bathroom also has a free-standing claw foot bath and open pipework that gives it an iconic Victorian look. Then there is a gilded mirror and ornamental tap work that makes this bathroom look very pretty. The flooring of the space features rich dark colors that are in contrast with marble tops giving it a visual twist. This bathroom is really one of those that you can take inspiration from.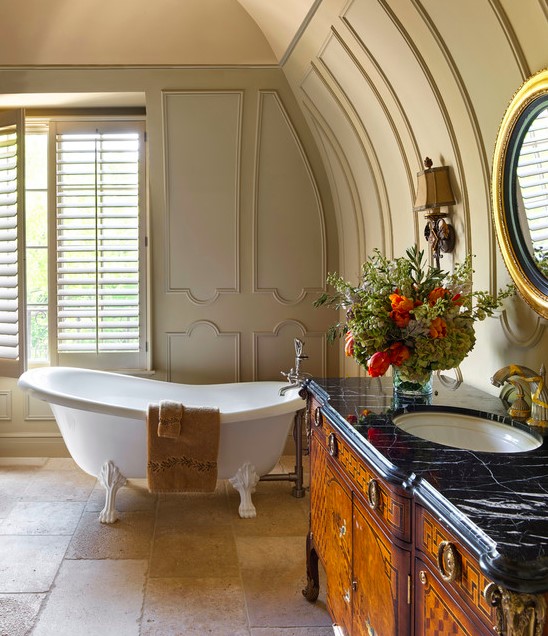 Inspiration #2
Another bathroom you can take inspiration from is this Victorian bathroom that features a white and black patterned tile as flooring and a good old traditional toilet with a wooden seat cover and metal flusher. The bathroom also has a pedestal sink and gold ornamental tapware that elevates the look. It is a blend between a modern and traditional look and is a great option to look into.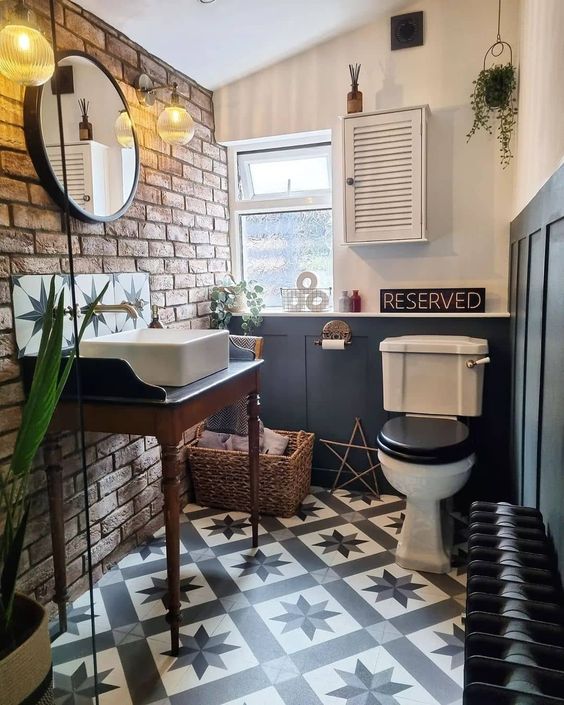 Inspiration #3
You can also take a look at this Victorian Bathroom that features patterned tiles and a freestanding bathtub. It has good Crosshead handled taps with a hand-mounted shower. The bathroom also has free industrial towel rails and some artwork. It is fresh and airy and is good for smaller bathrooms.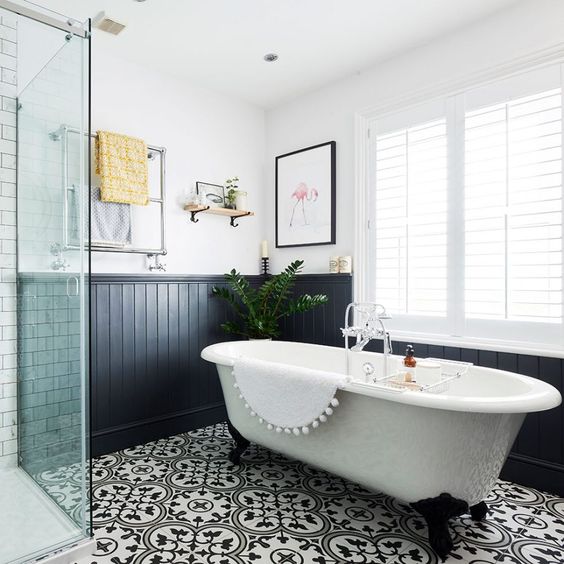 Conclusion
Bathrooms have significantly changed over the many decades. There is a lot of development in what we have to worry about and what we don't when redoing your bathroom.
Now that you know all the basics, getting started will get easier. All you have to do is to collect all the elements and plan the renovation. Once you have everything you need, you can get started. 
Owing to the developments in the industry, we have many more options to decorate the bathroom, and it is easy to incorporate Victorian design in your bathroom.
Porcelain, ornamental fixtures, and lavish elements are the heart of the bathroom. The victorian-style bathroom is elegant and easy to make. The good news is you can make them modern and perfect for your use. 
Other Articles